81-Year-Old Hawker Up At 3am Daily To Cook Delish Charcoal-Roasted Ducks At New Stall
The shifu has been using charcoal to roast meats for over 50 years.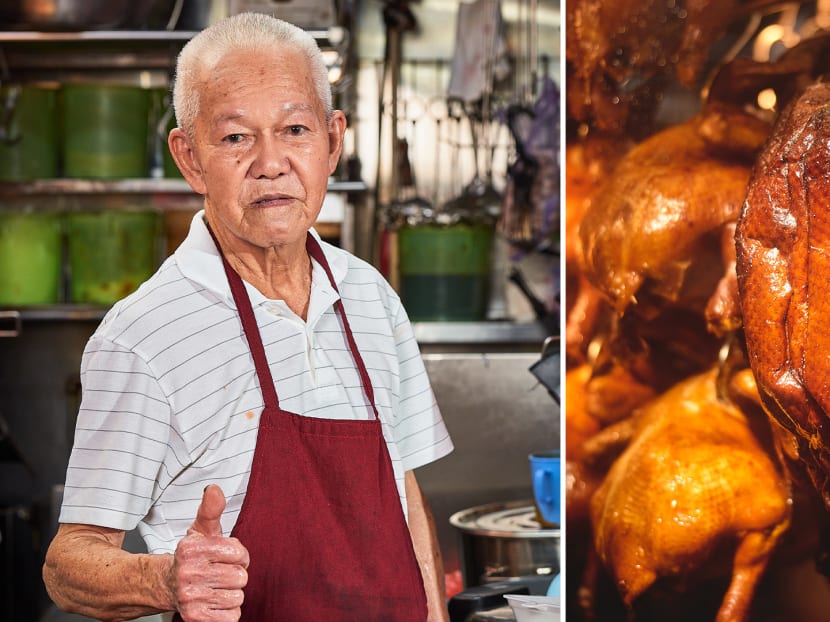 Located in the red zone of Chinatown Complex Food Centre, Old Master Roasted Grill has only been open for six months and it has already amassed a loyal group of roast meat aficionados. During 8days.sg's visit at 10am on a weekday — the queue was about 10-people-deep, with bleary-eyed customers patiently waiting for freshly-grilled meats, including beautifully golden roast duck, glistening char siew and stacks of roast pork on display at the counter.
All photos cannot be reproduced without permission from 8days.sg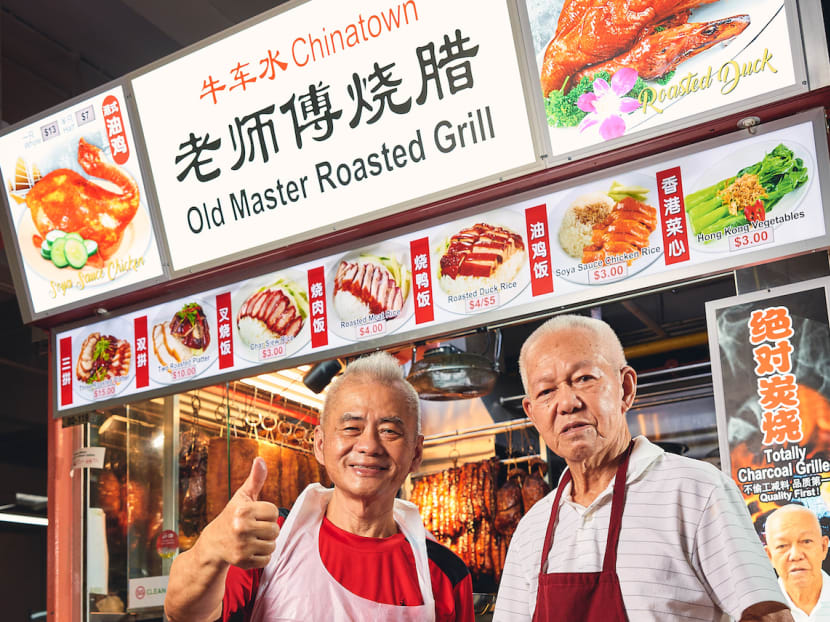 Oblivious to the growing line, Cho Siew Wan (right in pic), 81, focuses on his work in the kitchen – lifting the lid of a large steel grill to remove slabs of char siew, cleaning fresh ducks at the sink, and basting a new batch of barbecue pork.

Master Cho is a man of few words – in fact, our first impression of the lean but fit hawker with neatly cropped snow-white hair comes from his associate. "Shifu is quite shy and not very talkative. He has over 50 years of experience as a roast meat specialist, but he remains very humble," shares Mr Sham (left), one of three partners invested in the business.

All the partners have experience in running roast meat stalls, and Mr Sham was an owner of a chain that "gained popularity for selling $15 roast ducks". He is also the owner of Chef Sham H.K. Vinegar Pork Trotters Fish Maw Pig Stomach Chicken Soup at Chinatown Complex Food Centre.

We're told that Master Cho does not own a stake, but the owners defer to him when it comes to the cooking and operation of the stall.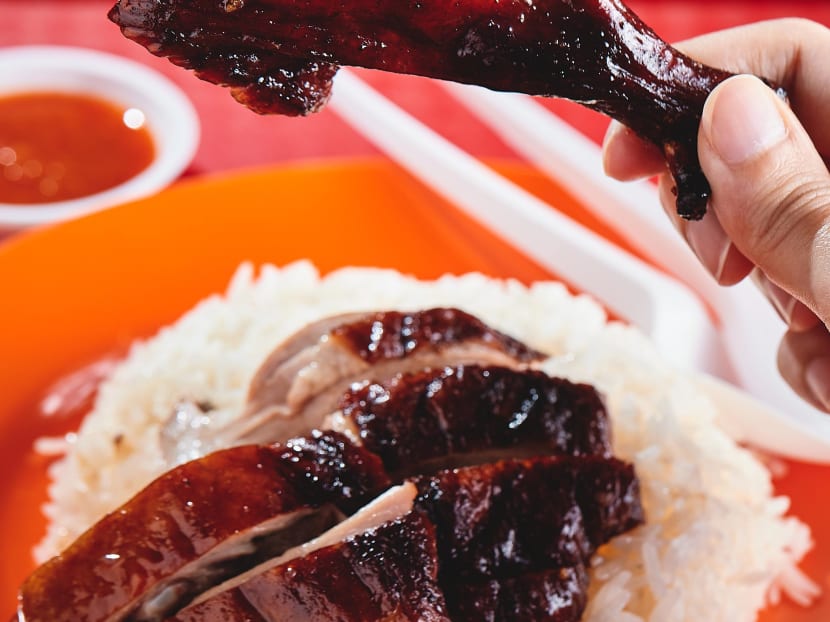 The reticent shifu glosses over his impressive, 50 odd years experience, only acknowledging that he once ran his own roast meat stall at Upper Thomson. He declines to name the stall, but says it was located near Lee Ah Mooi Old Age Home.

"We closed the shop around 2014, when they started working on the Thomson-East Coast MRT line," he says in mandarin. "After that, I worked for other people at hawker stalls as it's less taxing than running my own business." Master Cho, who has a daughter and four grandchildren, says prior to setting up the current stall, he was manning another roast meat shop in the same hawker centre (he declines to name the stall).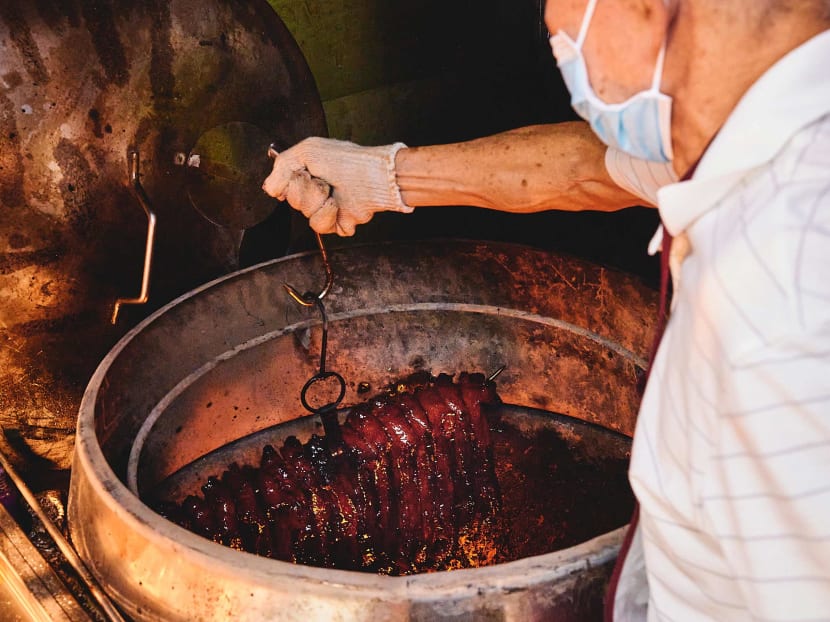 Though shy, the veteran cook perked up when we asked about his grilling method. "I only use charcoal. Charcoal is more fragrant and I've never used an electric grill before," he states.

Master Cho says his charcoal grill can only roast a maximum of ten ducks at a go – which significantly extends his working hours. "I wake up at 3am to get here. Then I start grilling the meats for the day – it takes about an hour for each batch of roast duck. We open the stall from 9am to 6pm or earlier if we are sold out."

After closing hours, the hawker will start marinating meats for the next day. "All our meats are marinated overnight for better flavour. The seasonings are nothing special, I just do it the traditional Cantonese way," says the modest hawker.
We asked Master Cho, who is at the stall for at least 15 hours a day, if he has considered reducing his work load by, say, roasting a smaller quantity of meat. His reply was quick but determined: "I can't! If I don't make enough, we won't be able to last till 6pm. Then my customers won't get to buy the roast meats."

He is assisted by Ah Hui, another veteran hawker, who is in charge of chopping the meats, plus a friendly auntie who takes orders. While on break, the more chatty Ah Hui reveals that he has been working with Master Cho for over two decades. "When he told me he was going to start this new stall, I decided to follow him right away. He has his own way of roasting meats. It has not changed at all over the years."

We believe shifu's impressive work ethic – and glorious roast meats – are the main reason for the stall's popularity. "We sell about 30 to 40 ducks, 50kg of char siew, and 10 to 12 slabs of roast pork a day," he shares. Sales were unaffected by the past two Phase 2 (Heightened Alert) dine-in bans. "There were a lot of people who still came to dabao. My regular customers follow me wherever I go," the soft-spoken hawker adds, in a rare display of confidence.
Refreshingly, the stall does not dunk gooey gravy on every plate of meat as Master Cho wants customers to be able to taste the natural flavours of his roast meats – which have been subtly seasoned to take the edge of any harsh gaminess or porcine scent.

A sticky barbecue sauce is available upon request – we found it a little too sweet for our liking and preferred dipping the meat in the tangy chilli sauce instead.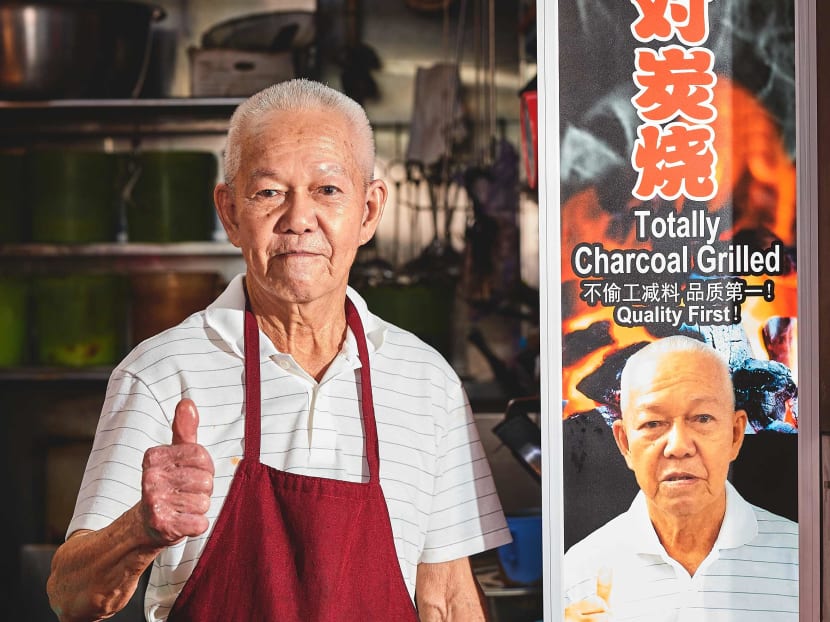 On the lit-up board to the right of the stall, you'll spot a cool poster with Master Cho's headshot against charcoal flames and the caption: 'Totally Charcoal Grilled'.

Curious about the out-of-character, attention-grabbing branding, we asked the low-key hawker about the poster. He responded with a laugh, "My boss hired a photographer to take this. I just follow instructions!"

The good-natured hawker also happily accepted our request to recreate his 'towkay' pose next to the poster – which was when we realised that he was wearing the same polo tee. Cute!
Master Cho uses fresh Malaysian ducks weighing about 2.8 to 3kg each, delivered daily to the stall, for his signature roast. We love that the roast duck is not too greasy, with just enough fat under the skin to add amazing flavour and keep the meat moist. This is traditional roast duck at its best – delicate but deep smoke penetration, crispy reddish-brown skin, and perfectly-seasoned succulent meat.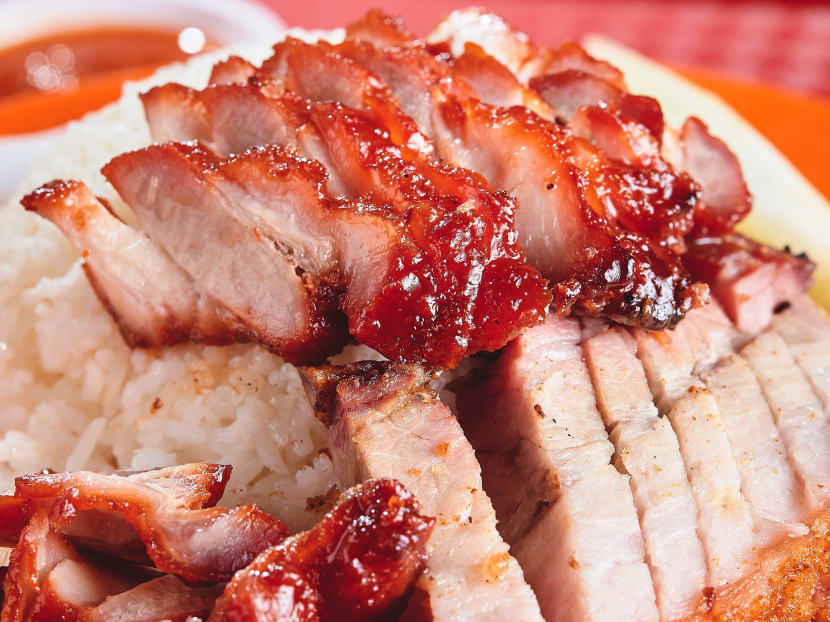 What sets the siew yoke apart is its subtle smoke, a feature that can be rare in other overly salty or five-spice-heavy versions. The best bites, of course, come from its crackly, crispy skin. A stretch of soft, yielding fat gilds the crackling, and even the lean meat remains moist and tender – a mark of shifu's mastery. We found the char siew to be slightly lacking in flavour and preferred the meatier and more robust spare ribs – an off-menu item – that Master Cho let us sample straight from the grill.
For a roast meat stall, the braised soya sauce chicken is surprisingly good. Tender all the way to the bone, the meat is pleasantly juicy and the skin is nicely glazed with caramelised soy sauce. With thick, chunky cuts of chicken, the portion is considerably more generous than Michelin-starred Hawker Chan's, at the same price.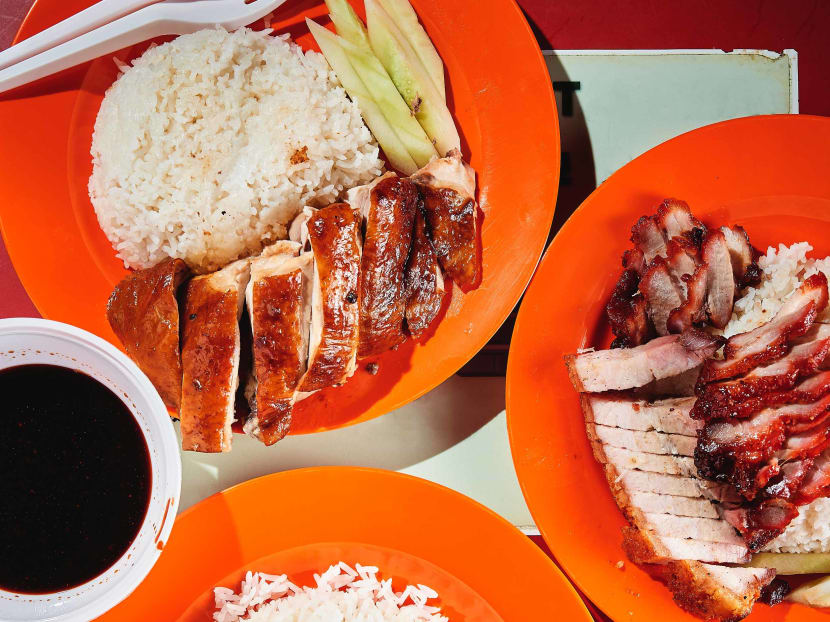 The charcoal-roasted duck at Old Master Roasted Grill is a gem — crispy but not overly greasy, with a lovely, smoky aroma throughout the moist meat. Don't miss the excellent siew yoke and superbly juicy soy sauce chicken, too. Visit in the morning for freshly grilled meats, and try to get your hands on the limited-edition spare ribs.