Ah Seng Durian's Cafe Has Delish Pastries Like MSW Cruffin & No Queue For Now
But you should still go early to snag the best bakes.
To find Bukit Merah Lane's freshest addition, follow your nose. Although the air in this tyre store and car workshop hub is thick with the acrid tang of rubber and heady aroma of mechanical grease, a distinct new note pricks through that chemical cocktail these days: The pongy scent of durian. And tracking it will lead you to a shiny new store wedged in an unassuming row of HDB shophouses.

This is where your search will bear fruit, literally. The gleaming, minimalist space is Durian Lab, one half of a new venture by popular Ghim Moh market durian seller Shui Poh Sing (better known as Ah Seng) and his family. The other half in the double unit is a new outpost of Ah Seng Durian, which sells the same thorny fruit at the same prices as those you get at Ghim Moh, except that this outlet only entertains walk-ins.
Durian Lab isn't manned by Ah Seng himself (although the affable seller does go down from about 4pm every day, when the Ghim Moh outlet is less busy). Two of his sons — 29-year-old Leonel and 32-year-old Cedrik — came up with the concept and take charge here on a rotational basis. The store was actually supposed to start operations much earlier this year (their lease started in December) but construction issues and COVID-19 delayed the opening to this past Monday.

"We wanted our own shop all along, because there are a lot of restrictions in the wet market [where the Ghim Moh stall is]," shares the earnest-looking Leonel. "Like we are licensed to sell fruit, so we can only sell fruit. Here, we can sell other things which help us to sustain the business even through the off-season."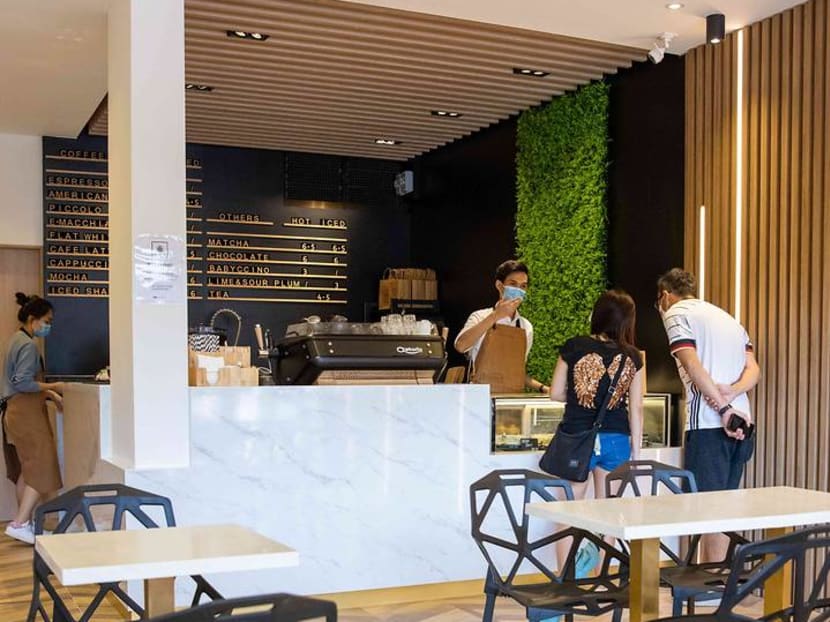 While both the cafe and the durian stall in the unit have seating areas, it's worth noting that if you want to eat from both, you have to sit on the durian stall side - the Zen-like cafe space is dedicated to cafe-only customers.

Designed by Leonel's cousin ("we like to keep it in the family!"), the 25-seater has warm wood-and-plant walls, granite-patterned tables, marble-print plates and gold accents. You order from a sleek counter that holds a glass chiller stocked with the pastries available for the day, as the staff — kitted out in stylish tan aprons — busily conjure up drinks behind the counter.

Surprisingly, the durian smell here isn't as strong as you'd expect. According to Leonel, the aroma of the coffee helps to neutralise it.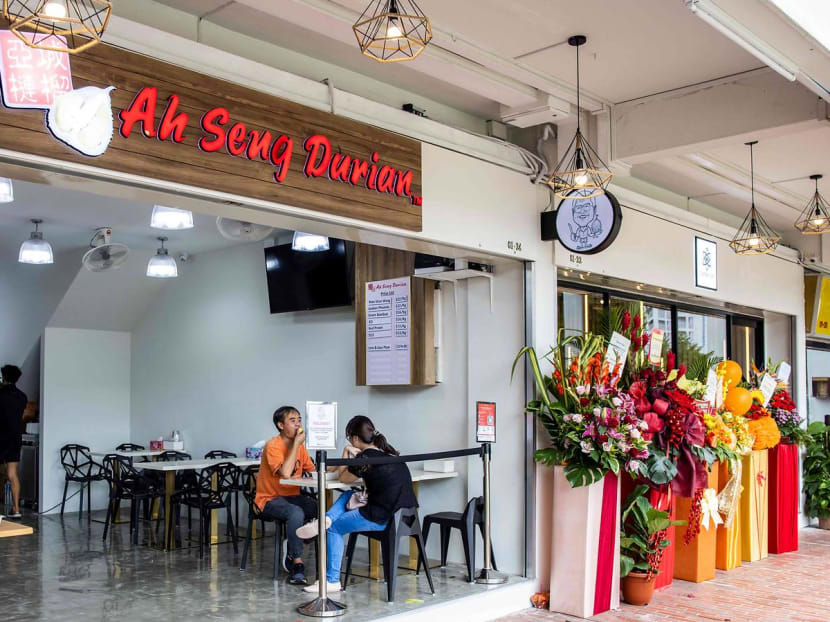 Just a handful of tables dot this side that's dominated by a giant steel machine along which you roll your basket of durians once you've chosen them so they can be packed for takeaway. (On the day we visited, there were six types of durians available, including Mao Shan Wang and Golden Phoenix at $22 per kg.) But Leonel says they can put out more tables when needed.

The vibe is industrial, with raw concrete floors and unadorned walls, but this ain't no grubby stall. The tables and chairs are the same as those in Durian Lab and there's airconditioning, making it a much more comfortable setting than the original non-aircon, toilet-bordering Ah Seng outlet at Ghim Moh wet market. If you're thinking of holding a private event here (perhaps in Phase 3), the space can take about 20 people.
Leonel readily admits that he and his family aren't cafe operators, which is why they've teamed up with popular locally owned cafes Flor Patisserie (whose chef-owner Heidi Tan is pictured here with Leonel) and Keong Saik Bakery on a range of durian desserts for Durian Lab. "We have zero experience running a cafe, so we needed people to partner with," he says, adding that the sweets are mostly exclusive to the new joint, except for the occasional bestselling or seasonal offering that might be sold at both the creator bakery and Durian Lab.

But the cake and pastry fan only brokered the partnerships after visiting "about 10 cafes" anonymously and doing a taste test. "I really liked the cakes at those two places, and coincidentally I found out later that Keong Saik Bakery was already using our durian puree!"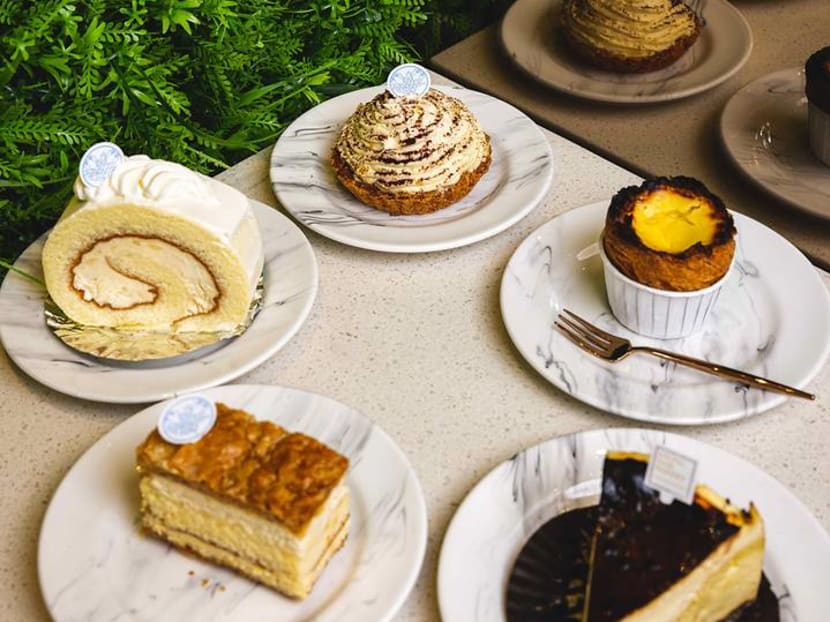 On the menu here are six different desserts: The MSW Short Cake, MSW Roll Cake, MSW Durian Tart and MSW Mille-Feuille from Japanese-inspired Flor; and the MSW Burnt Cruffin and MSW Burnt Cheesecake from mod Sin Keong Saik Bakery. All are made with Ah Seng's mao shan wang puree, a combination of Johor and Pahang MSW durians.

If you want to try the full range, it's best to go early — on opening day, most of the 120 pastries the owners brought in were sold out by 2pm. "We ran out and I had to go to Flor to get more," laments Leonel. "They were closed, but luckily they had some cakes on standby!" Still, he says, there wasn't much of a queue, with plenty of tables available since most people were getting takeaways. And when we visited on Tuesday morning, the cafe was only about a quarter full.

So which pastries should you snap up when you're there? In the name of duty, we tried one of each (it helped that there's an opening discount of 15% until the end of this week).

PSA: Burping durian into your mask is no fun, so order with self-restraint.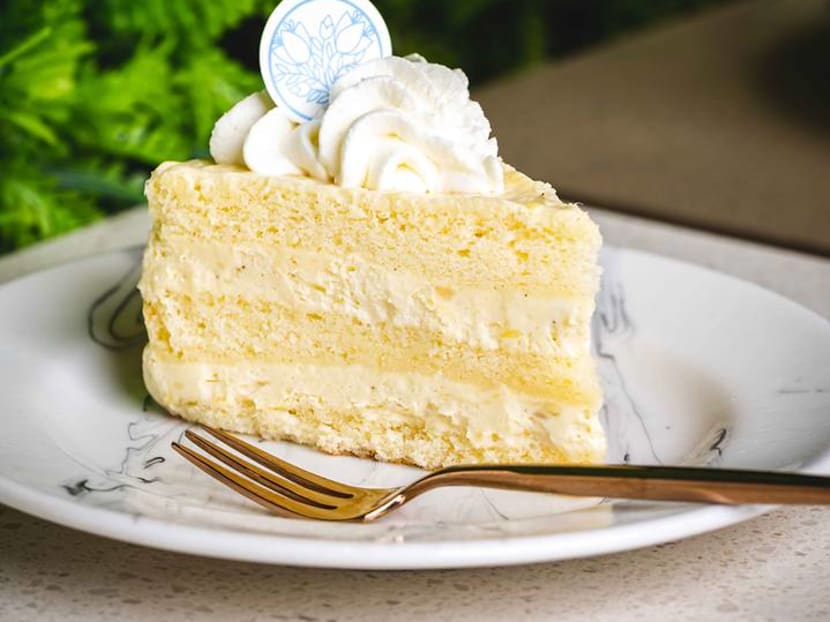 This ethereally light creation isn't just our favourite — it's also Leonel and his family's fave. Soft, fluffy sponge sandwiches two thick layers of durian puree, and is topped with a frosting made of more Mao Shan Wang puree whipped with chantilly cream. The balance of cake and fresh, bittersweet durian is perfect — one doesn't overwhelm the other, and the combination of cream and puree means this isn't too jelak.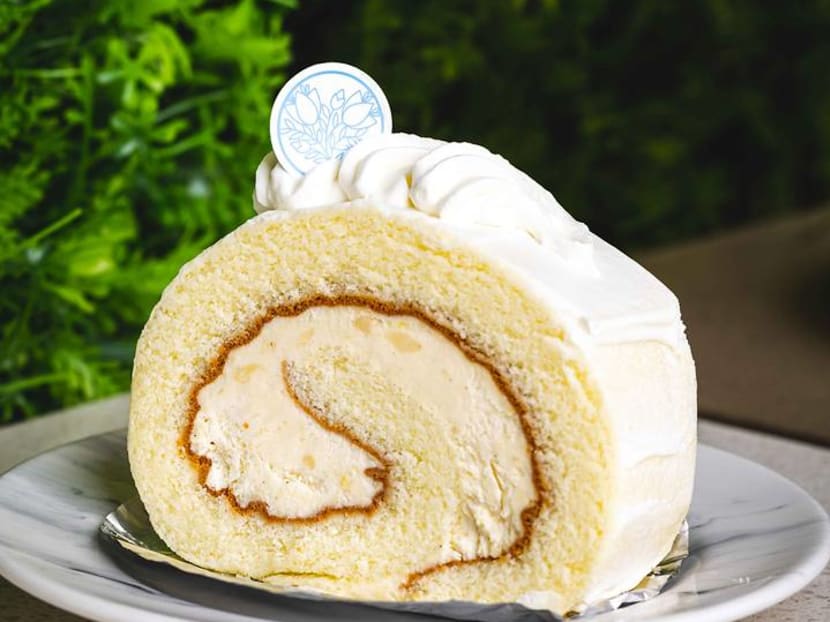 If you like your cakes more, well, cakey, go for this Swiss roll, which features a thicker, denser sponge cuddling chunky MSW puree. This was the only dessert in which we could detect actual bits of durian. Kinda like the Shortcake's stouter, gruffer brother.
We'd get this for tourists (um, when they return to our island) who want an introduction to durian. The slightly too thick shortcrust pastry base is swiped with a thin layer of durian puree and filled with sponge, then topped with a swirl of more durian puree blended with a fair bit of chantilly cream, so you can't really taste the pungent fruit.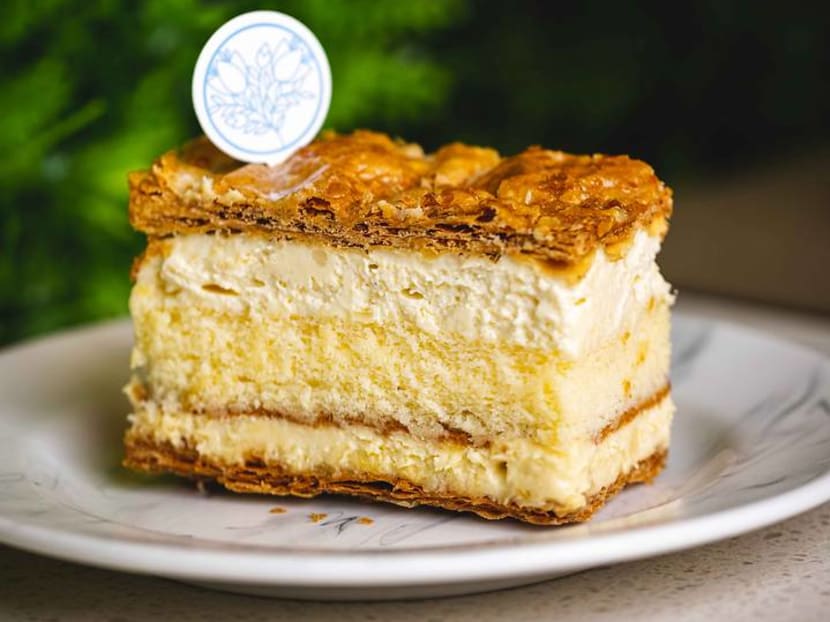 This features a slab of durian mousse wedged between two wafers of buttery, slightly savoury flaky pastry. A mess to eat (don't order on a date), but so delish — you get the light, creamy mouthfeel of the blended puree and the crunch of pastry with every bite.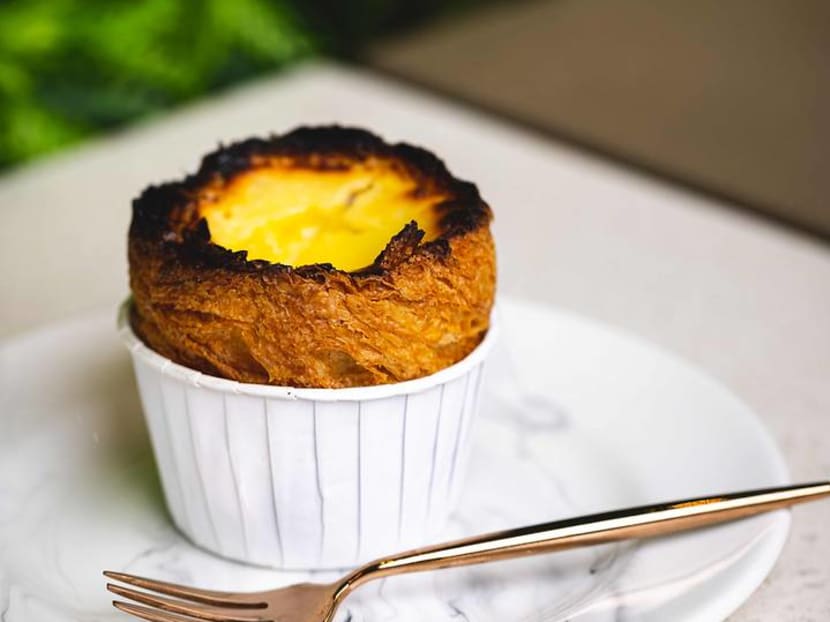 The only pastry served warm here, this petite, buttery cruffin cradles a melty dollop of durian puree blended with light cream cheese. The combination is sorta similar to the Mille-Feuille, but if you prefer the balance of your durian pastries tipped in favour of the "pastry" bit, go for this.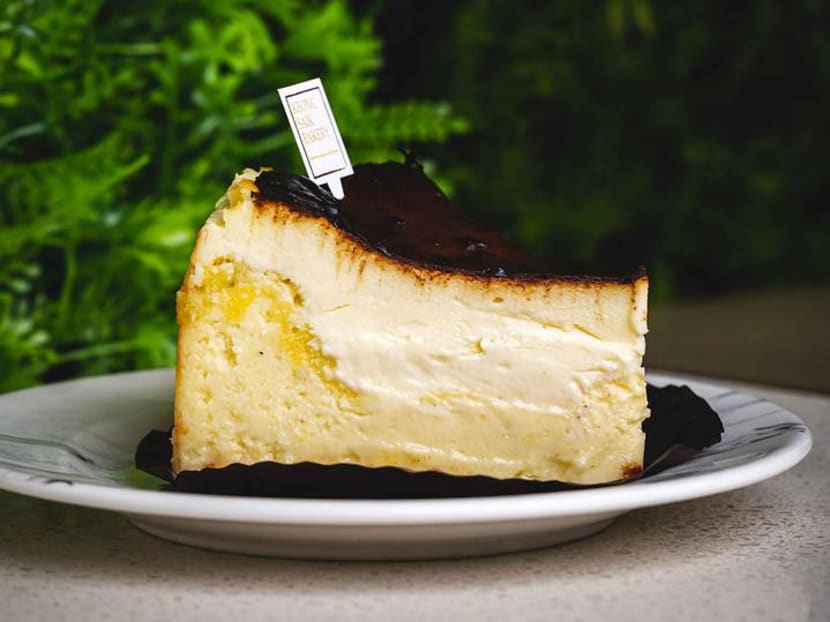 Surprisingly, this was our least favourite of the lot, even though we love both durian and burnt cheesecake equally and Keong Saik Bakery's four-cheese burnt cheesecake is a cult fave. Aside from the fact that it was just too heavy-hitting, we thought the durian and cheese flavours sat at odds with one another.
To drink, there's plenty more here than the bottles of plain water durian stalls usually dole out. A full coffee bar churns out brews made with Common Man coffee beans (from $3.50 for a single espresso), as well bottled juices and T2 teas. You can even customise your hot drinks with soy milk or oat milk. It's a lot to choose from, but our pick to wash all that durian down is the yummy, tangy Lime & Sour Plum juice ($3), made with a special concentrate that comes from the lime shrubs of one of Ah Seng's plantation contacts.
While Durian Lab's present collaboration menu will remain its core offering, Leonel and his brother have plans to try creating "one or two of our own items" once the current durian season ends. Think durian drinks and an MSW creme brulee — "although that one we tried before and still a bit fail, we need to fine-tune", he giggles.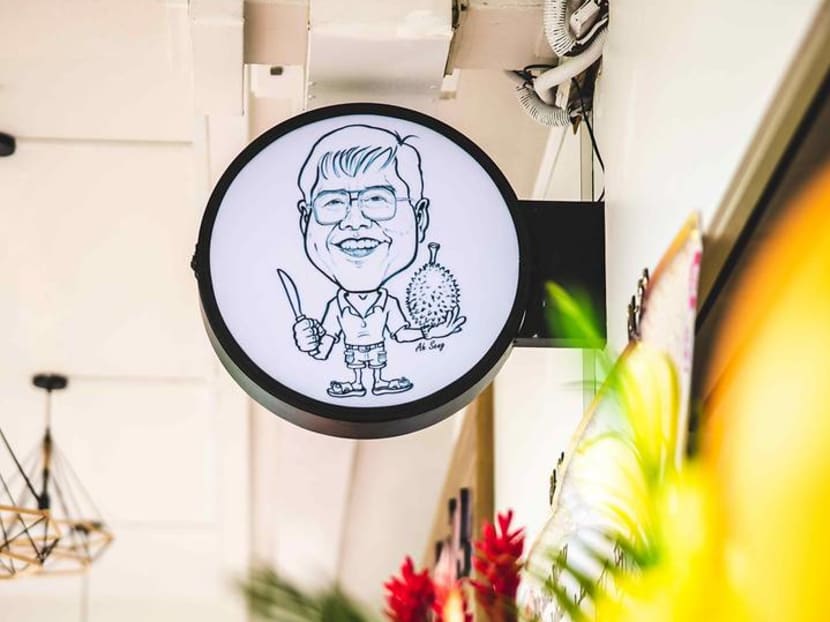 A convenient and comfy place to get your Ah Seng fix all year round, whether you like your durians in the husk or baked. The cakes are pretty pricey, but they're well-made and feature good quality, fresh Mao Shan Wang durian puree. So it's best to make use of the cafe's 15% opening discount till week's end and give the pastries a go.
Durian Lab and Ah Seng Durian (Bukit Merah branch), #01-22 Bukit Merah Lane 1, S151119. Open daily 8am to 8pm. Tel: 9159-6160. https://www.facebook.com/durianlab.cafe/
Photos: Alvin Teo
Get our stories delivered to you on Telegram: t.me/eight_days