Astons Opened A Kyoto Butcher's Shop In Joo Chiat Selling "The Most Affordable Wagyu"
The wagyu is cheaper than those at some Japanese supermarkets.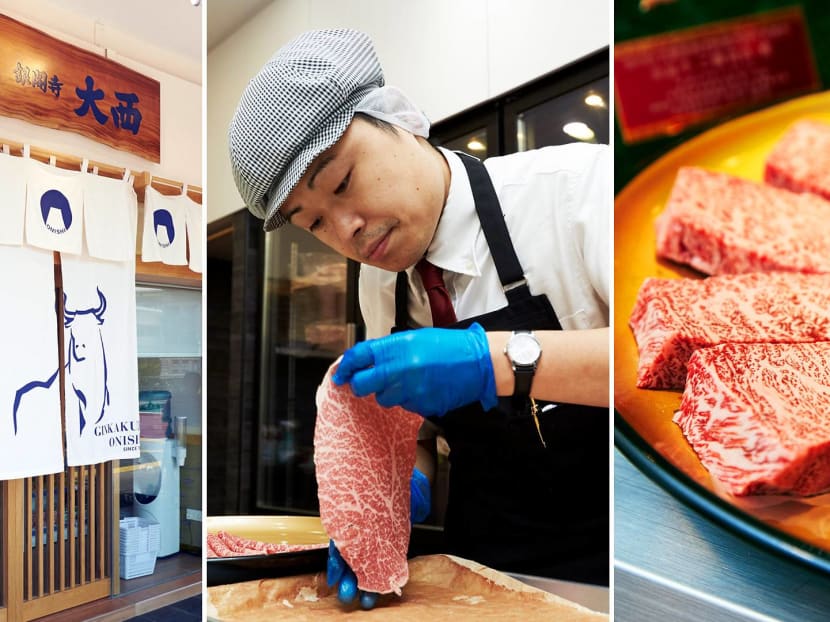 East-siders now have a great new Japanese meat shop tucked away along Tembeling Road, just a few doors down from Song Kee Fishball Noodles. And it's not just any butchery, it's an outpost of the rather famous (if you're a Japanese beef geek, that is) Ginkakuji Onishi from Kyoto, which was established in 1969. This traditional Japanese speciality meat temple was brought in by Astons F&B Group, so affordability is a large part of its appeal.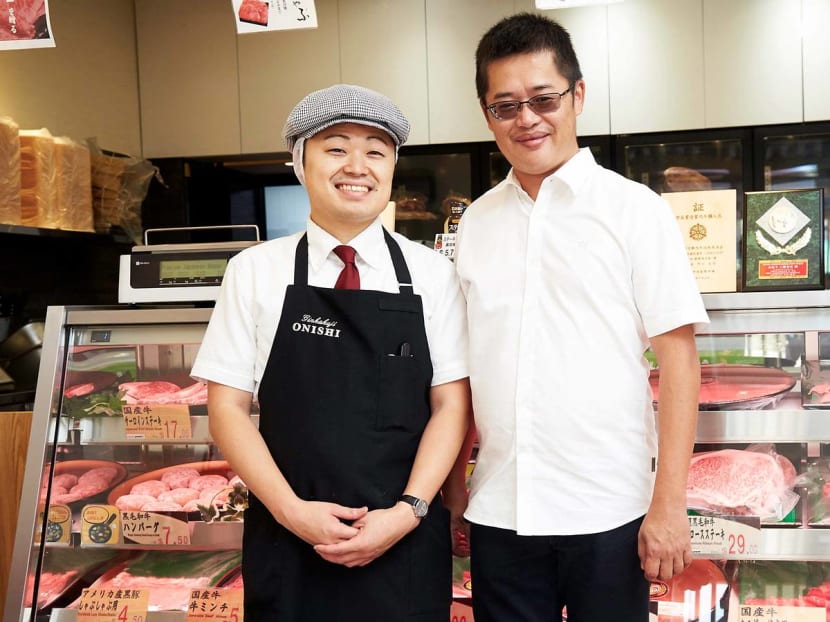 "I always carry the same belief into any business as when I first started Astons Specialities — quality and affordability for everyone," said the eponymous towkay Aston Soon, 47 (above, right). He'd been buying beef from Ginkakuji for his restaurants for a couple of years when it dawned on him that he could make wagyu more accessible and affordable to Singaporean home cooks without compromising on quality. And thus, this Singapore outpost was born.

Ginkakuji sells high-quality Japanese beef like premium tenderloin steaks and sirloin steaks, as well as a range of prime secondary cuts like chuck short rib, and some pork. "We bring in two ranges: A5 and A3 wagyu, from various farms," said Aston. The numbers refer to the beef's marbling and colour, so A3 wagyu sits in the average range, while A5 is regarded as excellent. "The beef varies from day to day. Sometimes, you might get beef from Kagoshima and maybe other times you get beef from Miyazaki or Kobe. My partner in Japan selects the best beef from the various farms and ships it to Singapore. I am 110 percent sure that they provide the best wagyu because they work directly with the farmers," he added.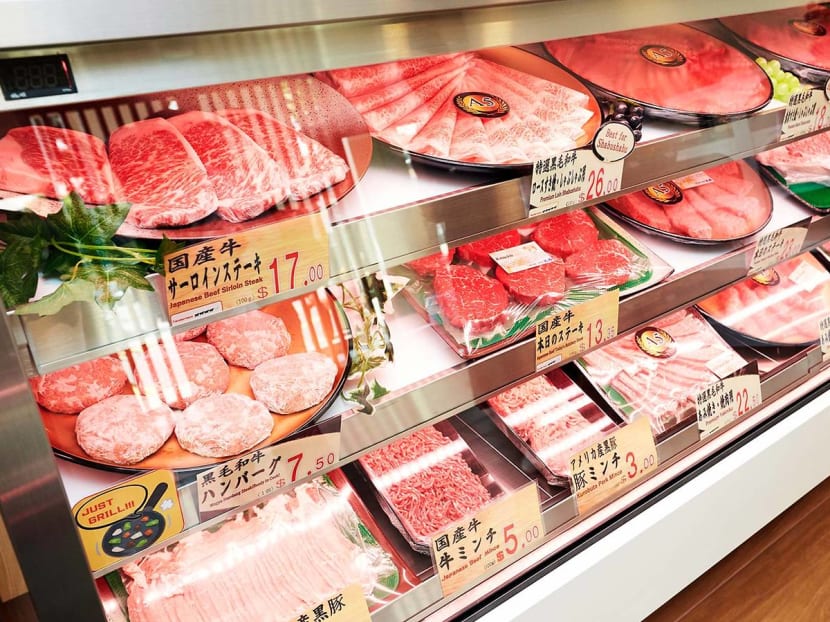 The shop has only been open for three weeks, but it already sees repeat customers who have become fast fans of the affordably priced wagyu. "We don't know if we are cheaper than the Japanese supermarkets, but that's what some of our customers have told us. For us, it's about sticking to our vision of bringing in the best, most affordable wagyu that we can," says Aston.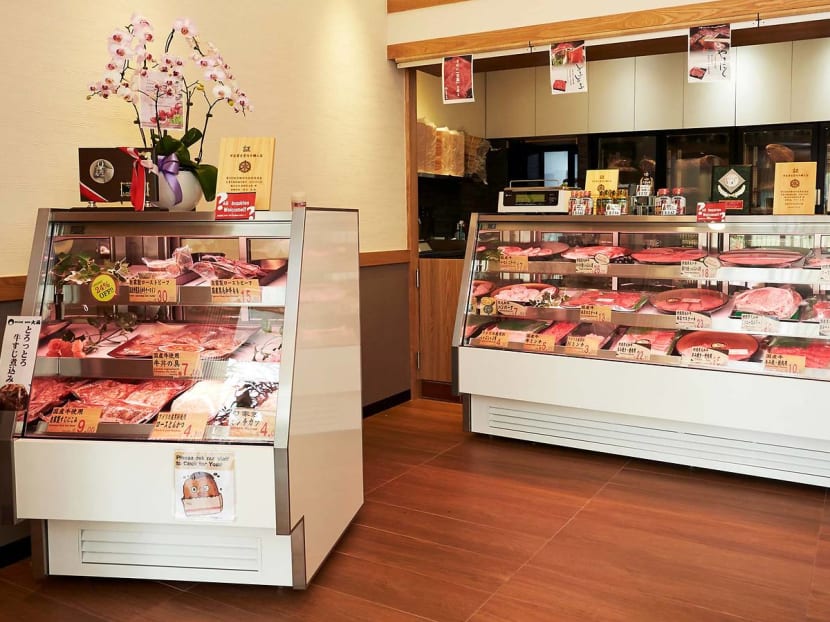 The space is as traditionally Japanese as they come, with pale wooden frames and floors and a wide glass counter heaving with various cuts of meat. A set of shelves on one side of the room sells condiments like Japanese steak sauce and salad dressings, instant Japanese curry mix and Japanese rice.

Figuring out what to buy amongst the bevy of meats and cuts here can be mind-boggling. And that's where master butcher and branch manager Kazuhiro Sata-san comes in. The friendly butcher has over a decade of experience in Japanese butchery and will offer advice on cuts and methods of cooking if you need it.
Among the premium offerings here is the A5 Akami Shabu Shabu. To the untrained eye, the even web of marbled fat across the meat suggests that it is a relatively fatty cut, but 'akami' means 'lean meat', which in this case, comes from the cattle's top round (rear leg). As a rough point of reference, Meidi-ya sells A5 Miyazaki rib-eye shabu shabu for $36.80 per 100 grams and A4 Kobe rib-eye shabu shabu at $52.80 for 100 grams. However, do note that the provenance of their beef is likely to be different from what's sold here.
A more indulgent option is the A5 Premium Loin Shabu Shabu. The meat's milky pink hue and wider strands of fat suggest more robust flavour and melt-in-the-mouth texture that's great for a quick swish in soups.
There are also steaks galore, like these well-marbled A3 Japanese striploin steaks. "I would say that this is the maximum marbling you should go for this cut, steak-wise," says Aston. "One piece of steak is probably about 200g, so it can be quite rich."
Or you could try these richly marbled babies packaged in large hunks on the counter. If you want them in smaller portions, the staff would be happy to slice them up for you.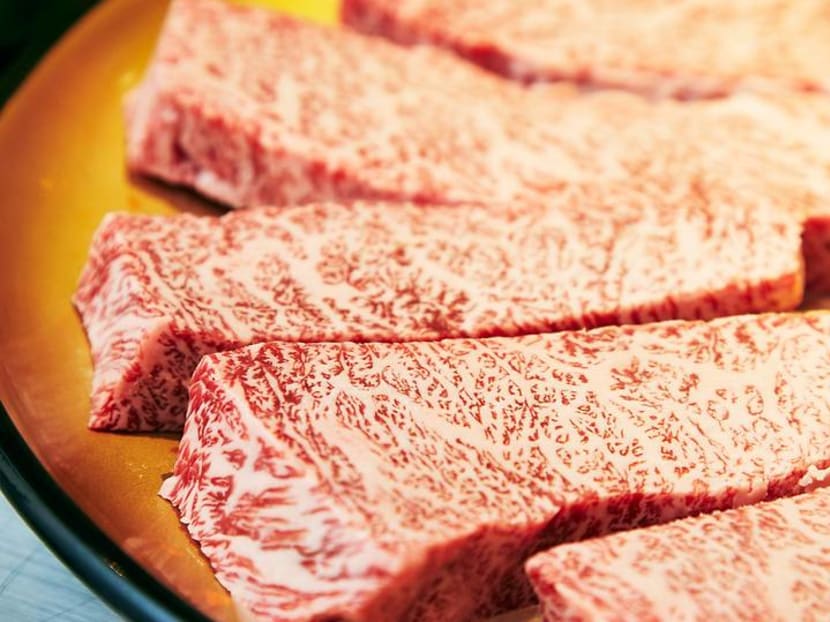 One of the unique aspects of Ginkakuji is the range of secondary cuts (less prized cuts such as flank or caps) that you wouldn't find elsewhere, like these flap steaks which come from the bottom sirloin of the cow. "There's a lot of marbling on these steaks, so you want about 150 grams per steak max. Otherwise, they will be too jelak," advises Aston.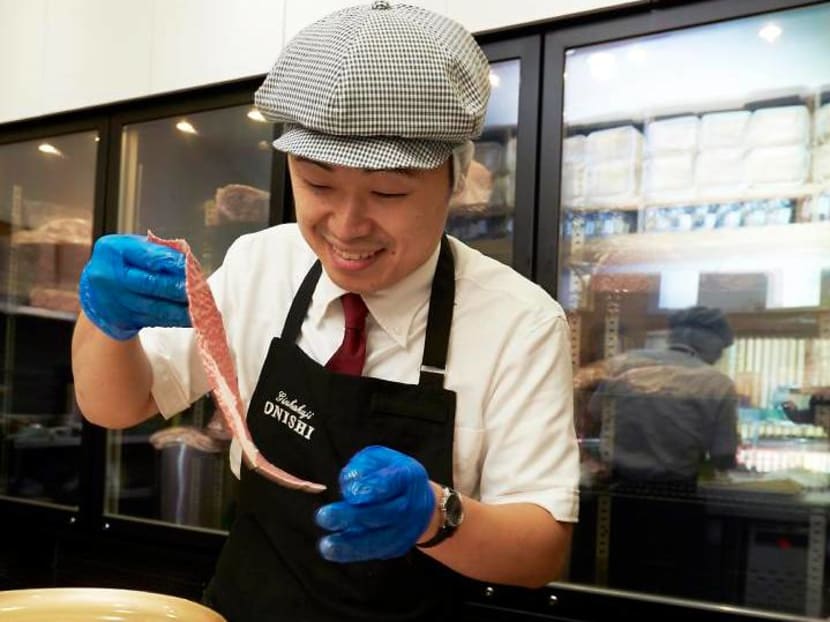 While most of the meats offered here are raw, the staff will fry up two items for you to munch on if you're feeling peckish, and they are the…

These are displayed raw in the counter, but you can request for it to be fried up to take away. They are great when freshly fried — tender, with a lovely crisp crust. We do think that it could be seasoned up a notch though.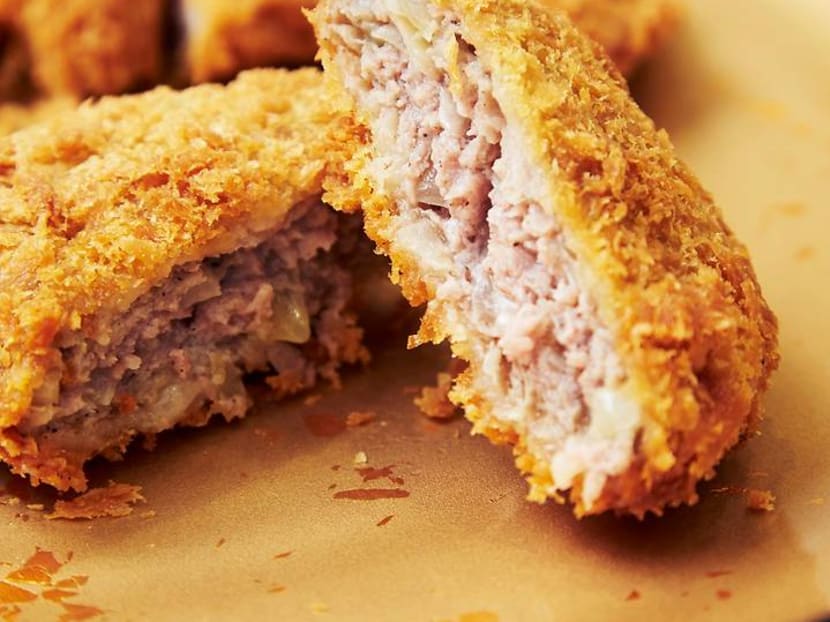 These minced pork and cabbage patties are nice and tender within, but a tad too sweet for our taste. But for $4 a pop, they are a crunchy, satisfying snack — especially when served fresh from the fryer.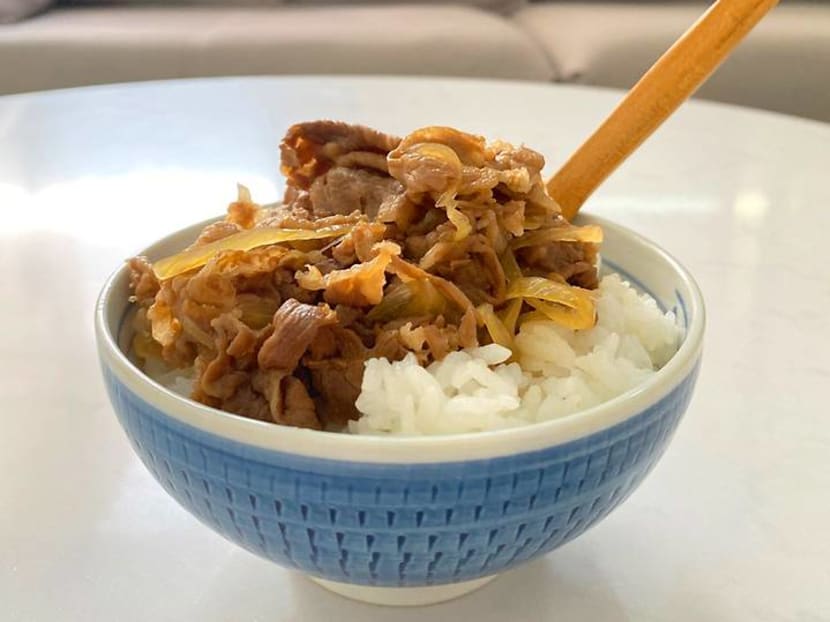 There are a bunch of ready-to-eat options that you can buy home and heat up too, like this packet of slivered beef cooked in soy sauce. As you would expect from any good Yoshinoya-style gyudon (beef and rice bowl), the wagyu is paper-thin and tender, and we like that the mix is not overly sweet. Just warm up at home and pair with freshly cooked rice for a quick, satisfying meal.

A gem of a spot for affordable Japanese beef. We love the wide range available here, and that you can ask for advice if you need it. For now, Aston says he doesn't have plans for another outlet (sorry, West-siders). But it's early days yet. If Astons' mini empire of restaurants is anything to go by, we wouldn't be surprised to see a couple more outlets popping up across town in time to come.

Ginkujuji Onishi is at 122 Tembeling Rd, S423621. Tel: 6246-5131. Open daily except Wed 10am-8pm.
Photos: Kelvin Chia