A&W's 2nd S'pore Outlet At Ang Mo Kio Hub Boasts Nearly Twice As Many Seats As Jewel Branch
The roomier joint also has a waffle counter.
After opening its comeback outlet at Jewel Changi Airport in April to incessant queues, American fast food chain A&W is opening a second, bigger outlet, this time at the basement of Ang Mo Kio's AMK Hub mall. This marks the return of A&W to Ang Mo Kio, after the brand shuttered all its Singapore eateries — including its Ang Mo Kio Central branch — and left the local market in 2003.

8days.sg learns from A&W that the 261 sqm Ang Mo Kio outlet can seat "close to 140" diners. This is almost double the size of its current 80-pax seating capacity at Jewel. Which means you might no longer have to hover anxiously around fellow A&W diners hoping they will vacate their table soon.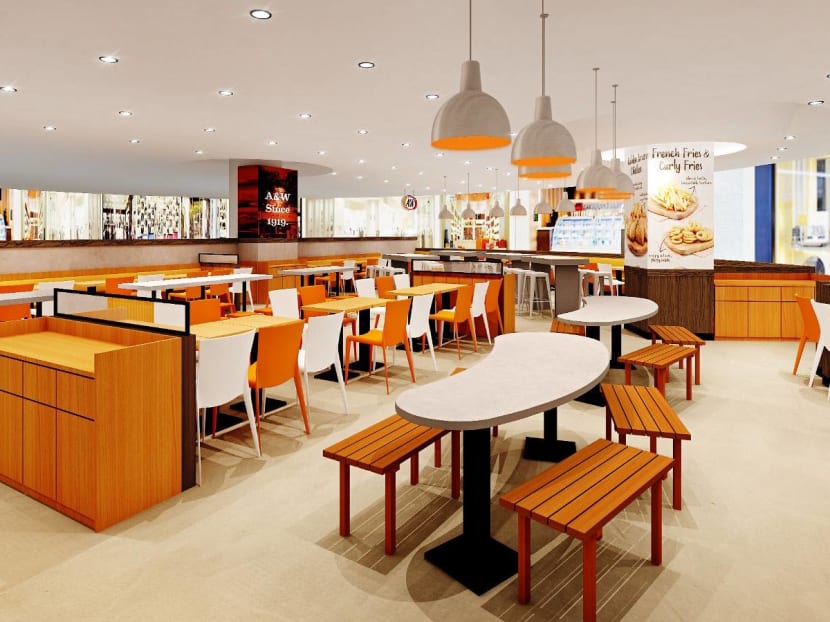 The seats and ordering counter are open-concept. From what we see of an artist's rendering of the upcoming outlet at Ang Mo Kio, which is undergoing renovation, there appears to be plenty of space to accommodate the inevitable hordes queuing up to buy fast food. The tables are also bigger, with more chairs, and are meant to seat big groups. The existing Jewel outlet has cosy tables that are ideal only for groups of around six or smaller.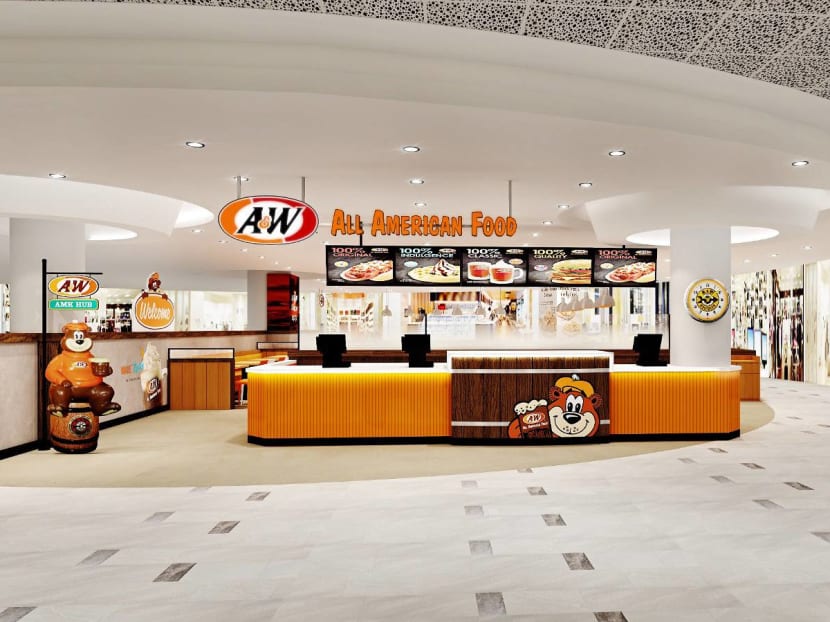 According to A&W, there will be a "dedicated waffle island [counter] which will showcase the bestselling A&W Waffles", and customers can ogle at their waffle orders being made. There are also plans to introduce a merch section where "fans will have the chance to bring home A&W Rooty – The Great Root Bear, whether in the form of plushies [or] apparels". Ah, just like the good ol' '90s days. But there are very modern touches too, such as selfie corners set up for millennials to get their 'gram.
While the Jewel outlet started out operating 24 hours, it has changed its daily opening hours to 7am to 3am since yesterday (May 30), till further notice. But don't expect to rock up to the AMK outlet at the wee hours: it will be open only from 10am to 10pm after its July opening. An A&W rep tells us the fast food chain "won't rule out" making the outlet 24 hours in the future.
At the AMK outlet, you can expect the same signatures that are also available at A&W Jewel. That means their Chicken Coney Dog, Mozza Burger with Curly Fries, Golden Aroma Chicken, Cream Cheese Chicken Burger, Waffle Ice Cream and, of course, Root Beer Float on tap, among other dishes. The A&W rep adds that "breakfast options and student promotions are in the pipeline" for the AMK restaurant.

A&W Singapore's Ang Mo Kio outlet opens July 2019 at AMK Hub, 53 Ang Mo Kio Ave 3, daily from 10am-10pm. www.facebook.com/awrestaurants.sg.