The Best Dish At This New Yakitori Hawker Stall Is Its $3.90 Chicken Karaage
Ironically, the non-skewered meat dishes shine at this new yakitori stall.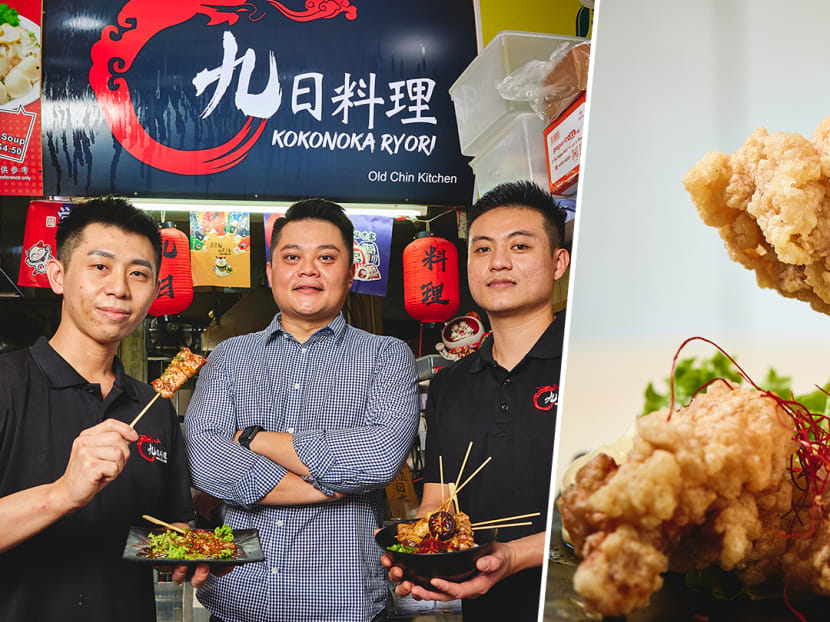 Flanked by a pair of akachochin (red lanterns typical of izakayas in Japan), Kokonoka Ryori's bright storefront sticks out amid the gloom of a dingy kopitiam on North Bridge Road. It serves yakitori, not exactly a common dish found in coffee shops. "It's something different compared to the bento meals you'd easily find in a kopitiam. We noticed that a lot of uncles like to sit at kopitiams and drink beers in the evening – we wanted to give them some small bites to eat while drinking," one of its co-owners, Stephen Lau (middle) explains.
Yakitori, which translates to grilled chicken in Japanese, often refers to grilled meat-on-a-stick sprinkled simply with salt or glazed in salty-sweet sauce. This hawker version is set up by three pals from Sarawak, Malaysia. Lim Sii Xu (far left) and Lai Yiew Jian (extreme right) have been cooking since they relocated to Singapore in 2008. They man the stall daily, while Stephen (middle) helps with backend work. Expect meat and veggie skewers cooked over a gas-powered grill to order, as well as heartier sharing plates.
All photos cannot be reproduced without permission from 8days.sg
The three partners, each aged 32, were schoolmates back in Sibu, Sarawak. Stephen came to Singapore to work in the shipyard industry eight years ago while his pals hustled in restaurants here. Sii Xu spent his time across a number of kitchens cooking Japanese, Western and Chinese cuisine, including a three-year stint at Japanese restaurant chain Ministry of Food. Yiew Jinn worked most recently as a restaurant manager in Keisuke Group's restaurants, including sumiyaki (grilled food) joint Charcoal-Grill & Salad Bar Keisuke and Tori King, for around six years. Yiew Jinn claims he doubled up as a cook sometimes too during his time at Keisuke.
They pooled together around $60K and opened Kokonoka Ryori last October. "We've been talking about this for a while. We thought that it was a good time – the Covid-19 situation was becoming more stable [after the circuit breaker period]."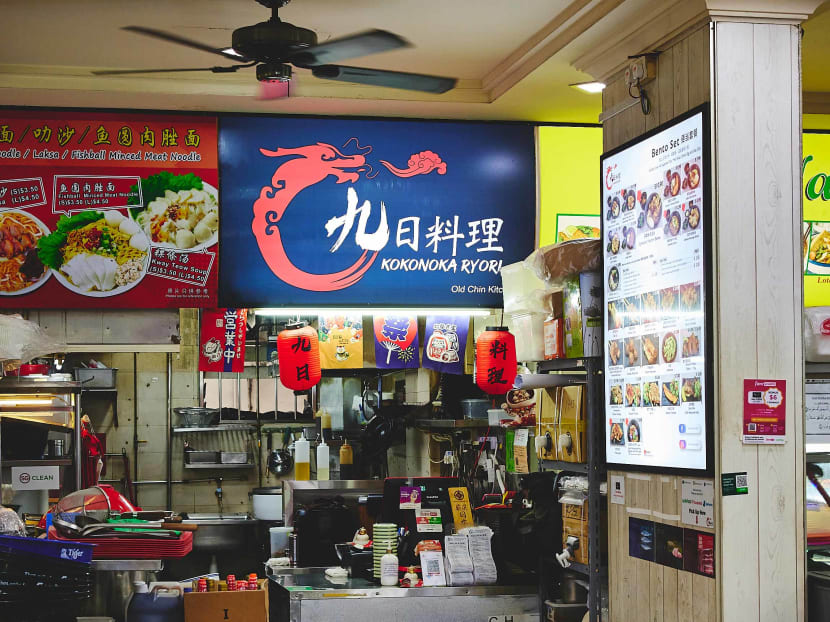 It's a good thing the guys adopted a delivery-focused mindset from the start. "People are used to ordering in [rather than dining in] by now. It was our planned business model, right from the beginning," he explains.
Even with the recent return to no dining in the increase in revenue from delivery order, has, they say, offset most of the losses from dine-in customers drying up. "The problem is the [high] commission [from food delivery apps]," he explains. "So in total, the revenue has dropped slightly overall."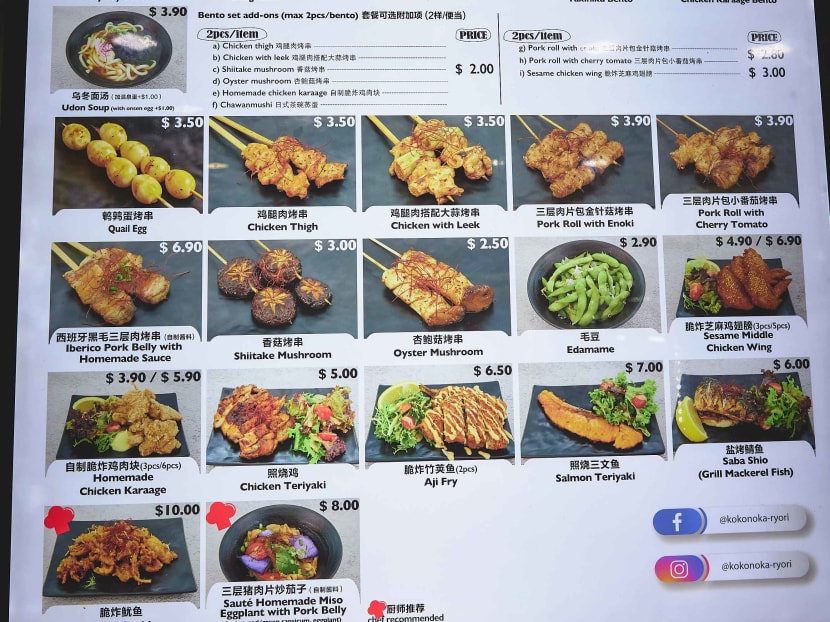 It was Yiew Jian who worked the gas grill during 8days.sg's visit, flipping the skewers in between applications of tare (a sweet-salty Japanese soy-based glaze). On offer: eight skewers that you can order with tare or plain salt (we opted for the former), ranging from $3.50 to $6.90 for the premium Iberico pork belly sticks. You get two sticks per order. There are also a la carte dishes or bento sets with Japanese rice, miso soup, an onsen egg and a small side dish.
This signature bento comes with six of the following grilled sticks: chicken thigh, chicken with leek, pork roll with enoki, pork roll with cherry tomato, shiitake mushroom and oyster mushroom. In general, the skewered meats are juicy enough with a light sweet-savouriness from the tare it's dipped in. But they lack the smoke and char that we prefer in our yakitori. Of the six, we found the chicken with leek the yummiest, if only because the veg had the best char of the lot.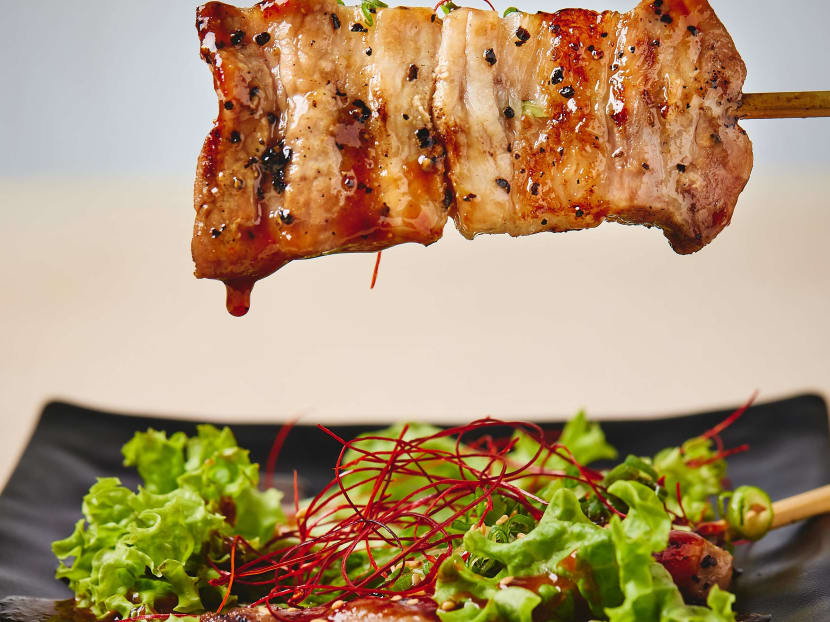 Acorn-fed Iberico pigs purportedly possess a nutty flavour, though we don't really get that here. The premium Spanish pork belly slabs are under-salted and not quite smoky enough.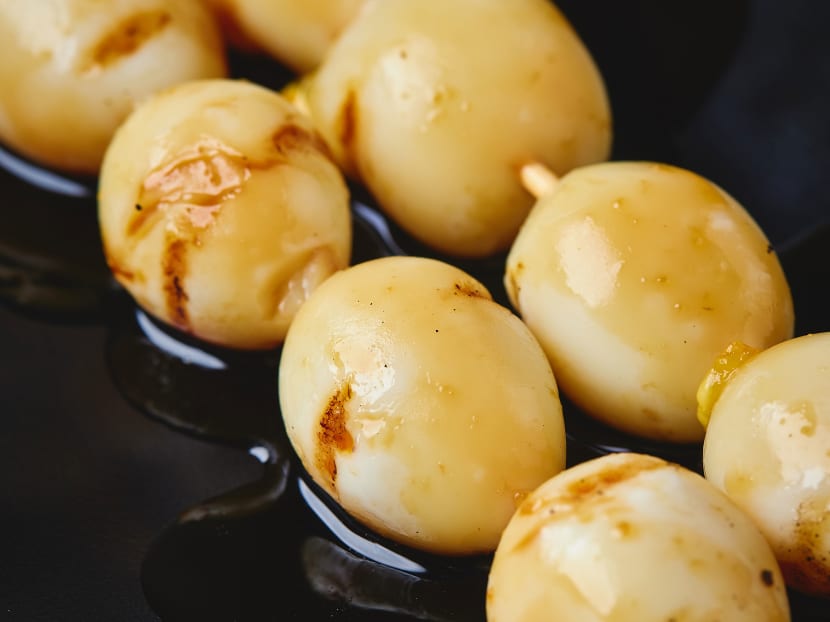 These are atas yakitori specialist restaurant-style quail eggs, and you get eight here. They're cooked sous-vide before getting a once-over on the grill. There's an enjoyable burst of creamy, flowy yolk when you bite through the slightly smoky, fully-set white – well worth the cholesterol spike.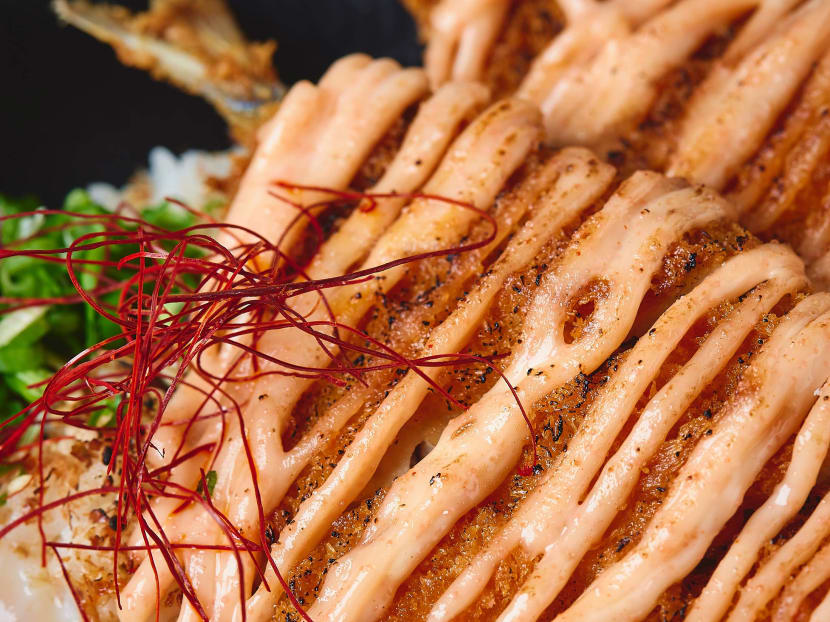 A non-yakitori dish we like. Panko-coated Japanese horse mackerel, deep-fried, topped with mentaiko mayo (spicy cod roe with Kewpie mayonnaise) and torched. Delish, umami stuff, especially paired with the resoundingly crispy fried fish that retained its crunch even after 8days.sg's shoot. The runny onsen egg just adds a little more bang for your buck.
Fans of Keisuke Group's ramen joints might notice a familiar side dish – sesame-oil dressed bean sprouts dusted in chilli powder. Kokonoka Ryori's version, which "has been adjusted" to suit a hawker setting, says Xii Su, is crunchier and milder. Quite tasty, though not as addictive as the original.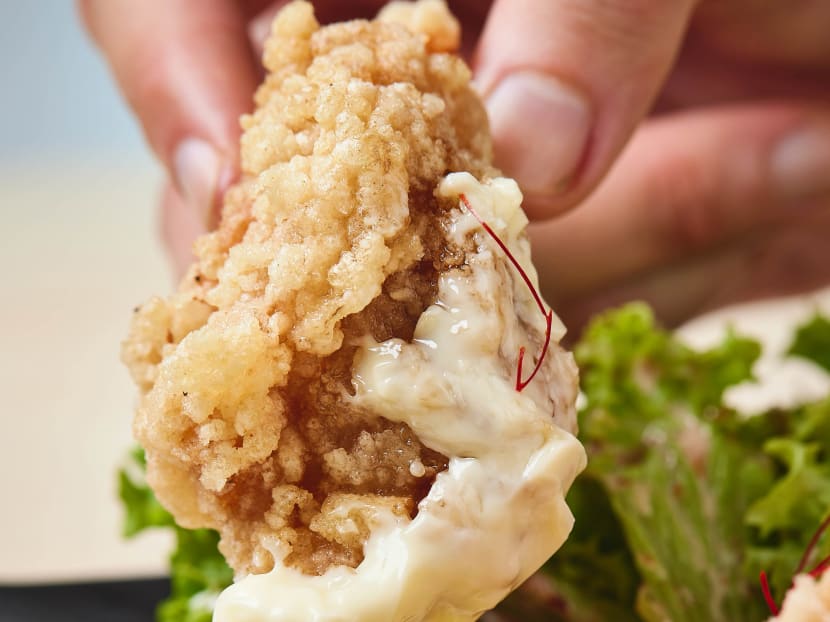 We've had our fair share of chicken karaage, but this version might take the cake – especially for its price. Juicy hunks of chicken thigh thoroughly seasoned with soy, sake and ginger are swathed in an airy, crispy potato starch batter (with some mayo on the side for extra decadence). One of our faves.
There's a pleasant interplay between the soft, unctuous eggplant and crunchier veg like capsicum and onions, bolstered by the umami-rich miso-soy sauce and thinly-sliced meat. A punchy, savoury number.
Kokonoka Ryori might specialise in yakitori, but we say drop by for its superior non-skewered offerings instead. Like that awesome chicken karaage and aji fry bento.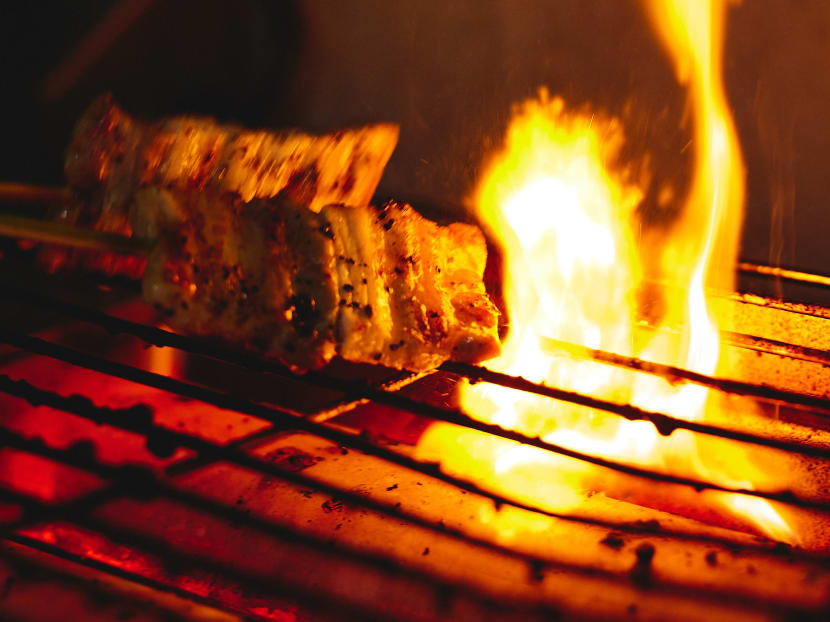 Kokonoka Ryori is at #01-5041 Blk 465, North Bridge Rd, S191465. Tel: 8299-8161. Open Mon – Sat, 11am – 9.30pm; Sun, 11am – 8.30pm. More info via Facebook and Instagram. Delivery via Foodpanda, Deliveroo and Grabfood.
​​​​​​​Photos: Alvin Teo

All photos cannot be reproduced without permission from 8days.sg