Bubble Tea Chain The Whale Opens First S'pore Outlet, Offers Brown Sugar Avocado BBT
It also has a dramatic drink called Volcanic Sapphire Whale.
For those of you who have tummy space for yet another new bubble tea joint, Chinese bubble tea chain The Whale has splashed onto our shores. The brand, which hails from Nanjing, China, soft launched their first Singapore franchised outlet at Lot One shopping mall in Choa Chu Kang yesterday. The franchise is brought in by the folks who used to run Thai eatery chain Gu Thai Noodle Cafe.

According to the official brand story, the Whale's name came about when its Chinese founder dreamt that an unforgettable girl he had passed by on the street transformed into a whale and started swimming towards him (a dolphin would have been, er, more flattering though).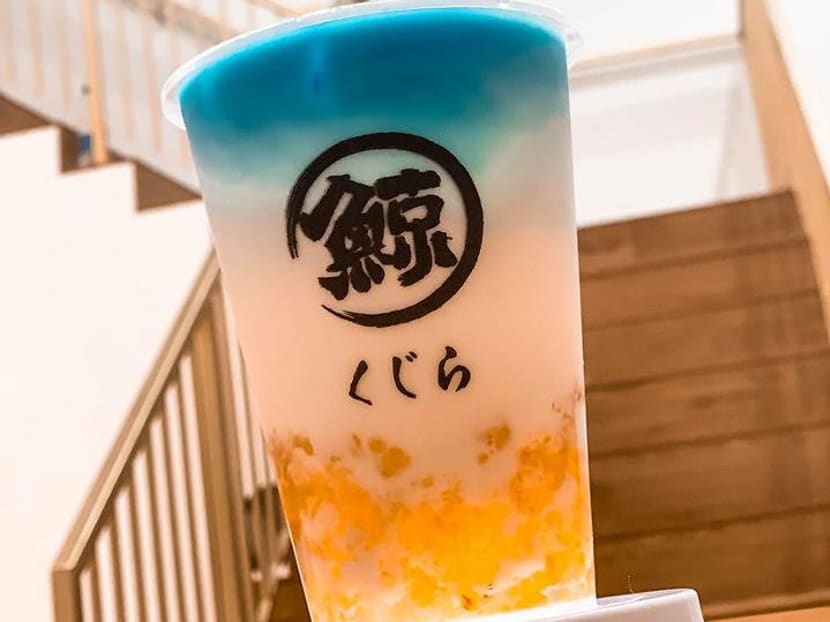 The Whale's bubble tea flavours are fancier and more creative than its rivals' — other than the usual suspects like Brown Sugar Boba Milk and a cheese foam-topped Strawberry Cheezo Milk, it also offers more unique drinks like Brown Sugar Avocado and the dramatically-named Volcanic Sapphire Whale, which has golden-hued 'lava' made with collagen-infused peach gum jelly and milk tea with a vivid turquoise layer dyed with blue spirulina (a type of algae powder).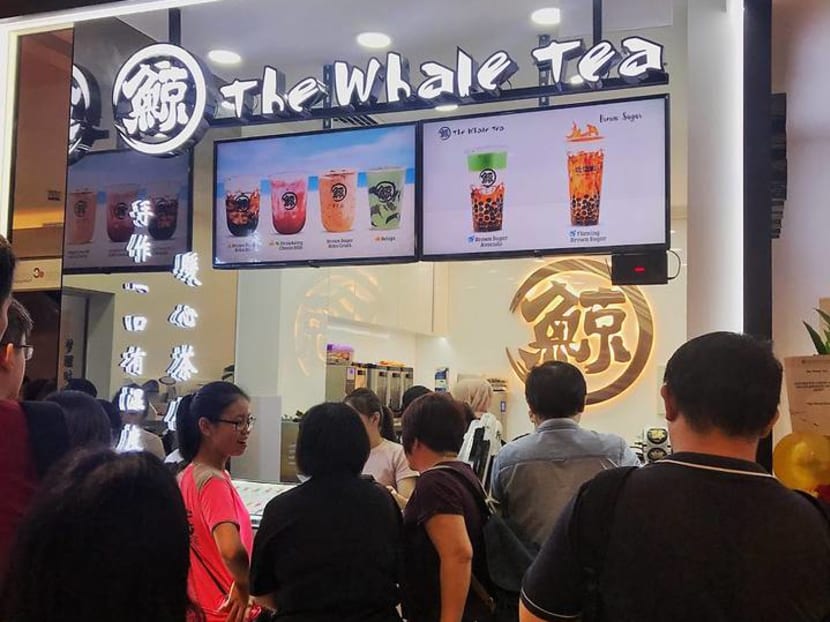 The Whale occupies a basement takeaway kiosk that sported a deceptively short queue; when we place our order, the cashier informs us that the wait for drinks is about 20 to 45 minutes due to the massive backlog of orders. You can however roam around the mall and come back later for your drinks.

"We are currently looking for a space where we can have dine-in seats," says The Whale's marketing and business development manager, Clement Low, 50. There are plans to make The Whale a huge presence here; a second outlet is opening at City Square mall in Farrer Park later this month, the third outlet at Chinatown's China Square Central in November, and a fourth outlet at Rivervale Mall in Sengkang this December. "We want to expand all over Singapore," adds Clement.
You can request to borrow a small ring light from The Whale's staff to illuminate the translucent peach gum jelly and make this cup extra dramatic for the 'gram. Taste-wise, it's not as outstanding; the earthy spirulina powder doesn't add much flavour to the bland milk tea, and slurping on the soft bird's nest-like peach gum jelly bits is not as shiok as chewing on bouncy tapioca pearls or konjac jelly. Add a dollop of the konjac-like Sakura Crystal Ball for $1 for better texture.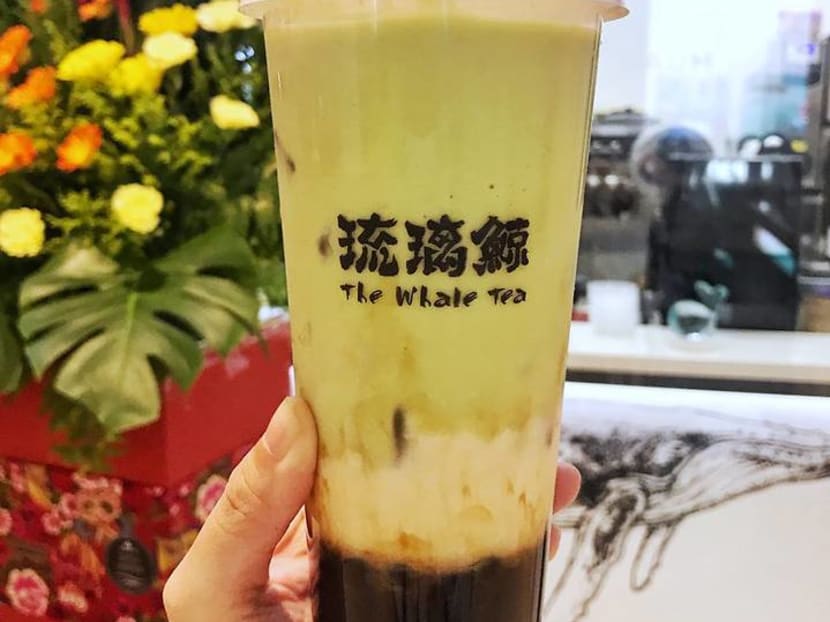 Gula melaka and avocado is a popular combination in Indonesia, though less so here. This cup is like souped-up version of the popular avocado milkshake from Alexandra Village Food Centre hawker stall Mr Avocado, with avocado puree, milk and an extra dollop of warm brown sugar pearls. It's smooth, creamy and the pearls are fab: chewy with pronounced brown sugar fragrance.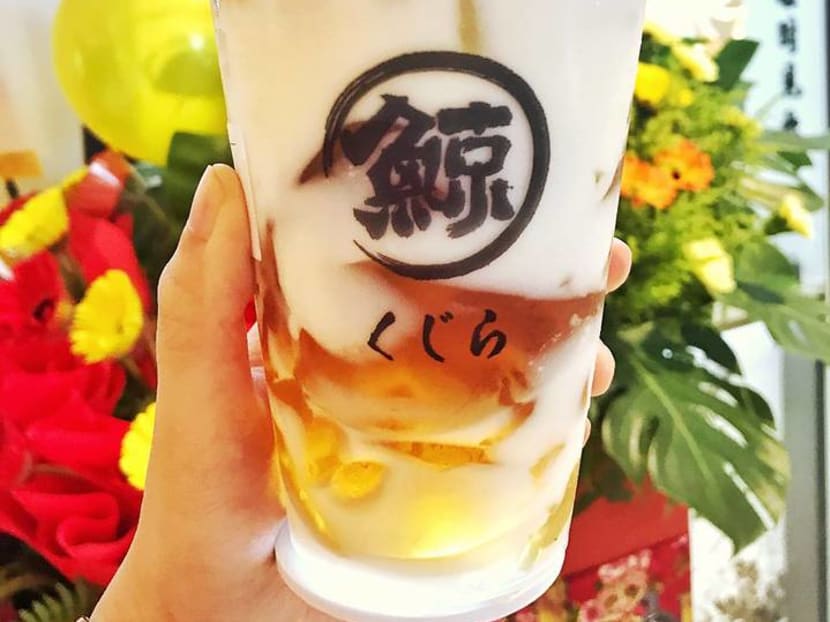 The shop serves a jelly-filled Whale Crystal Series with drinks named after different whale species. You can opt for either coconut milk, milk tea or regular fresh milk for your order. We got the coconut milk Orca, which comes with dark caramel jelly to mimick the creature's black and white appearance. It's surprisingly delish. The coconut milk isn't the kind used to cook curry and nasi lemak; it tastes more like fresh milk with a coconutty hint. The wobbly, silky caramel jelly reminds us of refreshing, slightly sweeter grass jelly.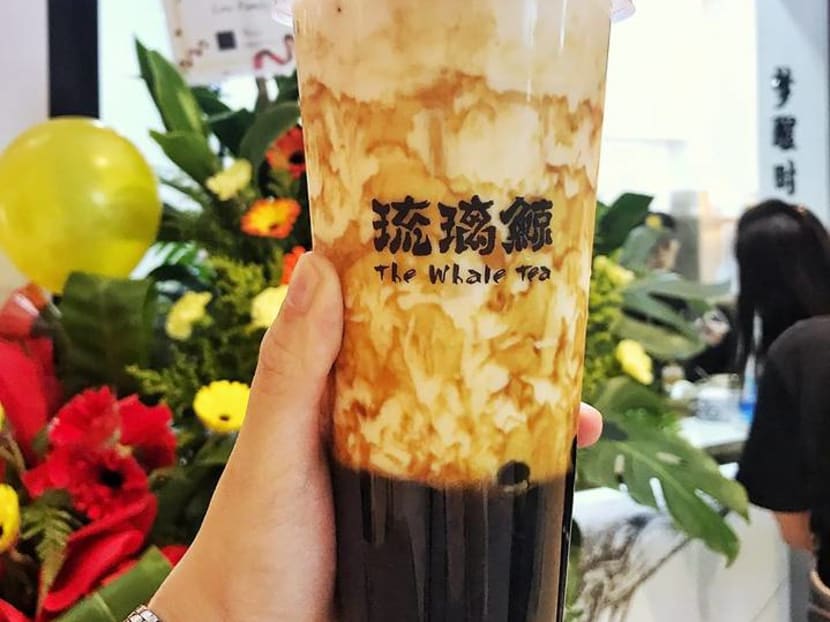 This tall cup of brown sugar pearl milk with fresh milk and brown sugar pearls is topped with a layer of torched caramelised brown sugar. It's pretty average, though the al-dente pearls drenched in brown sugar syrup are tastier than most bubble tea shops' versions.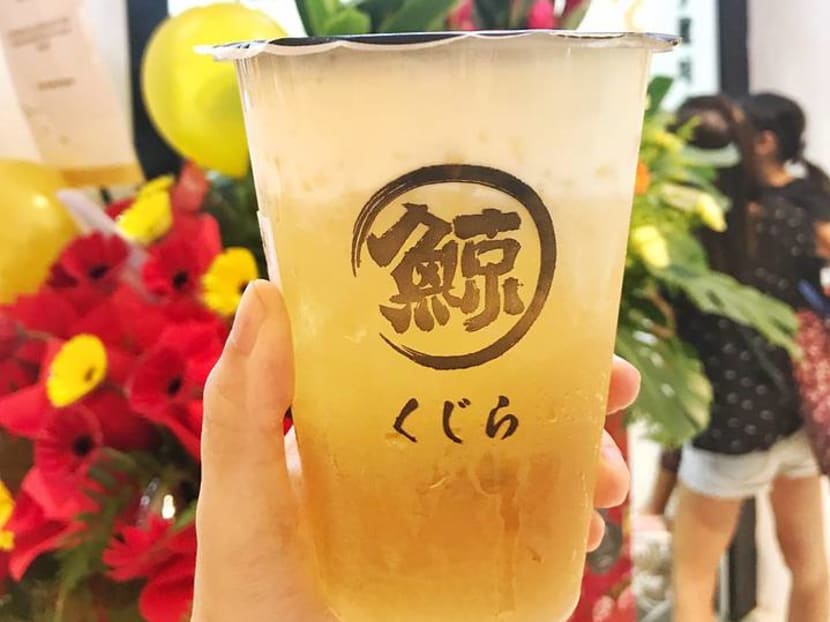 Peach syrup-infused cold brew oolong tea topped with a layer of milk foam. The peach and oolong flavours are not strong enough, though the airy milk foam is luxuriously smooth and creamy.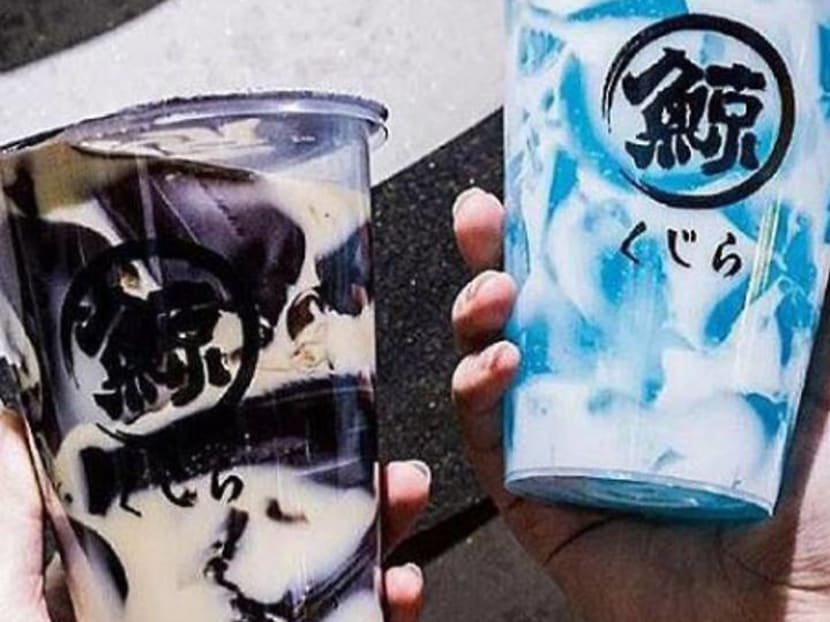 The Whale is the latest Insta-worthy bubble tea chain to join the strong squad here, and its drinks are chio, creative and interesting (though not all are hits taste-wise).

#B1-25 Lot One Shoppers' Mall, 21 Choa Chu Kang Ave 4, S689812. Tel: 8799-8336. Open daily 10am-10pm. www.facebook.com/pg/thewhaleteasingapore.

PHOTOS: YIP JIEYING/ THE WHALE'S FACEBOOK