Bukit Merah View Halal Char Kway Teow Hawker: "Nobody Dared To Reopen Their Stall"
His hard-hit hawker centre, the epicentre of Singapore's largest open Covid-19 cluster, was closed for two weeks for deep cleaning.
The 115 Bukit Merah View Market & Food Centre became the epicentre of Singapore's largest open Covid-19 cluster, when a 74-year-old Singaporean who worked at a sundry stall there became the earliest case in the cluster. He had been infected with the coronavirus on June 9.

The market and hawker centre where he worked was subsequently closed from June 13 to 15 for deep cleaning. When more cases started being linked to the cluster — at press time, it had 91 cases — the shutdown was extended to June 26.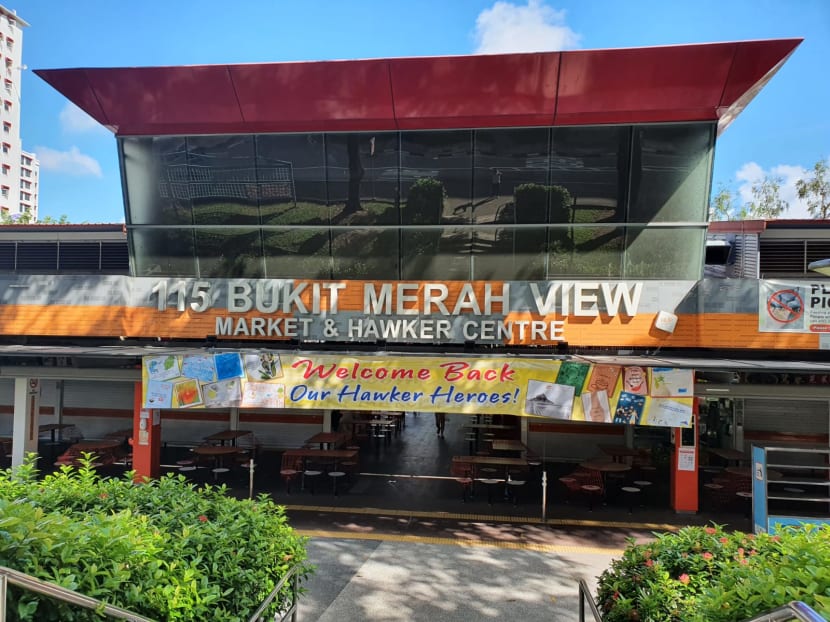 Stallowners at the hawker centre were asked by the Ministry of Health (MOH) to stop operating and quarantine for two weeks at designated SHN hotels. One of the hawkers was Anis Ang, 56, who runs the popular halal char kway teow stall 786 Char Kway Teow.

Anis, born Ang Hock Peng, converted to Islam in 2011. The former banquet chef-turned-hawker started selling halal char kway teow after becoming a Muslim.

He told 8days.sg that he had decided to resume running his stall today (June 28). "I was shut in a hotel room for so many days and slept so much, I felt like I was going crazy (laughs). I needed to stretch a bit," he says. "Got people or no people, I'll just continue to sell. There's nothing to do at home anyway, and I get to earn some income."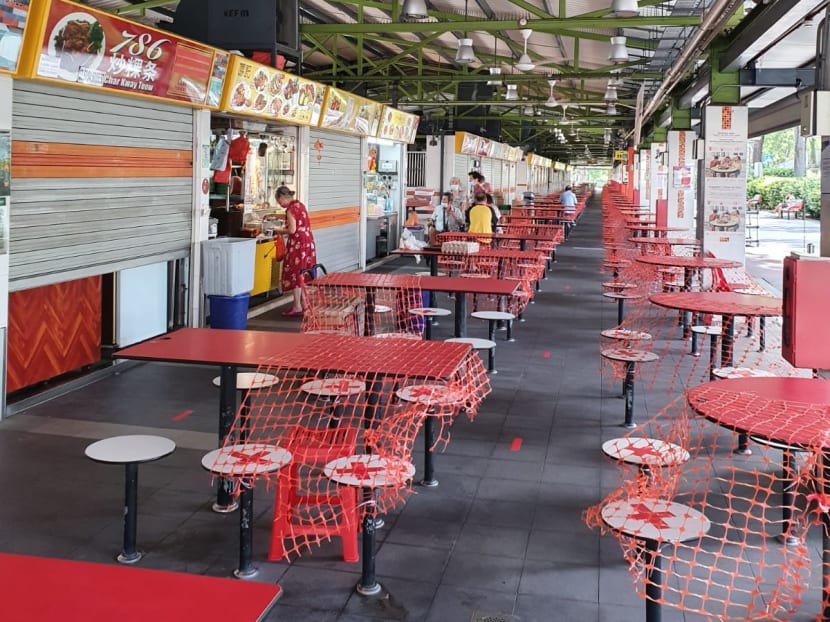 Out of the 182 stalls at the hawker centre, only five were open today, including Anis' stall. "We could resume business yesterday, but nobody dared to reopen their stall. Some of the hawkers felt overwhelmed, or tired. And some needed time to order stock from their suppliers. A lot of the hawkers here are elderly, so they're taking things easy," he said.

At 3pm today, three hours after opening, Anis had sold "only a few plates" of char kway teow. "There was nobody. No business. Now I'm the only one left in the hawker centre, and a drinks stall that's still open. The duck rice stall next to me was open earlier today, but they have already closed and gone home 'cos business was slow."

Only a few market stalls were open on June 28, after a two-week closure for deep cleaning.
He said that a nearby nasi lemak stall's fridge had broken down during the two-week closure. "But 'cos they weren't here for two weeks, they couldn't save anything. All their ingredients spoiled, and they had to throw everything out," he shared.

Anis ended up closing his stall at 6.30pm, earlier than his usual 8pm. He managed to sell "about 60 plates", though it was less than half of his usual sales of about 120 to 150 plates a day.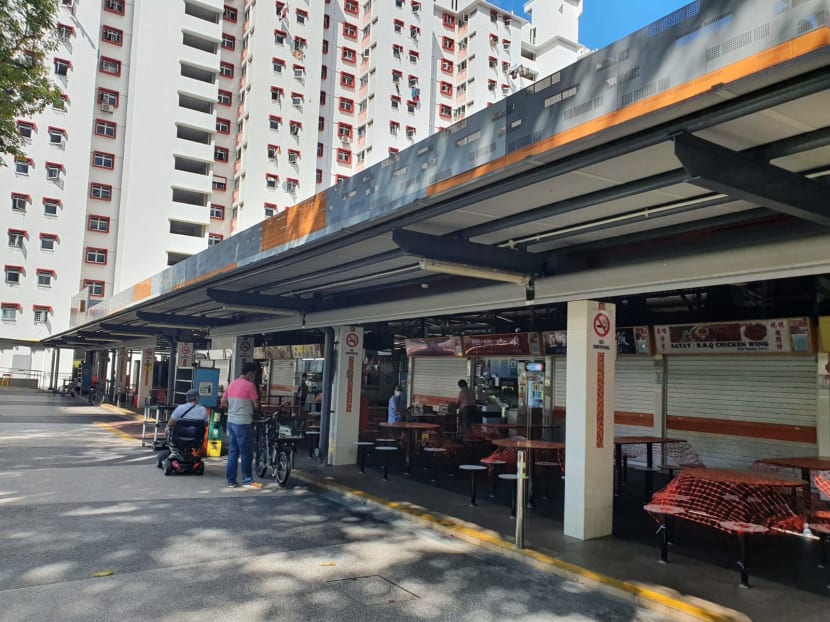 He prepared for his stall's reopening by "wiping down everything and throwing out what needed to be thrown out". He also noted that the cleaners had "sprayed so much disinfectant on my door that it turned white".

He admitted that he felt "scared" when he got to know about the cluster at his workplace. "But my Covid-19 test was negative and I felt fine, so I was not so anxious. I just go to the hotel to rest and relax," he chirped.

He was sent to the Hard Rock Hotel in Sentosa for quarantine. "Some of the hawkers went there too, some went to [hotels in] Orchard Road and some went to Bugis. We were just assigned rooms based on availability," he shares.

Throughout the two weeks, he spent his time "eating, sleeping and praying". He was also given an electronic tag that tracked his whereabouts. "They strapped the 'Rolex Air King' on my wrist — it's like those ankle monitors, except ours is more elegant-looking," he quipped.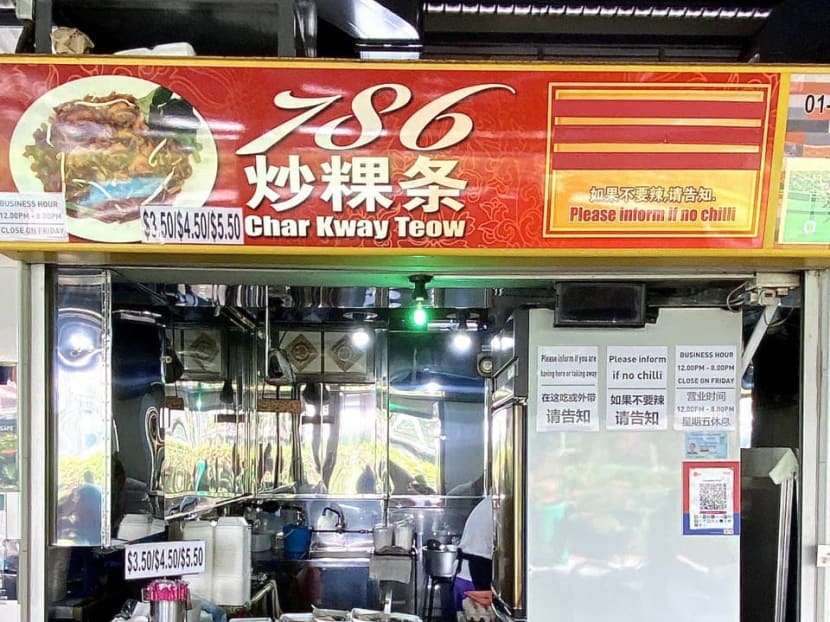 While his neighbours are aware that he works at Bukit Merah View, Anis shares that they "had not said anything" or reacted adversely about his situation. "Their door was closed, so they didn't see me being escorted to the [SHN] hotel by a person who was dressed in full [PPE] gear," he shared.

His family also remained calm. "They just told me, wah, you struck lottery," he said. But he observed that some folks were nervous about going to the Bukit Merah View hawker centre.

He recounted, "On the Sunday that MOH asked us to close, I had a customer who ordered char kway teow for pickup at 6pm. I told her I was going to close my stall and she should come take her money back 'cos I don't use [internet banking]. But she said, 'Never mind, you can keep it. I'm not coming down anymore'."

But he had already braced himself to face a ghost town for some time. "I'm just staying at my stall to prepare some ingredients for tomorrow, so I don't have to rush," he explained, adding that he had prepared less food than usual in anticipation of low demand. "Our location has the most serious cluster, so the crowd will definitely be affected. People naturally feel scared about potential infection," he said.

He shared that his rent for June 13 to 26 — the period of his cluster-related closure — will be entirely waived by NEA. "I heard our MP [of Tanjong Pagar GRC, Joan Pereira] helped us to fight for it," he said.

When we asked if he was worried about business instability, he confessed: "If I say I'm not worried, I'd be lying. We don't know when business will return to normal. One month? Two months? But I'm not worrying excessively. It's a matter of time before the customers come back. People always go to their nearby hawker centres for food."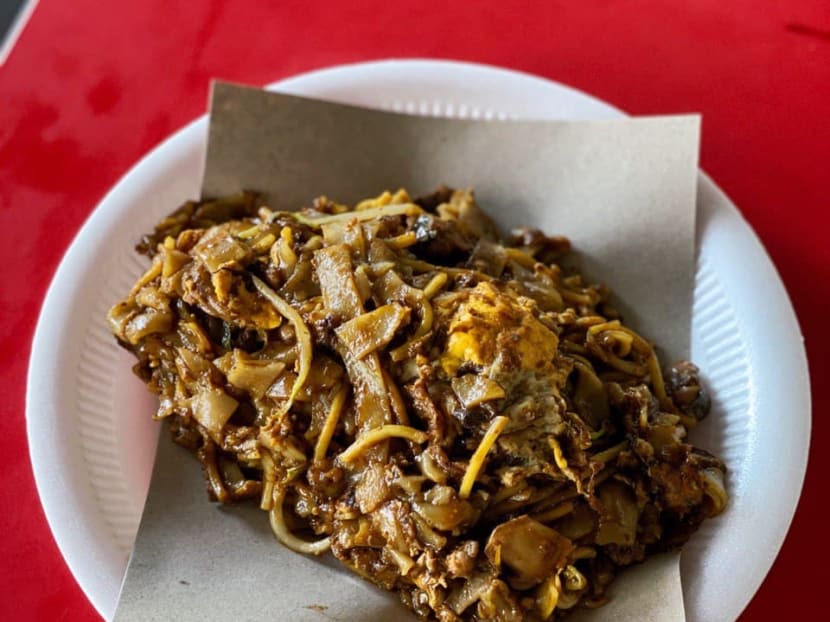 Address: 786 Char Kway Teow, #01-28 Bukit Merah View Market & Hawker Centre, 115 Bukit Merah View, S151115.

Opening hours: Open daily except Friday, 12pm-8pm (last order at 7.30pm). Islandwide delivery available via halal food delivery app Bungkus.

Tel: 9007-7466 (call Anis for preorders at least two hours in advance.)

Website: Facebook

Photos: Yip Jieying/ Anis Ang