Cathay Pacific Lounge Chefs-Turned-Hawkers Sell Shiok $8.90 Satay Chicken Chop
It's the same dish they used to serve to celebs like Simon Yam and Nancy Sit.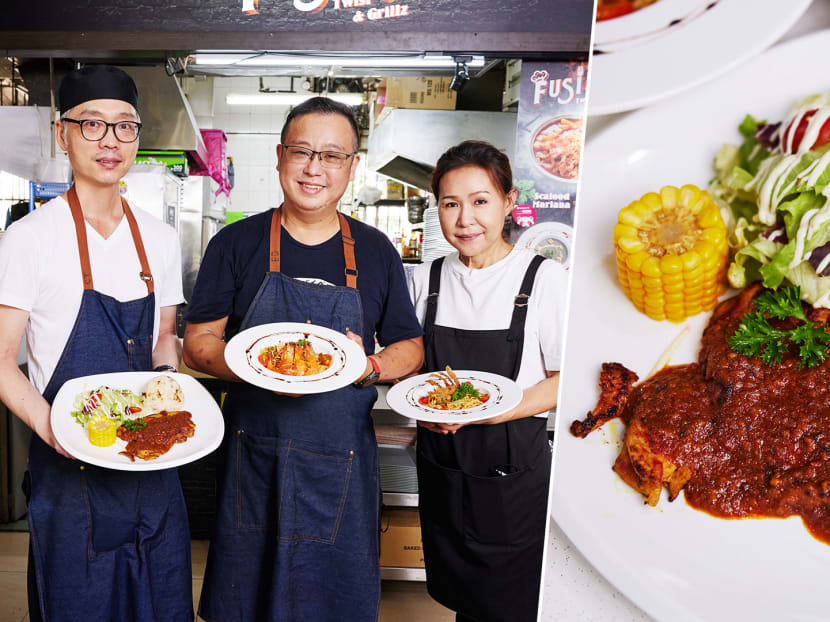 Just up till October last year, Audrey Khoo was cooking for the stars. A junior sous chef at the exclusive Cathay Pacific Lounge at Changi Airport's Terminal 4, the 51-year-old helmed the Noodle Bar there serving dishes like laksa and wanton mee to celebs and high-flyers.

As the Covid-19 pandemic dragged on, the lounge was forced to close temporarily. Audrey, along with her colleagues Edmund Yeoh, 45, and Chris Tan, 47, had to take a "deep pay cut". They were employed by a Hong Kong company who caters for Cathay Pacific. Both Audrey and Chris – a Western cuisine kitchen assistant – had worked closely with sous chef Edmund for three years, during which they built a good rapport.

During their time at the lounge, the trio regularly interacted with "first class and business class passengers", like Simon Yam, Nancy Sit, Mimi Chu and Benz Hui. "They were very easy-going people. They would order our noodles, like laksa or prawn noodles. Mimi Chu loves our signature laksa," Edmund tells 8days.sg.
Edmund with Simon Yam at the Cathay Pacific Lounge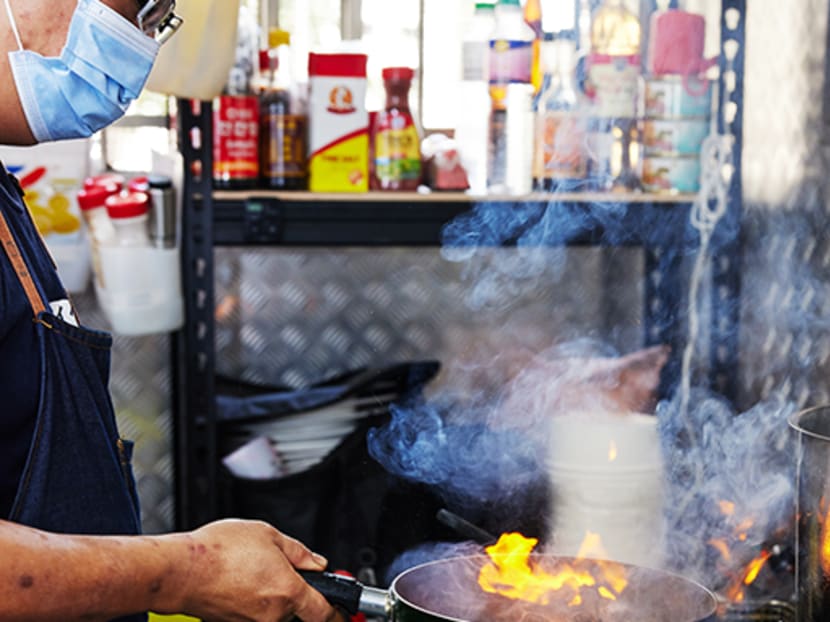 But due to their pay cut, Edmund, Audrey and Chris decided to resign and look for other job opportunities. "It was tough to get jobs elsewhere," says Audrey, who worked as a customer service officer at a FairPrice supermarket, while Edmund did Grab deliveries. Chris found a full-time job, though he declined to elaborate.

But they reckoned they were most comfortable in a kitchen, and returned to F&B — this time as hawkers "due to [the low] capital". Their stall, Fusion Twist & Grillz, opened on June 5 this year at a Jalan Bukit Merah coffee shop.

The biz cost $30,000 to set up and was spearheaded by Edmund, who turned down "a job offer from a big company as it's my ambition to open my own stall". He roped in Audrey and Chris "as we work well together". Other than Cathay Pacific's lounge, he had also worked in the kitchens at Shangri-La, Ritz Carlton, Four Seasons and Tanglin Club in his 25-year culinary career.

The trio then had to get used to cooking in a hot, squeezy space. "This stall is so small and cramped. I told everyone we cannot get fat!" Audrey laughs. Due to space constraints, they trimmed their menu. They had wanted to offer "fusion waffles" like Mac & Cheese ($5.90) and Country-Style Potato Cabbage ($5.90), but these will have to wait while they figure out their operations.

They decided to go with mainly Western-style dishes that they used to cook at the Lounge, like Grilled Satay Chicken ($8.90). "There's already a noodle stall next to us, so we didn't want to compete by selling [noodles like] laksa," explains Audrey.

They have a pasta selection, though, with self-created picks like Fusion Prawn Bisque Pasta ($8.90) and Soft Shell Chilli Crab Pasta ($10.90). Such shell-on prawn and crab dishes were not served at the airline lounge. "When we were working there, we couldn't use any ingredients with shells or bones, maybe 'cos we were dealing with VIPs. Even our equipment was locked up after closing," Audrey shares.

It's a pity that we won't get to try the lounge's well-loved Laksa here. But on the bright side, you don't have to splurge on a biz class ticket to sample its Western dishes (sold at hawker prices to boot).

The food presentation here is just as atas as a first class lounge. The hawkers use fancy fine dining white plates, decorated with artful drizzles of honey balsamic dressing. Each order is lovingly plated. "It doesn't take up that much time to do it, 'cos we're so used to it. We want to give people the same VIP experience," says Audrey. She's offering an ongoing 10 per cent discount for nearby SGH and SingHealth workers and free delivery to their workplaces "as a way of giving back to them".

Other than Western cuisine, the trio also offers trendy, reasonably-priced K-food such as Army Stew ($11.90 for single portion) and Korean Crispy Garlic Soya Fried Chicken ($6.90), as Audrey had worked in a Korean cafe in Telok Ayer "many years ago".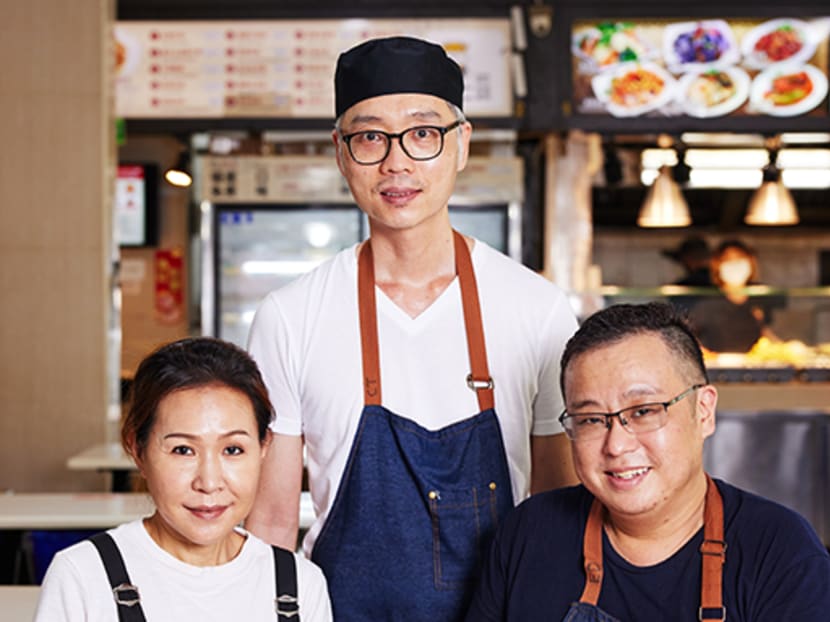 But she admits that running their own business "has been stressful, as we need to constantly think of ways to survive". Barely a week into their opening, Bukit Merah became a full-blown Covid-19 cluster zone. "We took a huge risk to open then, 'cos otherwise our deposit would be forfeited. We have the passion for cooking, so who knows, maybe we can make it?" chuckles Audrey.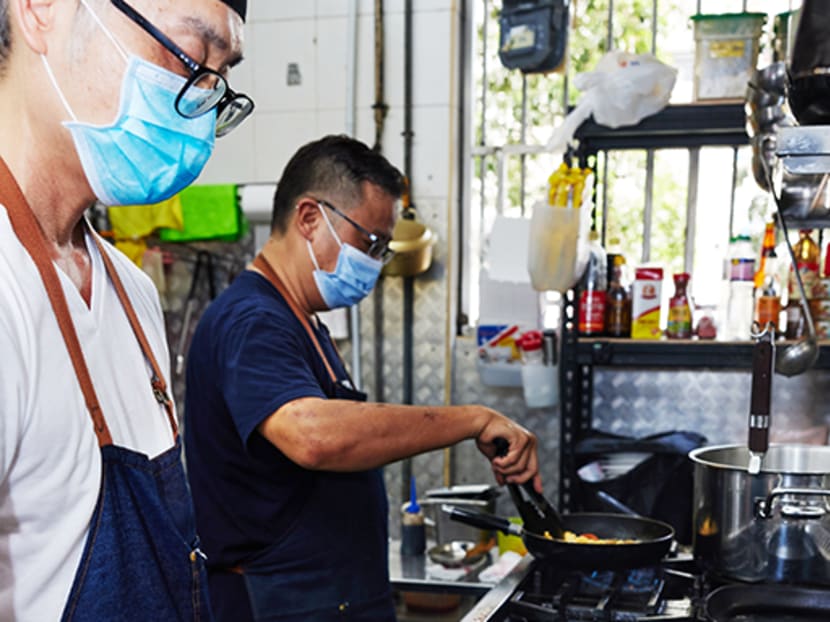 They have plodded through a month so far, but business has been slow. "We're not good at promoting ourselves on social media. Aiyoh, jialat [Hokkien for dire] leh," Audrey laments. But she adds that the neighbourhood residents "have been very supportive after trying our food".

Despite the instability, she maintains that "it's better to bear our own losses and profits". She opines, "There are no guarantees when we work for other companies. If there's a lockdown again, they can say, 'Sorry, no pay leave'." Edmund surmises: "We're definitely worried about our incomes, but we need to be brave and give this a shot."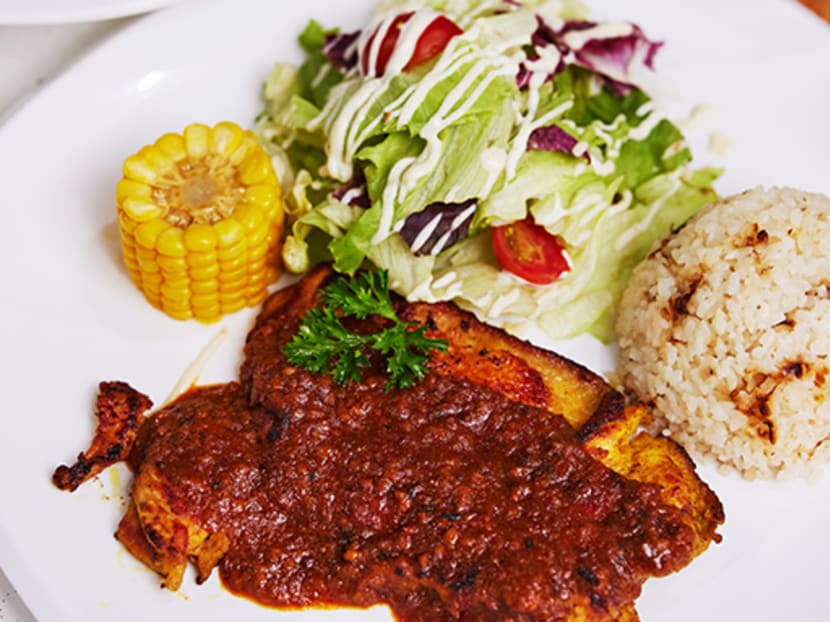 Despite their dainty appearance, the portions here are more substantial than the usual fine dining morsels. The "satay chicken" is not the skewered kind. Instead, it's a succulent slab of turmeric-seasoned chicken thigh, grilled to a fragrant, smoky finish and slathered with a rich house-made satay sauce with crunchy chopped peanuts.

The satay chicken is served with tasty fried garlic-and-shallot rice, a salad, and corn on the cob. Yummy, and we can see why Cathay Pacific Lounge's glitzy guests like it.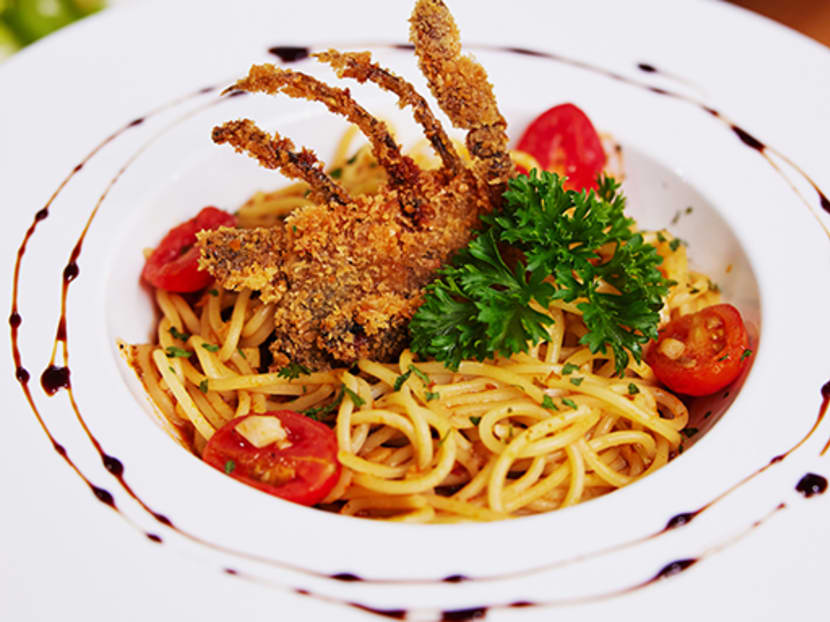 The three chefs-turned-hawkers are endearingly excited about offering shell-on crabs and prawns here, something they couldn't do at the lounge due to security regulations. The beautifully-presented soft shell crab pasta consists of al-dente spaghetti tossed in a tangy "chilli crab sauce" and topped with a crispy, panko-coated fried soft shell crab. Tasty stuff, but the noodles lack the chewiness of good quality pasta (usually an issue with inexpensive pasta brands that most Western hawker stalls use).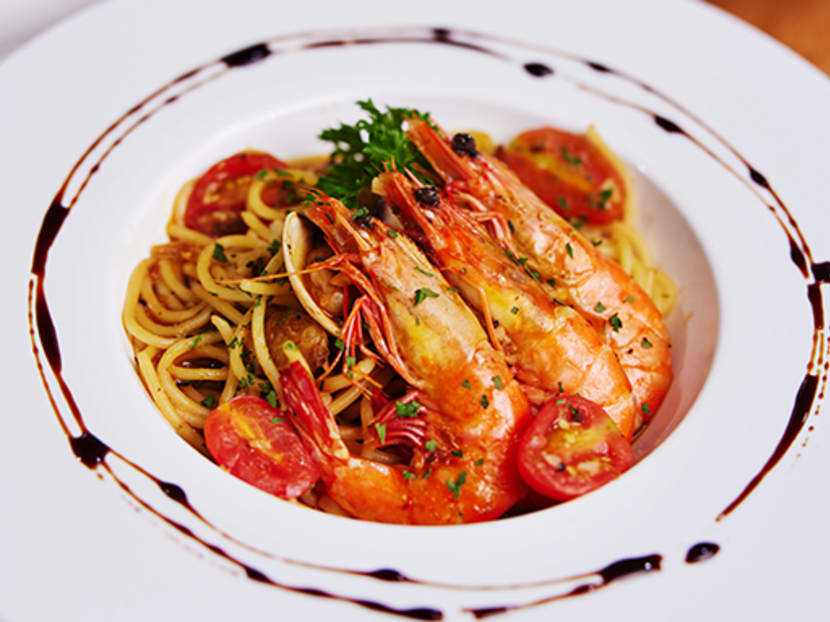 We feel like a celeb when we're presented with this impressive dish, loaded with three meaty prawns, Asari clams and cherry tomatoes. The briny prawn bisque is luscious, but barely clings to the spaghetti strands, so we're left trying to slurp up rather bland noodles. Perhaps thicker pasta (like tagliatelle) and more prawn bisque would help; it's a promising dish we'd happily pay more for to enjoy wholly.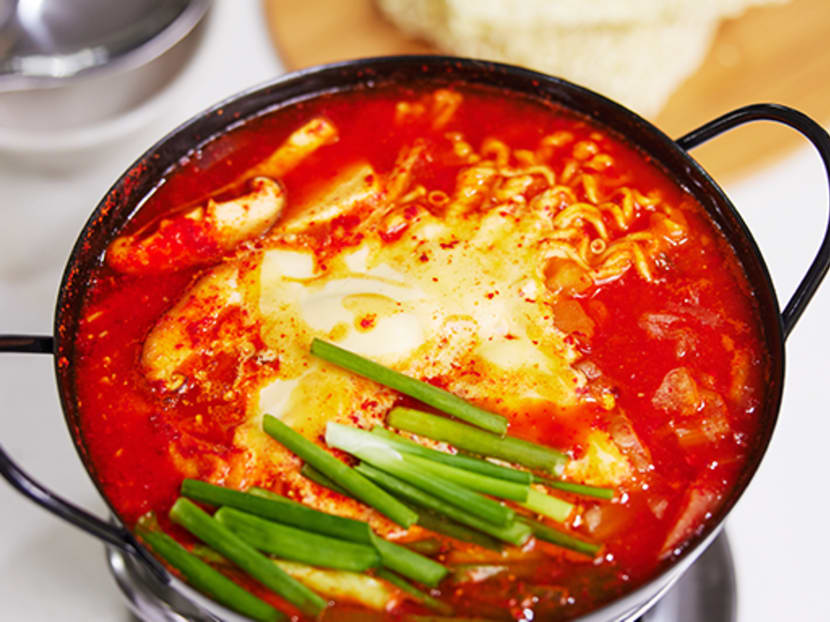 While Korean and Western food is a uncommon combination for a hawker stall (its name promises 'fusion twist' after all), the K-dishes here are pretty well done. We order an Army Stew for one, and are presented with a cute little pot perched on a portable stove.

The food is already expertly cooked for us, so all we had to do was to hoover up the simmering ingredients — tteokbokki (Korean rice cakes), luncheon meat, fish cake, shiitake mushrooms, turkey ham, hotdogs, enoki mushrooms, processed cheddar, kimchi and instant noodles — luxuriating in a spicy, soul-lifting gochujang broth.

Unsurprisingly, the army stew is a hit here, with Audrey sharing that "we have been selling it the whole afternoon to people of all ages". Good for when dining in expands to five pax from tomorrow.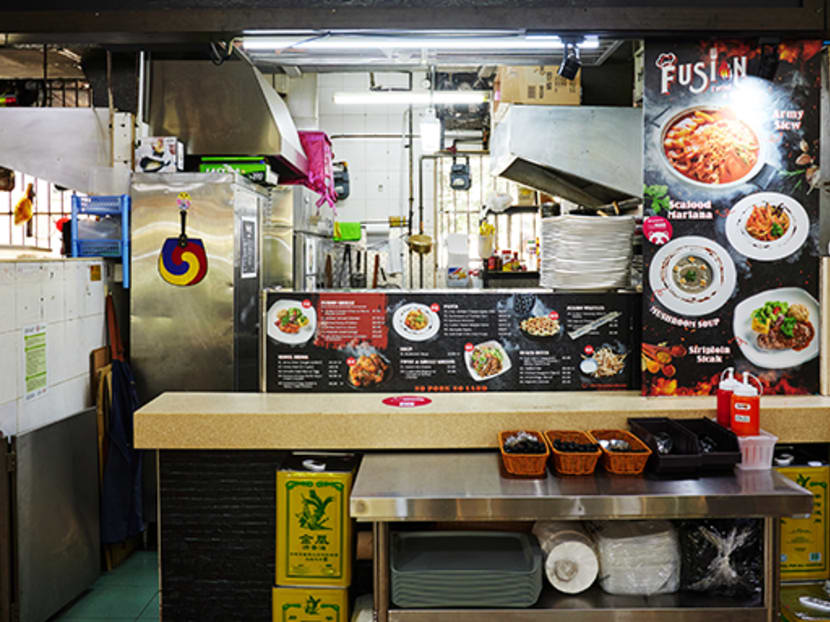 Address: Blk 146 Jalan Bukit Merah. S160146.

Opening hours: Open daily except Sunday, 11am-8.30pm (delivery available via Foodpanda)

Website: Facebook

Photos: Kelvin Chia