Cool Korean Family With JJ Lin Lookalike Son Sells Fun Fusion Hotdogs In Chinatown
Hidden in a corner of Chinatown is an American-style hotdog and milkshake stall called Shake N Dog. It's run by the Park family, which comprises dad Tony Park, 56, mum Sunny Lee, 49, and their two kids Lisa, 21, and Daniel, 18. They moved here from Seoul 13 years ago so that Lisa and Daniel could study primary school here. "The schools in Korea are competitive but not rewarding. It's competitive in Singapore too, but at least it's rewarding," Lisa tells 8days.sg candidly. She now works here as an account executive at a media agency, while her brother is studying game design at Singapore Polytechnic. "He recently won first prize in a game design competition," Lisa says proudly.

Incidentally, Daniel (extreme left) also resembles local superstar JJ Lin (yep, he listens to JJ's music). The siblings, who are fluent in English, Mandarin and Korean, help their parents at the stall whenever they have free time.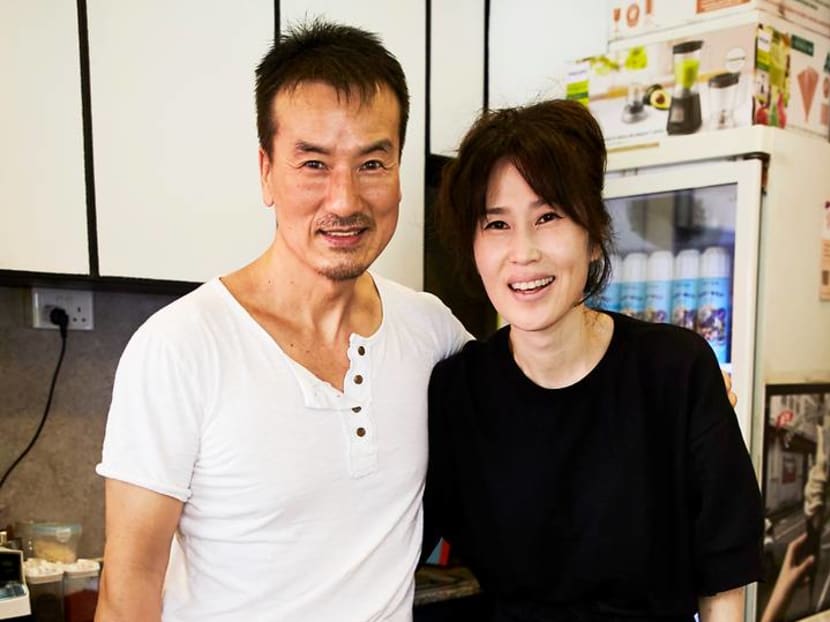 According to Lisa, setting up Shake N Dog "was a way for our family to live together". Initially, the Parks had shifted here together. 'Hunkle' Tony (left) worked as a manager at a construction firm while Sunny (right) was a homemaker. When Tony's work permit expired in 2010, he had to return to Seoul while his wife and kids stayed behind to continue schooling.

"My dad went back and forth [Singapore and Seoul] for nine years. He would come back to visit for a few weeks each time," Lisa recalls. "Back in Korea, he worked as a construction worker in the countryside building roads, and he'd send money to us for our rent and expenses. Korea's economy isn't doing very well, so even if you have a degree, it's hard to find a job. He was very lonely there and didn't eat well, 'cos my mum wasn't there to cook for him. And it was hard for my mum to handle two kids alone. We couldn't go on like this."

The Parks decided to open an eatery so that Tony could return to Singapore on a work permit. They took over a small corner unit on New Bridge Road in Chinatown, which used to house a taiyaki stall. "My dad found this shop on Carousell," Lisa laughs. "We wanted to open a Korean restaurant since my mum is a good cook, but looking at the location, it has to be takeaway food. We thought of selling hotdogs 'cos my mum always makes them for us for breakfast. The flavours we have are very unique, and it's what we like to eat at home."

And the flavours offered are indeed very unconventional. While there are classic options like Original Chilli Dog ($8.90) and Cheese Corn Dog ($9.50), the Parks also offer K-style hotdogs like Bulgogi Dog ($9.90) topped with a sunny side up egg, and whimsical concoctions like Sweet Potato Dog ($9.50) and Kaya Banana Dog ($9.50), which Lisa created and includes a sausage topped with cheddar cheese, kaya spread and banana slices.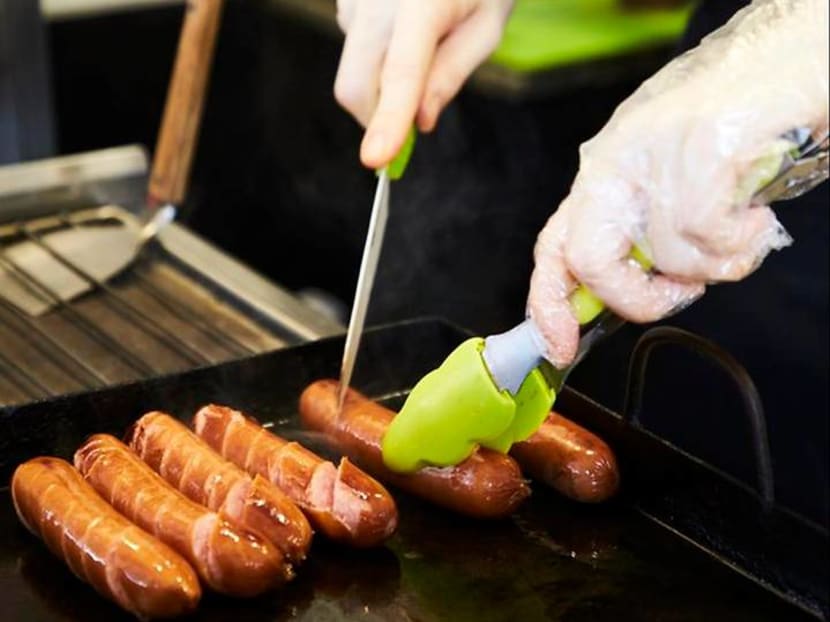 Gourmet smoked brats from US sausage-maker Johnsonville are used. Each hotdog bun comes with a base of onions and sweet relish made from scratch by Sunny, who also sells her homemade kimchi ($10 for 850g, pre-ordering required). There are also 10 types of milkshakes ($7.50 each), including Kaya Banana, Speculoos and an Original milkshake with potato chips, plus housemade milk soft serve in a cone ($4.50).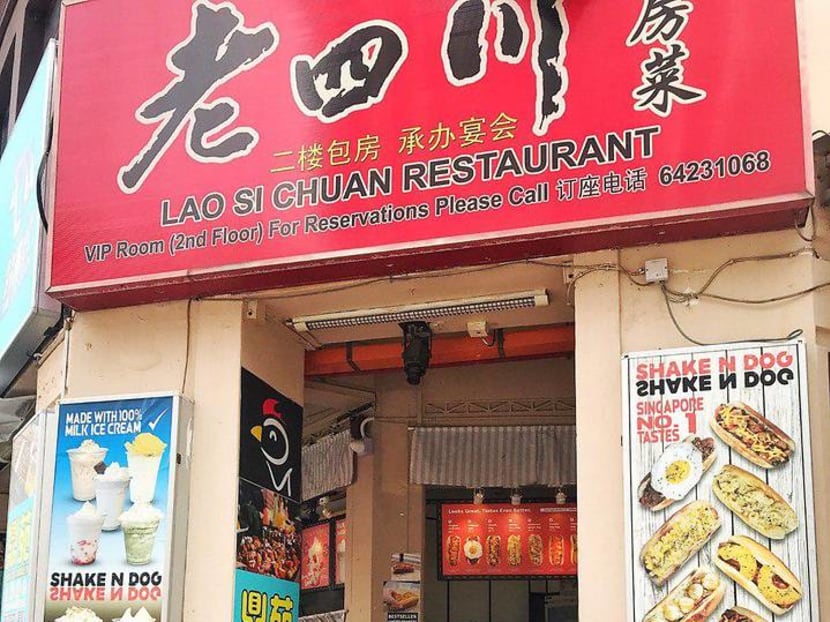 While it's technically a takeaway stall, there are tables with about 12 seats in front of the shop where you can chow down on your freshly-cooked dawg. "The tables belong to [Oriental Chinese Restaurant] next door, but they let us use them during non-peak hours," says Lisa. The Parks decorated their stall with supplies from Daiso. Lisa reveals, "Things are not in our favour financially, and this is a little space where we could start out without a lot of money. We really risked everything [to open an eatery], and we put in almost 100% of our savings. There was a lot of fear involved, but we took it step by step. This means a lot to us 'cos it's a family project."

Incredibly, Shake N Dog's opening hours are from 11am to 5am from Thursdays to Sundays (they also do Foodpanda and GrabFood deliveries), and 11pm on other days. "My mum does the day shift, and my dad takes over at night. We open overnight to earn more money, so we can do more things. We have to hustle! It's our 2020 dream to go on a family holiday," shares Lisa.

The food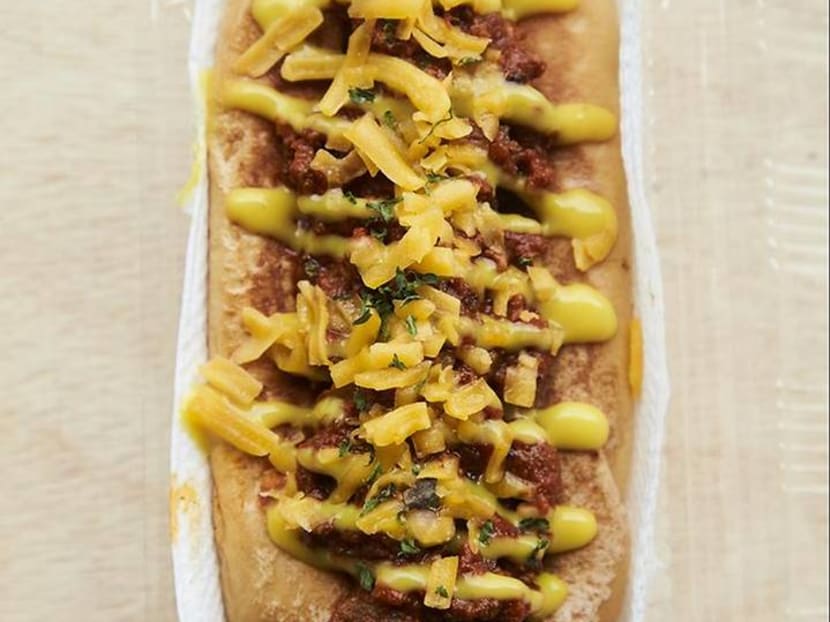 Brat in a bun, topped with housemade American-style ground beef chilli and melted cheddar cheese. It's pretty shiok; the juicy sausage, grilled with butter to a smoky finish, has a good snap to it. The soft, fluffy bun from a local supplier is lightly toasted, generously buttered and loaded with crunchy chopped onions and a delish homemade pickle relish. The chilli and cheddar toppings add a mildly spicy, savoury kick.
The Parks' new flavour — a dollop of mashed sweet potatoes drizzled with ketchup on a brat and bun. It's a surprisingly tasty combination, the warm, soft, earthy sweet potatoes with a tangy tomato hint a nice contrast to the firm, juicy brat.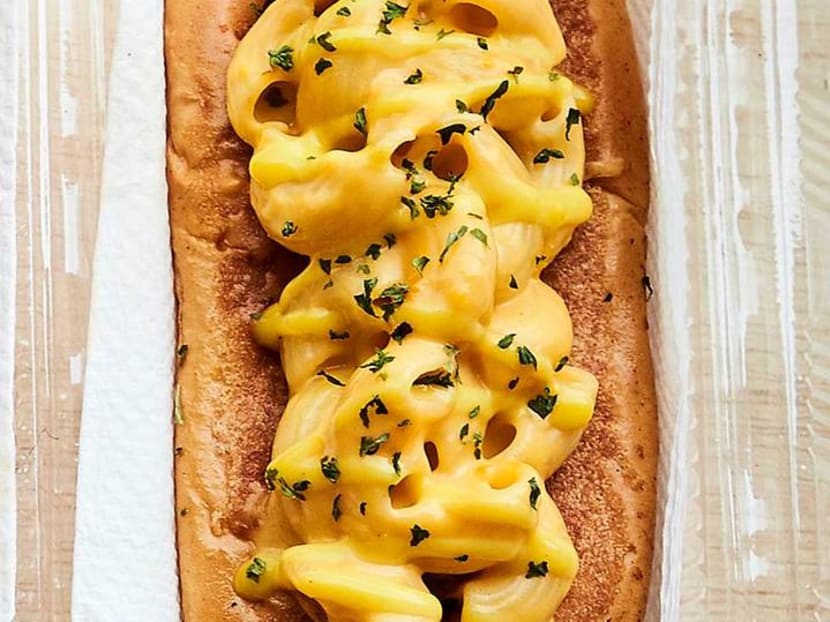 This would make a great movie snack — a toasty bun cradling a sausage topped with gooey mac & cheese. Pity the macaroni is overcooked here; it would have been perfect al dente.

This dog comes with umami, succulent beef bulgogi, melted cheddar and Sunny's crunchy, spicy made-from-scratch kimchi. The piquant kimchi cuts the jelak-ness of all the meat and cheese. There is so much ingredients, the dog makes for a meal by itself.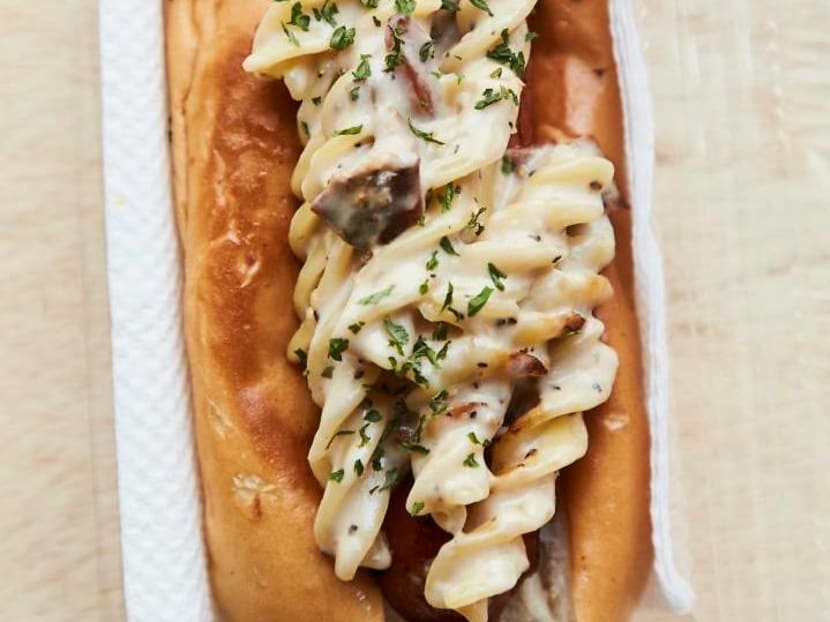 A fun dog loaded with creamy, al dente fusilli carbonara and chewy bacon bits. It's yummy enough, though too heavy, even more so than the Mac & Cheese (see above).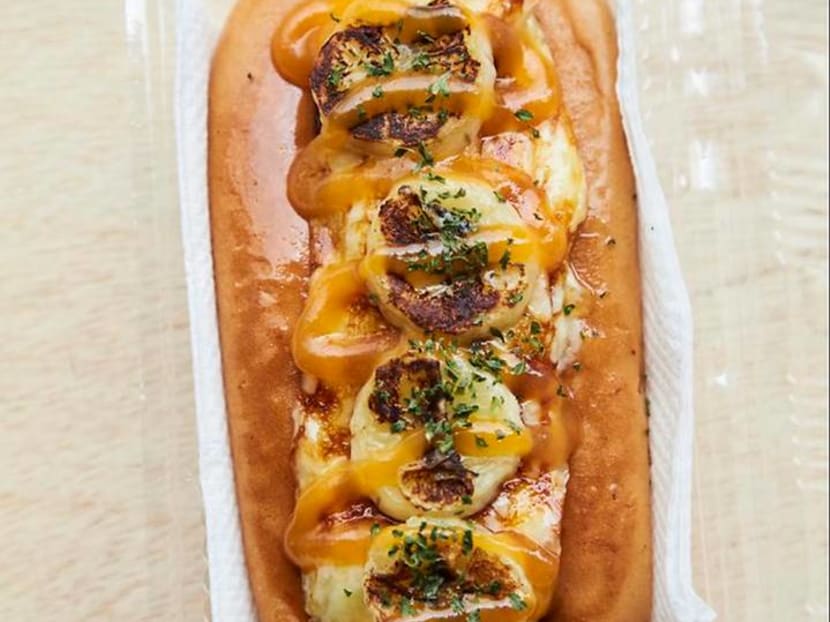 We foresee this — Lisa's self-created personal favourite — being an extremely polarising dawg. It comes with the standard base of brat, bun, onions, relish, plus melted cheddar, flowy Hainanese kaya (characterised by its golden colour from caramelised sugar) and slices of grilled bananas. We find this an acquired taste, with its melange of flavours rather overwhelming. But our colleague who tried it raved about its sweet-savoury appeal, which he likens to "eating fries with ice cream".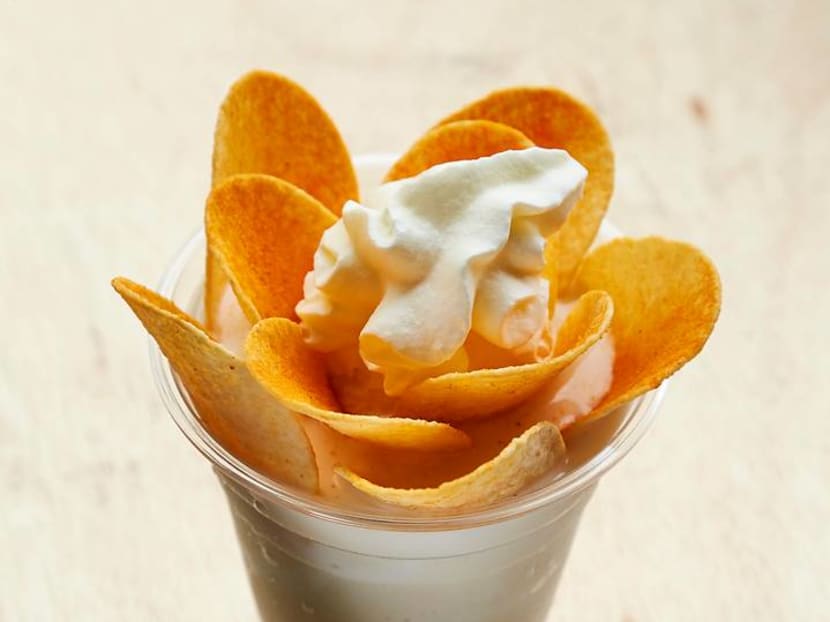 What is a hotdog without a milkshake to go with it? Shake N Dog's milkshakes are made with full cream milk, heavy cream and housemade milk soft serve. The Insta-worthy Original Milkshake comes with a 'rose' made with potato chips and piped with whipped cream. Not the best milkshake we've tried (it has too-heavy vanilla essence flavour), but thick and creamy enough. We like the junky indulgence of crushing the salty potato chips into our milkshake for extra flavour and texture — it's truly like eating McDonald's fries with vanilla soft serve.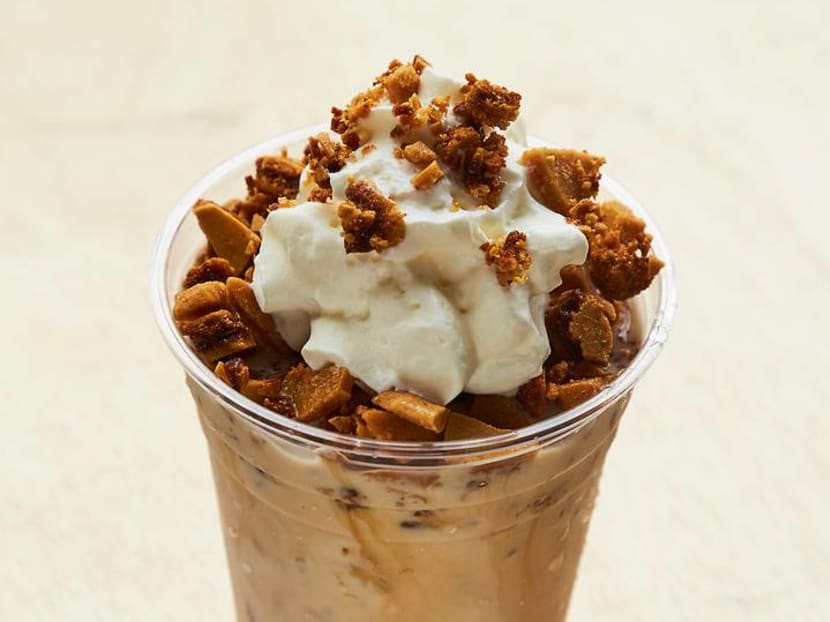 This drink is inspired by the old-school Korean street snack dalgona, also known as Honeycomb Toffee. It is candy made with melted sugar and baking soda, similar to New Zealand's hokey pokey. Stall boss Tony tells us, in halting Mandarin, that he enjoyed dalgona as a kid. Despite its moniker, there's no honey in it (it's named after its honeycomb-like texture). For the latte, chunks of toffee are added to fresh milk, mixed till it becomes a caramelly concoction, and topped with whipped cream and more dalgona for extra crunch. Very refreshing, and you can caffeinate this by adding a shot of espresso for an extra $1.
Hearty, delicious hotdogs made with love by a charming, good-looking Korean family. They offer some mod quirky flavours here like Kaya Banana, but we prefer their classic dogs and Korean-style bulgogi-loaded dogs, which are homely and comforting (the milkshakes are overshadowed by the dogs though). We foresee these being a big hit in a cafe setting, so here is hoping that the Parks will go on to open one.

191A New Bridge Rd, S059423. Open daily, Mon-Wed 11am-11pm; Thurs-Sun 11am-5am. www.instagram.com/shakendog.sg.

PHOTOS: AIK CHEN