DIY Yakiniku Hawker Stall Sells $8 Beef Striploin Set With Rice & $5 Salmon Belly
It also offers off-the-menu Hokkaido wagyu beef.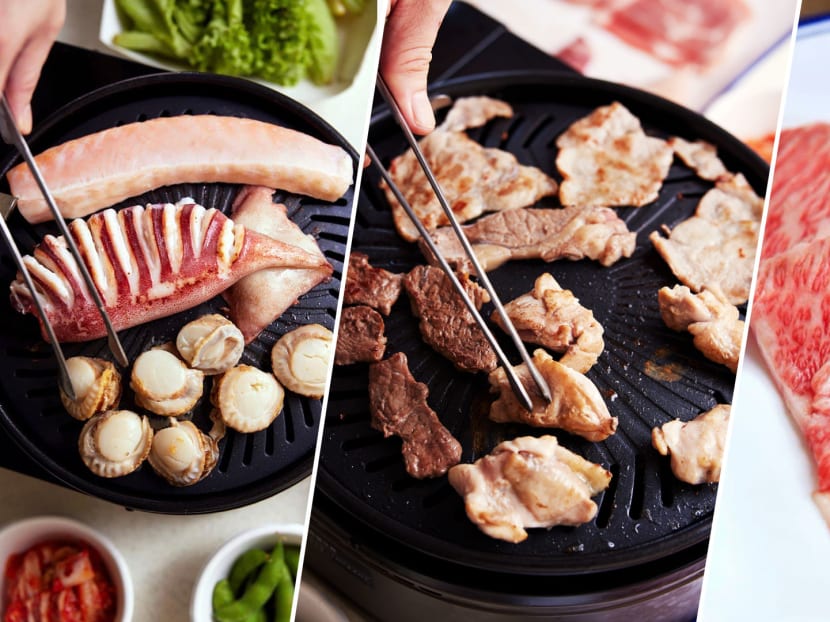 Yakiniku — the Japanese term for grilled meat — is very popular with diners here, evidently from the casual restaurants that have popped up to cater to the demand, like Tokyo import Yakiniku Like (which recently opened two new outlets at VivoCity and Clementi Mall), and Yakiniku Go, by the folks behind Ichiban Sushi.

Joining the Japanese grilled meat party is newcomer Yakiniku Ninja, which soft-opened fortuitously on June 21, the day Phase 2 (Heightened Alert)'s dine-in ban was lifted. Like its restaurant counterparts, the stall offers a range of meat at wallet-friendly prices. But 'cos it's located in a kopitiam, prices here are even lower than Yakiniku Like's.

Yakiniku Ninja is located in a Jalan Berseh kopitiam, which also houses the famous charcoal-cooked Sungei Road Laksa, and traditional 'kok kok' mee stall Ah Tee Ko Ko Mee.

It's not the first hawker stall to offer DIY grilled meat, as ramen king Keisuke Takeda had also launched a chicken-only yakiniku concept called Chicken Yakiniku Tori Yaro at a Geylang coffee shop earlier this year. But other than chicken, Yakiniku Ninja also serves a selection of imported Japanese beef, Spanish pork and seafood.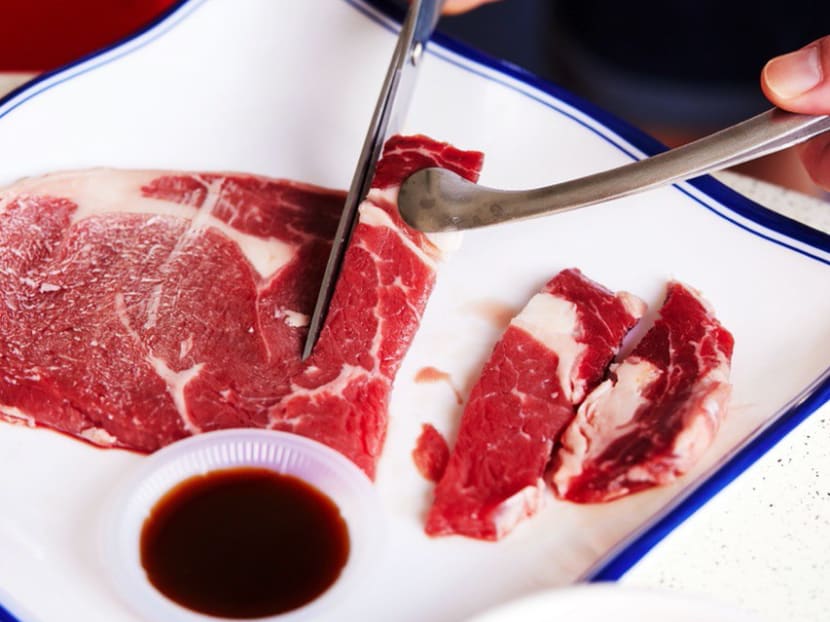 The stall staff preps the raw meat, but all the action takes place at your table. You're given a little portable grill to cook the meat yourself, and savour your spoils with four types of dipping sauces like spicy and non-spicy yakiniku sauce (a type of Japanese barbecue dip made with soy sauce, mirin and sugar), sesame sauce and mayonnaise.

It's just as well that dining-in is limited to only two pax for now; each grill here can cook just enough food for about two to four people at a time. Unlike the grated electric smokeless grill at Yakiniku Like, Yakiniku Ninja uses a gas-fueled version that's similar to a mookata grill, with a moat of water beneath to dissipate the smoke.

This means you won't experience any dangerously feisty flames shooting up when the beef fat melts and drips onto the heater below. But the trade-off is that there's no sexy charbroiled flavour to the meat. Looking on the bright side, we could at least leave the kopitiam without smelling like Eau de Chao Ta.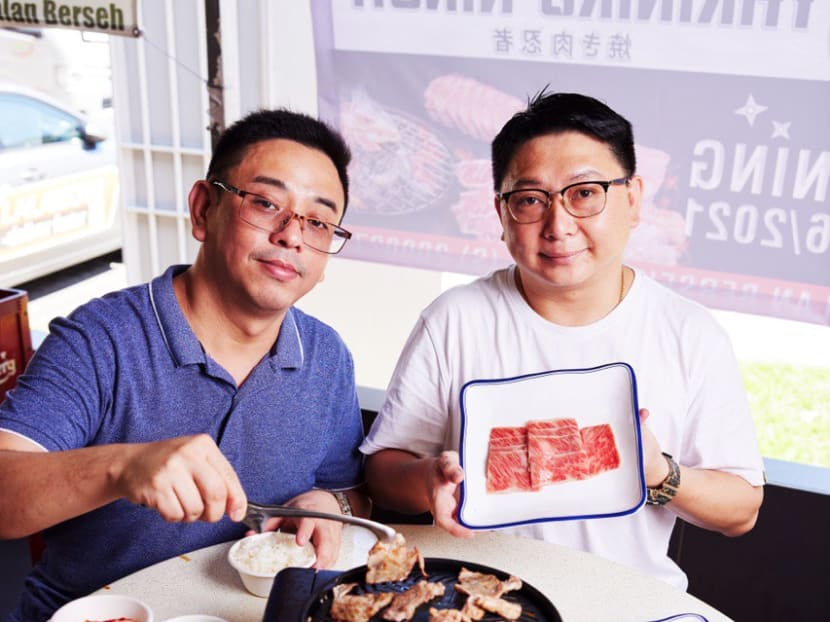 Yakiniku Ninja is opened by Malaysia-born Jimmy Yong (right in pic), 37, who fell in love with yakiniku when he was a 19-year-old studying business administration at Asia University in Tokyo. He decided to set up a yakiniku hawker stall to make the cuisine more accessible for everyone. "What was affordable to us as students in Japan can be very expensive here, so some people can't bear to eat yakiniku. And since yakiniku and mookata concepts are booming now, I wanted to start something with a few friends," he tells 8days.sg.

This is Jimmy's second foray into F&B. In 2019, he pooled $200,000 with a few partners to open two salad stalls at the food courts at Marina Bay Financial Centre and Clifford Centre. But due to Covid-19 and the CBD crowd working from home, the two outlets did not survive the pandemic and closed down. "We suffered a loss, so we didn't dare open a food court stall or restaurant again. The capital is just too high," he shares.

He reveals that it cost him and his partners "about $100,000" to set up Yakiniku Ninja. He's now based at the stall with a staff member, Chuah Kean Boon (left in pic), 43, who handles the food preparation.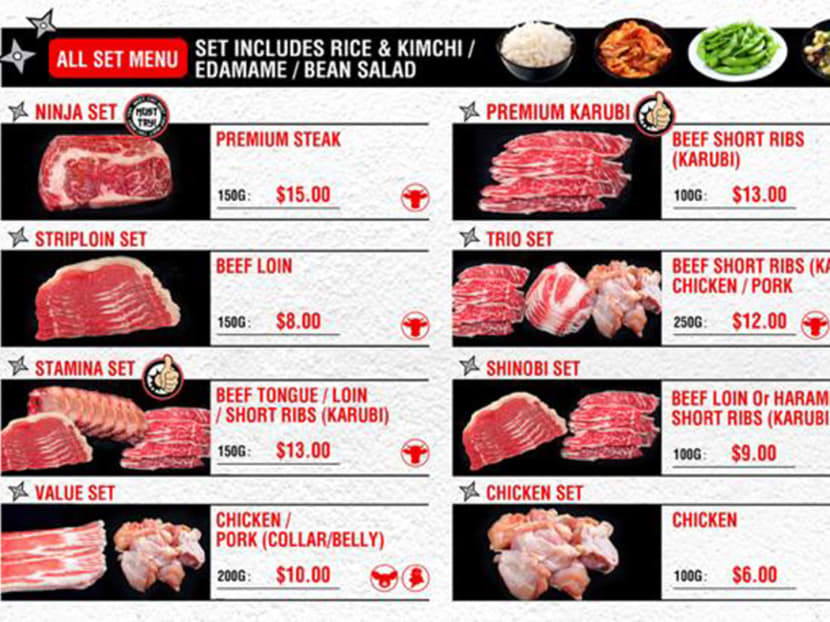 Prices start from $6 for a 100g Chicken Set, which comes with a bowl of rice and your choice of a kimchi, edamame or Japanese okra bean salad side dish. Beef options start at $8 for the Striploin Set with 150g of beef loin, all the way to $22 for 120g of Hokkaido Wagyu Beef.

Jimmy does not list wagyu beef on his menu as it's based on stock availability. "I'm also planning to bring in wagyu beef from Miyazaki (one of the Japanese prefectures that's famous for its top-notch wagyu cattle)," he says. There are platter sets too, like the Trio Set ($12), which comes with 250g of beef short rib slices, chicken and pork.

You can also order a la carte seafood like Salmon Belly ($5), Greenland Halibut ($8), Ika (Japanese squid, $6) and Hotate (Japanese scallop, $5 for five). There are a la carte meat options if you need a top-up for your meal, like Chicken Thigh ($4 for 100g), Beef Tongue ($5 for 50g) and Premium Karubi ($6 for 50g), a thinly-sliced, marbled beef short rib cut that's popular for yakiniku.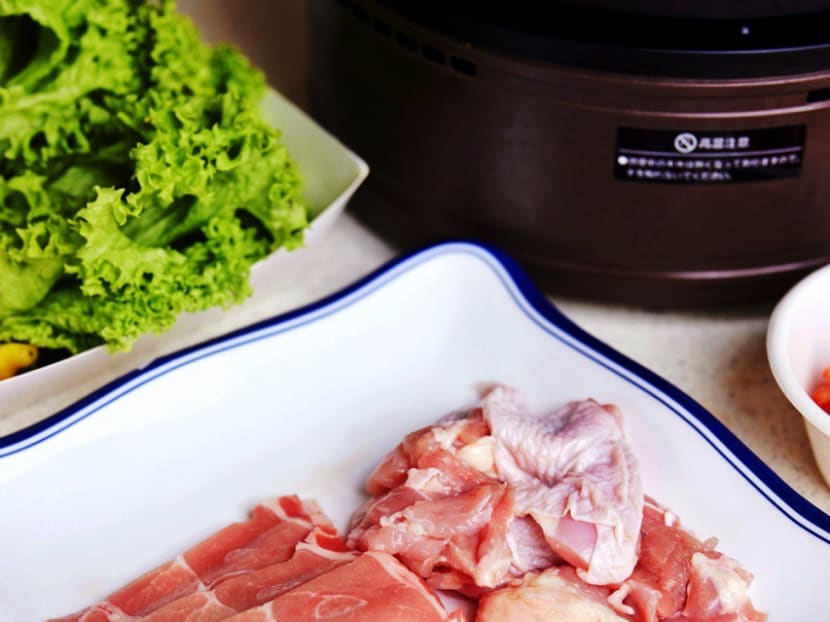 Yakiniku Ninja's chicken is pretty good; we cook our chook till it has a light sear, and the tender chunks go down well with a quick dip in spicy sauce and hot, fluffy white rice. You can also order a round of Lettuce ($2.50) to make Korean-style ssambap (lettuce wrap) with your grilled meat. But we find our Spanish pork ("it's not Iberico pork, not at hawker prices," says Jimmy) a tad dry and not juicy enough, despite watching the meat like a hawk to make sure it's not overcooked.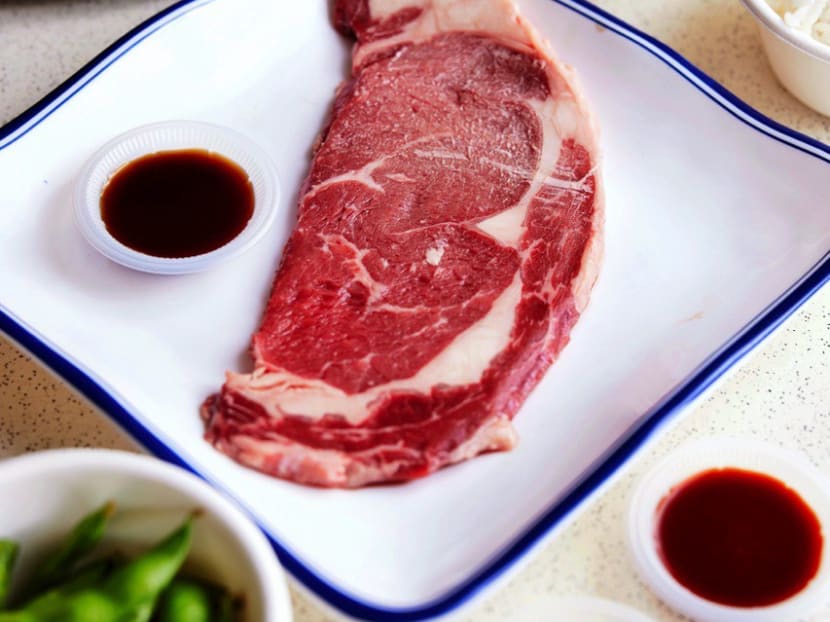 The raw US ribeye steak is usually served cut up. The high grilling heat renders the fat on this slab, though the lean parts quickly turn dry and tough when left on the plate for just a tad too long. The steak is not brushed beforehand with any tare sauce, which some restaurants use to make their meat more flavourful, as Jimmy says he wants to observe Singaporeans' tastes first before he tweaks his recipes.

The beautifully marbled wagyu beef here has a fabulously unctuous, buttery texture and drips with melted fat after a quick stint on the grill. It has a full-bodied gaminess that could put some people off, so order it only if you like strong-tasting beef.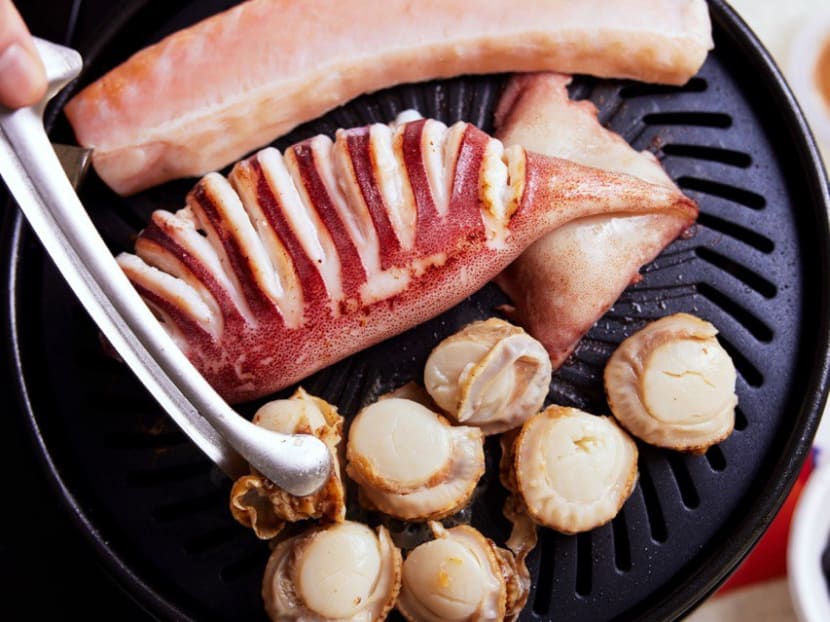 Although we're dining at a yakiniku stall, we much prefer the seafood here. Our trio of Salmon Belly, Scallops and Squid is fresh and springy, and cooks beautifully. The delicate skin on the decadently fatty salmon belly gets a little crispy from the grill. Delish enough on its own, without any need for dipping sauces. The squid, served whole, puffs up from the heat but does not turn rubbery. The fat, briny scallops are also pleasingly succulent.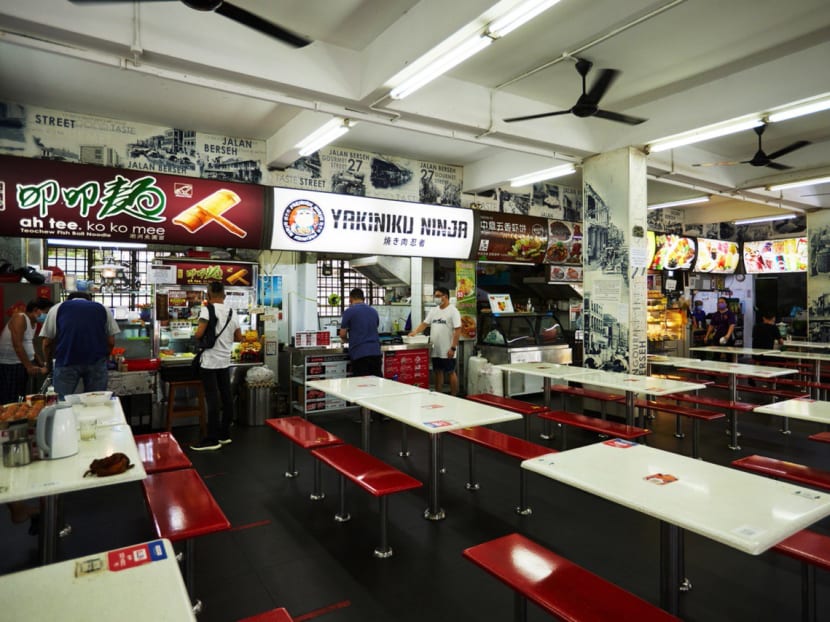 Address: #01-100 27 Jalan Berseh, S200027.

Opening hours: Open daily 5.30pm-10.30pm.

Facebook

Photos: Kelvin Chia