Ex-Kki Sweets Baker Sells Mao Shan Wang, Hojicha Soufflé Cheesecakes At Home
He started his home-based biz after being retrenched from his HR job.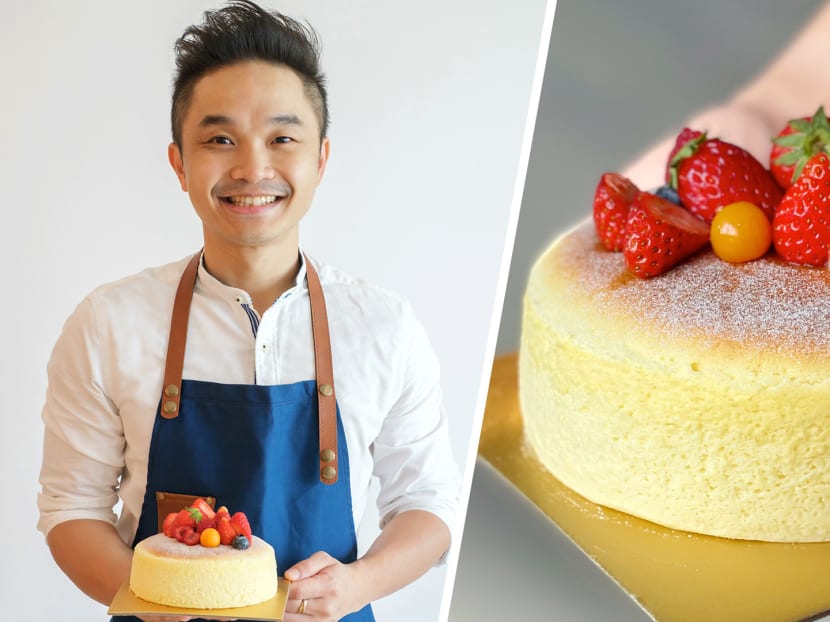 It's been 10 years since Hans Li, 39, worked at artisanal Japanese-French cake shop Kki Sweets.
But the lessons he learned there are currently being put to use each day in the Japanese-style soufflé cheesecakes he churns out under his own brand, BakeboxbyHC. The home-based business, which launched last December, sells cheesecakes in three flavours: original, hojicha (roasted green tea), and Mao Shan Wang durian.
All photos cannot be reproduced without permission from 8days.sg

Hans is a longtime Kki Sweets customer, and close to chef-owner Kenneth Seah (left in photo) and his wife-cum-co-owner Delphine Liau. The couple offered him a job at their pastry shop after he suffered a retrenchment from his finance job in 2010, and the self-professed foodie accepted, both out of interest in baking, and a desire to help his friends grow their burgeoning business.
At Kki, Hans did tasks ranging from customer service to baking despite his lack of culinary training. "They were willing to teach me, as long as I was ready to learn," he says. "I picked up a lot there."

A year later, he got engaged, left Kki, and changed career to recruiting, where he remained as a HR specialist until a second retrenchment last year due to the pandemic.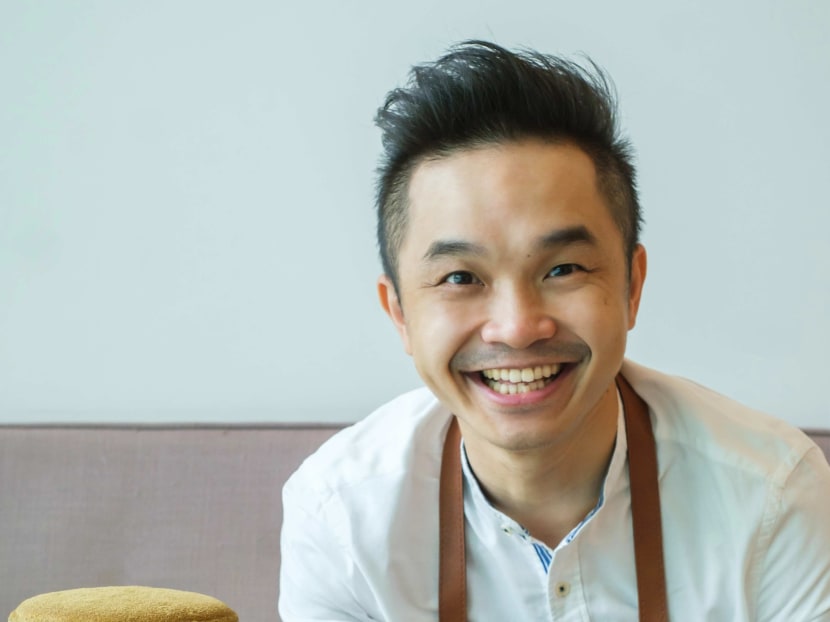 Hans now works a part-time HR job while running his cheesecake biz, and plans to keep up the arrangement until his finances are sustainable and he can go into baking full-time.

"Running a home-based biz is not as easy as people think it to be," he tells 8days.sg. "It's more than just selling a cake, it's about branding yourself and getting people to know you. It's tough to differentiate yourself."
Sales of Hans' cheesecakes started off at about 10 cakes a week, and peaked at 40-50 a week in March after being featured on the @8days_eat Instagram account. He now averages about 20-30 cakes a week, but orders have slowed down since the Phase 2 (Heightened Alert) measures were announced earlier this month.
Hans hasn't ruled out opening his own shop eventually, but for now, the next step is to shift to a central kitchen if the biz does well. Currently, he bakes out of the kitchen of his HDB flat, which he shares with his wife, who works in wealth management at a private bank.
Last year's circuit breaker saw a wave of Singaporeans pick up baking to alleviate boredom, and Hans is no exception. After his family encouraged him to sell his bakes, he began specialising in soufflé cheesecakes, which he observed were rarely sold by home bakers. To differentiate his brand further, Hans decided to offer his cakes in unique flavours.

The baker jokes that his cheesecakes are "not authentic". They're creamier and more moist than typical Japanese versions, which tend to be light and airy. He remains on good terms with his baking "master" Kenneth, who kindly helped him refine the taste of his cheesecakes during the R&D phase.

Hans' cousin Charlene Chan (right in photo), 35, an engineering firm owner, is his business partner, and does the marketing.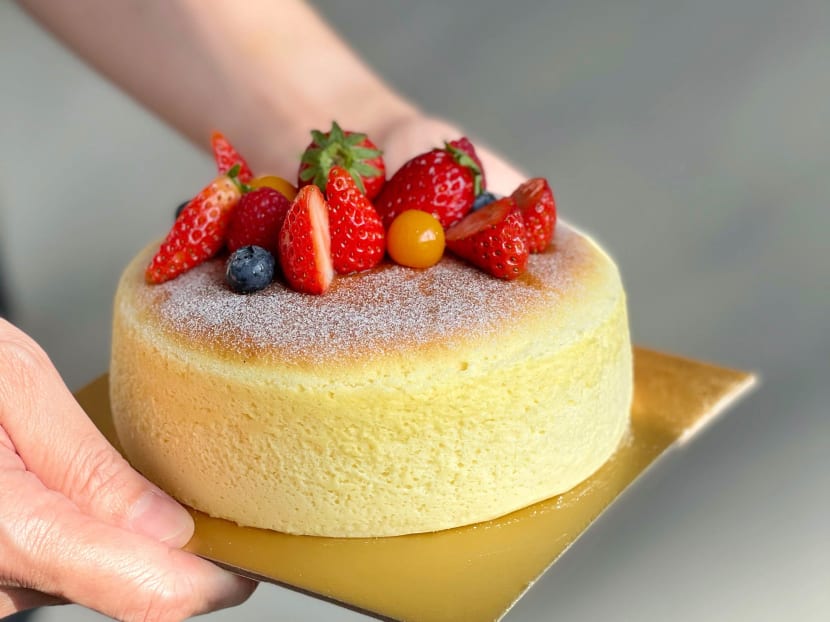 Kki Sweets' dedication to quality produce has rubbed off on Hans, who sources nearly all of his ingredients – except the durians and sugar – from Japan and France. These include Hokkaido Hidaka milk, Japanese eggs from the kokonoE Group, and Elle & Vire butter, which Kki also uses. For the durian cheesecake, Hans blends fresh Mao Shan Wang flesh from whole fruit, instead of buying pre-packaged puree.

"At Kki, they don't stinge on ingredients and use the best – and you can taste the difference," he says. "As a result, I'm quite particular about taste. I also want to serve the best."

With just three flavours on the roster, will more follow? Yes, he says: there are several Kki dessert flavours Hans is working on incorporating into his cheesecakes, such as his favourite item, Kinabaru, a coconut mousse with passionfruit puree.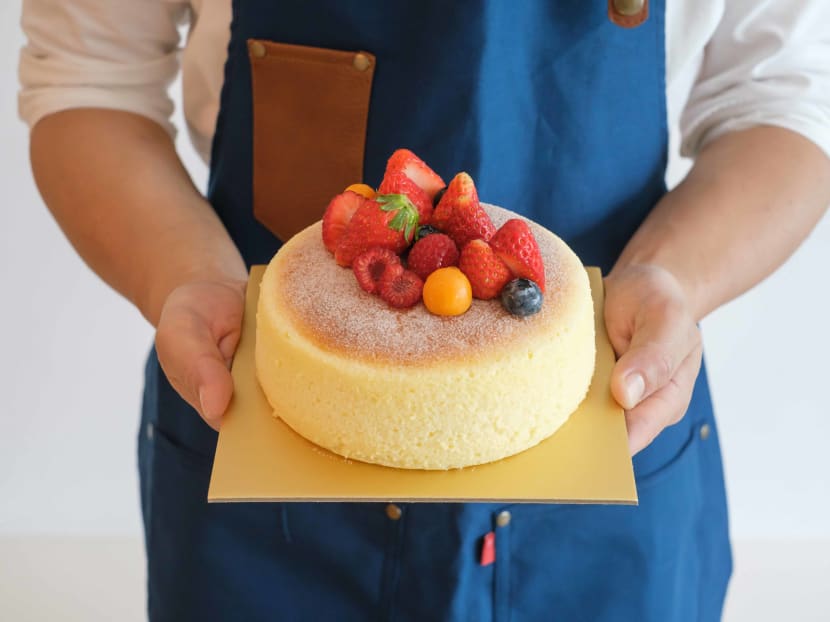 As Hans mentioned, this is similar to a Japanese souffle cheesecake, but more full-bodied, which we like. The petite cake is neat, kawaii and an attractive golden-brown with a pale yellow interior. He uses more milk and less eggs than is typical, and adds lemon juice, which makes the cake a tad more flavourful than the usually mild Japanese version that tastes mostly of cream. Like any pro baker, Hans employs a precise technique to create a moist mouthfeel, which involves counting the number of batter folds and timing the beating of the egg whites. He then steam-bakes the cake for a shorter time than usual, which makes it quite light, yet moist, rich and melt-in-the-mouth.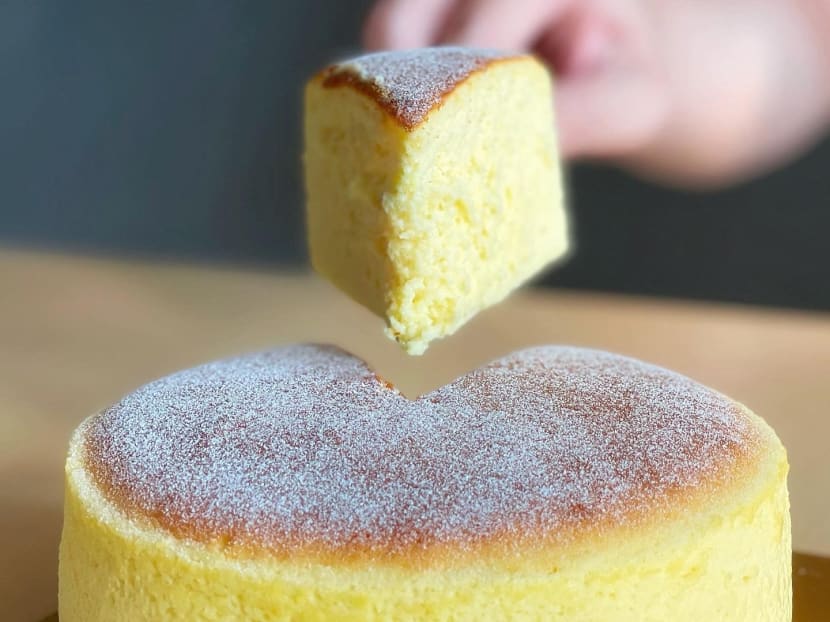 Even better than the original version if you're a fan of the pongy fruit. While we were expecting a lightly-flavoured cheesecake, this one surprised us with the intensity of its durian fragrance and flavour, emanating intoxicatingly from the luscious depths of the batter in which pure MSW flesh — painstakingly stripped by hand from the best seeds — have been blended. This took Hans two months to perfect as he wanted it to scream MSW, yet maintain the lightness of a souffle cheesecake — the results are well worth his effort and your calories.
Our least favourite of the lot, mainly because we aren't crazy about the roasted green tea blend used here, from Japan's Uji prefecture (and we usually like hojicha). "Given that it's hojicha flavoured, it needs to have that earthy, bitter aftertaste," Hans says. While it sounds great in theory, it tastes slightly more tannic than roasty and nutty in reality. Not bad, just not as good as the other two offerings.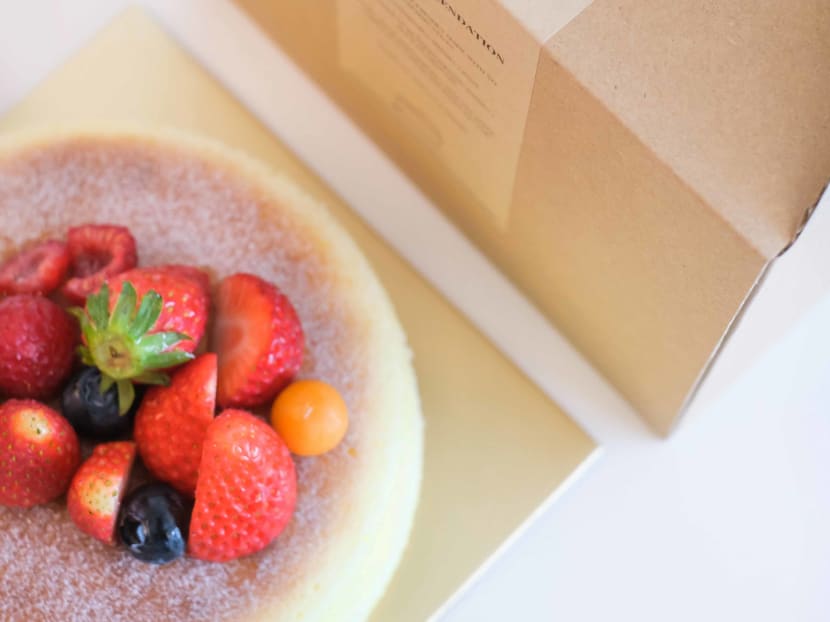 Elegantly constructed soufflé cheesecakes with Japanese sensibilities — but possessing a flavour profile that's more robust than nuanced, and a lovely melt-in-the-mouth texture that's rich yet light. The Mao Shan Wang cheesecake, in particular, is addictive.

Place orders on the BakeboxbyHC website. Delivery costs $10 islandwide, with free delivery for orders above $80. More info here: Facebook, Instagram
Photos: BakeboxbyHC & Florence Fong
All photos cannot be reproduced without permission from 8days.sg