Ex-Naked Finn Head Chef Opens Fish Soup Hawker Stall; Atas Blue Cod On Menu
He refined the recipes at his old workplace with his ex-boss' blessing before opening Qing Feng Yuan at Tiong Bahru Food Centre.
For the better part of a decade, Kek Wan Fong, 39, has been cooped up in the casual but chic seafood temple that is Naked Finn, scaling, slicing, searing and steaming his way across all manner of oceanic life. So single-minded was the brand in its pursuit for seafood perfection (headed by its founder Ken Loon, 46), the restaurant has received nods from bigwigs in the industry like chef-owner Julien Royer of three-Michelin-starred French fine-diner Odette. It's no wonder that when then-head chef Wan Fong wanted to strike out on his own, serving seafood was the natural answer. Specifically, clear Teochew-style fish soup, sans evaporated milk and other things that might distract from the flavours of the seafood. He opened his stall Qing Feng Yuan a week ago on June 8 in Tiong Bahru Food Centre.
His business partner Gui Jin Keng, 32, was another natural choice. Both were born in Muar, Malaysia. Both were alumni of Equinox restaurant at Swissotel and RWS's Osia Steak and Seafood Grill. The stall's name, Qing Feng Yuan, is a combination of the pair's names and the word yuan (which translates from Mandarin to the river's origin), chosen for its significance to water.
All photos cannot be reproduced without permission from 8days.sg
"I wanted to start something [of my own] – it's a dream that I've always had," says Wan Fong, in a mix of English and Mandarin. The Hokkien-Teochew chef chose to become a hawker for two reasons. First, it "was more representative of Singaporean food". "I rarely eat at restaurants [in my free time]," he shares. Secondly, he wanted to share Teochew-style cooking. "It's simple, but still tasty. The focus is on clean-tasting [food]."
That said, fulfilling his dream comes with a rather heavy price – $5,223 per month in rent, to be precise. It was the highest tender bid submitted during March 2021's tender exercise for hawker stall rentals, reveals a report by the National Environment Agency.
The rent adds quite a bit of pressure to the equation – they've already invested some 50k into the biz – though he's taking it in stride for now. "I'm happy enough that our operations are getting smoother [since a week ago]. When customers return and say [the food's] good, it gives you confidence to keep going," says Wan Fong.
We can understand why – his stall sees a constant stream of diners throughout the morning we visited with a substantial queue forming by noon. However, "it's too early to say" if he plans to branch out just yet.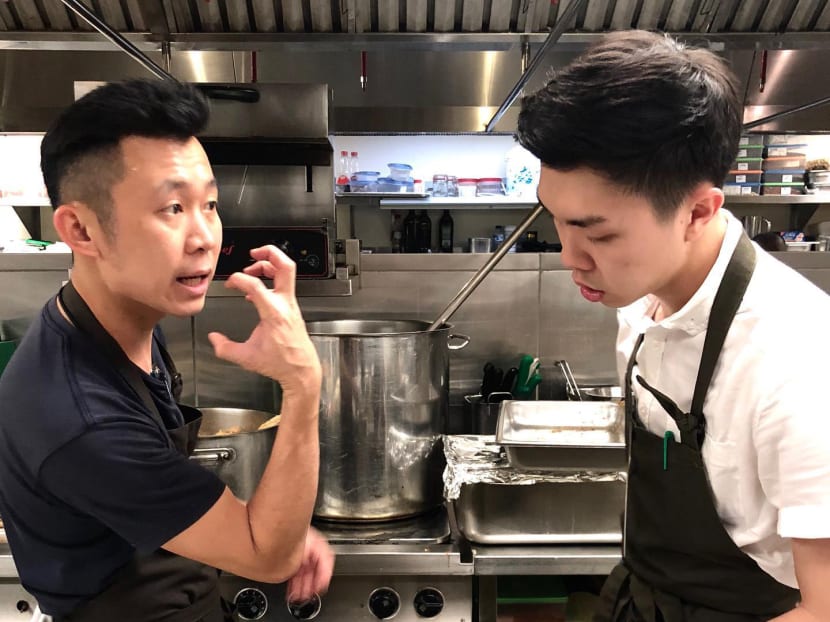 So which is harder – working in upmarket establishments, or running a hawker biz? "Hawker [life] for sure. I wake up even earlier now, at 5am. To make money [as a hawker], you must see how hard you're willing to work," shares Wan Fong (pictured, left, at Naked Finn).
Though he's left behind the relative comfort of being an employee with off-days and sick leave, some things, like his culinary pedigree, remain intact. "We use a thermometer when frying fish. Your [judgement] can be wrong, but [cooking instruments] will never go wrong," he says. The same goes for Jin Keng – we watch as he measures out their house blend of powdered dried sole fish, first fried and ground into powder by themselves, tang chye (preserved cabbage, similarly dried and powdered) and other secret ingredients on a scale. There's no guesswork here.
Photo: Naked Finn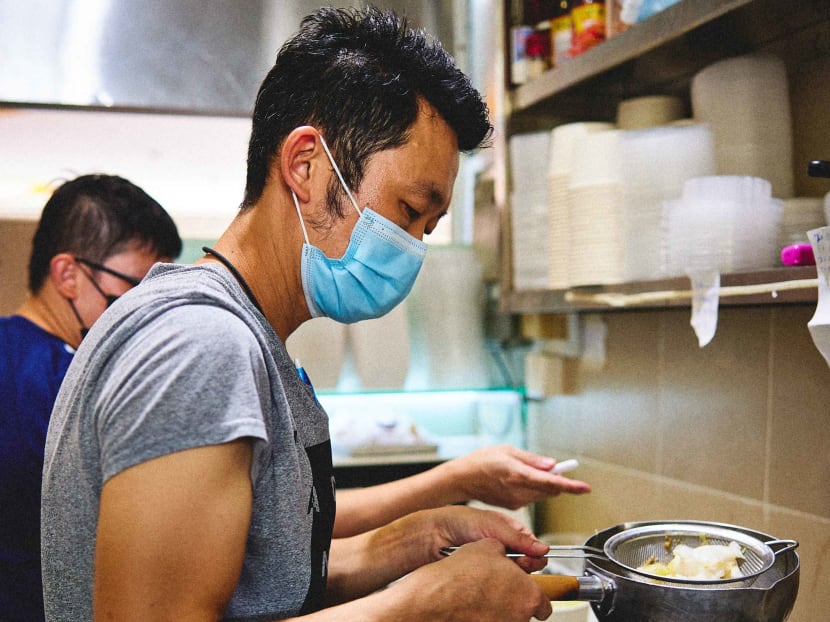 Though Wan Fong got his former boss' blessings when he announced plans to leave Naked Finn, that didn't mean the departure was welcome. "I really didn't want him to go," says Ken Loon, who popped by the stall when 8days.sg visited Qing Feng Yuan. "We're behind him all the way – but if he ever wants to come back, there's always a space for him."
After all, they've been through thick and thin at Naked Finn for the past eight-and-a-half years, which includes the seafood-centric joint's evolution from a simple plastic sheet-clad shack to a proper sit-down restaurant.
Ken Loon's even helping his former head chef get the word out on Instagram. "Wan Fong doesn't use social media at all," he says with a laugh. True enough, some recent posts on Qing Feng Yuan's social pages are reminiscent of the restaurateur's predilection for aquatic fauna. "Blue cod (Parapercis colias) is a demersal fish endemic to southern New Zealand," says one post. What a supportive ex-boss.
Wan Fong also got his ex-towkay's permission to test out his recipes with Naked Finn's very own kitchen, before the stall opened. "[The entire staff] helped us to test out our food," shares Wan Fong. "[We're] very thankful, as we didn't have any space of our own [for R&D]".
He and his chef pal Jin Keng spent their days off over a period of nine months perfecting their recipes. They went through roughly ten iterations for their fish soup recipe, itself an adaptation from Naked Finn's seriously labour-intensive Teochew-style fish soup (which just went off the menu in May after a "six-year" run).
But do note this hawker version is not the same as Naked Finn's cleaner, more refined version, for obvious reasons like vastly different ingredient costs and manpower constraints.
The ngoh hiang now sold at Qing Feng Yuan was another dish that took many staff meals to refine during his final months at his former workplace.
The menu at this hawker stall is simple with zero scientific jargon, thank you. Qing Feng Yuan's style of fish soup is Teochew – at least when it comes to the essentials, like the use of fried sole fish, kiam chye strips, tang chye (preserved cabbage), the absence of milk in the soup and a taucheo dip.
While they've retained the use of gourmet line-caught New Zealand blue cod for their off-menu premium offering a la Naked Finn, the soup stock at this hawker stall is where the biggest difference lies. Instead of roasting fish bones in the oven then boiling it with its flesh for hours to extract its collagen fine-dining style, here, "it's more accessible for everyone," assures Wan Fong. His soup comprises batang, pork and chicken bones, with a bit of konbu (Japanese kelp) for an extra umami hit, all simmered for four hours. He scoops a ladleful of this into each fresh bowl of fish soup, along with the house blend of powdered sole and tang chye. "Some people don't like tang chye in their fish soup – but we think the aroma [it gives] is very important. So we [first dry it], make it into a powder and just add it in," he says with a laugh.
There are four soupy offerings from $4.50 and go up to $12. Each comes with little cubes of tofu, tomato and tang oh veg. There's sliced batang fish soup, deep-fried batang fish head soup and mixed seafood soup, along with a fancy blue cod version (that latter printed on a separate menu stand). For sides, there's ngoh hiang (from $3) and deep-fried golden pomfret - the traditional Teochew offering of pomfret fish soup isn't included here as the chef says its shelf life is too short (it has to be screamingly fresh in soups or when steamed — the fried version is a bit more forgiving). Your choice of carbs like rice or mee sua will cost an extra 50 cents.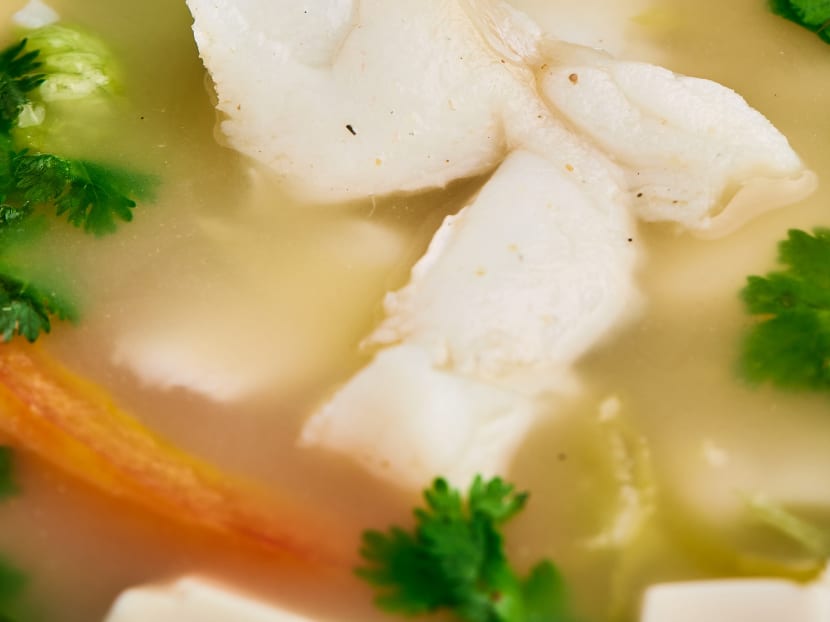 Fans who miss Naked Finn's $26 rendition of the dish, wait no further. Though — big caveat here — other than the type of fish used, the soup here is a whole different animal. The blue cod from the coasts of southern New Zealand is line-caught, meaning its flesh won't be bruised by the vagaries of a trawler's net.
As we have this to-go, it was packed separately from the piping hot seafood broth in order to preserve its just-cooked texture. The cod is light, flaky and delicate with a luxuriant mouthfeel from the semi-fatty flesh, while its flavour is creamy and sweet. Some of the creaminess seeps pleasantly into the soup, which is a little somewhere between a typically clean and clear Teochew-style fish broth and a 'dirtier' Cantonese-Malaysian one with a richer, cloudier soup. We're told the murkiness stems from the bone broth, but we also detect a rather heavy hit of the umami, salty sole fish powder in each sip.
The batang (narrow-barred Spanish mackerel or Scomberomorus commerson says an Instagram post) is sourced daily from Tiong Bahru Food Centre one level below. It's a value-for-money option with fresh-tasting, though slightly thin mackerel slices. We figure that the texture of the fish will fare better when dining in resumes as ours inevitably stiffened a little after the journey home. A little bit of chilli padi with soya sauce, and the quintessential Teochew accompaniment of tau cheo (fermented bean paste) and garlic goes a long way in keeping things interesting. Note that this soup is saltier than the cod version, simply because all the fish slices have been soaked in a salt water brine and this one isn't separate from the broth for takeaway.
If you'd like to try a bit of everything, this offering has clams and rather big sea prawns, sliced batang and deep-fried batang head, along with the usual fixings. The highlight here is the prawn. Though frozen, there's an oceanic sweetness from the crustacean that permeates the entire bowl, colouring the broth ever so slightly red with a distinct briny aftertaste.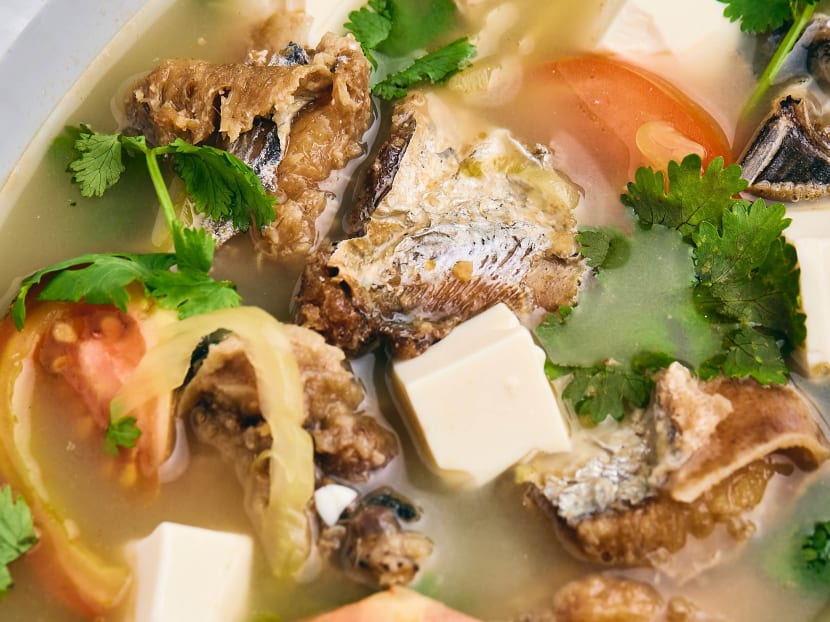 An unusual deep-fried offering for a Teochew fish soup stall. Bony fried fish head chunks add deeper, saltier, greasier notes to the soup here. We enjoy it, though our colleague thinks it's a little too greasy. Our only grouse is that deep-fried batang fish head isn't the most tender of meats. The journey home after our shoot didn't help either, though that's par for the course during today's dine-in restrictions.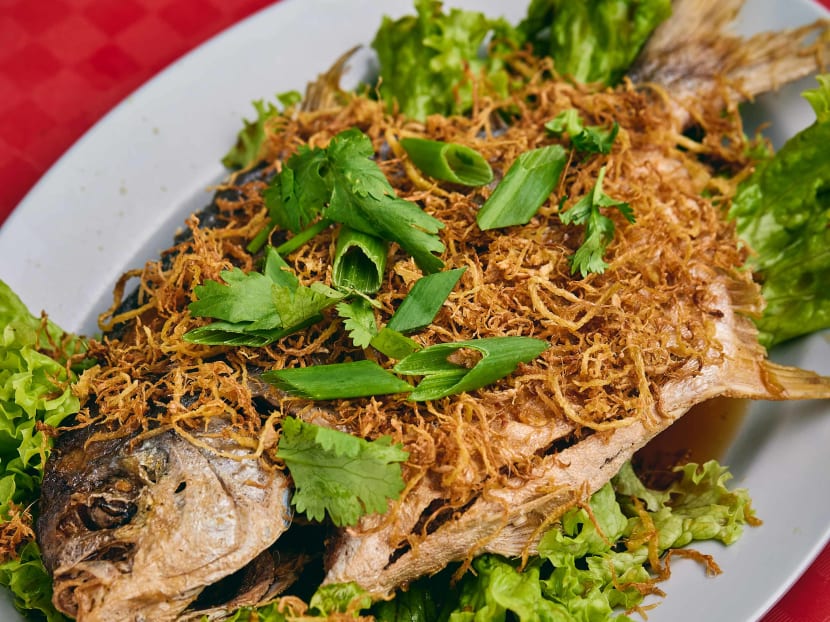 Small golden pomfrets are used here, the less prized but far more cost-effective counterpart to the white and silver specimens. It's deep-fried till about half-done, before getting a second dip in the fryer to order. It's then drizzled with a light but fragrant blend of soya sauce, sugar, garlic oil and topped off with fronds of fried ginger. Suitably moist, fresh fish, but to us, the star is that mellow, well-balanced sauce. Worth ordering as a side dish since you get a whole fish.

There's a pleasant bite from the chopped water chestnuts, and an equally agreeable aroma from the five-spice powder in this decent rendition of the meat roll. The accompanying chilli is an electrifying zing of fish sauce, lime juice, garlic and chilli padi that's yummy enough to stand on its own (perfectly good for dipping the seafood into as well, if a little unorthodox).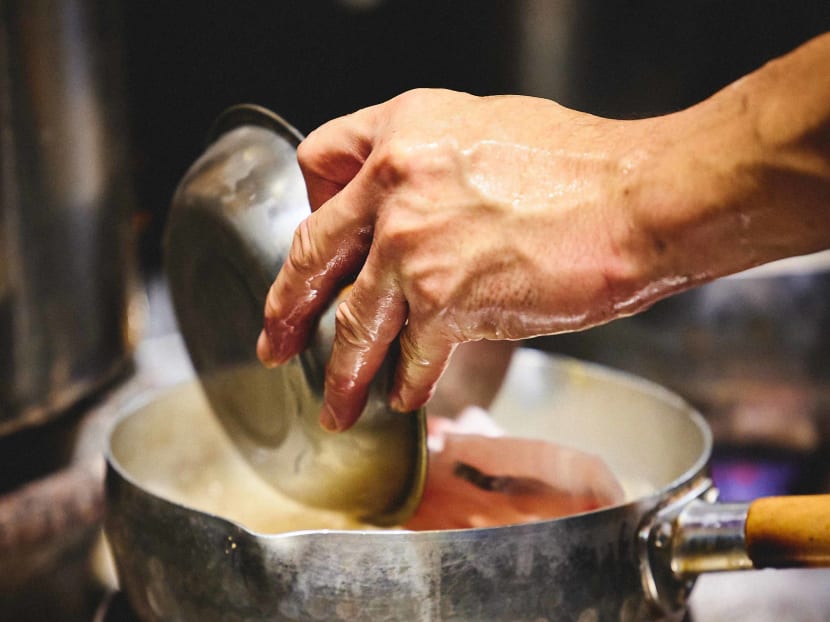 Don't go expecting Naked Finn's otaku brand of "less is more" seafood purism at Qing Feng Yuan. That would be unfair with its lower price point. Instead, you'll get carefully made fish soup that's Teochew in soul, but tweaked to be more robust to suit younger palates — and very fresh seafood, of course. Do get a side of fried pomfret as well, it's pretty good value for a whole (albeit smallish) fish with a delicious sauce that tastes like those from good Cantonese restaurants. We suggest you give the week-old stall and its professional chefs-turned-hawkers a bit more time to get into the swing of hawker life before, well, swinging by. And when you do, avoid peak meal hours or be prepared to wait for your food — the stall is already popular with Naked Finn regulars.