Ex-Raffles Hotel Chef Sells Divine House-Milled Chee Cheong Fun With Char Siew & Tuna
He had worked at Raffles Hotel for almost 30 years before becoming a hawker.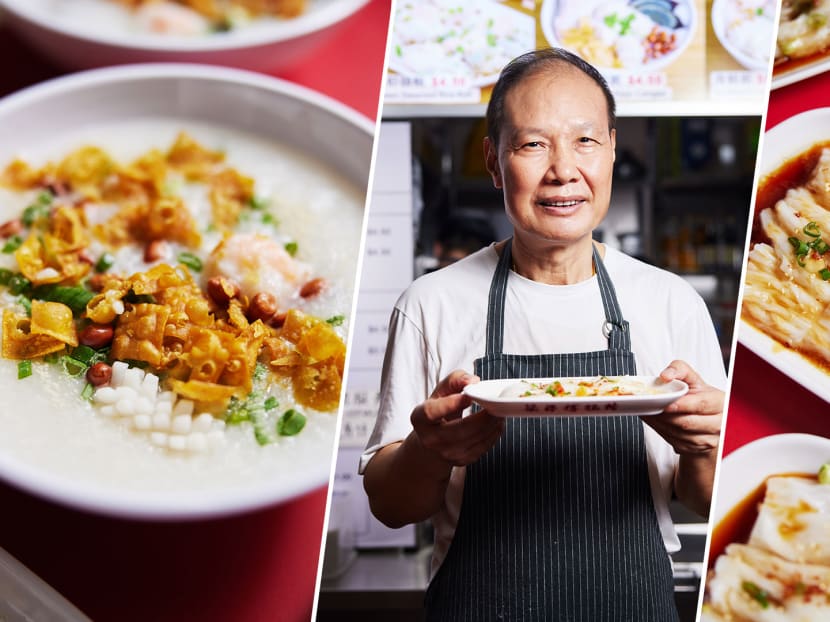 Even before he pulls up his shutter at 7am, Leung Tsz Cham, 64, already has a group of customers patiently waiting for him. He had started his hawker stall Chef Leung's Authentic Hand-milled Rice Noodle Rolls only on July 1 this year, but has regulars who travel all the way to his Chinatown Complex unit just to buy his Hong Kong-style chee cheong fun, which he makes by hand with house-milled rice batter.

But for almost 30 years, he had worked at Raffles Hotel, where he was a dim sum shifu who specialised in making the Chinese teatime snacks and congee. A native Hongkonger, he moved here in 1991 to work at the historical hotel. He only left his job in 2019, when he relocated to China to run a prawn farm. "Then Covid-19 happened in 2020, so I gave it up and returned to Singapore," he tells 8days.sg in Cantonese.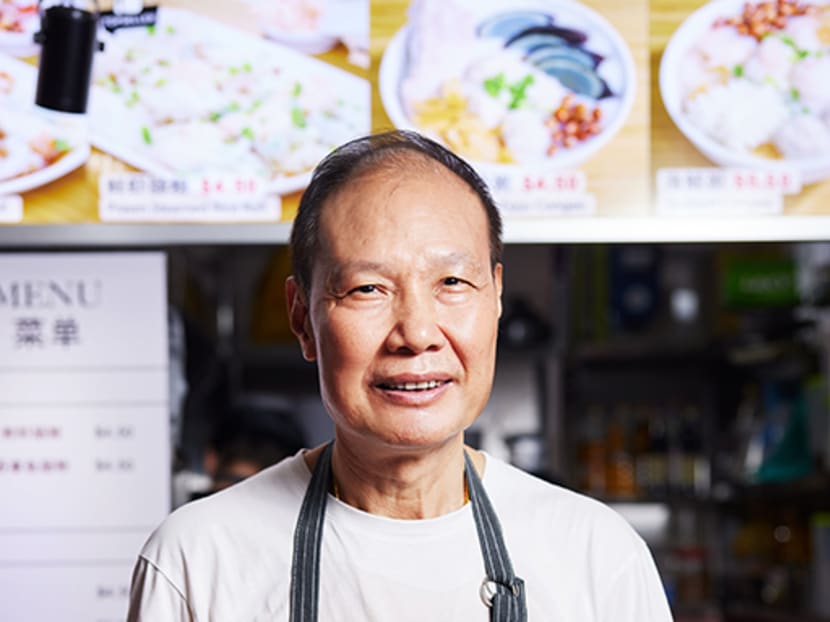 As the pandemic had made him home-bound, the father-of-three started cooking for his children to pass time. He recalls, "We couldn't go out to play last year, so I made some cheong fan for my kids for fun. I have been making these in Hong Kong since I was 20, after my shifu taught me."

But chef Leung was also concerned that his recipes would be lost over time if he did not continue using them, which is why he decided to start a hawker stall to sell his signature cheong fun and congee. "I have confidence in my cheong fun. If everything goes well, I plan to open more outlets and let my kids run them," he says.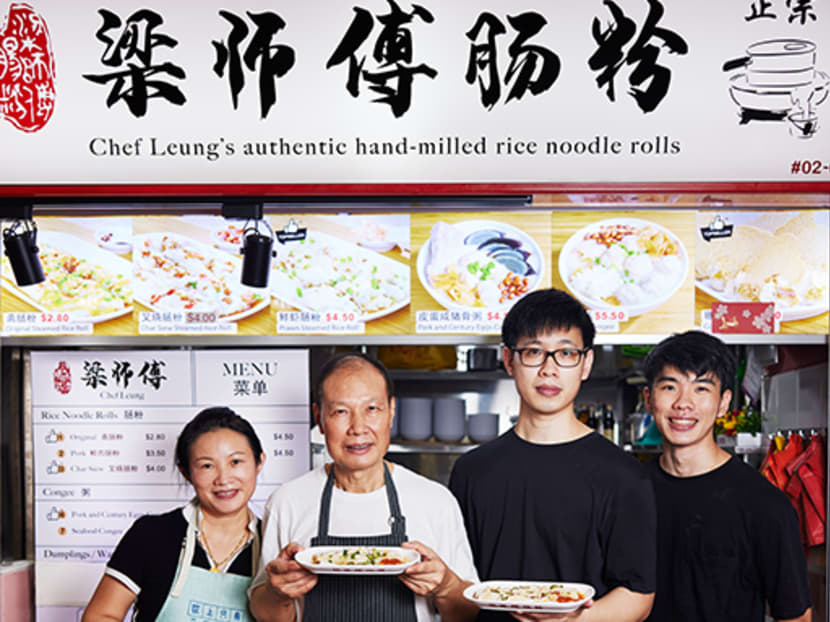 Describing his stall as a "family operation", chef Leung has roped in his wife Lo Hung (far left in pic), 53, to cook congee, and their two sons Lucas Leung (second from right), 31, and Bon Leung (far right), 26, to help make cheong fun and serve customers. The couple also has a 20-year-old daughter, a logistics student at Temasek Polytechnic who assists at the stall on weekends.

Lucas, who holds a poly diploma in aerospace engineering, left his job as an Air Force regular to help his dad full-time, while Bon is currently working as a chef at buzzy Southeast Asian restaurant-bar Laut.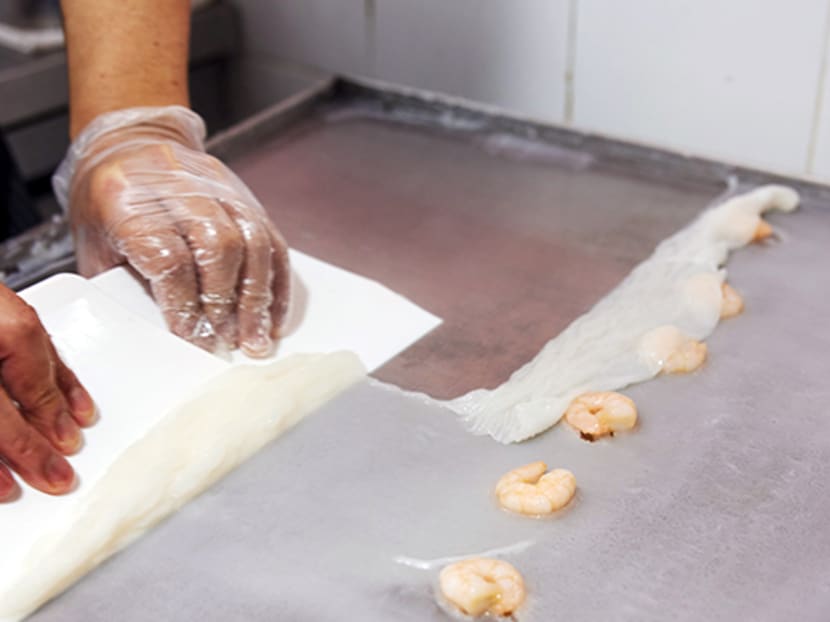 "I told my kids to study overseas, but they want to work in the kitchen," grouses chef Leung, though he's evidently proud of them as he goes on to praise their skills. "My younger son can cook, and my older son is good at customer service, so he can clear our queue fast," he shares. "It's my good fortune to have capable kids."

By the look of how Bon rolls the chee cheong fun from rice sheets like a seasoned pro, it's obvious that he had been training under his dad for some time. "My dad took one-and-a-half years to research and [fine-tune] his recipes," shares Lucas. "But we have been working with our dad for over 10 years; we used to help him at the hotel too."



The stall's official opening hours are 7am to 2pm from Tuesday to Sunday, but chef Leung usually opens at 6.30am to cater to the early birds. "My customers start queuing at 6.15am to 6.30am," he says. There's typically a wait of at least 30 minutes to an hour. "We make a portion of chee cheong fun every one-and-a-half minute; it takes about a minute if the youngsters do it," says chef Leung, gesturing at his sons. "To be honest, I'm getting old and my movements are slower."

His cheong fun also sells out way, way earlier than closing time. By 10.30am, his wife is already switching off the stall lights and pulling down the shutter. "We need time to mill the rice, which takes about three hours," says Lucas.

The Leungs had added "hand-milled" to their stall name and signboard to distinguish themselves from other chee cheong fun sellers, although the actual milling is done by a small machine in the stall after soaking the rice for 10 to 12 hours.

"We mill our own rice so our cheong fun has more rice fragrance, and is softer and smoother," explains chef Leung, adding that "milling rice takes up more time; it's most important that you get the amount of water right, and it's a lot of work and planning. A lot of thinking is required".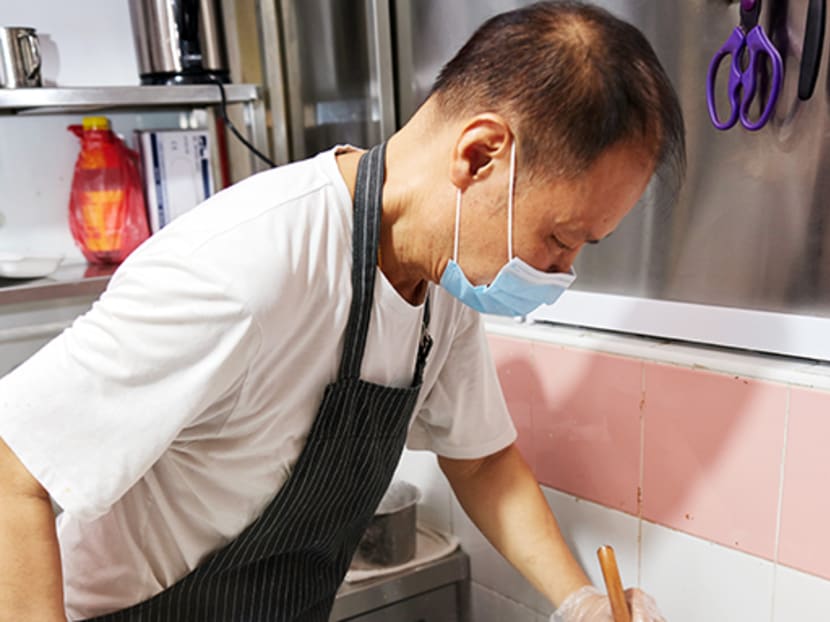 Chef Leung's cheong fun differs a little from the Singaporean version that most folks may be familiar with. Instead of rolling up the steamed rice sheets into tubes, he uses a scraper to coax the sheets into wavy ribbons, which he then cuts into bite-sized pieces.

The process of making the rice rolls is a poetic marriage of artisanship and science. The chef paints on a thin layer of batter over a metal tray with a brush before pouring a second, skillfully thin layer over. "The rice must be washed very clean for the chee cheong fun to be pure and white," says chef Leung. "You can't be too slow or too fast when you're spreading out the rice sheets. And if you leave them in the steamer for too long, they become dry."

Using his decades of experience as a dim sum chef, he was able to come up with a cheong fun recipe that "allows people to tapow home and still have soft and springy chee cheong fun".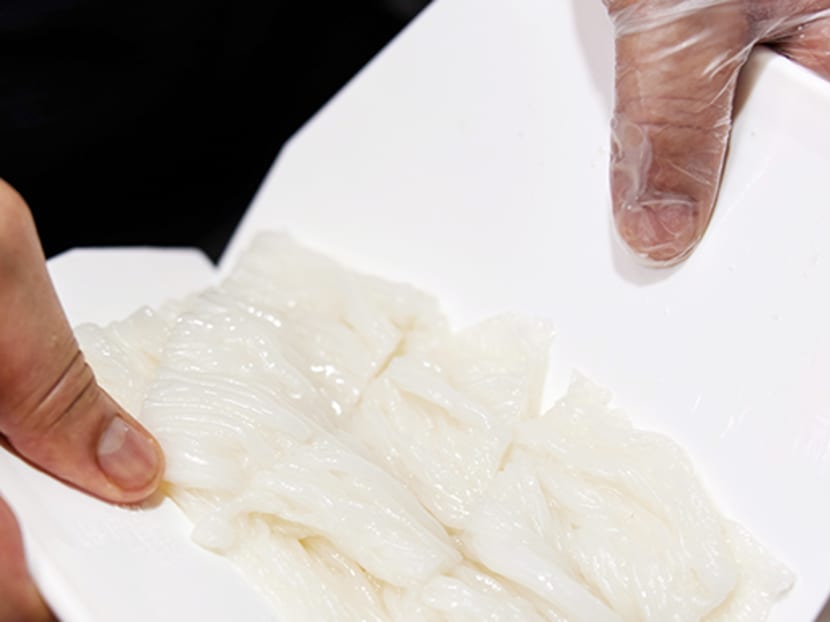 According to chef Leung, good chee cheong fun has three key components: "The cheong fun must be silky, with a slight springiness and rice fragrance. Then there's the sauce, which we make ourselves with seven to eight ingredients, and the cheong fun is topped with shallot oil."

He tells us that he uses "expensive ingredients for everything so it's healthier and tastier, I'm not even kidding", rushing to his stall to show us bottles of Kwong Cheong Thye dark and light soy sauce, "good quality" pure groundnut oil, corn oil and premium jasmine rice from Thai producer Royal Umbrella.

"I'm not saying we don't have to profit as a business, but you have to make your food nice for your customers," he declares. But for all the painstaking work that goes into his cheong fun, chef Leung charges only $2.80 for his Original Rice Noodle Roll. "I sell it at just $2.80 for the old folks here. If the cheong fun is cheap, you can buy more flavours, and everyone can come try my authentic chee cheong fun," he says happily.

There are five flavours offered including the aforementioned Original, plus Prawn ($4.50), Char Siew ($4), minced Pork ($3.50) and the more unusual Tuna ($4.50) with marinated tuna flakes. For the latter flavour, the good chef lets customers choose if they want to add chopped onions. "It adds exceptional flavour, but some people in Singapore may not be used to it," he says.
While the highlight here is the chee cheong fun, chef Leung also sells cooked-from-scratch Cantonese-style Seafood Congee ($5.50) with squid and prawn balls, and Pork and Century Eggs Congee ($4.50) boiled with salted whole pork ribs in pork rib broth. "I use the same ribs as bak kut teh, and it has a lot of flavour. You'd want to gnaw on the pork bone even after you finish eating," he shares. Instead of the usual youtiao, the congee is topped with puffy fried cracker pillows for extra crunch.

On his light-up menu board, chef Leung peels back an ang pow covering an upcoming item: Coral Reef Dumplings, Chinese-style pork jiao zi adorned with a wispy lattice sliver that resembles a coral reef. It's notoriously difficult to make, says the chef. "But I can't do it here 'cos there's not enough space. I hope to offer it in the future when I have more space."

Despite the workload, chef Leung says he's motivated by "a sense of satisfaction when customers are happy, that they get to enjoy coral reef dumplings like they would at a six-star hotel".
Since dine-in is resuming soon, we recommend savouring chef Leung's cheong fun freshly-made. The diaphanous rice sheets, beautifully intact and scrunched up into silky ribbons, practically melt on our tongue. Instead of the aggressively red sweet sauce accompanying local cheong fun, chef Leung drizzles his rolls with a tasty house-made peanut and sesame sauce that's just thick enough to cling to the folds, and robust house-made chilli. Stunningly delish.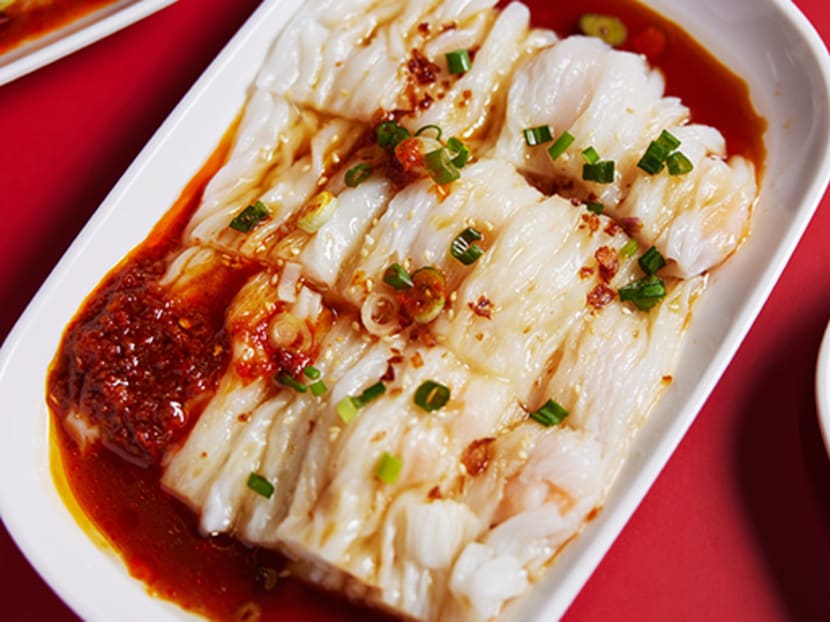 The same velvety cheong fun is wrapped around springy whole prawns, with a soy-and-sesame dressing. If not for the hawker setting, this would be indistinguishable from cheong fun served at a fancy Chinese restaurant. Value-for-money.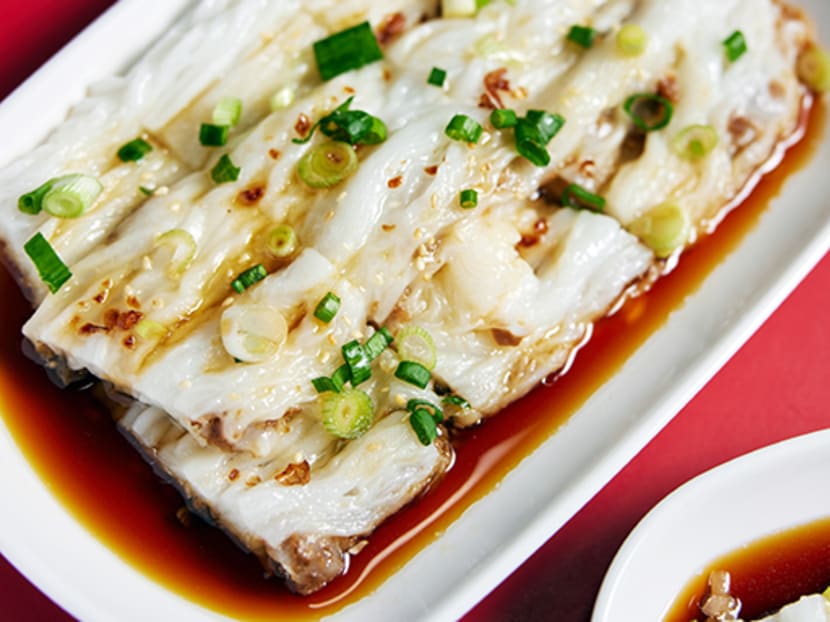 We prefer the excellent prawn and plain cheong fun to this pork flavour, which has rather distracting bits of roasted pork studding the rice rolls. Go for this only if you really like roast pork.

This intriguing flavour sold out during our visit, sadly, but we're motivated enough to wake up early to give this a try next time.

Chef Leung's luxurious congee is boiled till gooey. And despite its clean, snow-white hue, each comforting mouthful is imbued with the meaty flavour of pork ribs, which we scoop up along with delightful morsels of century eggs, a prawn ball, fried crackers and a whole piece of plump pork rib. Very moreish.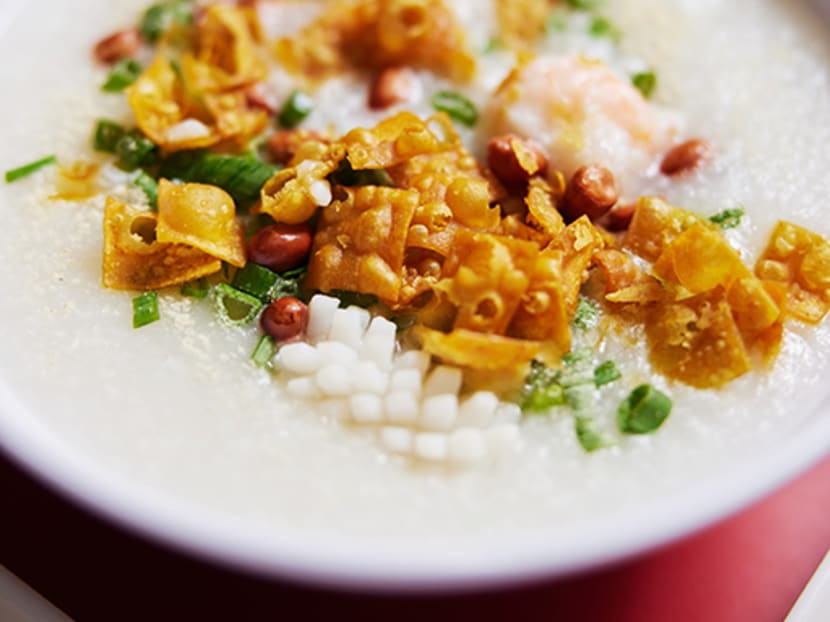 For those who don't fancy meat, order this lighter bowl with skillfully-scored squid, prawn ball, fried peanuts and a generous helping of chopped spring onions and crackers. Simple, yet soulful.


Address: #02-096 Chinatown Complex Food Centre, 335 Smith St, S050335.

Opening hours: 7am-2pm (usually sold out by 10.30am).

Instagram

Photos: Kelvin Chia