Fashion Designer-Turned-Hawker: "I Don't See This As An Unglam Job"
Covid-19 had disrupted his Shenzhen-based fashion biz.
From 8am till the evening, six days a week, hawker Amos Ananda Yeo is on his feet frying piles of prawn and banana fritters, nian gao (sweet rice cake) and tapioca. The hot oil from the portable fryer, perched on a makeshift table, splatters on his hands. Faded burn scars dot his arms, and he looks visibly tired.

The 31-year-old had a much more comfy job just last year, as a fashion designer producing his own eponymous streetwear line in Shenzhen where he ran a studio and garment factory. Then Covid-19 happened, and his career came to a standstill. "There wasn't much income at all, 'cos my projects and fashion shows were either postponed or cancelled," he tells 8days.sg.

Leaving his Chinese staff to run his fashion business, Amos returned home to Singapore to tide through the pandemic. With help from his wife Laura Ooi, 32, a former flight attendant, he started a home-based biz called Hei Piah Family selling delish handmade prawn fritters. Business has been brisk enough that he decided to open a hawker stall to produce more fritters.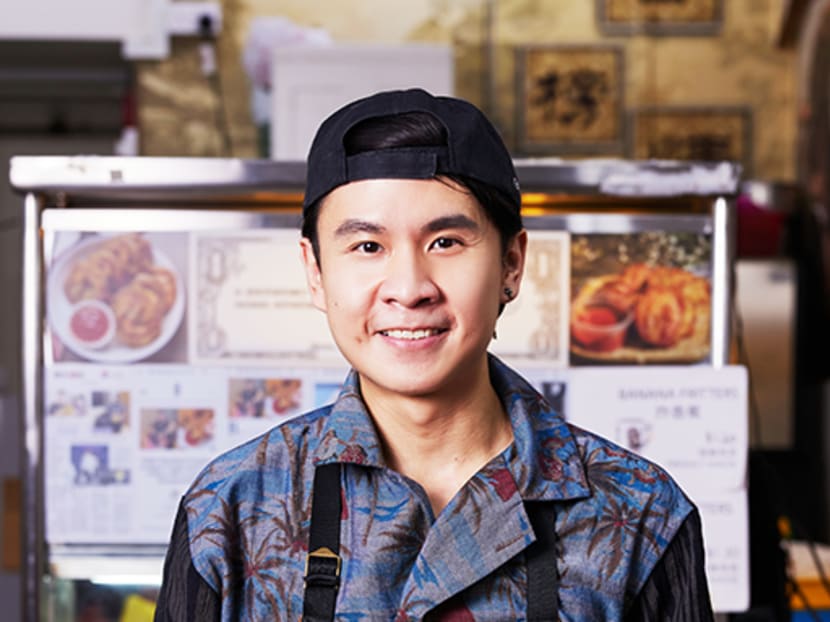 F&B is not exactly a new game for Amos, who's a second-generation hawker; his mother, who has been in the same line for almost 20 years, runs her own stall in an industrial canteen in Tuas. Like her son, she also sells prawn fritters, plus kuehs, chwee kueh and youtiao (dough fritters). She taught him how to make her popular hei piah recipe. "I didn't understand how tough my mum's job was. I understand now!" Amos laughs.

In April this year, he found a little unit in an obscure Teck Whye Lane coffee shop. It's more of a corner, squeezed within a tiny strip of a kopitiam. And within that confined space, Amos crams a makeshift table, a display case for his food and one portable fryer.

In the morning, he fries enough fritters to cater to the mostly elderly residents in the neighbourhood, and focuses on making his hei piah for pre-ordered deliveries in the afternoon.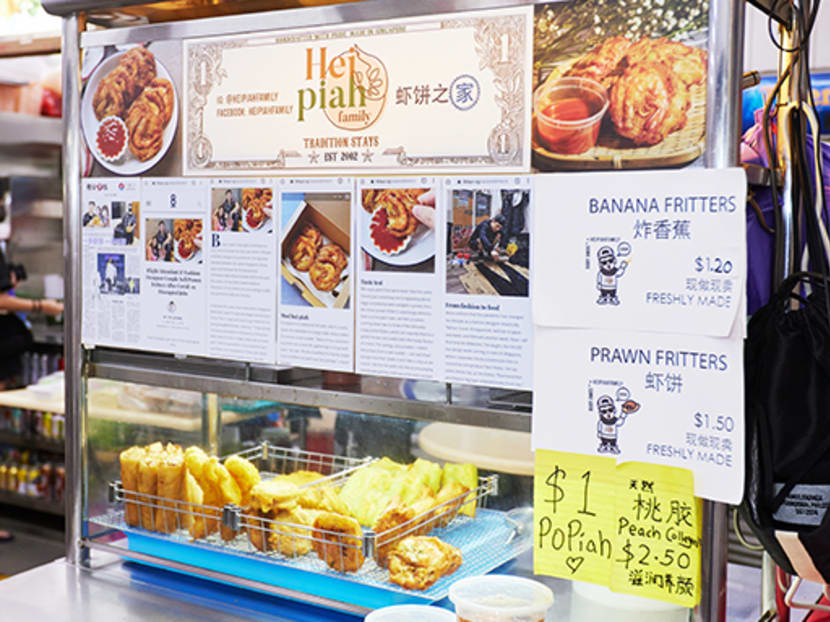 Despite the geographical inconvenience, he decided to expand his biz there as the location is near his five-year-old daughter's school. "And this is an independently-owned coffee shop, so I'm not [tied down by a tenancy contract]," he says.

He calls his current setup a "pop-up stall", as he's still looking out for a permanent location where he can fit a professional-grade fryer. He explains: "This is not our ideal space. But it'll take time to find our own space and I didn't want to waste time, so I got a 'pop-up space' first." His wife Laura, who recently left her flight attendant job for good, now helps him on weekends. The couple plans to become hawkers "for the long haul".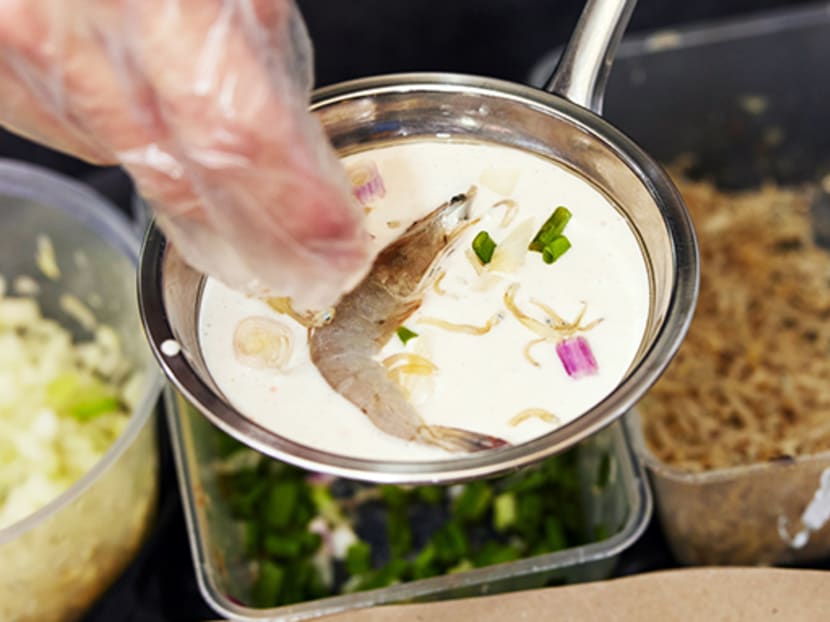 To office folks who are used to an air-conditioned working environment, Amos' cramped workspace looks extremely uncomfortable. "I don't see this as an unglamourous job. It gives me an income to support my family, and I can make money if I hustle," he tells us enthusiastically.

While hawkering is hard work, he reckons that he has the "passion" to stick it out. He shares: "It's better to work as a hawker than to take up a corporate job, which I have no interest in. I'd probably resign after two months (laughs)." He's also heartened by the kampong spirit in Teck Whye: "You don't go hungry in this neighbourhood. The residents keep feeding you!"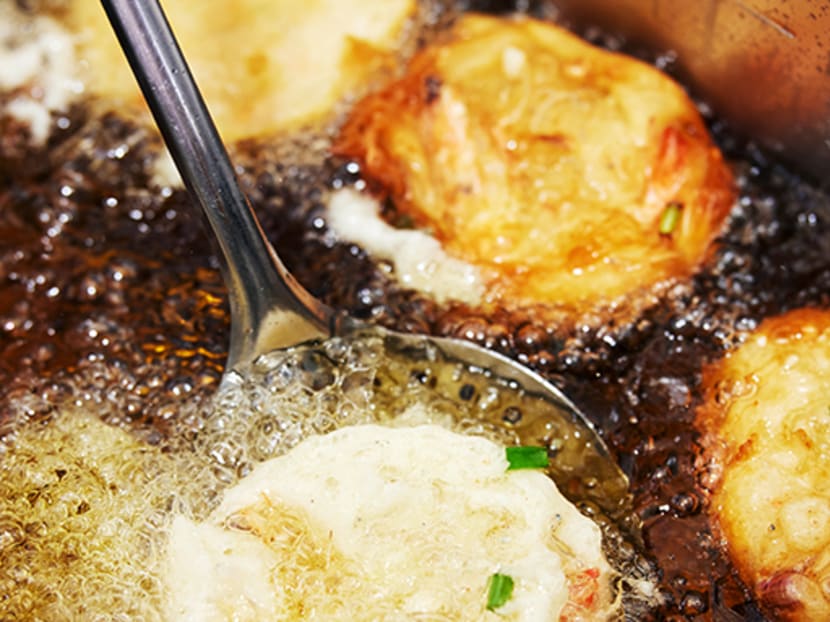 As a fashion designer, he could pile on fancy accessories like a "Rolex and Chrome Heart rings". When he started working as a hawker, Amos had to pare down his dressing, albeit for a painful reason: "My arms and fingers started swelling from exertion and oil burns."

(Fun fact: hawkers do wear expensive timepieces to work too, like Mr Tan Kue Kim of Kim's Fried Hokkien Prawn Mee in Eunos, who's well-known for donning a towkay-tier gold Rolex watch with a pressed button-down shirt to fry noodles.)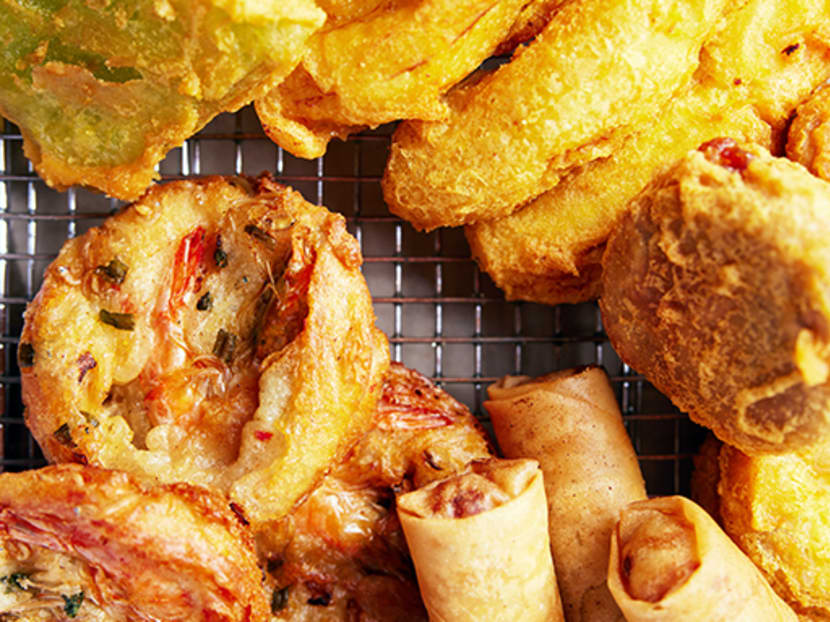 Amos' snacks are offered from 8am till sold out (usually around noon). There are five types of fried fritters here, plus a refreshing Peach Collagen dessert: