Fun Fusion Roti Prata 'Tacos' With Shiba Inu Mascot From $2.60 At New Hawker Stall
The co-owner's dad used to co-own Red Star Restaurant.
Studded among the noodle shops, roast meat purveyors, and other hawker businesses at Bukit Timah Market and Food Centre is two-week-old Shiba Roti, a cheery-looking stall whose trendy signboard, featuring a cartoon Shiba Inu, suggests hip Japanese offerings within. Except you look in and see the two strapping owners, friends-turned-business partners Justin Tang (right in pic) and Leonard Lim, both in their late 30s, griddling up ready-made roti pratas and filling them up with colourful garnishes, to make roti prata " tacos" of sorts. Throughout our visit, the middle-aged and elderly neighbouring stall owners poke their heads round curiously to see what's on offer, and seem amused but intrigued. "This one aunty has been coming round to get breakfast from us every day," says Justin, adding that there's been a very positive response from both the neighbouring hawkers and the regular clientele at the market, mostly residents from the nearby housing estate.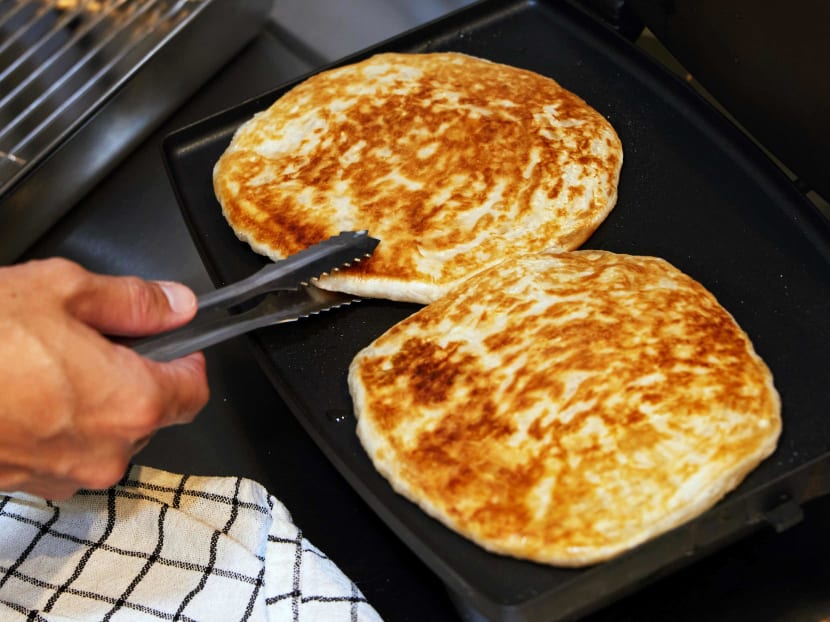 Despite what you might have heard, the Bukit Timah Market and Food Centre hasn't been shut down following news of a Covid-19 case at the wet market a floor below the food centre. However, the misleading reports have led to visibly quieter business, says Justin, who when we checked in with him said the stall went a whole day without any sales after the news broke on Sunday (Jul 18).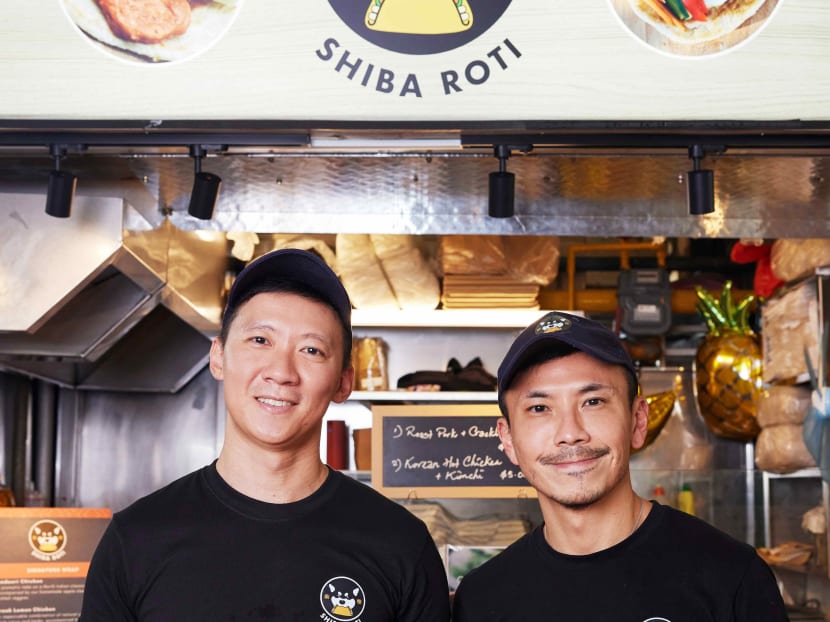 This business is a major mid-career switch for both Justin and Leonard, who've each changed tracks after several years in impressive-sounding professional jobs. Justin, who has a PhD from an Australian university, used to be a researcher specialising in pathology (the study of diseases), and most recently worked in science publishing. Leonard was a media research director for a major television network (he declined to reveal which one). They've both thrown themselves full-time into this business and are at the stall every day. When we meet them, they're only a few days into the hawker life. We ask what the biggest adjustments have been. "The heat," exclaims Leonard with a laugh, "and getting used to the hours, because people are coming non-stop to eat throughout the day, not just during lunch or breakfast".

Their reasons for making the career switch are very similar to lots of other millennial hawkers springing up over the city. For Leonard, it was the realisation that he didn't want to be stuck at a 9 to 5 job anymore. "I got bored and wanted to try owning something of my own for a change," he says. Justin, who's the foody brain between the two, says that he's been itching to go into food for a very long time. "You know when you cook for parties and people tell you, 'oh my god, you should sell this?' I finally decided to do it," he says.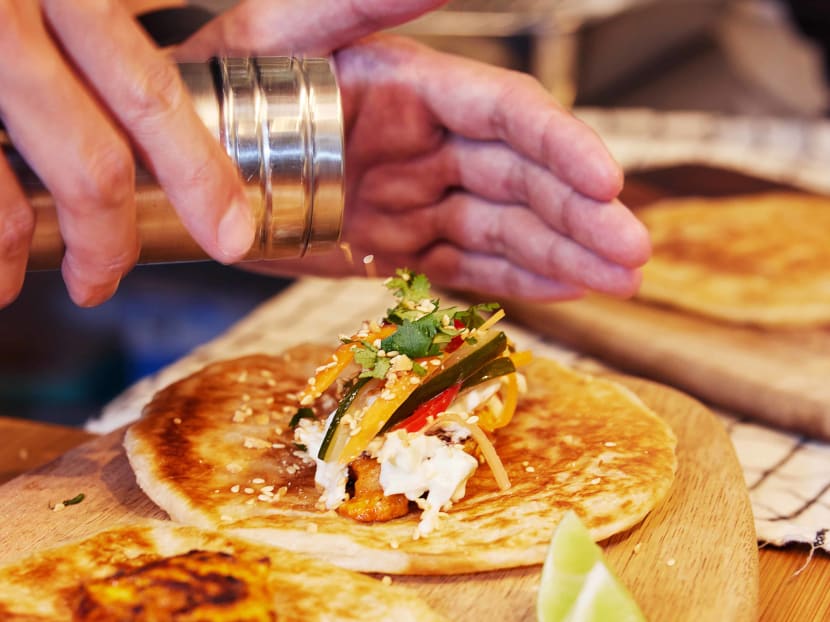 The prata wrap concept is something Justin's experimented with at home, and thought it'd be a good and simple offering to kick off a food business with. "Roti prata is the perfect blank canvas to express our creativity on" he says, adding that it goes perfectly with almost anything, which lets them experiment with all sorts of flavour combinations. The guys add that setting up a hawker stall, with its fairly low operating costs, is a relatively safe way to test out and refine a concept, and if this takes off they may look into expanding.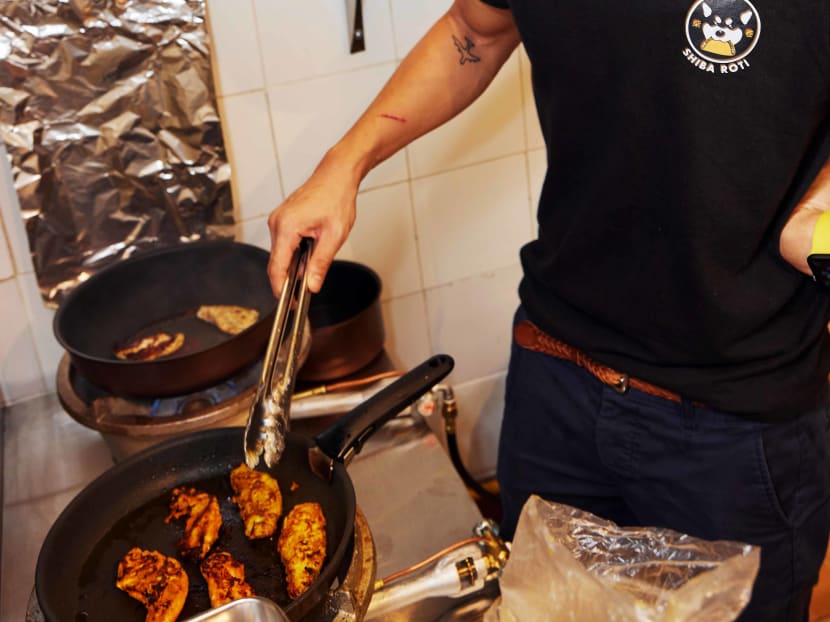 It also helps that Justin's family has always been steeped in food. In fact, his father was one of the founders and owners of Red Star dim sum before he retired and sold his shares back in the '90s. They've been supportive of the idea, says Justin, adding that family and friends had been helping out with taste-testing and recipe development for months before the guys took the dive and applied for the stall's lease earlier this year.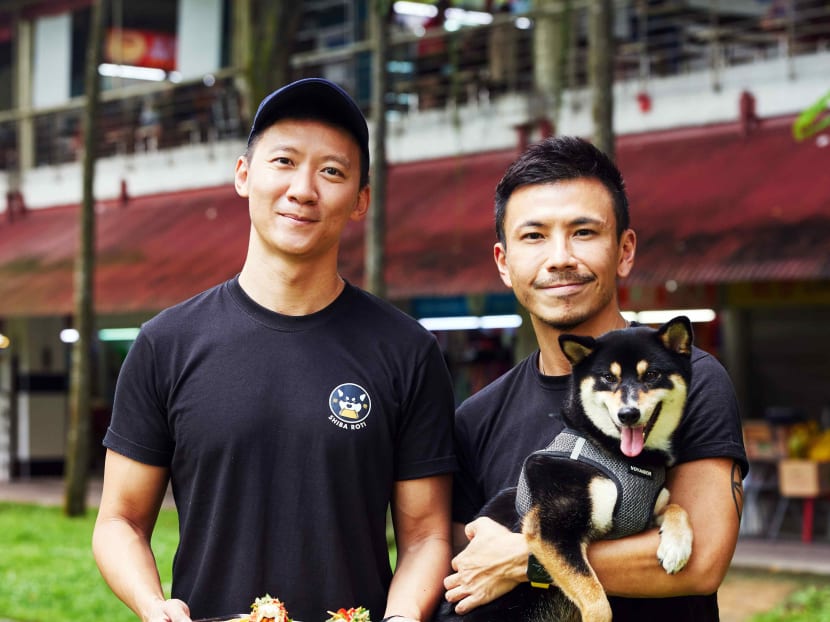 Speaking of family, the Shiba in question belongs to Justin. It's a one-and-a-half-year-old boy called Kuro ("black" in Japanese) who stopped by for our photo shoot. There's no particular reason for the dog-inspiration, except that Justin really loves the Japanese breed, though we suppose it helps that the resulting kawaii visuals are pretty eye-catching. You won't see Kuro at the stall, sadly. Not for him, the sweaty hawker life (also: no pets allowed inside food centres).
The menu here is really simple — it's basically variations of funky but nutritious fillings ensconced in a crisp prata wrap. The regular menu features four fillings ranging from $2.60 for a fried egg Brekkie Roll to Greek-style Lemon Chicken, each offering topped with slaw and pickles. There are also specials that the guys try to switch up weekly, as well as nutritious soups. It's not a prata stall, so don't expect any prata-flipping, or pratas served up with fish curry. It's definitely a far cry from the hawker offerings around them, though the guys say the reception for these healthy-ish wraps has been overwhelmingly positive since their launch.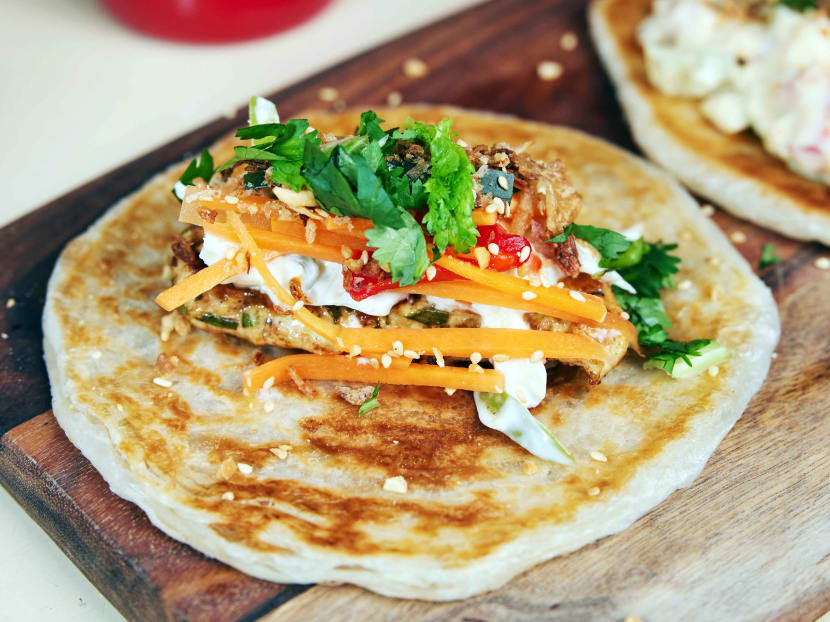 Sliced chicken thigh fillet is marinated overnight in yoghurt, citrus, and Mediterranean herbs like oregano and rosemary, then flash-fried to order before being wrapped and topped with more yoghurt, home-made apple slaw, and quick-pickled veggies like carrots and cucumber. It's good. We like the zesty flavours, textural contrast, and tender chicken. Plus the prata, though ready-made, is a nice carby vehicle with just a bit of flakiness, some bite, and a nice buttery flavour. Because the prata is just slightly thicker than the hand-flipped variety, it's a pretty hefty serving of food, and definitely messy, yet quite fun, to eat. FYI, unlike in the photos, they're served up individually bundled up so they're easier to eat on the go.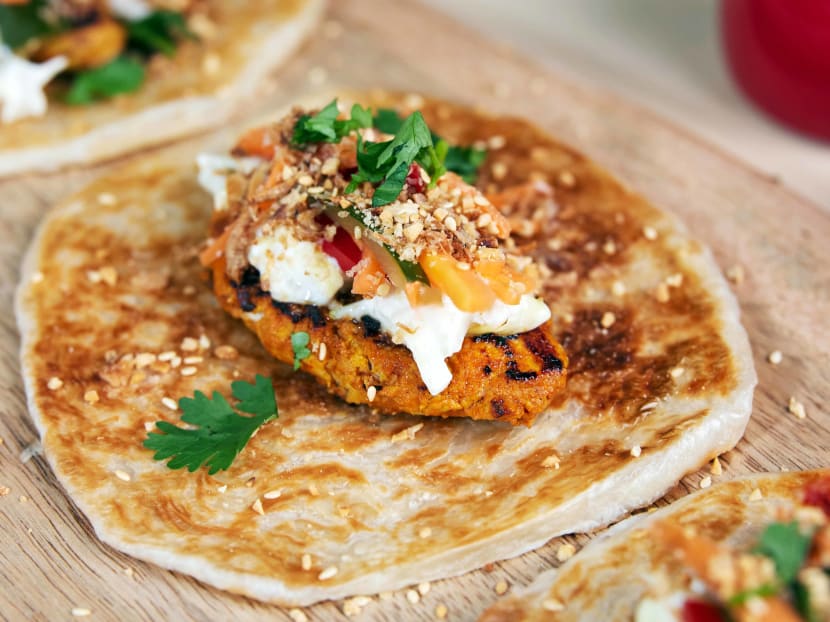 This is similar to the Greek Lemon chicken except the chicken is marinated in a blend of spices like turmeric, chili, coriander, and ginger. It's similarly topped with yoghurt, slaw, and pickles. We slightly prefer this because of the heat and aromatic spices, which, with the yoghurt and the bready wrap, come together in an Indian flavour profile that's comforting and familiar.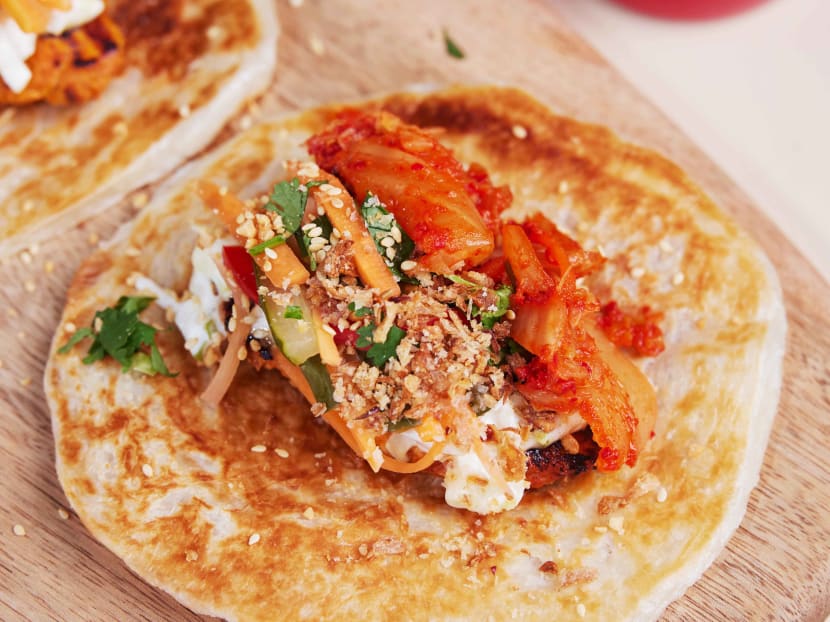 We enjoy this special, featuring chicken that's marinated with gochujang (Korean spicy fermented bean paste) topped with the standard trimmings, though instead of yoghurt, the zesty kick here comes from a dollop of kimchi. The gochujang lends a nice funky flavour base, and the kimchi is pleasantly zingy.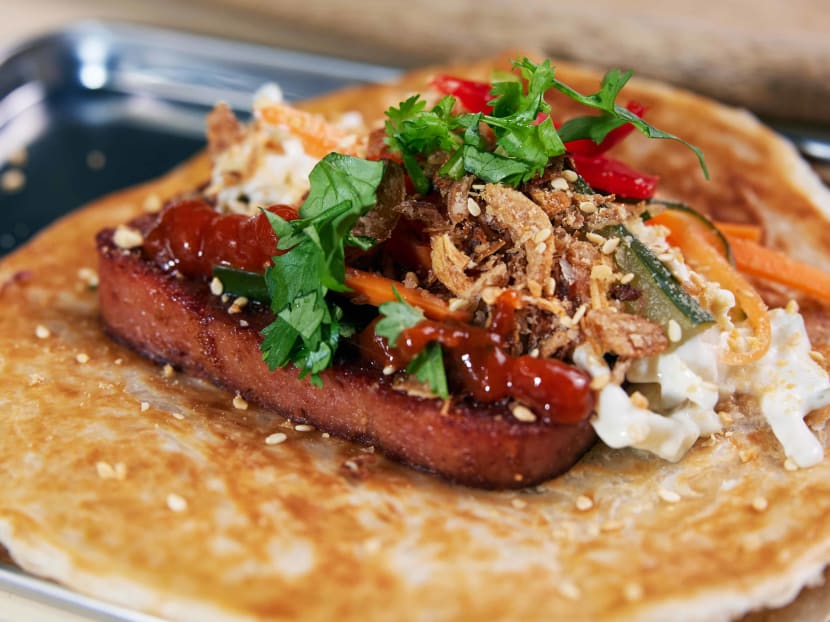 This number features a plant-based OmniMeat luncheon patty that's lightly pan-fried and then served up with the same crunchy accompaniments and a squidge of sriracha hot sauce if you ask. It can be made vegan without yoghurt. If you didn't tell us the patty was plant-based, it'd honestly have taken a few bites before we'd notice — there's a slight textural difference, softer than your usual luncheon meat patty, but the salty, slightly bad-for-you processed flavour is all there.
This is a weekly special, and is basically carbs on carbs. The potato salad features small chunks of tender potato and crunchy celery, capsicum, and bits of fried bacon, all dressed in a mayo and yoghurt dressing. This reminds us a little bit of a Japanese potato salad sandwich, chunkier and zestier because of the yoghurt. It's pretty tasty, and we enjoy the textural contrasts with the crisp prata wrap.
Served in little cups, this is a light blended soup made with sweet potato and thickened slightly with coconut milk. It's subtly spiced with turmeric and other spices. It's pleasant, and meant to be a nod to the plate of curry customarily served with prata, though this is more healthy soup than punchy curry.
While there's nothing particularly novel about these wraps (or 'tacos'), they're tasty, affordable and pretty to look at. The prata wrap — buttery, flaky and toothsome — is indulgent enough to keep things interesting, yet provides a simple enough backdrop for the zesty flavours and textures of the house-made fillings to shine.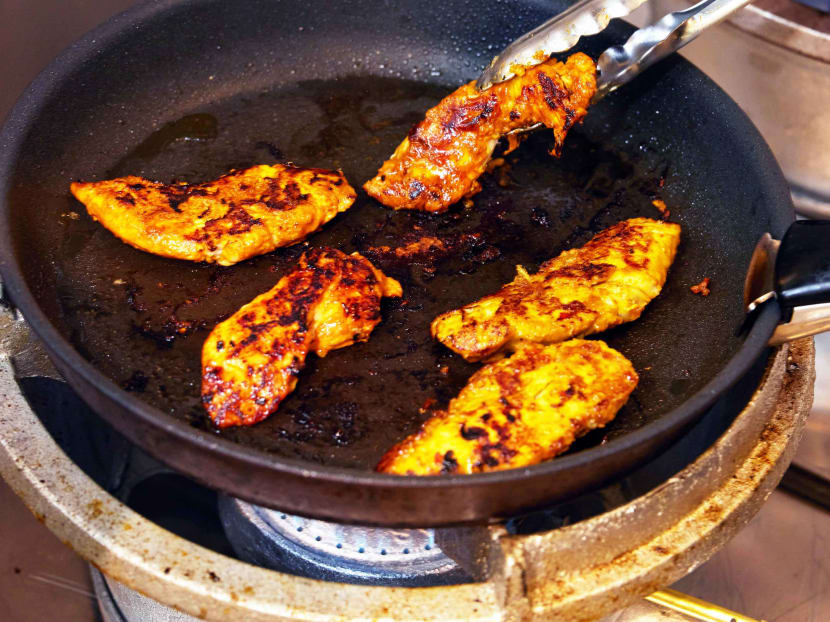 Shiba Roti is at #02-140 Bukit Timah Market and Food Centre, 51 Upp Bukit Timah Rd, S588215. Open daily 10am-7pm Mon-Fri; 10am-2pm weekends. www.instagram.com/shibaroti.sg
All photos cannot be reproduced without permission from 8days.sg

Photos: Kelvin Chia