Great Bak Chor Mee By Hawker Who Interned At 2 Michelin Starred Zén Restaurant
The Culinary Institute of America grad co-owns the biz with a pal who cooked part-time at a mee pok stall before.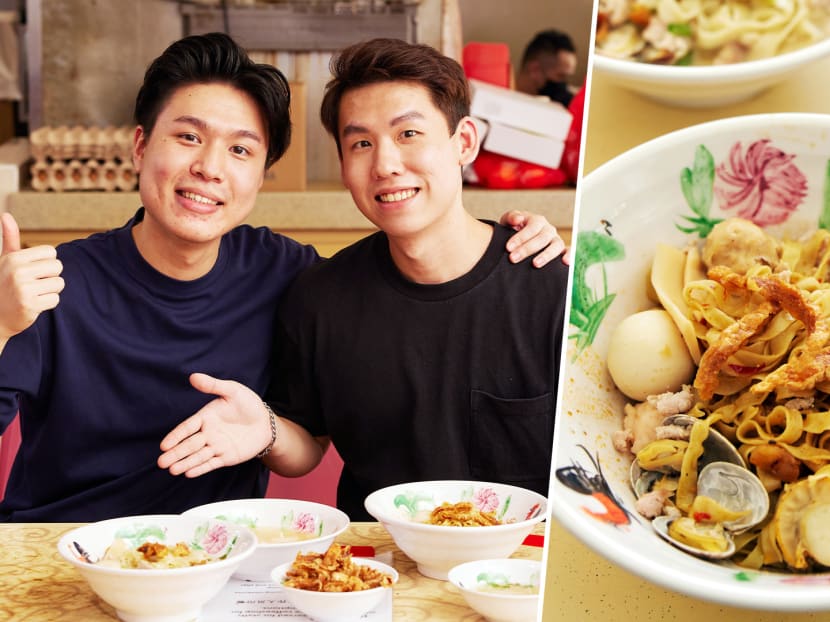 A new mee pok stall has been causing quite a stir at Block 824 in Tampines. You can't miss it: Jofa Mee Pok's stall front is bright and cheery, with a snazzy retro-chic design, and a cute neon-lit insignia on the side with its name in mandarin ("Quan Fa", which invites prosperity). The stall is named after its two fresh-faced owners, Joel Tan (left in pic), 25, and Fabian Lim, 26, who opened this business in early June this year after scheming together for the better part of the pandemic. It's been seeing very healthy queues since its opening. "The aunties are very supportive," says Joel with a laugh, referring to the clientele, many of whom have become loyal regulars. "It's not the same as last time when people would look at young people cooking and go 'this one sure not nice'. They gave us a chance and really liked the food, and have been coming back." These millennial mee pok men have been so popular that they typically sell out before closing at lunch and dinner. They say the dine-in ban which kicked in on July 22 hasn't affected business too much since their customers have mostly ordered their food to-go anyway, though the queue is slightly shorter for now.
All photos cannot be reproduced without permission from 8days.sg

8days.sg
meets the boys on their day off, just as the
Phase 2 Heightened Alert
dining ban measures kick off, so the coffee shop is deathly quiet. But the affable duo are upbeat. "It's a lot of fun," Fabian says with typical twenty-something verve when we ask about the
hawker
life, though in fact, this is not their first go at F&B as both have spent time in kitchens before. Fabian, who graduated with a diploma in marketing from Temasek Poly, used to do part-time stints at a relative's mee pok stall, which he says was a way for him to learn the ropes of an F&B business. Learning the
noodle
trade helped spark his desire to open a mee pok stall — but he needed a business partner to help him conceptualise it and develop recipes. Enter Joel, his poly friend, who did a diploma in Culinary & Catering Management at Temasek Poly and subsequently a degree with the
Culinary Institute of America
offered at the same poly.
Last year, Joel did his apprenticeship at two-Michelin-starred modern European fine-diner Restaurant Zén, and later, as part of his CIA degree, worked there part-time as a line cook. After graduating from CIA last year, he worked as chef de partie at Panamericana, a hip grill joint at Sentosa Golf Club. If it weren't for the pandemic, Joel would have been off to the USA doing a one-year internship at Atelier Crenn, a three-Michelin-starred French restaurant in San Francisco. He says he's sad about it but if that had happened, he wouldn't be running his own business today. His plans have always been to open his own joint, but despite his fine-dining training, he's pragmatic about what will work best in Singapore, which is why his interests have turned towards hawker food.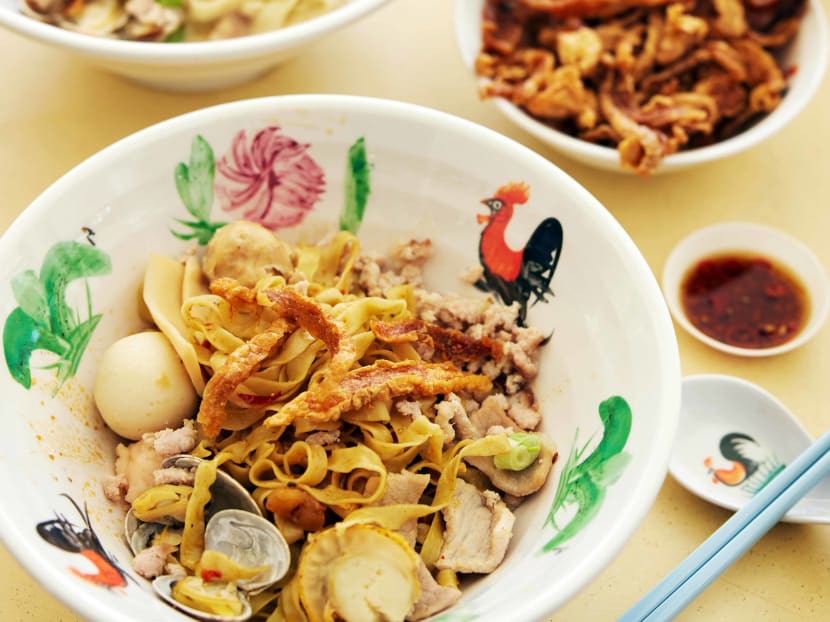 Together, Fabian and Joel started dreaming up this business in the early days of the Circuit Breaker last year, and only six months ago decided to take the plunge. They sank in their own savings without any parental support, a five figure sum they say is on the high side for hawker start-ups. The costs went mainly into funding some customisation of the kitchen to make it more efficient, and to invest in some branding. "Our parents are very, very supportive," says Fabian, whose elderly dad, a former car mechanic, stands in the distance watching proudly during our photoshoot. "But we didn't want any support from our parents," says Joel, "because we wanted to feel the pain. If anything happens, it's our own loss. We wanted more ownership." Fabian adds, proudly: "this is fully owned by us, so at the end of the day we feel the fulfilment".

Joel says the work is gratifying but hard. "I've been part-timing in kitchens since I was 16, but I've never washed so many bowls in my life," he jokes. At the stall, Fabian is the frontman, doing most of the cooking and running the operations while Joel does more back-end stuff, though the brisk business, fueled by word of mouth, has meant both of them are at the stall on most days, sometimes even roping in friends to deal with cashier duties.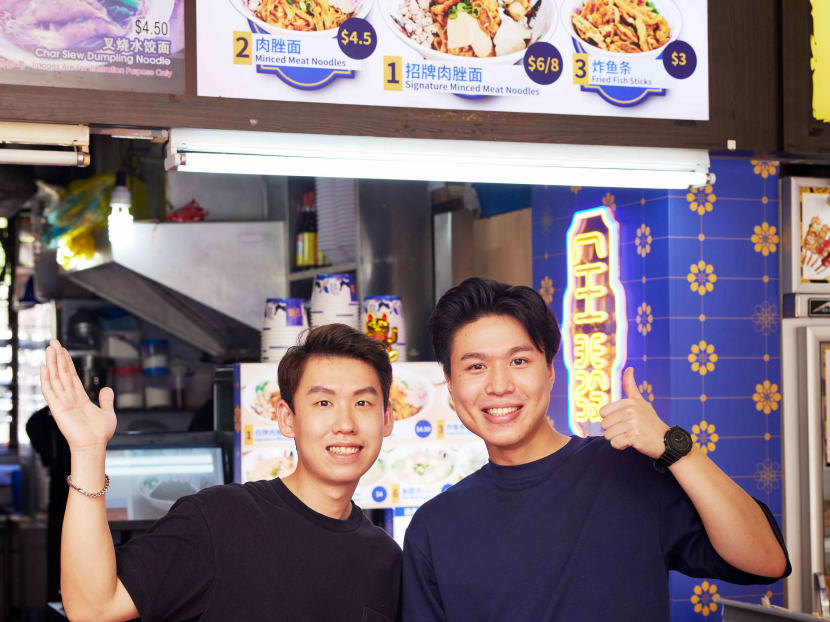 These are no hapless millennial upstarts, the two are very savvy entrepreneurs. To start with, they spent months eating at various mee pok places to figure out what they liked from each stall and how to combine it in their own product. Then, they designed their operations to be scalable, standardising the weight of noodles, the cooking times, and the amount of sauce, so they can train staff easily and eventually expand. "Normally, the mee pok uncle knows by feel how much ingredients to use," explains Joel, "but skilled manpower is so hard to find in F&B, so we made it so that we can train anyone to do it."

At the moment, they're looking to hire part-timers and are thinking of expanding to another stall, though plans aren't firm yet. Their next venture might not be noodle-related. Joel says they're tinkering around with the idea of setting up a kopitiam-style Western food stall that will tap on his experience with European cuisine.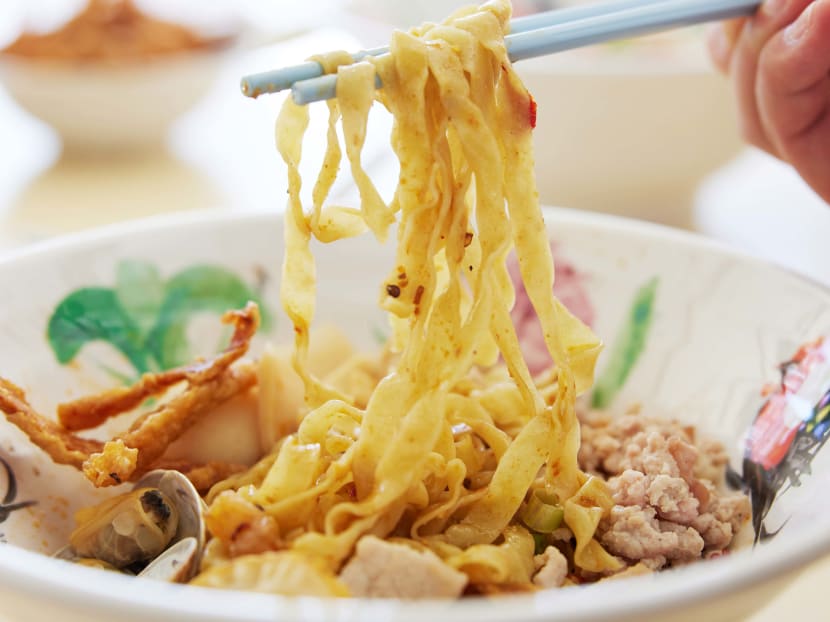 The menu here is very simple: mee pok, soup or dry. Their $6 signature bowl is bak chor mee with extra trimmings like clams and scallops (both from Japan), fishballs, prawn paste balls, mock abalone, and fish dumplings. For $2 more you can get extra seafood toppings. Without the seafood, the bowl is $4.50, and comes only with fishballs and pork balls. Joel says he thought the neighbourhood clientele would gripe about a $6 bowl of mee pok, but says most people end up getting the signature dish with the bells and whistles. "We thought we'd offer some value, 'cos for $1.50 more you get all this seafood".

Everything else on the menu is extra helpings of toppings like their handmade prawn paste balls, fresh fishballs, or fried fish sticks, which they say are super popular as a drinking snack among the regular patrons at this kopitiam. Joel says that they tried out dozens of suppliers before settling on their fishballs (which are made fresh and delivered daily), the fish sticks (sourced from Malaysia), and the noodles, which are customised and made without alkaline for better texture.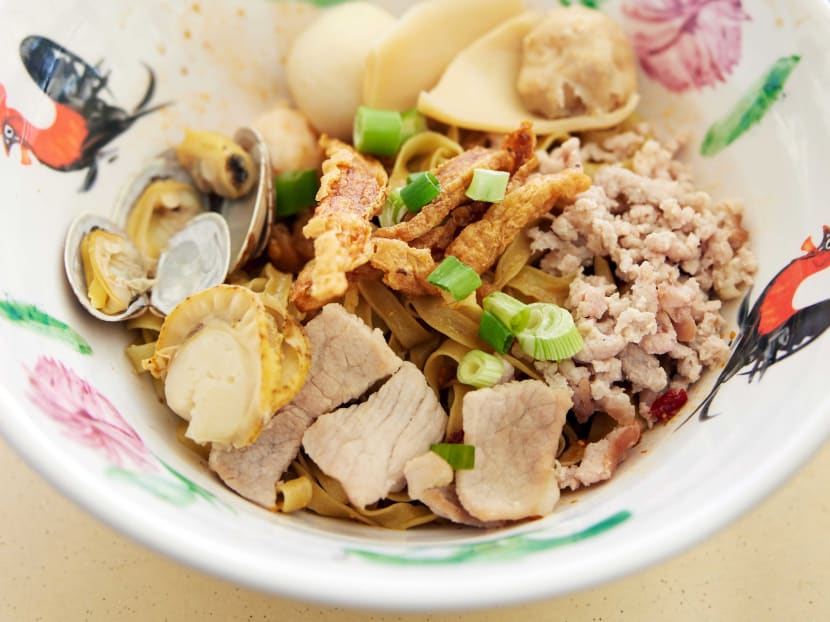 So is this any good? Yes. The sauce is very punchy and spicy, more chilli forward and less vinegary, and while there's a lardy fragrance, it isn't overpowering or too greasy. We usually prefer a sharper, vinegary style of bak chor mee, but find ourselves enjoying this because of the complexity of the chilli, made with a blend of dried and fresh chillies with dried shrimp. At any rate, you can ask for more vinegar on the side, if you want. The toppings are a treat: the clams and scallops, both flash-frozen from Japan, are plump and sweet, and the prawn paste balls are super tender. The fish balls have a lovely bouncy texture and the noodles are really good. We have ours to go because of the dine-in measures, and even after an hour in the takeaway container, the curly mee pok stirs up well and hasn't turned clumpy or into a sodden mess. They retain a lovely al dente texture, and this all comes together in chewy, spicy, meaty, umami mouthfuls.
The soup here is made with pork bones, chicken, red dates, and fried garlic. Joel says they use old hen for the soup to get a richer chicken flavour, and because they cook the seafood in it, it develops more flavour over the day. The soup is delicious on its own, with a gentle sweetness that reminds us almost of Cantonese slow-brewed soups. Together with the eggy, tangly mee pok noodles, it's light and comforting, though we prefer the more robust dry version.
This started out only as a topping but was so popular they decided to sell it à la carte in a hefty serving that's perfect for snacking. It's essentially fish paste wrapped in beancurd skin that's sliced and deep-fried before serving. They stay shatteringly crisp for a really long time, and taste like browned, concentrated fish-cake. Very yummy. Over the noodles, they eventually soften because of the steam but take on a pleasant fish cake-like chewiness.
We love that these are available just on their own because they're delicious: little pink pillows full of sweet prawn flavour. They're handmade, mostly minced prawn flesh with some salt, and cooked to order, so they're very bouncy and tender.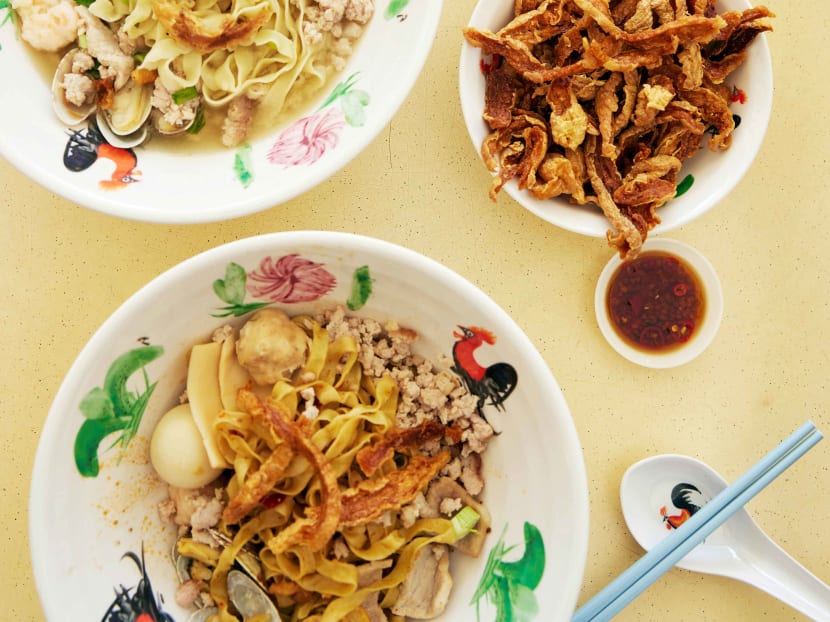 Very good bak chor mee made by an enterprising millennial duo. The individual components shine, and the seafood adds a nice texture and sweetness to the dish, while still retaining that punchy, pork-driven flavour we love. Note that the flavours here are a little lighter than your typical bowl of BCM, but still very moreish. Our only gripe is that the portion is a bit small for our appetite, but you can get extra noodles for $1.50. Delivery islandwide may soon be available, but for now, you'll have to visit the stall for your fix — go early because they tend to sell out before closing, especially at dinner time.


Jofa Mee Pok is at 824 Tampines St 81, S520824. Open daily except Thur 10am-2pm; 5.30pm-10pm. www.instagram.com/jofameepok
All photos cannot be reproduced without permission from 8days.sg

Photos: Kelvin Chia