Hotel Pastry Cook-Turned-Personal Trainer Now Sells Tasty Curry Puffs From Home
The puffs are a new addition to the bak chang biz that he & his wife started during the pandemic.
Last year's Circuit Breaker dealt a huge blow to Ken Lee's personal training and health supplement business. To make things worse, his Vietnam-born wife, Le Thi Kim Chi, or Kim, 37, who worked at a nail salon, was retrenched from her job. The couple has two daughters, aged two and 11.

Around April last year, the enterprising 40-year-old noticed a growing demand for rice dumplings, as the Dragonboat Festival was two months away. "I saw on the news that everyone was stocking up on glutinous rice. In terms of logistics, I knew it would also be easier as rice dumplings can be stored for a longer time," he tells 8days.sg over the phone. This was how he started his home-based biz, Kim Lee Traditional Hokkien Zhang.

Business grew quickly after Ken set up a Facebook page and he received between 80 to 100 orders a day. Just as things were starting to look up, the couple faced another challenge. "Kim went for a major surgery to remove a brain tumour last July. She is better now and she wants to find a job, but I'm reluctant as she is still not 100 percent [well] yet," shares Ken. "Making rice dumplings is a laborious job, it takes a lot of time to cook the meat and do the wrapping. After that, we still have to cook the dumplings for a few more hours. So I tried to think of something else that is simpler for her to do, which is how we thought of the all-time favourite, curry puffs."
All photos cannot be reproduced without permission from 8days.sg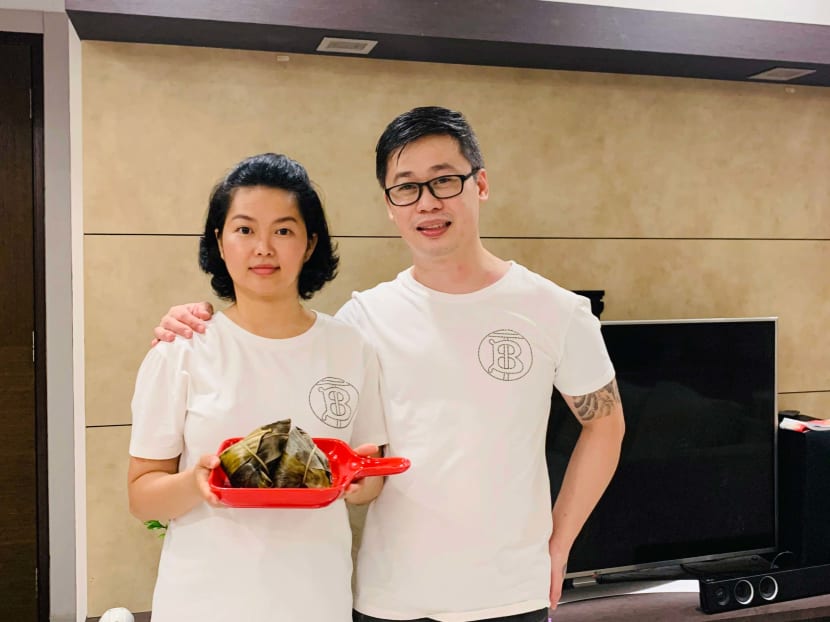 Ken shares that even though the tumour removal operation went well, Kim has been plagued with post-surgery complications over the past year. "After the stitch removal, there was water swelling in her brain. We went for a draining procedure in September but unfortunately it was not successful – the water came back again the day after her operation."

"We sought advice from another doctor, who suggested redoing the operation to repair the stitches. Two weeks later, the swelling started again. After her last procedure in December, she developed a condition called vertigo [a sensation where you, or the environment around you, is moving or spinning], which still affects her now. This is why I'm quite reluctant for her to start working outside again."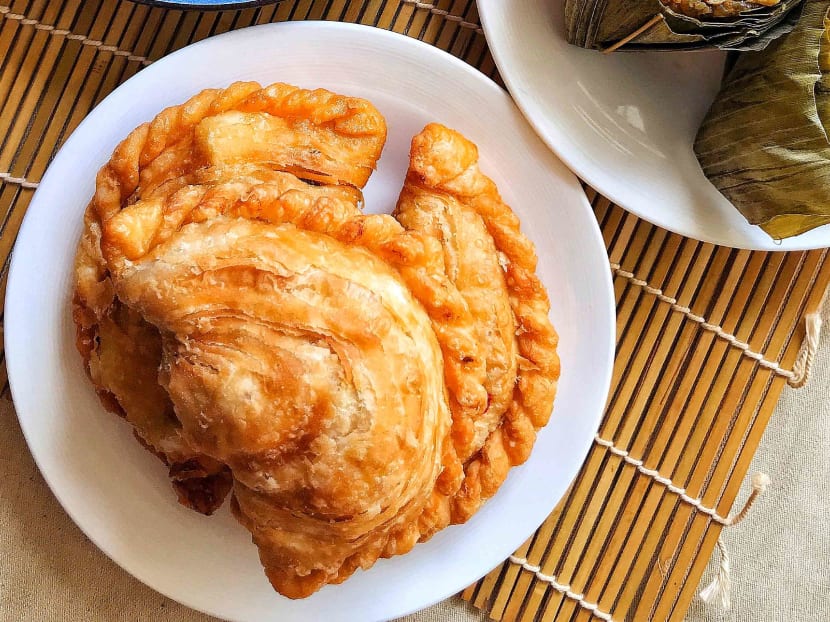 Ken's rice dumplings are based on his late mother's – a recipe that he unfortunately did not pick up when she was alive. "I tried to recall how she would make it – the way she cooks the meat and the way it should taste. I loved eating it when I was younger and I think I've done a good job recreating it," he says wistfully.

His rice dumplings are Hokkien-style, with pork belly, dried mushroom, chestnut and hae bee (dried shrimp) – just like how his mum used to make them. The only tweak he has made is offering a salted egg yolk version, a request from some of his customers.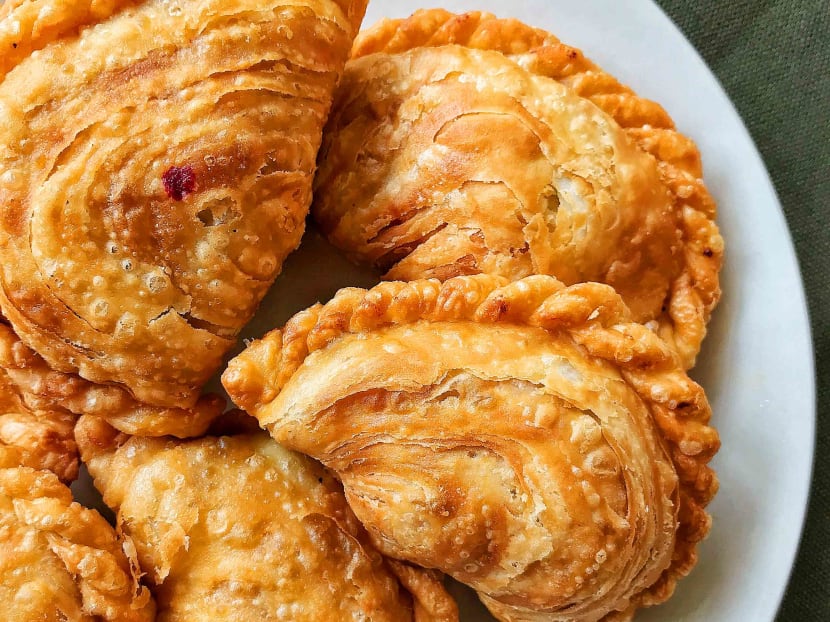 Prior to her surgery, Kim was assisting her husband with cooking the meat filling and steaming of the rice dumplings. She's also in charge of wrapping all the changs. "She does a better job than me," says Ken with a laugh.

Right after her op, Ken had to reduce the number of orders as he was unable to cope. "We actually stopped taking orders last July. From September to November, I had an assistant to help me, so I took orders occasionally, like around 50 pieces once a week. Kim was not involved during this time."

After Kim's latest surgery in December, Ken stopped production again so he can take care of her. "We only resumed with small orders around mid April, between 50 to 70 rice dumplings, twice a week."

To further ease her workload, Ken added curry puffs to the menu two weeks ago. "It's much less complicated and tiring to make curry puffs. Kim is helping me to wrap the puffs for now, and soon I will teach her how to make the fillings," shares the doting husband. "It just so happened that our pork supplier was put on stay-home notice, so we've had to stop making rice dumplings for now. Luckily, we can still sell curry puffs."
Ken is no stranger to strenuous kitchen work: "I'm used to it as I worked in the restaurant industry a long time ago. My first job was as a kitchen trainee at Regent Singapore in 1999, for a year. During Christmas and festive periods, we had to bake a high number of cakes, so I have experience meeting large orders."

As a trainee, Ken learned how to make croissants and puff pastry from scratch. He later went on to work as a junior cook in the pastry kitchen at Singapore Marriott Tang Plaza Hotel for a year. The experience provided a solid culinary foundation that he put to good use in his current biz.

"I admire the aesthetic of spiral curry puffs, so I wanted to try and recreate that. It took me a while to get the recipe right, but I already knew how to work with layered dough to get flaky skin [for the curry puff] so it wasn't too difficult," explains Ken.

"I'm glad that I've had the skills [from culinary training], because now I can put them to use. I thought that after I became a personal trainer, I would not cook anymore and whatever I learned would be wasted," he says, citing low pay and lack of career progression for why he stopped pursuing cooking and joined the fitness industry instead. The job switch was an easy transition for the fitness buff, who became a personal trainer through a gym buddy's recommendation.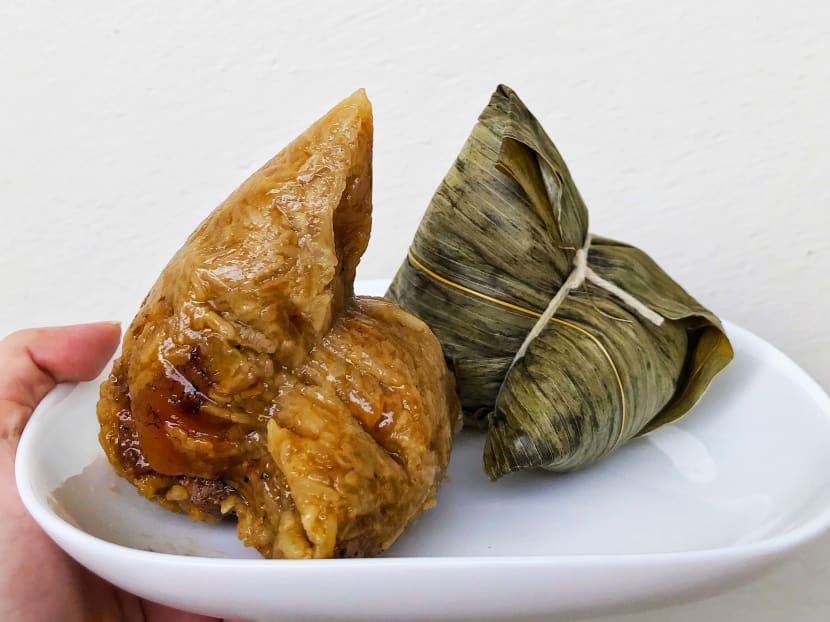 Ken shares that steady orders have given him the confidence to go commercial someday. "We hope to find a proper, commercial place. But after all the Phase 2 (Heightened Alert) announcements, we thought maybe now is not the right time to set up a [physical] business. We still have the idea [of going commercial] as business is picking up, but we're quite nervous so we'll just hold on first."

He also tells us that if Kim wants to find another job, he will be supportive. "She feels like she's been stuck at home for too long and she wants to go out and see the world. I told her to wait a few more months until she's stronger," says Ken. "I'm ok to hire assistants to help me [in future]. Or maybe she can be in charge of the physical shop while I focus on R&D and expanding the menu."
While the spiral pattern is not as pronounced or refined compared to the likes of seasoned curry puff hawkers like Soon Soon Huat, the skin is still satisfyingly crispy and flaky. The thin-layered puff is stuffed to the brim with diced chicken, potato and a wedge of hard-boiled egg. "My curry puff has more meat than potatoes, which is harder to find outside," says Ken. Indeed, every bite is punctuated with moist curried chicken. The home cook also uses a fragrant rempah to cook the filling, which explains the aromatic, spicier-than-usual meat and potato – delicious.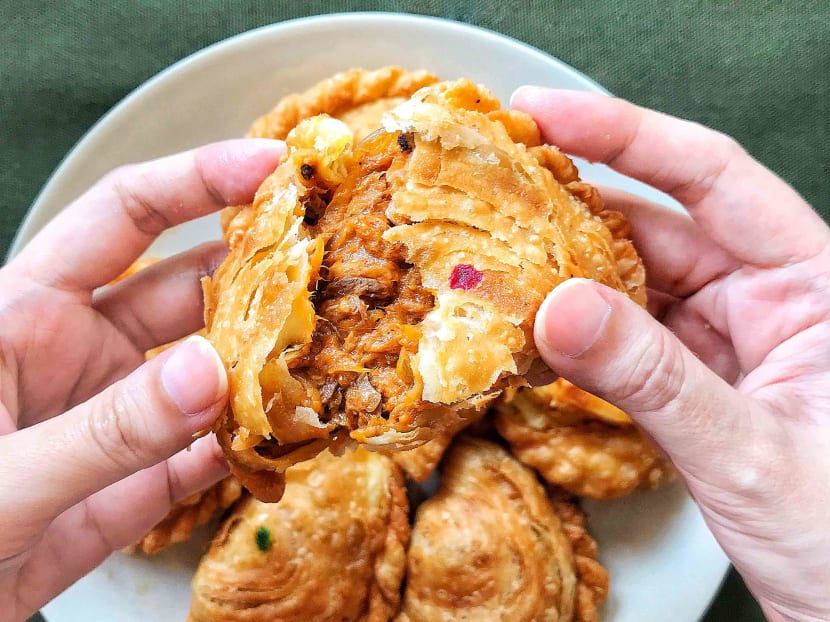 The sardine filling has a rich tomato flavour and mellow sweetness from sauteed white onions. We found the pastry a tad soggier compared to the other options, probably due to the higher moisture content of the filling. Ken shares that he has received similar feedback from other customers, and is tweaking his recipe to ensure that the sardine puffs maintain their crunch.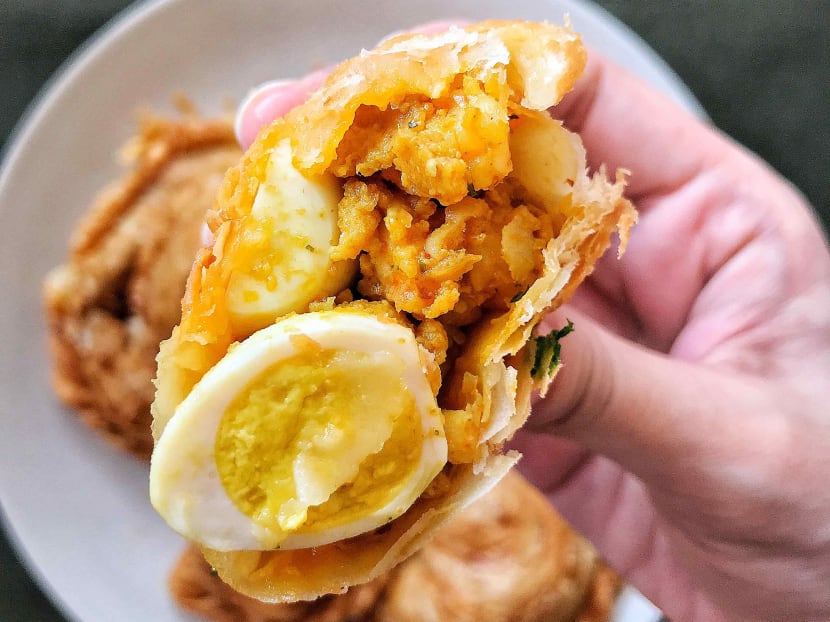 Packed with luscious store-bought Muar otak, diced prawn and quail egg, this new item's highlight is its fragrant, creamy laksa paste, which pairs well with the spicy mashed mackerel meat. Very lemak and addictive.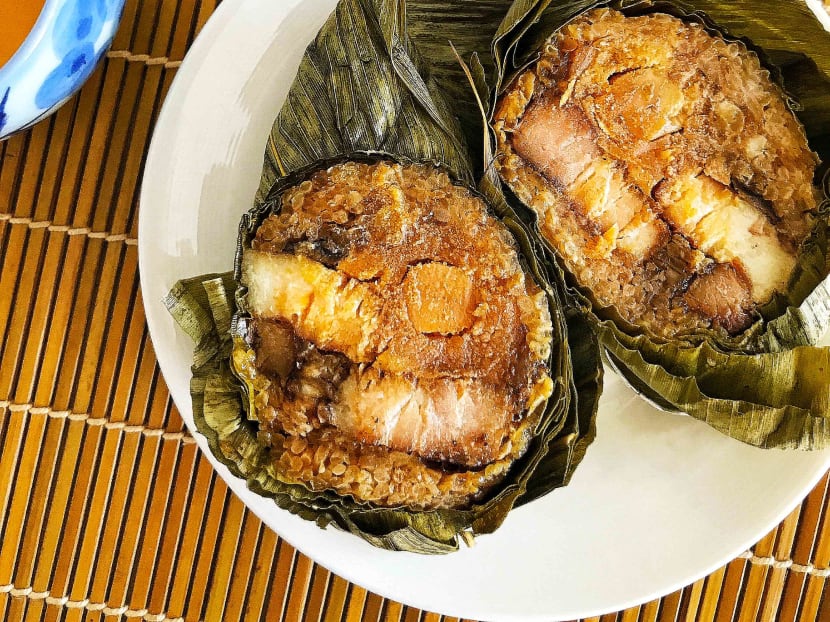 This hefty bak chang (available only in three weeks' time) weighing around 200g, is generously stuffed with pork belly, shiitake mushroom, chestnut, hae bee and salted egg yolk. The Thai glutinous rice is steamed perfectly – chewy and not too mushy. It's also robustly flavoured with soy sauce, five spice powder and dried shrimp.

The chunky fillings are an absolute delight. We especially enjoyed the thick cuts of tender, juicy pork belly that has been marinated for over 12 hours, fat slices of mushroom and the rich, punchy salted egg yolk – Ken shares that he only uses fresh salted duck eggs and spends at least half an hour to clean and separate the yolks for daily orders. An excellent option if you love the nostalgic taste of traditional Hokkien rice dumplings.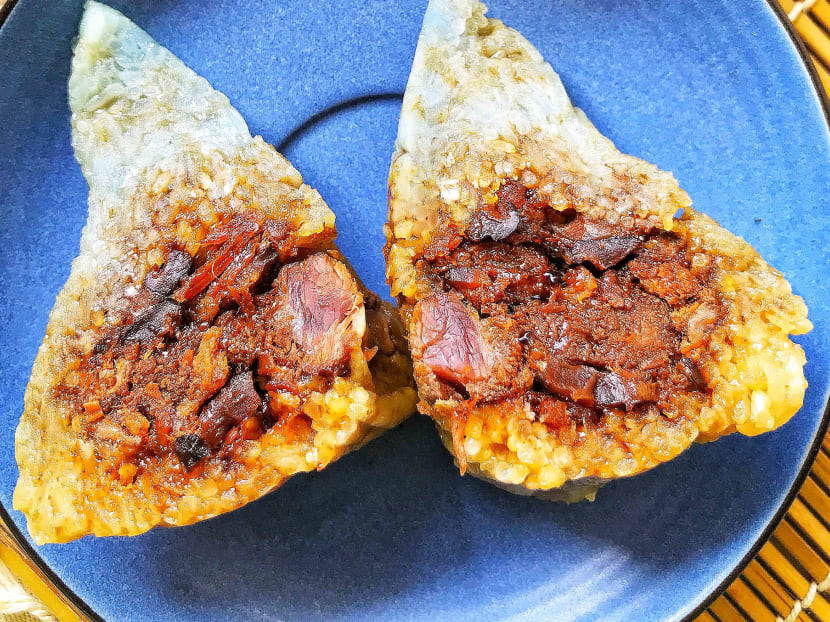 Studded with candied winter melon, pork and shiitake mushroom, this 130g dumpling leans on the sweeter side. While the filling in most Nyonya dumplings tends to be finely minced, Ken's version features chunkier pork belly and shoulder meat, which gives a more satisfying bite. True to Nyonya fashion, patches of the glutinous rice are stained a pretty blue with the juice from butterfly pea flowers.
Comforting curry puffs with a homespun feel and old-school flavour — we especially enjoyed the meatier than usual curry chicken and laksa-spiked otak ones. The generously stuffed Hokkien bak chang (only available again in about three weeks' time) is also a must-try.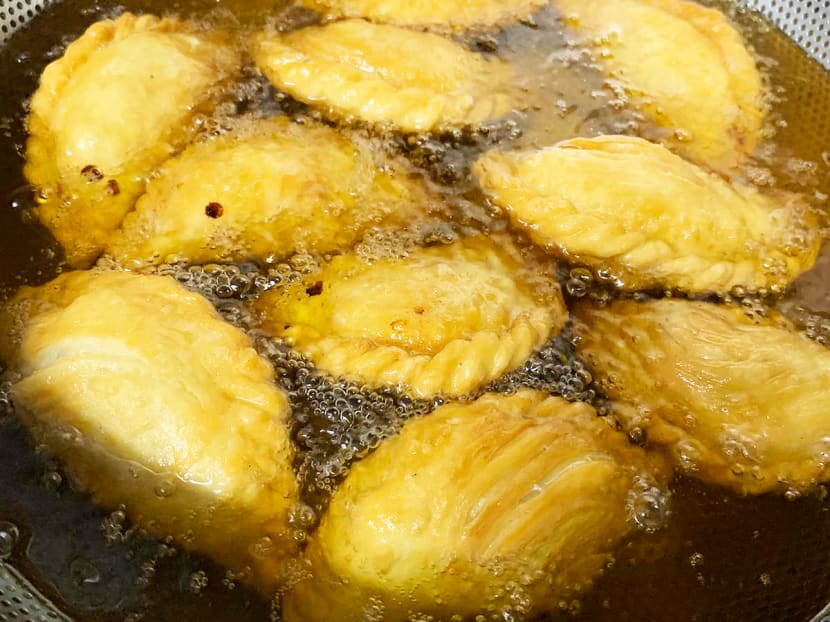 Order via Kim Lee Traditional Hokkien Zhang's Facebook page. Delivery fees from $5 to $8. Due to a disruption in supply, they are currently only accepting orders for crispy puffs (min order 6 pcs). Check FB page for updates.
All photos cannot be reproduced without permission from 8days.sg

Photos: Ken Lee & Chin Chih Lin