If We Could Only Eat One Burnt Cheesecake, It'll Be This Truffle Ricotta Version
Superb Italian-style burnt truffle cheesecake for safe-distanced Mother's Day gatherings.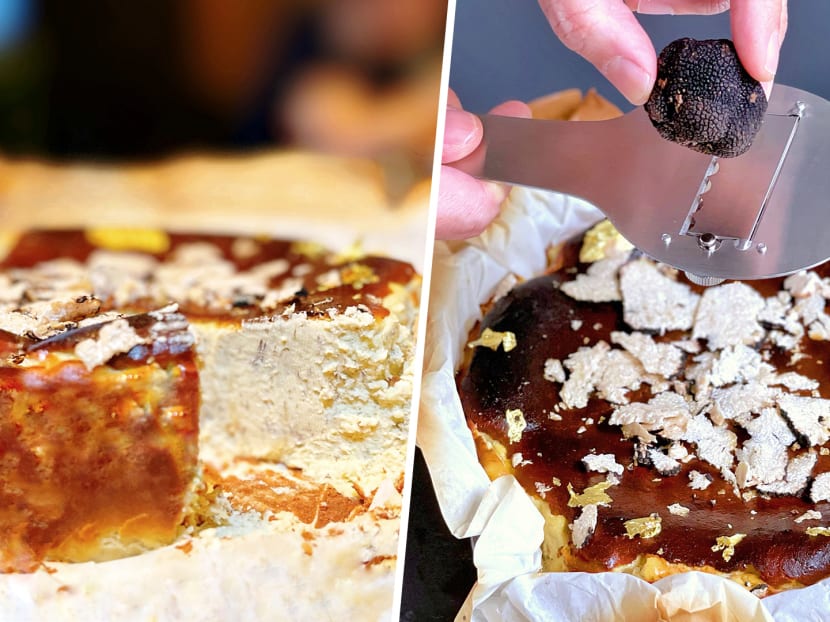 New Covid-19 measures
for group gatherings reverting back to five from eight getting you down? We feel you. While the stricter measures are necessary to curb growing cases in the community, it's still a bit of a bummer with certain plans for upcoming festivities like Mother's Day and Hari Raya Puasa scuppered. Well, in times like these, we like to turn to something sweet and comforting. Even better if it happens to be a bit luxe. This
burnt cheesecake
from Regent Singapore fits the bill, and then some. We thought we were jaded by the ubiquitous confection — but this is not just any old burnt cheesecake commonly sold during those dark
Circuit Breaker
days. This one, crafted by the chefs of the hotel's restaurant Basilico, is Italian-inflected and crammed with enough
truffles
to satisfying the greediest truffle-hunting mutt.
All photos cannot be reproduced without permission from 8days.sg

Pricey, you say? Well, yes, at first glance. But this solid number serves up to 10 peeps (good for gatherings at home with five guests, plus you and the fam) and comes with a whole Norcia black truffle (about 25g) from Umbria, Italy, stored in a jar of acquerello carnaroli rice for making risotto another day (a recipe is provided), a truffle shaver, plus a large jar of Basilico's truffle honey for topping your cake a la minute. Delivery is also included in the price. Pretty good deal for a small celebration, we say.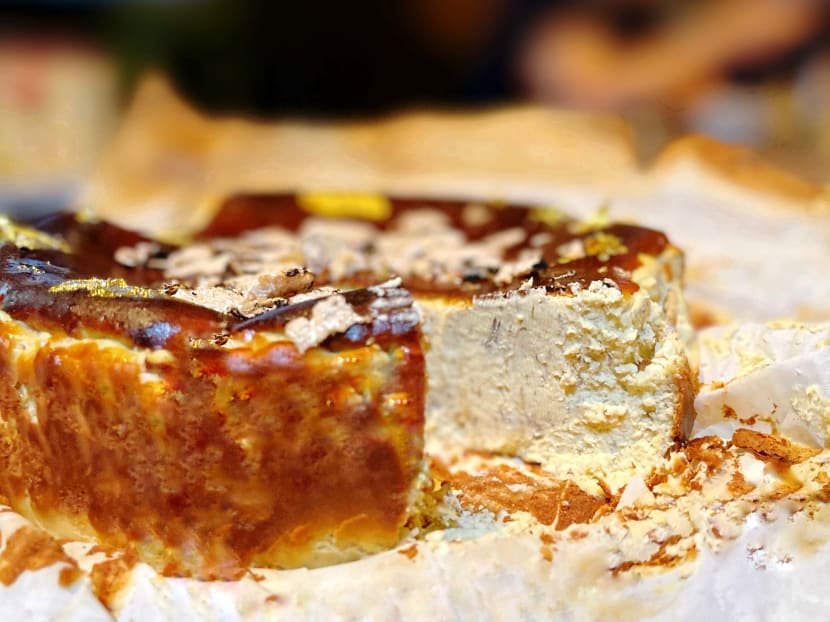 First, let's talk about that intriguing texture. While it doesn't have the same oozy core found in some burnt cheesecakes, it possesses a welcome lightness from the crumbly ricotta seirass, a traditional Piedmontese sheep and cow's milk fresh cheese that's fluffy, creamy and spongy. It's blended together with heavier cream cheese to form a dreamy mouthfeel that's both rich and dense, yet somehow a tiny bit airy. And its lush flavour is more complex than your garden-variety burnt cheesecake so it doesn't get too jelak.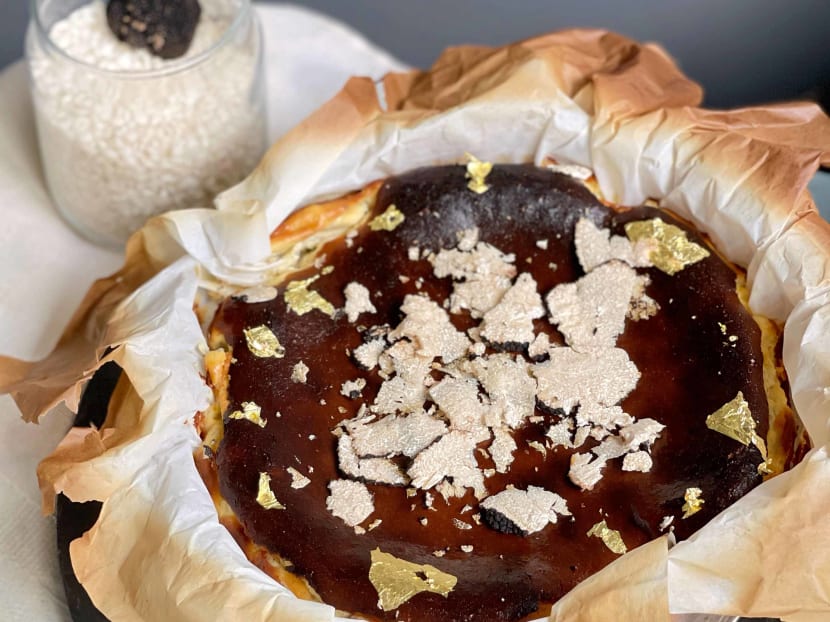 The lovely truffle is incorporated three ways here. Lending further depth to that fluffy-dense cake are bits of black truffle blended into the batter before being baked, the fungus's perfumey pong permeating each creamy bite. As for the fresh knob of truffle? Shave it over the cake for dramatic flair, like an overenthusiastic Italian chef. In case all that's not enough — up the drama even more by drizzling each cheesy wedge with a smidgen of jammy honey speckled with morsels of, yes, more truffle. It's so delicious and deceptively 'light', a slice will insidiously turn into two.
Only 30 burnt truffle cheesecakes are up for grabs each week. Orders open every Wednesday (today at 9pm), and can be scheduled for delivery throughout the week. It's offered as part of Regent Singapore's "Chef's Playground" concept, its take-home arm serving unique creations dreamt up by chefs of the hotel's various F&B establishments. It was inspired by the dishes they created during the Circuit Breaker, when the hotel solely offered deliveries and takeaways. The Burnt Truffle Ricotta Cheesecake is the programme's inaugural offering — the menu changes monthly. Pity, this should totally be a permanent fixture on the menu.