Japan's Biggest Conveyor Belt Sushi Chain Sushiro Opening In S'pore, Prices Start From $2.20
It's located at Tiong Bahru Plaza.
Sushiro is a popular kaiten (conveyor belt) sushi chain in Japan. It's also the largest of its kind in its native country, selling some 1.36 billion plates of sushi annually at its 530 outlets worldwide in countries like Korea and Taiwan.

It's not related to local donburi eatery Sushiro at Thomson Plaza, which had changed its name to Omoté almost a year ago.
Come August 19, Sushiro Japan will open its first Southeast Asia outlet in Singapore at Tiong Bahru Plaza. Over 100 types of "sushi and side menu selections" will be offered, with prices starting from an affordable $2.20 to $5 a plate.

It's slightly pricier than fellow new-in-town Osaka conveyor belt sushi chain Chojiro at Japanese food enclave Gochi Church Street Japan Kitchen (which serves almost 60 types of sushi starting from $1.99 a plate), but there's a bigger variety available at Sushiro.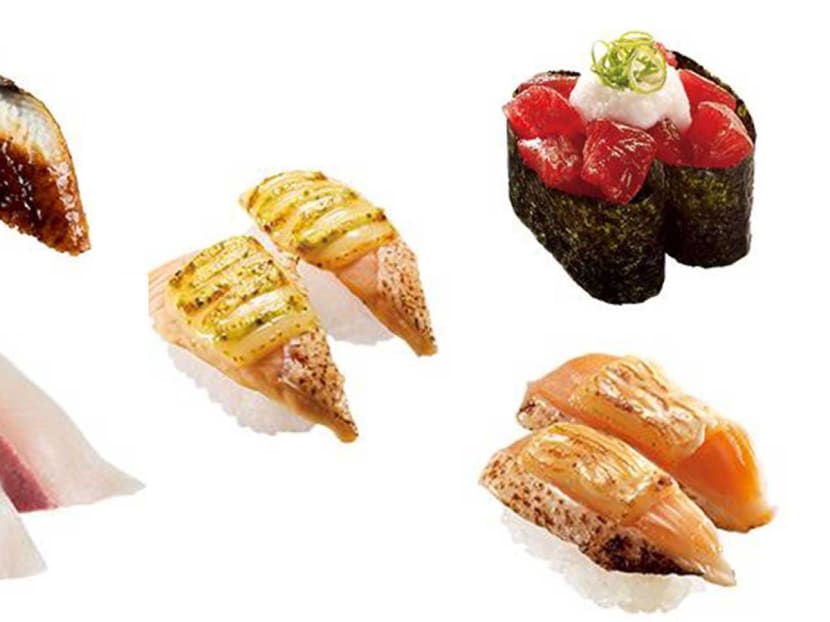 Ingredients used will be directly imported from Japan, while "exclusive and seasonal" dishes will be introduced in the future. Sushiro, which has partnerships with Japanese rice farmers, also uses a blend of Japan-imported rice grains for its sushi rice to "achieve a perfect balance of texture".

While the Singapore menu is being finalised, a peek at Sushiro Japan's menu tells us what to expect: mod sushi like Broiled Salmon with Basil Sauce (pictured), Salmon with Cheese and Grilled Mackerel. Yum.

To ensure freshness, Sushiro uses a hi-tech IT system to monitor sushi plates rotating around on the conveyor belt, and unclaimed plates on the belt are removed after a stipulated time and replaced with new plates.

Watch this space for 8days.sg's upcoming review.

Sushiro Singapore opens Aug 19 at #02-118 Tiong Bahru Plaza, S168732. Open daily 11.30am-9pm (last order at 8.30pm). www.facebook.com/sushirosingapore.