KFC Launching Fried Durian Mochi With Molten D24 Filling
It's also introducing a chimichurri-marinated Tango Spice fried chicken.
This is not a belated April Fool's joke: after releasing a poster on April 1 about an "exciting" durian treat, KFC has announced that it is rolling out the new Golden Durian Mochi ($3.45 for five pieces) from April 7.

The fast food chain had posted a cheeky image of durian seeds in a KFC fried chicken bucket on April Fool's Day, only to make good on the teaser.

The dessert sounds identical to the Durian Balls that were launched last August at KFC's Malaysian outlets.

According to KFC, the Golden Durian Mochi is a "fried chewy mochi filled with molten premium D24 durian lava". It also boasts: "Bite into one of these golden mochi balls and experience sweet fragrant durian lava flowing into your mouth! Careful when it's hot, it ain't a joke when we say flowing premium D24 filling." Interesting.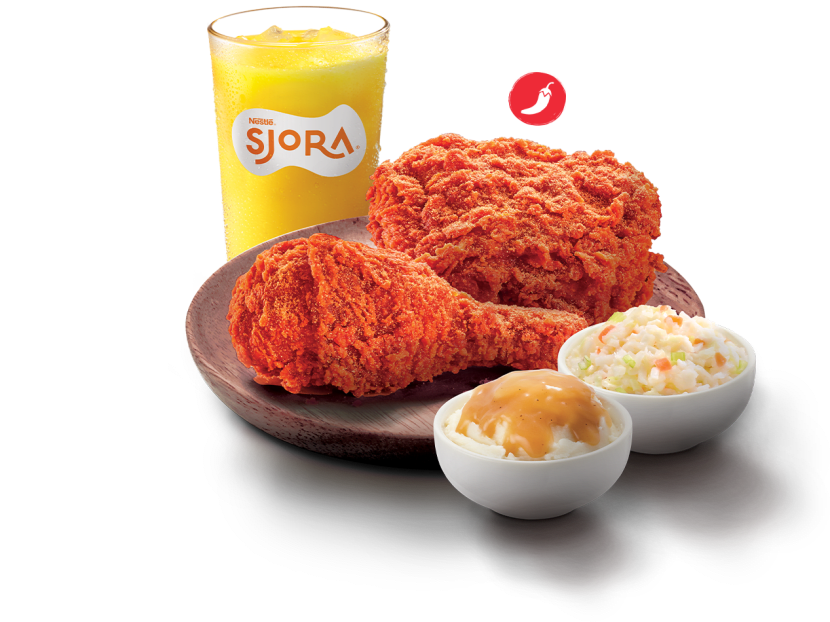 Other than durian mochi, KFC also has a new Tango Spice flavour for its crispy fried chicken. It will be available from April 5 at $3.65 per piece a la carte, and from $8.95 for a two-piece meal.

The chicken is marinated in spicy chimichurri — a piquant Argentinean grilled meat dressing made with ingredients like garlic, chilli pepper and vinegar. KFC's fried chimichurri chook is "sprinkled with paprika seasoning and a squeeze of tangy lime before serving". Sounds promising.

Golden Durian Mochi and Tango Spice chicken available for dine-in and takeaway at all KFC outlets except for the Singapore Zoo, and via KFC Delivery. www.kfc.com.sg.