KFC's Fried Golden Durian Mochi Taste Test: Nice Or Not?
D24 durian filling in a crispy shell.
KFC took netizens by surprise last week when it announced that it was launching a new item on April 7: Golden Durian Mochi. The dessert balls consist of a "fried chewy mochi filled with molten premium D24 durian lava", and cost $3.45 for five pieces.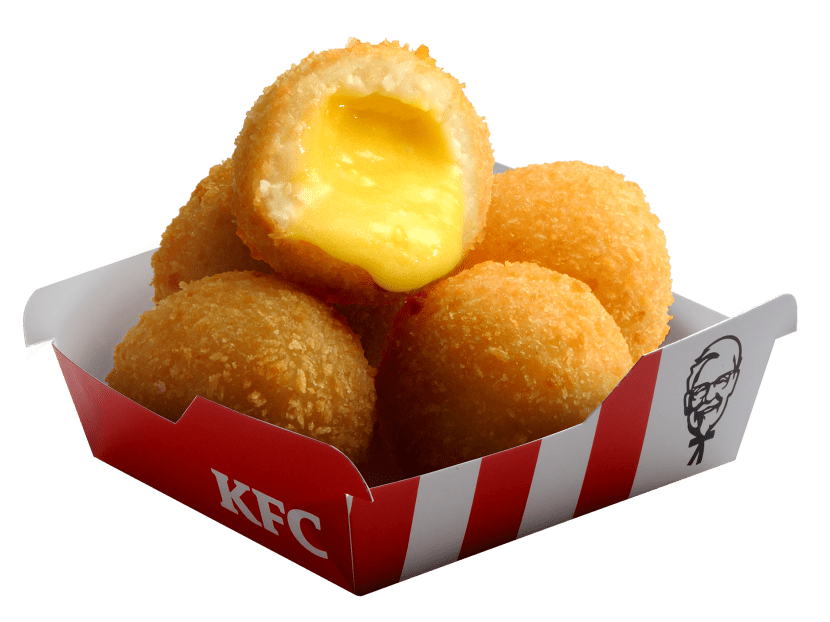 Considering that we have durian puffs, durian waffles and even durian cheesecakes on the market now, a deep-fried durian mochi ball doesn't sound so strange. According to KFC's press release, their latest creation is very interesting: "Bite into one of these golden mochi balls and experience sweet fragrant durian lava flowing into your mouth! Careful when it's hot, it ain't a joke when we say flowing premium D24 filling."

We had a preview of the Golden Durian Mochi ahead of its launch this Thursday, and this is our verdict below:

The mochi comes in a tiny red-and-white KFC paper that's heavily stained with grease. Uh oh. Within it, six golden deep-fried balls roll around. But we must say we're very impressed by their appearance. Expectations meet reality, and this looks exactly the same as KFC's promotional image (see above).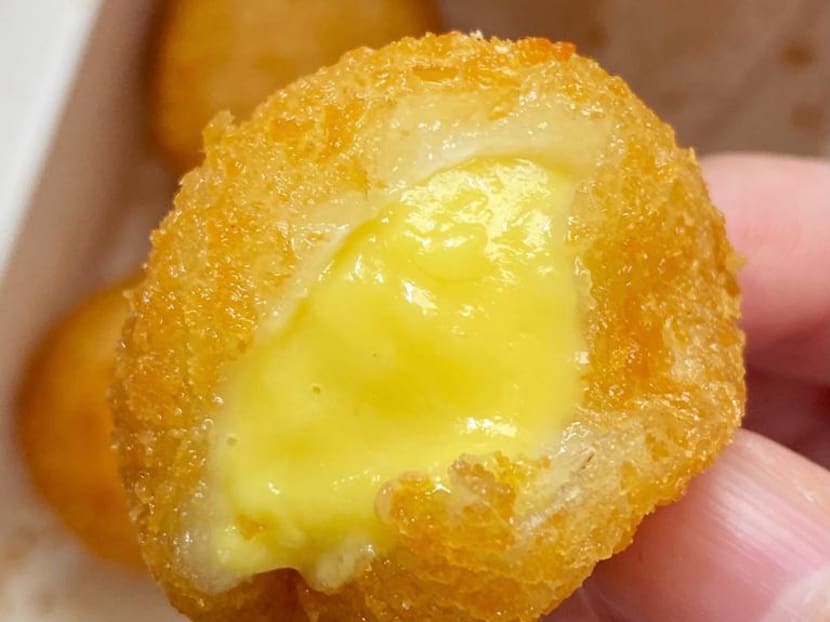 When we gently bite into a mochi, the oozy D24 durian lava within threatens to spill out. It looks like the Eye of Sauron with conjunctivitis. The fried crust has a wonderfully delicate crispiness to it, under which is a layer of chewy, slightly stodgy mochi (we could detect the rice flour in it).

What surprises us most is the filling — instead of horribly artificial durian flavouring, the 'lava' tastes like (slightly diluted) flowy durian custard. Pop the whole mochi ball in your mouth to enjoy the warm molten durian pulp wrapped in its crispy, chewy shell.

Despite its minor shortcomings, we find ourselves enjoying this addictive treat very much, and hoover the whole box in under three minutes. Go gorge on this, we say.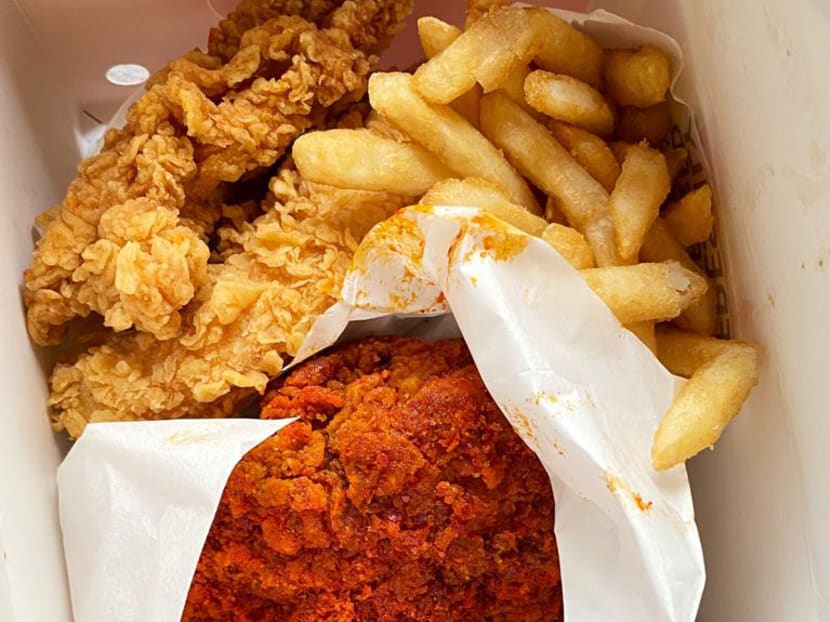 Other than the durian mochi, KFC also has a new Tango Spice fried chicken that's marinated in chimichurri, the piquant Argentinian grilled meat dressing that's made with chopped greens, chillies, onions and garlic. The fried chook is then served with a sprinkling of paprika powder and a squeeze of lime.

Compared to the regular KFC Crispy Fried Chicken, its bright orange South American brethren looks extremely sunburnt. Its hue is a sign of the things to come — the Tango Spice chicken is so spicy, our taste buds feel like they are also dancing the tango. But for those who enjoy spicy food, this pick is not bad. Its spiciness has a complexity that makes this taste more atas than the average fried chicken.

Golden Durian Mochi and Tango Spice chicken available for dine-in and takeaway at all KFC outlets except for the Singapore Zoo, and via KFC Delivery. www.kfc.com.sg.

Photos: Yip Jieying