New 24-Hour Coffee House Sells Fab Durian & Pandan Swiss Rolls From Antoinette's Founder
It can rival Rich and Good Cake Shop's rolls.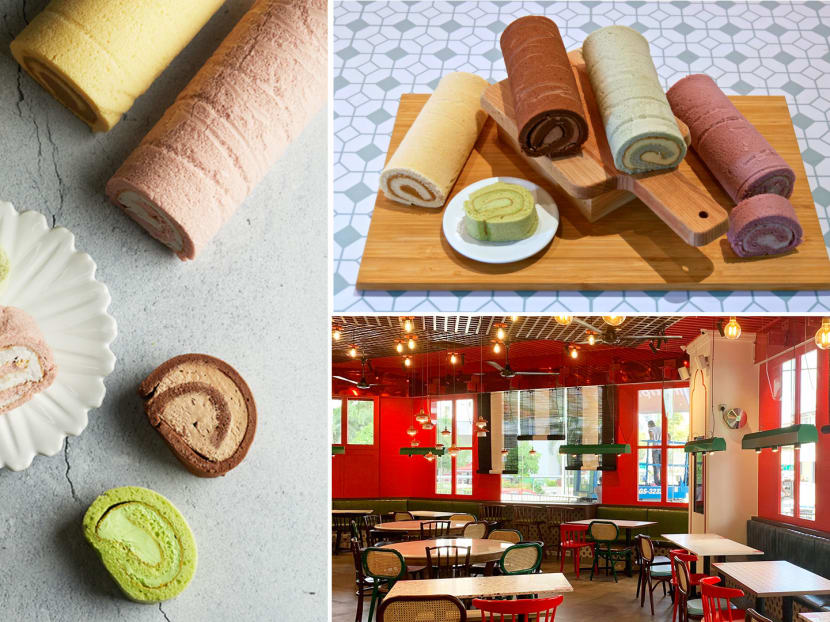 We love a good Swiss roll, but it can be hard to find an expertly-made one. The sponge cake is sometimes too dry or the filling too paltry. But chef Pang Kok Keong, who founded the patisserie chain Antoinette, has made one that hits the spot.

He's offering his Swiss rolls at the upcoming second outlet of retro-themed eatery The Hainan Story, which has an existing outlet at Hillion Mall in Bukit Panjang. The new 70-seat branch, which will operate round-the-clock, will open this Friday (Apr 16) at Hotel Boss in Jalan Besar (taking over a defunct Founder Bak Kut Teh outlet's space).

Swiss rolls are decidedly un-Hainanese, but Chef Pang's rolls come in five flavours, with four of them locally-inspired: Hainanese Coconut Pandan, Nanyang Yam Orh Nee, Premium Old Tree MSW Durian, Sea Salt Gula Melaka and Premium Belgian Chocolate. Each roll can feed about six pax and costs $12.80 ($3.80 a slice a la carte), with the exception of the posher MSW flavour, which is priced at $28.80 a roll ($6.80 a slice a la carte).

We can't get enough of the Mao Shan Wang durian, pandan and Belgian chocolate rolls. Each log, about twice as plump as Rich and Good Cake Shop's, is maddeningly soft and fluffy with a thick layer of rich pandan fudge, pungent, bittersweet old tree MSW pulp, and decadently sultry Belgian chocolate.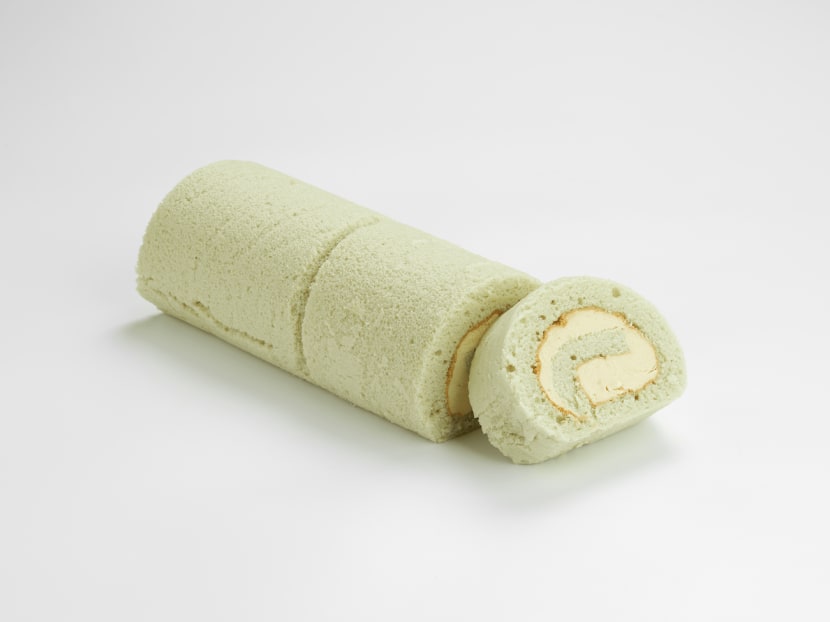 Instead of a garish green or yellow colour, the durian roll is dyed an elegant pistachio green.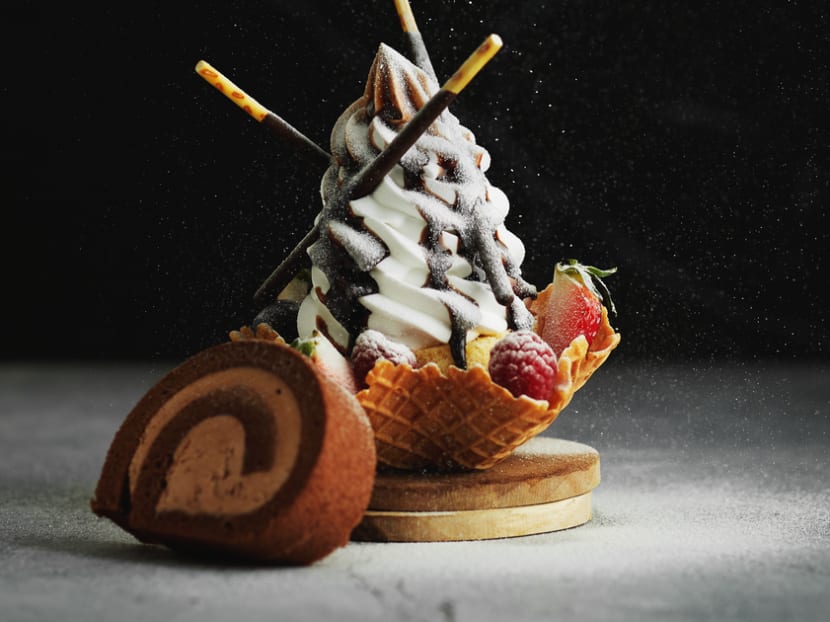 You can also order a slice of Swiss roll to go with soft serve in a house-made crispy waffle bowl. Wash it down with a cup of butter Kopi (from $1.80, add $0.60 for butter), or a mod Yam Latte (price to be confirmed).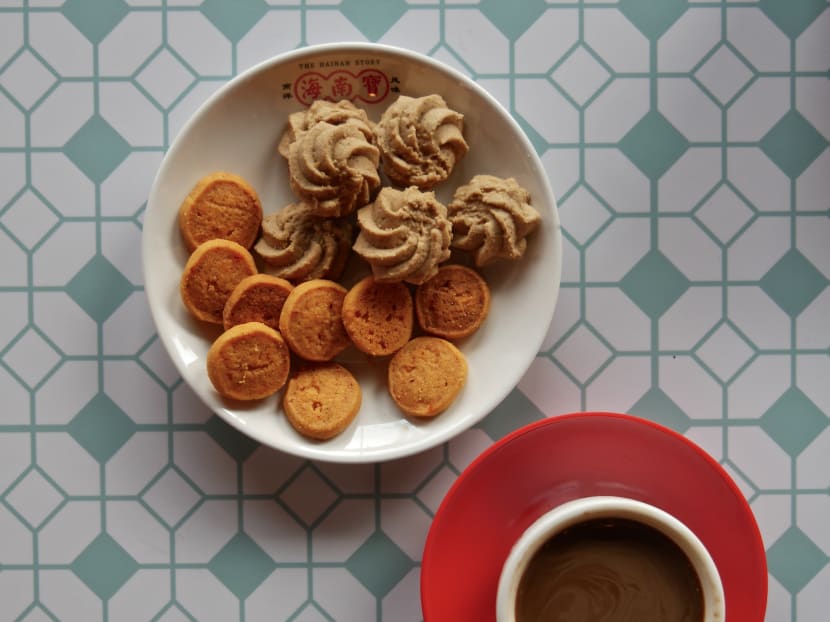 Chef Pang also created takeaway-friendly tins of cookies in three flavours, Hainanese Kopi Guyou made with the same coffee powder used for the eatery's kopi beverage, walnut-studded Ondeh Ondeh and Hae Bee Hiam (all $12 a tin).
Other than a drinks and dessert stall, The Hainan Story also houses five other stalls serving savoury dishes. You can find Wee Nam Kee Chicken Rice, Uncle Robert Western & BBQ and Newspaper Curry Rice (also at the Bukit Panjang outlet), and two new concepts called
Whole Street White Kway Chap, which serves four types of pork, duck and chicken kway chap like the Hainanese Claypot Braised Pork Belly Set ($13.80) with a chicken-and-pork white broth which you can spiked with braised pork belly sauce.

Another interesting concept is porridge stall Jin Jin, which offers nine types of 'golden' pumpkin purée porridge dishes like the healthy-ish Sliced Fish Pumpkin Porridge ($9.80).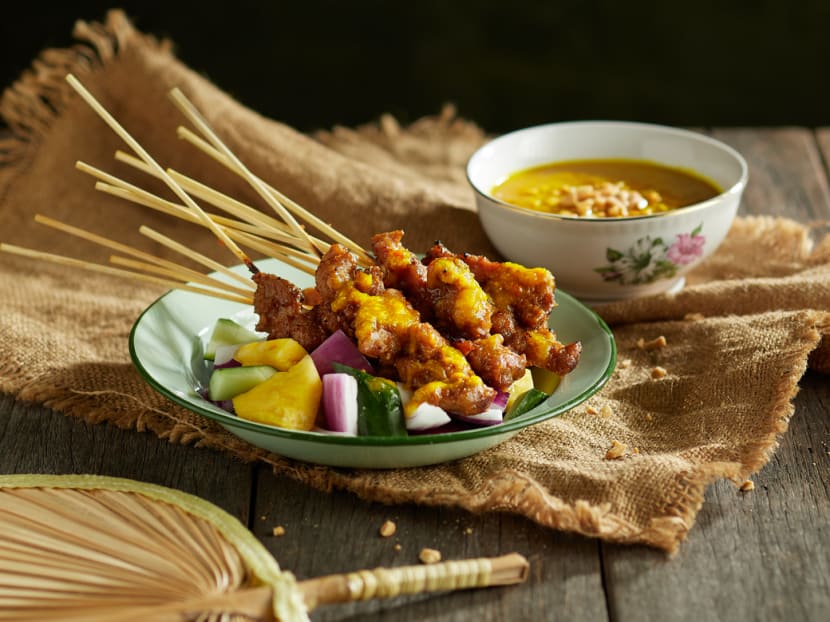 Veteran local chef Austen Ong (who once went into business with Chen Shucheng running a Taiwanese hawker stall) is also a consultant for the Uncle Robert Western & BBQ stall. He offers his Hainanese father-in-law's hit traditional dishes like Banana Leaf Grilled Stingray ($18.80 for 200g) as well as a new Hainanese Yuan Yang Satay with Peanut Sauce & Pineapple Sauce, which is available in your choice of chicken or pork.

For breakfast, there's also a cute bagel burger with luncheon meat and either a sunny side up egg or scrambled eggs ($5.80 a la carte, $7.30 for a set with drink).

The Hainan Story's second outlet opens Apr 16, 2021, #01-09 Hotel Boss, 500 Jln Sultan, S199020. Open 24 hours daily (except Wee Nam Kee Chicken Rice, which is open from 7am-10pm daily). www.facebook.com/thehainanstory.


Photos: The Hainan Story