NUS Pals Open Gelato Shop As "First Jobs", S'porean Flavours Like Pandan, Muah Chee On Menu
There are also pandan gula melaka waffles.
" Ice cream is a happy food," Jason Lee, 25, quips, when asked why he chose to run a dessert shop as his first job" fresh out of school, in the middle of a pandemic.

The NUS graduate is the proud owner of the newly-opened No Horse Run, a gelato parlour in Yishun located near Chong Pang Food Centre. Working alongside him is university mate Chia Jia Ho, 25, and together the pair serve up Singapore-inspired scoops late into the night — till 2am.
All photos cannot be reproduced without permission from 8days.sg

Jason (right in pic), a sociology major, met Jia Ho, a global studies undergraduate, at a NUS faculty camp. Jia Ho, who is a semester behind, will graduate only later this year.

The entrepreneurial duo both run side businesses: e-commerce for Jason, and sneaker reselling for Jia Ho. The uni friends share a love for food and a dream of running a supper spot in the north of Singapore – where they stay – as few dessert shops there open till late. So in 2020, after brainstorming several ideas for F&B businesses, they settled on selling gelato, as Jason has a sweet tooth and makes homemade ice cream from time to time.

"Our parents were very supportive, and even came down to help us get ready for the opening," Jason tells 8days.sg. The duo poured $60,000 into their 13-seater unit, with help from a silent investor.
No Horse Run is translated from the Hokkien phrase boh beh zao, which is a horse-racing idiom meaning "in a league of its own". The shop plays xinyao music over the speakers, as we eat our gelato and waffles off old-school rooster plates at a bar counter featuring peranakan and blue mosaic tiles (a nod to void deck tables). Three carefully-draped Good Morning towels hang off their hooks, and a Singlish poster adorns the back wall.

"We're proud of Singaporean culture," Jason says. On our visit, four of the 12 ice cream flavours on rotation are Singapore-inspired. To come up with the flavours, the pair spent six months trying out various combinations with the ice cream maker in Jason's kitchen, which they finalised and sent off to a contract manufacturer for commercial production.

Here's how their gelato fared: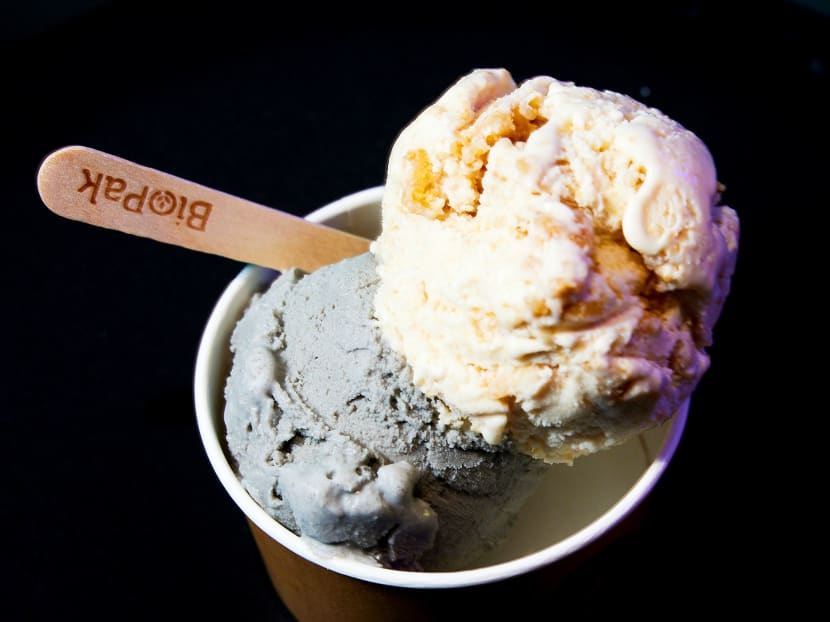 Cereal ("mai pian" in mandarin) butter prawns is a firm zi char favourite for many, so kudos to the founders for the clever flavour choice (sans the prawns). We can clearly see and taste the Nestum Cereal flakes, but it's damp from being mixed in with the ice cream, which means we don't get the same shiok feeling of eating a whole spoonful of crunchy bits.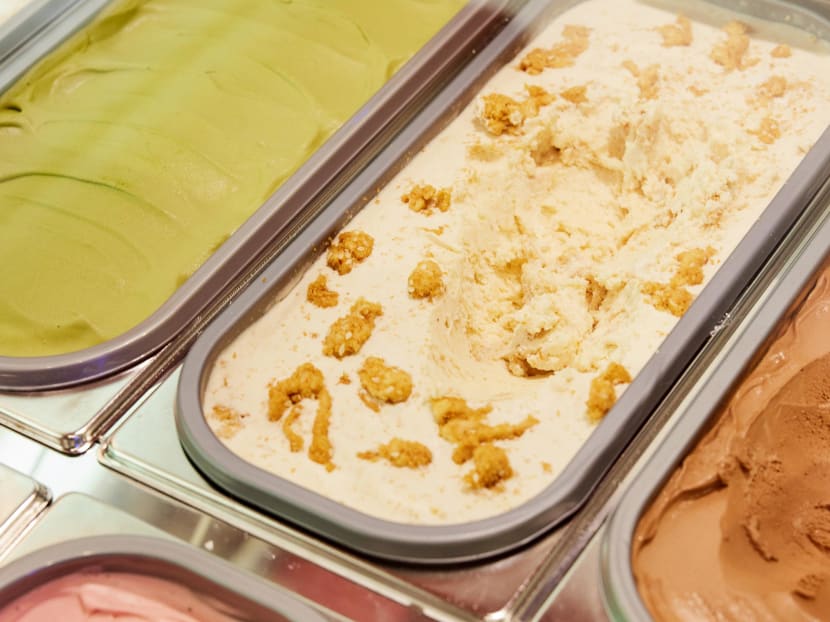 The pleasant, almost nostalgic taste of powdered peanuts comes through strongly. Jason used his auntie's muah chee recipe, and we're pleased to see big bits of the glutinous rice snack generously incorporated, but the low temperature has hardened them, resulting in semi-frozen chunks instead of that sticky texture we love. Still, a promising one flavour-wise.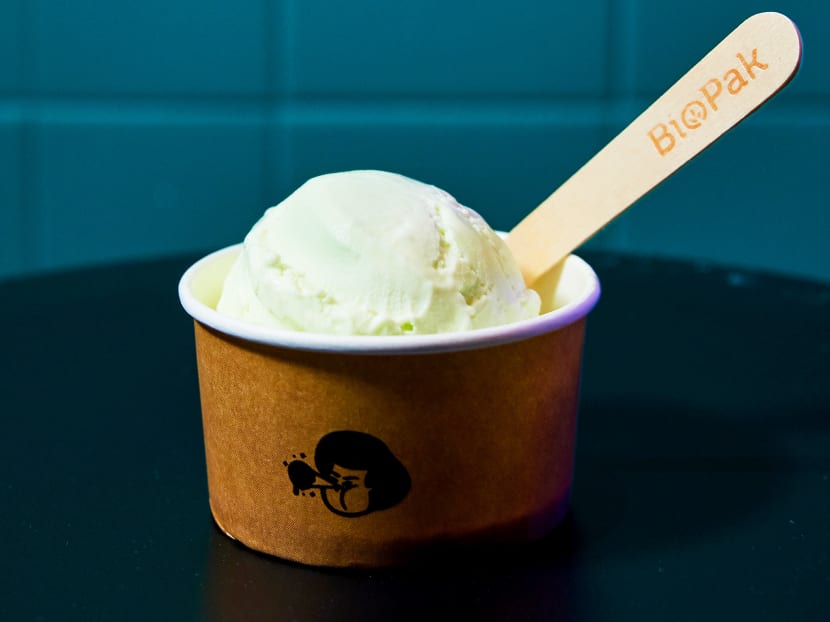 This flavour is the owners' favourite, and we can see why: the punchy, sourish yoghurt and green apple notes instantly lighten up the creaminess of the gelato, and awaken a bunch of childhood memories of sipping on the cultured milk drink. We're thankful this isn't too sweet, and delivers a perfect flavour reproduction.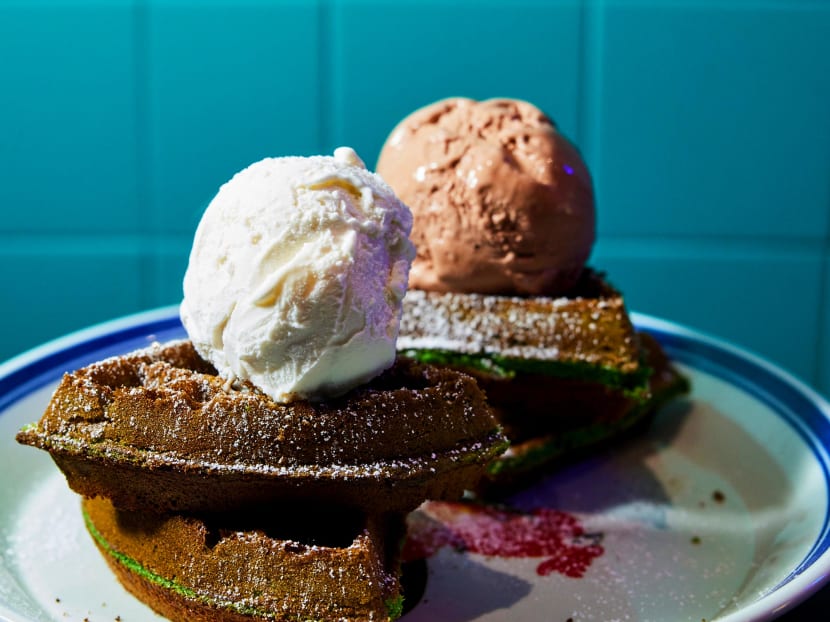 The lurid green batter of the waffle comes not from artificial colouring, but from fresh pandan leaf juice, Jason says. It delivers pandan flavour in spades, and each bite leaves behind a lovely light fragrance. Sadly, we can't quite make out the gula melaka in it.

More subtle on the pandan notes is the Peranakan-inspired Lemongrass Pandan gelato, made with fresh pandan leaves and lemongrass, which are boiled and then infused into the milk-based mix. The pandan is somewhat overpowered by the milky notes, though the refreshing lemongrass aftertaste does come through.
This flavour had the most texture among those we tried. The crunchy, bitter cacao nibs perfectly counter the simple, sweet milk flavour, which is made with Australian milk smoked with hay. It tastes like a grown-up version of chocolate chip ice cream.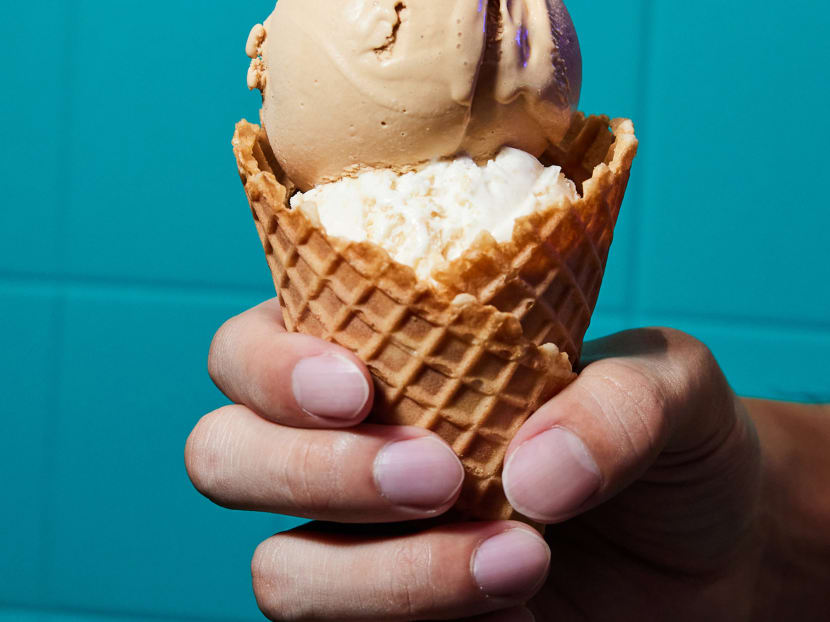 The white chocolate is from Cacao Barry, a brand under Swiss-based chocolate manufacturer Barry Callebaut, and boasts 34 percent cocoa butter. It's roasted and folded every ten minutes to create a caramelised taste, Jason says. The prominent, slightly bitter notes give the scoop a complexity similar to basque burnt cheesecake.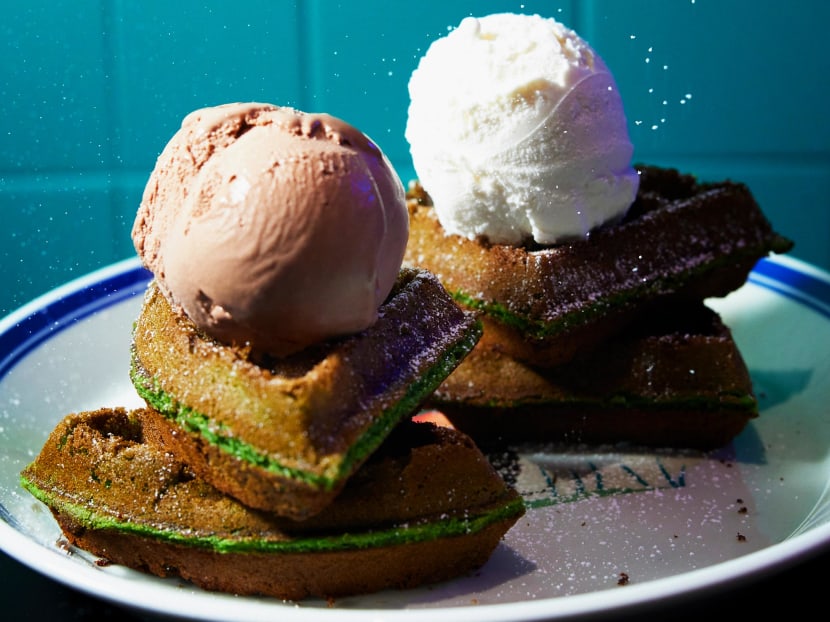 This scoop, too, uses Cacao Barry chocolate, boasting 70 percent, sustainably-sourced cacao. The colour is deceiving – it's a light brown that looks more like milk chocolate – and the flavour surprises with its floral, fruity, and sourish notes. We're impressed that a neighbourhood shop offers such a sophisticated chocolate option.

Both the waffles and gelato from No Horse Run lean toward airy instead of dense. Jason says the shop uses less fat and sugar to keep the gelato lighter – so those looking for the stickier, classic Italian version will find themselves disappointed. Nevertheless, it's still quite well-executed: smooth and creamy. Most of the flavours are on point, but some textures need work. Prices are affordable for an artisanal product, and other big pluses are the 'grammable, local-inspired interior, and late closing hours.