Once Deserted Cheong Fan Paradise Now Has 3-Hour Queues; Customers Tell Us Why They Wait
The ex-Shangri-La chef-turned-hawker says biz is up about 70% after 8days.sg featured her stall.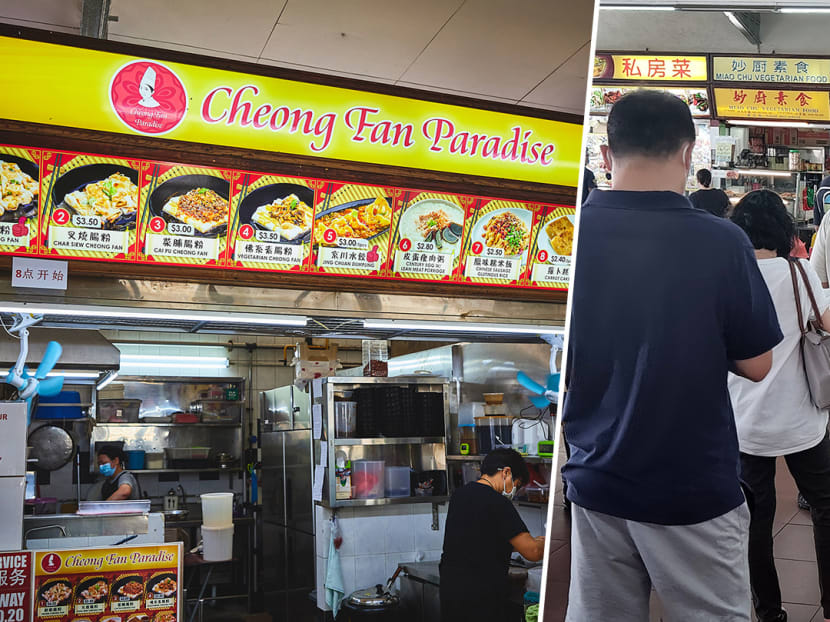 Cheong Fan Paradise
, the two-month-old
hawker
stall opened by a former
dim sum
head chef of Shangri La's Shang Palace restaurant, has been attracting massive queues since
8days.sg
featured it on June 15. Chef-turned-hawker Kerene Cheng, 46, tells us the average queue time is now three hours in the morning. When we popped by the stall around 1.30pm today (June 25), the wait time was roughly over an hour — plus an extra 45 minutes if you want the handmade chee cheong fun, but more on that later.
It's not swanky hotel-style dim sum here at this industrial canteen stall, as the menu revolves around traditional Cantonese fare done simply. The highlight is silky made-from-scratch Hong Kong-style chee cheong fun from $3.50 a plate, and also, as we were later informed after our initial story was published, a selection of cheaper, thicker factory-made CCF from $2.40. Rounding up the menu are century egg congee ($2.80 a bowl), dumplings ($3) and fried carrot cake ($2.40).
"On the first few days, we had customers who ordered 20 rolls [of handmade chee cheong fun] at one go," says Kerene. Now, the stall imposes a limit of four rolls per order to help manage the crowd.
Initially, the stall sailed under the radar after its opening, due in part to its almost non-existent marketing of ex-chef Kerene's resume. But there was an immediate response the morning after 8days.sg's article was published. Says one netizen, "I went there at 9.30am this morning. Completely sold out."
"I totally didn't expect it. I wasn't prepared [for the response]," Kerene says. "I realised [after the first day] that I had to be more prepared," she adds. Now, the stall has three additional staff helping Kerene and her biz partner.
She tells us her biz is now up some "60 to 70 per cent", which leaves her with no time for lunch on most days. "I can't say that I'm stressed though - yes, I'm stressed about the queues and long waits, but I'm very, very grateful [for the coverage]," she says.
Photo: Dickson Moh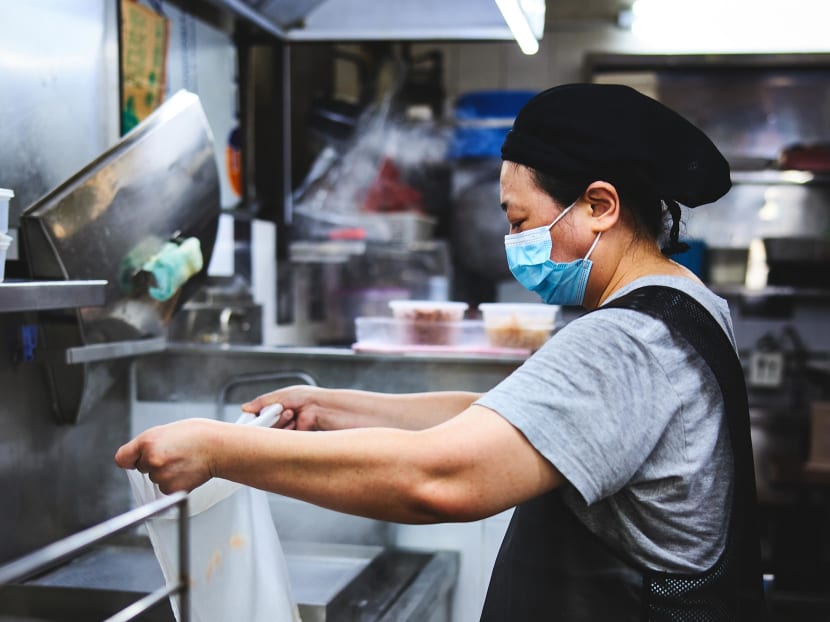 In the 1.5 weeks that followed, the queues haven't abated much – even on weekdays, shares Kerene. If you want to know how daunting the waiting time is, it also depends on what you order. Most people are here for the chee cheong fun, some made from scratch, others factory-made. To get her handmade chee cheong fun (prawn or char siew, for $4 and $3.50 respectively) you will probably need to wait at least another 45 minutes.
"The [average] wait to order is about three hours now [during breakfast hours at 8am to 10am]," says Kerene. "After they've ordered, they have to wait about an hour-and-a-half more if they want the handmade chee cheong fun." There's only one person (Kerene, or one of her new helpers) whipping up the handmade chee cheong fun, which takes about 5 minutes per batch.
If you're wondering how the queue system works, you're basically in it for the long haul. You'll have to stand in line all the way until a staff member comes around to take your order (usually when you're near the head of the queue). Thereafter, prepare for a longer wait if you ordered the handmade stuff (though you can finally grab a seat at this point).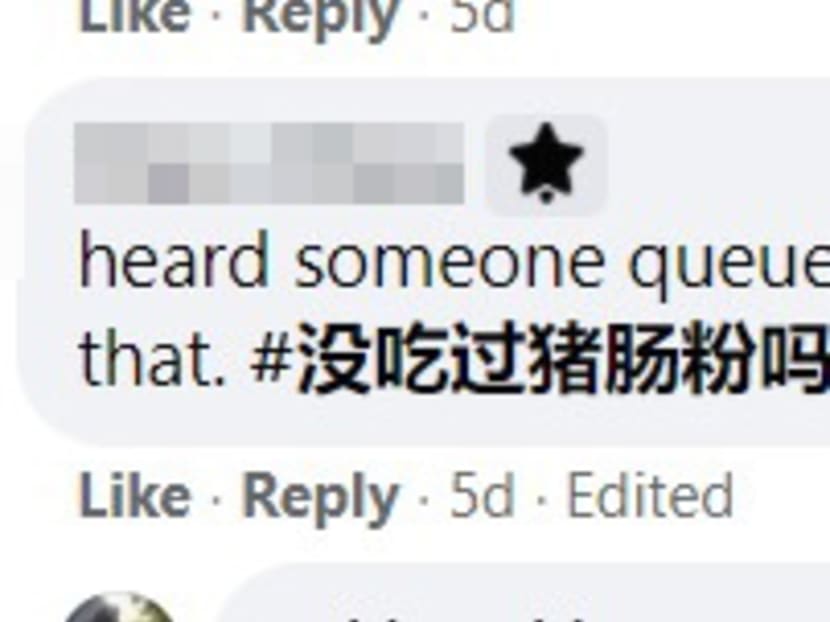 One netizen even reported that someone queued from "11.30am to 5.30pm" to get their hands on the rice flour rolls. 8days.sg's requests for clarification from said netizen went unanswered at press time.
Cheong Fan Paradise has since adjusted its opening hours from 7am - 4pm to 8am - 4pm. The busiest time is right after opening, till around 10am. Do note that they usually sell out early - keep updated via their Instagram stories.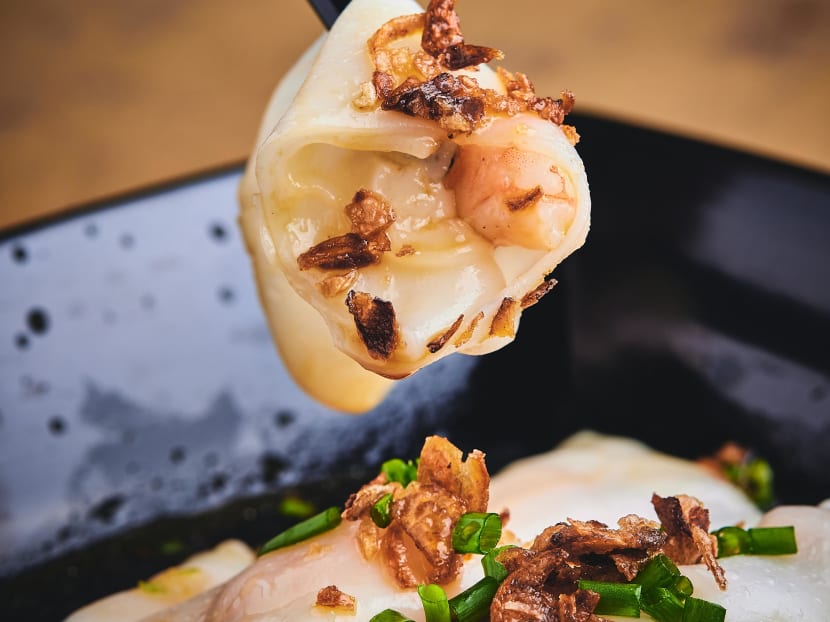 One diner, who wanted only to be known as KP, says, "Just queue and try lor. Many people in front of me have left [since I've gotten into the queue 1 hour and 15 minutes ago]. I don't think I'll come again though, because of the queue." Meanwhile, Mrs Ang, a "chee cheong fun lover" who waited over an hour tells us she popped by to try Cheong Fan Paradise's rolls after getting her hair done. "I don't care about [the hawker's experience in a] five-star hotel and all that – I want to try [this] myself first," she says. "I thought if I came at this hour [after lunchtime], it'd be better. But I guess not. But might as well [wait and] try since I'm here.
Do diners find the chee cheong fun worth the hours-long wait? 8days.sg visited the stall again on June 25, around 1.30pm (when the crowd was dwindling past peak breakfast and lunch hour as certain items were sold out) to find out for ourselves. Now that dining in has resumed (up to 2 pax), first-time customer, Lynette Tan, who waited for 1.5 hours for her plate of handmade char siew chee cheong fun, tells us: "I think I'll queue again - it's quite worth [the wait]. There's the Imperial Treasure [restaurant quality] 'feel'," she gushes.
Another diner, Alex Choo, says, "We waited for an hour and ten minutes. We didn't get the [handmade chee cheong fun] as that needed another 45 minutes wait. The food is good, but parking is a big problem." He was lucky enough to snag a spot right outside the coffeeshop when he arrived through - "first timer's luck," he calls it.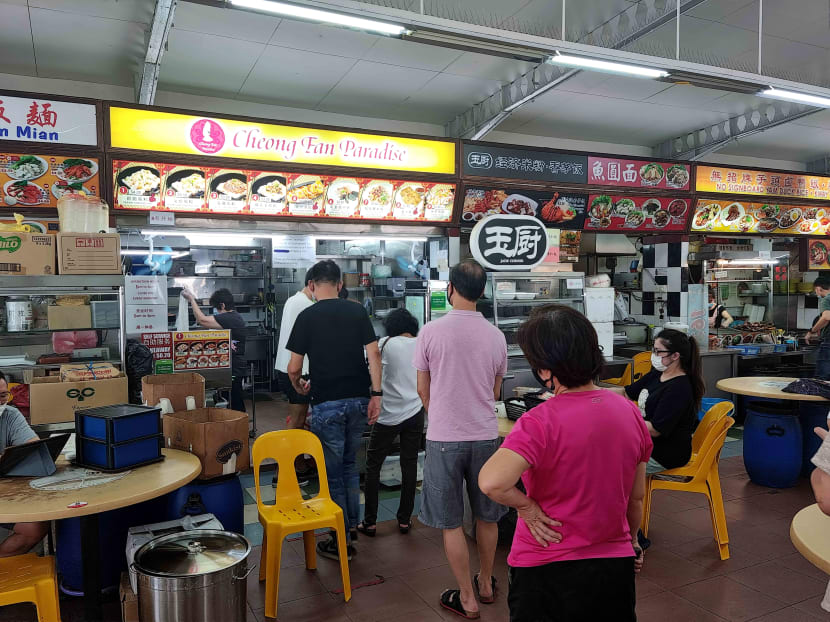 "It's probably because of the work-from-home [situation that gives people flexibility with their time]. Coupled with the fact that Singaporeans are very curious, and they see queues as a good thing," reasons Kerene on why so many diners are braving the queue for her food.
In fact, she had one very determined customer who only managed to try her food on her fifth visit. "She succeeded the fifth time [the food was sold out when she visited the first four times, around noon]. She was so happy," adds Kerene. For her efforts, Kerene told us the customer finally managed to snag seven rolls of chee cheong fun and other items on her last attempt. "She already tried so many times - hers was the last order for that day, so okay lah," the hawker says with a laugh.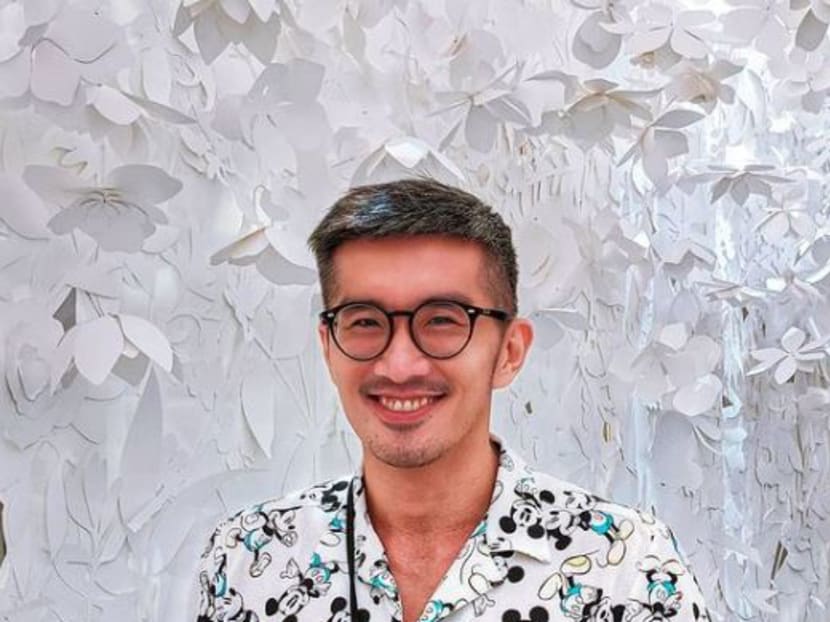 Not everyone agrees it's worth the wait, though. Presenter for Chinese radio station 883Jia, Xie Jiafa, who popped by Cheong Fan Paradise on June 17, says, "I think no food on earth is worth a two-hour wait. It's tasty though." He queued from 7.15am to 9am before getting his food - though that wasn't necessarily by choice. "I had queued for around an hour before being told about the extra 45 minutes [for handmade chee cheong fun] — so it was a no turning back kinda situation." He adds that he won't be going back anytime soon, unless queues abate.
Photo: Xie Jiafa/Instagram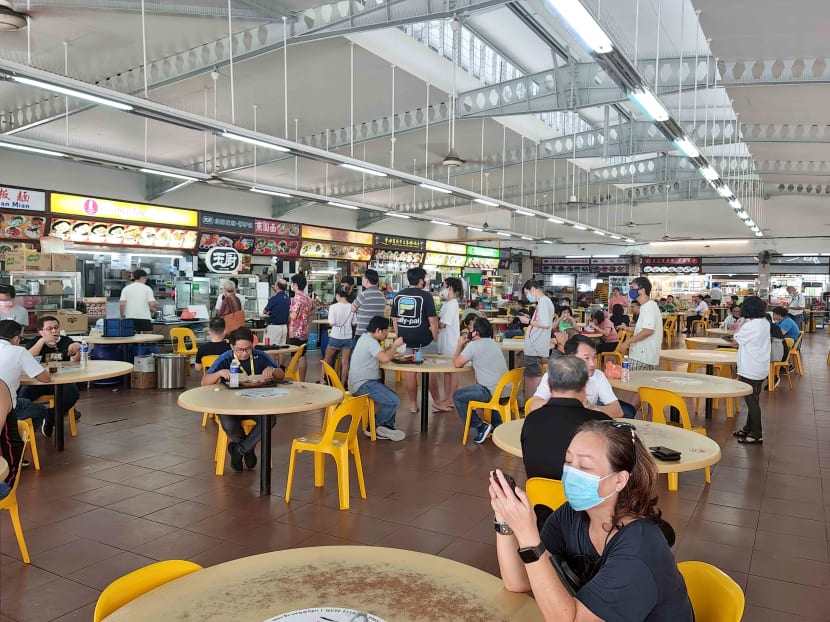 Despite the average of 25 people in the queue during peak hours, everything remained surprisingly orderly. As you can see from the pictures, diners are socially-distanced, forming a neat, L-shaped line. That might've been due to Safe Distancing Ambassadors (SDAs) that made a visit at some point, though Kerene says that "her team was helping to manage the situation" as well.
And thankfully, everyone remained civil. "We tried to manage everyone's expectations the best we could. When you roughly know that, okay, you're going to be sold out, I'll send Mabel (her business partner) out to tell everyone that we're done for the day," Kerene adds.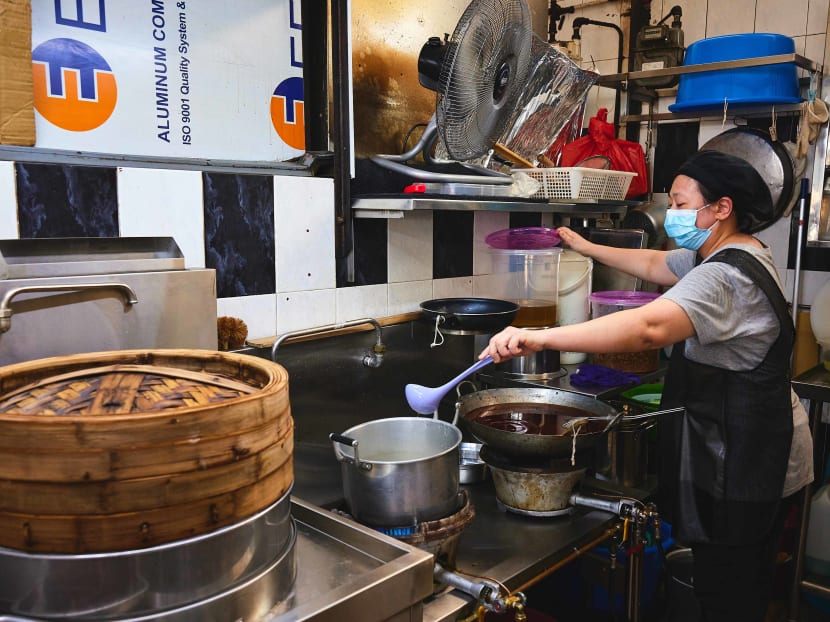 Here's an important note: there's no need to rush down to try her food. The hawker isn't going anywhere just yet. "For now, just remember safe distancing, be patient, and know that we're working on serving everyone better," advises Kerene. So best to wait for the crowds to abate before trying your luck.
She's also in no hurry to expand the business… yet. "We talked with a couple [who were interested to invest in the stall] on Monday (June 21), but we have no plans at this moment. I want the business to be stable first," she says.
Cheong Fan Paradise is at #01-87 Chop Hong Lik Restaurant, Blk 5023 Ang Mo Kio Industrial Park 2, S569526. Tel: 9278-7792. Open daily except Mon, 8am – 4pm. More info on Instagram. Available for delivery via Grabfood.
All photos cannot be reproduced without permission from 8days.sg
Photos: Alvin Teo, Alvin Lim