Queues Seen At Some Hawker Centres This Weekend, One Almost Two Hours Long
Please visit at off-peak hours. Thankfully, an 8days.sg reader tells us there was still safe distancing in place.
Since Phase 2 (Heightened Alert) started on May 14, 2021 and dining-in is prohibited, hawker centres around Singapore have seen varying crowd levels. Some hawkers suffered anaemic business, while other stalls, mostly run by the less tech-savvy Pioneer Generation, were affected by their inability to pivot to food delivery.

But it's heartening to know that Singaporeans are still ardent supporters of our local hawker scene. As calls to aid struggling hawkers gain traction online, food centres have started seeing human traffic again.

It is worth bearing in mind that while it's good to help homegrown eateries through these tough times, it's also important to maintain proper safe distancing, and not throng hawker centres and create risky crowds. After all, the goal is to stamp out Covid-19 and resume dining-in, yes?
78-year-old kueh maker Ah Meng, who we reported had grappled with a steep drop in customers, is selling out of his handmade ondeh ondeh and tapioca kueh at Hong Lim Market & Food Centre after strong public support. His stall now has a short queue daily with stocks running out at around 1pm, similar to his biz volume pre-Phase 2 (HA). He previously told 8days.sg that he "sells out by noon every day".

Photo: Yip Jieying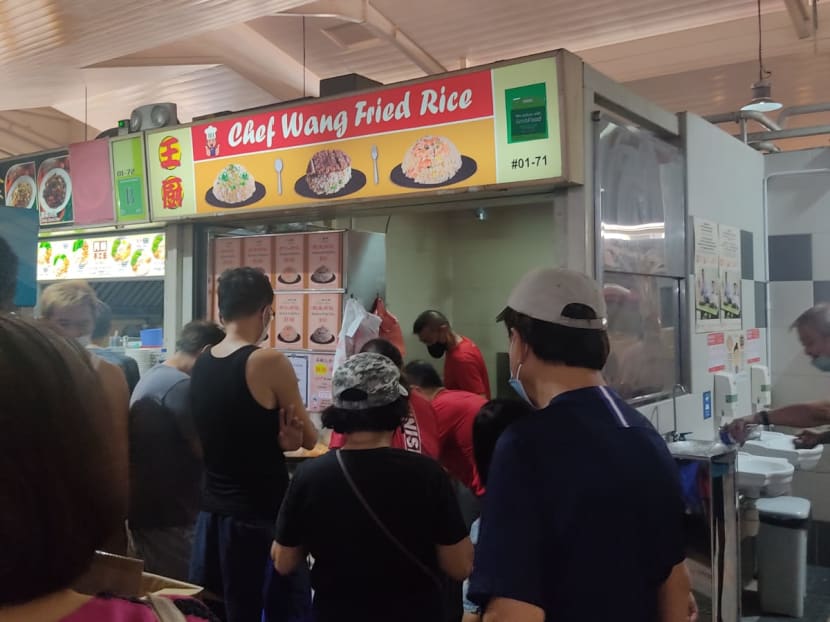 One of the longest queues belongs to a new stall, Chef Wang's Fried Rice, which went viral after an 8days.sg report. It is run by ex-Din Tai Fung and Shang Palace chef Wang Jingjun, 41, whose shrimp and pork rib fried rice with an abalone option at Beo Crescent Hawker Centre is now extremely popular. His line is so long, it stretches all the way out of the kopitiam to the outdoors pedestrian walkway.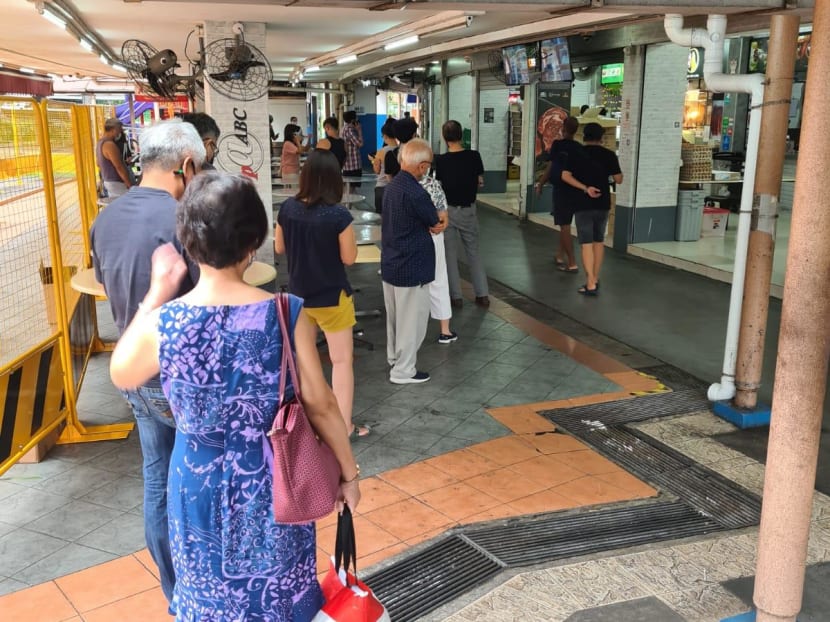 Six-month-old roast meat stall Char Siu Lang in Bukit Merah (near ABC Market) is doing brisk business after 8 Days' review. It's run by 33-year-old Ivan Leong who, despite winning a million dollars in Toto in 2013, decided to start selling his own house-roasted char siew and chicken with Hakka noodles.

It's business as usual at Ghim Moh's hawker centre this weekend. Netizen Larry Lai, a co-founder of Facebook foodie group Can Eat! Hawker Food who travelled to 16 hawker centres on the first day of Phase 2 (HA) to suss out the crowd situation, continues with more traffic reports. According to Larry, "All the popular stalls have SNAKING queues. The yong tau foo, the mee siam, roasted meat specialist Jiu Jiang [Shao La], duck rice, chwee kueh, Whampoa soya bean drink stall (but in Ghim Moh) and so on."

Photo: Larry Lai

Bendemeer Food Centre is another hawker centre that is thriving. Larry reports: "Many stalls were doing normal business. The famous siew mai and lor mai gai stall had a crowd of 20-25 deep. The popular Nan Rong chee cheong fun stall had about 7-8. It is good to see that the queue is there as the old owner had an accident and the stall was closed for a few months while he recuperated. The Kovan chwee kueh stall and the fishball stall beside them also did reasonable business."

Photo: Larry Lai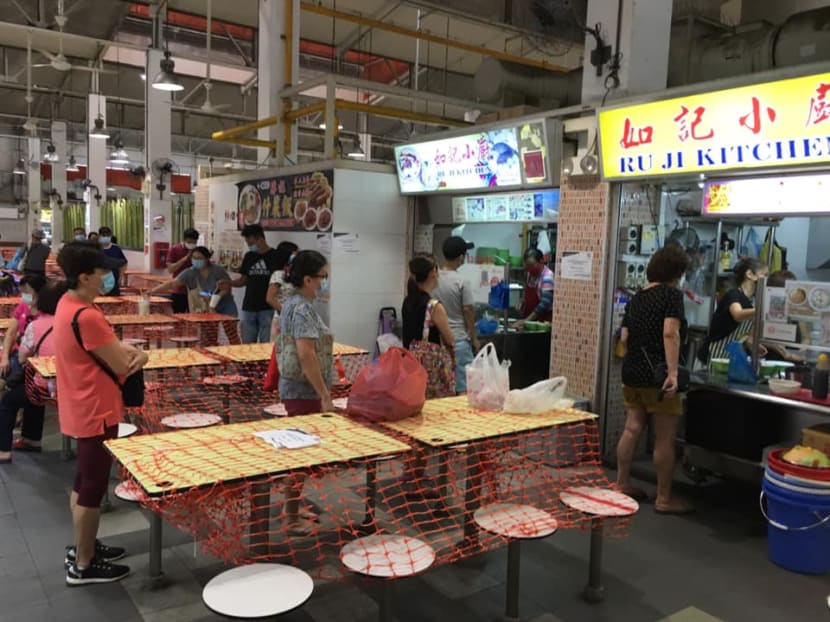 Larry observes that people are still heading to the double-storey hawker centre at Holland Drive to tapow: "The usual crowd is here. From the kueh stall to the thunder tea rice stall (who is busy packing for online order) and the famed bak chor mee of this market (Ru Ji Kitchen). No semblance of lockdown in this neighbourhood."

Photo: Larry Lai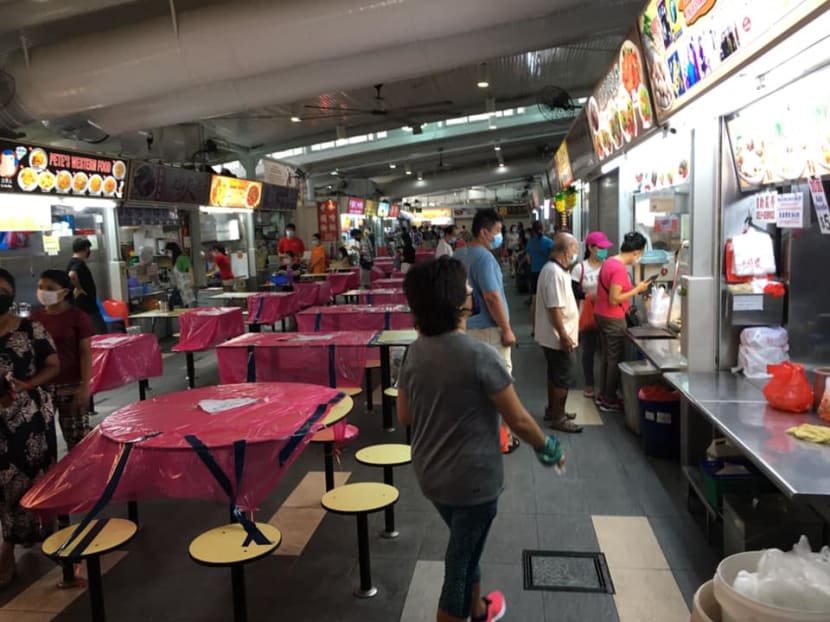 The usually crowded ABC Market hawker centre is now a "mixed bag", says Larry, with some stalls enjoying better traffic than their neighbours. He shares, "I detect a slowdown in business for many stalls but a few stalls like the roast meat, including Fatty Cheong, fried Hokkien Mee and the Ayam Penyet stalls were hardly affected."

Photo: Larry Lai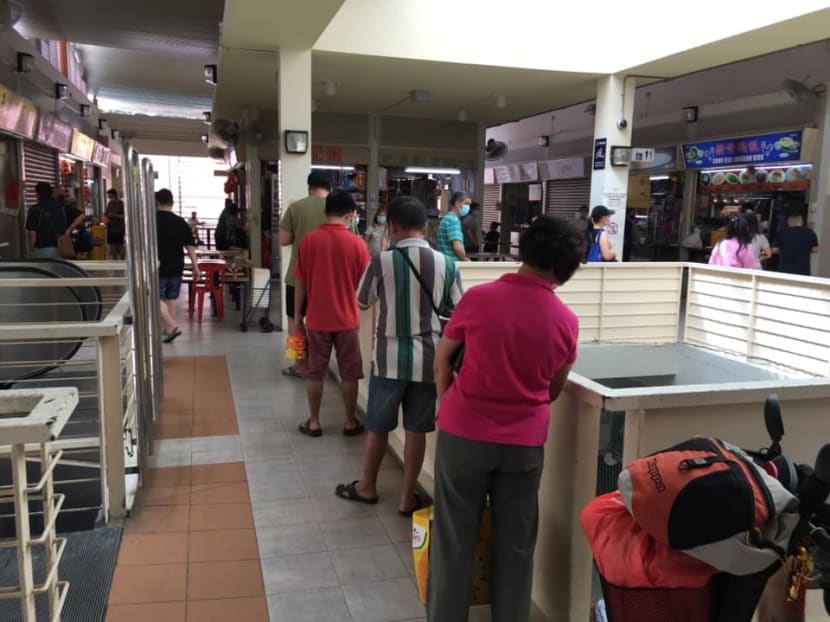 "The stalls here are crowded," Larry notes. "From the duck rice, chicken rice, fried carrot cake to the stoic but value-for-money desserts stall helmed by the one-woman-show old lady."

Photo: Larry Lai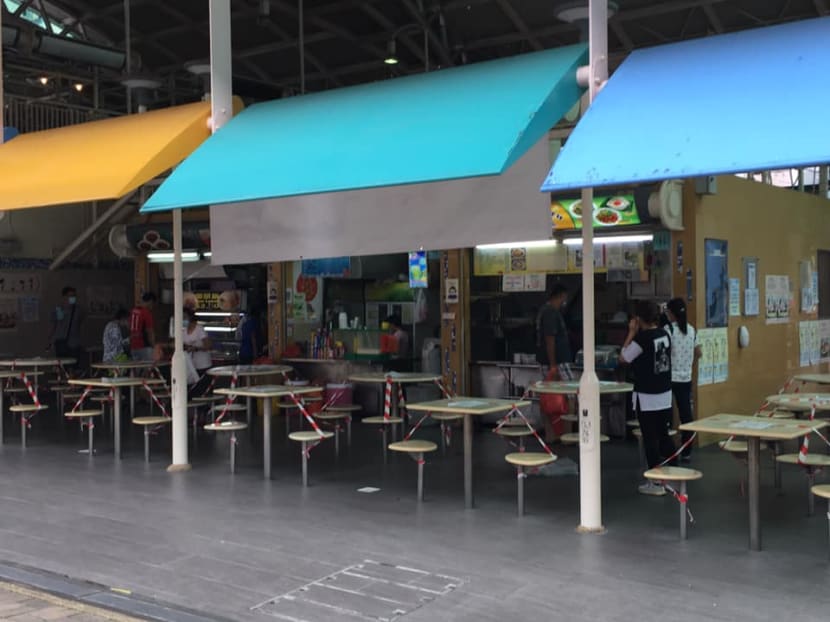 Most hawkers would fear that their food will go unsold, but not at this hawker centre. "Many stalls" were doing well enough to pack up for the day by noon, according to Larry. "The fried carrot stall opposite him has sold out. The roti prata stall behind has a constant stream of business."

Photo: Larry Lai
The famed Chinatown hawker centre, which is so massive that its stalls are grouped by colour zones, is mostly closed. But the few stalls which are open are doing brisk business from Larry's observation.

He says, "Many stalls in the green zone are sold out. Some like the mutton soup decided to close for this period. The char kway teow stall has two customers. The famous chee cheong fun and yam cake stall has about five customers. They were busy in the morning. The fried fritters stall has a considerable amount of food left. [Hawker Chan's] chicken was almost sold out. I guess some hawkers here decide to rest as the Government waived rental. And looking at the amount of stalls with sold-out food, this HC is not impacted."

Photo: Larry Lai

According to netizen Andrew Lee's post on Can Eat! Hawker Food group, people can't get enough of the popular Scissors Cut Curry Rice joint at Beach Road long queue.... support but space out and be prepared to wait.

Photo: Andrew Lee

Another stall with a long queue is Old Airport Road Food Centre lor mee stall Xin Mei Xiang, which netizen Leong Hock Wong says has a "super long queue", adding that he has "no choice" but to queue because "today got craving for lor mee so here we are".

Photo: Leong Hock Wong