Real Estate Agent Sells Choc Fries She Calls "Diam Diam La" At Fried Chicken Hawker Stall
The hawker's quirkily-named fries is a message to trolls who post hateful comments on her Facebook posts — she's no pushover.
If hot fried chook by a "hot fried chick" sounds like a winning proposition to you, head down to The Fried Love. It's a newly rebranded Western food stall in a kopitiam along Upper Paya Lebar Road, a couple of units down from the famous HQ joint of Kay Lee Roast Meat. Said hot fried chick is 46-year-old Jelyn Aw, a single mother of two who gave herself the nickname after taking over the running of the stall on July 1.
The lady boss has been a real estate agent specialising in landed property "for more than twenty years" – a profession that she continues to hold, though she's put it on the backburner for now while focusing on running The Fried Love.
All photos cannot be reproduced without permission from 8days.sg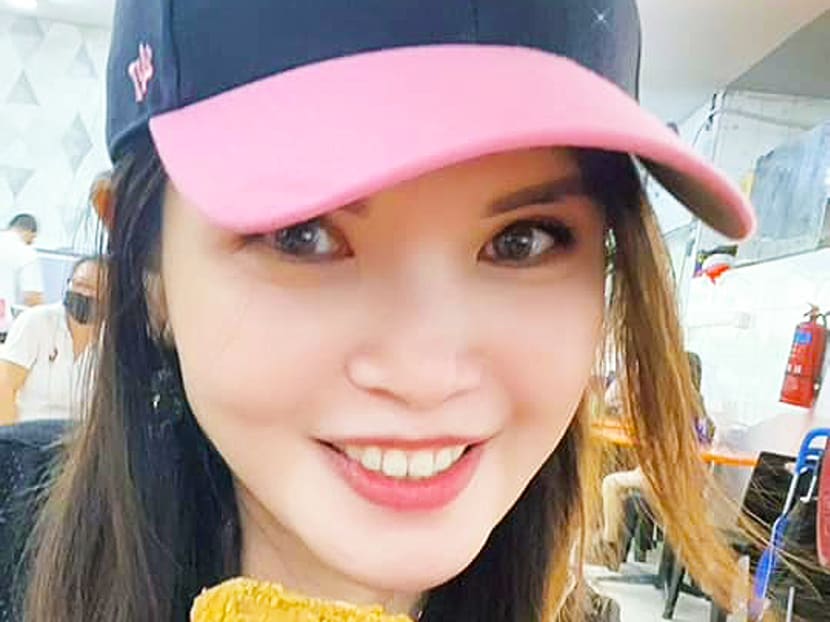 If you're wondering how – and why – someone traded up peddling multi-million-dollar homes for the tribulations of running one's own F&B business, the story began, understandably, with the Covid-19 pandemic.
The original owner of the Western food stall (formerly named The Meat Shack) specialising in chicken dishes, whom Jelyn refers to as "boss hero", pivoted from the nightlife biz and opened this stall in January (he declined to be interviewed). The pair became closer after the death of a mutual friend, also in the nightlife industry, whose business had shuttered due to the pandemic. "It was a huge blow to me. I couldn't bear to see another friend's business doing badly," she says.
Business wasn't going well for "boss hero", with earnings of "less than $100 a day," she says. "[The original owner] used to have another partner," she says. "But he wasn't a very good cook – the stall had a [bad] reputation in the coffee shop."
On a whim, Jelyn decided to snap a selfie, holding up a chicken wing at the stall on May 14 (above). She used that photo to promote the stall on a Facebook food group. "The reception was good. A lot of people became curious about the stall," she says.
Photo: The Fried Love
The real estate agent continued to share pictures of the hawker stall and other stalls she visited on her Facebook page (along with pics of herself in them), before transitioning into organising group buys for them. "My first few group buys, I kena hantum (Malay for being beaten, used as a figure of speech here) very badly," she shares. "It was a learning process [to package and transport food properly]."
She did this for around two months. "I think group buys are a big help for [less popular] hawkers. One order can be a few days' worth of business," she says. However, errant group buy hosts who were asking "hawkers for discounts while marking up prices [to consumers]" led to hosts getting a bad name, she says.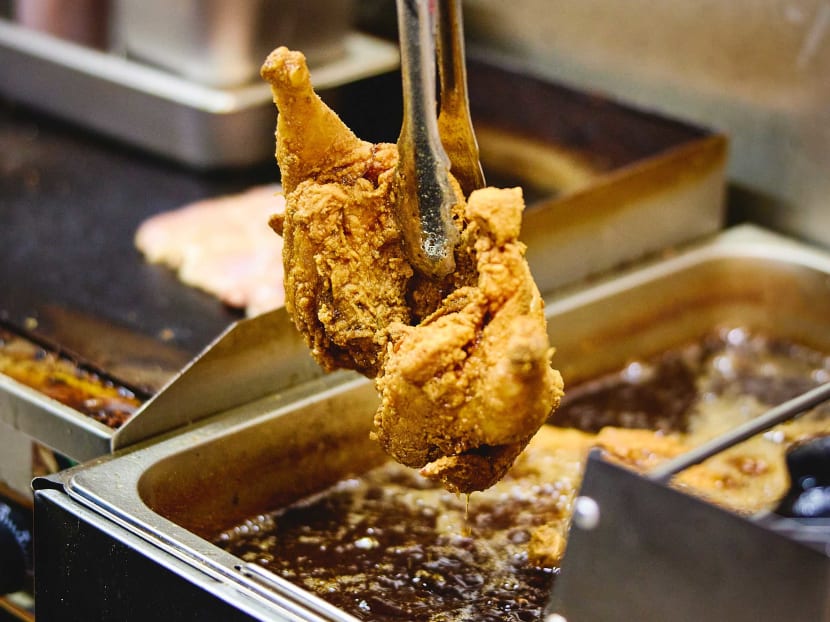 Eventually though, she decided to take over the running of The Fried Love completely on July 1. Her first order of business was rebranding it from its previous name, The Meat Shack, to "restart". "By then, it was my baby. I wanted to see it grow," she says. She invested "around $10K" into the biz (though the original owner, her friend, still has a share and occasionally cooks there).
Though the hawker says that business has improved incrementally to sporadic highs of "$300 a day sometimes", she says that it's been cut by 50 percent since dining restrictions returned on July 18 due to the emergence of clusters. This time though, they're more prepared for the transition to deliveries. "I've been [experimenting] with different packaging," she says. "Last time, the bag [of fries] soaked through and tore [the paper]. Now, we're using [foil-lined] bags."
Moving forward, Jelyn is considering livestreaming recipe development in the kitchen, as well as the unveiling of any new menu items.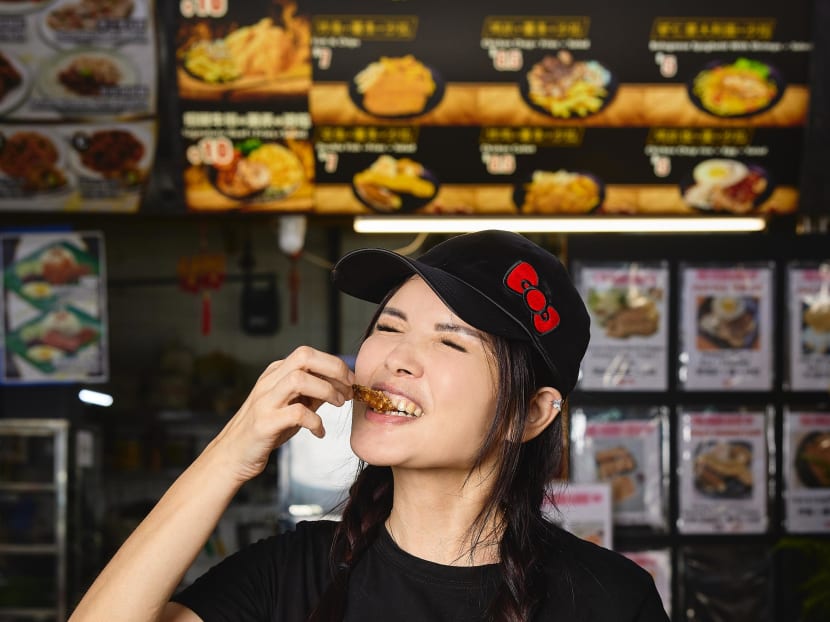 "Social media is good for exposure. But it's also bad, because people like to [post negative things]. About food, about people. We should help each other [instead]," she says, referring to " nasty comments" she has received on Facebook about her food and even the way she's dressed.
She also has this to say about people who judge single mothers: "It really makes me mad when I see society being so judgemental. Most single mothers didn't ask to be one. [Being a single mum] is tough enough as it is." Jelyn shares that she raised twin boys — both 23 now — herself, with "the judgement of society" only adding to the pressure of "[working on her real estate] career and making ends meet". She adds: "I had to be both mum and dad during [their] poly days, National Service. It's stressful being a single mum".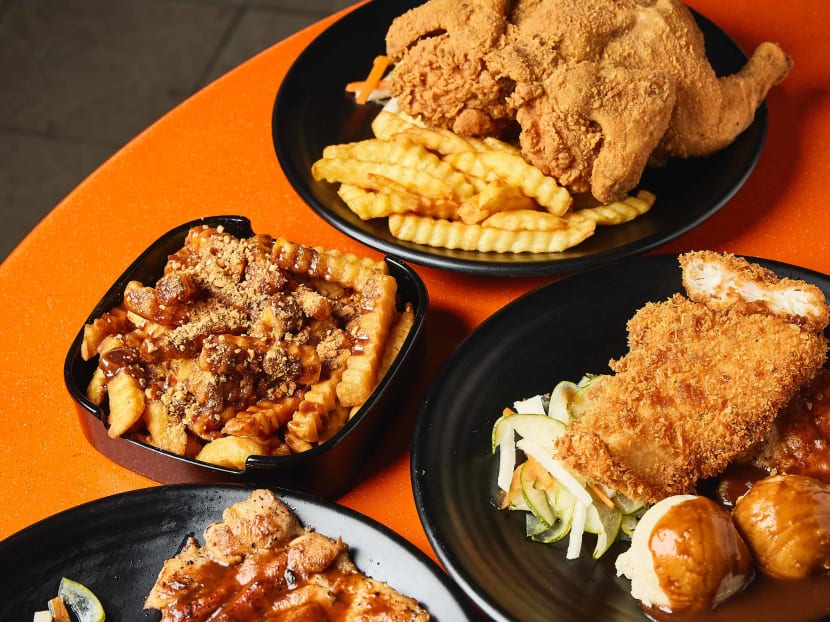 The kitchen is manned by a hired cook most days. "I'm still vain lah, so I want to look pretty," she admits with a laugh. "That's why I thought 'Hot Fried Chick' was a good nickname. It's very hot [in the kitchen], so after a whole day, I feel like [a piece of] deep-fried chicken."
Expect unfussy Western fare with a focus on deep-fried nosh like whole spring chicken. "At the moment, we're just sustaining [our biz]," she says. "But I hope that it can survive and progress, and show that F&B is an honest living [that is profitable]."
Despite its lengthy fifteen-minute fry – the bird turned out quite juicy, with crisp skin that survived the journey home after we packed it to go. The dark meat on the thighs fared better than the breast. The chook is marinated briefly with salt, pepper and oil before being dredged in flour – so naturally, most of the flavour is concentrated on the skin instead of being well infused into the fresh as well.
Each order comes with fries or rice and house-made achar. It's a simple pickle of cucumber, radish and carrot in vinegar and sugar sans the usual peanutty chilli rempah. It's a crunchy, refreshing side that cuts through the deep-fried fare it's served with.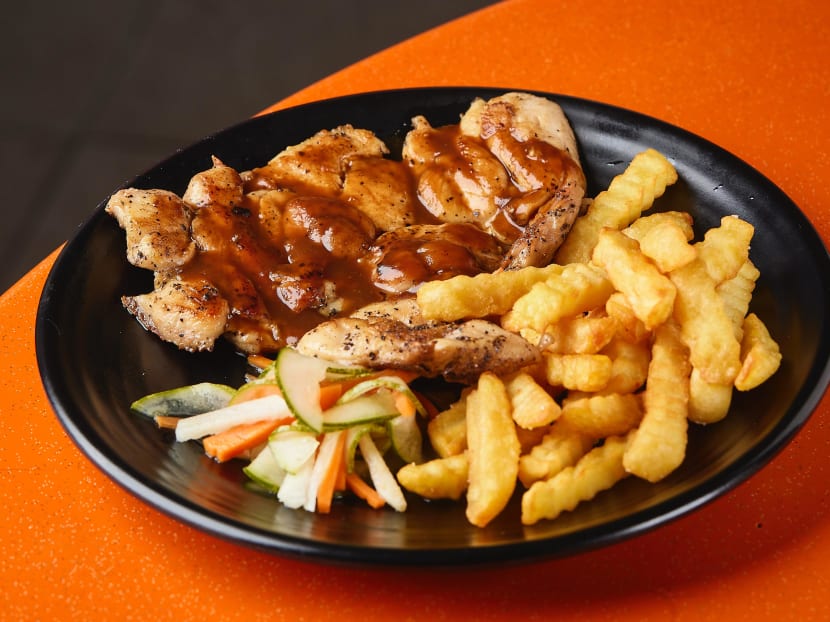 The Fried Love's grilled chicken chop, next to the spring chicken, is rather unremarkable. There's hardly any sear, though the chop isn't tough or overcooked. The house-made brown sauce (she declines to share any ingredients — "secret recipe", she says) that coats it is pretty standard stuff as well.
Dory done two-ways: grilled and slathered in brown sauce, plus battered a la fish and chips. The deep-fried fillet is satisfyingly crunchy, while the grilled one is standard stuff. This is paired with two scoops of mashed potatoes smothered in brown gravy.
The dish's name means "shut up" in Malay – it's Jelyn's protest against the never-ending noise that comes with having an active social media presence. "I like chocolate, and I like fries. So when people [post negative stuff] about me, I'll just eat [chocolate fries] and [silently] ask them to diam diam."
It's a strong statement, but we're not sure if chocolate sauce and finely-ground peanuts on fries are meant to be. It's a bit like Burger King's mashed up fries, without the ice cream. Crispy, crunchy and sweet — a fun novelty, but not something we'd spring for unless we're trying to silence haters too.
Decent, no-frills Western hawker fare. Get the fried spring chicken if you're dropping by to tapow.