Rebecca Lim & Brother Sell Sourdough From Home; Bread Sold Out In 4 Days
The next available slot is in July, but fastest fingers first.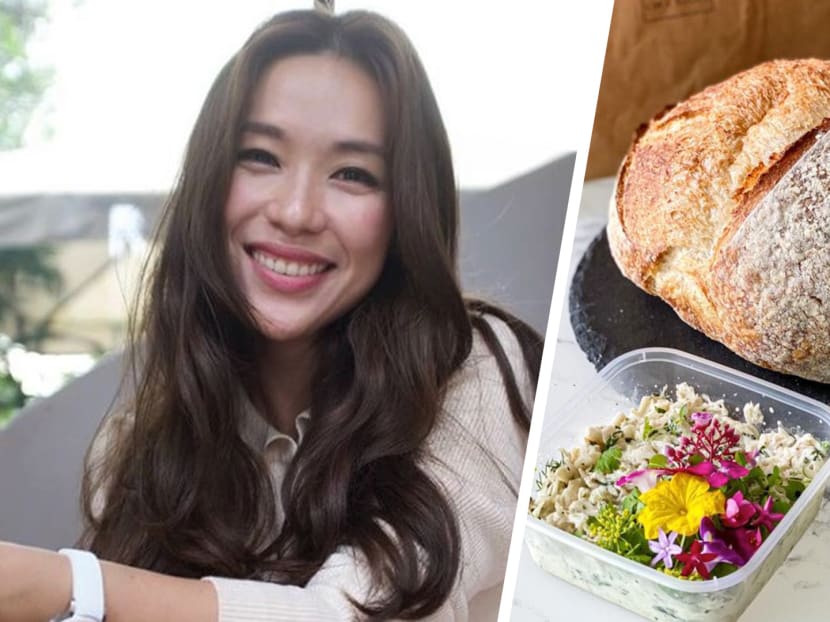 There's no shortage of celebs who somehow find the time between filming to open patisseries and manage multiple eateries. Now, actress Rebecca Lim, 34, and her older brother Daniel, 35, have also joined the fun. They've started selling home-made sourdough bread with gourmet toppings like crabmeat salad and truffle butter via their family's foodie Instagram account, @thelimskitchen.
While the Lims' IG account has been up since late 2018, their official menu was only published days ago on May 26. For the first time, the siblings are selling their sourdough loaves. Unsurprisingly, all order slots till June were snapped up in just four days (Becks declines to reveal the total number of loaves sold). Orders for July will reopen at a later date.

Previously, @thelimskitchen was used as a platform "for the family to upload [photos of] food that's equally Insta-worthy and delicious," she tells us.
"Food has always brought my family closer together — we're all big foodies," she shares, recounting the times the family spent learning recipes from her late grandmother. "We've received many queries online since we've started [the account], asking if we'd ever sell anything," she adds. After receiving plenty of "good feedback" from friends they shared their sourdough with, the Lims eventually decided to sell their loaves. "We've always enjoyed sharing food with people — now it's just on a larger scale," she explains.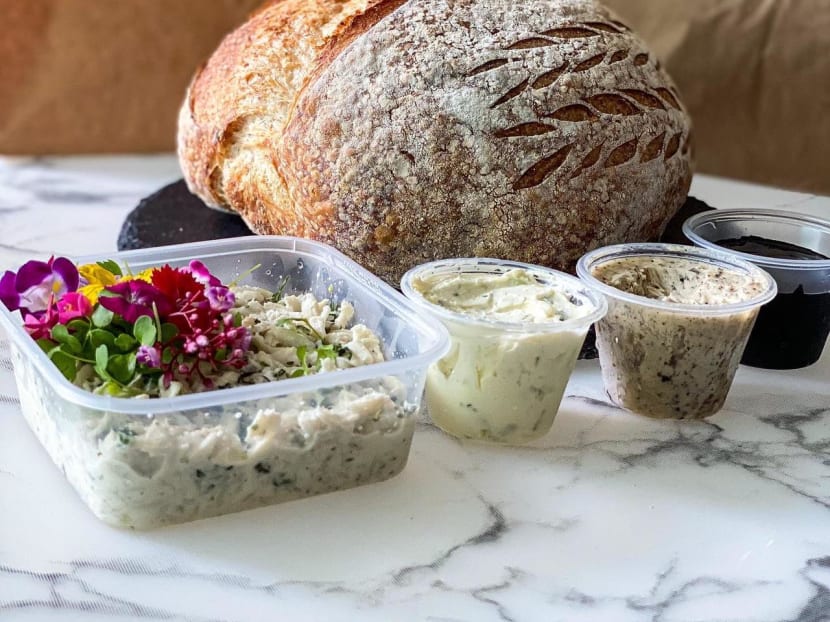 How exactly is Rebecca — also a keen home cook who knows how to bake bread — involved? "My brother's the one who really understands the chemistry and sourdough, so he heads the kitchen," she shares. Daniel's sourdough is definitely better than mine (laughs), that's why he's heading the kitchen. I'll only consider getting more hands-on if there's enough demand from customers, she adds.
Instead, she mans the phones, along with their younger sister Melissa, who is a dentist. "As I was on semi-break [from filming], I was constantly on the phone answering DMs (direct messages)," she says. "We soon found out it was really unsustainable, especially once you factor in payments." Becks tells us she has even helped out with deliveries on occasion.
"The first few days were a mad rush," admits the camera-shy Daniel, who's currently between jobs. Due to the unexpected number of orders, he quickly ran out of crabmeat and had to "scramble for other suppliers".
All the while, he was getting used to a rejigged kitchen in their parents' condo, where the siblings do all their baking. "We got another electric mixer from friends, as well as an oven. My mum helped to reorganise the kitchen - I have her to thank for that."
He's been getting up at "3.30 to 4am" daily to get his bakes going, before cooling and packing the loaves by around 9am. That's also when customers begin arriving for self pick-up.
In order to streamline their operations, they're working out a proper online order system that will free Rebecca and their younger sis from working on their phones.
As for the future of the business, Daniel hasn't made any concrete plans just yet. "It's a good exercise to work through the orders we currently have and gauge the response from there," he says. "There's no way of telling [for now] whether the demand is sustainable moving forward."

Their journey into bread-making began in 2019 when they were gifted a sourdough starter by chef friend Christopher Kong of Dearborn Supper Club, who'd christened the starter Larry – coincidentally, the same name as the siblings' father.
A sourdough starter is a fermented mix of flour and water that contains colonies of wild yeast and lactic acid bacteria. These act in tandem as the dough ferments and the lactic acid bacteria in the starter produces, well, lactic acid, giving sourdough its characteristic tang. The whole process takes anywhere from four hours to multiple days. The Lims ferment theirs for 54 hours — yes, sourdough-baking is a labour of love.
"Daniel's a bit of a perfectionist. He spent the whole circuit breaker period last year working on the loaves before we started gifting them to friends," says Becks.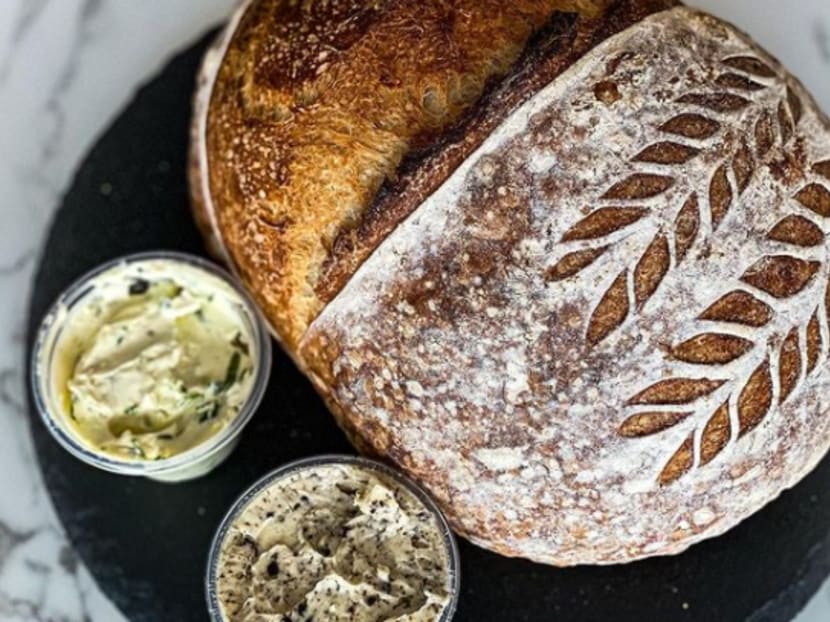 Each beautifully-scored loaf that comes out of the Lims' oven weighs about 750g, which translates to around 12 to 16 slices. The bread comes with a 50g jar of truffle butter.
Those who have tried their sourdough loaves include Rebecca's pals Zoe Tay, Fann Wong and Elvin Ng, as well as chef-owner of catering company Preparazzi and pop-up store Dream Shop Jeremy Nguee. "It's perfect. Soft, fluffy, with a mild fruity tang. I've actually stopped baking sourdough 'cos I just get theirs now," Jeremy shares.
He also offers a tip: "I slice up the loaf and spread the [truffle] butter inside, then wrap it in foil and bake for 10 minutes at 150°C. Madness."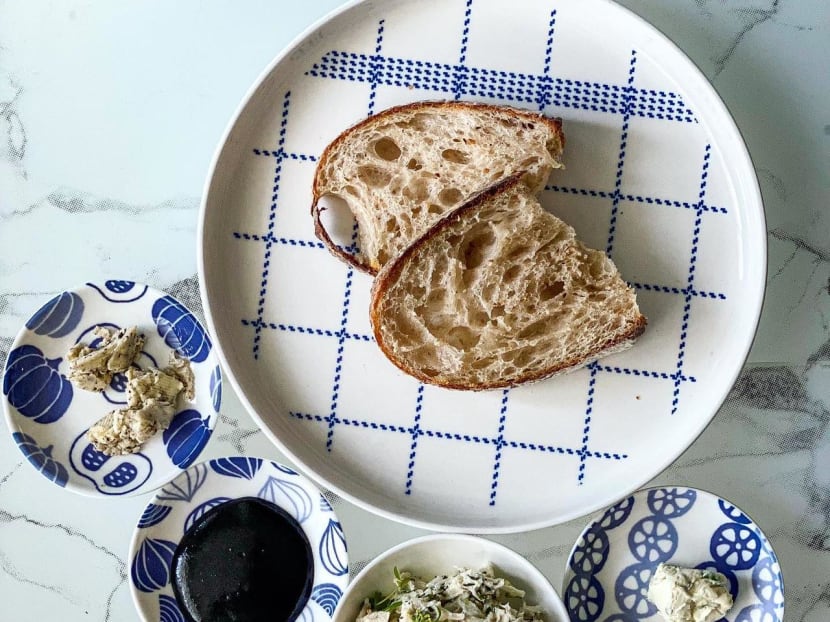 The Sebastian Sourdough Bundle was inspired by a crabmeat crostini ( little toasts in Italian, thin slices of toasted bread often laden with various toppings) that Daniel and his wife had in an Italian restaurant while holidaying in California – back when travel wasn't a pipe dream. "It was the best bite of the trip," he declared on @thelimskitchen's IG account. We suspect it's named after the crab from Disney classic, The Little Mermaid. What's in this bundle: 200g of crabmeat dressed with a little something something ( Secret recipe, says Daniel) and chives, 40g of squid ink-spiked aioli (garlic mayo), 50g of truffle butter and finally, 50g of a spring-onion and garlic cream cheese spread along with a loaf of sourdough. There's also an option of adding edible flowers and microgreens ($5) from Urban Farm & Barn.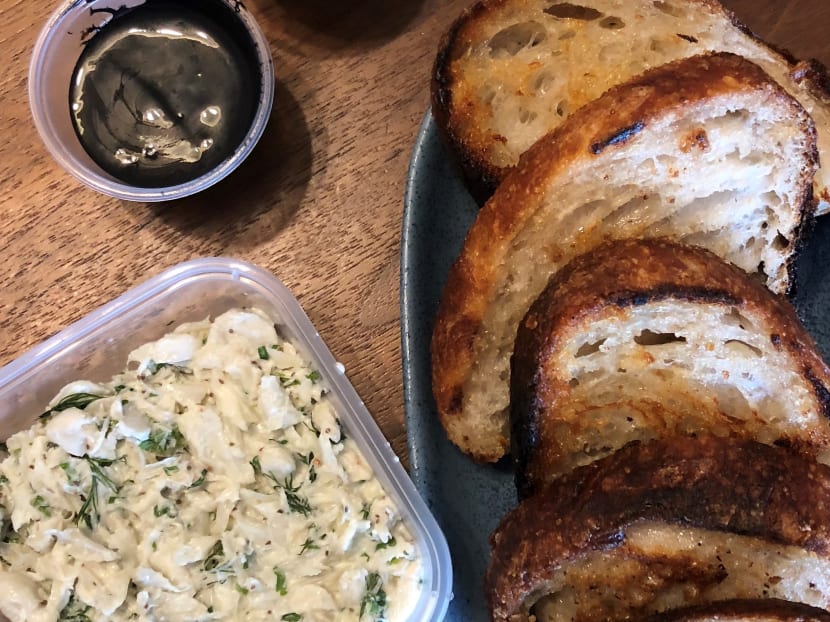 Customer Joy Wan managed to order the Lims' sourdough the first day it went on sale and collected it from Daniel herself. "He's tall and shy," she informs us. Her verdict? The bread is "moist and pretty tasty." She also adds that she really enjoyed the crabmeat and squid ink mayo slathered over the crusty slices.
Orders for June currently closed, but follow @thelimskitchen for updates on the next available slot.
Photos: Rebecca Lim, @blueskiescottonclouds, Joy Wan