Shane Pow Opens Korean BBQ & Army Stew Stall, With 2nd Outlet In The Works
Think Korean BBQ with a mookata twist.
Despite the COVID-19 downturn, many are bucking the trend and opening F&B businesses. In the past three months alone, we've witnessed a number of celebrities setting up shop both online and in brick and mortar spaces. First, Chen Shucheng opened a bubble tea shop, then Jin Yinji started an online biz selling homemade kimchi, and just last week, Chew Chor Meng expanded his hawker empire with a new pao fan stall in Jalan Sultan. Now, it's Shane Pow's turn to open a Korean food stall. The actor invested a "low five-figure sum" to start Gogiyo, which means "meat please", with three childhood friends. The fortnight-old stall is located in a rather stylish bistro-style food court called Grains & Hops in a flatted factory in Toa Payoh, a 10-minute walk from Braddell MRT station. Rice bowls are available all day, while Korean BBQ and army stew are sold at night and all day on weekends
"My partners and I miss travelling. Since we cannot travel this year, we decided to bring a taste of Korea to you 'cos we love Korean food. Opening a stall allows us to keep prices affordable, so customers can enjoy good quality food with their friends and family without burning a big hole in their wallet. And there's no better way to do it than over hotpot and barbecue," Shane tells 8days.sg.
"We were looking at kopitiams but we happened to find this space and it's quite a nice location. There are a lot of offices nearby and it's like a bistro — there's air-con and they also serve drinks. You can have soju here."
The 30-year-old used to co-own hip grain bowl eatery, Mojo, but he sold his share of the biz at the beginning of the year. "I had a good deal. Someone offered to buy over my shares, so I cashed out," he says. Just as well — Mojo has since shut its two outlets in Republic Plaza and Telok Ayer and is now focusing on catering.
All photos cannot be reproduced without permission from 8days.sg.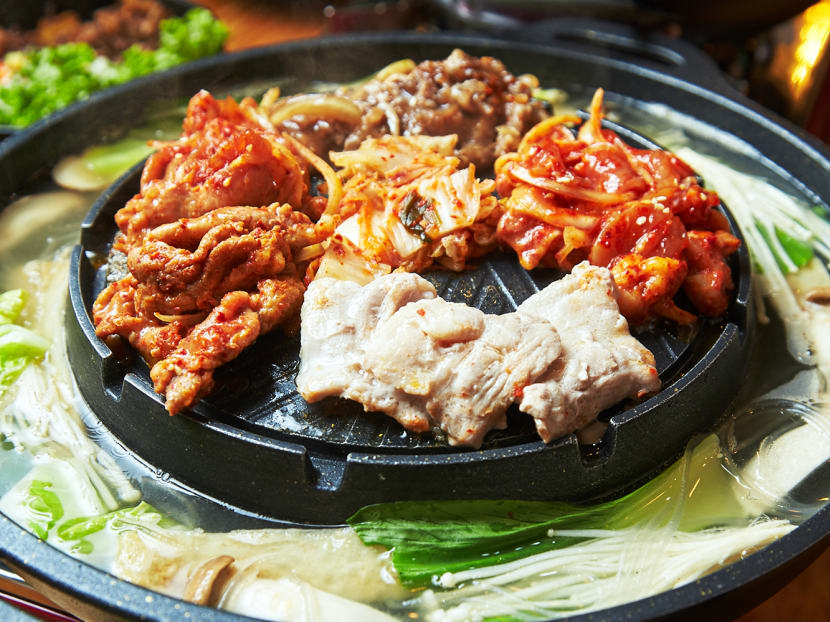 There are four types of army stews and two varieties of barbecue platters here, with prices starting from $19.90 and $24.90 respectively. But it's not just any K-BBQ. Instead of a moat of gooey cheese, Gogiyo's BBQ hotplates are served with a light, clear soup, a la mookata.
"I have not seen this in Singapore. Korean BBQ is usually served with cheese, but some people don't like cheese so we decided to try something different," shares Shane. Also available are a la carte items like vegetables, meats, and fishballs to zhng your army stew or cook them steamboat-style on the grill. The broth and stock are cooked by their chef using recipes from Shane's business partner.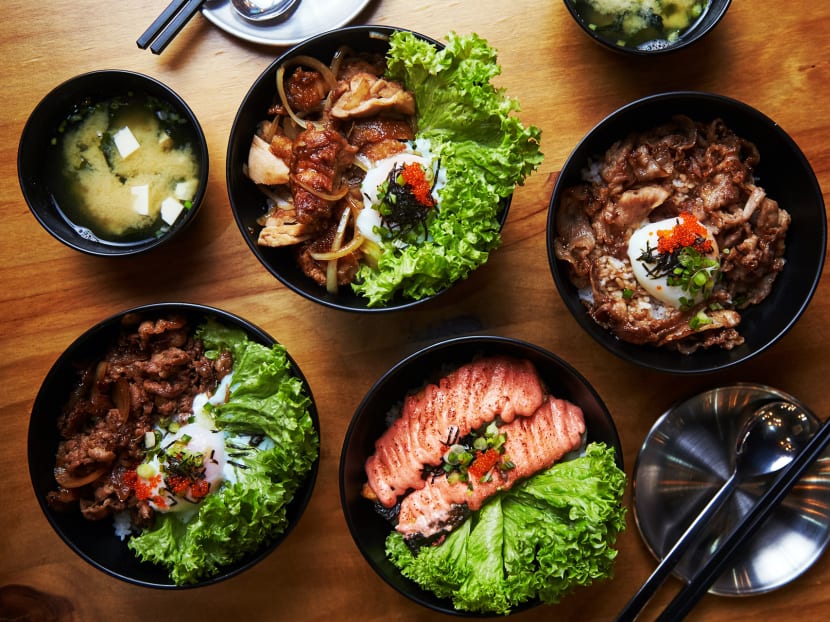 To cater to the office lunch crowd, Gogiyo offers 12 types of Japanese and Korean-style rice bowls, all with meat or seafood. Prices range from $6.50 for the Spicy Kimchi Chicken Bowl to $9.90 for their signature Black Pork Bowl. There are also sides like Fried Chicken Dumpling ($2.90) and Fried Chicken ($2.90).
Though they have only been open for a week, response has been encouraging and they are already seeing repeat customers.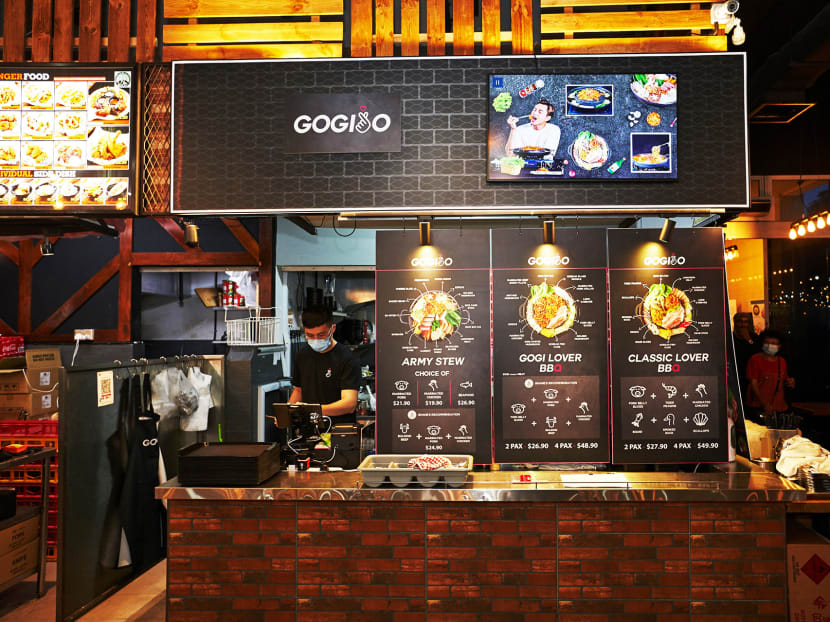 In fact, Shane is so confident about their food and concept that work is in progress for their second outlet. The stall will be located in a coffee shop in Clementi and is slated to open in January. "Our goal is to open in the different corners of Singapore so everyone can try our food. I wouldn't say it's anything fancy but simple food done well and we use good quality meats. We really think our food is not bad, so hopefully we can open more outlets," he grins, adding that they will be hitting food delivery apps "very soon".

Since its opening, stars like Terence Cao, James Seah, and Joshua Tan have been spotted here. What about his girlfriend, 987 DJ Kimberly Wang? "Not yet. My family hasn't tried the food either as I've been quite busy filming almost every day," says Shane.
It doesn't help that he now has his own bachelor pad so he doesn't see his family as often. Shane is currently living in a one-bedroom condo in the Guillemard area, which he has been renting since July. Working and shooting from home during the Circuit Breaker made him realise just how unconducive his home is for filming.
"I just ran out of places to shoot. It is a very real and yet funny problem to have. I have track lights in my bedroom and [they cause] shadows everywhere, and every corner of my house is exhausted already, so I decided to rent a place which can double up as a studio," laments the actor.
While living alone is "damn shiok", he really misses his mum's cooking. "I miss my mum too 'cos I didn't realise the things she has been doing for me all these years like making liang teh, double-boiled soups, and doing the laundry. If I wake up late, she will make breakfast for me. Now if I wake up late, I don't have breakfast. This kind of small stuff," he laughs.
Read on to see Shane's recommendations.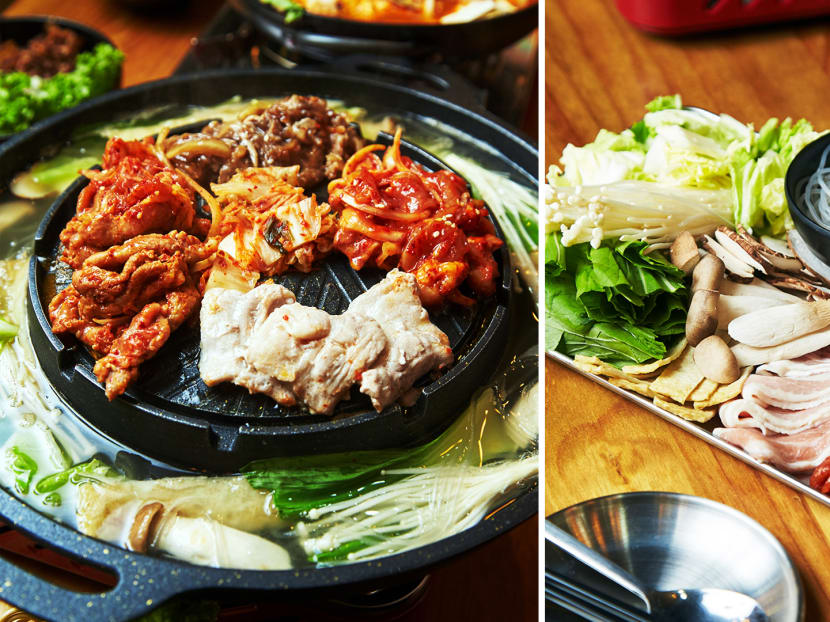 When you go to a place called Gogiyo, you gotta try their meat platter. With 12 items including marinated beef short plate, pork belly, spicy marinated chicken and pork collar, this set is pretty value-for-money. We enjoy the fatty pork belly and sweet-savoury beef, as well as their homely, umami ikan bilis-based soup stock. If you want to amp it up, Shane recommends grilling the beef first so the juices and flavour from the meat flows into the stock, before adding kimchi for a flavourful sour-spicy soup.
For $26.90, you get scallops, clams, mussels, prawns, squid, as well as your usual army stew suspects like luncheon meat, Korean fish cake, and instant noodles. The broth here is full-bodied and packed with a spicy punch. Shane's business partner Richard Neo tells us that they make the soup base from scratch by boiling chicken bones and pork ribs for around five hours before adding dry spices, chilli powder and gochujang (red chilli paste). "Our army stew is a bit different from what you'd find at most Korean eateries. Those tend to have a slight powdery taste because they use powdered seasoning but we make ours from scratch," he says.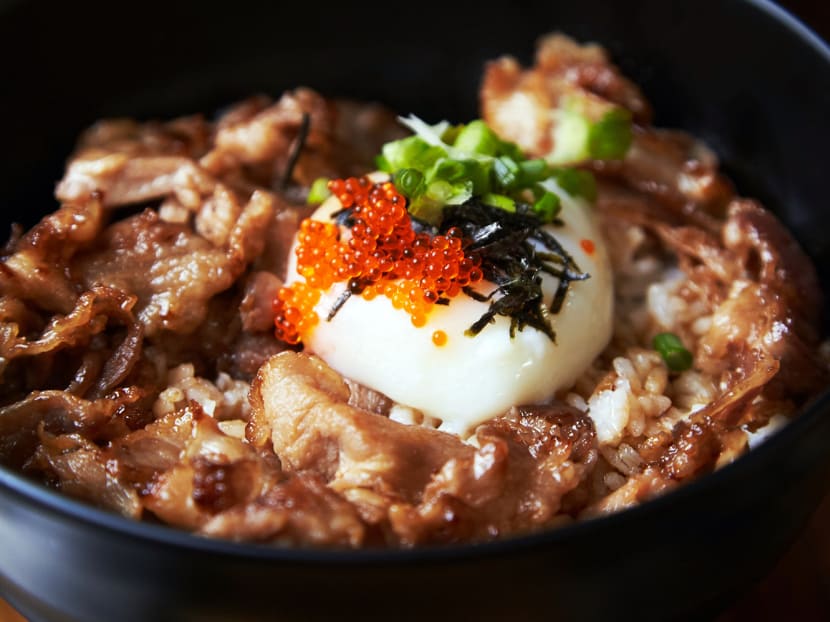 Originally only offered as an add-on for the army stew and BBQ, Shane liked the black pork so much that he asked for it to be made into a rice bowl. Best decision ever. Thin slices of Iberico pork are stir-fried in a "teriyaki-like sauce" and heaped on short-grain rice and a wobbly onsen egg. The juicy pork slices have a hint of smokiness and melt in your mouth. A very satisfying rice bowl.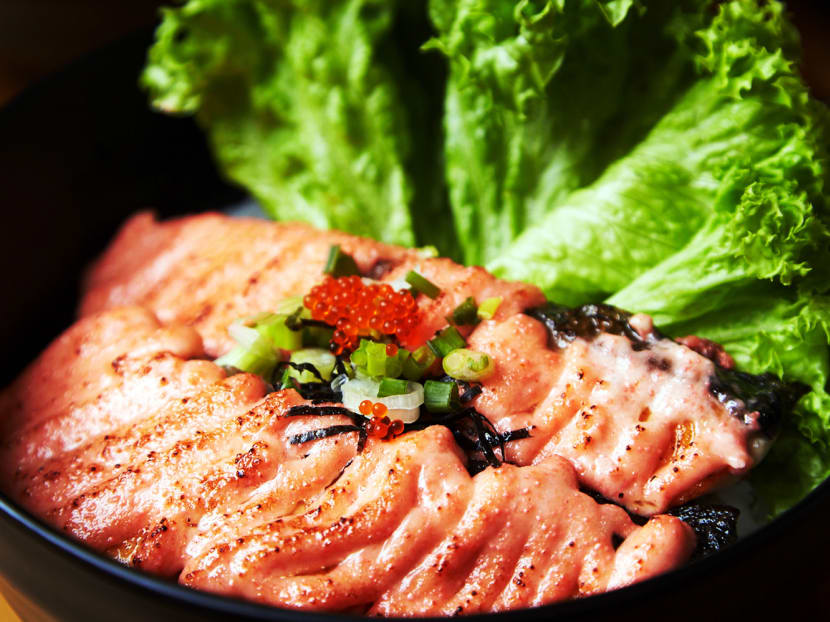 This bowl comes with two slabs of salmon topped with a generous layer of lightly-torched mentai sauce. We like how the salmon is crisp on the outside, moist and tender on the inside. But the star has got to be the in-house concocted creamy, savoury mentaiko sauce that is made with "secret ingredients". "One customer told us he's hooked on the sauce," shares Richard.
The beef bulgogi is pretty good too. Beef short plate slices are marinated overnight in ingredients like soy sauce, ginger, and pear, and grilled to a slight char. If you don't mind getting your hands dirty, scoop some rice, meat, and caramelised onions onto a lettuce leaf and eat it ssam-style (as a wrap).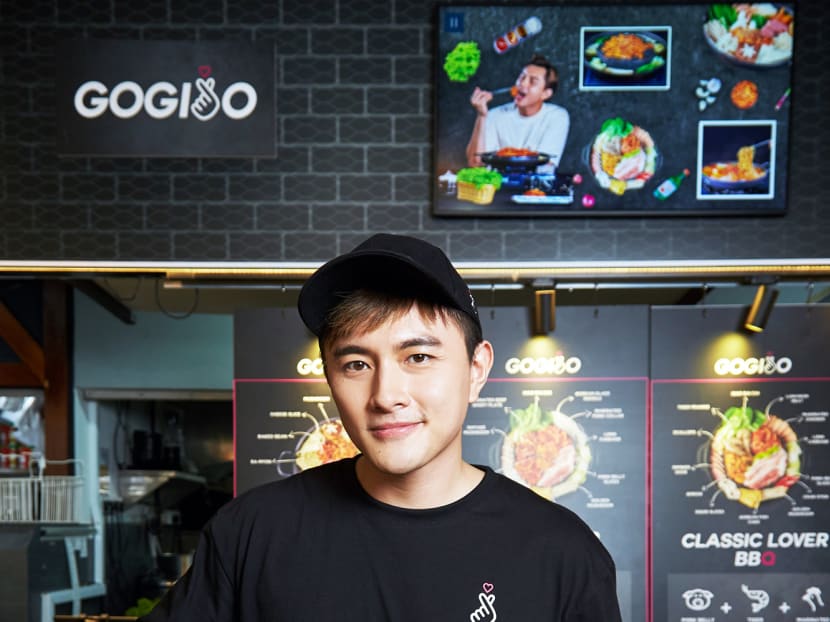 If you enjoy Korean barbecue and army stew but find those at restaurants too pricey, this is a good alternative. But it's the yummy and affordable K-rice bowls that will keep us coming back.
Gogiyo is at #02-01, Grains & Hops, 978 Toa Payoh North, S319001. Open daily 11am-10pm. https://www.facebook.com/gogiyo.sg/


Photos: Kelvin Chia

All photos cannot be reproduced without permission from 8days.sg.