Sneak Peek: Insta-Worthy Cruffins From $5.80 At New Café Mr Holmes Bakehouse
The popular San Francisco bakery chain opens its first Singapore outlet in Orchard Road.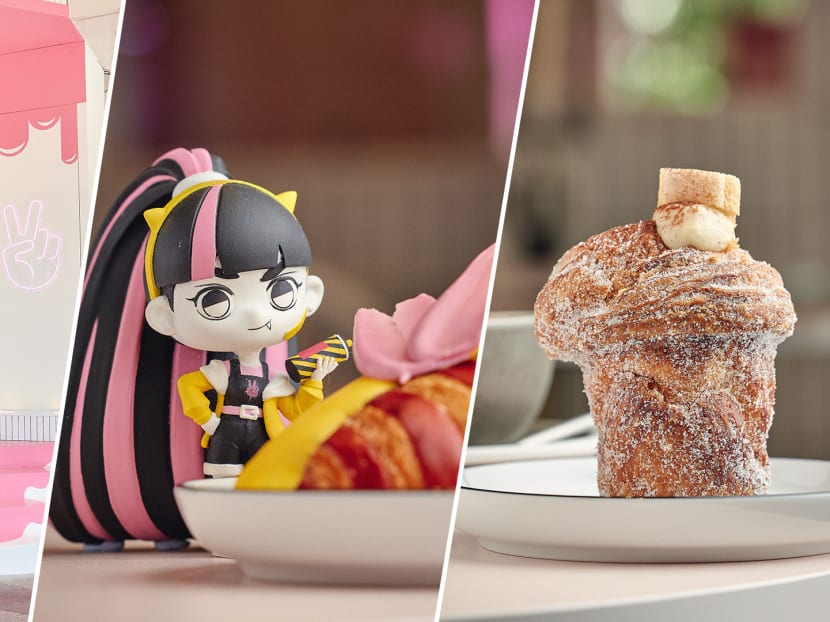 Just like mom jeans, cruffins are making a comeback after dominating IG feeds circa 2013. The croissant-muffin hybrid was said to have been created by Melbourne's Lune Croissanterie, though it was popularised by the San-Francisco-based Mr Holmes Bakehouse.

Mr Holmes is now opening its first Singapore outlet – a 41-seat bakery-cafe at Pacific Plaza. It's a partnership with local lifestyle group Caerus Holdings, which also brought in Luke's Lobster, Lady M and Danish cookie specialist Leckerbaer.

The new Singapore branch is currently Mr Holmes' only international outlet, as the bakery chain has shuttered its outposts in the US and Seoul last year due to the pandemic. The café will officially open for business on July 12.

8days.sg gets a sneak peek ahead of its opening.
All photos cannot be reproduced without permission from 8days.sg.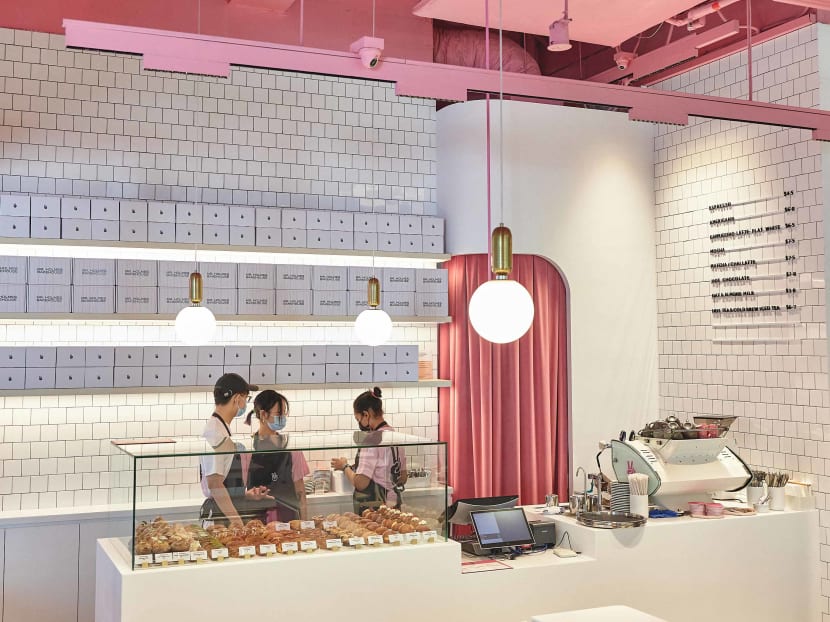 It's hard not to whip out your phone for photos here. A mix of pale pink and white hues, gold-lettered boxes and a gotta-'gram-it "I Got Baked In Singapore" neon sign – a signature look of Mr Holmes Bakehouse – has been faithfully transplanted to the outlet here.
To celebrate its launch, the outlet has collaborated with toymaker Mighty Jaxx for a limited pop-up. You can spot the toy studio's newest character, Monixx, plastered all over the café. Check out the vending machine, which is loaded with T-shirts, aprons, caps and an array of miniature collectibles in the shop.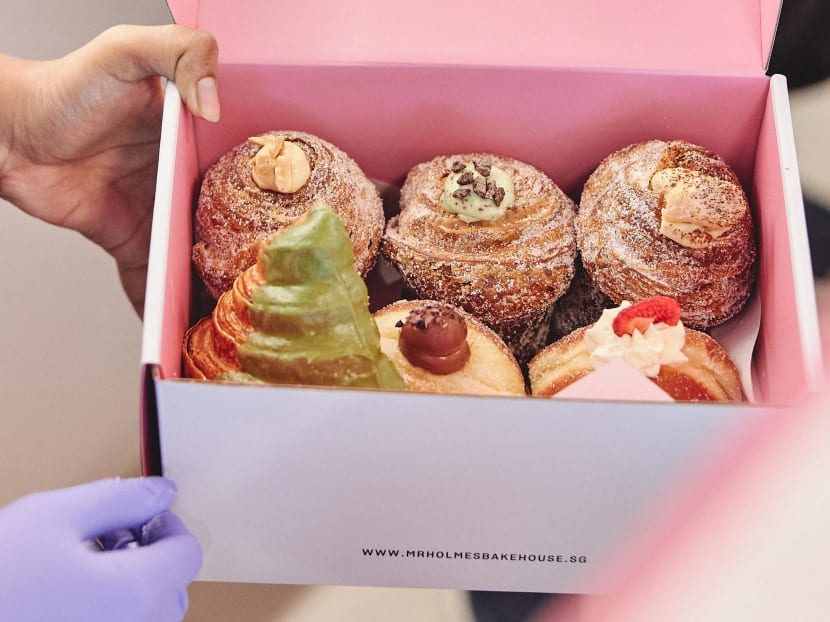 There are over 20 items on the menu, including three variations of Mr Holmes' signature cruffin, plus an assortment of croissants, donuts, danishes, cookies and savoury sandwiches. Just like the original flagship, expect a frequently refreshed menu of inventive bakes – we're told the team will update the offerings quarterly. There's also a selection of beverages with coffee, tea and kombucha to go with your pastries. Prices start at $4.50 for an espresso.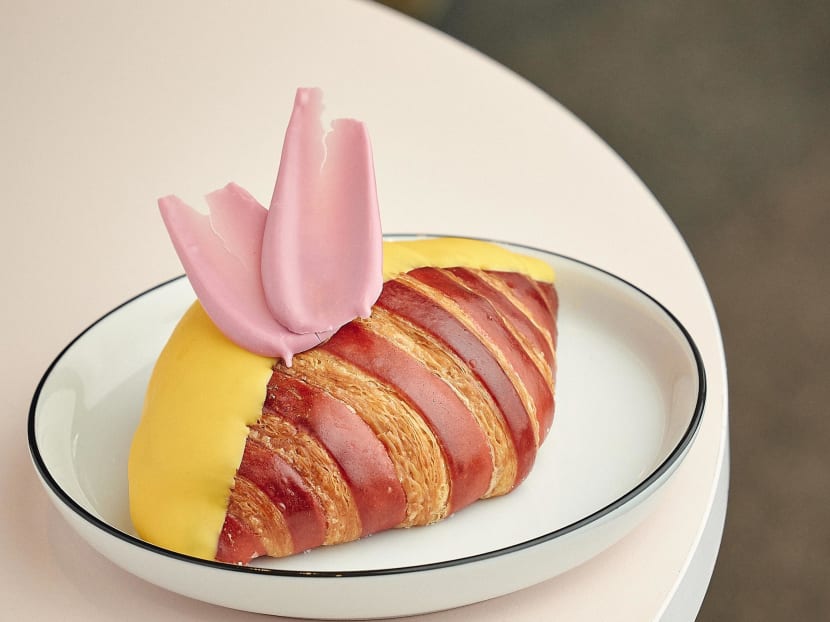 We dig the avant-garde vibes of this limited-edition croissant, created specially in partnership with Mighty Jaxx. Tropical flavours courtesy of a zingy mango curd echo the vibrant hues, while the ruby chocolate dip rounds it off with a nice richness.
We like the gooey coffee-infused mascarpone cream filling in this cruffin. It's not overly rich, which goes well with the feathery, crunchy layers of pastry. Save the bottom – the most buttery, melt-in-your-mouth portion – for the last.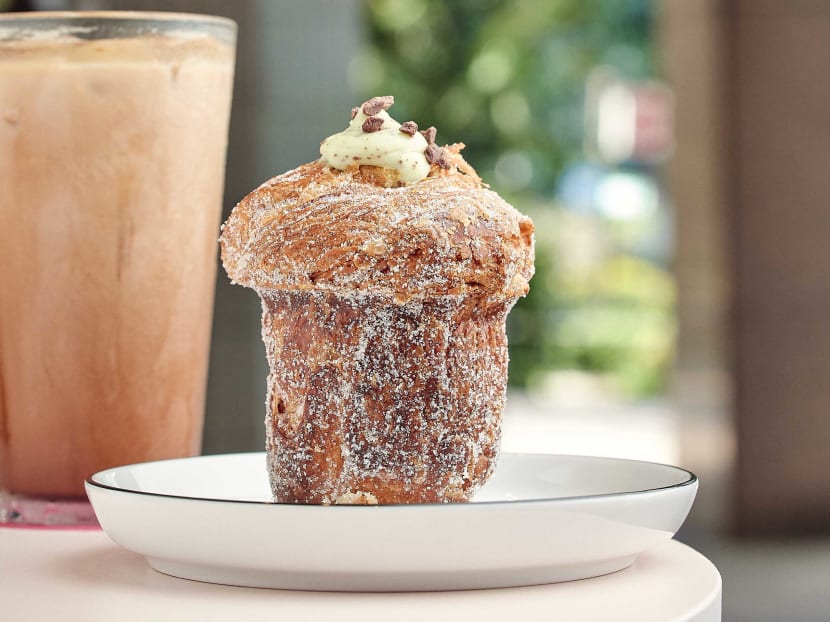 The refreshing mint flavour comes through beautifully in this crusty, puffy confection, and the buttery, flaky layers are an absolute joy – especially the extra crunchy top.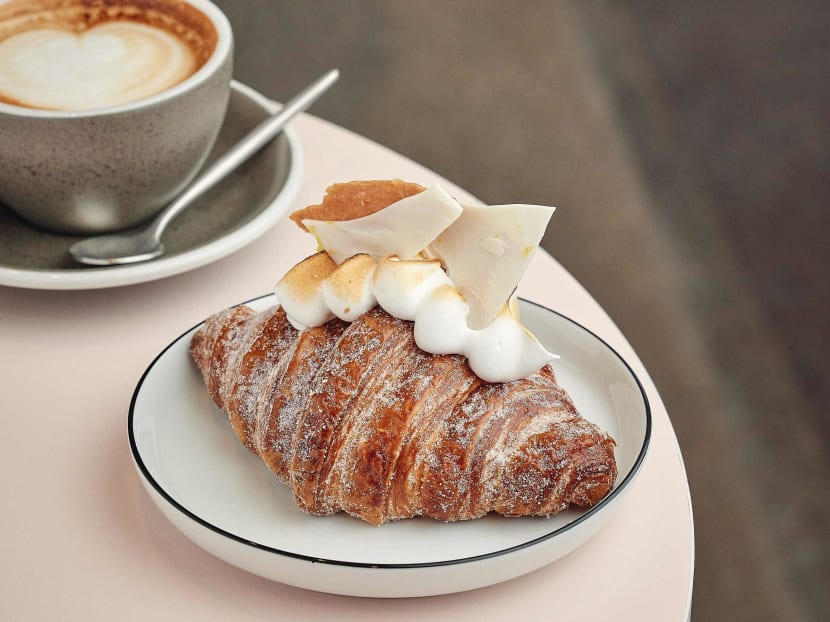 Generously filled with luscious lemon curd, dusted with lemon sugar, and topped with torched meringue and white chocolate shards, this splintery, airy croissant – which looks very fancy – delivers a zingy tang that's perfect for lemon lovers.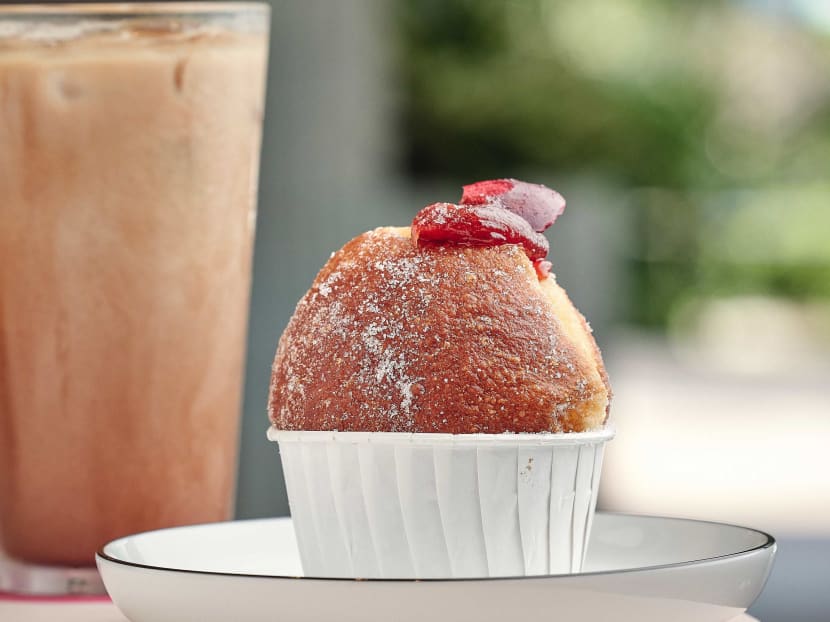 The light texture and delightful tang of the piped yuzu and plum jam (we love that both flavours are equally prominent) are a perfect match with the puffy brioche bomboloni-style doughnut.

The cocoa nib garnish on this doughnut is a nice touch, but we wish the cream filling could be a little more chocolatey.
We thoroughly enjoyed the beautifully varied textures of this confection – the airy, flaky pastry makes a lovely pairing with thick, creamy cheesecake filling and crunchy caramel shards. Yum.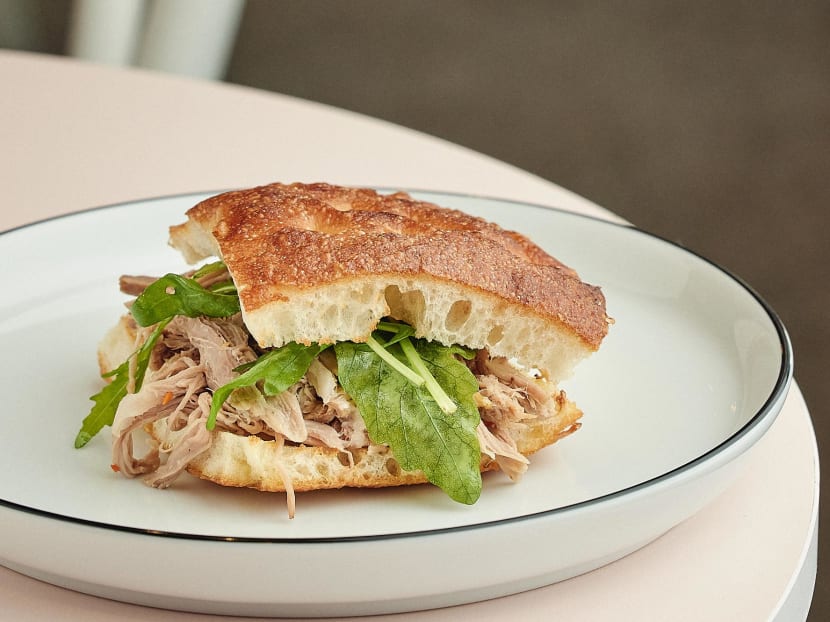 The savoury offering here is not bad – toasted focaccia is filled with a tasty mix of shredded braised pork, arugula and lime dressing; a good choice if you're in the mood for a light lunch.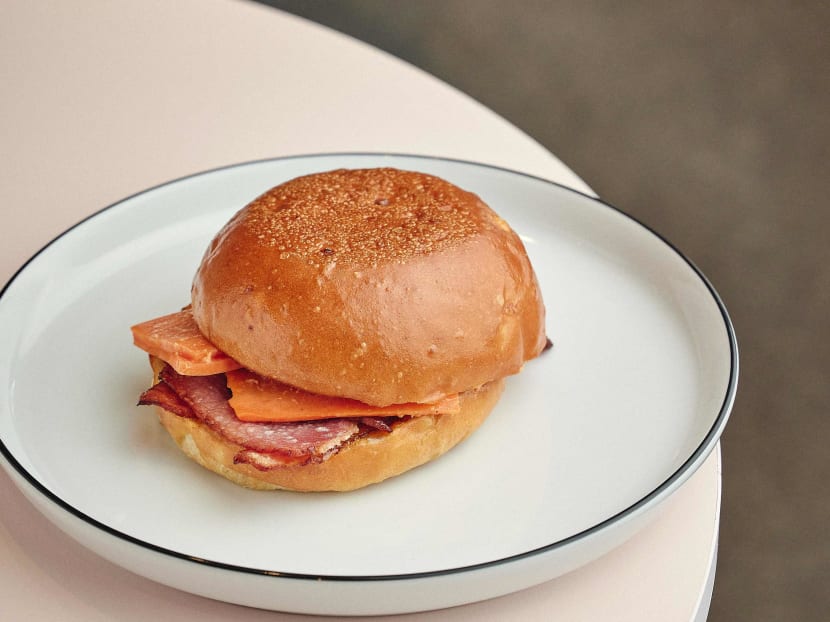 Don't be fooled by the simplicity of this sarnie – the smoked bacon, pickled carrot and habanero mayo form a mighty flavourful trio sandwiched in a potato bun.
Even though the peak cruffin craze has passed, we still think it's worth trying one of the OG creations here, especially since it's hard to travel to San Francisco now. Beyond its signature cruffin, Mr Holmes' other pastries are a delight as well. Go for the Lemon Meringue Pie Croissant, Yuzu Plum Jam Donut and Cheesecake Creme Brulee Danish. We recommend visiting the café early in the morning, as this pretty space is sure to attract a queue.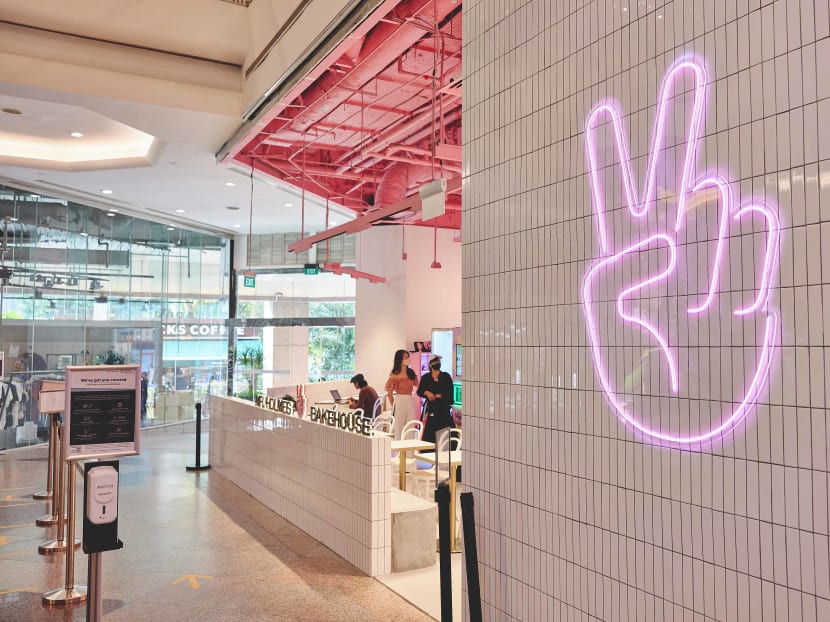 Address: #01-01/02/03 Pacific Plaza, 9 Scotts Rd, S228210.

Opening hours: Open daily 8am-6pm.

Instagram

Photos: Alvin Teo