Superb Scones, Kueh Salat By Grounded Airline Worker & Single Mum
The home-based baker makes the best scones we've had in a while.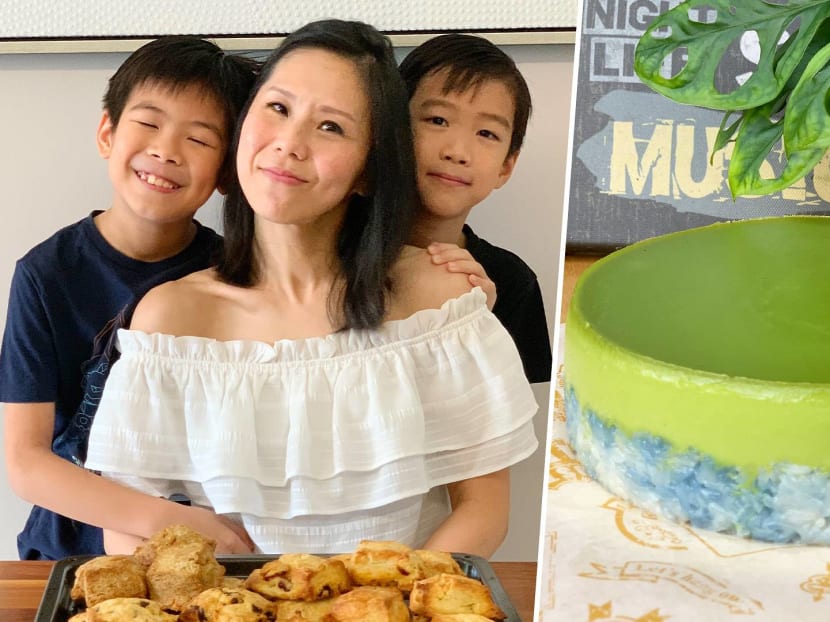 2020 has been a year of change for Joanne Tan. After 20 years in the service industry, the 40-year-old found herself grounded when borders started closing in the wake of COVID-19 (we're keeping her occupation vague 'cos of her company's confidentiality clause). She also closed a chapter in her personal life and finalised her divorce in March. In the midst of all the upheaval, the single mum confesses, "I was, of course, overwhelmed. But thankfully, I enjoy baking and cooking. I'd just spend my time baking for my loved ones."

It was in the kitchen of the HDB flat in Pasir Ris she shares with her 10 and 8-year-old sons that Joanne found respite — and encouragement to start her own home business. "I was happy baking for fun but when I shared my bakes with family and friends, they encouraged me to just try it since I had nothing to lose and all the time on my hands.". On 18 September, she finally established Baker's Lab, a home bakery offering an unexpected pair of teatime confections: Kueh Salat and scones.
All photos cannot be reproduced without permission from 8days.sg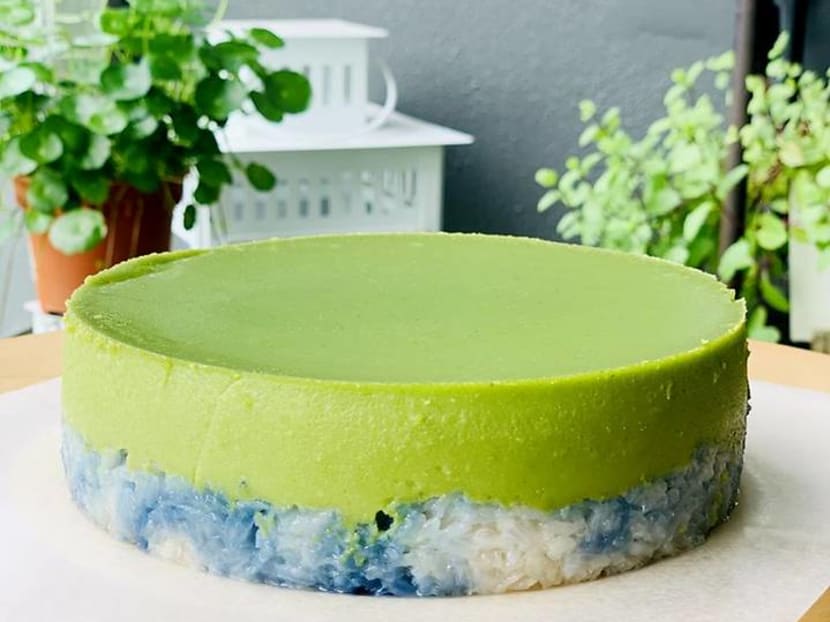 Baker's Lab began with an intense craving for kueh salat during the Circuit Breaker from April to June of this year. "I didn't want to head out just to get Kueh Salat. So I decided to make my own," says Joanne. Despite having no prior experience making her own kueh, the determined lady consulted a number of video tutorials and blogs to learn the ropes. After six rounds of experimentation, she finally landed on a version of the layered pandan custard-and-rice nonya kueh that hit the spot.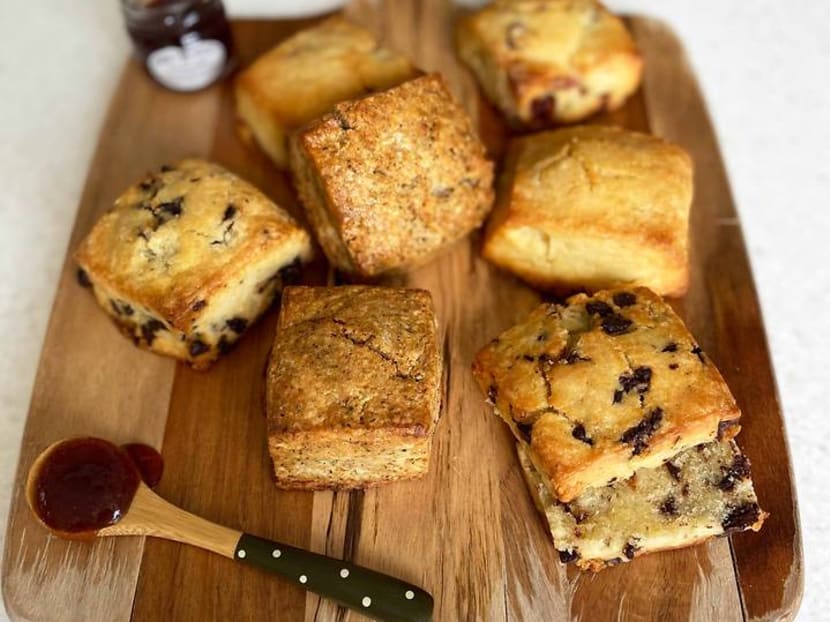 While Joanne's Kueh Salat was the result of a Circuit Breaker-craving, her scones had already been a family-favourite for years. "A close family member shared the recipe with me. Before I had this, I rarely had scones because they always seemed dry and tasteless. The only ones I've had that I actually enjoyed were from London's Marks & Spencer."

The original recipe shared with her was for a cranberry scone, which Joanne adapted to her tastes. Her menu includes flavours like the classic and chocolate chip. She's also recently launched a limited edition vanilla earl grey scone, made specially for the festive season.
Selling a mixture of Kueh Salat and scones might seem out of left field but it made complete sense for Joanne. "A lot of home bakers were offering cookies and brownies. Kueh Salat and scones were something different," she says.

It worked logistically for the baker too, who makes her wares in her small kitchen at home. "Kueh Salat is steamed while scones are baked, so I can have both the steamers and oven going at the same time.
"It's still different every time I make it." Joanne admits that while the scones are relatively simple for her to make, it's trickier to achieve picture-perfect Kueh Salat with a smooth custard surface every time. She has to stir the custard continuously to keep it from burning and watch over the stove while the kueh steams. "When I get to the tail-end of the Kueh Salat's steaming process, I get nervous. How it looks is subject to the whims of nature, because steaming is not as precise and controlled as baking." The perfectionist has had to remake a few cakes that didn't pass her personal aesthetic standards, though it's happening less as she fine-tunes her methods.
At Baker's Lab, Joanne flies solo. She had to pick up new skills, from photography and social media management to sourcing for packaging and designing a logo. "I'm really not tech-savvy so I had to ask friends for advice, especially how to market on Instagram."
When asked if she has time to relax, the busy baker jokes, "Relax ah? No lor." Her day starts at 3am daily while her kids are still in bed. She gets right to work, only pausing to get her boys ready and walk them to school. Then, it's right back to finishing up orders to be sent out at 11am, leaving her the afternoon to spend with her children. When she does get pockets of free time, she sneaks in a short nap. "Nothing comes easy, but the encouragement from my sons, family, and happy customers keeps me going. Sometimes you don't know your full capabilities until you're pushed to your limits. If there's anything I learnt throughout this process, it's resilience."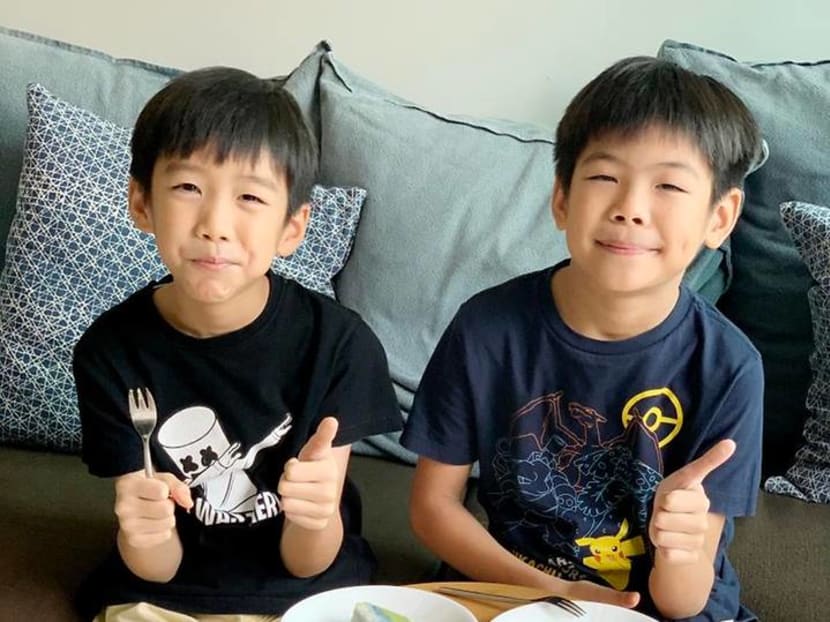 At the heart of the business are Joanne's two sons. Prior to having them, Joanne says she had no culinary experience. "When they were born, I wanted to cultivate healthy eating habits at home and started cooking. I'd often bring back recipes from countries I had travelled to for work."

Now, she's dubbed them the "CEOs, consultants, and food critics" for Baker's Lab. The pair are willing guinea pigs for her experiments (who still ask for more even after numerous tastings) and mini marketers (who spread the word about their mum's venture in school). They've also encouraged Joanne to step out of her comfort zone, including pushing her to reach out to 8days.sg. "That's why when I speak to my customers, I use the term "we" even though this is a solo venture. Baker's Lab isn't just mine. I feel like I'm representing the boys in a way."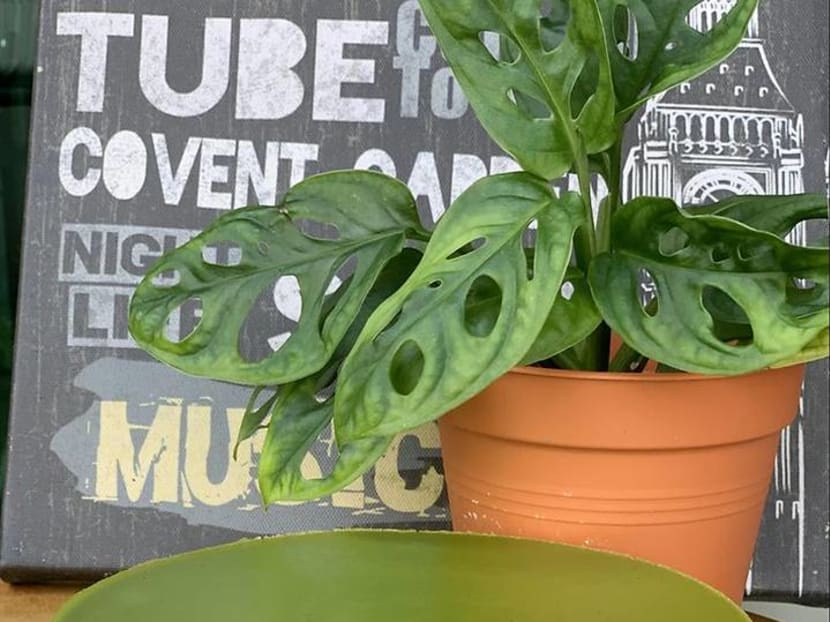 "It takes about three to four hours to finish each Kueh Salat round, but prep starts two days before I even start cooking." The extra time is needed to soak the glutinous rice overnight and separate the juice and extract from around 100g of blended pandan leaves per kueh. The juice and extract is used to colour and flavour the kueh's pastel-green custard top, made with egg, and coconut milk. Natural blue dye, from butterfly pea flowers, are also used to speckle its base of sticky rice and coconut milk. Each layer is steamed for 30 to 45 minutes and needs at least two hours to set fully. "I don't use gelatin to keep the custard firm. I add flour instead." Indeed, her salat is very elegant — unblemished, satiny custard brimming with the intoxicating perfume of fresh pandan leaves, and the bed of rice it sits on is pretty awesome too: tender, moist and lemak with coconut milk. It's quite reasonably priced too (Mrs Kueh's similar-tasting Kueh Salat is $56 for a 7-inch round).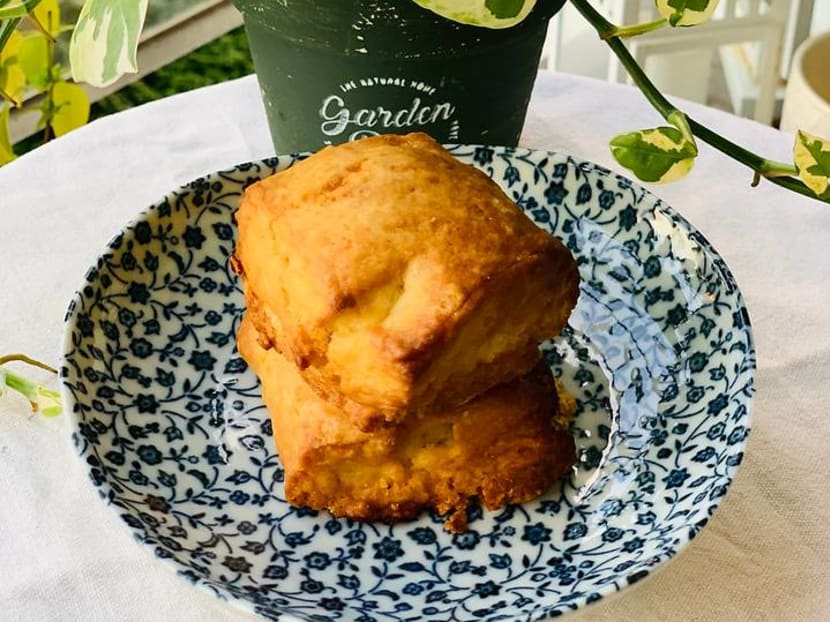 Joanne admits, "I have no idea how other scones are made because I never really enjoyed them before trying this recipe." Her version is made with whipping cream, butter, flour, and sugar. The dough is chilled before it's baked for around 20 minutes. While these square scones are flatter than we'd like and could be slightly lighter texture-wise, everything else is faultless: the rich, creamy, buttery lushness with just the right hint of sweetness and salt. It's well-baked too, so the exterior has an alluring crunch and the insides tender and milky. This is one of the few scones that fare well even without a side of cream, and just butter, because its crumb already tastes so full-bodied.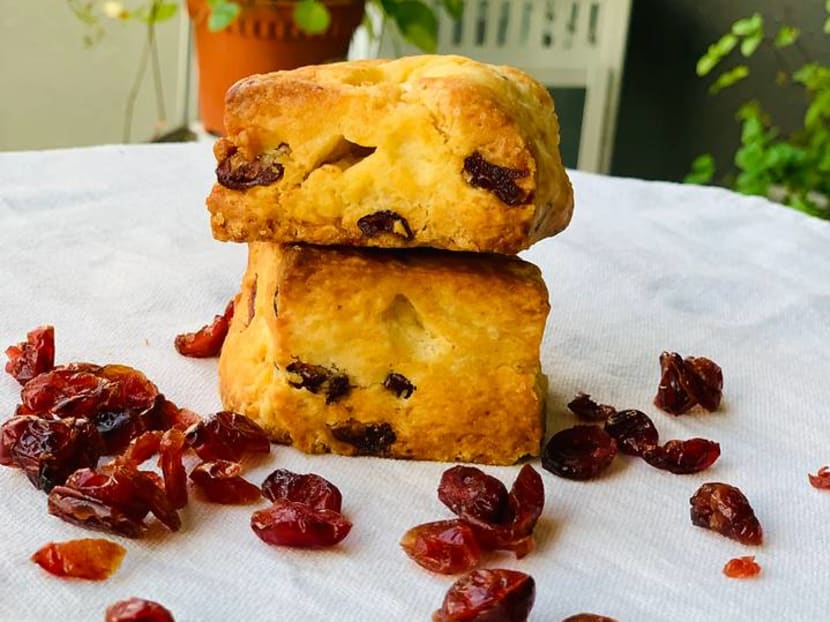 To ensure the additional ingredients stand out in the buttery dough, Joanne reduces the sugar and butter used in some of her flavoured scones. Sweet, chewy dried cranberries carry the flavour for the cranberry scones. Quite tasty too, if slightly dense because Joanne uses only cream and not lighter milk for her dough.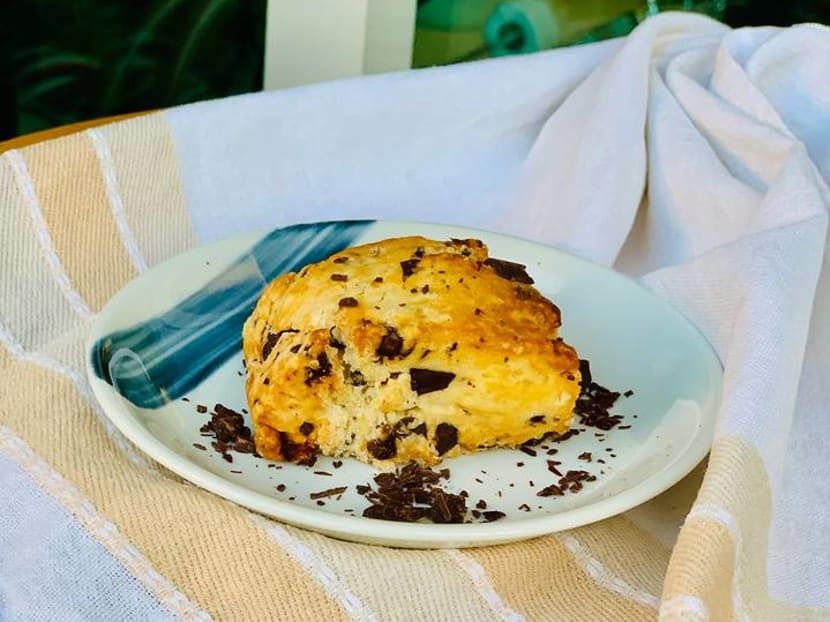 For an intense chocolatey flavour, a mix of dark choc chips and chopped couverture chocolate with 60% cocoa content is mixed into these scones. Store-bought chocolate scones rarely taste good, but these hit the spot with its grownup bittersweet profile that pair so well with its creamy base and that lightly crunchy exterior. Good enough to eat on its own (with maybe a light smear of butter), slightly warmed up so the choc bits turn gooey.
"I steep Twining's Earl Grey tea bags into the cream before folding it into the dough mixture. Then, I add vanilla essence and loose tea leaves." Possibly our favourite flavour among Joanne's scones. The distinctive floral-fruity bergamot scent permeates that lemak scone in the most seductive way, and it is delicious with butter but we imagine it to be even yummier with a dollop of thick double cream.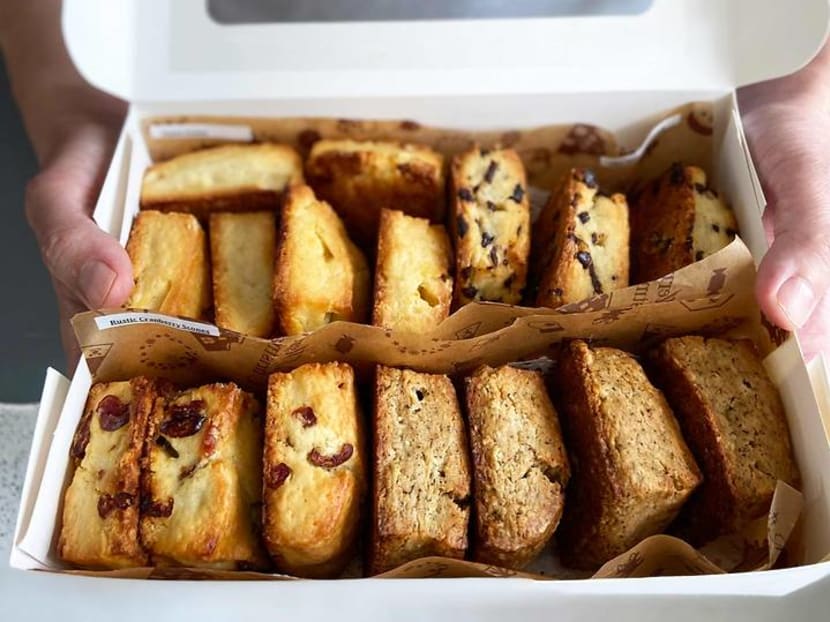 Excellent scones that would be perfect if they were slightly taller and lighter-textured — but they taste so creamy and dreamy we'd happily order some again (pity we can't mix and match flavours in a single box). Also get the equally delicious kueh salat for an indulgent east-meets-west tea. Joanne opens orders daily, but with her day job slowly picking up again, her schedule isn't as regular, so be sure to check Baker's Lab's Instagram account for pre-order dates.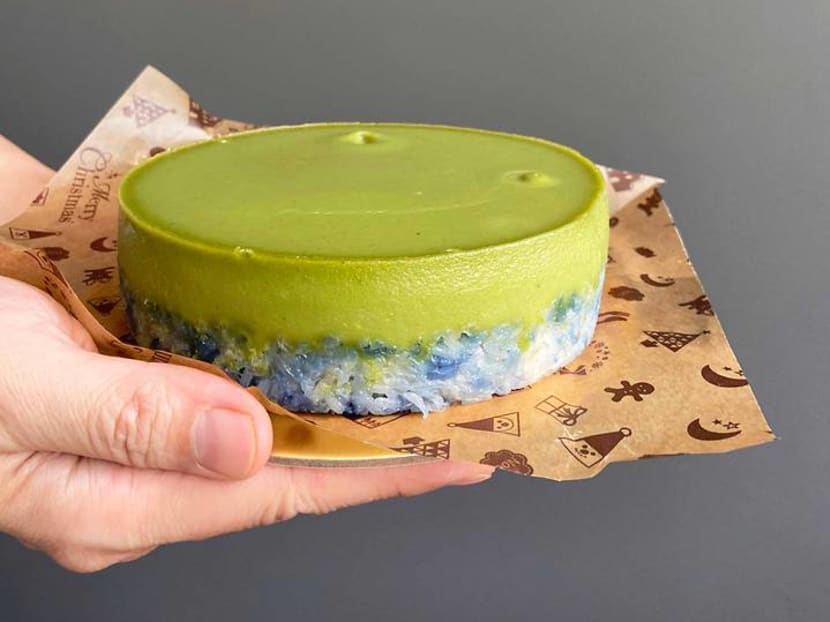 To order, send a direct message to Baker's Lab on Instagram @bakers_lab20. Orders can be collected in Pasir Ris at no extra charge. Island-wide delivery can also be arranged for $10.
Photos: Joanne Tan & Florence Fong/ 8 Days
All photos cannot be reproduced without permission from 8days.sg