Viral Brown Sugar Bubble Ice Cream Bar Taste Test: Nice Or Not?
We tried the hard to get ice cream studded with 'pearls' — here's our verdict.
The demand for brown sugar pearl milk can't stop and won't stop. Now, the ultra-popular bubble tea drink is available in ice cream form. Taiwanese ice cream company Xiao Mei has managed to revamp the components of a cup of brown sugar pearl milk — brown sugar syrup, milk and brown sugar tapioca pearls — into Brown Sugar Boba Ice Cream Bars that they sell in boxes of four. And yes, each bar really comes studded with round chewy pearls, just like an actual cup of brown sugar pearl milk.

Unsurprisingly, this dessert treat went on to break the internet. Previously only available in Taiwan, the viral ice cream bars have arrived in Singapore. They're imported by local ice cream distributor Happy Ice, which also supplies vending machines around Singapore with ice cream. The company recently started selling the brown sugar ice cream bars at its vending machines, as well as an online form listed on its Facebook page.

First, the bad news: Happy Ice's initial shipment of some 2,000 boxes of Brown Sugar Boba Ice Cream Bars is now completely sold out. A company rep tells us that the next shipment is expected to arrive around August 19, some three weeks from now. You can also chope your ice cream by pre-ordering it via the company.

Here's how it works: once the stock arrives, fill up Happy Ice's online form and indicate the number of boxes you want. There's a minimum order of 20 boxes, which gets you free delivery, but you can also head down to their office at Blk 2021 Bukit Batok St 23, #01-198, S659526 to self-collect your order if it's under 20 boxes.

Just how alike (or different) is this Brown Sugar Boba Ice Cream Bar from the real deal? We got our paws on two boxes of the coveted ice cream bars from Happy Ice. At first sight, our box of ice cream bars looks pretty elegant, with black-and-gold packaging. It could have passed off as something from Taiwanese brown sugar bubble tea chain Tiger Sugar, which is also known for its sleek black-themed branding. Each ice cream bar is individually wrapped.
We excitedly tear the plastic wrapping off a bar to unveil this marbled beauty, which comes with dark, dramatic swirls of brown sugar syrup mixed with milk ice cream. We also see a fair number of black, round tapioca pearls studded within the bar. Very promising. But is it any good? Let's just say, we fell in love with this ice cream bar at first bite. The milk ice cream is smooth and insanely creamy (though we taste a hint of artificial creamer in this, as opposed to the pure fresh milk that's commonly used for a cup of brown sugar pearl milk), and fragrant, caramelly brown sugar perks up the treat.​​​​​​​

The best part of the ice cream bar is the pearls — they pack a soft, bouncy bite, and gives fab texture to the silky ice cream. But here's the plot twist: the 'pearls' are not made of tapioca, though they look and taste like classic tapioca pearls. They're actually a kind of brown sugar-spiked rice flour mochi, which explains why it's so pleasingly, delicately chewy (we're guessing tapioca pearls will turn stiff when frozen). Genius. Most of the the brown sugar flavour comes from the ice cream itself and not the pearls, though.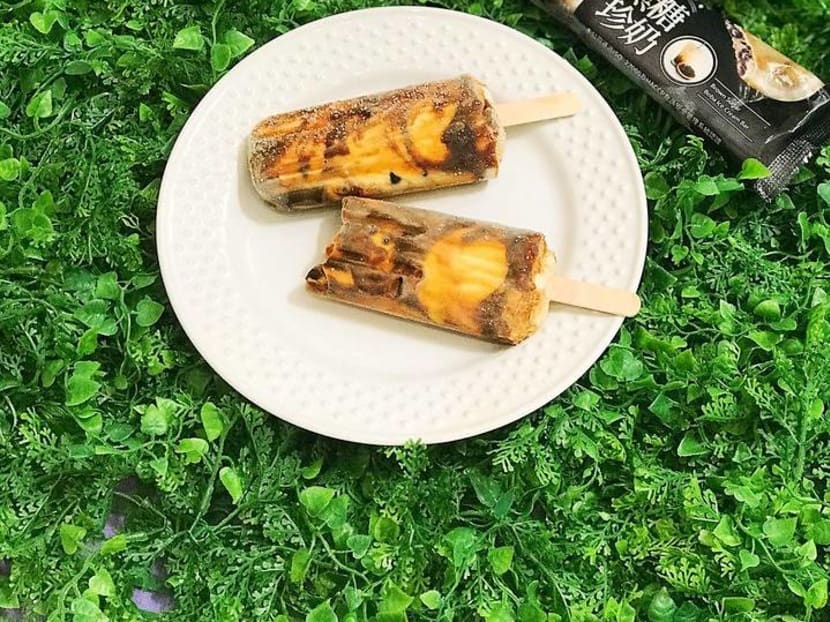 Nice! The Brown Sugar Boba Ice Cream Bar retails for NT$24 (about S$1) each in its native Taiwan, but works out to almost S$2.50 a bar in Singapore (they're sold in boxes of four for $9.90 here). Significantly pricier, but we say this is one kooky viral food item that actually lives up to its hype; it's like eating a solid version of brown sugar pearl milk, though the milky ice cream pales a little in comparison to sipping fresh milk. But its clever mochi 'pearls' are on par with the best bubble tea shops' offerings. It's also a pain getting your hands on these munchkins (you'd have to pester local distributor Happy Ice for their next available date), though we say it's worth all the effort — even if brown sugar pearl milk is officially the unhealthiest bubble tea drink in town.

Pre-order the Brown Sugar Ice Cream Bars via Happy Ice's online form when new stocks arrive around August 19, or call 9777-3533. www.facebook.com/pg/happyice.com.sg.

For our ranking of the best Brown Sugar Pearl Milk Drinks in Singapore, click here.

PHOTOS: YIP JIEYING