Vivian Lai's Bubble Tea Shop Now Sells Korean-Style Sandwiches With Tea-Infused Fillings
There are even dessert versions topped with brown sugar tapioca pearls.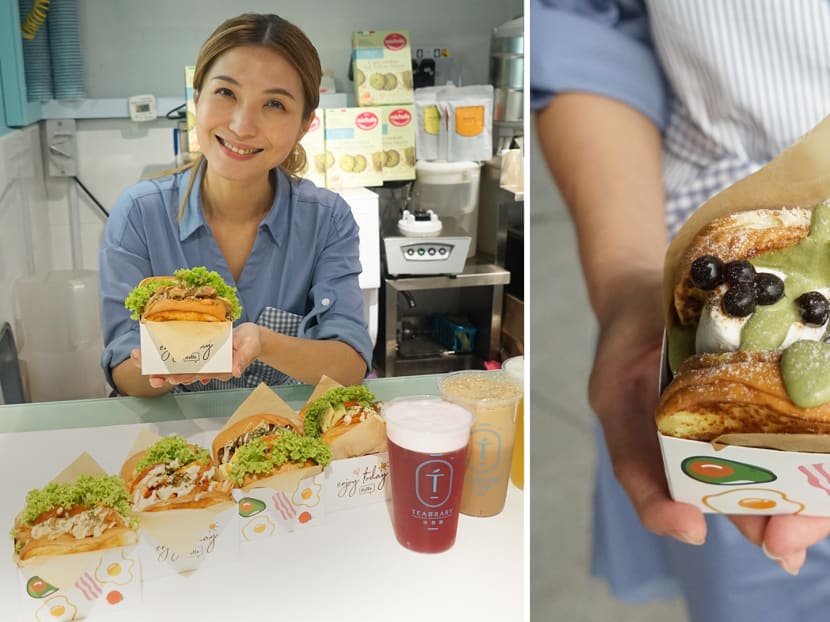 Insta-worthy sandwiches are taking over Singapore, with brands like homegrown sandwich chain Egg Stop offering the Korean-style breakfast toasts. The latest to jump on the bandwagon is Vivian Lai's bubble tea brand, Teabrary, which has launched a sarnie range called Egg Toasteas. Teabrary currently has three outlets, including its first branch at Esplanade Xchange.

The toast trend here first started in 2018 with the opening of popular South Korean toast chain Issac Toast, though it has since shuttered its two kiosks in 2020. Meanwhile, Los Angeles' hip Egg Slut is slated to open later this year.
All photos cannot be reproduced without permission from 8days.sg.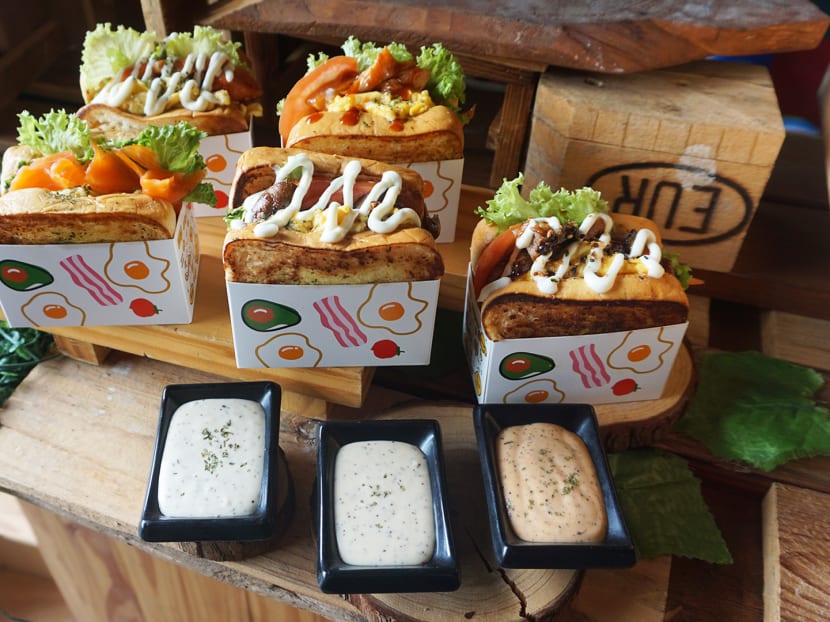 Vivian, 44, tells 8days.sg that the heartily-portioned Egg Toasteas are "more like burgers", adding that "they are really substantial and filling". What makes them stand out, she says, are their tea-infused fillings and dressings.
There are currently five savoury toasteas on the menu — which were introduced earlier in January at the its latest outlet at Bukit Batok's new Le Quest mall — and two new French toast-based dessert toasts, Biscoff Tiramisu and Matcha Crème Cheese.

The sandwiches come with fluffy toasted brioche slices and a griddle-fried egg that is a "cross between an omelette and scrambled eggs". Customers can choose between three interesting tea-infused dressings — Green Tea Mustard, Oolong Yuzu Wasabi, and Assam Teriyaki Mayo. Prices start from an affordable $5.90 for an a la carte sandwich, and $8.90 for a set, with your choice of a nitro brew drink.
While Teabrary started out serving only bubble tea, it had been Vivian's plan to offer food to go with the beverages. She shares that her R&D team explored other ideas like crepes and pancakes, but felt that they were too common. They eventually settled on Korean-inspired sandwiches as Vivian loves bread.
The move paid off. Thanks to the new concept, the Le Quest outlet, a takeaway shop situated on the ground floor of the mall, is able to stand out from its competitors — we spotted at least four other BBT shops when we were at the mall.
"There are too many drinks options here. When I first viewed the space, the management of the mall told me there would be a limit on the number of bubble tea outlets here. But after I signed the lease, I found out that a whole bunch of them were opening here," says Vivian. "Luckily we launched a new concept here. We not only offer sandwiches but also nitro brew drinks, which have been a hit."
She plans to introduce new toastea flavours (they are working on a lobster sarnie) every quarter, as well as offer the sandwiches at their outlet at Holland Village gourmet supermarket Taste in the next couple of months.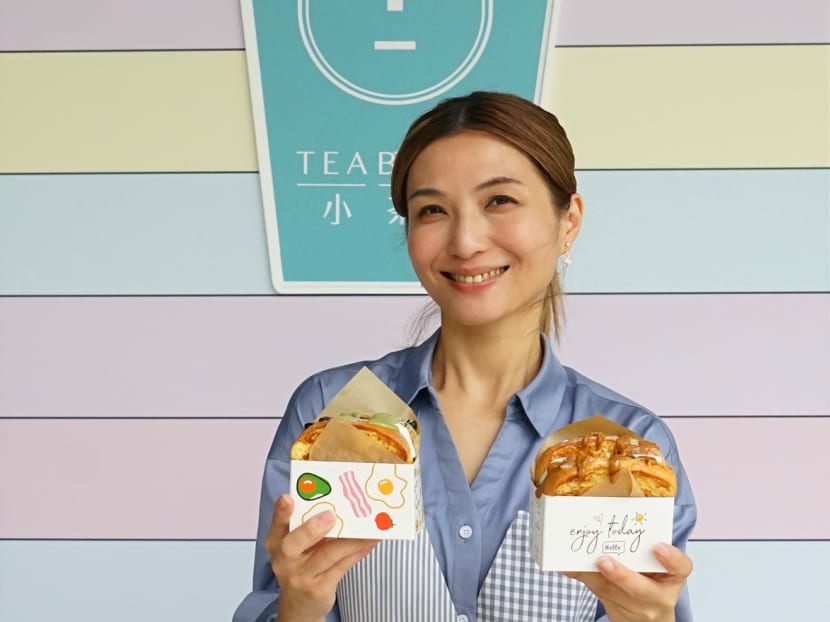 When 8days.sg spoke with Vivian at the launch of her first Teabrary outlet at Esplanade Xchange in September 2019, the girlboss revealed her expansion plans which included opening a flagship store in Orchard Road in 2020. However, everything hit a wall during the pandemic.
"Business at our Esplanade Xchange outlet was greatly affected. Fortunately we launched our islandwide delivery service just when the Circuit Breaker started. We are doing okay now 'cos we get a lot of delivery orders. If I were to rely on walk-in traffic, it would be very hard to survive. It's all offices in the area and most people are still working from home. There's less than a year to go on my lease so I will wait and see how things turn out," laments Vivian, adding that she's relieved Teabrary didn't expand so quickly.
Now, she has set her sights conquering the heartland areas and is in talks to open two more outlets in Jurong Point and Ang Mo Kio, "hopefully in the next three months".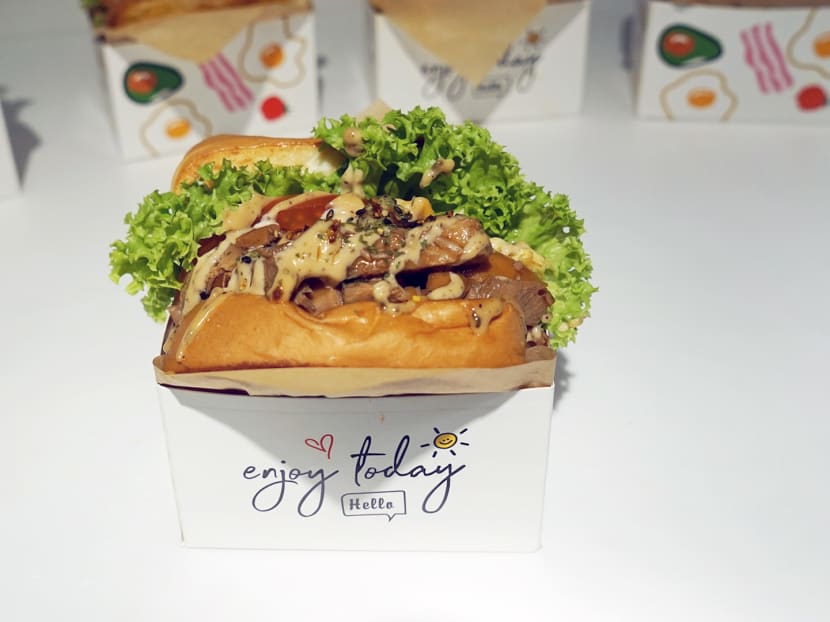 This is the shop's best-seller and also Vivian's favourite, and we can see why. We bite into the sarnie and were pleasantly surprised by how flavourful and tender the chicken chunks were. We're told that chicken thigh is marinated in a teriyaki sauce made in-house, before being pan-fried over a hotplate. Compared to regular teriyaki sauce, which tends to be sweeter, this is savoury and light. Our sarnie came with the Green Tea Mustard Oolong Yuzu Wasabi dressing which gave it an extra kick. We like that the egg is slightly runny. When eaten with the juicy tomato slices, it reminds us of fan qie chao dan (tomato stir-fried egg).
Instead of teriyaki chicken, this toastea is loaded with buffalo sauce-drenched smoked chicken. The sauce has a nice kick and despite using chilli padi, it isn't overly spicy. However, our sarnie had so much sauce that we couldn't taste the dressing that accompanied it.

This one's for the avo toast fans. The popular combination features sliced avocado and salmon that has been smoked with tea-infused oil. Unlike the chicken toasteas, this is lighter on the palette so you can taste the hint of sweetness from the brioche. The Oolong Yuzu Wasabi dressing gives it a slight tanginess.

Think of this as a brioche French toast sandwiched with tiramisu. But instead of soaking ladyfingers in espresso, biscoff cookies are dipped in Jingxuan oolong tea, and layered with cream cheese between two slices of eggy, cinnamon-dusted French toast. The dessert is then topped with lightly-torched marshmallows, brown sugar pearls, biscoff sauce and crushed cookies. It's decadent, delish, but also very sweet, so best to share it with a friend.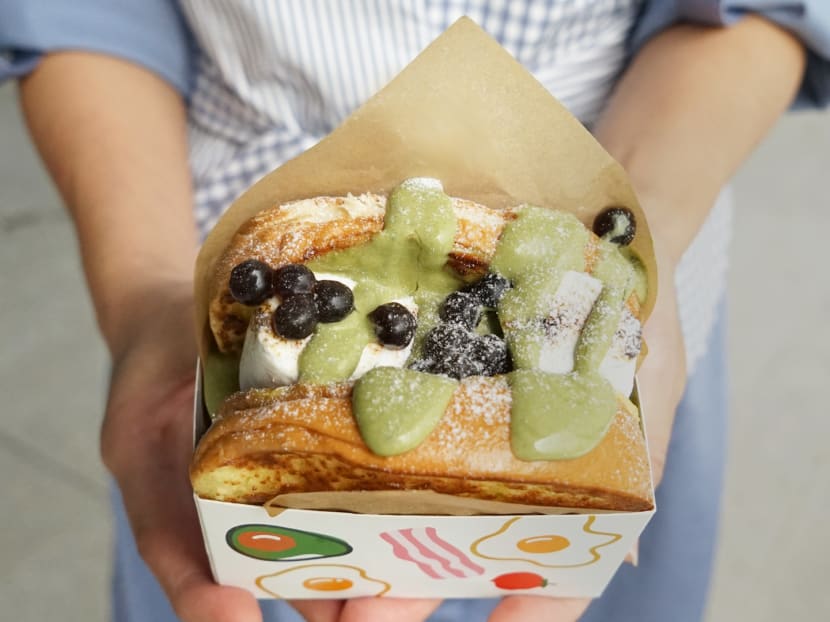 Those who do not have a sweet tooth can go for the Matcha Cream Cheese. Matcha powder mixed with cream cheese is spread on French toast, then finished with marshmallows and chewy tapioca pearls. The slightly bitter matcha balances the sweetness from the marshmallows, and unlike the Biscoff Tiramisu, does not overpower the eggy French toast.
Other than toasteas, Teabrary also recently launched a series of tea pouches. There are five flavours including Pu'er with French Rose, White Peony Tea with Osmanthus Flowers, and Organic Oolong, and each pack comes with 12 pyramid tea bags.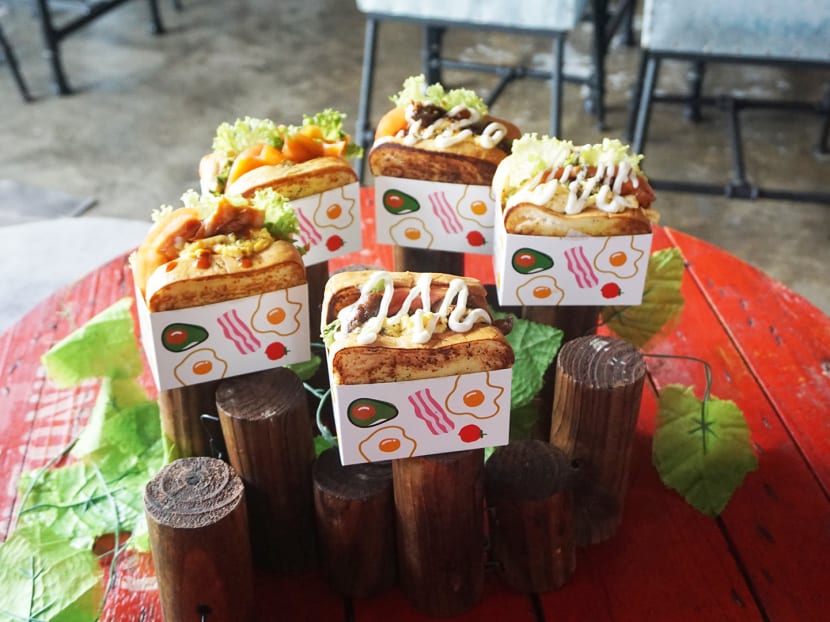 The toasteas are tasty and come chockfull with fillings, though we wish they were more evenly distributed. The meat in our egg toasteas were crammed at the top, while the eggs sat at the bottom, so we felt like we were having an egg sandwich when we got to the end. Eating the sarnies can also get messy, so have some serviettes handy when you dig in.
Teabrary has three outlets including 01-19 Le Quest Mall, 4 Bukit Batok Street 41, S657991. https://teabrary.site/our-products/
Toasteas are available at Le Quest and Esplanade Xchange outlets, as well as via islandwide delivery. WhatsApp 9634 3894 to order. Visit Teabrary's Facebook and Instagram for more info.
Photos: Ilsa Chan, Teabrary
All photos cannot be reproduced without permission from 8days.sg.