Want A Selfie With Fiery Noodles At Menbaka Fire Ramen? Surrender Your Phone
You're only allowed to hang onto your phone if you don't want a photo of the fiery spectacle.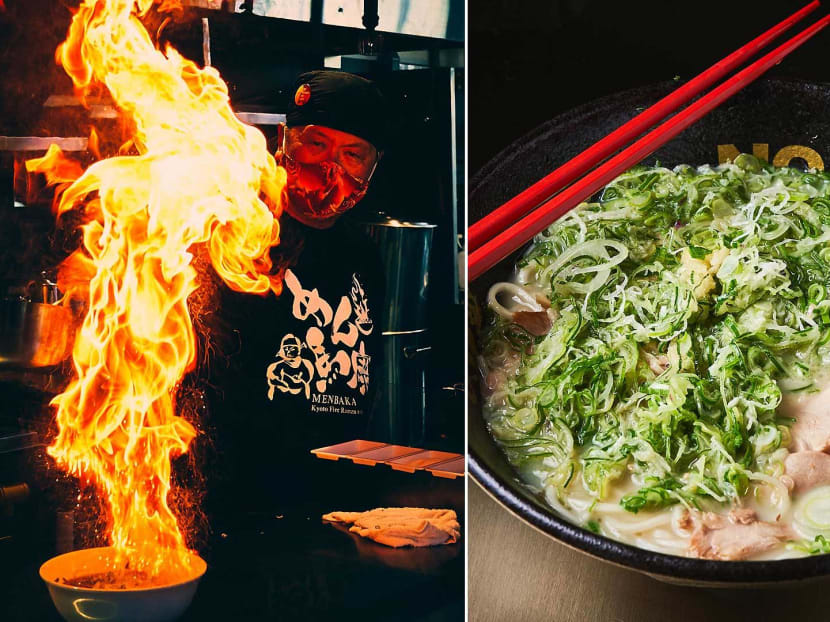 It's common for F&B outlets in Singapore to have stringent fire safety standards, but it's especially crucial at Menbaka Fire Ramen. The Kyoto-based ramen-ya — which is opening its first franchised Singapore outlet at Orchard Cineleisure on Nov 24 — has a reputation of playing with fire, and its food.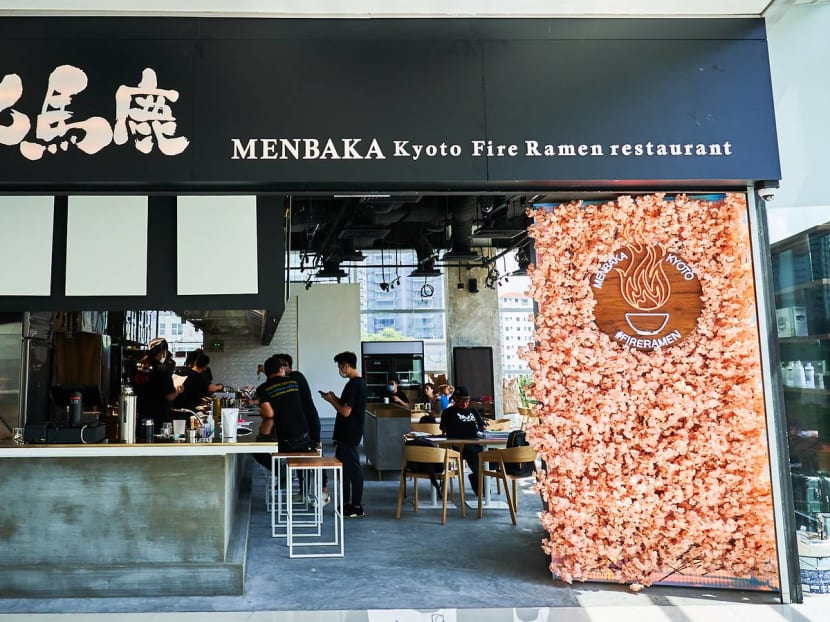 It is famous for its 'fire ramen' bowls heaped with chopped negi (Japanese green onions), which Menbaka's chefs set on fire by pouring flaming negi oil over to create a dramatic blaze. This unusual cooking technique is said to scorch the green onions, giving the ramen broth a smoky flavour.

8days.sg gets a sneak peek at the literally lit ramen joint ahead of its opening, and lived to tell you what to expect.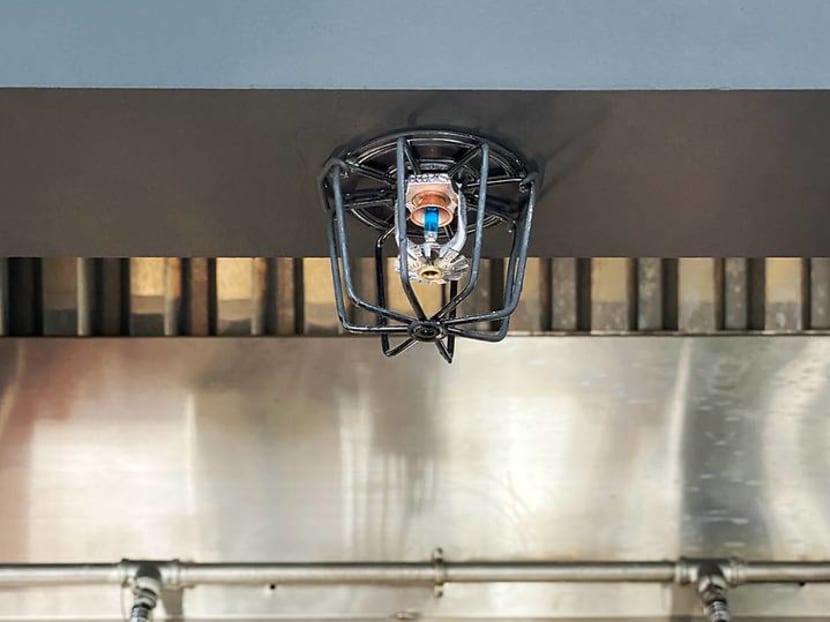 Menbaka's main fire show takes place at its 12-seat counter. It's where we sit appropriately one metre away from the chef setting the ramen on fire. Above us is a comically prominent sprinkler (there is a row of 'em lined across the counter). The kitchen exhaust hood is specially designed to draw the flames away from the direction of the customers. "We also have a wet chemical fire suppression system in place. The wet chemicals alone cost $6,000 for a canister, and we have four of them," says Menbaka's Singaporean master franchise owner, Brandon Lim, 27.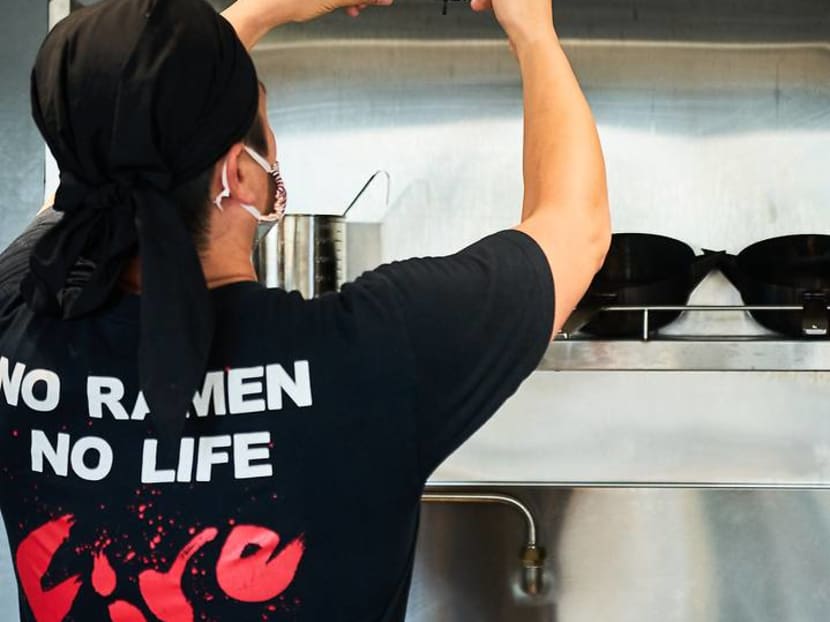 Somehow, the extreme safety precautions just make the thought of the fire show scarier for us. But wait, there's one more — customers are not allowed to use their phones to take photos while the chef is performing. This is to protect the overly-excited folks who might lean too close to the flames while snapping for the 'gram.

But you can still get proof that something hawt happened to you, as the restaurant staff will mount your phone on a strategically-placed selfie stick facing you. You can opt to have a video recording of yourself freaking out at the towering flames.

It's fine if you're not hungry for photos though; you get to keep your phone by your side, but only if you're good and promise not to use it while your surroundings are on fire. Customers are also issued aprons to wear to protect their clothes.

For the restaurant's initial opening period, the ramen-burning ceremony is only done by the restaurant's local head chef, who had specially trained in Japan to perform this. But for our preview, Menbaka Fire Ramen's founder Masamichi Miyazawa personally demonstrates his restaurant's famous trick for us.

The coolly gruff Masamichi stands very still at the counter, wearing a red face mask with a pattern that looks like an erupting volcano from afar. We jump as he suddenly whips out a sheaf of A4-sized paper printed with earnest Japlish instructions for his customers. He begins flashing it at our eye level.

"Keep your arms behind your back. Sit firmly. Bending yourself backward," goes one page. Masamichi makes intense eye contact with us as we quickly finish reading, before flipping to the next page: "Don't run away. Because your seat will be oily then. Don't scream. Don't make a fuss. Don't take off your apron until you finish eating." (Confession: we really feel like running away at that moment.)

Why not just verbally instruct the customers, we ask. "He is not fluent in English, but he has [English-speaking] tourists at his shop in Kyoto," explains Menbaka's PR rep. Somehow, Masamichi's endearing way of communicating with his customers makes the fire show even more like an entertaining avant-garde theatre performance.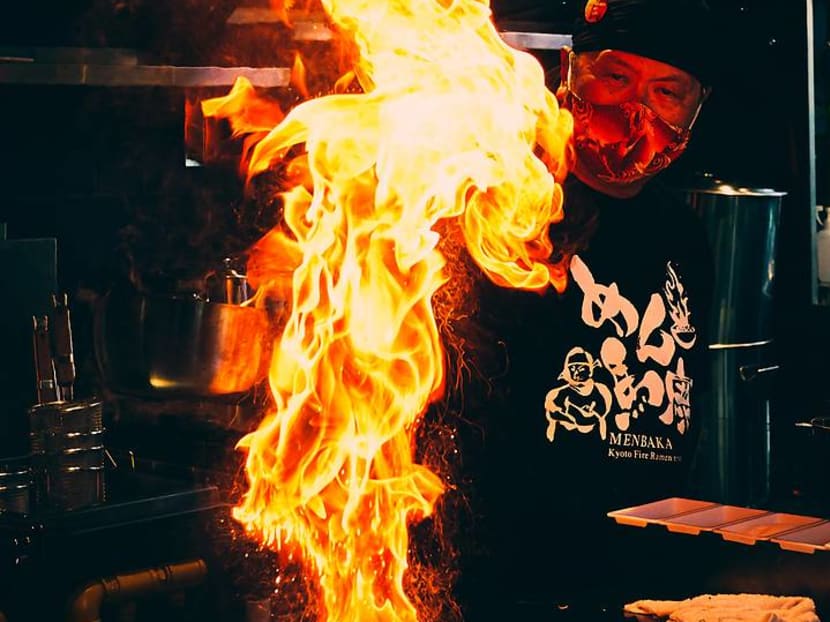 Once he's satisfied that we have understood his instructions, the ramen master starts assembling a bowl of shoyu ramen topped with chashu and a heap of green onions. He turns his back and fiddles with a saucepan filled with burning negi oil, from which suddenly shoots blue flames like a Harry Potter spell.

We are unable to explain the specific science behind this to you, 'cos Miyazawa-san guards his special cooking technique very closely (which could explain why there are very few copycat ramen-yas in Japan serving the same bowls as him).

"Please don't touch, okay!" he exclaims (in English!) as he pours the flaming oil over the bowl, which bursts into gigantic flames like the pyrotechnics at a Rammstein concert. We feel our mouth drop and the heat of the flames on our face.

Then in two seconds, the fire disappears a la a special effect operated by a stagehand. It all happens so fast that we didn't even have time to yell "pyrophobia". We feel a little deflated after that brief thrill; we expect the fire to somehow continue burning like the Door to Hell in Turkmenistan (or at least longer than two seconds lah).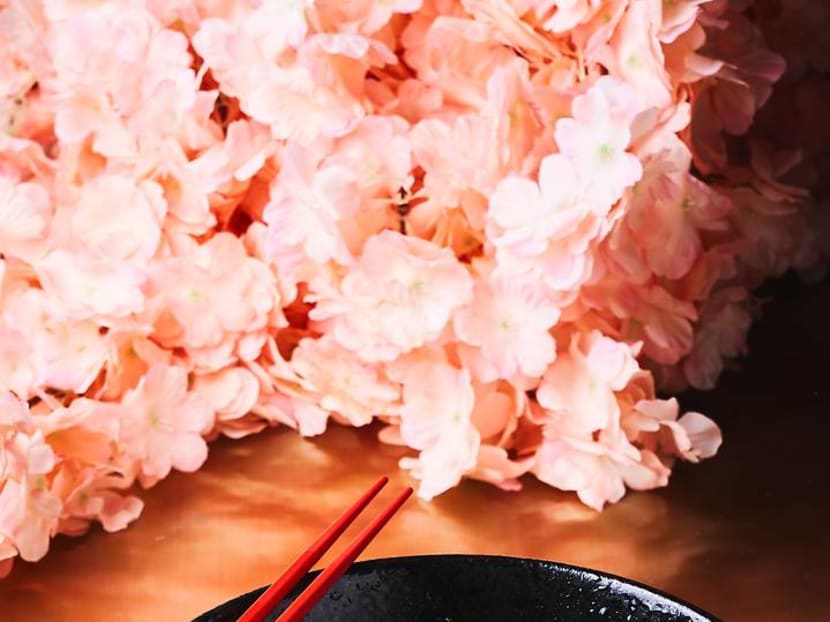 "Please don't touch! Bowl is hot!" screams Masamichi as we eagerly reach out to grab the ramen bowl. Oops. Please remember the instructions, folks. After a couple of minutes, our bowl is finally cool enough to consume.

If you hate green onions, this is your cue to stop reading. The bowl smells like it could kill a fire-forged beast. But for green onion lovers like us, it is strangely appealing; there's so much negi that we feel it crunching between our teeth as we slurp up the al-dente Hakata-style noodles and robust Kyoto shoyu broth.

After being set on fire, the negi has a subtly charred whiff that tempers the grassiness of raw green onions. Unexpectedly moreish. You can also order a side of Charred Butter Corn ($3) for extra crunch.

From Nov 27-29, the restaurant is offering an opening promotion of one-for-one fire ramen bowls.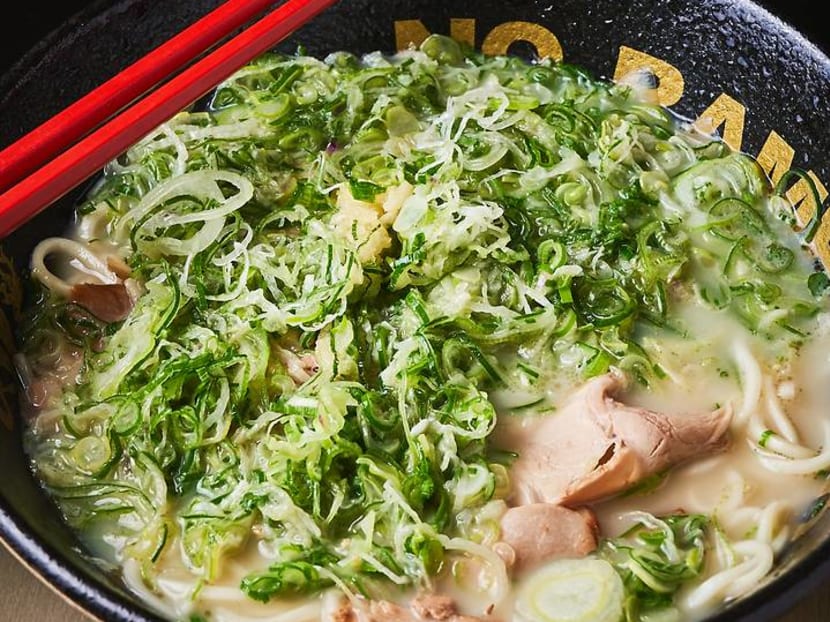 While Menbaka only serves a shoyu-based ramen in Kyoto, it's offering a heavier tonkotsu flavour for the first time to cater to Singaporeans' taste buds. Somehow the pork-based broth, which is not as creamy or thick as other ramen joints', acquires a funky taste when mixed with the scorched negi. Our colleague finds it tastier than the shoyu, but it's not our favourite. The house's thinly-sliced lean chashu also has a slightly too-tough texture that could benefit from some fat. A Vegetarian Fire Ramen ($16.90) is available without the meat, which is substituted with a ramen egg.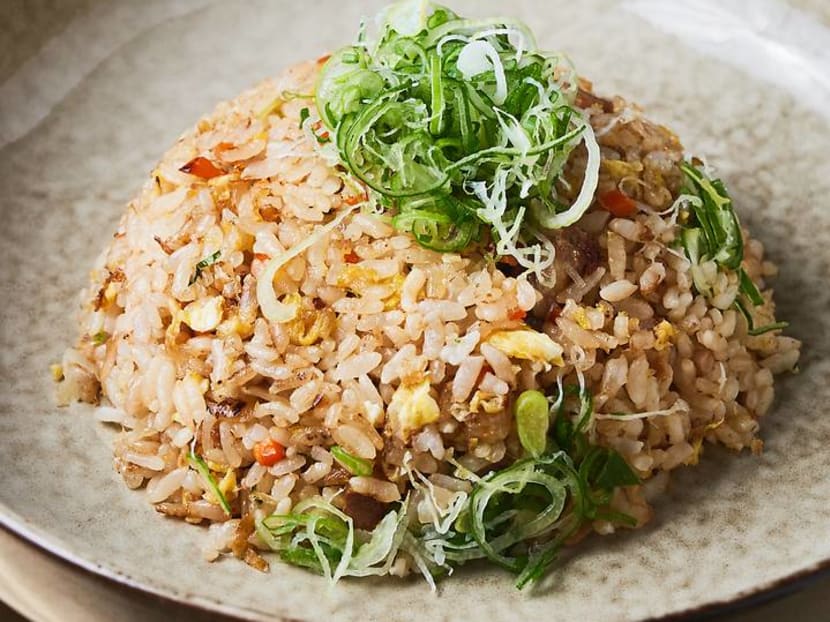 Ironically, we find the fried rice here outstanding — the egg-coated Japanese short grain rice is imbued with robust wok hei, which we savour with a pungent side of negi (not charred this time).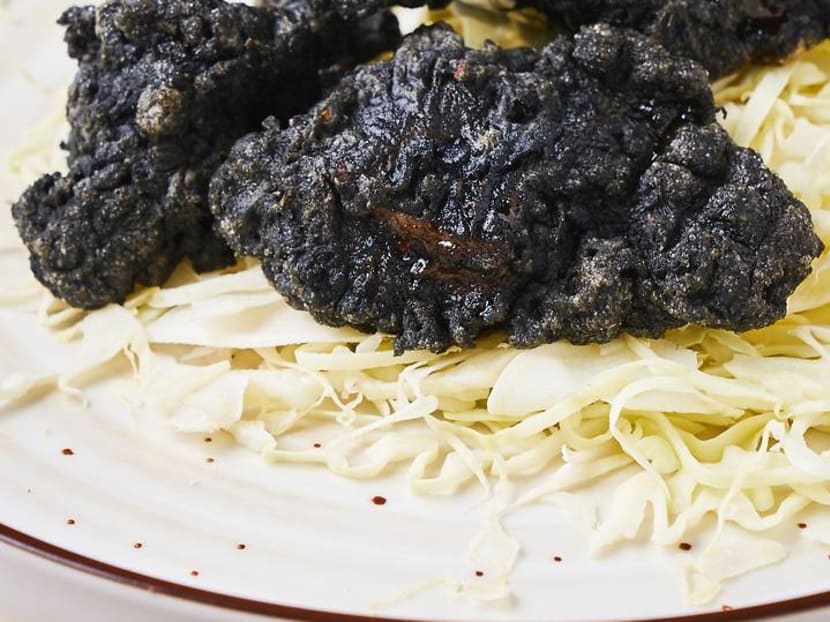 The charcoal powder-crusted chicken karaage here is appropriately apocalyptic-looking. While it's not the most visually appealing, it's still respectably crunchy and succulent.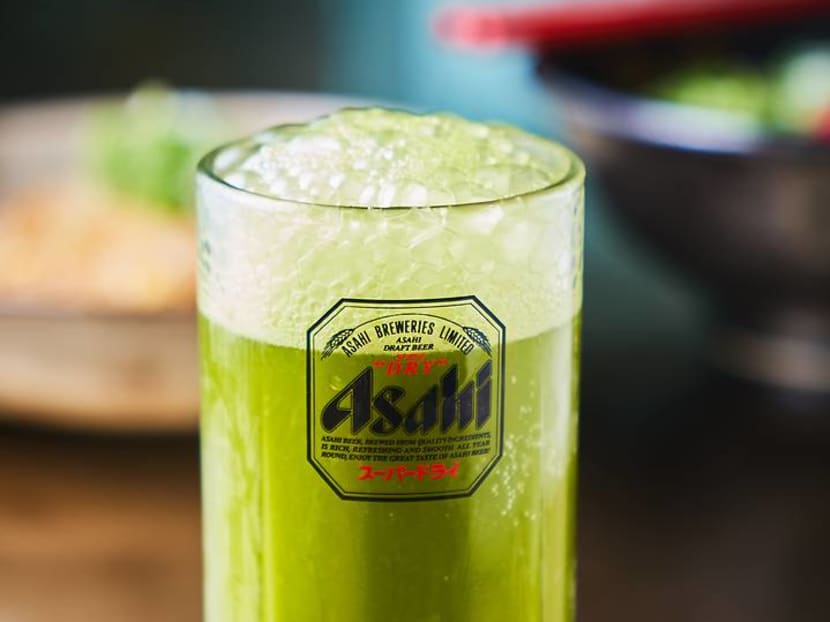 Another one of Menbaka's zany creations is Asahi draught beer infused with matcha powder from Uji. It's like drinking a... thickened beer with a slightly gritty, earthy aftertaste of matcha. An acquired taste, but pretty fun to try.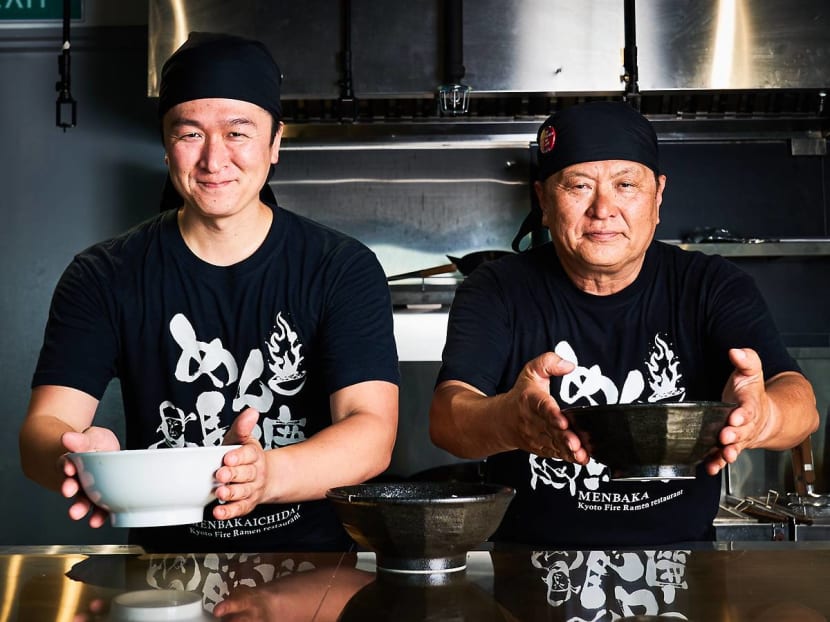 Other than the new Singapore outlet, Menbaka has just one tourist-famous eatery in its native Kyoto, run by founder Masamichi Miyazawa (right), 66, and his son Shin (left), 36, who left a cushy job in Tokyo's luxury real estate to help his dad.

Masamichi had opened his ramen-ya in 1984, though competition was fierce and his business soon waned. That was when he came up with the idea of a negi-based fire ramen. He tells 8days.sg: "I wanted to taste the aroma of green onion. Kyoto has a lot of green onions and the people there love green onions. I wanted to be the first one to flame it and give it a nice aroma."

The duo will be in Singapore till the end of this month, and lucky customers may even get to savour a bowl of fire ramen personally prepared by them.

Menbaka Fire Ramen opens Nov 24 at #05-03 Cineleisure Orchard, 8 Grange Rd, S239695. Open daily 12pm-9pm. www.facebook.com/menbakasg.

PHOTOS: ALVIN TEO