"We Just Have To Tahan 1 More Week" — Hawkers On Extended Dine-In Ban For P3HA
How have some hawkers taken to the recent extension of the no dine-in rule?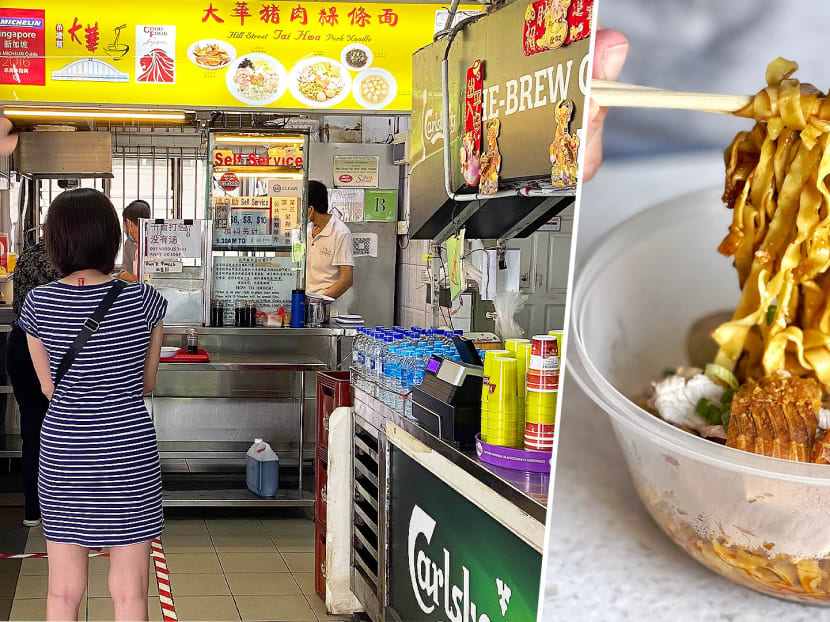 Folks in the F&B world were on tenterhooks earlier this week, as they waited to see if dining in would resume from June 14, after Phase 2 HA's ban. That suspense was put to an end with today's announcement by the Ministry of Health: eating on-site at an F&B establishment is still a no-go for another week, till June 21 — subject to the Covid-19 situation here remaining under control.

How have hawkers — some fortunate enough to see biz shoot up during this period, others (even usually crowded stalls), now eerily deserted — take to this news? 8days.sg finds out.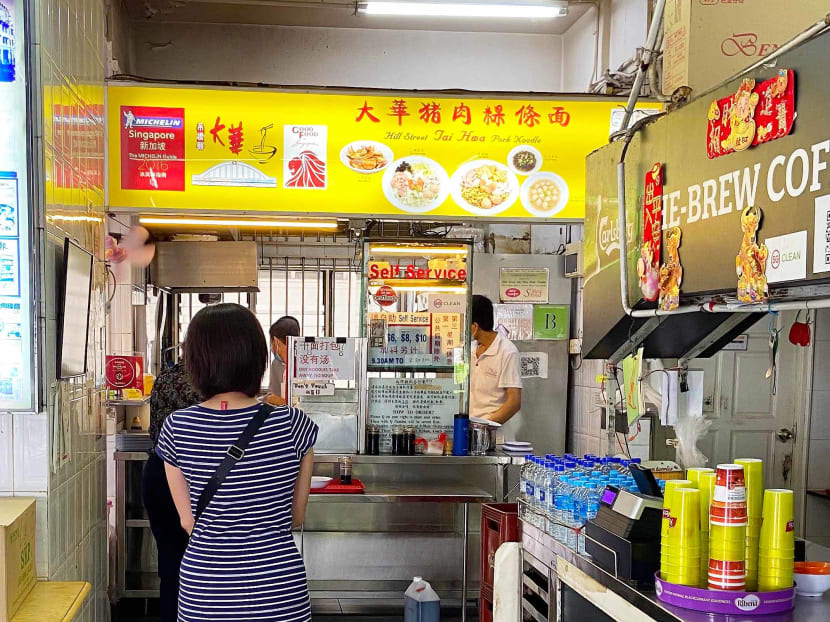 Before Phase 2 HA, the average queue time at the wildly popular one-Michelin-starred Hill Street Tai Hwa Pork Noodle was 30 minutes if you were lucky and up to 1.5 hours or more if you weren't. So it was shocking that on our recent three visits — twice last week in the afternoon, once at 5pm earlier this week — the stall only had a couple of customers. We waited for only 5 minutes the first two times and 15 minutes the third time ('cos the lone dude in front of us ordered 10 packets, pfft). 'Twas a rare sight, both thrilling (for queue-abhorring peeps like us) and sad. The long-time stall assistant of semi-retired towkay Tang Chay Seng, who does most of the cooking now, gruffly told us: "Business is affected. During meal times it's ok, but at off-peak hours it's really quiet. This is affecting everybody, not just us," before pointedly ignoring us and pulling noodles for the next customer.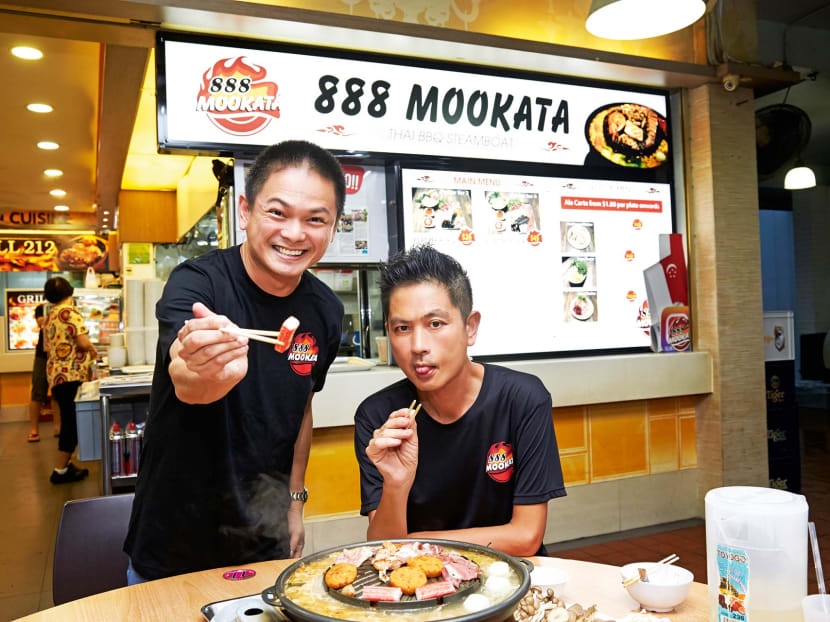 Dennis Chew and Chew Chor Meng shut down their four 888 Mookata kopitiam outlets during Phase 2HA. "I expected the government to resume dine-in on June 14 but cap it at two people per table, before increasing the limit to five on June 21. At least if they allow two diners, we can still open for business," says Dennis.
However, he added optimistically: "We just have to tahan for one more week then we can open for business again".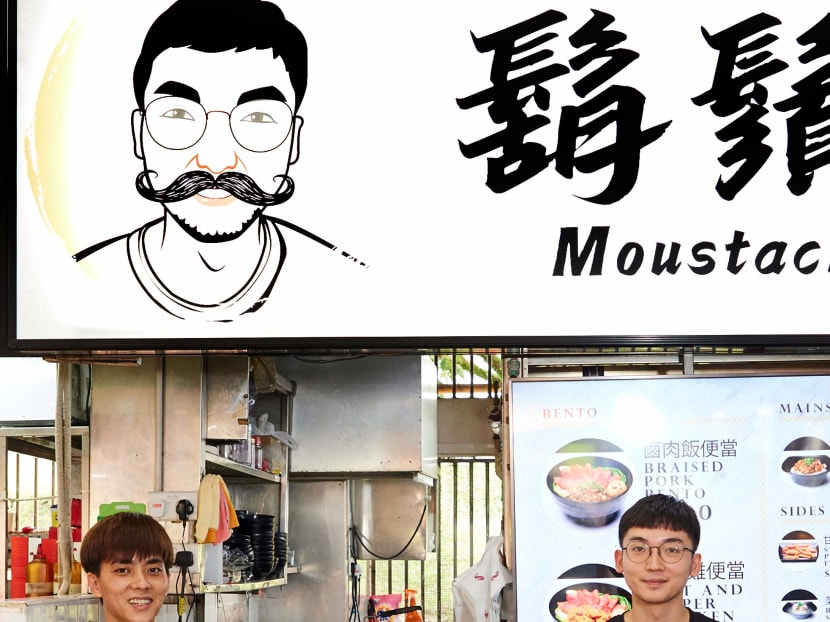 Co-owner Xander Lee, 28, of newish Taiwanese kopitiam joint Moustache Lee in Ang Mo Kio, is concerned with the continued no dine-in rule. "Biz dropped, man," says Xander Lee, 28. "We're not only waiting for dine-in [to resume] – we need schools and the working lunch crowd back again.
Petroleum-trader-turned-hawker Lawrence Tan, 47, owns Kopi More at Golden Mile Hawker Centre. He doles out local coffee and tea pulled from an espresso machine, garnering long queues (pre-pandemic) and celeb regulars like Edmund Chen and Xiang Yun, their son Chen Yixi, and Crazy Rich Asians star Henry Golding (before he moved to the US).
We previously reported that his business fell by some 70 per cent during Phase 2 HA. How's he taking the latest news? "Business will be affected further. It took many months to get back to where we were [after the circuit breaker]," he says. "People will not instantaneously flock out and go to hawker centres – [we'll need] at least three more months for business to go back to normal."
Co-owner of Cantonese zi char chain Ka Soh (which recently closed down its heritage sister eatery Swee Kee on Amoy St), Cedric Tang, shares: "I already had a feeling that dine-in won't be allowed after June 13, so it didn't really come as a surprise. There's definitely a noticeable difference for deliveries and takeouts this year. This was one of the reasons why we decided to close Swee Kee during the first week into P2HA". He adds: "People were not coming out to do takeaways — our regular customers that [usually] came to dabao at our restaurants didn't really come [this time around]. Deliveries dropped by about 80% and even the size [of existing orders] shrank considerably. [Biz] last week was quite slow, but deliveries and takeaways picked up over the weekend, it felt like people got bored of cooking at home".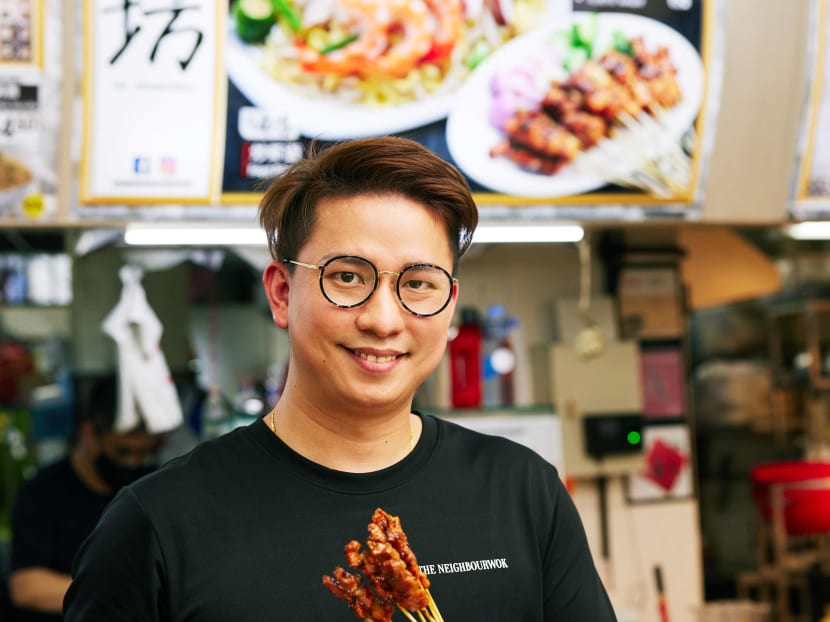 The Covid-19 pandemic inspired operations manager Kelvin Teo to make a bold move - setting up a kopitiam stall Neighbourwok selling Hokkien mee and satay as a side gig. The 34-year-old still works a full-time job, though he comes down often to ensure the food's up to snuff.
Before the Phase 2 (HA) measures kicked in, he saw an uptick in footfall after 8days.sg covered his stall. Now though, he's "trying to focus on group buys and deliveries to cover for the month['s rent]," which is where the real pain point lies. "We're not eligible for any waiver or subsidy support for rental as we do not fall under the hawker or [NEA-leased] category." Only those with stalls in hawker centres managed by NEA or NEA-owned operators will benefit from the half-month rental waivers and subsidies.
We spoke to Cassandra previously when she began reinventing her Korean kopitiam stall Hungry Korean for takeaways and deliveries. Apart from package deals, snacks and comfort food, she's also begun livestreaming to pump up sales of her dishes. "The response has been overwhelming," says the 52-year-old. "I'm very grateful for my customers' patience. [This period] was good for me in the sense that I learned a lot [about running the business] - it's a new world [to get used to]."

33-year-old Ivan Leong won a million bucks in a lottery draw back in 2013 – though that didn't stop him from working as a financial advisor, before working for two years as an apprentice at a roasted meats joint in Ang Mo Kio. He eventually opened his own rival joint Char Siu Lang near ABC Brickworks market.
We reviewed his stall mid-Phase 2 (HA), and long (socially-distanced) queues sprung up soon after. "Business is more stable now. There are a lot of pre-orders on our delivery website and people are still doing walk-ins. There are a lot of group buy enquiries, which we are slowly scheduling too," Ivan shares. "I just hope things will go back to normal [soon], as F&B businesses will still be affected by the delayed dine-in."
Priscilla Wong, 30, serves up traditional Cantonese desserts from her new hawker stall in Maxwell Food Centre four days out of the week. For the other three, she's attending lessons (now online) at the International Hotel & Tourism School (SHATEC) in order to get a Diploma in Culinary Arts.
Now, the Guangzhou-born Singapore PR hawker's facing a new challenge - "an increase in foot traffic" after we recently covered their stall's yummy water chestnut cake and other desserts. "Our productivity is limited - every type of [traditional] cake takes two hours to make. I'll focus more on [easier desserts]," she says. That said, dine-ins are still something she's hoping for, as "food tastes better when it's [eaten on the spot]."
With additional reporting from Ilsa Chan