What To Eat At Don Don Donki's New Sweet Potato Factory In Changi Airport
We tried the new sweet potato snacks here.
If you're one of the many folks who can't get enough of Japanese discount goods megastore Don Don Donki's always sold-out baked sweet potato and sweet potato milkshake, rejoice! A new outlet dedicated to treats made with the sweet spuds is now open in Changi Airport. And it's available 24/7.
Named Sweet Potato Factory, the store officially opened on May 1 in Terminal 3's departure hall — it's open to even those without a plane ticket as it's located along the row of shops just before the link bridge between T3 and Jewel Changi Airport. A spin-off concept selling "Japanese mobile food", it's aimed at travellers (and people making their way to Jewel Changi Airport via the link bridge).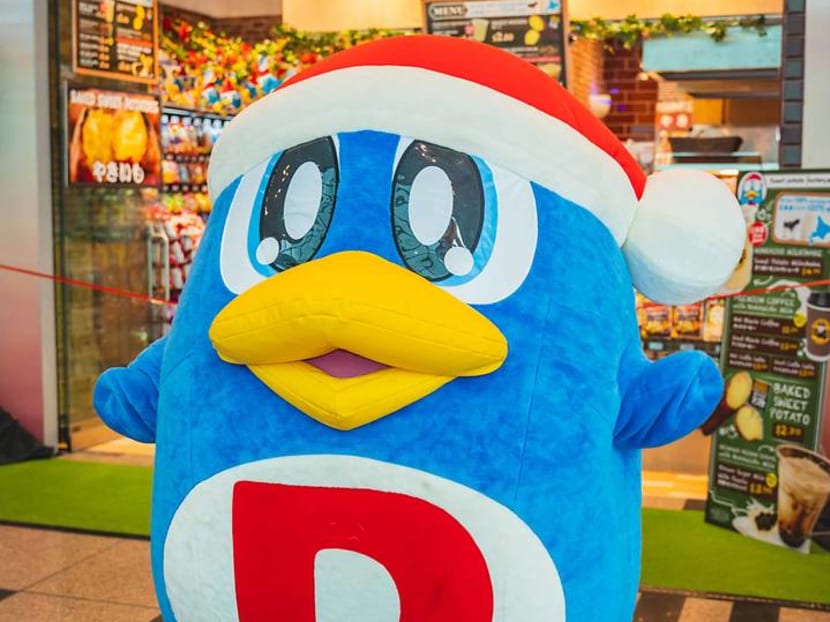 Taking up a cosy 30.8m2 space, the approximate size of a 7-Eleven shop, it's a bite-sized version of their usually huge, maze-like stores in Orchard Central, 100AM in Tanjong Pagar and City Square Mall in Little India.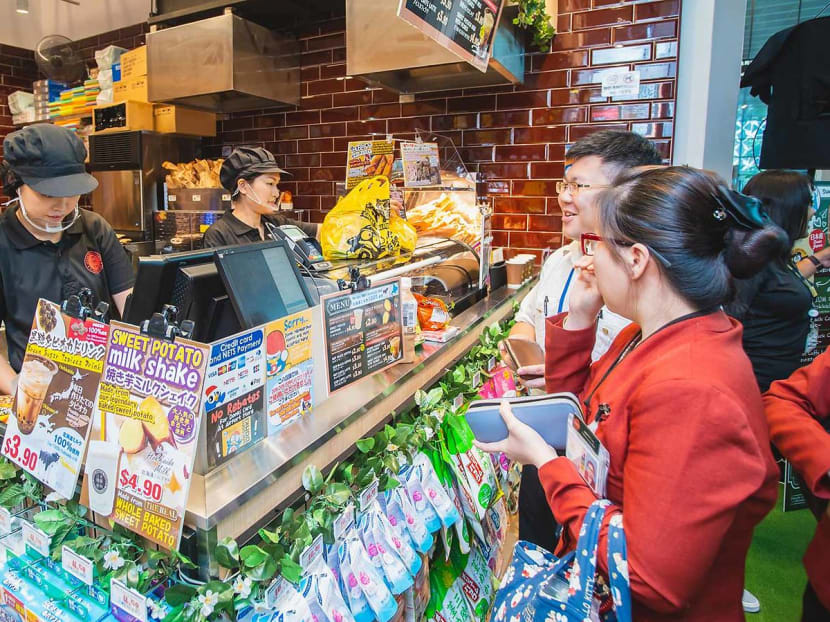 Aside from its name, the store looks nothing like a factory. A cashier and collection counter fronts the store, where pre-packed baked sweet potatoes nestle in a heated glass display case by the corner, while the two other sweet potato snacks sit in a display chiller.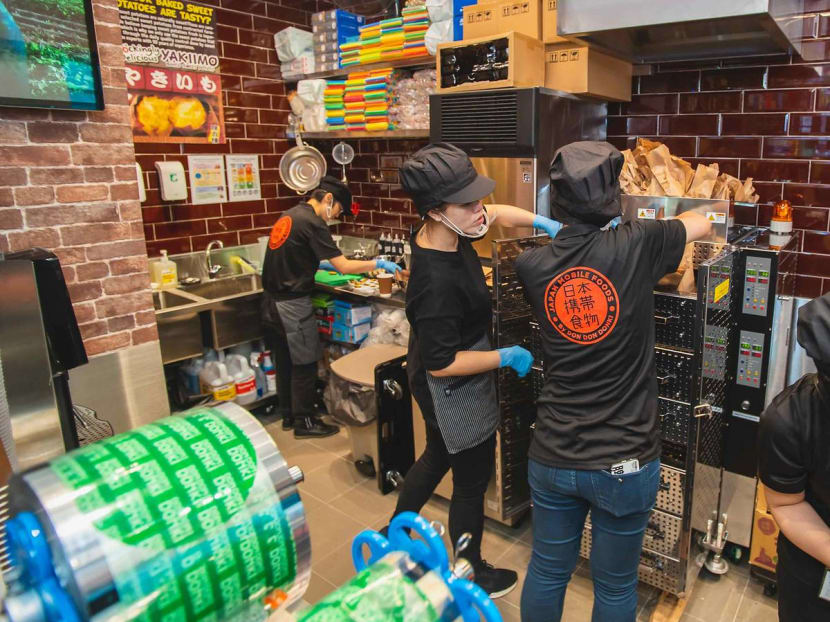 A mini kitchen, which serves more as a prep area, sits at the back of the compact shop.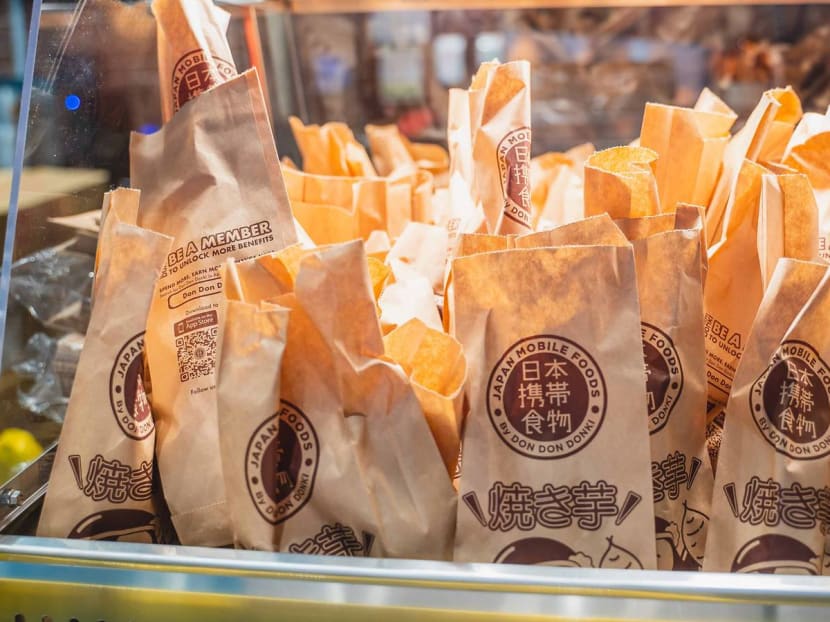 A sign that reads "Passport on one hand, sweet potato on the other" hangs right above, along with the menu so it's near impossible to not know at a glance what they're selling here. There aren't any seats here so you'll have to grab your food to go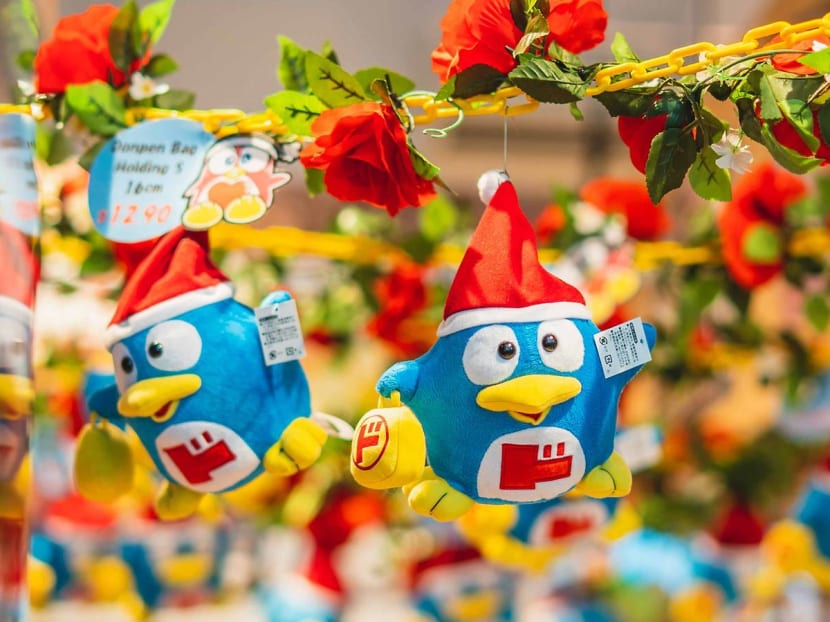 In true Don Don Donki form, no space is wasted here. A cluster of small Donpen (Don Don Donki's blue penguin mascot) plush toys hangs from the ceiling, for sale.
Shelves line the brick wall, stuffed with other non sweet potato popular Japanese snacks, like strawberry and matcha KitKat and Pocky, and last-minute travel products, from heated eye masks to USB cables. If you were wondering, the Don Don Donki jingle does play on repeat here. We're not sure if tired travellers resting on the seats outside the store will appreciate the non-stop Don Don Donki cheer, though.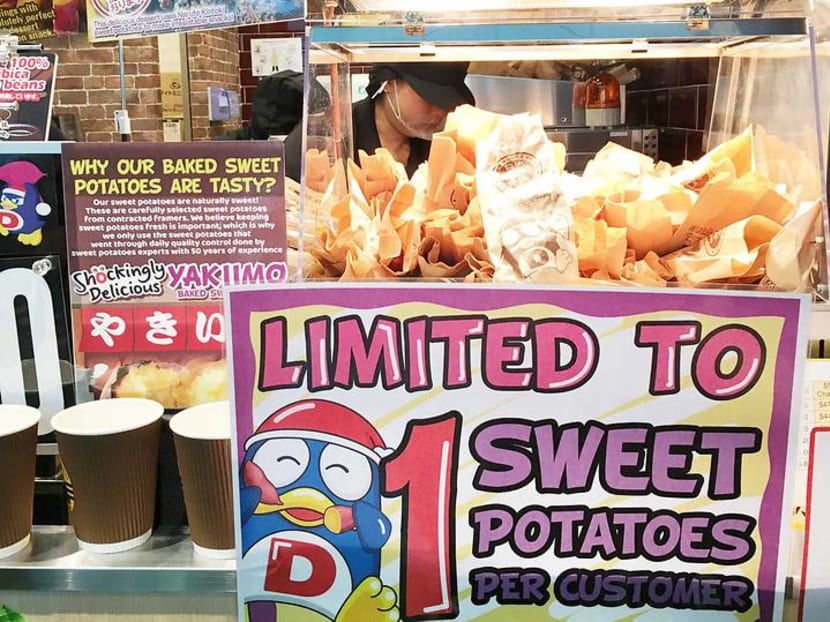 In case it isn't obvious from its name, the new store serves up the brand's signature sweet potato offerings, including its classic and immensely popular baked sweet potato, sweet potato milkshake, and some new treats. There're a total of four sweet potato items here.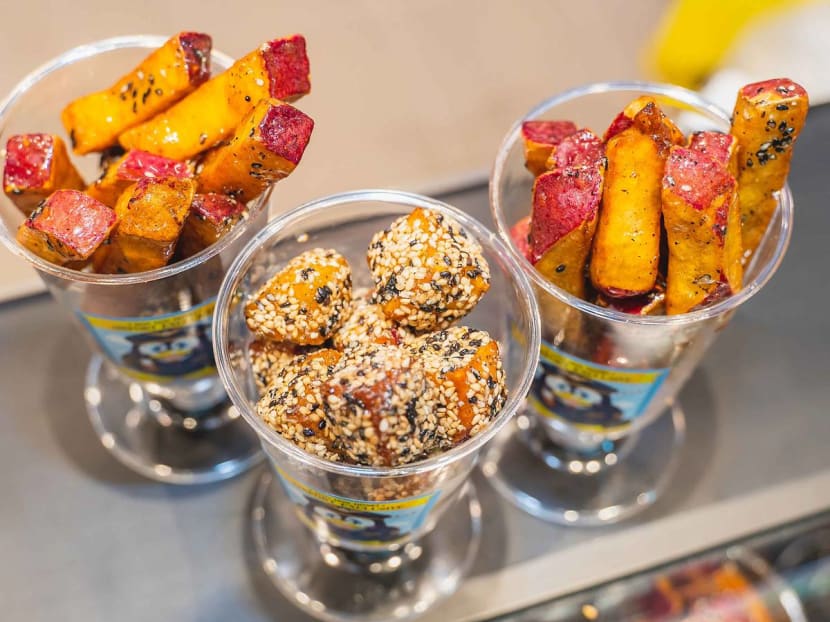 As with all the other sweet potato offerings here, the brand new Caramelised Sweet Potato (right and left in pic) is made with Beni Haruka, a Japanese purple-skinned, yellow-fleshed breed of sweet potato celebrated for its natural honey-like sweetness. Sliced up into thick-cut 'fries', baked, coated with caramelised sugar then chilled, it's crunchy on the outside and fluffy on the inside. These cold, sweet 'fries' taste nothing like the hot French fries you're thinking of — imagine a sort of crème brûléee crust covering chilled starchy sweet potato sticks. It's sorta like a more wholesome candy. You can't really taste the natural famed Beni Haruka sweetness in this because of the coat of sugar, but it's still good. This is only available at the T3 outlet for now — though there are plans to roll it out at the other stores in the coming months.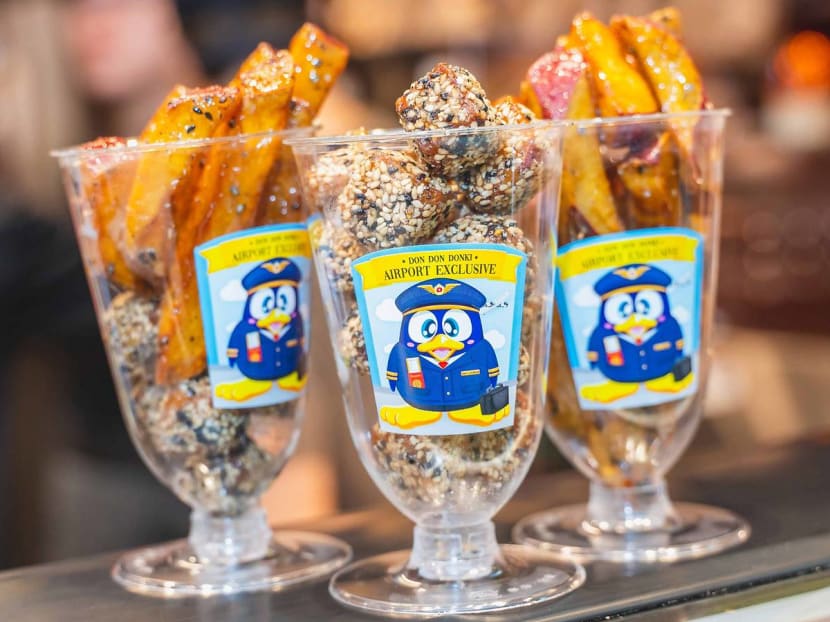 The new Goma Pote (middle in pic) is also coated with caramelised sugar and served chilled but is cubed instead of sliced, and encased in a black and white sesame seed crust. You won't really taste the Beni Haruka sweetness in this either, but the sesame seeds add a nice nutty fragrance. This is also a T3 exclusive for now, and worth picking up if you happen to be at the airport.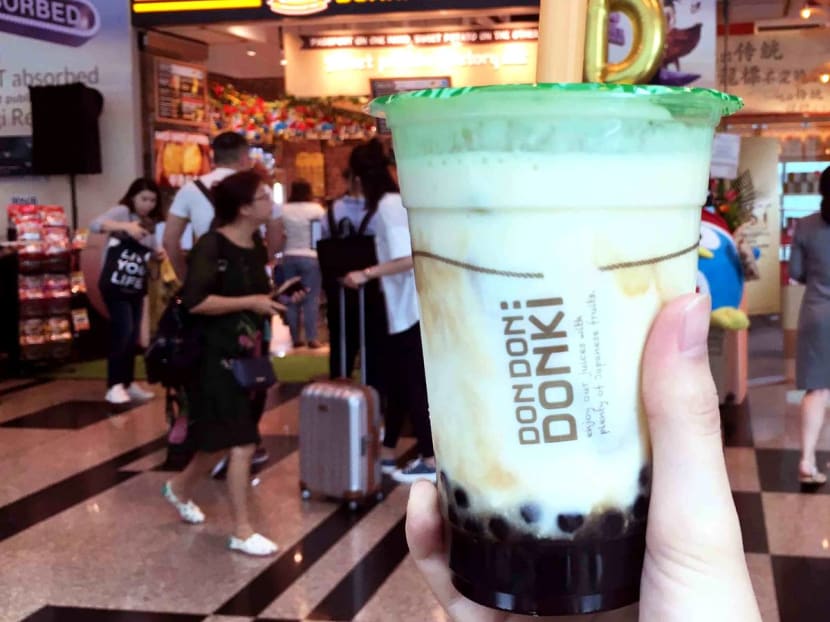 Haven't had your fill of brown sugar milk yet? Try this version at the Sweet Potato Factory. They use rich and creamy Hokkaido milk, and the staff are less heavy-handed with the brown sugar than at other bubble tea stores so it's not overwhelmingly sweet. The tapioca pearls have a good bounce too. Get this if you're a big brown sugar milk fan — it's now also available at all Don Don Donki stores islandwide.
Still the best sweet potato item here. This warm, comforting hunk is soft and buttery on the inside, with an uncloying honey-like sweetness. Given how these babies often run out by 11pm at the Orchard Central 24-hour Donki outlet, we wonder if they'd really be available 24/7 at the Sweet Potato Factory or run the risk of being out of stock once the sun sets. However, a PR rep assured us that it will be available at all hours, though customers can only buy one piece of the baked sweet potato during busy periods — a policy the other stores practise as well. Guess we'll have to wait and see.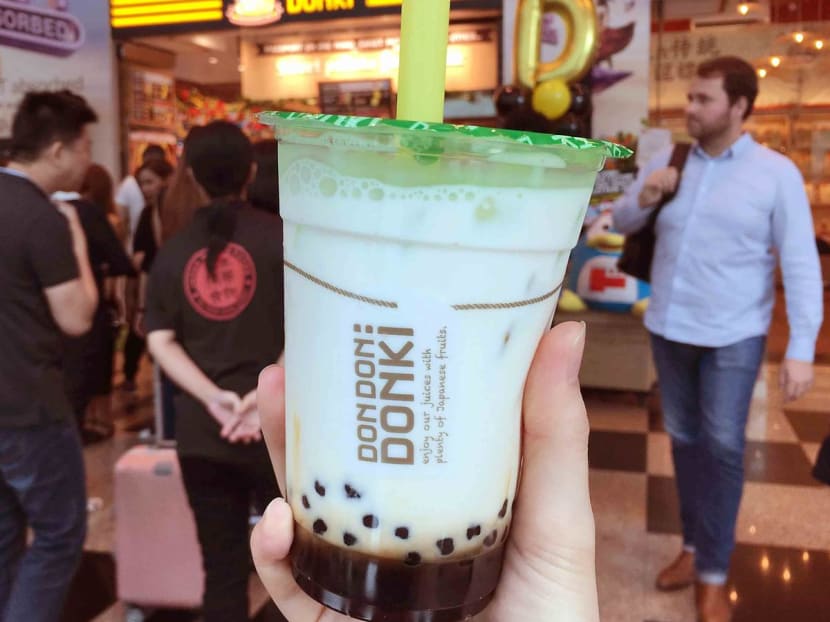 If you prefer gulping down your calories to chewing, this drinkable version of the baked sweet potato is for you. A blend of Hokkaido milk, baked sweet potato with and a touch of brown sugar, this is rich and subtly sweet. Like its baked counterpart, Don Don Donki's sweet potato milkshake is very popular and usually sells out at 11pm at other Donki outlets (since it needs baked potatoes to be made). We were assured it'd be available at all hours at the T3 outlet too. We'd pick this over the brown sugar milk drink because there's more depth of flavour from the sweet, slightly earthy spuds.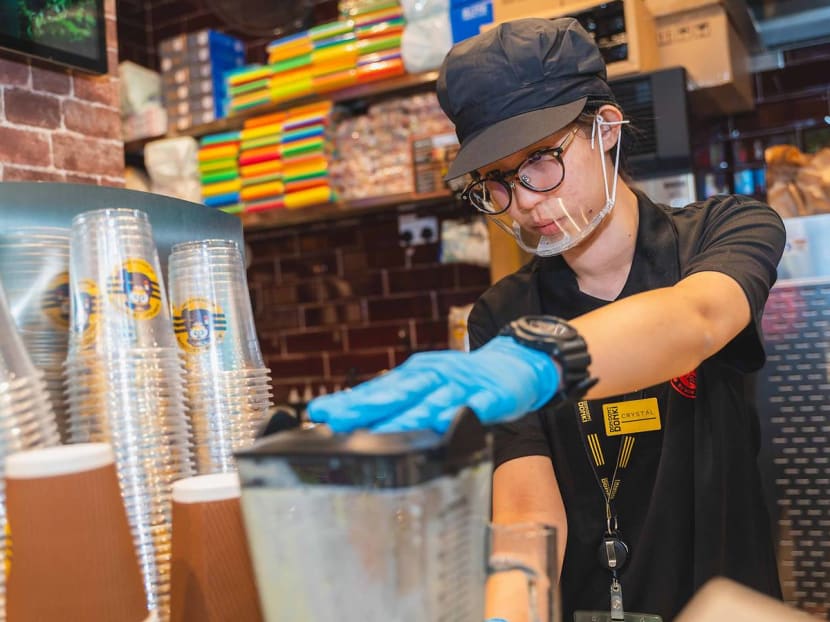 Although the sweet potato shake looks very much like the brown sugar milk drink, the former is blitzed in a blender to a nice, thick consistency.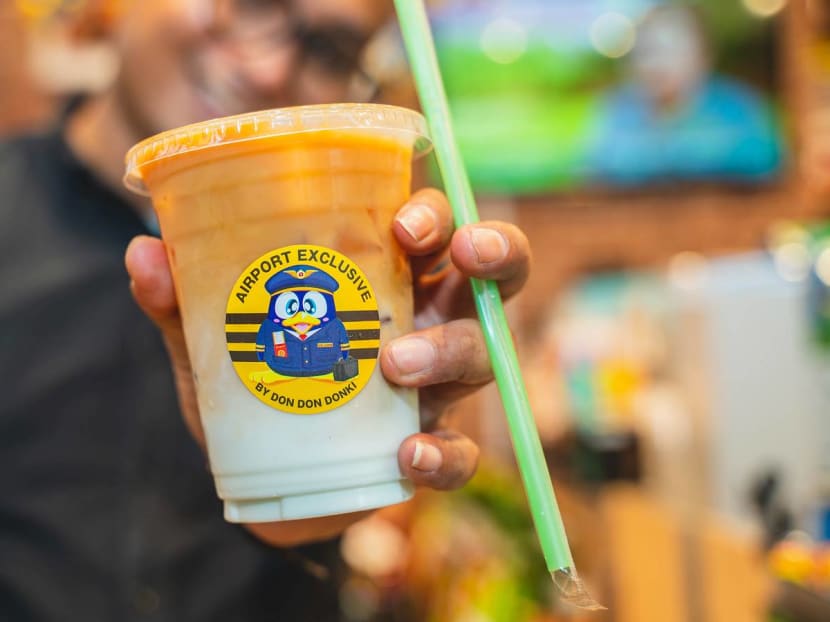 There's a small selection of black and white, iced or hot coffee here, that's also found at other Don Don Donki stores. We weren't expecting much from the java here, but our Iced Black Coffee, freshly-made with Arabica coffee beans, was a surprisingly robust and roasty brew. Pictured: Iced Caffe Latte ($3.50).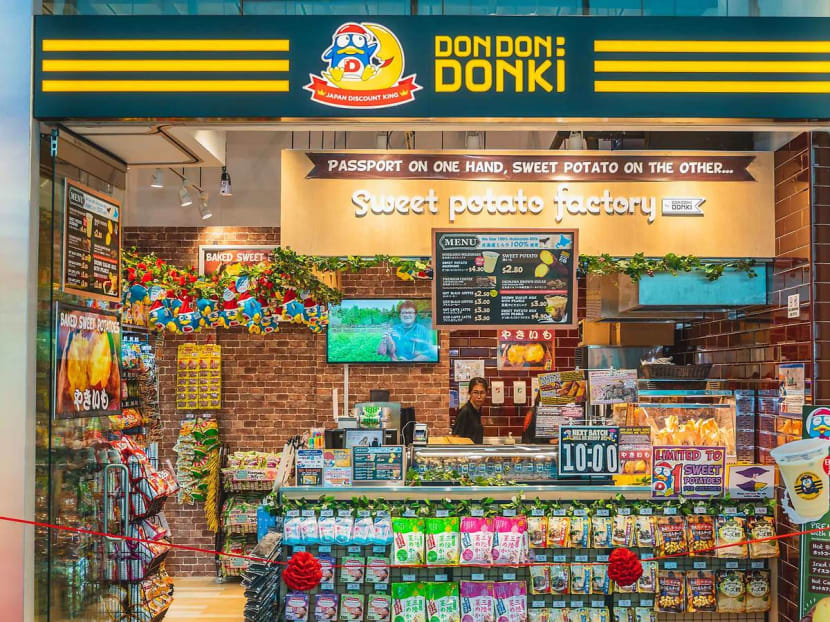 The fun-sized baby sister of the massive Don Don Donki outlets we're used to is definitely a welcome addition to the airport. However, to call it a sweet potato 'factory' is a bit of a stretch, given how there're only a handful of sweet potato items here. While they make for delicious snacks, the new offerings aren't as shiok as the classics, mainly because the added ingredients like sugar and sesame seeds kinda mask the Beni Haruka sweet potato's iconic sweetness. We're hoping more sweet potato treats like soft-serve ice cream will be introduced soon, though the brand has no plans at the moment.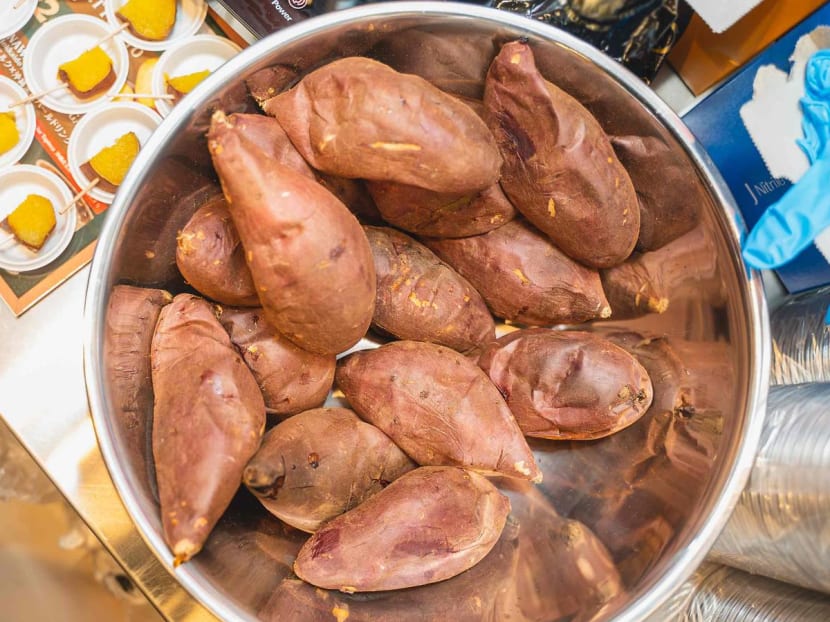 Another upside of the Sweet Potato Factory: it's a more accessible way for Easties to get their Don Don Donki sweet potato fix. Westsiders, if you're feeling left out, just know that the retail giant is planning to open a total of 10 stores in Singapore by 2020 (Changi Airport's the fourth). The spuds are a'comin.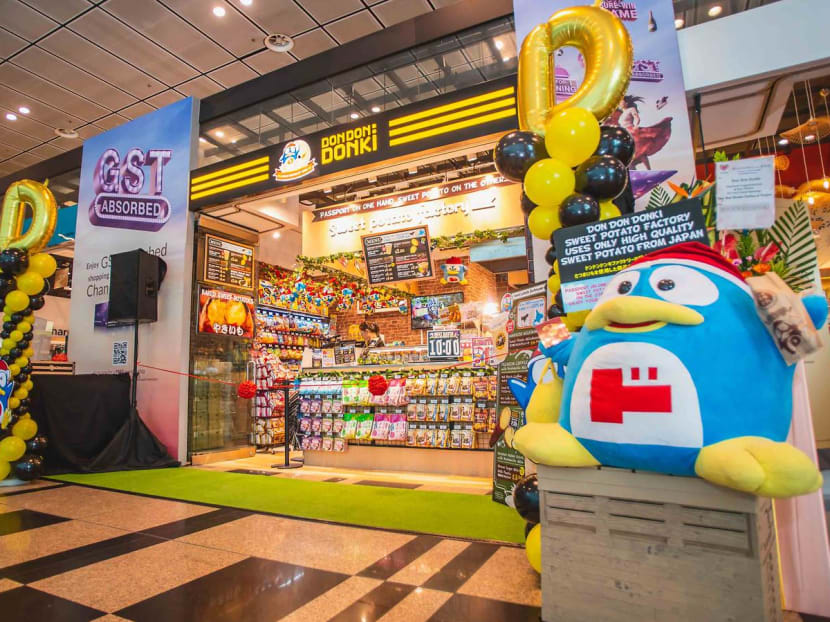 Don Don Donki Sweet Potato Factory is open 24 hours daily at #02-97 Changi Airport Terminal 3, S819663. www.facebook.com/pg/donkisg.
Photos: Don Don Donki & Gwendolyn Lee