Yummy Penang-Style Min Jiang Kueh From $1 By Cleaner-Turned-Hawker
The buff 72-year-old first sold the pancakes when he was just eight years old.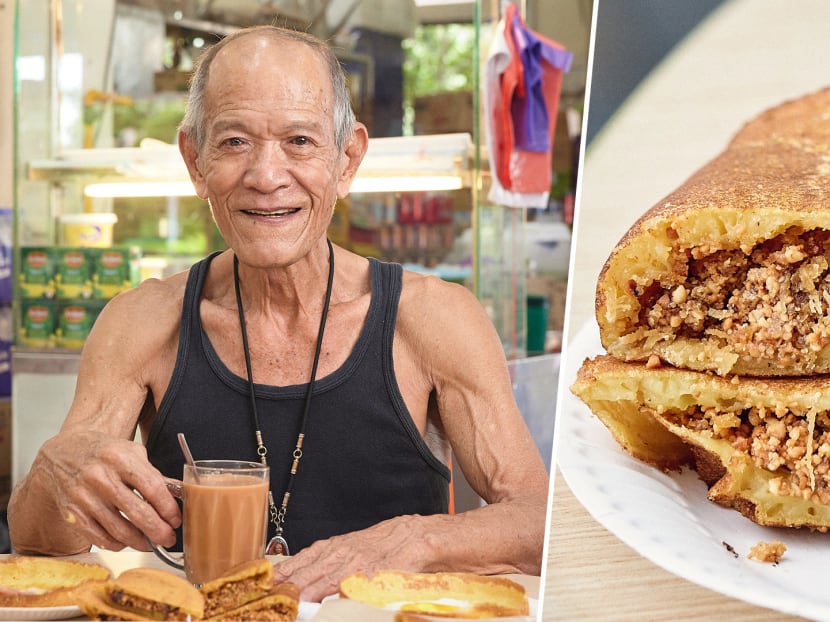 Kueh Pulau Pinang, a pancake stall in a quiet kopitiam at Buangkok Crescent, is an exercise in retro charm. Red-and-blue font spell out the shop's name and min jiang kueh-style fillings in Malay and Mandarin only. Stacked packets of Del Monte creamed corn count as makeshift decor.
A spry, impressively jacked Teo Ah Bee, 72, mans a pair of electric griddles while his 70-year-old wife, Lee Gay Lee, packs and doles out the pancakes (she delivers it to your seat if you're dining in). She helps him with order management as well – "they want two peanut [pancakes]," she says in Teochew while poking his elbow. They've been selling the pancakes for "one-year plus" while steadily building up a base of regular customers.
All photos cannot be reproduced without permission from 8days.sg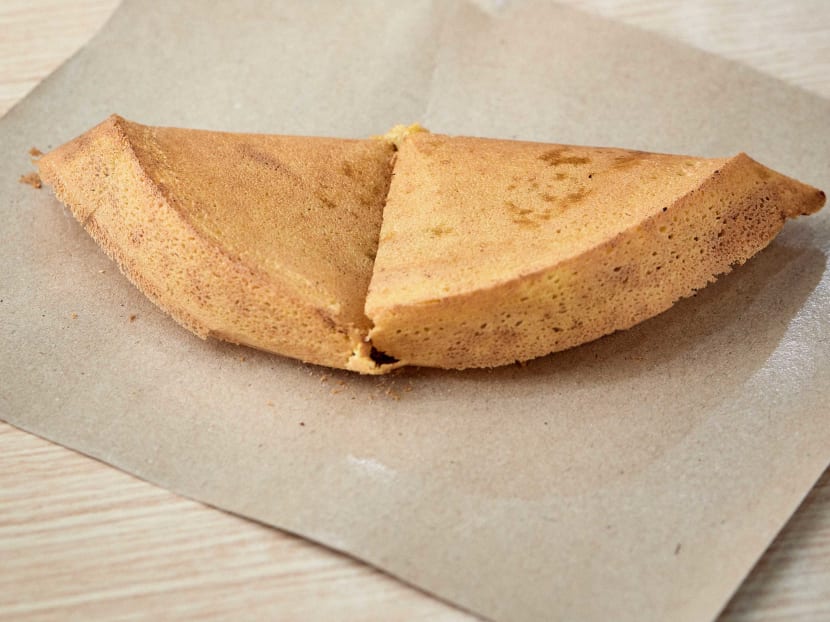 Malaysian Kueh Pulau Pinang, which translates to Penang cake in Malay (also called ban chang kueh in Hokkien and apam balik in Malay up north), isn't super different from Singaporean min jiang kueh or Indonesian martabak manis. They're essentially the same thing – a wheat flour-based, yeasted pancake fried in an iron pan, typically filled with sweet fillings and folded. The breakfast fave is believed to have originated in Fujian province, China, which could explain its popularity in Penang, where there are many Hokkien Chinese immigrants.
Recipes and stuffings differ slightly from stall to stall, and region to region. So too each pancake's thickness. Teo's take calls for flour, vanilla essence and baking soda – no eggs or yeast, like some typical min jiang kueh recipes. His pancakes are also petite individual-sized ones, as opposed to places like Granny's Pancakes or The Pancake Garden's massive min jiang kuehs that have to be sliced up.
"Back in the day, we always called it kueh pulau pinang, not apam balik or min jiang kueh. So that's what I put on my stall's sign," Ah Bee, who is Singaporean, shares.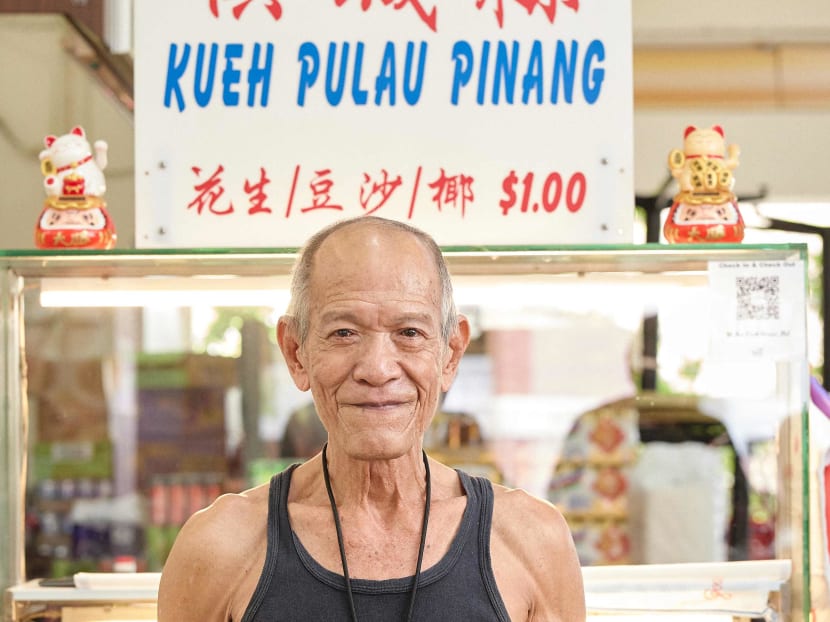 The on-and-off hawker first started selling the kueh "when [he] was only eight years old." He adds: "My father brought me along to pasar malams [to hawk it]. He'd tell me to sell peanut pancakes while he went off to play with fighting fish," Ah Bee says in a mix of Teochew and Mandarin. "If I couldn't sell it all, cannot go home!"
Once he got older, he took the recipe - which first came from his father's friend - and began selling the pancakes for 35 cents apiece from a pushcart, with kerosene-fired griddles, in Ang Mo Kio. This was in the early '80s, after street vendors were housed in hawker centres, he says, which also meant his roving operation wasn't exactly legal. "You had to find a good location – someone will tip you off that [enforcement officers] are coming, and you've got to quickly push your cart away," he says. He also sold his pancakes for a while at various kopitiams in Yishun. "But the rent always got too high [if your business did well]," he shares.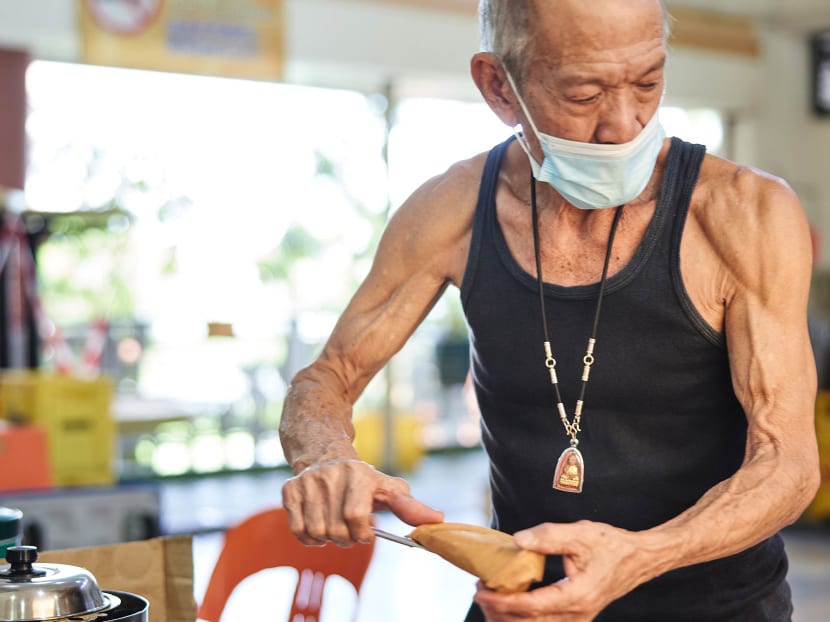 Apart from being a hawker, Ah Bee's worked a number of jobs, which includes repeated stints as a welder. He also practiced kung fu in his younger days – up to a "yellow belt", he says. He certainly looks the part – the senior hawker's black singlet reveals a pair of lean, sinewy arms, complete with solid biceps most gym bros would be envious of.
Most recently, he worked as a cleaner before becoming a hawker again – at the very kopitiam his stall's currently at. "Whatever can earn [me some] money, I'd do it," he says. "By working here, I got to know some customers and the landlord – I could see that the [shop] space was suitable."
His schedule isn't too gruelling, but "not everyone can do it", he says. He opens his stall at 6.30am, before closing by 1pm. He then returns home to prepare the next day's ingredients: frying peanuts (before grinding them) and cooking grated coconut with gula melaka. "Nowadays, people like to buy it from the factory," he says.
We ask if retirement's on the cards. "My customers won't let me retire. If I take an extra day off, they'll ask me the next day where I went. I'll work until I cannot move, then I'll stop," he says.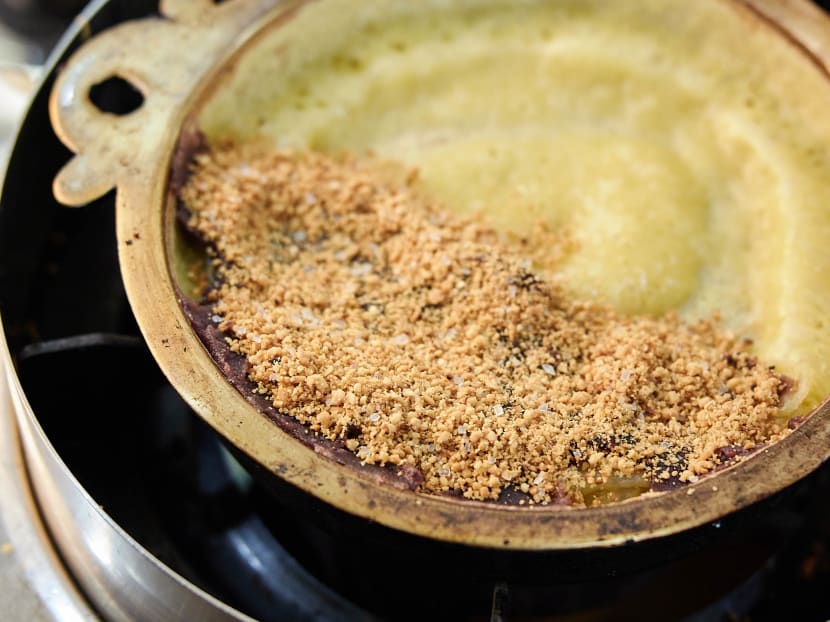 Unfortunately, the dine-in restrictions amid Phase 2 (HA) from May 17 to June 21 led to "pretty bad" business. "Finding customers then was like fishing. You're just sitting there hoping something would bite," he says.
Getting on delivery platforms, Ah Bee adds, wasn't even an option. "We sell one [pancake] for one dollar. We can only make money if they buy [many pancakes at one go]."
Now that dining-in restrictions have been eased (up to 2 pax), business has improved "by quite a lot." "A lot of people come for breakfast, drink kopi, and buy two or three to snack on," the hawker says. True enough, during 8days.sg's hour-long visit at 10am on a weekday morning, there was a constant stream of patrons ordering peanut pancakes.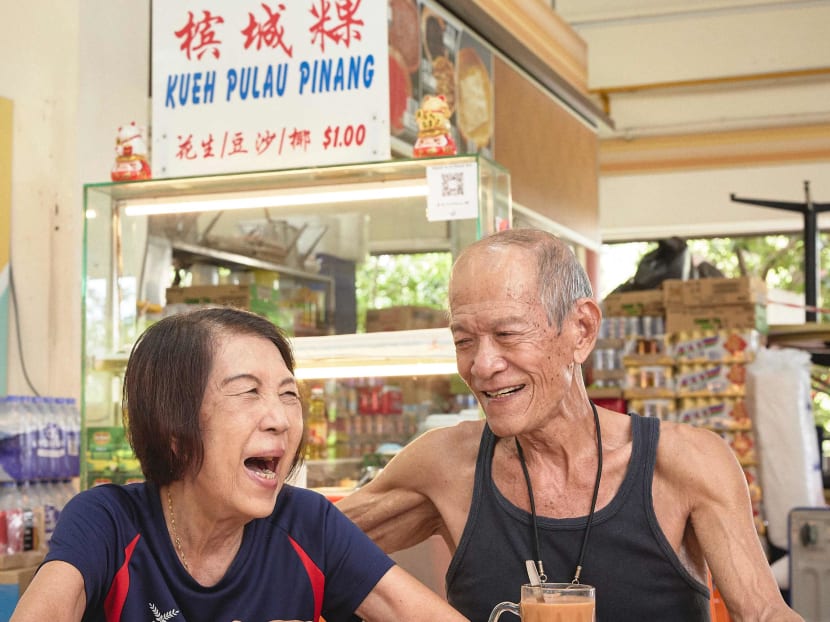 It's unlikely that the hawker will find a successor to his kueh biz – or at least, one he deems worthy. "I can teach you, but you can't replicate the taste exactly," Ah Bee says. He attributes the taste in his pancakes to certain nuances learnt over the years, like keeping flour for a month to dry out before using it for crispier pancakes.
He's given a griddle pan to his 40-year-old son, Jason Teo, who's a regular serviceman in the Singapore Armed Forces, to try out cooking the pancakes for himself. "I can't quite get the same taste – I feel like there's flavour built up in [my father's] pans," admits Teo junior. His dad offers another explanation: "Not enough experience, and not enough skill," he says. Talk about tough love.
Kueh Pulau Pinang's menu is pretty simple, with three main fillings – peanut, coconut and red bean paste – as well as off-menu offerings like cheese, ham, corn or egg. You can get the fillings in any combination you'd like – each pancake starts at a dollar each. Adding cheese or an egg will raise the price to $1.30, while the most atas cheese-and-ham option will cost you $1.50.
This sort of mix-and-match is a little unusual for most min jiang kueh joints, as you're usually restricted to a single filling. We suspect it's 'cos these are cooked as individual portions, so it's easier to personalise each mini pancake.
Upon order, Ah Bee slaps a healthy chunk of margarine with his trusty bread knife onto the griddle before pouring in his batter. The corner of said knife is used to adjust the stove's settings while the hawker talks to his customers. Being a smallish pancake, it takes under a minute to cook – he then releases it from the pan with his knife, and slathers on your filling of choice.
This pancake has found a happy middle ground between wafer-thin versions and thicker, more cakey min jiang kuehs. Its exterior, slick from margarine, is well-browned and crispy – especially those lacy edges stuck to the sides of the pan – while the inside remains softly chewy. While we found the margarine comforting, its rather strong flavour might not be for everyone.
There's a good filling-to-dough ratio - the finely ground roasted peanuts are less sweet than usual and just lightly mixed with sugar, which allows the fragrance of the roasted nuts to shine.
The modestly applied grated coconut filling isn't too sweet either. It's not the neon variety that's been cooked with orange sugar – it's fried with tastier gula melaka instead. The coconut skews dry and crunchy rather than juicy, and the lemak aroma is a little drowned out by the stronger peanut. We'd get it on its own next time.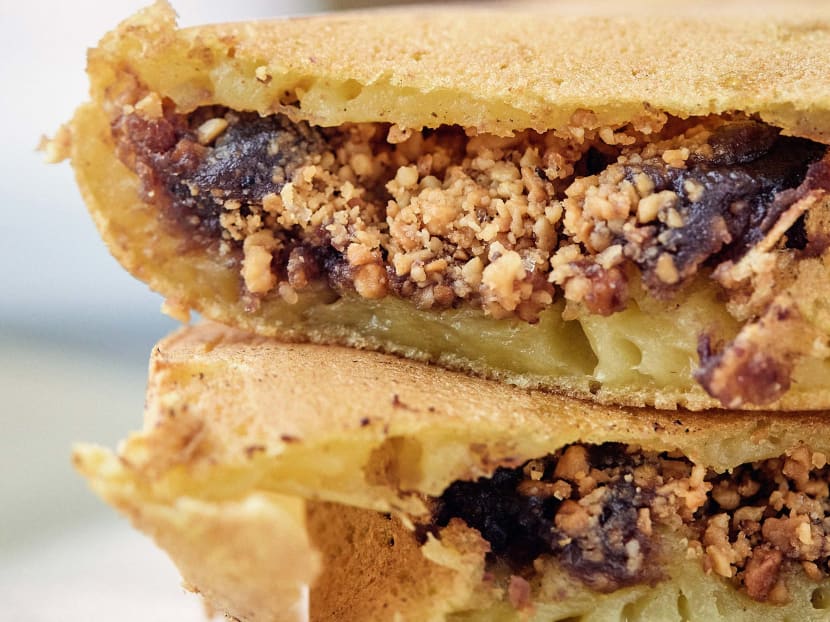 Ah Bee's been getting his red bean paste from the same supplier since his hawker days in Yishun about 25 years ago. The thick mouthfeel of the red bean is satisfying, but a tad too sweet - it overwhelms the shiok fragrance of the accompanying light sprinkle of peanuts.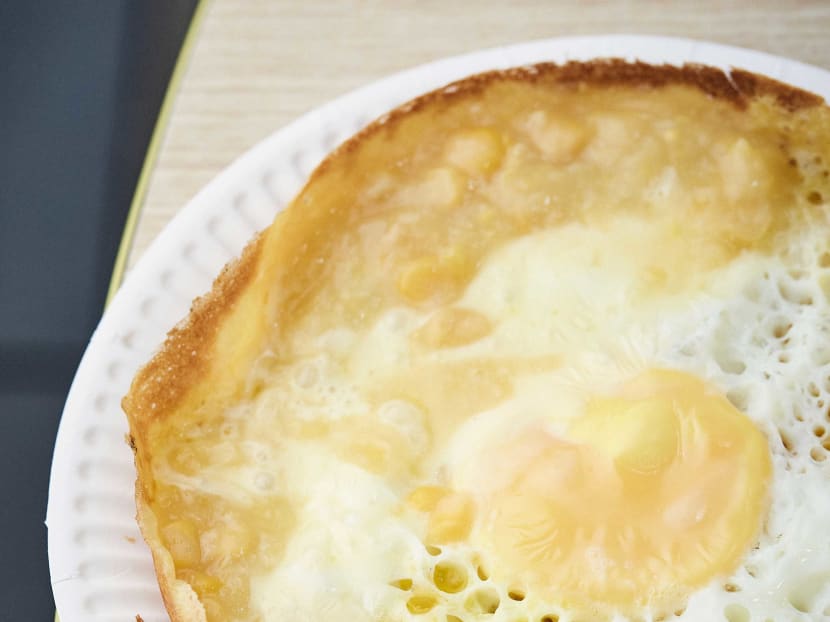 The tinned, creamed corn provides some lusciousness in this version – though that might be our bias (after eating countless apam baliks during our trips to Penang). However, the egg, cooked though-and-through, is a little rubbery.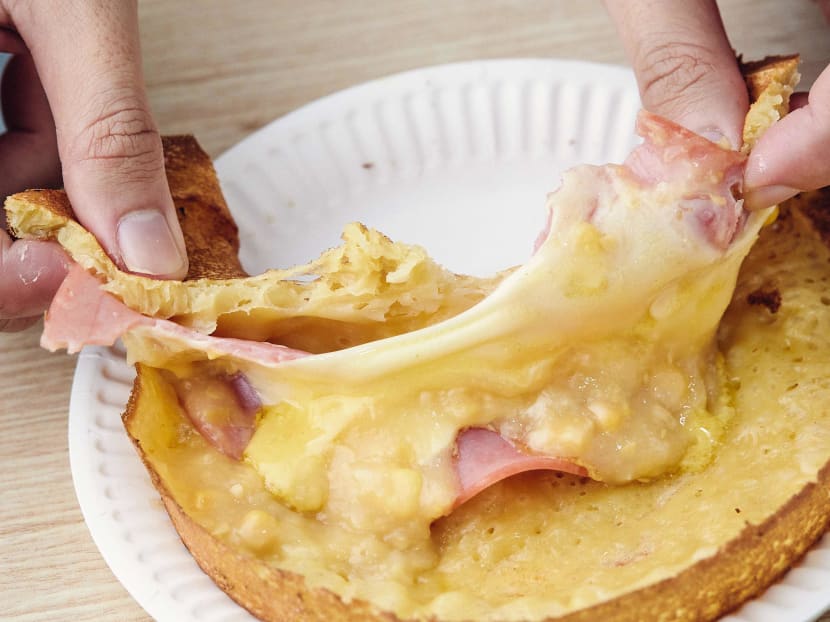 A square of processed cheese, a slice of ham and canned corn. Doesn't sound like it should work on a pancake, but it does – the tang of the cheese is mellowed by the creamed corn's sweetness, and there's a savoury hit from the ham. Think of it as an Asian-style breakfast taco for just $1.50.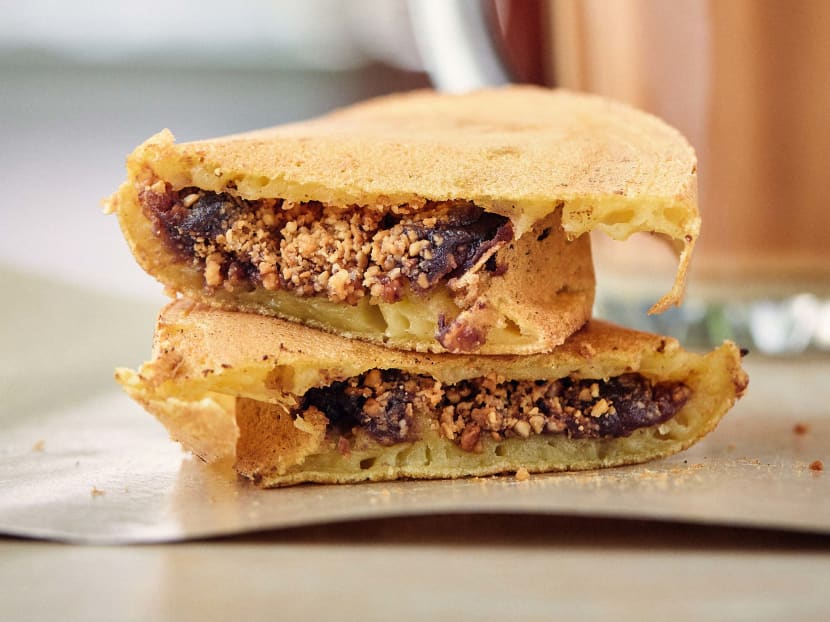 Fans of thick, pillowy min jiang kueh, look away. Kueh Pulau Pinang's mini pancakes are lighter, crunchy affairs with a comforting old-school touch. Is it Penang in style? Perhaps the use of margarine and creamed corn in some of its fillings, but otherwise it is a thinner min jiang kueh in all but name. Worth a visit for both the affordable, tasty pancakes and to chat with the cute couple running the stall.
Kueh Pulau Pinang is at Yi Jia Food House, #02-01 982 Buangkok Crescent, S530982. Tel: 86203754. Open daily except Tues, 6.30am – 1pm.
All photos cannot be reproduced without permission from 8days.sg

Photos: Alvin Teo