Pretty Cook Who Sells $48 Thai Milk Crabs Attracts Male Attention… But She's Found A Way To Deal With It
The ex-admin exec sells reasonably priced crabs at the new stall. Customers have also been asking her out on dates.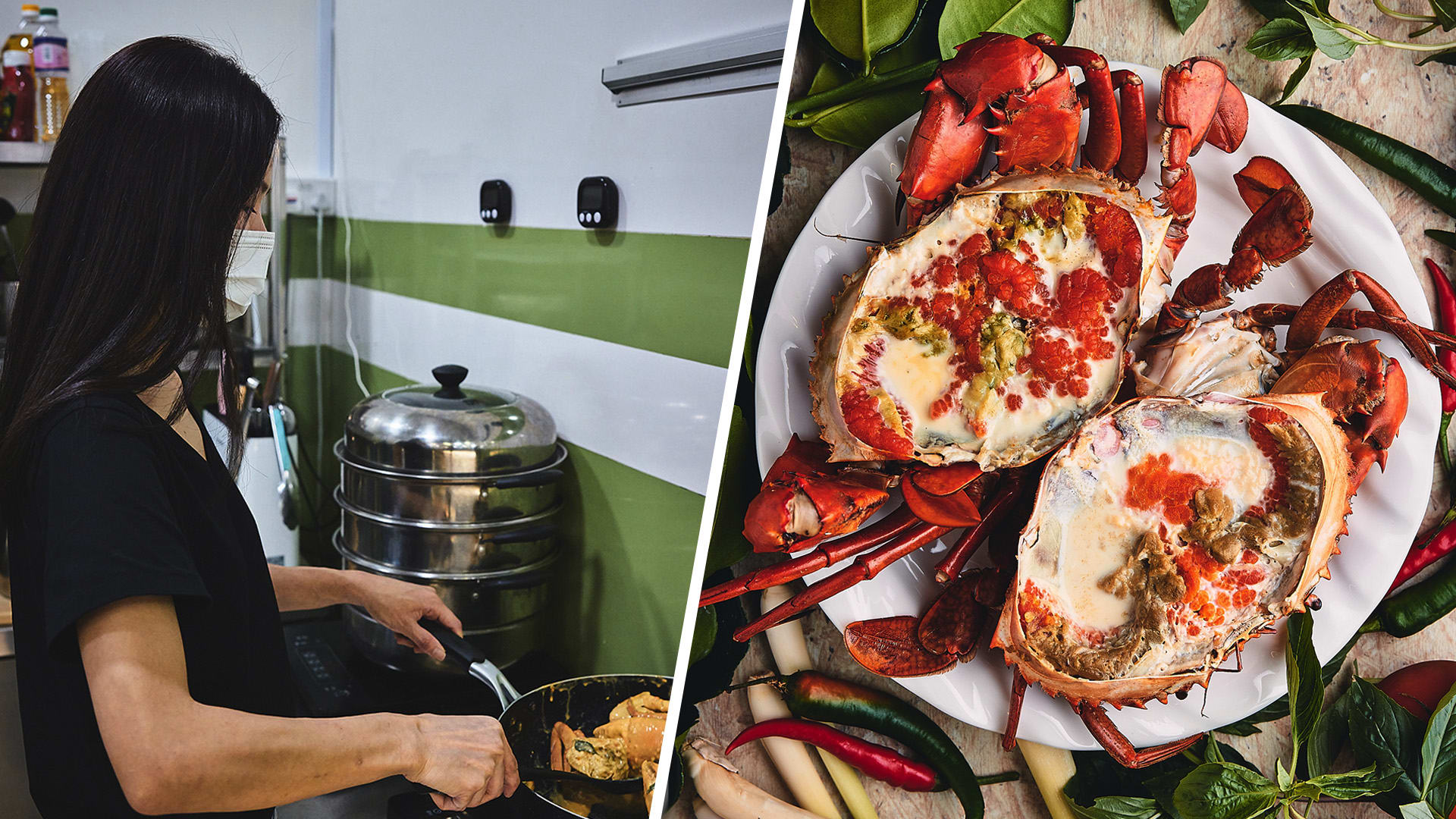 There is a new takeaway seafood stall in the Thai supermarket at Golden Mile Complex that's attracting attention for both its affordable crabs and photogenic cook. Two mid-sized salted egg mud crabs (around 400g) go for a promotional price of $38 (most zi char versions cost double the price, around $80-$100 per kg), while the signature Thai milk crabs are $48 a pair. And they're served up by Ng Su Shan, 36, who her business partner Kenny Ong says has had guys, some "old enough to be her father", coming to chat her up and even ask her out.

Simply named Thai Milk Crab, the stall, which opened in March this year, also sells boiled seafood like cockles, gong gong, as well as live oysters. To set themselves apart from their competitors, they initially just sold steamed milk crabs. According to co-owner Kenny, also 36, who is half-Thai, the "new generation street food" has been rapidly gaining popularity in Thailand in the past five to 10 years, and the duo make theirs the traditional way. Crabs are simply steamed with milk and served with nam jim, a zesty Thai chilli dip.

All photos cannot be reproduced without permission from 8days.sg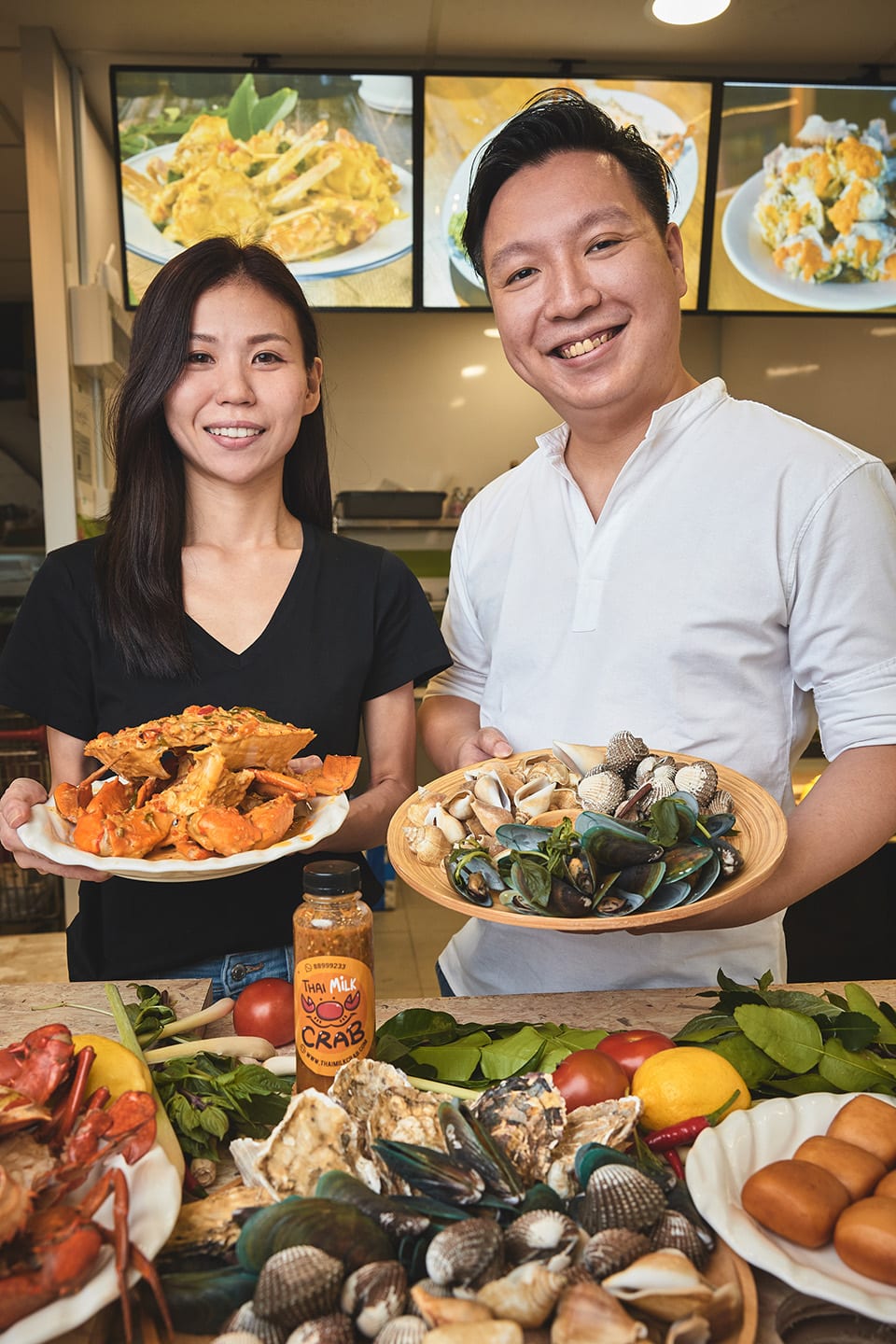 The business is run by the two childhood friends. As Kenny's mum's tour guide business was greatly affected by the pandemic, he decided to start an F&B biz "to give her something to do". He adds that she used to teach cooking and run a restaurant in her hometown in Isan in northeastern Thailand, so all the seafood recipes here are from her. Meanwhile, Su Shan, who was working as an admin executive in a Japanese firm in the semiconductor industry, quit her job to join the biz. "After COVID-19 hit, I felt my job was very unstable," she tells 8days.sg.
They toyed with different ideas like peddling noodles before settling on crabs. "We love crabs, but we find those in Singapore overpriced. Either that or there will always be some gimmick attached to it, so we decided to offer cooked, affordable crabs. We focus on takeaway and delivery to keep prices low. One of my friends is a crab supplier so we can get hold of affordable female crabs, which are preferred for their roe," says Kenny.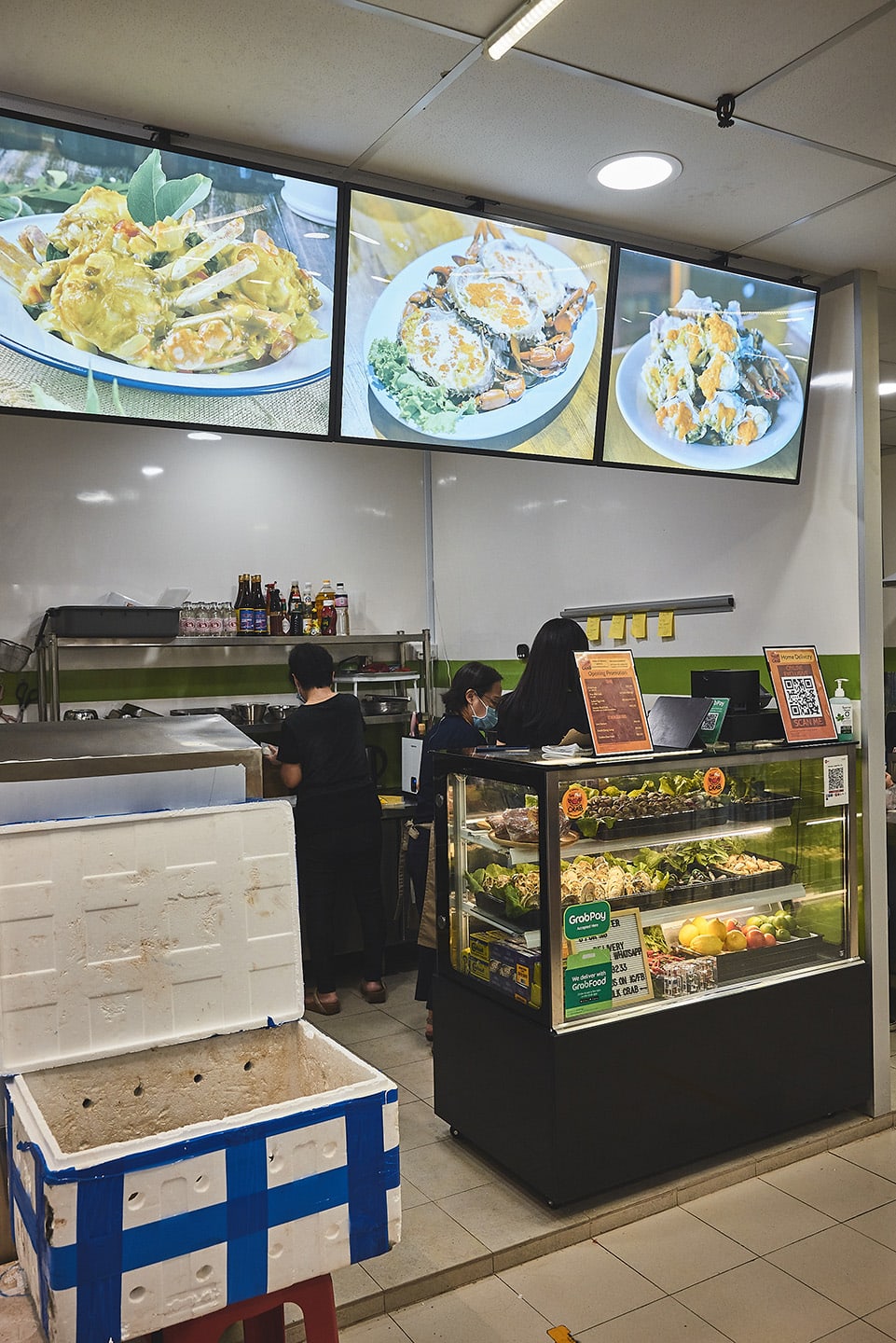 Though the stall is located near the entrance of the second-floor supermarket, it is easy to miss it due to the lack of a signboard. In its place are images of crabs hanging from the ceiling and a display chiller showing the day's fresh shellfish offerings. "We've been so busy, we never got down to making a signboard," explains Kenny.
"Our milk crab tastes the same as those in Thailand. The only thing we tweaked is our chilli dip that is served with the crab. The Thai version might be too spicy for locals," says Su Shan. They use mud crabs from India and Sri Lanka, which they get fresh daily from their supplier.
As some customers felt the taste of milk crab was not distinctive enough, they introduced local flavours like salted egg crab, Teochew cold crabs, as well as other boiled seafood, to their menu. They are currently perfecting their black pepper and chilli crabs, which they hope to launch soon.

Going into F&B was a daring move for the pair, who didn't even cook before this venture.
"Su Shan was like a princess. She didn't even used to wash the dishes," quips Kenny. "But we love Thai food and crabs, so we learned the recipes from my mum who is Thai. She's semi-retired and sometimes helps out at the stall. She doesn't want to work so hard."

Adds Su Shan: "I spent six months learning on the job. I had to learn everything from scratch, from killing and cooking crabs to shucking oysters. Initially I had a phobia for crabs 'cos I kept getting kiaped by the pincers. I also got injured 'cos I didn't know how to handle the knife properly."
Well, she's like a pro now. Not only does Su Shan helm the stall, she's also the resident cook. Kenny, who has a background in IT, mainly works behind the scenes as he juggles his other businesses.
Kenny tells us that he's never seen Su Shan so passionate about anything. She's at the stall daily and has never taken a day off since they opened. She's become somewhat of an attraction too, as mentioned. "When we first started out, she would come to work in low-cut tops and shorts. She was oblivious to the attention, but I could see guys watching her from afar and had to tell her to cover up. Recently, a guy stood at our display chiller, eating and chatting with her while she cooked," he laughs.
The currently single Su Shan shares that she has also received "inappropriate text messages" to their WhatsApp business account in the wee hours asking personal questions like "Are you single or attached?".
Surely the unsolicited attention makes her feel uncomfortable? Su Shan laughs it off, saying that she "doesn't mind 'cos more attention means more business". "It's a bit weird but it doesn't really bother me," Su Shan says shyly. "I just remain friendly and go about my business. I don't want to offend them 'cos they are our customers."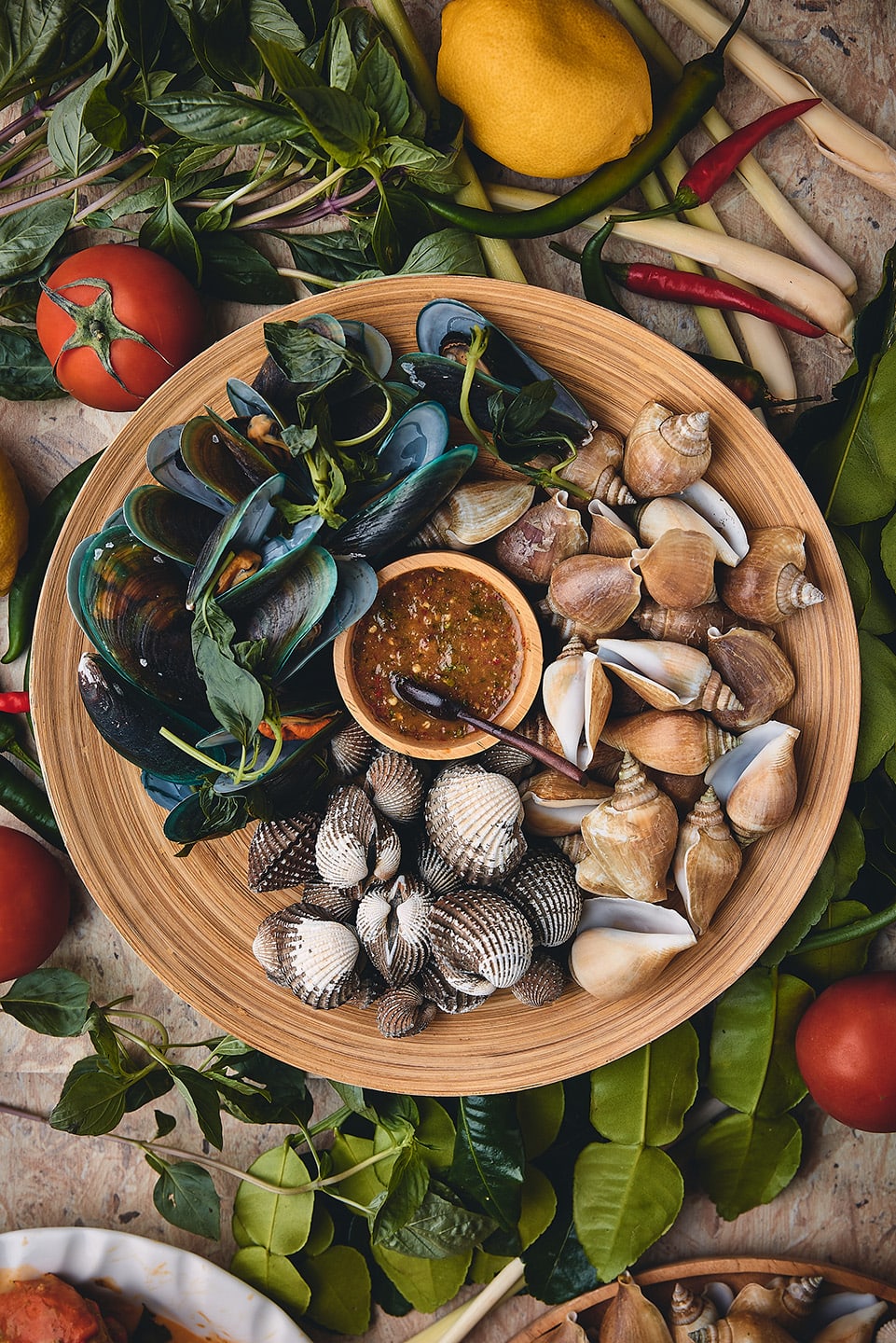 Business has been brisk for Thai Milk Crab. They sell an "average of 50 to 60 crabs a day", a response which is "a lot better than expected".
"Initially, the business was more for my mother, to keep her occupied. We didn't expect that our crabs would be sold out. We get mostly pre-orders [ online] and sometimes we have to turn away our walk-in customers," says Kenny.
That will not be an issue once they open their restaurant on the first floor of the shopping centre later this year. The eatery will offer Thai-style zi char, as well as staples like pad thai, tom yum soup, and, of course, their signature crab dishes.
"This is more like our try-out phase. We wanted to get more experience in F&B before expanding to a dine-in space. Dine-in restrictions have eased and people are adapting to living with COVID, so I think it is a good time to expand," says Kenny.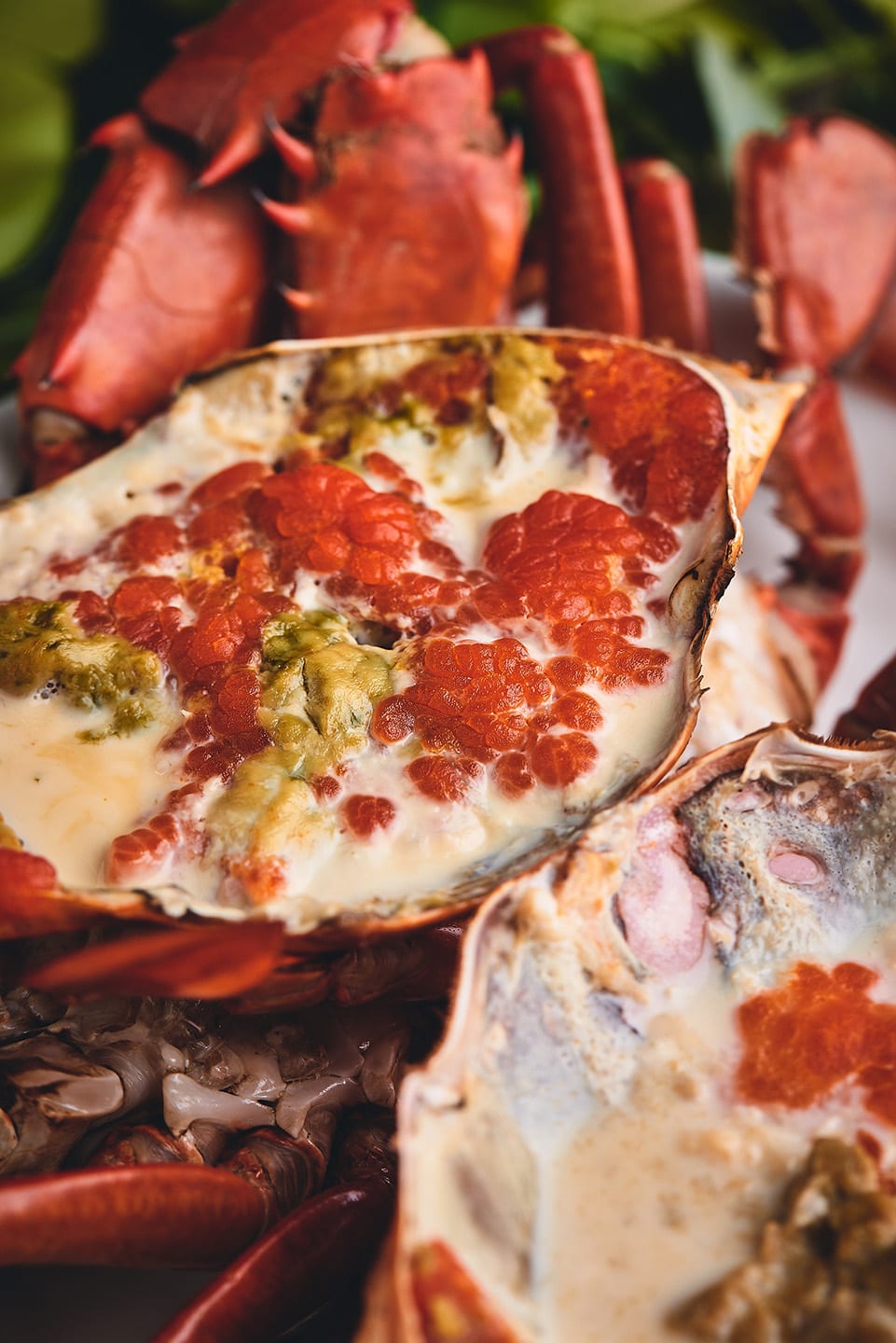 We weren't quite expecting the steamed milk crab to come with so little sauce. Perhaps it's because we left the crab sitting out for too long, some of the milk in the shell had turned a little pudding-like. A concoction consisting of "a combination of milks" is mainly poured over the roe in the shell to enhance its flavour when it is steamed. As a result, the milk "doesn't really get absorbed by the flesh" which tastes just like regular steamed crab. That being said, the flesh is sweet and meaty, and pairs perfectly with the spicy and addictive chilli dip (more on that later), which is served on the side.

The slightly salty roe, sitting in the rather thin sweet-briny milk gravy, is the highlight. According to Kenny, it is cooked slightly runny in Thailand, however, customers here prefer it more set. "I personally prefer it runnier 'cos the roe becomes blander when it is fully cooked," he says.

We were impressed by the strong salted egg aroma when we were presented with the dish. Drenched in a rich, creamy sauce, the salted egg crab here is cooked "Malaysian-style" which is wetter and less greasy. The pair learned the recipe from Malaysian zi char chefs pre-COVID when they used to cross the Causeway for crab feasts. The crabs are first steamed to make the flesh more tender before being fried with curry leaves, chilli padi, and salted egg sauce made from salted duck egg yolks, powdered yolk, and butter. We really enjoyed the punchy, custardy gravy with hints of sweetness and bits of salted egg yolk. Order yourselves some fried mantou (six for $6) to mop it all up.
A hot seller at the stall. The chunky dip, made with Kenny's mum's recipe, is not for the faint-hearted. Ingredients include green and red chillies, lemongrass, lime, and garlic. Spicy, tangy and savoury all at once, the sauce truly packs a punch. We love it so much, we found ourselves cooking seafood over the next few days just so we could eat it with the dip.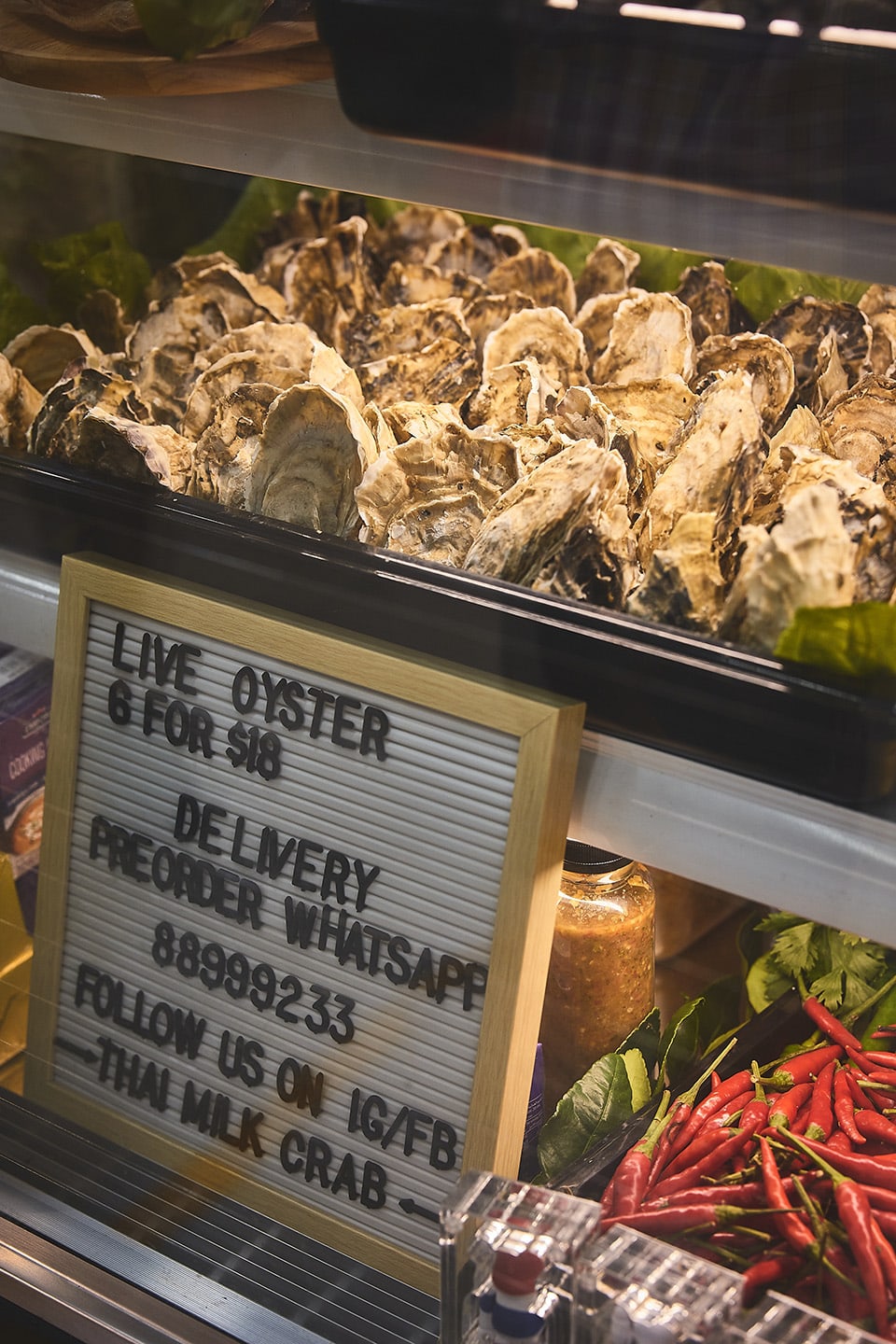 Thai Milk Crab is at the Thai Supermarket, #02-64 Golden Mile Complex, 5001 Beach Rd, S199588. Open daily 11am – 9pm. To order, visit Thaimilkcrab.com or WhatsApp 8899 9233. More info via