Michelle Wong's 4-Ingredient Rice Cooker Hanjuku Cheesecake Is Great For Noobs
You can use a basic old-school rice cooker to make this fluffy Japanese-style cheesecake.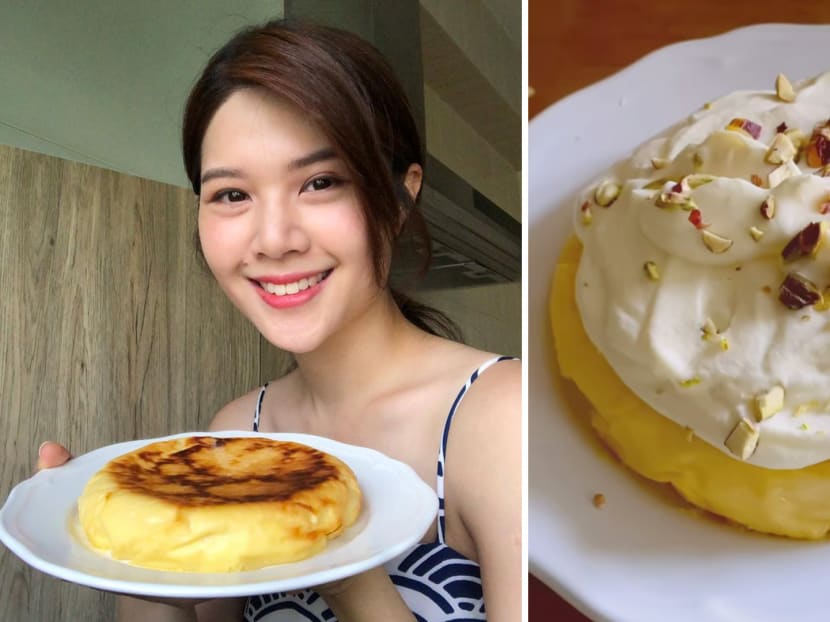 If you follow Michelle Wong on Instagram, you'd know the Code of Law actress is quite the domestic goddess. She occasionally posts videos of her baking adventures — it helps her de-stress — and even started a foodie website punnily named Michellin's Guide, where she shares her recipes. She says her desserts need to fulfil three criteria: that they're easy, tasty, and cute, and her latest recipe for rice cooker hanjuku ("half-cooked" in Japanese) cheesecake, which uses just four ingredients, fits the bill.
Compared to American-style cheesecakes, which are denser and firmer, the hanjuku version, which is kinda like a half-baked Japanese-style cheesecake, is lighter and more delicate, with a soufflé-like texture.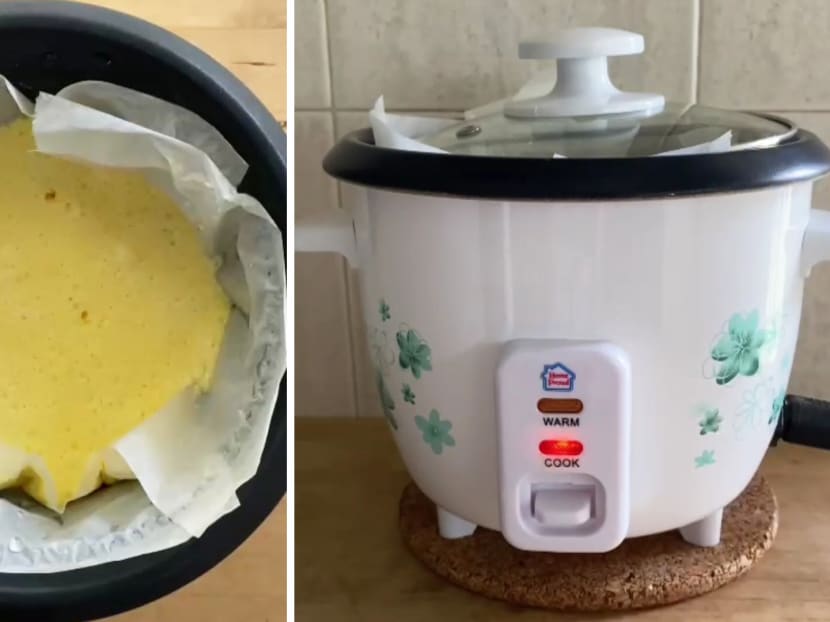 The idea to create a rice cooker hanjuku cheesecake came about by accident. Michelle had received requests for no-bake recipes during the circuit breaker last year, so when she found herself craving cheesecake last week, she decided to try whipping one up in a rice cooker.
Unlike most multi-functional rice cookers which come with a 'cake' baking function, Michelle's super basic model only has one switch and mode. "When I tried making it the first time, the switch [flipped] quite fast. I tried to hold the switch down, but it didn't work, and the bottom of the cheesecake got burnt. So the second time, when the switch popped up after five minutes I left the cake to cook via the residual heat, and the inside turned out very soft, so I was like okay I will just call it hanjuku cheesecake," she tells 8days.sg.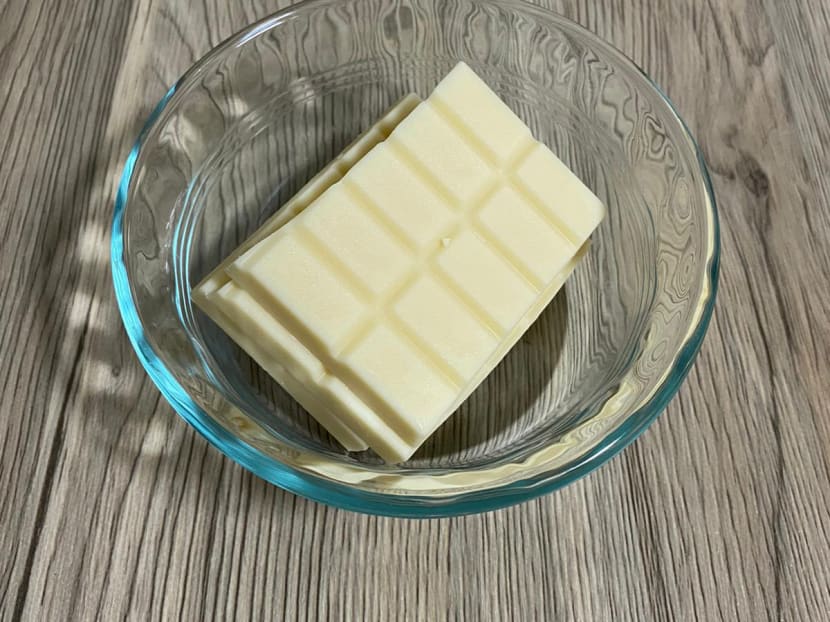 The recipe, which Michelle found online and tweaked to suit her taste and cooking method, calls for white chocolate. "The taste of the cheesecake depends on the white chocolate that you use. A good quality one like Lindt will give it a vanilla flavour. If you use white chocolate chips, it will be sweeter," shares Michelle.

The recipe is also perfect for noobs and kids as it's fuss-free and pretty failproof. It doesn't require the use of an oven, just a rice cooker, which most of us have at home. And as it uses residual heat to cook the cake, the chances of screwing up is slim.
The cooking time depends on the voltage of your rice cooker. "I left it to cook on 'Warm' mode for around one hour in my old-school rice cooker, which is between 220 to 240 volts. I'm not sure how it will turn out in other cookers, so I'd recommend you check the cake at around the 45-minute mark. Poke it with a wooden skewer and if it comes out clean, then the cake is done," she says. This also ensures a delicate texture and unburnt bottom.
If you are using a multi-functional rice cooker (with a pot size of about eight-inches in diameter), which is bigger, double the recipe, otherwise the cake will be very thin. Prefer your cheesecake firmer? Refrigerate it for at least five hours before serving. And all is not lost if your cheesecake gets a little burnt like Michelle's on her first attempt. "It's quite nice 'cos the burnt crust added a bitter sweetness. Like Basque cheesecake, but airier and not so molten," notes Michelle.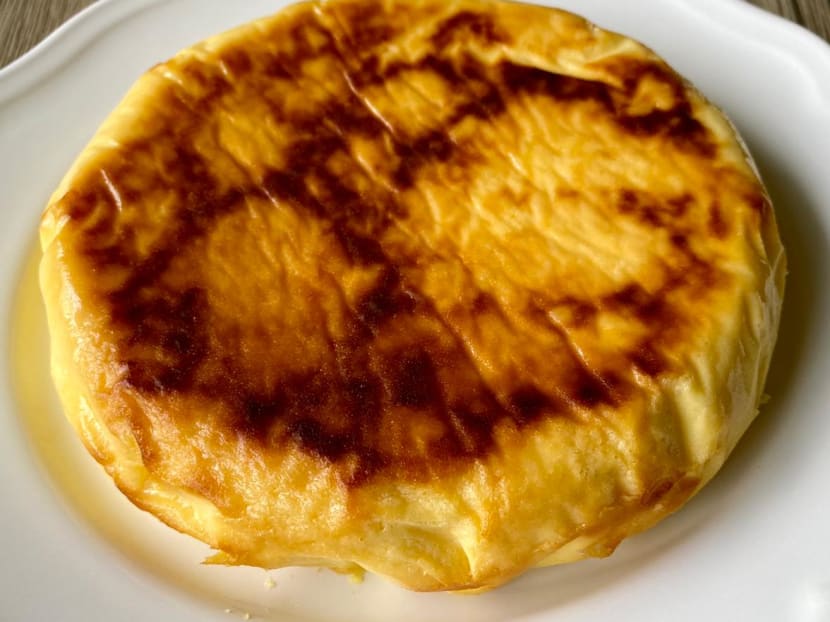 Makes a 7-inch-wide cake
Ingredients:

100g white chocolate, chopped from a bar, or in chip form
120g cream cheese, softened at room temperature
2 eggs, yolks and whites separated
1 tbsp all-purpose flour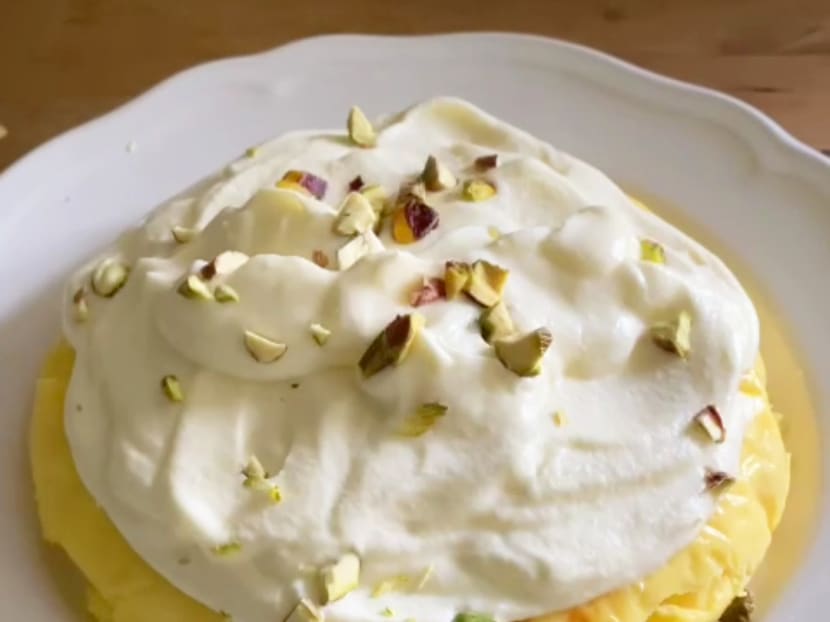 1. Prep two pieces of baking paper to double-line the base of your rice cooker pot, ensuring paper goes up the sides of pot for easy removal later.
2. Fill a saucepan with water till the midpoint level and place over medium heat. Place white chocolate in a heat-proof bowl that fits snugly on top of the saucepan. Make sure the bottom of the bowl doesn't come into contact with the water. Stir the chocolate occasionally until it melts completely, about 5 mins. Remove from heat and continue to stir until smooth.
2. In a large bowl, whisk cream cheese until it is soft and smooth. Add egg yolks and whisk until smooth.
3. Slowly drizzle in melted white chocolate and whisk till incorporated.
4. In a separate bowl (preferably using an electric mixer) whip egg whites until stiff peaks form (the meringue does not fall off the bowl when inverted).
5. Using a rubber spatula, gently fold egg whites into the egg yolk mixture in three batches. It's okay if it's a little lumpy — do not overmix.
6. Add one tablespoon of all-purpose flour and fold till it just disappears.
7. Smear a bit of batter onto the base of rice cooker pot. Double line pot with the prepared baking paper and pour in batter. Bang pot against counter to remove trapped air bubbles.
8. Cook cake until the timer goes off (around 5 mins). Leave it in the rice cooker on "Warm" mode for around 45 mins to an hour. The heat will gently bake the batter through. The cake is done when a wooden skewer inserted into the centre emerges clean.
9. Allow cake to cool in the rice cooker for one to two hours with the lid on before refrigerating for at least three hours or overnight to firm up.
10. Once completely chilled, remove cake from pot by grasping sides of baking paper. Invert cake onto a plate and remove the baking paper.
11. Garnish as you please before serving (with fruits, powdered sugar or perhaps whipped cream). Leftovers can be kept for two to three days in the fridge, covered.
Photos: Michelle Wong