Youngest Bro Of Lee Wee & Brothers Looks More Like Rock Star Than Otah Seller
The otah chain boasts a new hipster concept called O'tah at Jewel Changi Airport.
Homegrown otah chain Lee Wee & Brothers has been around for 19 years, so you'd be forgiven for thinking that its towkays are paunchy uncles with towels around their necks, sweating from being around otah grills all day. On the contrary, the trio of brothers that make up Lee Wee & Brothers are pretty youthful, and one of them even looks like he could be the frontman of an indie rock band.

The Peranakan family-run business is helmed by oldest brother Lee Wee (whom the biz is named after), 53, second brother Ben Lee, 51, and youngest brother Mark Lee (aka the one who looks like a cute musician), 49. "We named our business after Lee Wee as he's our eldest brother," says Mark to 8days.sg.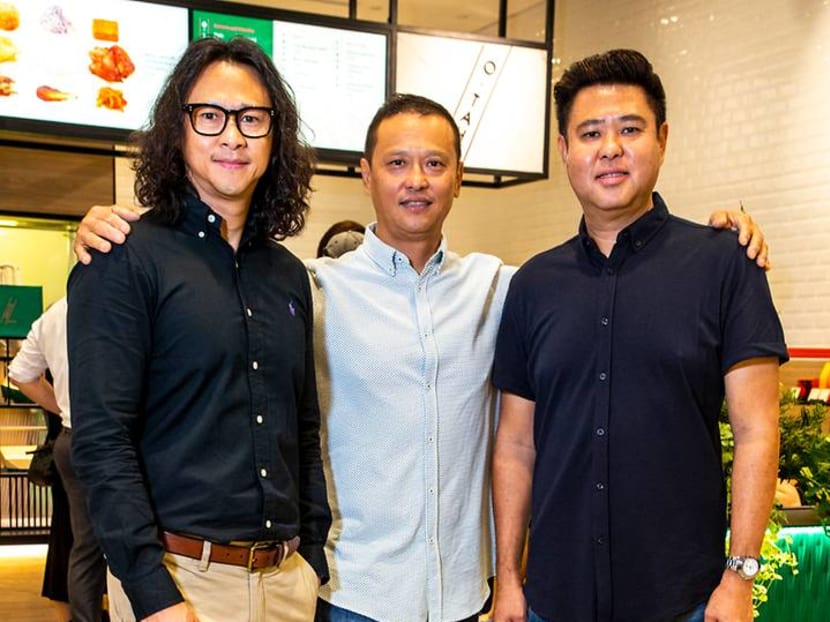 We remark that the cool, boyish-faced Mark — who's, gasp, the father of two grown-up kids who are currently 28 and 19 — looks like a rock guitarist with his grungy long hair plus biceps, fitting T-shirt and black jeans getup. "Actually, it's not the first time someone associated me with a rock musician," he laughs. "But nope, not really a fan of rock music despite my appearance!"

The secret to their youthful looks is by eating lots of otah… well, kinda. "Perhaps the spices and chilli in the otah help you to burn fats and lose weight," jokes Ben, who also looks like he could put men half his age to shame in marathons. "But I think having an active lifestyle helps. I join cycling events and triathlons, and a cycling group for overseas cycling trips to Mount Fuji in Japan, Taiwan, Indonesia and Myanmar." Meanwhile, Mark shares that he tries to "keep fit by going to the gym three times a week".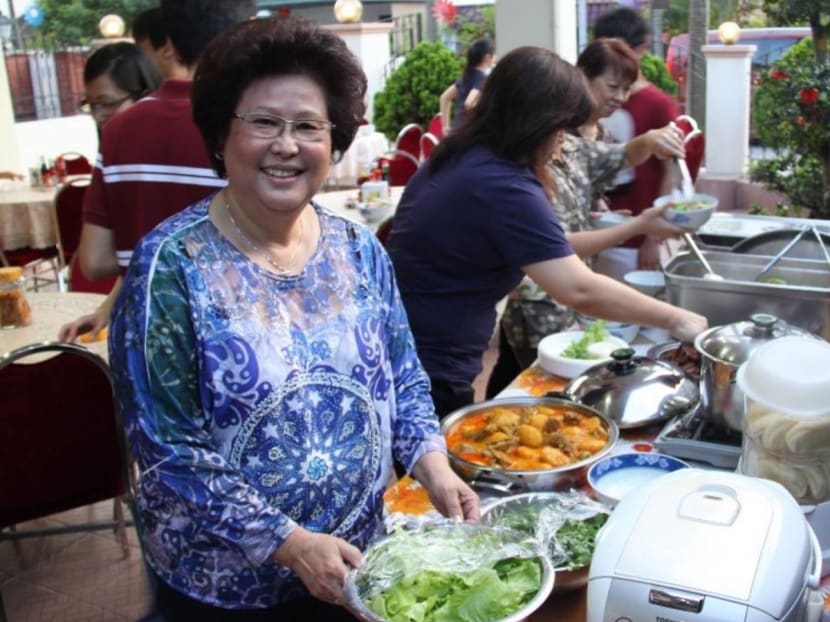 While the entire Lee clan is now involved in the company, they didn't start out working wholly in F&B. Ben shares, "We joined our dad's business, which dealt with cars, textile and snacks, as soon as we were out of school. We were in the used car business in the 1990s, but the industry wasn't doing well back then."

That was when Mark "saw the potential in diversifying [into F&B]". He recalls, "We had interest in running a food business 'cos our mother (pictured) is a good cook. She can cook a lot of great nonya and traditional Chinese dishes without referring to a recipe book. We wanted to share our passion for traditional delights, so I decided to rally my family, together with my wife Angeline, to set up a food stall in 2000."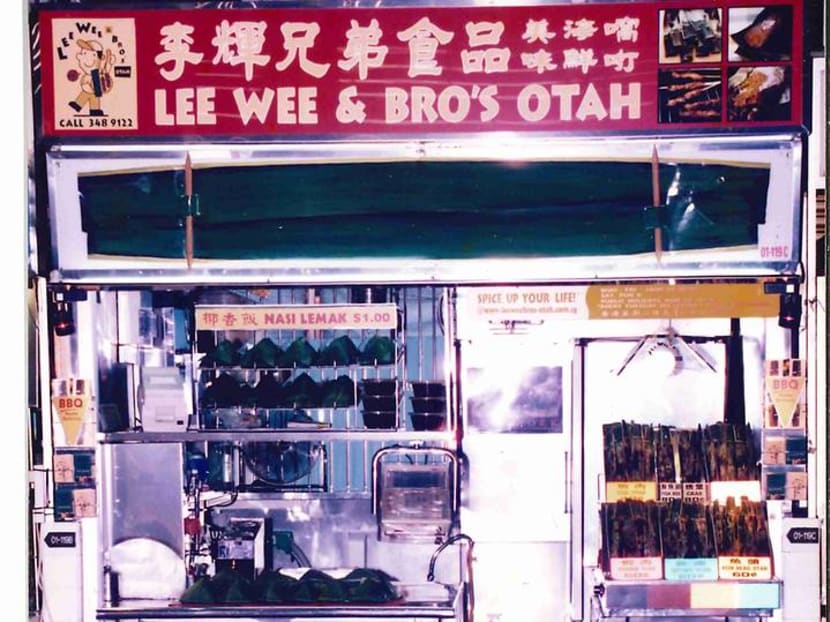 The Lees' first outlet was a now-defunct humble stall at the Old Airport Road Hawker Centre, where they made and sold handmade Peranakan-style grilled otah sticks and nasi lemak.

"Otah is our mother's best dish, so we used her recipe. Ben and myself did the operational work and made the otahs at the stall, from mixing the rempah to spreading the paste on the leaves, while my wife provided administrative support and focused on business development," recalls Mark. "We were a five-man team when we had our first stall, and we worked from 6am to midnight every day. It was sheer hard work. Our older brother Lee Wee joined us a year and a half after we opened our second hawker outlet at Kovan."

They have since moved their biz to a headquarter office at Realty Park in Hougang, plus opened six mall outlets in locations islandwide like City Hall, Jurong and Tampines. Their otahs are still handmade, albeit by production workers in a central kitchen.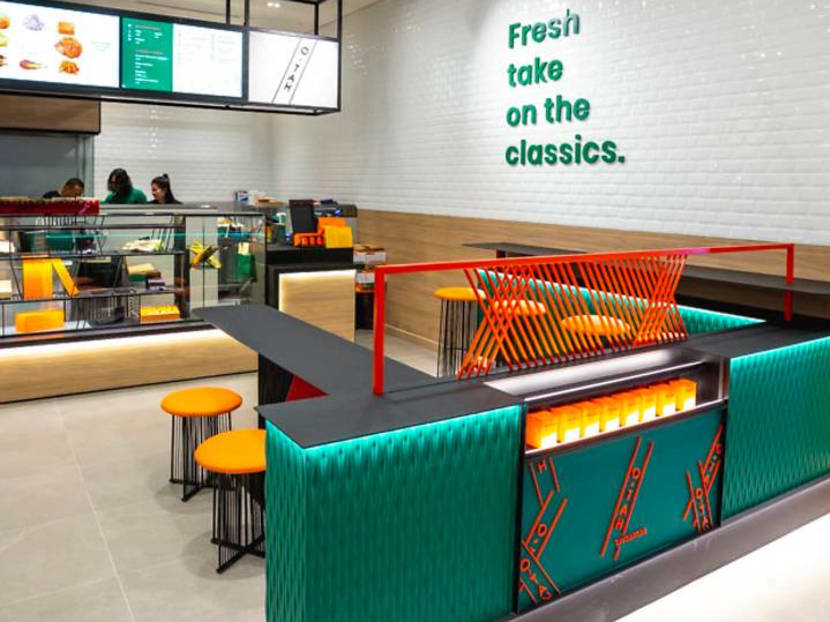 Their latest outlet is not the typical takeaway-only Lee Wee & Brothers branch. It's a new otah-centric dine-in concept called O'tah at Jewel Changi Airport. The hip 12-seat kiosk at Jewel's basement food hall offers snazzily-packaged mackerel otahs under the brand's The Coconut Collection of mod flavours, which includes Cream Cheese & Corn, Petai & Anchovy, Scallop, and Pink Salmon. It's open round-the-clock, so you can conveniently tapow ready-to-eat otah for people overseas or drop by for supper when you have insomnia.

There's also otah reworked into ang moh dishes here, such as Ben's Burger, which has an otah patty wedged between charcoal buns, TAH-co (Mexican-style tacos stuffed with, you guessed it, otah) and thick-cut otah 'fries'. The nasi lemak that Lee Wee & Brothers are known for also gets a makeover, and is now available with Pesto Salmon and Grilled Honey Chicken on top of the usual fried chicken.

The hipsterific appeal of O'tah is, obviously, for the millennials and Gen Z-ers. Mark adds, "The younger generation may not be familiar with a traditional food like otah. We want to put the spotlight on the humble otah and present it in new, palatable ways to the younger crowd." The brand has plans to open more O'tah outlets in Singapore "with more seating".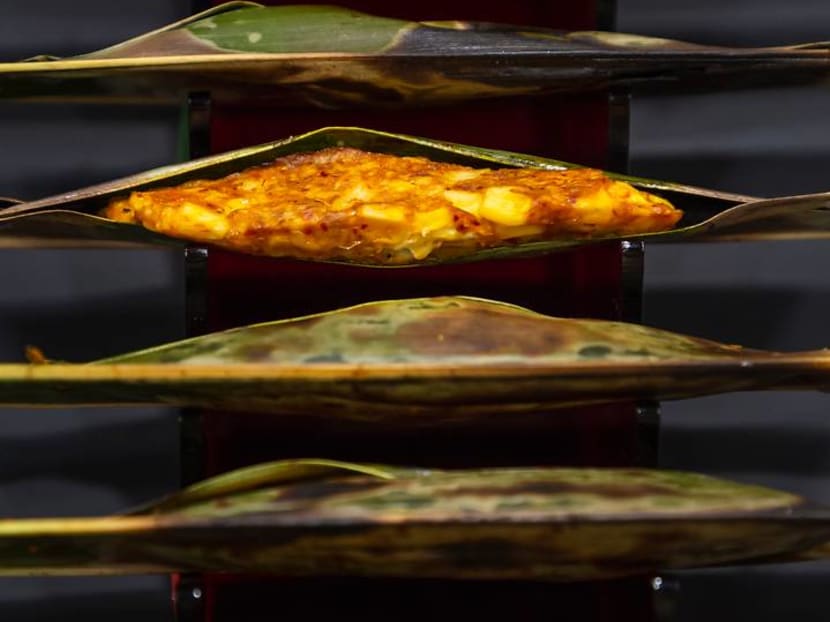 "We have quite a lot of customers bringing our otah overseas to neighbouring countries like Indonesia, Brunei and even long-haul European destinations. We frequently deliver our otahs to Changi Airport and hand over the goods at the check-in area! We are now doing R&D for vacuum-packed shelf-stable otah, and are planning to launch them this year," quips Mark, who reckon that their Jewel outlet can "provide convenience" for his customers. He adds that the company is also exploring a "franchise business model" and aiming to open more outlets in "Asia's developing markets".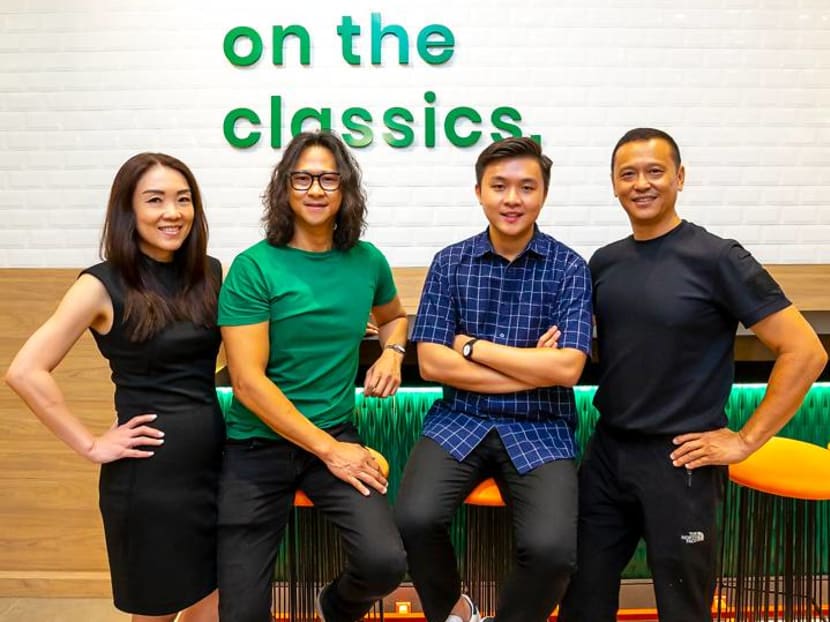 During one visit to their Jewel shop, we met Ben as well as Mark and his wife Angeline, 47, and their grown-up son Darren Lee, 28, who joined the business almost two years ago as a corporate strategy manager. "My wife and I do not pressurise our son to take over the business, but he has started working at our outlets since Primary 4, and helped out at our food fair stalls during his school breaks," explains Mark. Ben says his son Nikolas "will also be joining the family business, after completing his national service and further studies".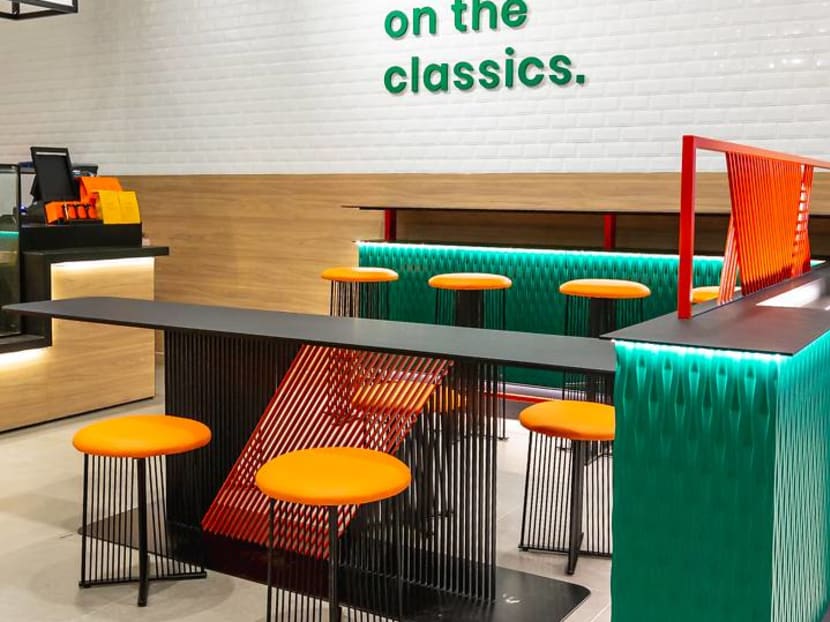 The minimalist decor at O'tah's corner unit (it's beside the KFC restaurant in Jewel) is adorable. There are orange stools, green leaf-patterned accents and wooden wall panels, so you feel like you're dining within a giant, shape-shifted stick of otah. The otahs themselves are grilled on-site on electric grills.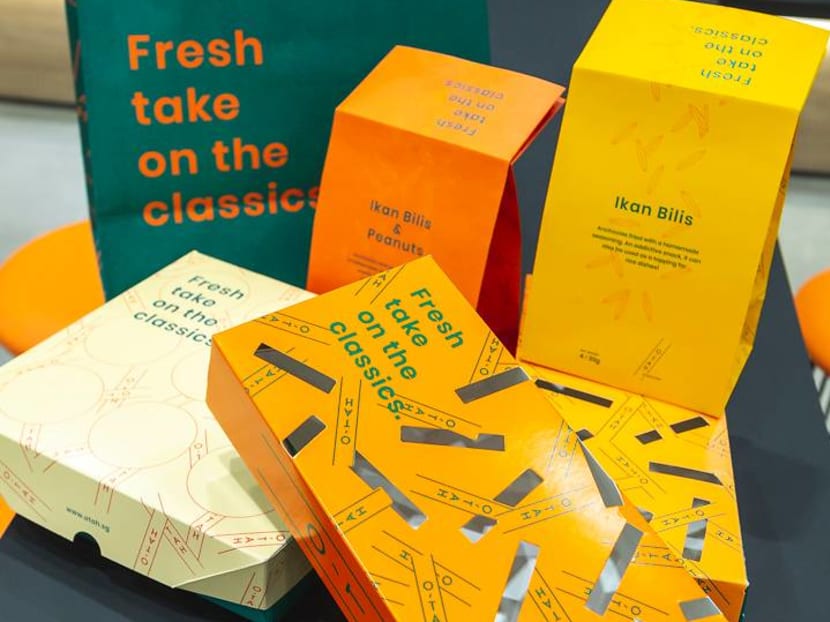 Instead of un-glam plastic bags, O'tah's freshly-grilled otahs are sold in gift-worthy orange boxes with strategic, decorative cutouts for the hot otahs' steam to escape (and avoid soggy otahs). You can also buy boxes containing individually-packaged, single-portion sachets of fried ikan bilis and peanuts to add to your homemade nasi lemak, as well as gift jars of sambal chilli. Even the most jaded hipsters will find this pretty charming. O'tah towkay Mark Lee offers an unusual way to eat otah: "I actually enjoy eating otah sandwiched between Khong Guan cream crackers. It tastes good! Try it!"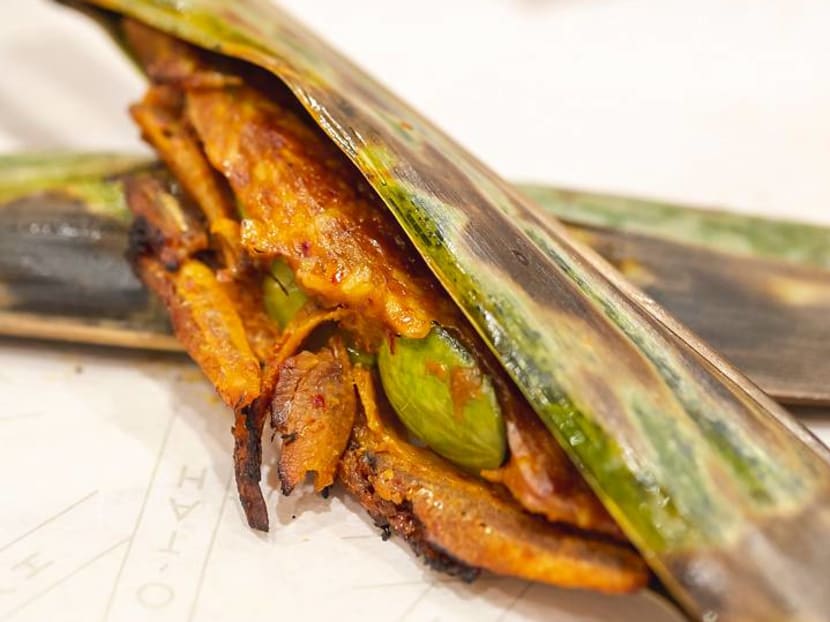 Lee Wee's reliably tasty and punchy mackerel-studded otah is amped up here with pungent petai (aka stink beans) and crispy fried ikan bilis studded within. The two ingredients typically go well with the sambal that's used for otah, and this is, unsurprisingly, a winning combination. The earthiness of petai and savoury anchovies add an exciting punch of flavours to the spicy mashed mackerel meat.
The plain fish otah from Lee Wee & Brothers gets amped up with cream cheese and crunchy corn kernels. The texture is fab, but the melty cream cheese make this stick rather soggy and jelak. We could only manage a stick or two of this at best, unlike their shiok regular otah. At $2.20, it is also a rather pricey indulgence (their original spicy fish otah costs $0.75 a stick). Their Scallop Otah is more value-for-money (see below).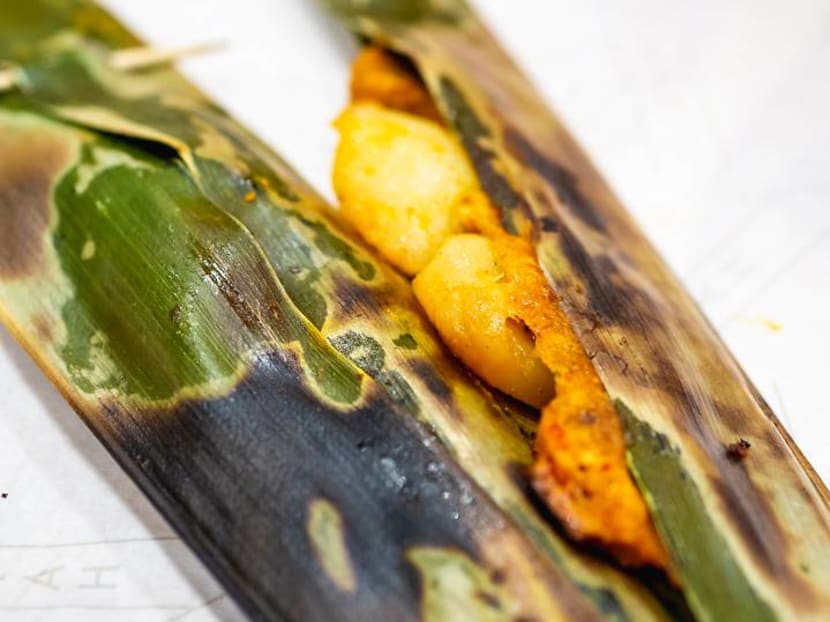 Two whole small scallops are stuffed into this juicy otah, which is pretty yummy: the tender, sweet bivalves add a luxurious mouthfeel to the humble snack. We had fun gnawing this off its banana leaf wrap.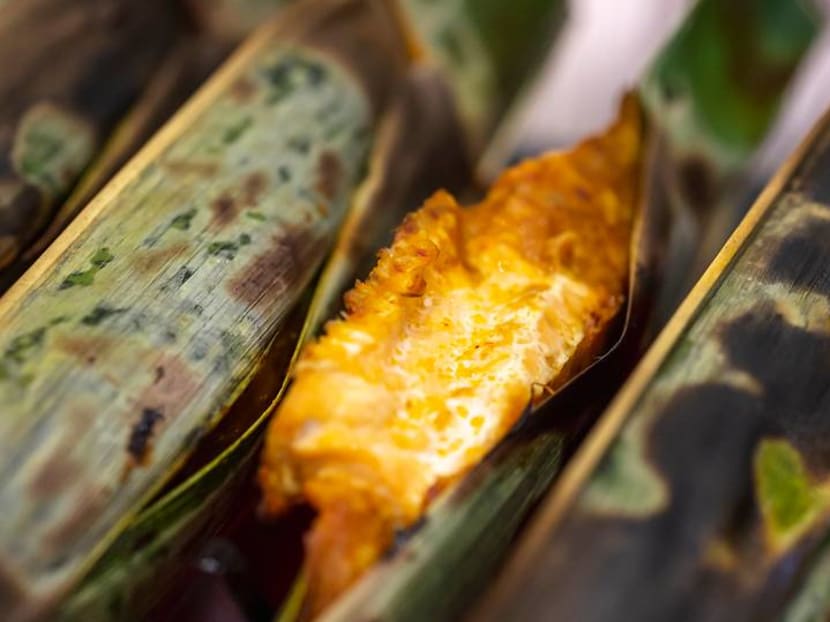 Compared to the other more exciting flavours, this salmon number is rather unmemorable. The small slab of salmon, wedged into the otah paste and grilled together, is a tad dry, and the texture unremarkable. We say save your tummy space for the Scallop and Petai & Anchovy flavours.

The mod dishes ​​​​​​​

A gigantic, panko-coated piece of mackerel otah is wedged between fluffy sesame seed-speckled charcoal buns, together with a gooey-yolked sunny side-up fried egg, tomato slices, purple cabbage, caramelised onions, and a side serving of shoestring French fries.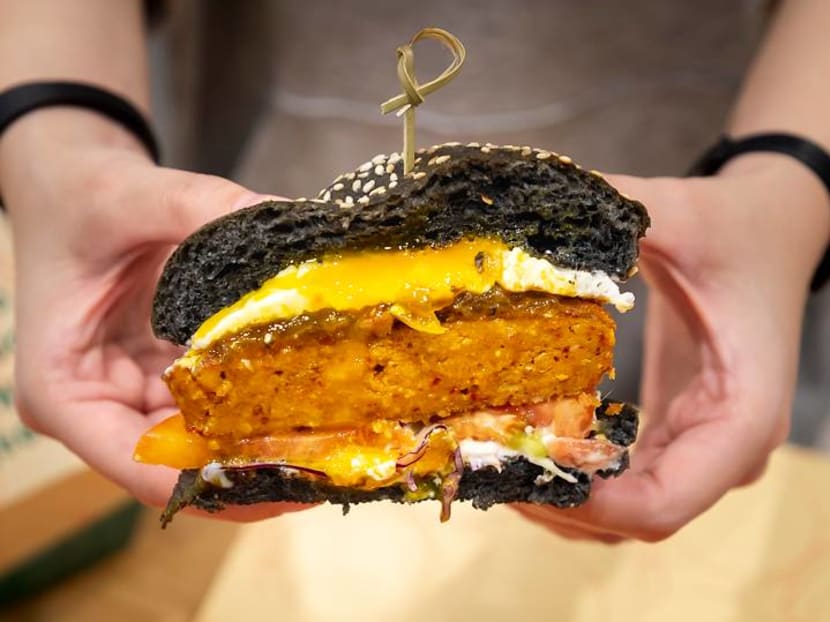 It's all very satisfying; the burger is juicy without being messy and soggy, and the otah is the right amount of spicy with a delicate crunchy crust. It's more interesting than eating, say, a McSpicy from McDonald's.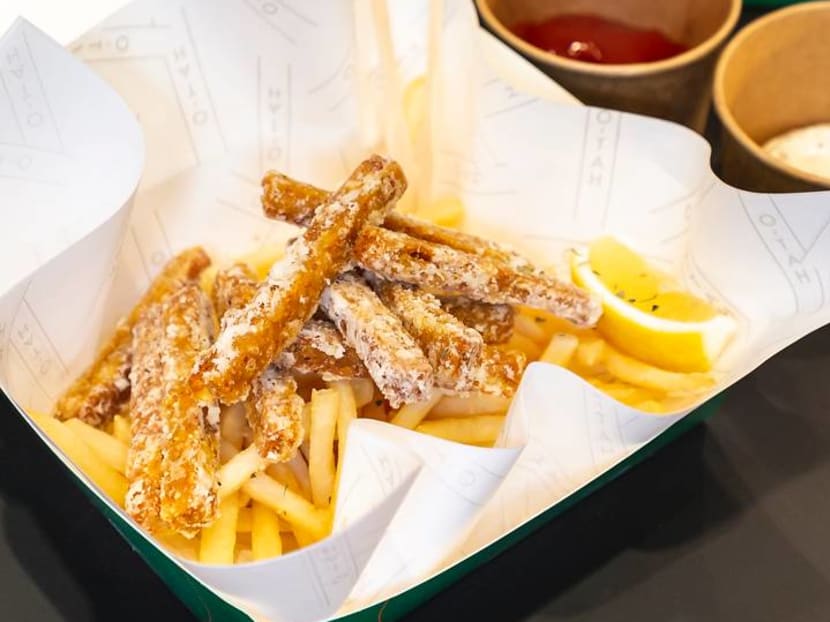 Strips of battered otah are deep-fried till crunchy for this. It's similar to the ubiquitous Spam fries, but a bit too stiff and not as good. We prefer our otah juicy with a softer bite.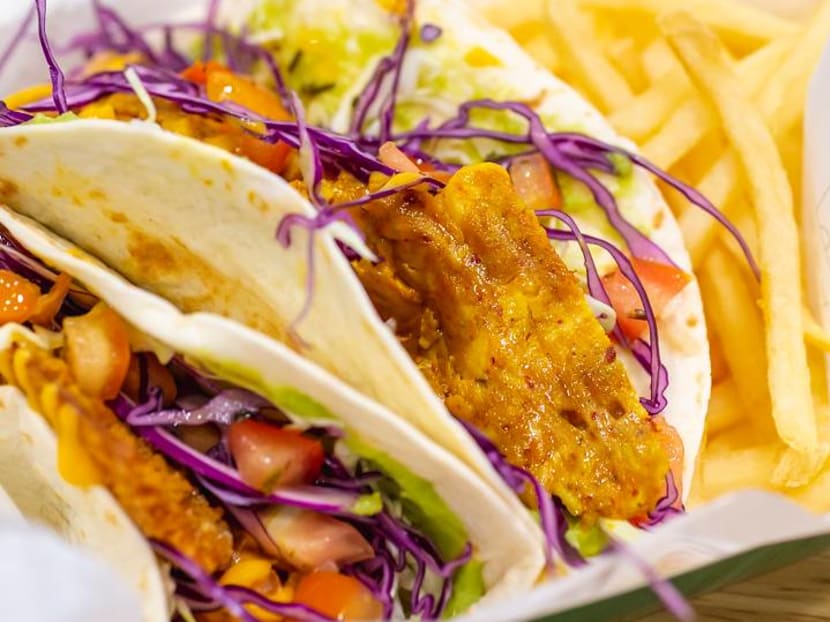 This has the essential components of the Ben's Burger (fresh hot otah and veggies), except it's enveloped within soft, doughy wheat tortilla wraps. Not bad, but it's not as satisfying or hearty as the burger even though it comes with fries.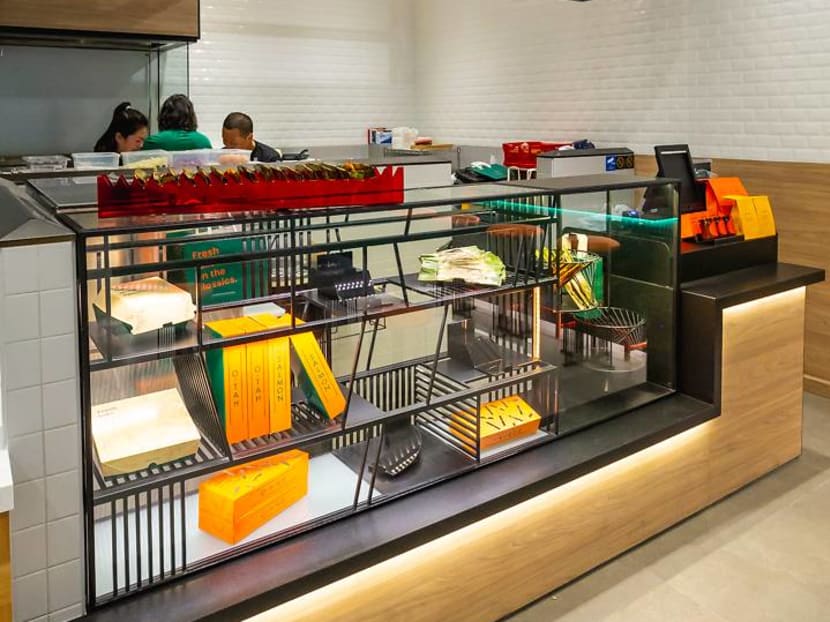 At O'tah, the humble old otah snack is given a chance to be hip and cool for the 'gram. Lee Wee & Brothers' new concept at Jewel Changi is modern and millennial-friendly, yet its food still boasts solid elements of the brand's tasty Peranakan roots. While the contemporary otah flavours and Western-style otah dishes here are hit-or-miss, the hits are delicious and worth gorging on.

#B2-241 Jewel Changi Airport, open 24 hours. www.facebook.com/otahsingapore.

Photos: Alvin Teo