Students Open Cute Banh Mi Café Serving Mod Sarnies & Vietnamese "Coffee Milk Frap"
The CBD eatery offers banh mi with fusion fillings like char siew, beef & cheese. There's also cheese tea.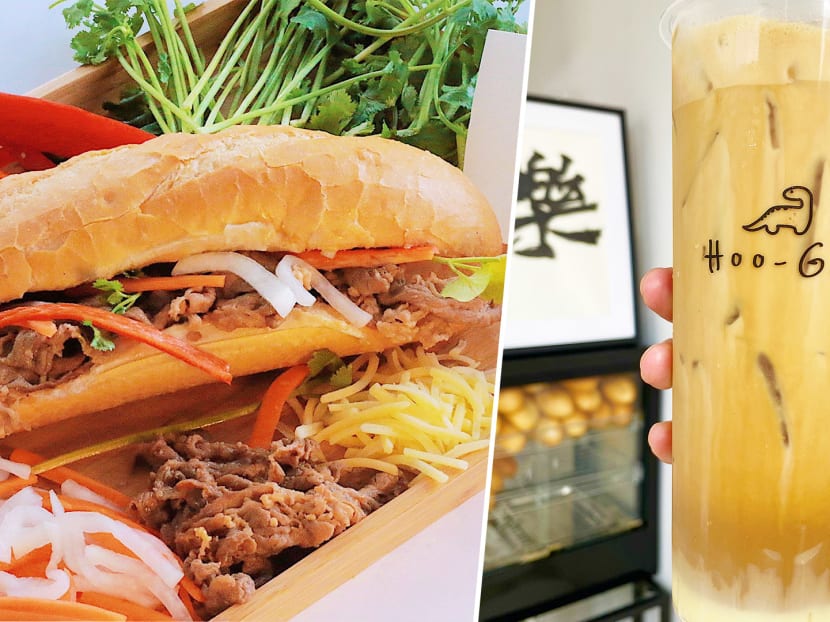 The Central Business District has yet to return to its pre-pandemic hustle and bustle, but that hasn't stopped five entrepreneurial schoolmates (two from Vietnam, the rest from China) currently enrolled in Kaplan Singapore, along with one of their Singaporean housemates, from opening a minimalist chic cafe in Shenton Way called Hoo-Gah. It serves not-so-traditional takes on the Vietnamese French loaf sandwich, banh mi.
Expect fusion flavours like cheesy grilled beef and char siew, alongside other trendy fare like Instagrammable cheese foam-topped tea and coconut shakes. The cafe's name, Hoo-Gah, is how one would pronounce hygge, the hip Danish word for cosiness and conviviality – a concept that the group wished to emulate.
8days.sg
speaks to two of the young entrepreneurs - Pan Yuquan, 21, and his girlfriend, Ho Diem Huong (who goes by Yuri), 20, to find out more about Hoo-Gah's journey.
All photos cannot be reproduced without permission from 8days.sg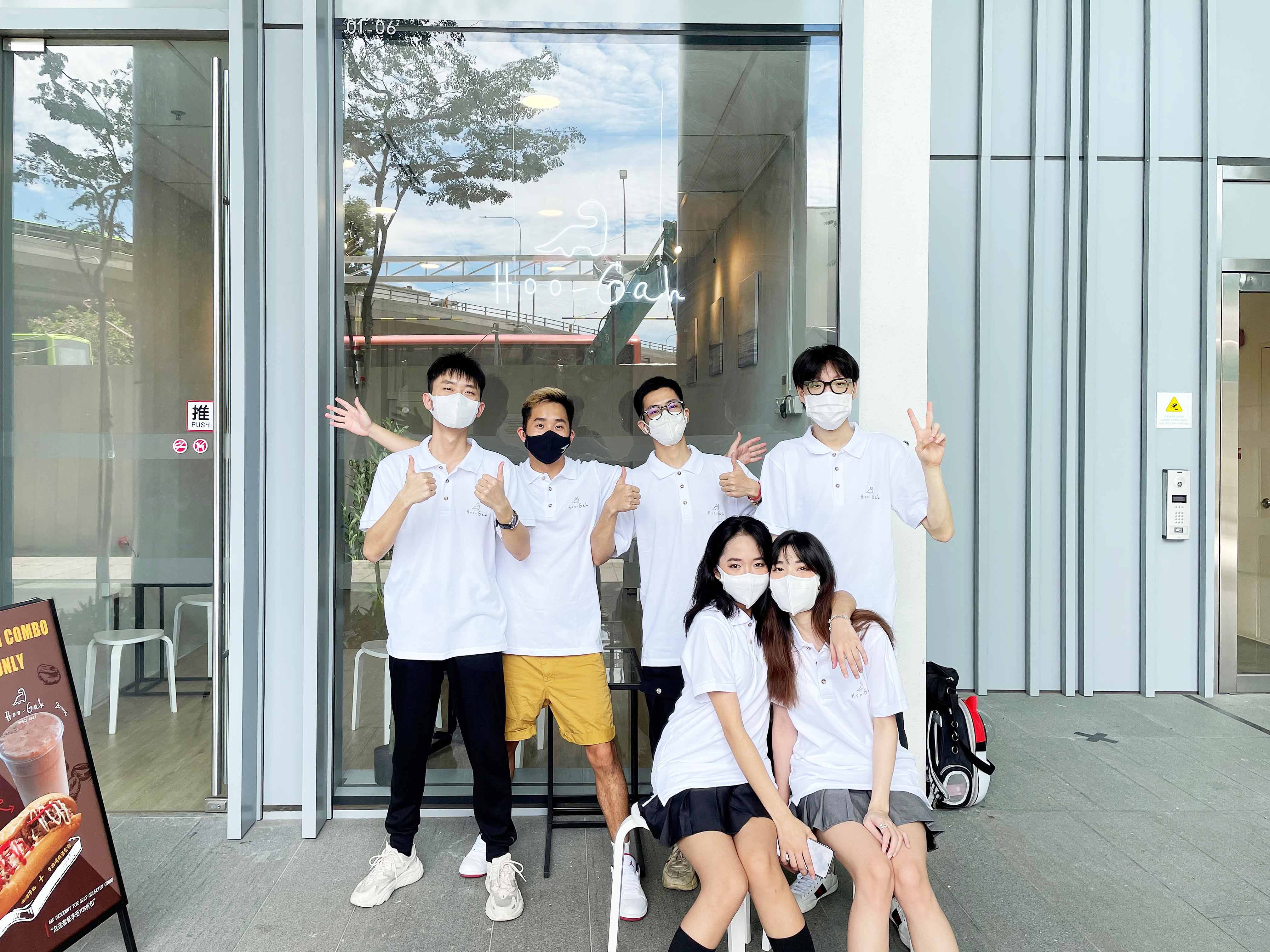 The schoolmates became fast friends two years ago when they arrived in Singapore and attended English lessons together. There was always talk of starting their own businesses to earn money on the side while pursuing their degrees in Singapore, but the idea of an F&B brand only started to bloom once Yuquan (leftmost in pic) and Yuri (leftmost, bottom) started talking to their 29-year-old housemate, Ben Neo (second from left, above), who had some exposure to F&B over a five-year period, including stints as a bartender and barista.
"We wanted an 'easy' business where the cooking wouldn't be too difficult, like dumplings and steamed food. In the end, we settled on banh mi, as we thought it'd be easy to operate, and easy to scale and expand," Yuquan tells us. From there, it was easy enough roping in the rest of their friends. "We are all ambitious and eager to create something of our own," he adds.
Being students, they were aware that they didn't have too much money to burn – each of the six members chipped in "a five-figure investment" with help from their parents to get the biz going. They were lucky enough to find their current space at a "reasonable" rate, despite its CBD location, when Yuri and Yuquan stumbled upon it (it's right next to where they live).
They also opted to DIY most of the 28-seat shop's decor. "We painted the walls ourselves, and we went to IKEA together to get the furniture," Yuri tells us. That was also where they found the inspiration for their adorable dinosaur logo, which they turned into a cutesy neon light fixture on their storefront.
The cafe's decor is no-frills and spartan, with little else in the way of furniture apart from a few paintings and potted plants. "We wanted it to be simple and modern – we were aiming at [drawing in] young people. What we didn't want was for it to be too traditional," Yuquan explains.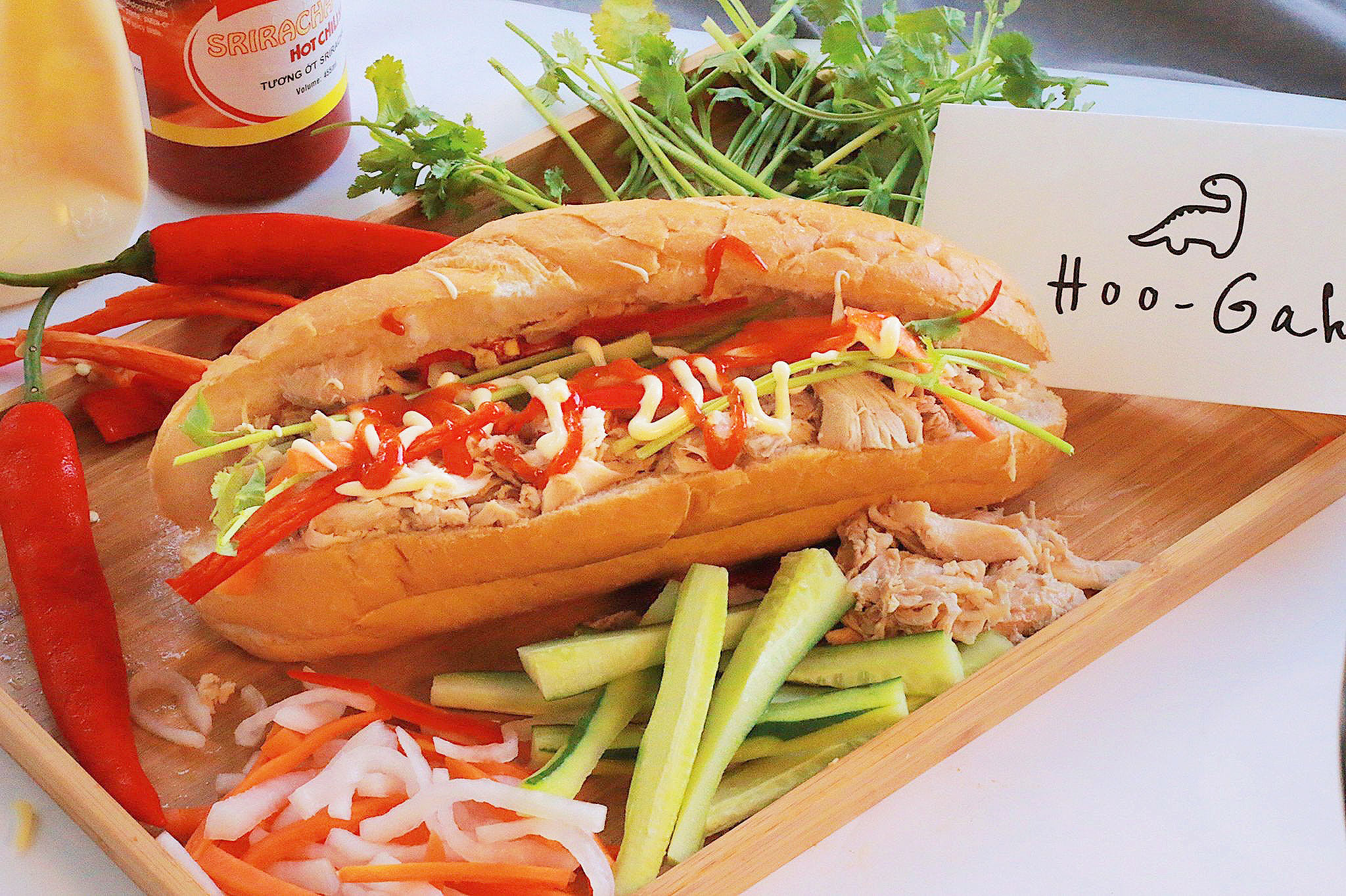 Hoo-Gah's owners leave day-to-day cooking to their staff, but come down regularly for recipe development and staff training, says Yuquan. Most of the recipes are adapted from Yuri, who used to own a coffee shop with her parents back in Vietnam.
While it's still early days, they're hoping to survive the pandemic while building a brand. They also hope to rope in investors to fuel their expansion in the future. "There's a saying that you either earn, or you learn. We want to learn and earn, and hopefully keep doing this even after finishing our studies (in another two years)," he adds.
For now though, they're focusing on catering to as wide an audience as possible, hence the "Vietnamese-inspired" banh mi on offer rather than traditional flavours. "We wanted to localise the sandwich, and bring in some Western flavours. We want to expand the brand more in the future, so we don't want it to be stuck as a traditional banh mi [concept]." The sandwiches range from $4.90 to $7.90 each.
While we haven't had the chance to try it for ourselves, here's a look at some of their offerings.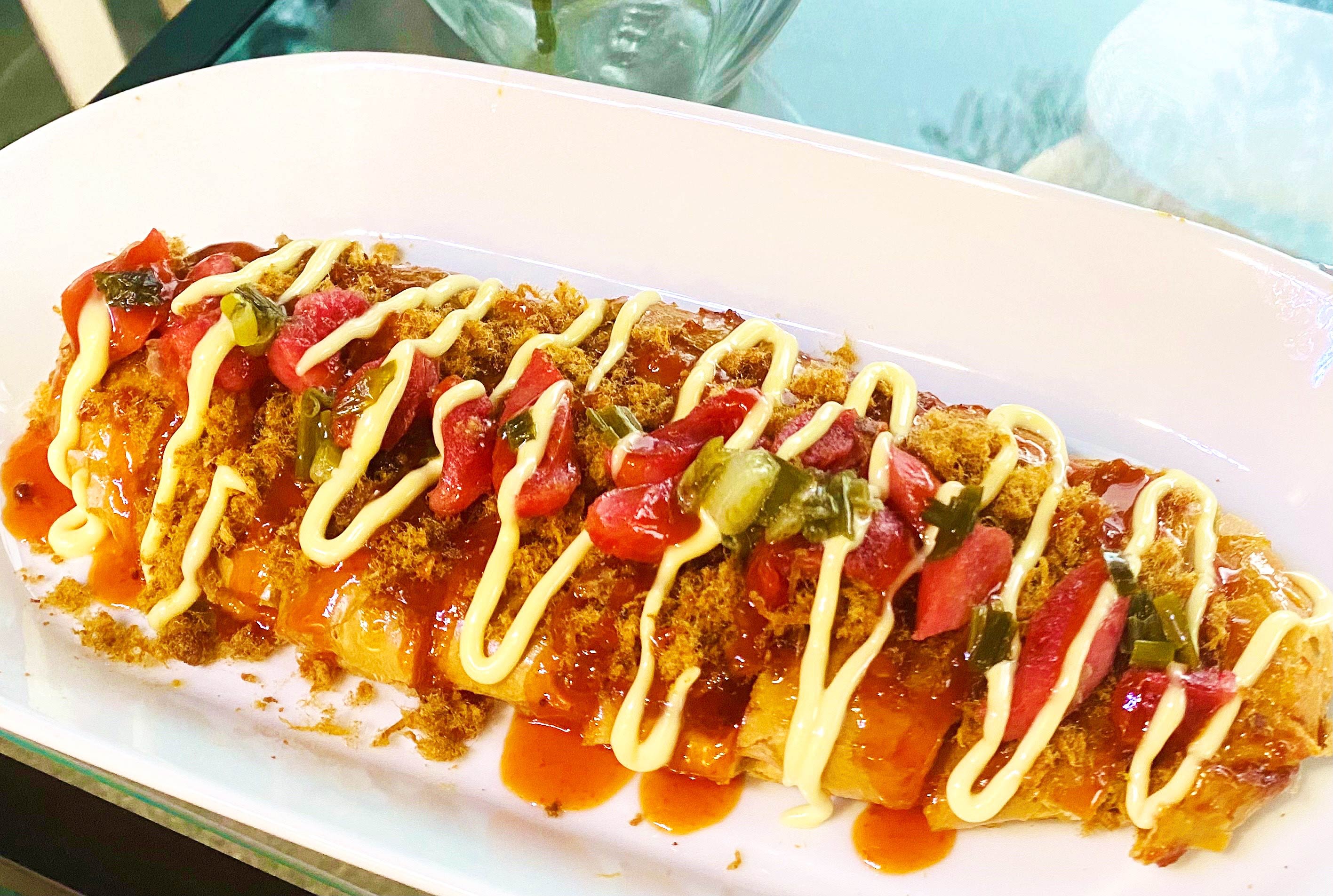 Their cheapest banh mi option. It comes with pork floss, pork sausage, butter sauce and chilli oil, arranged on top of supplier-bought Vietnamese-style baguette as an open-faced sarnie. The loaf is cut breadwise for easier munching – Hoo-Gah provides cutlery or a pair of gloves if you want to get down and dirty.
Pork shoulder is braised with a secret blend of seasoning that Yuquan says is a mix between local Cantonese-style char siew and Vietnamese flavours. It comes with radish and carrots, both pickled, as well as cucumber and coriander.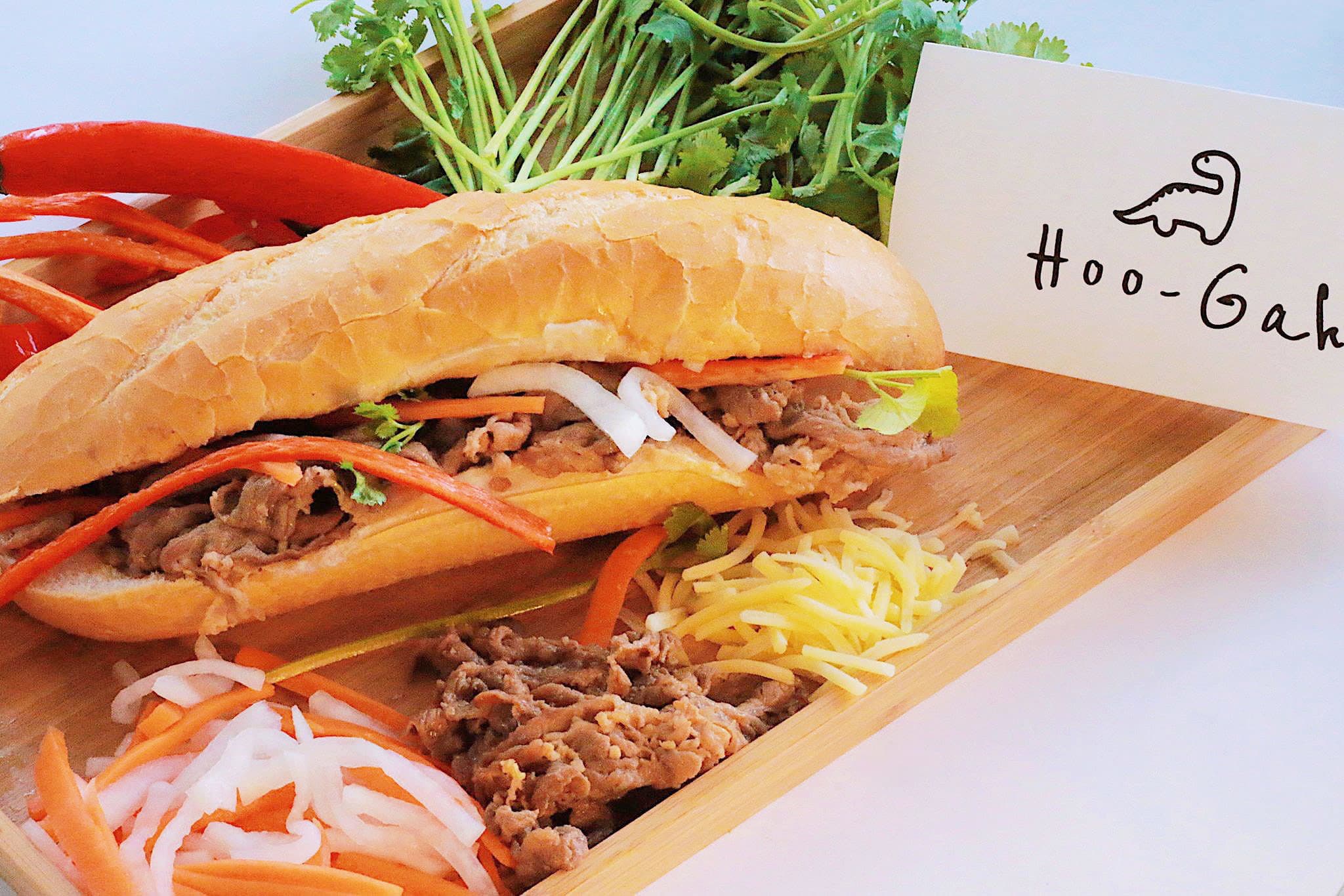 Expect stir-fried beef and shredded mozzarella paired with that same spread of veggies for this sandwich.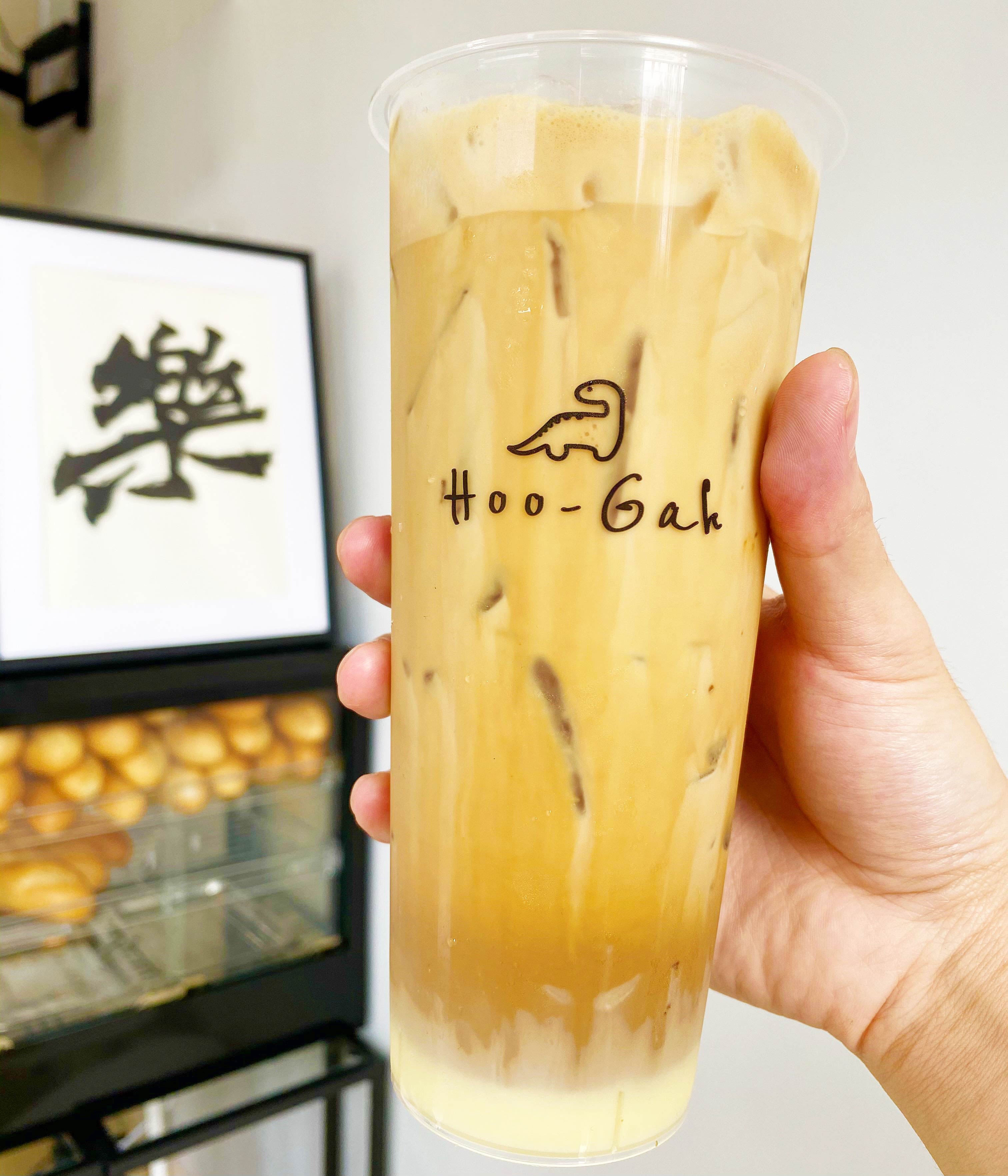 You won't find any super thick Vietnamese drip coffee here. Instead, expect modern riffs like an ice-blended Coffee Milk Frap ($3.50) using strong-tasting Vietnam-imported beans. There's also their version of the trendy Coconut Shake ($4.50), which comes with coconut milk, ice and other "secret ingredients"; as well as Cheese Tea ($2.90), where a cream cheese foam layer sits on black tea.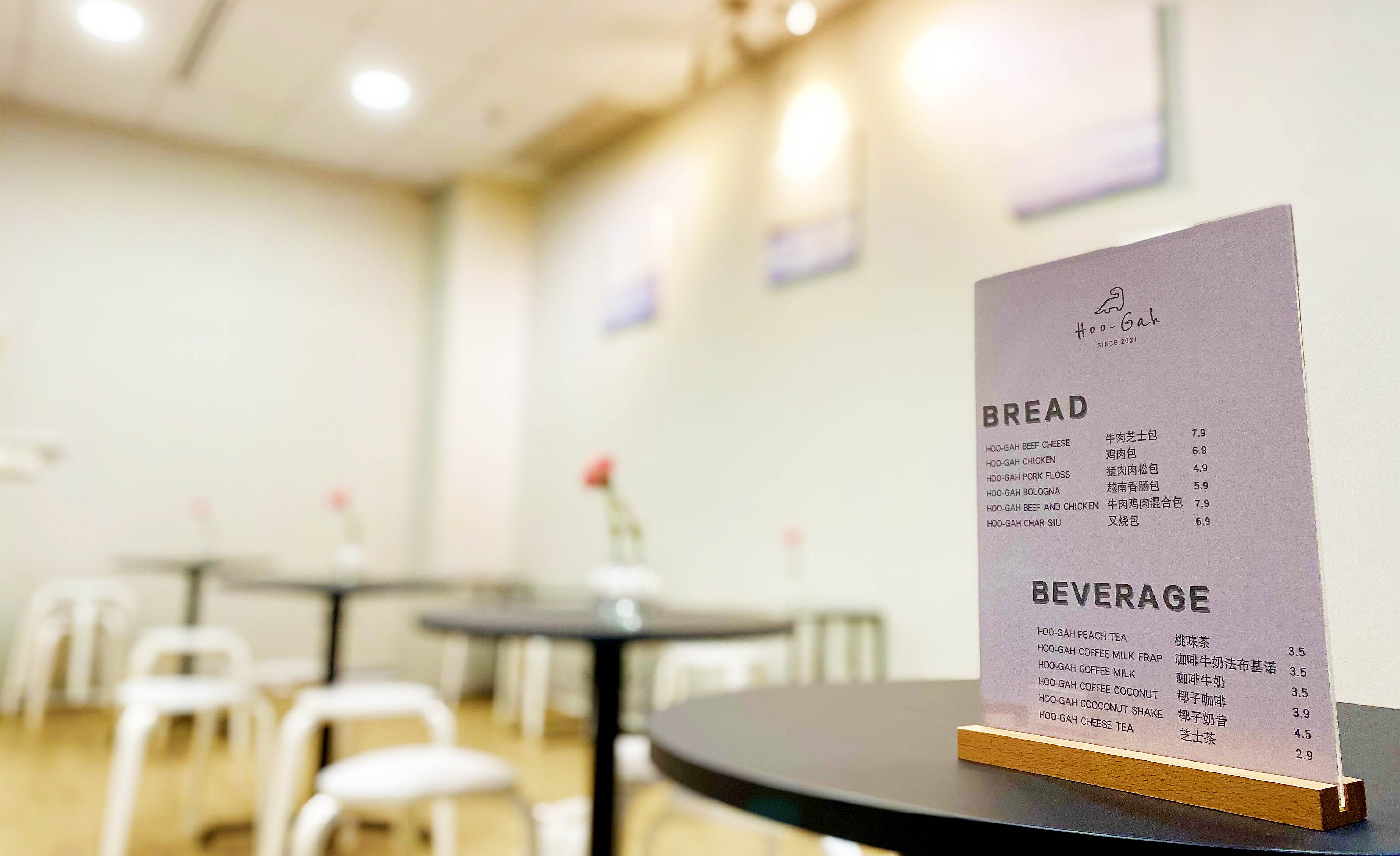 Hoo-Gah is at #01-07, 76 Shenton Way, S079119. Tel: 9861-7628. Open Mon – Fri, 10am – 8pm; Sat, 10am – 5pm. More info via