Yummy Korean-Taiwanese Bingsu From $4.90 At Tampines Kopitiam
The fusion treats combine milky Taiwanese shaved ice sheets with Korean & local flavours.
The kopitiam at Tampines Blk 929 gets a buzzy new offering in the form of 929 Desserts & Bites, which serves a fusion version of the Korean shaved ice dessert, bingsu. At the same coffeeshop, you'll also find hipster nasi lemak stall Ah Lemak and Mr. Wong Seremban Beef Noodles, the popular Hainanese stall formerly from Marine Parade Food Centre. But back to 929 Desserts & Bites — it's helmed by the sunny Pauline Chia, 53, and her sister Adeline Tan, 56. Their modern bingsu have attracted a small but loyal following since the stall opened at the end of August.
All photos cannot be reproduced without permission from 8days.sg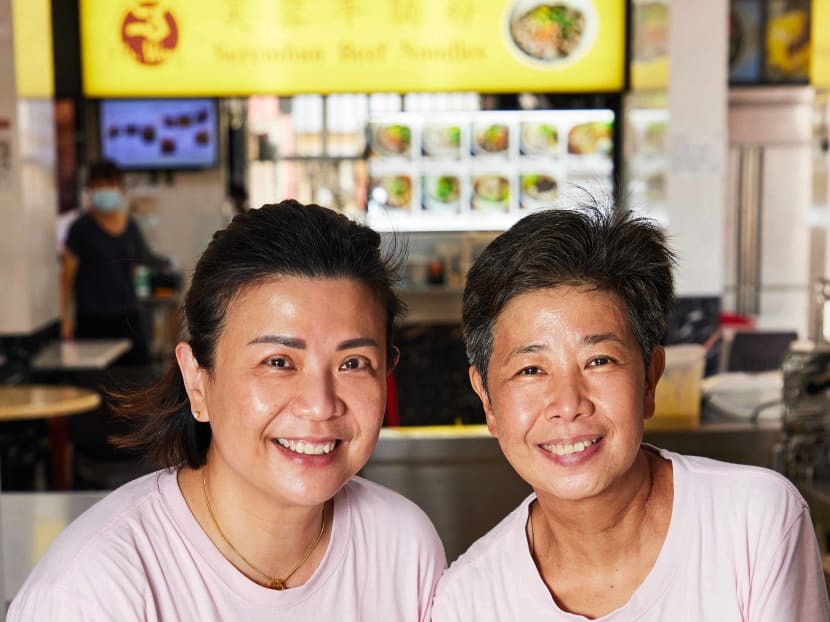 Pauline (left in pic), who's the boss and owner here, used to work as an aesthetician in a spa, and was in the beauty industry for over 10 years. She tells us that she has always loved food and cooking, and has always wanted to switch careers to F&B but didn't find the courage to do so until this year. What changed? "I'm 53 already, and I think I should step out of my comfort zone," she says. She knew she wanted a kopitiam stall because of the lower overheads, but didn't know what to sell. "At first I wanted to sell burgers," she says, "because I love burgers." It wasn't until a little earlier this year, when she chanced upon a bingsu shop near her workplace that she found her next project. In fact, she wasn't even familiar with the icy Korean dessert until recently, but once she saw how popular it was, and how fun and creative she could be with it, she plowed ahead.
Together with her sister Adeline, who used to work as a restaurant manager, and is between jobs now, they developed recipes at home with an ice-shaving machine she bought to experiment. Adeline is here when she can spare the time, and says that when she saw how serious her sister was about switching careers, she decided she had to lend her F&B expertise to help out with operations. Together, the two of them are the only ones manning the stall, and they work like clockwork to deliver bowls of icy treats. "I'm very happy because this is what I want to do, and I've waited for some time already," Pauline says of her career change, which has been helped by lots of positive and constructive feedback from her regulars. "It's very good to see how much people enjoy it, and they keep coming back!" The siblings think they might be the first to offer bingsu in a kopitiam setting.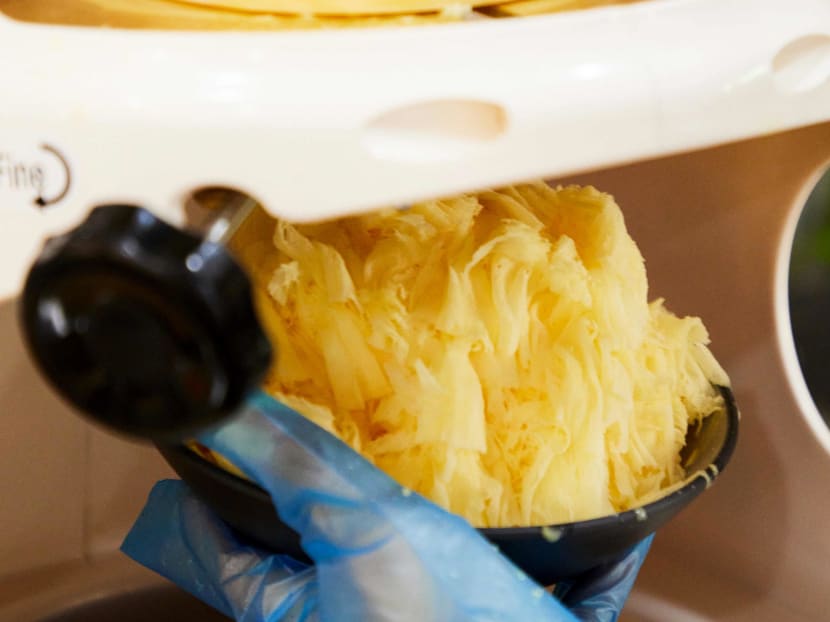 The menu features 10 icy bingsu-inspired treats, ranging from more grown-up and traditional offerings like a matcha, red bean and taro number, to more kid-friendly stuff like Oreos and marshmallows. There's even a local chendol option. Bingsu is traditionally made with plain, finely-shaved ice, not unlike ice kachang. But here, Pauline uses the same base as Taiwanese shaved ice. A block of slightly sweetened frozen milk infused with flavours like matcha, mango or vanilla, is shaved down with a machine into thick sheets. Pauline then tops it with a variety of add-ons and ice cream. So yeah, this isn't authentic bingsu, but Pauline says she went with this Taiwanese-style shaved ice because she wanted to offer something a little different than regular bingsu, saying that the flavoured ice offers more variety and makes the desserts more interesting. There's also buttermilk waffles and ice cream.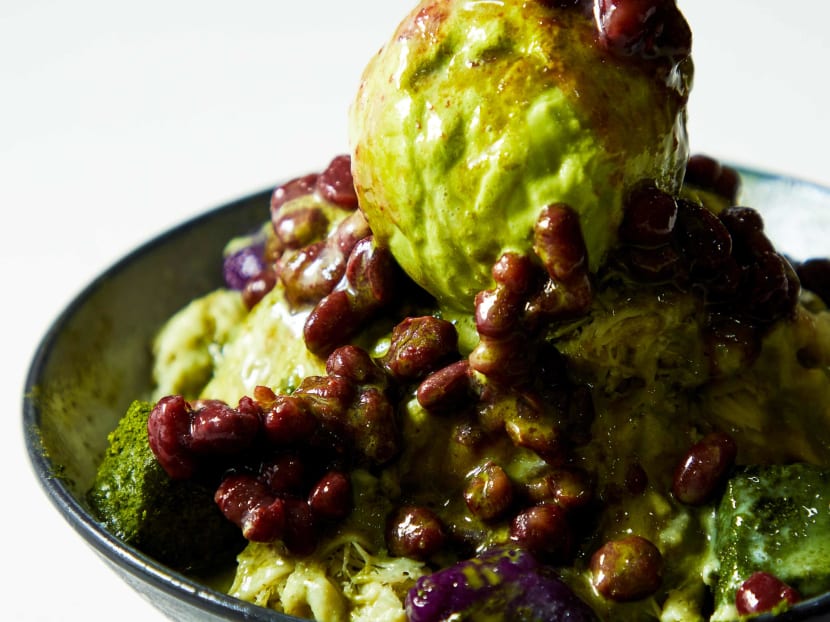 Matcha-and-milk shaved ice is topped with tender red beans, chewy cubes of matcha-dusted mochi, and Pauline's home-made taro cubes, made from mashed taro and potato starch. This has a subtle green tea flavour and isn't cloyingly sweet, which makes for a nice base for the toppings. The shaved ice sheets have some bite, but are pleasantly light on the tongue with a milky flavour, and they don't melt too quickly. The chewy taro cubes and bouncy matcha mochi make for toothsome bites between icy mouthfuls. A good classic flavour combination with lots of texture.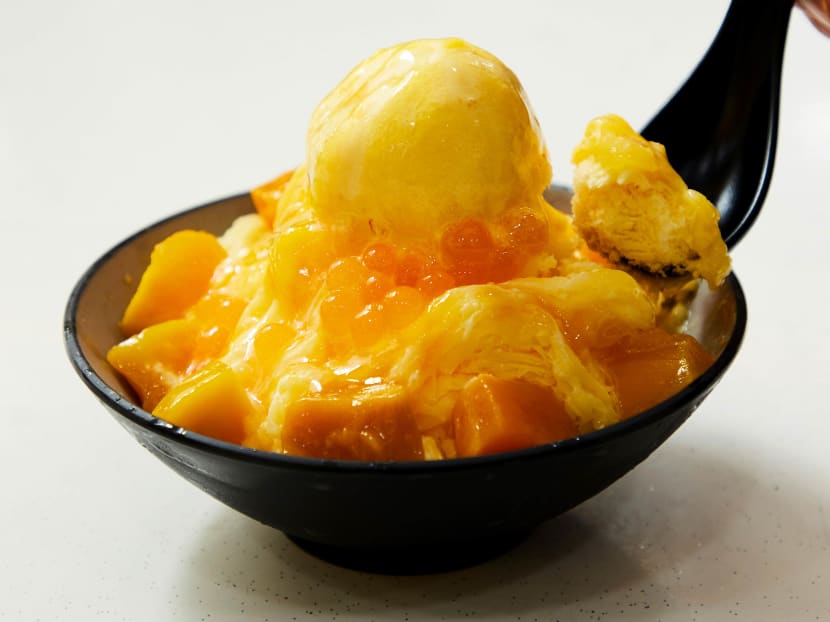 This one is similar to offerings you might have seen at Taiwanese shaved ice joints, essentially a mango shaved ice topped with a scoop of mango ice cream, little bursting ikura-like mango jellies, and cubes of sweet fresh mango (frozen from a supplier). It sounds like a sugar bomb, but this is thankfully not too sugary, and we like how it delivers mango flavour in a variety of ways. The mango ice cream is tasty and creamy, and the mango jellies give fun little pops of fruitiness along the way.
We were pleasantly surprised to see this item on the menu, and it's a nod to the kind of dessert stalls we're more used to seeing in kopitiam settings. This one is made with coconut milk flavoured shaved ice, and then given the standard chendol treatment with pandan 'worms', red bean, gula melaka syrup plus the more unorthodox addition of grass jelly and atap chee. We find ourselves missing the usual richness of chendol, which is traditionally doused in thick coconut milk — the subtle coconut flavour of the shaved ice sheets doesn't pack quite the same punch. But this is still refreshing enough, it's just a lighter, less sweet version of chendol.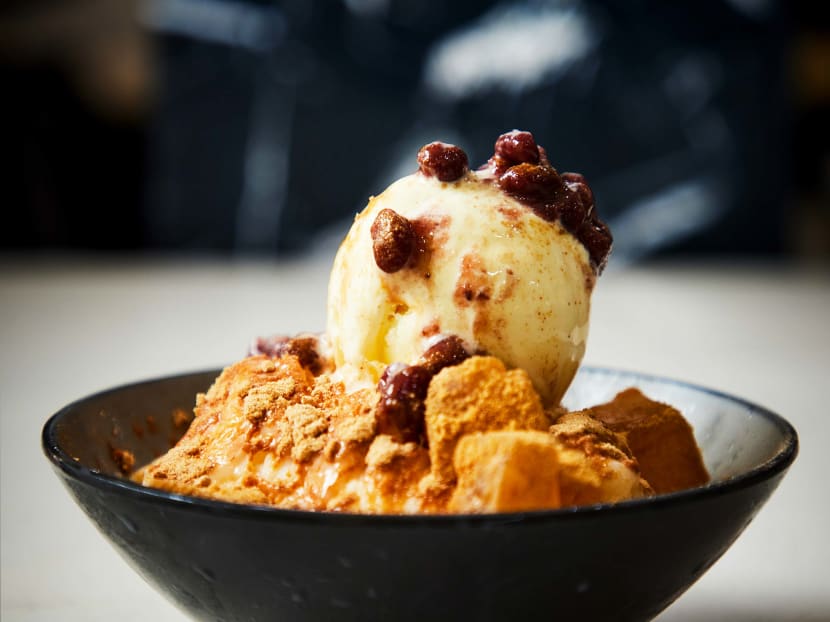 The most traditional-tasting Korean offering, a la patbingsu (shaved ice with sweetened adzuki beans), and it is our favourite. A plain vanilla shaved ice base is topped with red bean and cubes of tender warabimochi (wobbly bracken starch mochi dusted with kinako, or roasted soy bean powder). More of that powder is sprinkled generously over the whole dessert. It's topped with a scoop of vanilla ice cream. The kinako is toasty, nutty, and we enjoy the delicious roasted flavour it brings to the dessert. The vanilla base is unobtrusive so all the toppings can shine, and the flavours are grown-up, earthy, almost a little savoury, with lots of wonderful chewy textures. A real treat.

These buttermilk waffles have a nice tang to them, and a pleasant fluffy texture. They come served with a scoop of ice cream. We have ours with salted caramel ice cream, which has a nice creamy texture and comforting savoury-sweetness. Overall these waffles are pleasant but pretty standard fare, and a lot less exciting than the icy desserts on offer.
If you're expecting super traditional Korean-style desserts here, don't. Think of these treats as a hybrid of Taiwanese shaved ice sheets and bingsu. Still very tasty, though we prefer the more Korean-inflected items here, with their lovely tender mochi topping, earthy flavours and subtle sweetness. We enjoy the more substantial mouthfeel of the milk-based shaved ice sheets, a lovely base for all the chewy toppings. While these are a little less towering than typical bingsu offerings from a cafe, and a touch less elegantly presented, they're capably made, satisfying and pretty well-priced.

929 Desserts & Bites is at #01-451, 929 Tampines St 91 S520929. Tel: 8766-8006. Open Mon 11am-8.30pm; Tue-Fri 11am-8pm; Sat-Sun 11am-9pm. https://www.facebook.com/929dessertsandbites/

Photos: Aik Chen
All photos cannot be reproduced without permission from 8days.sg