Edmund Chen once ate sambal petai from this stall daily for a week, ignored Xiang Yun's warning about 'high calories'
Although Edmund doesn't go to the stall daily now, he still drops by once a week. What is it about Dao Xiang's spicy stink bean dish that he can't resist? 
The next time you visit Changi Village Food Centre for the Changi Famous Nasi Lemak, check out seven-month-old stall Dao Xiang a few units away. Dao Xiang's signature dish is the sambal petai (stink bean) with prawns and rice.
In fact, former sales supervisor Lily Ting, 35, and her husband Cheng Jiang Choong, 37, a full-time driver, specifically chose this location "because of its strategic location and the large volume of people it attracts". They wanted very much to start their own business, hence the decision to become hawkers.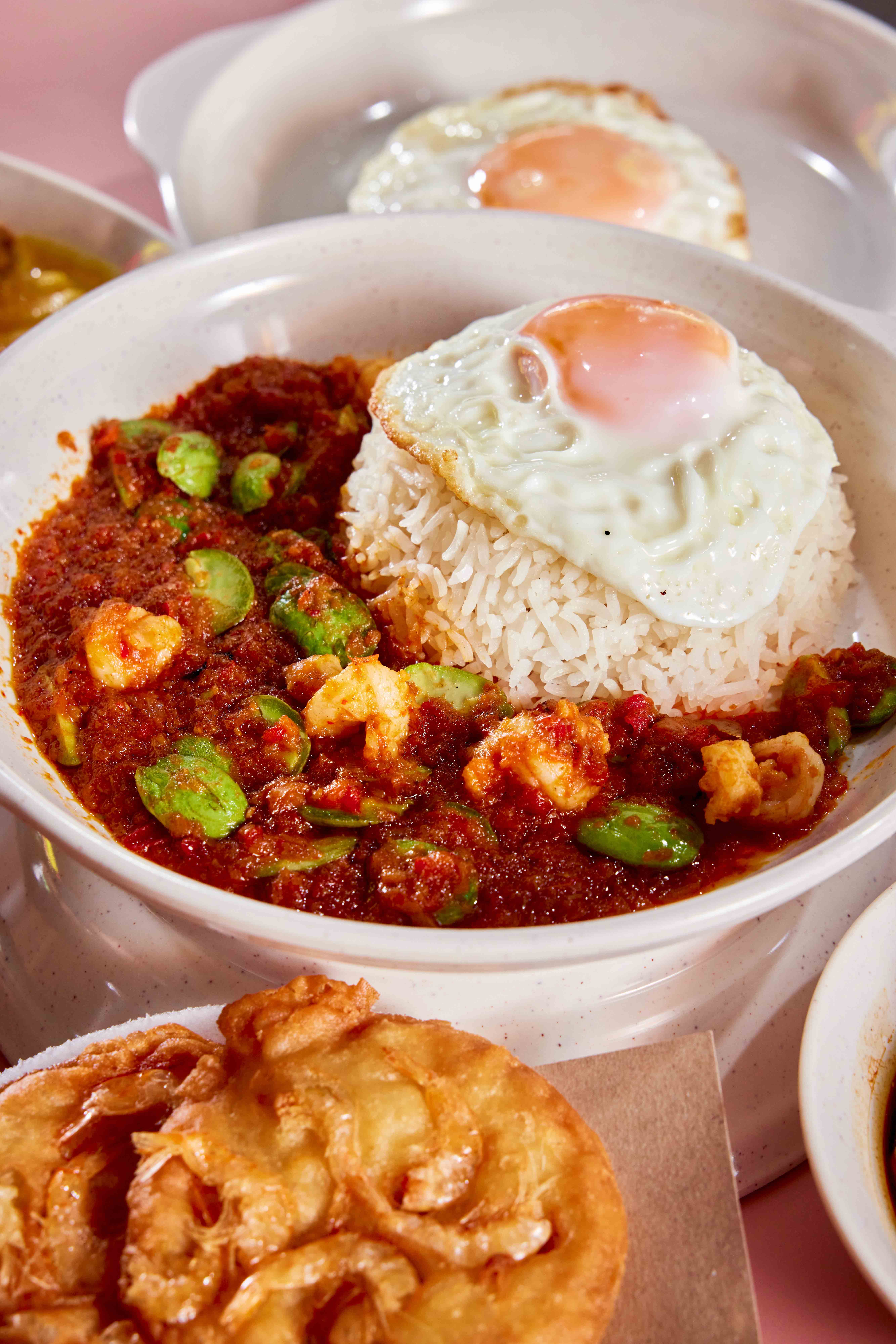 The Singapore PRs, who hail from Perak's Sitiawan an hour away from Ipoh, moved to Singapore 10 years ago. Despite having no F&B experience, they took the plunge to open this stall in March 2023, hawking Lily's grandma's petai recipe because they observed that not many hawker stalls sell this dish in Singapore. (It's more commonly found in Peranakan restaurants.) 
No part of this story or photos can be reproduced without permission from 8days.sg.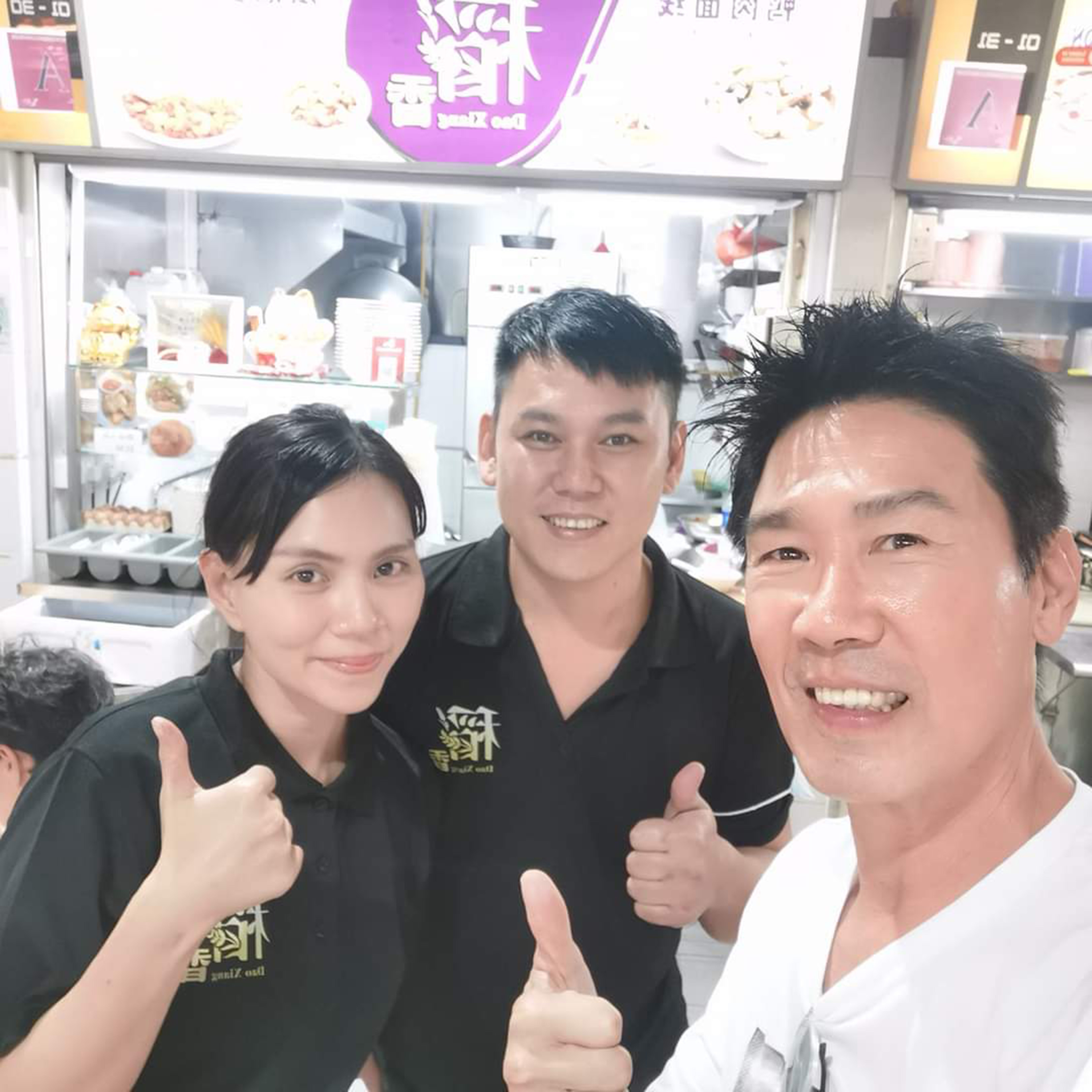 Photo: Dao Xiang/Facebook
Celeb customers include Edmund Chen, Chen Yi Xin and Jeffrey Xu
Sure enough, their uncommon offering caught the eye of hawker food aficionado Edmund Chen, who is now a regular customer. "He said it is the best petai dish he has eaten," shares Lily with a shy laugh. The foodie and veteran actor, who is known for sharing good makan finds on his social media, once came daily for a whole week. 
"He'd tapow up to four packets of our sambal petai each time. His daughter Chen Yi Xin has also patronised us before." Although Edmund doesn't go to the stall daily now, he still drops by once a week or every fortnight, says Lily. She adds: "He came by just last week".  
Edmund's wife Xiang Yun even posted a TikTok video (see above) about how her stink bean fiend hubby keeps buying this sambal petai for the family's dinner. She remarks that sambal is calorific and contains quite a bit of oil, but an unconcerned Edmund, happily munching on that very dish in the video, insists he "always asks for less oil". Xiang Yun retorts, "Even so, [pre-cooked] sambal intrinsically contains lots of oil", and she hilariously adds that Edmund's request for less oil is "to comfort himself".
Actor Jeffrey Xu once strolled past their stall and bought sambal petai too, adds Lily. 
"As young hawkers, we can bring new ideas to traditional food, but it's also tough to stand out in a competitive market and gain the confidence of customers who are more familiar with older stalls," says the couple. Judging from the steady stream of diners during 8days.sg's visit in the late morning, we think Dao Xiang has slowly but steadily gained some fans. 
The menu
Although their stall name Dao Xiang refers to the fragrance of rice grains in mandarin – because they use good quality Thai Hom Mali rice from Royal Umbrella brand – it's obvious that petai is the star of the show here. Known as chou dou in Mandarin (aka stinky beans), this bright green bean is an acquired taste. It has a slightly pungent smell and bitter edge. Petai connoisseurs would argue that the pungent smell is a big part of its charm. One of those things you hate eating as a child but somehow, learn to appreciate as you age.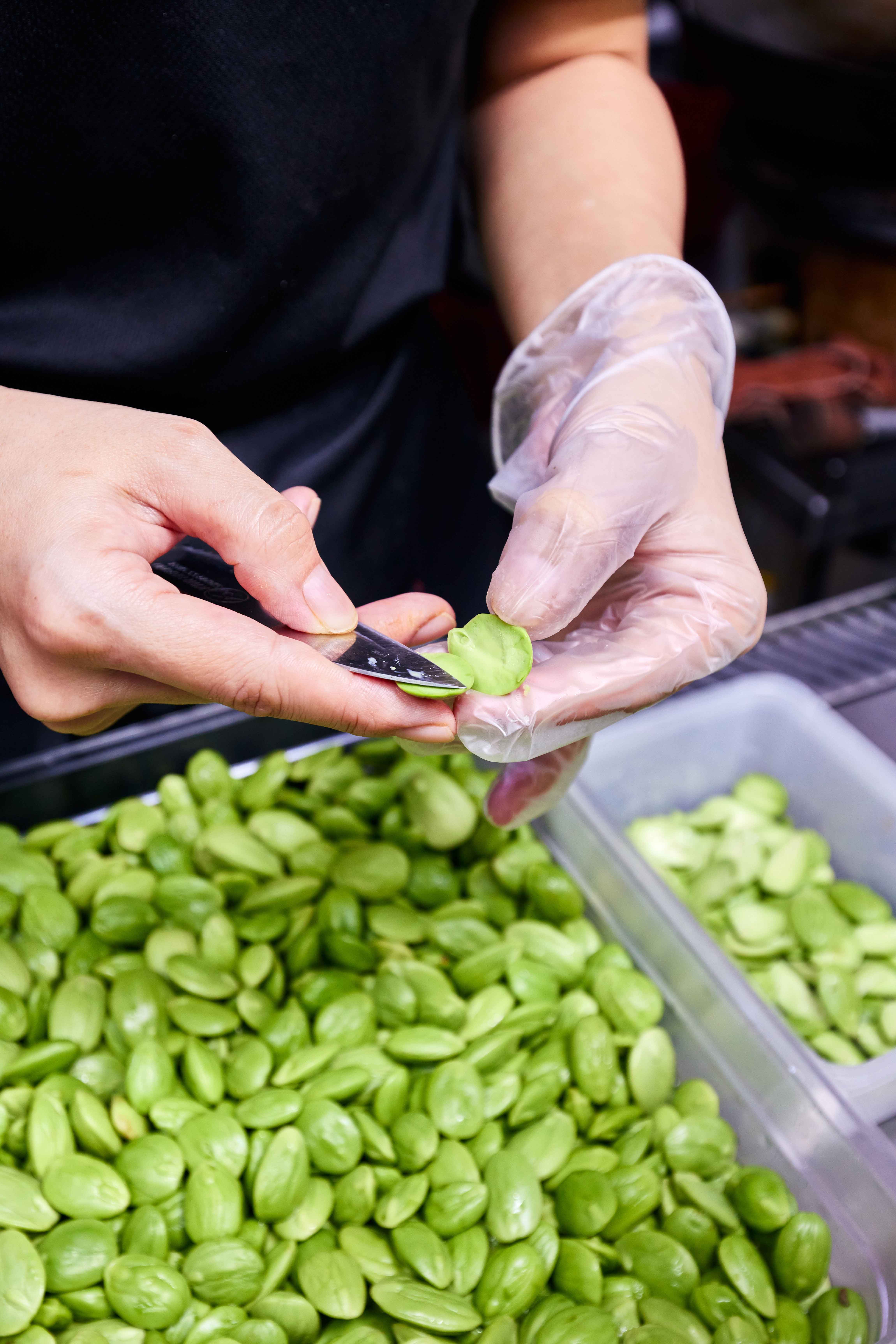 The couple even included the purported health benefits of the petai on their signboard: Rich in potassium, iron and magnesium, contains vitamin C and enhanced immune system, and regulates body fluid balance and protects the heart.
Other than Sambal Petai, their small menu includes the more commonly found Sesame Oil Chicken, Curry Chicken and Fried Prawn Fritters. 
Sambal Petai, $7.90 (8 DAYS PICK!)
A clear winner, the sambal is fried with plenty of dried hae bee for maximum umami. It's not too spicy, a little sweet, and packs a whole lot of flavour. You get five conveniently deshelled but rather small prawns swimming in a generous amount of petai and that killer sambal.
The couple preps the petai every morning by cutting them in half, using anything from 10kg on weekdays to 25kg on weekends. The crunch of the fresh stink beans, well coated with the shiok sambal that masks that bitter edge, makes it palatable even for petai noobs. We savaged every bean.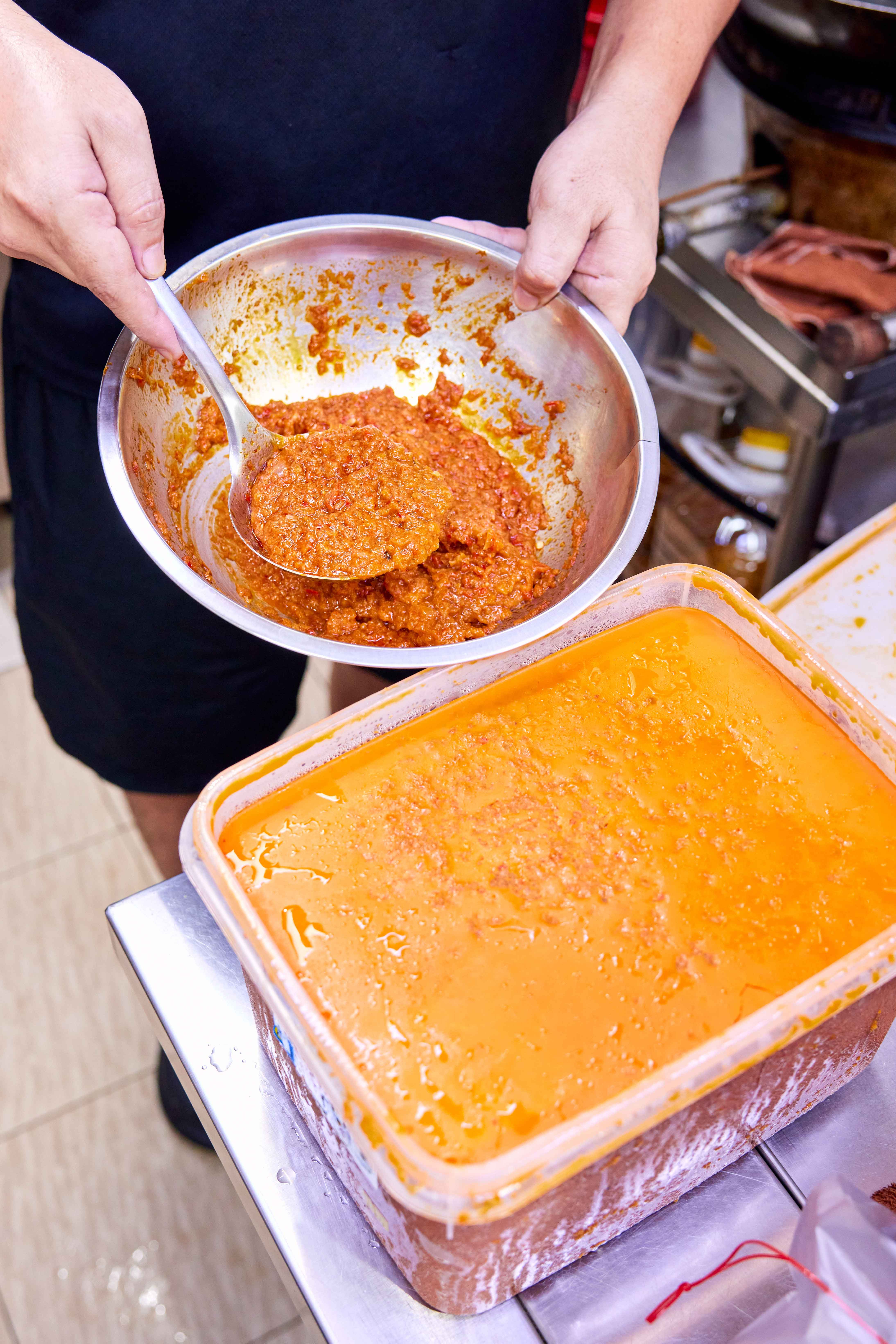 Each batch of sambal – a whopping 60 litres – only lasts them three to five days. "Many customers have asked to buy our sambal, but we simply don't have enough even for our own use," explains Choong, who is in charge of frying the sambal after his driving job each day.
This dish is among the better ones we've tried. Our only complaint: We'd have preferred say, three big prawns rather than five small prawns, for a better bite. We do like the nicely fried egg with the runny yolk, though.
Curry Chicken, $5.50
The house-made rempah boasts 12 ingredients and the gravy is thick and creamy. Each order comes with one drumstick, two pieces of thigh meat, two potatoes, and a plate of rice with a fried egg. It has a comforting home-cooked feel but didn't really wow us.
Sesame Oil Chicken, $5.50
Cooked with old ginger and fragrant sesame oil, you get two chicken wings and two pieces of braised mushroom, along with a plate of rice and fried egg. This dish is a safe bet and we can see why it is among the best sellers. We'd prefer a stronger ginger flavour though.
Prawn Fritters, $1.60 each (minimum order of 2 pieces)
Made with fresh turnip, which adds sweetness, and topped with small prawns, the supplier-bought fried fritters are decently tasty. A good though sinful addition to any of their meals. It is served with an accompanying chilli that is a little tangy. It's not bad but we'd rather dip it in the shiok sambal.
Bottom line
Zoom in on the sambal prawn petai here. It's nothing fancy — but it's tasty, comforting and reminds us of mum's cooking. We're glad that the couple is exploring the possibility of opening outlets in different parts of Singapore to make it more accessible for customers. Come to our 'hood, and we can see ourselves pulling an Edmund Chen for our regular petai fix, too.
The details
Dao Xiang is at #01-30, 2 Changi Village Rd, S500002. Tel: 86131378. Open Mon - Thur 10am -8pm; Fri - Sun 10am - 9pm. More info via Instagram and Facebook.
Photos: Dillon Tan.
8days is now on #tiktok! Follow us on www.tiktok.com/@8dayseat
No part of this story or photos can be reproduced without permission from 8days.sg.