Edmund Chen & Xiang Yun's $1Mil-Ground Floor "Staycation Home" Has Become An Attraction At Their Changi Condo
They have been "overwhelmed by surprise visits" from neighbours and have even woken up to people peeping into their bedroom window.
When Edmund Chen and Xiang Yun, both 61, bought their new Changi apartment, which was then still under construction, in 2020, they were attracted to the lush greenery at the condo and picked a ground floor unit with a little garden. 
They transformed their balcony, which faces the development's leisure corner, into a scenic al fresco dining area. It also doubles up as Edmund's workspace.
While they enjoy spending time outdoors, they did not expect the home, which they share with their two kids, Chen Xi, 31, and Yixin, 22, to become an attraction of sorts for residents at the condo. 
"Sometimes when we are sitting on the balcony or in the living room, people will walk past and take videos of us. Our home has become the feature of the estate. When people show their guests around the condo, they will say, 'This is the gym, this is the pool, and this is Edmund and Xiang Yun's house'," quips Edmund, while giving 8days.sg a tour of his 900 sq ft home. 
"We understand that the neighbours are just curious, and we are very honoured that our home is a must-see spot… but not when I am shirtless or look a mess," he laughs. 
Xiang Yun later shares with us over the phone that she is now more mindful of what she wears at home. "I don't dare to dress too sloppily 'cos our balcony door is always open. I also have to remember to draw the blinds when I change," she says with a chuckle.
Overwhelmed by the surprise visits
When the Chens first moved in last November, they were "overwhelmed by the surprise visits" which were a "daily occurrence".
"It was a challenge for us especially in the first few weeks when we did not have curtains. Some people even came up to the windows and tried to peek in. There was once I woke up and saw two people looking into my bedroom window. I literally jumped up," recalls Edmund.
"It is especially bad at night 'cos you can see more clearly from outside when the lights are switched on. I feel like I am living in a fishbowl."
Despite this, Edmund seems to have settled well into the new neighbourhood. During our short visit, we saw him greeting and waving to residents and contractors like Mr Congeniality.
While he notes that the unexpected visits are now less frequent, he plans to add tall plants in front of their balcony and windows for more privacy.
No part of this story or photos can be reproduced without permission from
8days.sg
.
It's their "staycation home"
Though the Chens moved into the three-bedroom, two-bathroom apartment two months ago, Edmund is currently the only one actually living there as he is in charge of cleaning the place. The rest of the family still stay in their five-room flat in Marine Parade and would occasionally go over to la casa Changi for meals and staycations.
The family had always wanted to get a second property as an investment, so when prices were at a low at the start of the pandemic, they decided to all chip in to buy the $1 million apartment. 
"We chose Changi 'cos it has a special place in my heart. I was posted to Changi Air Base for my National Service and I also like the rustic and laidback feel of the area," says Edmund.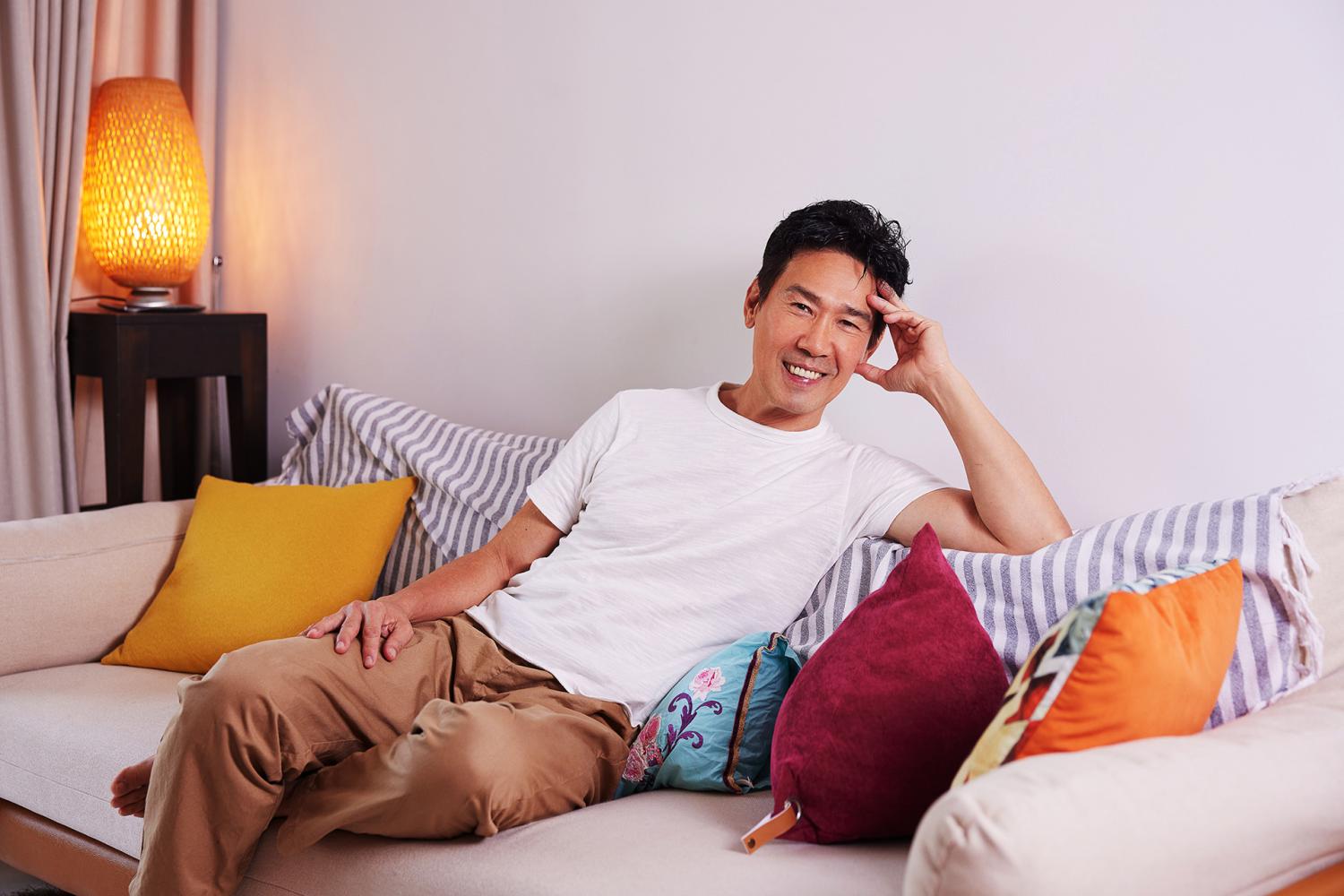 The condo is like the family's "staycation home" where they bond and disconnect from their daily lives. "When we're here, we force ourselves to engage with one another. We chat and play board games. This is also why we don't have wifi in this home. We just use the one from the estate. But if there are 10 people using it, then we have no wifi," says Edmund.
Ironically, they have not really used the condo facilities for fear of being spotted by neighbours. "You feel paiseh to remove your clothing. You have to start working out three months prior to make sure you look freaking good before taking that swim!" he laughs.
Xiang Yun and the kids will join Edmund at the new home when they renovate their Marine Parade flat after Chinese New Year.
$10K design budget for the home
Little was done in terms of décor as the brand-new apartment came with the essential fixtures and furnishings. The family also wanted to live in it first before deciding if they want to renovate it. 
Xiang Yun shares that Chen Xi is the "leader" when it comes to designing the home and she is "not allowed to be involved". "I made all the design decisions for our previous homes. I like antiques and I think the family is sick of my taste," she laughs.
To give it a resort vibe, Chen Xi wanted lots of earthy and warm wood tones and textures of nature. He gave the family a budget of $10,000 to work with and Edmund proudly shares that they have only spent half of it.
"Most of the furnishings are either sponsored, gifted, or we DIY or recycle. But everyone has to agree to it before we buy or bring it over. We are a democratic household," he says.
As the apartment is pretty small compared to their flat, the family did not allow Xiang Yun to bring furniture from her "private collection" over. The only approved items are the two camphor antique chests used as coffee and side tables to add an oriental touch to the space. Xiang Yun secretly(!) bought the chests years ago and hid them in her storage unit. 
"She's an impulsive buyer. She has two storage units filled with stuff.
You name it she has it. Seriously. She's afraid we'd scold her, so she hides her purchases there," says Edmund. "She brought six rugs here, but I put them away. You can see there's one hidden under the couch. It doesn't go with the theme and makes the place look cluttered."
Balcony
The balcony, which is also the dining area, is the family's favourite spot. As Edmund wanted a spacious table, Chen Xi got this dining table set custom-made by a carpenter. He chose raintree wood as it is robust and ages well in natural environment and handpicked the slab as he liked the wood grain design.
Edmund also enjoys working in the balcony. Not only do the view and environment inspire him, cleaning up is a breeze when he makes a mess.
"I do pencil drawings so there's a lot of eraser shavings. When I was at the flat, every time I finished sketching, I'd have to vacuum the place, which caused a lot of disruption. Here, I just sweep it out with a broom," he says.
The only drawback of the space, he says, is the insects and bugs: "We get a lot of bugs and mosquitoes, so I have all kinds of mosquito traps outside. Our neighbours are also very sweet. They will put baits at our gate to keep the ants out of our home."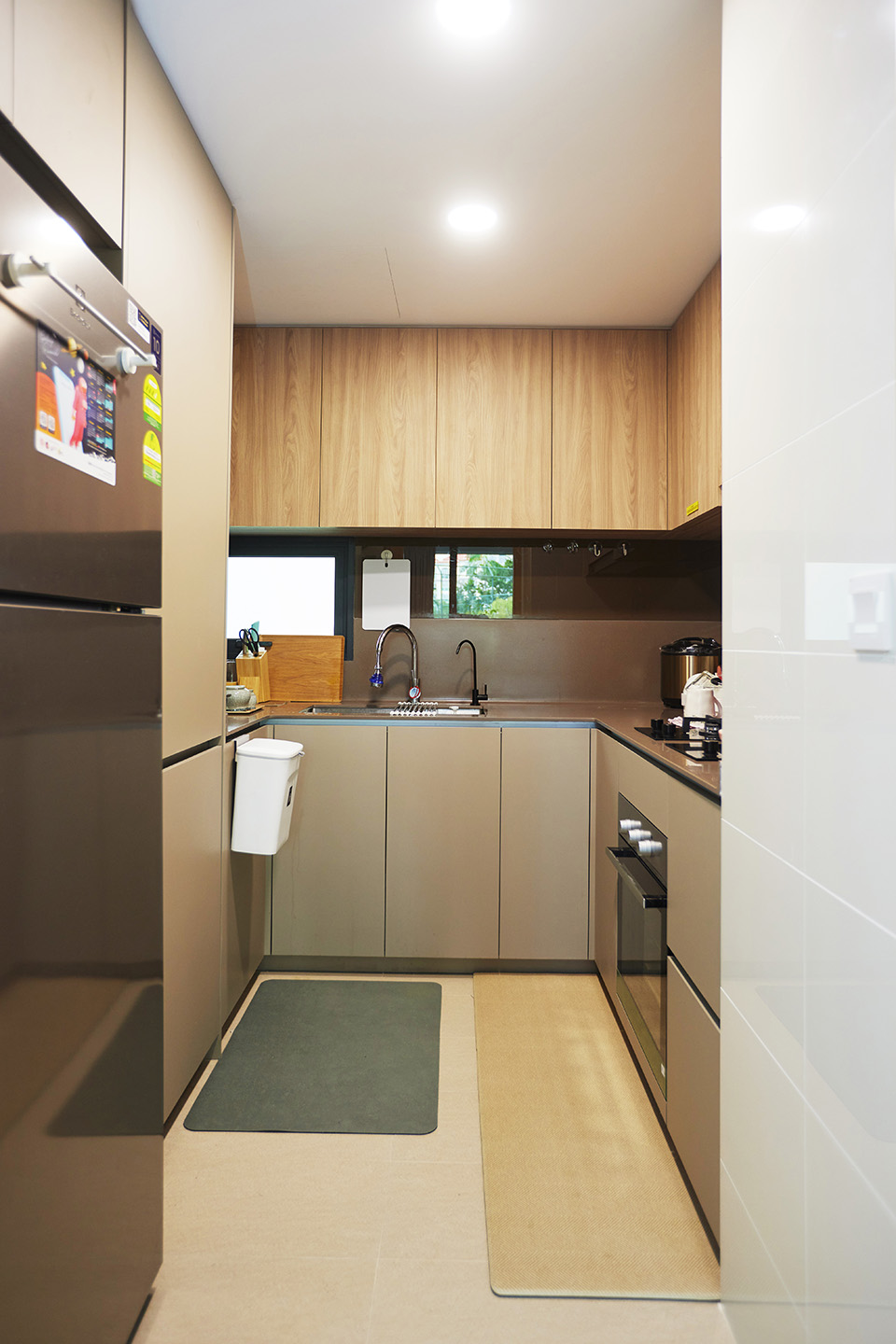 Kitchen
On the other side of the living room is a small kitchen, which they "buay sai (cannot) use", save for some simple cooking.
"I would like to cook there, but Edmund doesn't allow it 'cos he is afraid I will dirty the place," says Xiang Yun.
Master bedroom
Though simply furnished, the master bedroom, with almost-full length windows and a view of the greenery, evokes villa vibes.
Master bathroom
The bathroom, which is Edmund's "inspiration room", is decked with comics for his reading pleasure.
"I tend to spend a lot of time reading comics in the toilet. Sometimes when I get up, my leg is numb," he shares. As some of his comics were destroyed due to the moisture in the bathroom of his flat, he decided not to display his "prized books" here.
"I have two storage units of collectibles and comics. When Chen Xi passed his exam when he was a kid, I would give him a Dragonball comic as a reward or a form of encouragement. Now that he's grown up, whenever I complete a project, he will get me a comic book. It's his turn to reward me," says Edmund with a smile.
To make the space even more comfortable, Edmund plans to install a bidet toilet seat. "We have bidets in the toilets in our flat. It can wash our butts so we don't need to use toilet paper. I don't feel clean if I don't wash it. I'm a bit OCD," he says.
Photos: Kelvin Chia
No part of this story or photos can be reproduced without permission from
8days.sg
.