Egyptian Chef & Singaporean Wife Sell Fusion Roti John & Kebab At Hawker Stall In Chomp Chomp
Quan Yifeng is a regular customer at Habibi's Kitchen.
How did a self-taught Egyptian chef end up selling chicken kebabs and roti john at Chomp Chomp Food Centre? According to Ahmed Said Elsayed Mohamed, it's all thanks to his
habibi
(Arabic for "my love"). "I've always loved cooking but it was my wife who encouraged me to share my food with more people," says the first-time hawker who's in his 40s. In April this year, Ahmed opened Habibi's Kitchen with his Singaporean Chinese wife, Queenie Tan, who's in her 50s. She helps out at the stall in between her job as an event host. The stall serves kebabs, roti john and an original invention called roti bomb (more on that later) with chicken, beef or egg and cheese fillings.
No part of this story or photos can be reproduced without permission from 
8days.sg
.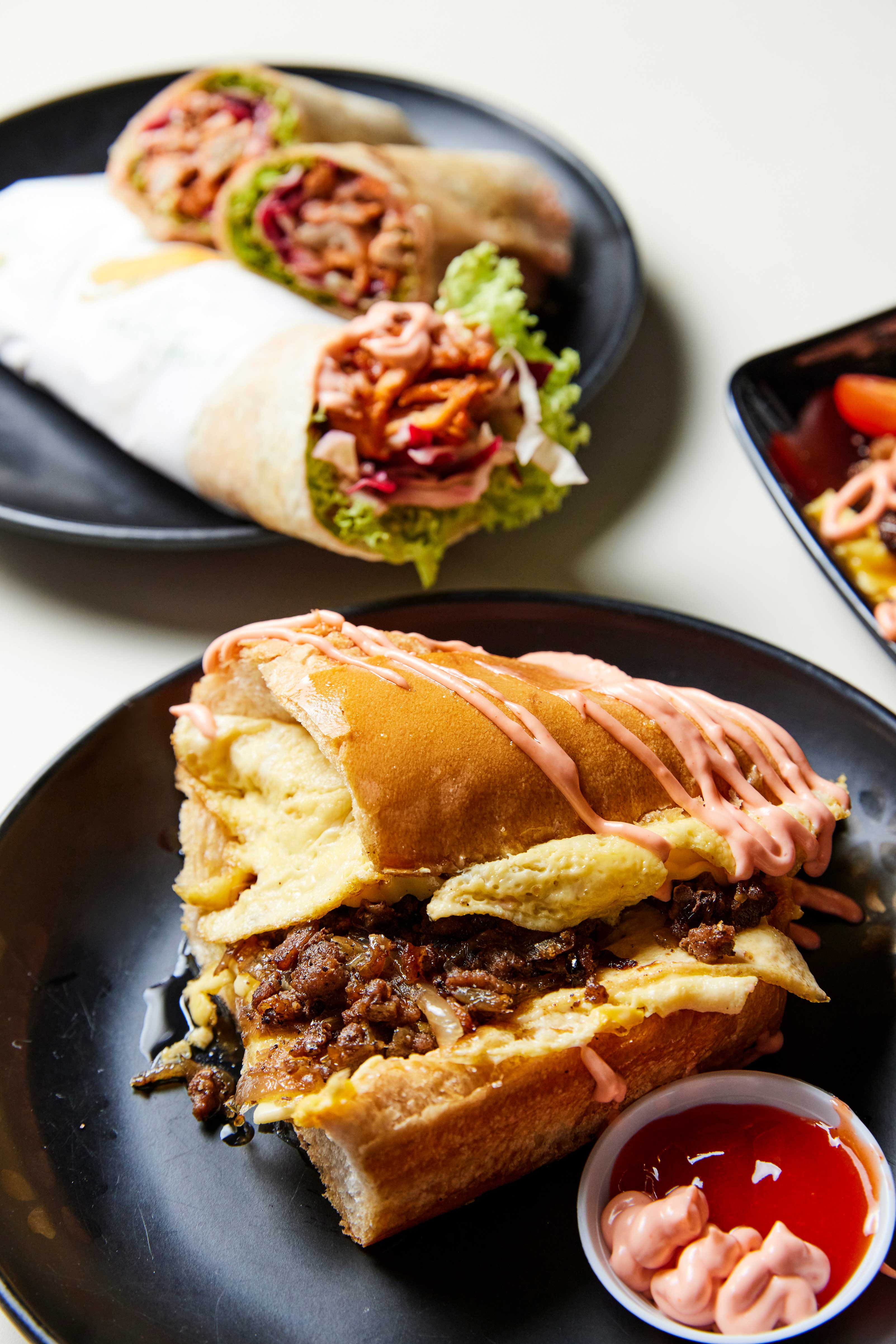 Relocated to Malaysia in 2013
Ahmed was born in Ismailia, a city in north-eastern Egypt. In 2013, he quit his managerial job at an agriculture company in Cairo and relocated to Malaysia "to seek a new opportunity" partly due to the turmoil caused by the Arab Spring (pro-democratic uprisings in the 2010s in the Arab world, including Egypt).

Thanks to cooking skills picked up from various restaurant stints in Cairo when he was younger, Ahmed found work at a Middle Eastern restaurant in Johor Bahru with the help of a friend's recommendation. He worked his way up from kitchen assistant to head chef at the 100-seater (he declined to name the restaurant) in JB in just three years.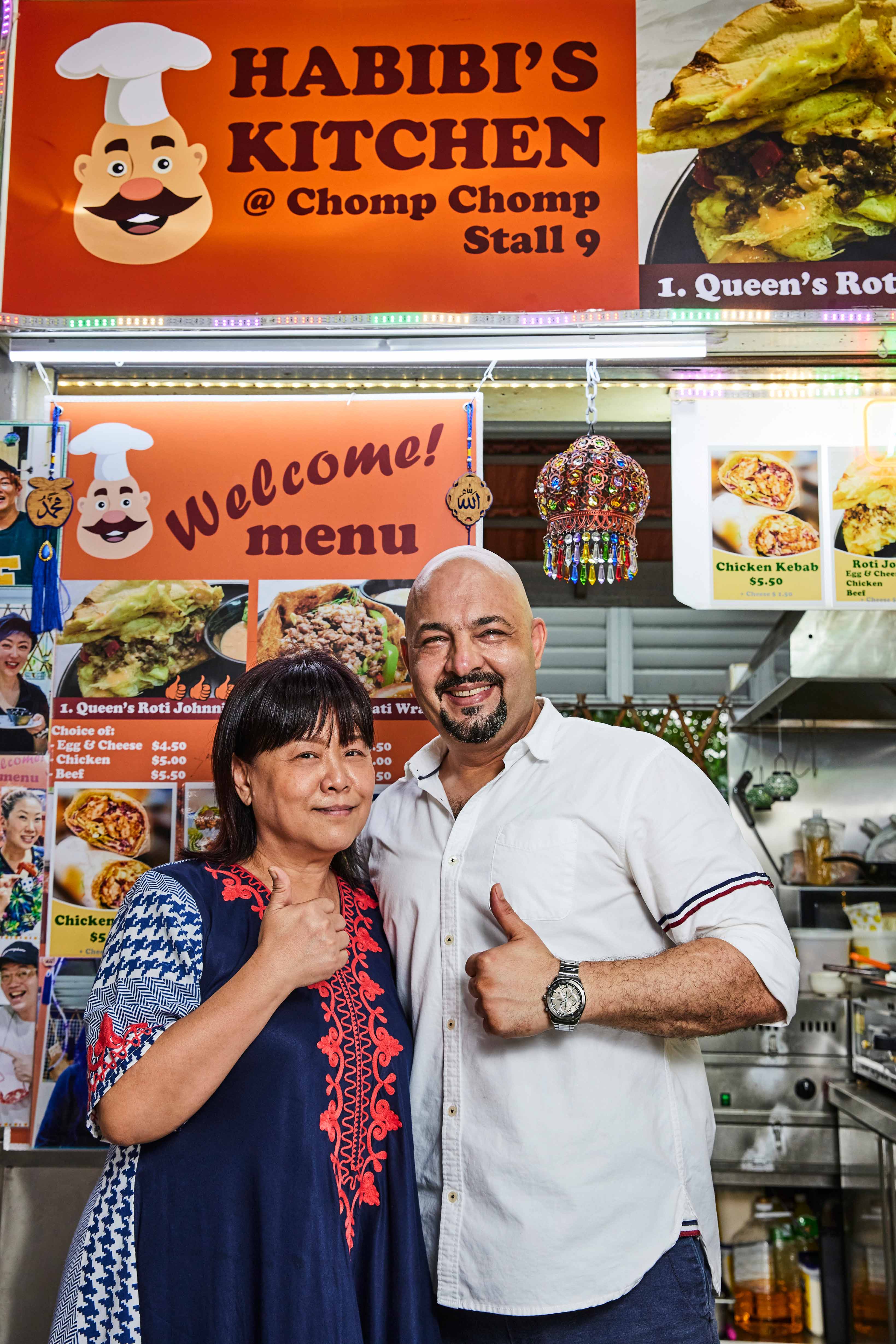 Fell in love with a Singaporean
It was at the same restaurant that Ahmed met his wife Queenie, who dined at the establishment during a trip with friends. "We all thought he was so handsome," she giggles. They fell in love and Ahmed relocated to Singapore to be with her. The couple have been married for about seven years. 

In 2015, Ahmed started working as an assistant chef at Holiday Inn Express Singapore Katong, cooking casual Western cuisine at the hotel's central kitchen. He later cooked western and asian food at Dulwich College, an international school at Bukit Batok and Thye Hua Kwan Hospital, a community hospital in Ang Mo Kio.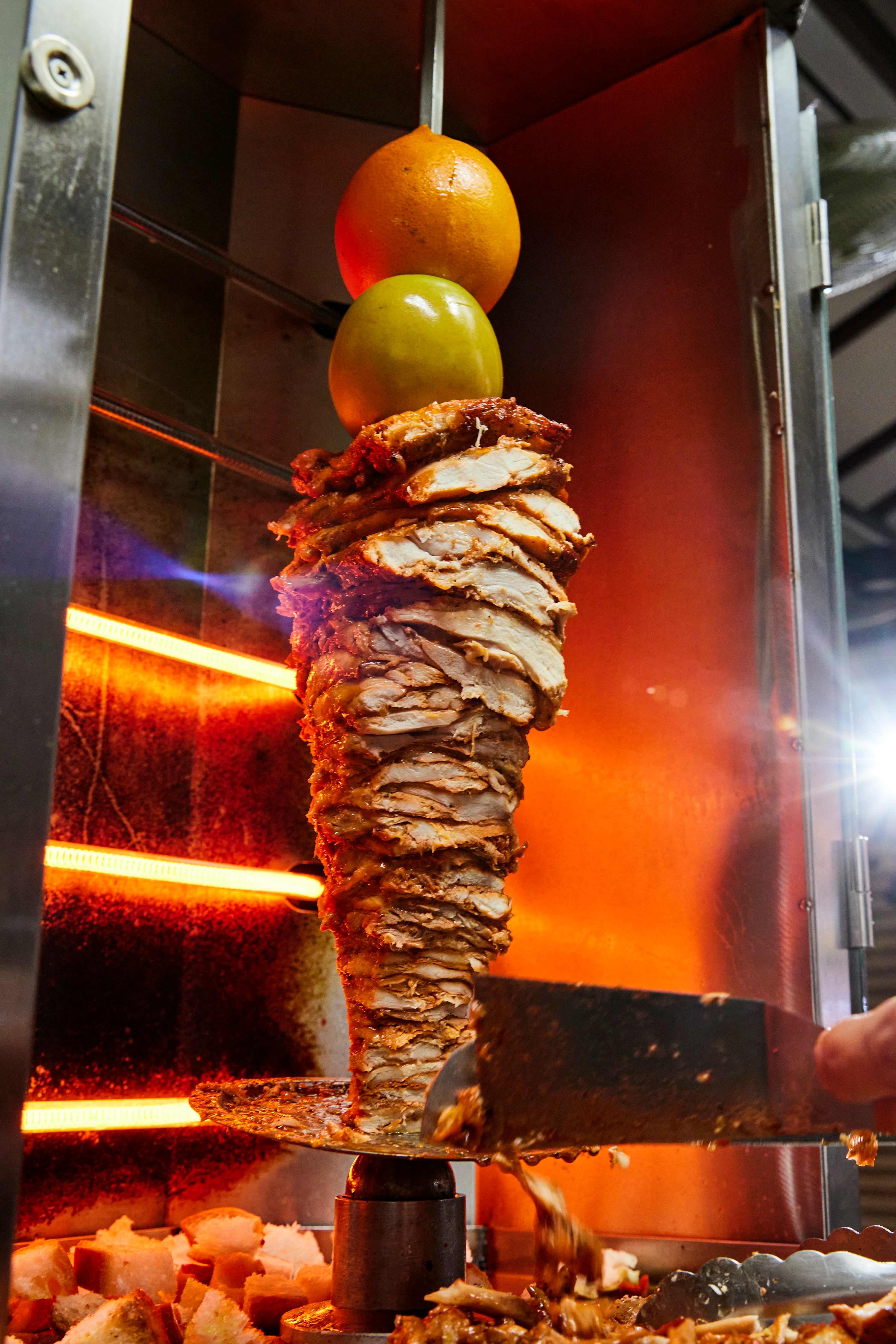 From live cooking demos to a hawker stall
Through Queenie's event hosting connections, the couple were engaged by Geylang Serai Community Club to present online cooking classes from 2020 to 2021. Queenie would host the cooking demo in mandarin while Ahmed cooked Mediterranean and Middle Eastern-inspired fusion dishes like shish kebab (skewered and grilled meat) and lamb shank with saffron rice.

"I was very nervous. It was my first time in front of the camera and I had to cook live! And it's not just one dish, I had to make three or four dishes in an hour. After a few episodes, I became more comfortable and excited to come up with new ideas for the show," shares the jovial hawker.

Queenie adds that the experience spurred them to open a hawker stall. "The viewers started asking us where they could try our food. My brothers suggested that we could find a stall and try selling our food since we've started to gain some popularity."

"Ahmed is not that familiar with hawker culture, so I brought him to Chomp Chomp one day," she continues. "He liked the place and said we should try to bid for a stall. He said, if god gives us a sign [by winning the bid], we'll go for it. That very night, we went on the NEA website and there was really a food stall available for bidding!" The couple dropped $20K to open the stall in April.
Why not sell only Egyptian food?
"Since we are in a hawker centre, we want to appeal to Singaporeans and offer food that is more familiar to them," says Ahmed. The hawker has no qualms about adding local touches to dishes like kebab, which is popular in his home country. "I feel satisfied when locals enjoy my food. The traditional kebab in Egypt uses thicker flatbread, but locals prefer something thinner, so we went with a [non-traditional] tortilla wrap instead. We also make sure the meat is not too oily and we use more veggies to make the dish healthier."

"I hope to open an Egyptian fusion restaurant someday so I can introduce [Egyptian] food to more people," he adds.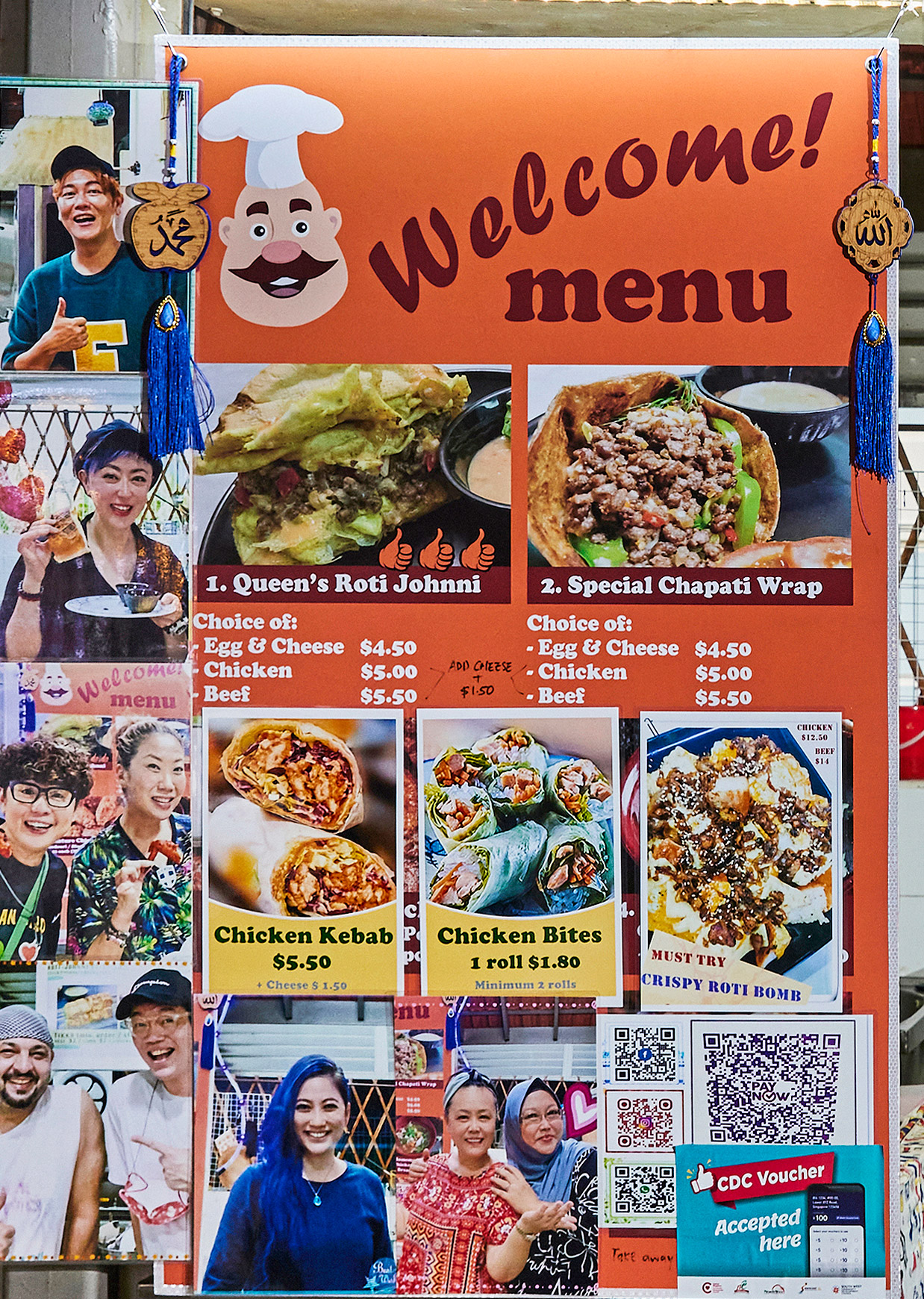 Celeb pals
The stall's sideboard is plastered with photos of local celebs like Quan Yifeng, Patricia Mok and Jaspers Lai – they are personal friends with Queenie, who met through the latter's hosting and performing gigs in the past. Yifeng is a regular customer who inspired a snack called Chicken Bites, essentially a kebab wrapped in Vietnamese rice paper as "she wanted to eat something less carby".

"We're grateful for their support. They even joked that their photos are not big enough," she quips. "It has definitely helped with publicity. We've had curious customers who asked what Quan Yifeng had at our stall and ordered the same."

Even with the star-studded publicity, the couple tell us business has been erratic. "As a new biz, it's been challenging. Most customers come [to Chomp Chomp] for the more established stalls. It's been slowly improving thanks to word-of-mouth," shares Queenie. Most of their customers are residents in Serangoon Gardens.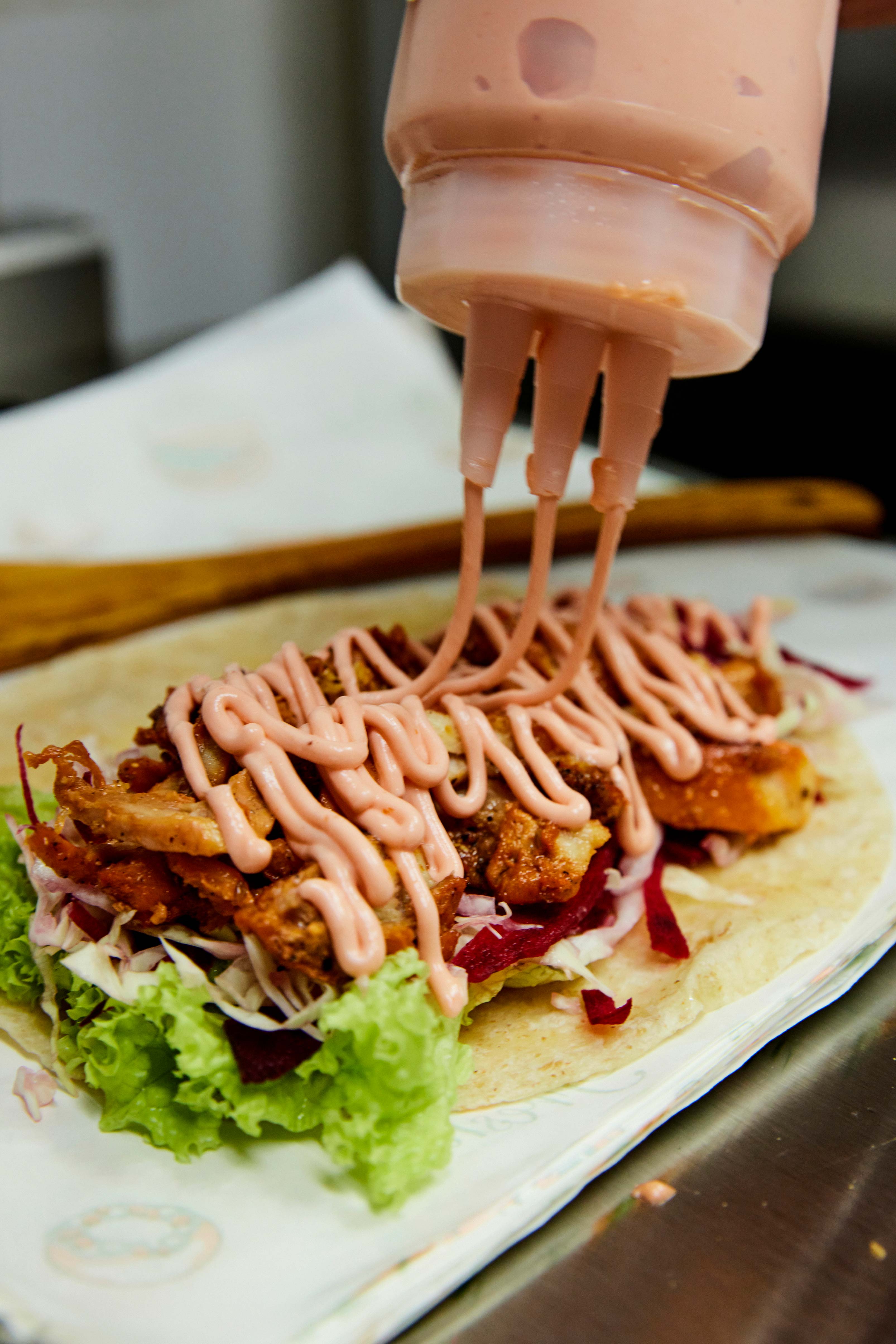 The stall is closing temporarily in September
Habibi's Kitchen will be closed temporarily from 4 September to 10 October as Ahmed will be returning to Egypt for a visit. "I booked the flights before we [won the bid for] our stall. The timing is unfortunate, but I'm also happy to be going home after not seeing my family for almost three years [due to the pandemic]," shares Ahmed.
Chicken Kebab, $5.50 (8 DAYS Pick!)
Chicken thighs are marinated in orange juice, cumin, black pepper and garlic for 24 hours before getting grilled on the gyro machine till golden brown. The citrus-based marinade, an original recipe developed by Ahmed, gives the otherwise savoury and herby meat a refreshing, zesty hit. Sliced into thick chunks, the juicy, not-too-oily chook is folded into a store-bought tortilla wrap with fresh veggies and dressed with a tangy house-made sauce made from mayo, ketchup and "secret spices". Though it may look slim, the wrap is chock full of ingredients and is rather filling.
Beef Roti John, $5.50; $7 with cheese (8 DAYS Pick!)
Roti john was the first item on the stall's menu as it's one of Queenie's favourite hawker dishes. However, Ahmed's version differs from the local original – instead of frying the bread together with a mixture of minced mutton, chopped onions and beaten egg, the hawker prepares the meat filling and omelette separately. 
Ahmed stir-fries minced beef with freshly ground black pepper, clove and allspice (a common Middle Eastern spice made from the dried berries of the pimenta dioica) and lots of onions before layering it with an omelette and sliced cheese (an add-on option) between a crusty French loaf that Queenie picks up from a local bakery daily.
The final product looks like a neater, meatier baguette sandwich instead of the simpler slices we're familiar with.
We enjoyed the punchy seasoning of the beef filling, which added warm, piquant depth to the sandwich.
The twist of flavours on a familiar favourite makes this worth a try.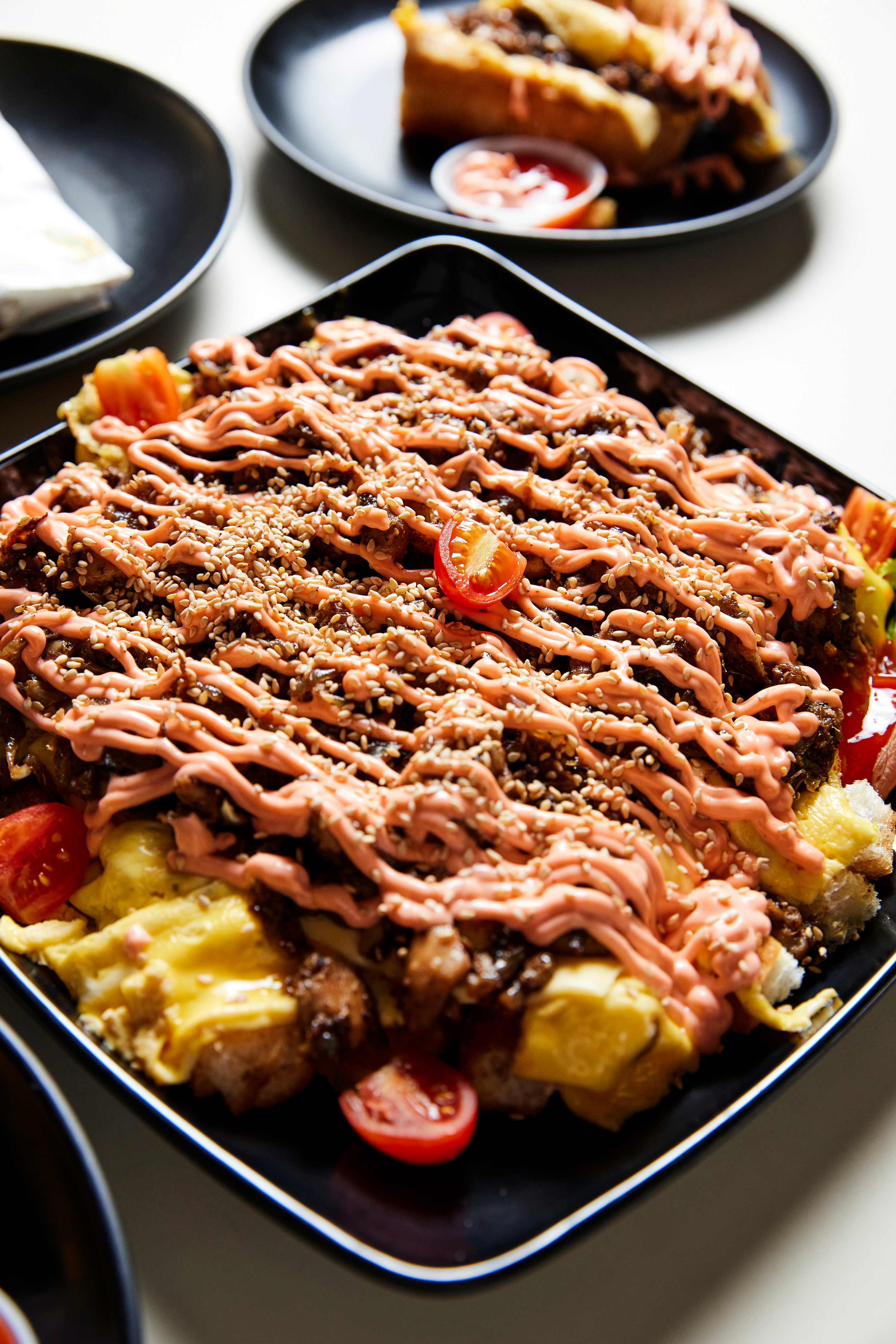 Crispy Roti Bomb with Chicken, $12.50 for 2-3 pax
Queenie says her husband created this dish after their neighbour hawkers recommended that they offer an item that's suitable for sharing as many customers dine in bigger groups here. Ahmed's invention, named Roti Bomb "because it's messy", is an upsized, 'deconstructed' take on roti john (not to be confused with 'prata bomb' – sometimes called 'roti bomb' – which is a thicker and sweeter version of regular prata with margarine and sugar folded into the pastry).
The crispy squares of French loaf mingle well with the slightly smoky, robustly-flavoured chicken (cooked on the griddle with garlic, onion, cardamom and nutmeg) while the omelette and melty cheese provide a lovely, luscious texture to the hearty dish doused in a bright pink mayo-and-ketchup dressing. A pretty shiok snack to share in a group. Next time, however, we'll ask the hawker to go easy on the house dressing as the chicken boasts enough flavour on its own.
Egg & Cheese Wrap, $4.50
The omelette and cheese are satisfyingly creamy, but the lacklustre combination pales in comparison to the other meat dishes. For the price, we'd go for their tastier chicken kebab instead.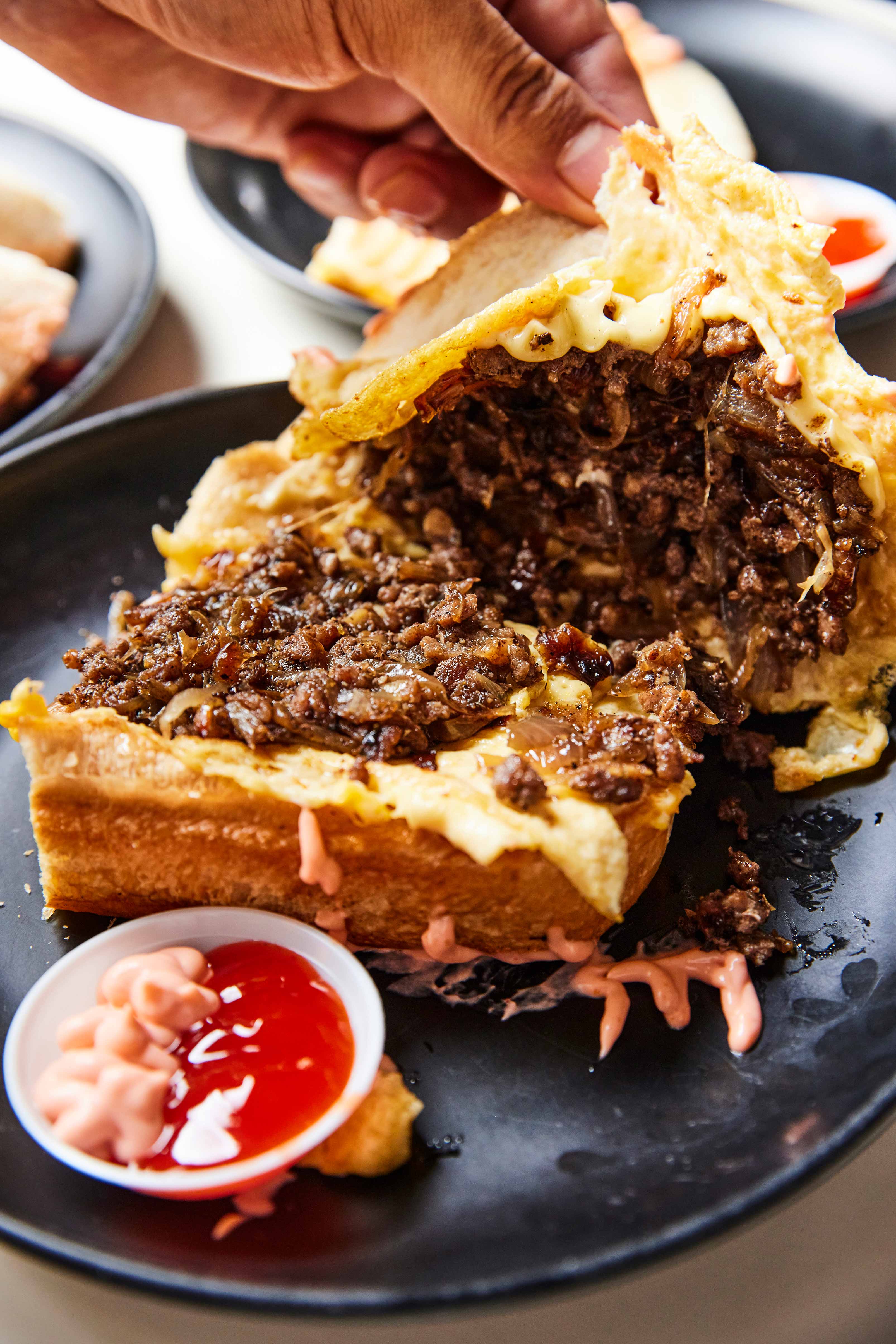 Bottom line
Delicious, hearty kebab and roti john with robustly spiced meats. Ahmed's unique style of seasoning adds a fun twist to some local dishes. Worth visiting before the stall's temporary closure next month.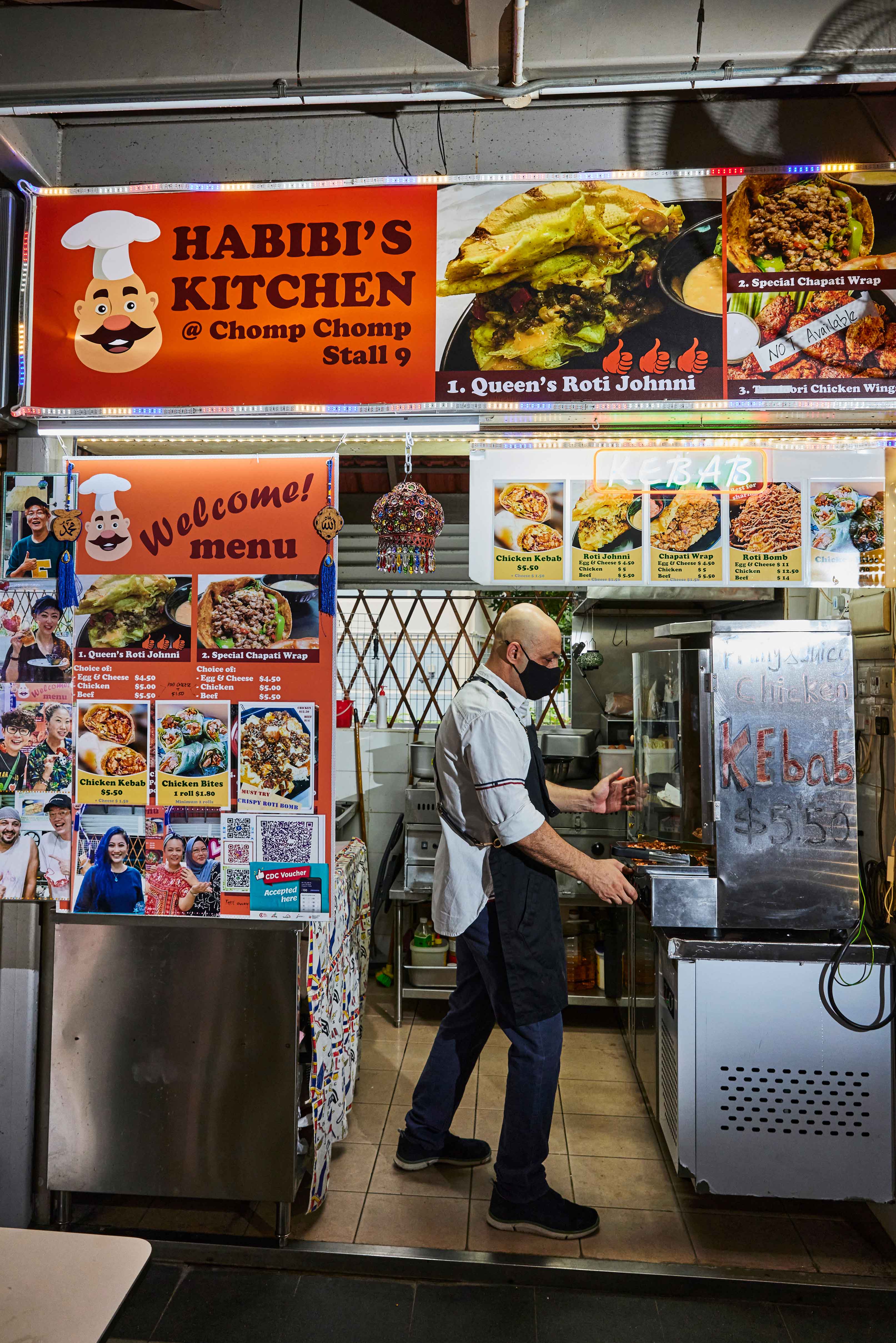 The details
Habibi's Kitchen is at #01-09 Chomp Chomp Food Centre, 20 Kensington Park Rd, S557269. Open daily except Wed 5.30pm - 10.30pm. Closed temporarily 4 Sept - 10 Oct.More info via Facebook & Instagram.

Photos: Aik Chen 
No part of this story or photos can be reproduced without permission from 
8days.sg
.