Ex-Army Sergeant Who Used To Be Secret Society Member Opens Ayam Penyet Stall at IMM Food Court
The former juvenile delinquent turned his life around and is now the proud owner of Indonesian food stall, MAD Geprek. 
Westies can now enjoy good ayam penyet from a new Muslim-owned stall at the Kopitiam food court in IMM Outlet Mall. Abdul Qaliff, 35, a former army regular and pasar malam dendeng (Indonesian version of meat jerky or bak kwa) seller, now offers heartier Indonesian cuisine, like mee bakso and ayam grepek at his eatery MAD Geprek. The unusual moniker is inspired by his love for ayam geprek, an Indonesian smashed fried chicken dish (a cousin of the more popular ayam penyet, also sold here). 

Opened in late June, MAD Geprek is located at the obscure end of the food court and is the only Muslim-owned stall here  — there are currently no plans to get a halal cert, but Qaliff says that all of his ingredients are Muslim-friendly. His wife Qailah Aafiyah, 29, who works at a local shipping company, helps him after office hours.

No part of this story or photos can be reproduced without permission from 8days.sg.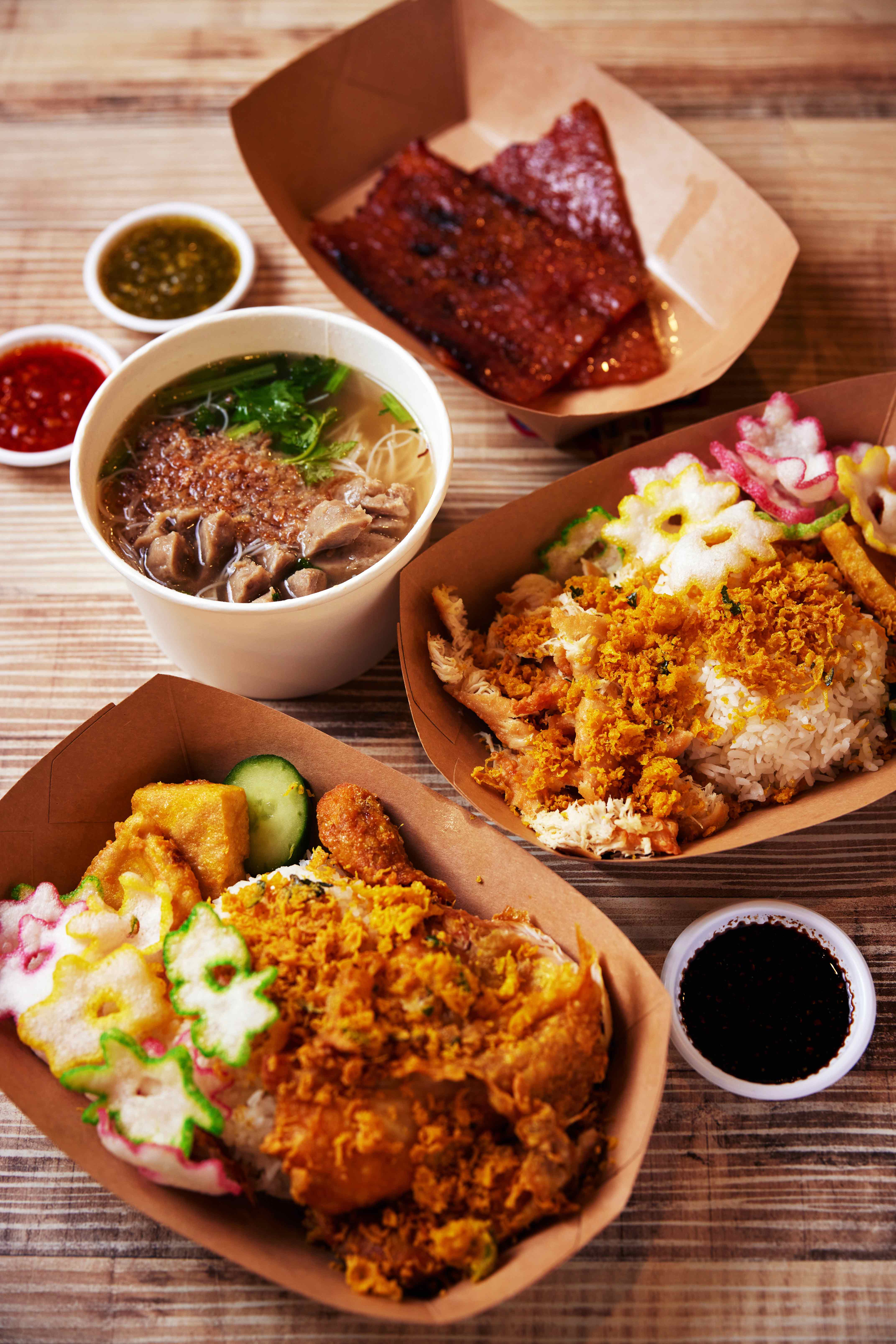 Aunt encouraged the former gang member to shape up
As with many adolescents, Qaliff has had his fair share of making unwise decisions. One of which was joining a secret society in secondary school. "I was an errand runner," he says as he recounts his tales of peddling pirated CDs and DVDs or acting as a lookout to warn illegal peddlers of oncoming police raids. It wasn't until he was caught trespassing someone's home to steal exotic fishes in Secondary Four, which saw him serving a nine-month sentence at Singapore's Boys Hostel, that he repented. 

His aunt, whom he says is his confidant, has been instrumental in helping him turn his life around during his rehabilitation journey. "My aunt would nag a lot about networking with the right people and to always find avenues to groom myself for the better. If it wasn't for her, I would not have left the gang, pursued a part-time Nitec course in office skills at ITE or even signed on with the army," shares the ex-army regular who grew up with his aunt at his grandmother's home since his parents were busy working. Qaliff left the army eight years ago as a first sergeant to sell dendeng and other street bites in pasar malams. The happy-go-lucky hawker explains: "I left the army because I wanted a change of pace and to challenge myself to something new."
Learned recipes from YouTube
When the pandemic put a wrench in his plans of expanding the pasar malam biz, Qaliff resorted to doing deliveries to make ends meet. "I took on odd jobs along the way. I remember delivering for a local home-based business, photo albums, and even frozen cat food too," he says. 
Before the pandemic, Qaliff would run his pasar malam booth with his family. On a good month, he says he took home an average of $4K selling dendeng, keropok lekor (fried fish sausage snack) and other pasar malam nibbles.  
But with plenty of free time thanks to the pandemic, he scoured YouTube for recipes to attempt cooking at home. "I happened to chance upon an ayam penyet recipe and I realised I could make a business out of that," Qaliff shares. "I tried the recipe and got my father's friend, who sells Indonesian cuisine at a factory canteen, to teach me the ropes in order for me to fine-tune the dish."
A miscarriage, a stroke, and selling 13 plates of ayam penyet a day 
2022 has been a trying year for Qaliff. Earlier this year, his wife, who was expecting, suffered a miscarriage a few weeks into her pregnancy. "I felt so hopeless because I did not know what to do," Qaliff, who has no kids, shares calmly. His father also recently suffered a stroke. "It was quite challenging to manage all these events while setting up the stall," he says. "So I could only take things slow and see how it went."

Qaliff admits that business has been erratic so far; the stall had only sold 13 plates of ayam penyet when we visited on a late weekday afternoon last month. "I know it will take time, but if this goes on, I think I will only break even in nine months," Qaliff says, acknowledging that such is the norm for newbies in the F&B industry. Apparently, the situation gets worse over the weekend. "That's when most of the industrial factories and offices around the area close," Qaliff adds. He says weekend shoppers aren't enough to cover the office crowd. 

Having invested around $18,000 into the biz, Qaliff remains hopeful that more people will patronise his stall. "Sometimes, I would leave to distribute flyers while my wife or part-time helper tends to the stall," he says. 

Despite these challenges, Qaliff has no intention to go back to his pasar malam bizl for now even though night markets are now up and running again — he is putting all his focus on getting MAD Geprek off the ground.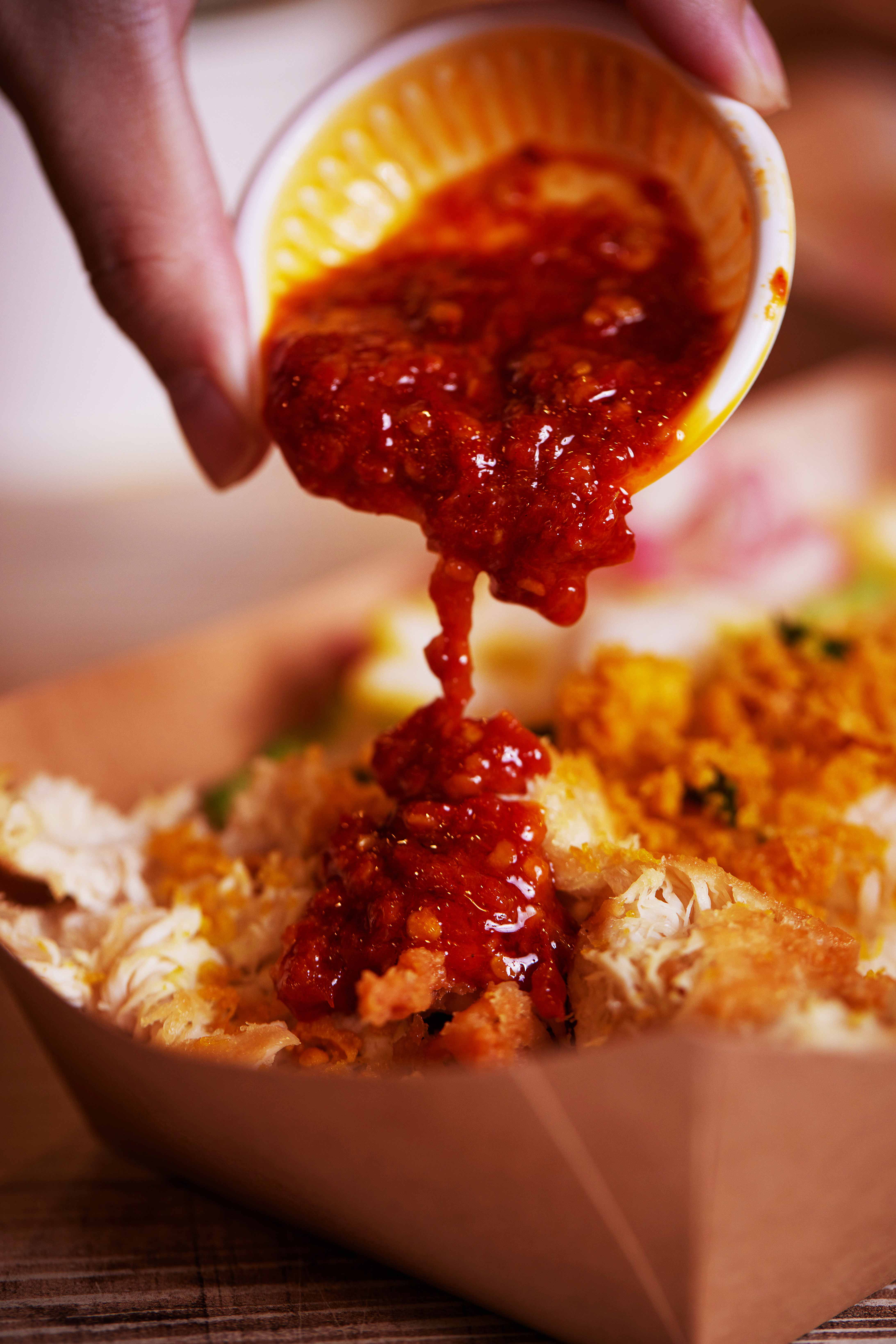 The menu 
Qaliff manages the stall alone most of the time and is deliberate about keeping the menu simple. "These dishes are what I can manage at the moment," he admits. His signature ayam penyet and ayam grepek cost $7.50 and $7 a plate respectively, while a bowl of mee bakso costs $5. After our visit, the hawker added a $6 chicken burger (filled with an ayam grepek fillet and your choice of nacho cheese, samyang hot sauce, or sambal) to the line-up. Speaking of sambal, there are three housemade ones to choose from for your rice and noodle dishes: original, sambal kicap and chilli hijau. You can only pick one to pair with your plate — any top-ups will cost you $1 per serving. Qaliff also brings over some of his pasar malam snacks, such as dendeng and lekor, to sell at his stall.
Ayam Penyet, $7.50 (8 Days Pick!) 
The standout dish here. Qaliff says that he boils the fowl in an aromatics-infused broth on low heat before rubbing the chicken leg with a special spice paste and then dunking it into the fryer. He then gently crushes the golden-brown fried chicken in a mortar with a pestle in order to flatten and further tenderise the meat. But just enough to peel the flesh off the bone, ensuring that the meat is not over-flattened while the crisp exterior stays intact. 

He pairs the chicken leg with classic ayam penyet fixings: jasmine rice, two small pieces of tau kwa, some colourful onion-flavoured keropok and sliced cucumbers. The sambal, comprising red chilli, chilli padi, garlic and onion, is served on the side. However, tempeh and kang kong (also commonly found in most ayam penyet) are missing here, as Qaliff can't cope with the work at the moment.

We enjoyed the crispiness that comes with every mouthful of tender and juicy (though slightly greasy) fried chook. It's well-marinated, with hints of turmeric, ginger, galangal and lemongrass. Yummy. We opted for the original chilli sauce to pair with this dish and soon realised that the spiciness can be overwhelming after a while. We reckon adding something tangy, such as a dash of lime juice, would help tame the otherwise overly fiery condiment. Unlike other ayam penyet stalls which smear the sambal directly onto the chicken, Qaliff reasons that his chilli might be too much for some customers to handle, so offering the sauces on the side is safer.
Ayam Geprek, $7
What's the difference between ayam penyet and ayam geprek? The former features chicken that has been treated to an aromatic boil before donning a coat of turmeric spice paste, and then getting deep-fried. The latter, however, is easier to make: the fowl is dunked in a batter and fried, before being served with sambal.

Qaliff uses chicken filet for his version of ayam geprek. Like how he preps his ayam penyet, Qaliff smashes the crispy, boneless fried chicken with a mortar and pestle. He also serves the sauce separately, alongside a bowl of jasmine white rice, two fried pieces of tofu and some keropok. Taste-wise, we find the protein a tad dry but not unbearably so, if you dip it with the sauce. We tried the smashed fried chicken with all three sauces and found it best with the chilli hijau (made from green chilli), which is the least fiery of the lot. Not bad, but order for superior ayam penyet instead.
Bakso, $5
The mee bakso (Indonesian meatball soup) served here may not be comparable to the ones found on the streets of Indonesia, but it's not too shabby either. The bowl doesn't boast a melange of ingredients; only three store-bought beef balls, silky vermicelli, and beef broth (made with packet seasonings and a few beef bones) make up the dish. Nonetheless it is quite affordable and comforting.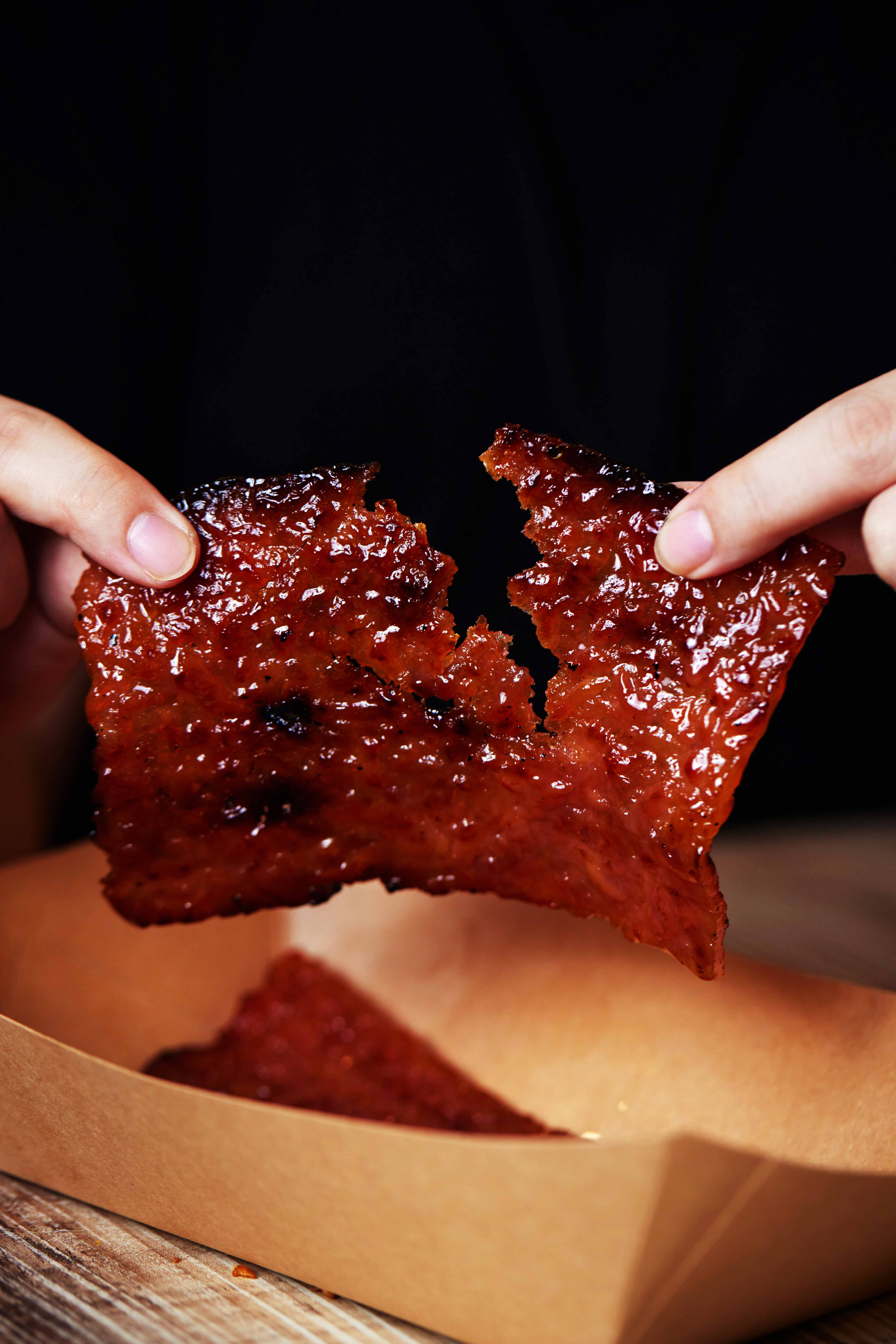 Ayam Madu 'Honey Chicken' Dendeng, $6 for 100g (8 Days Pick!)
This looks just like regular bak kwa — but of course it isn't. There are three options to choose from: Beef Original, Beef Chilli and Honey Chicken, all sourced from local food supplier DenDeng House Sedap. We only managed to try the Honey Chicken Dendeng because the rest were sold out. According to Qaliff, the Honey Chicken Dendeng was a crowd favourite at his pasar malam booths. Coated in malt sugar and honey, eating these thin slices of meat, which are softer and juicer than traditional bak kwa, is also a sticky and messy affair. The slices of dendeng served here are cooked over an electric grill and thus less smoky than the charcoal-grilled versions found at pasar malams. Still very addictive.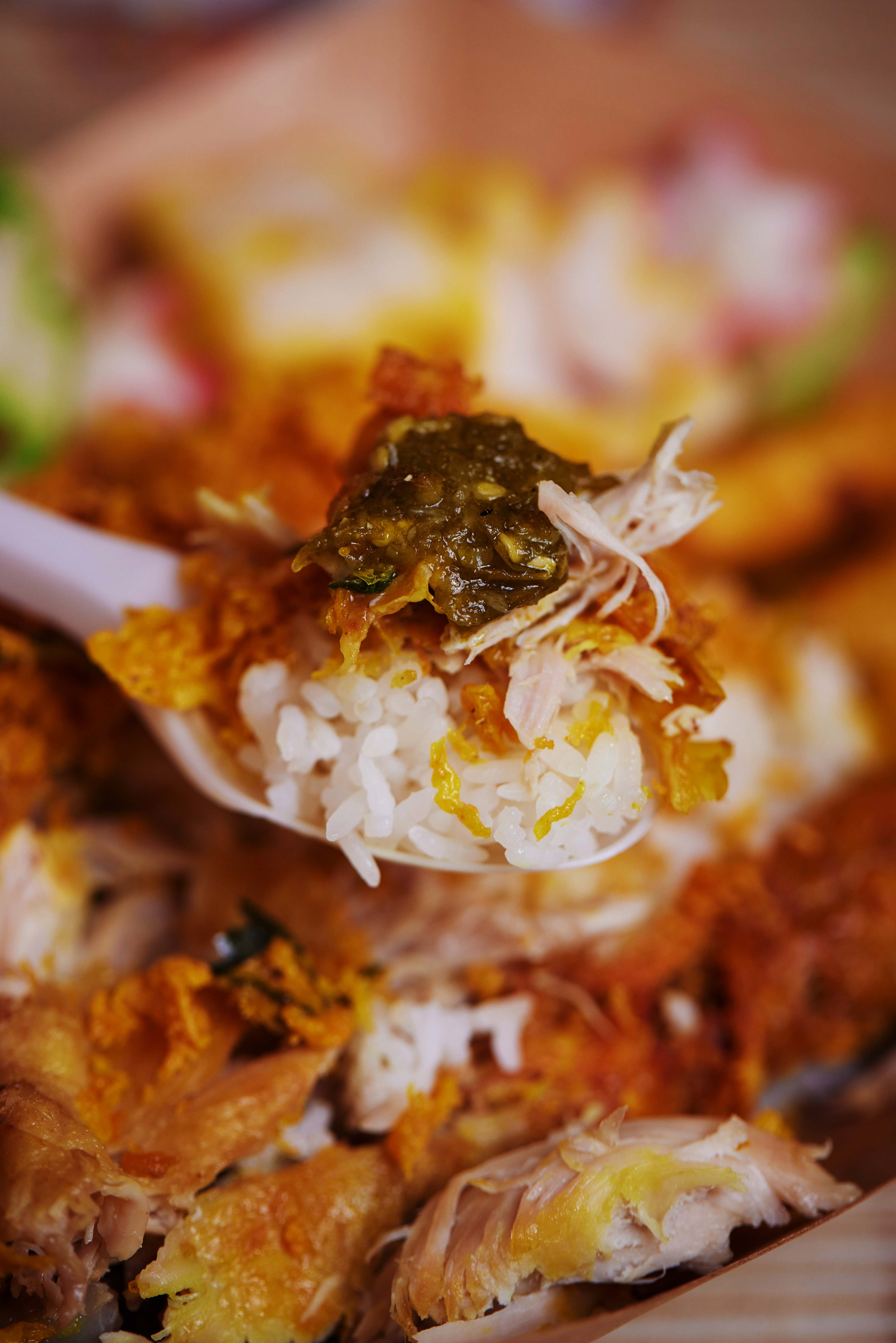 Bottom line
Go for the sedap ayam penyet over the stall's eponymous ayam geprek if you're shopping in IMM — it's worth the calories, though we wish there were some kang kong and tempeh to go with the crispy chook. Also grab a packet of sticky, juicy chicken dendeng to snack on at home.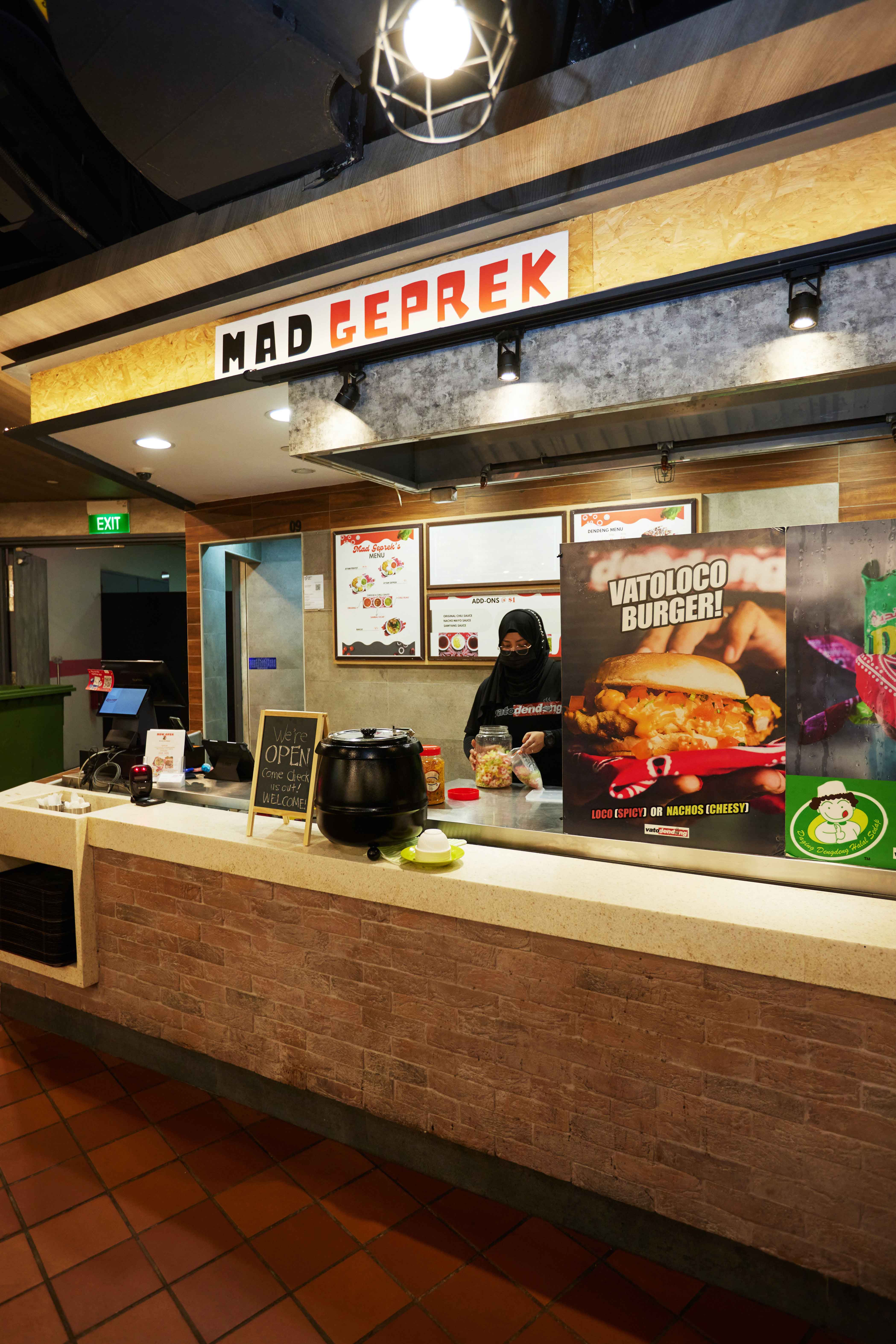 The details 
MAD Geprek is at Kopitiam, #03-55 IMM, 2 Jurong East St 21, S609601. Open daily 10am – 10pm. More info via Facebook or Instagram.
Photos: Kelvin Chia 
No part of this story or photos can be reproduced without permission from 
8days.sg
.