Ex-assistant chef at 3-Michelin-starred Zen serves great steak sando at hawker stall
The 23-year-old part-time uni student behind Muslim-friendly stall Blackgoat also makes a fab buttermilk chicken burger.
Tucked away in a quiet residential estate in Mountbatten, Muslim-owned stall Blackgoat is helmed by Fikri Rohaimi, a 23-year-old part-time university student who has cooked at top restaurants like Burnt Ends and Zen. His minimalist stall in the retro-looking Jalan Batu Hawker Centre sports a sleek monochrome signboard bearing its name (a play on "black sheep"). It offers a mix of burgers and charcoal grilled meats and seafood. 
Besides the lack of a fixed menu, the two-month-old stall is similarly non-conformist in its operations as well. Blackgoat serves different items throughout the week. For instance, grilled items like striploin and mackerel are available from Wednesdays to Fridays, and speciality burgers on the weekends. There are also seasonal items available via pre-orders only. "I have a lot of ideas, many things that I want to do," says Fikri, who affirms that he does not plan on settling on a fixed menu anytime soon.
No part of this story or photos can be reproduced without permission from 8days.sg.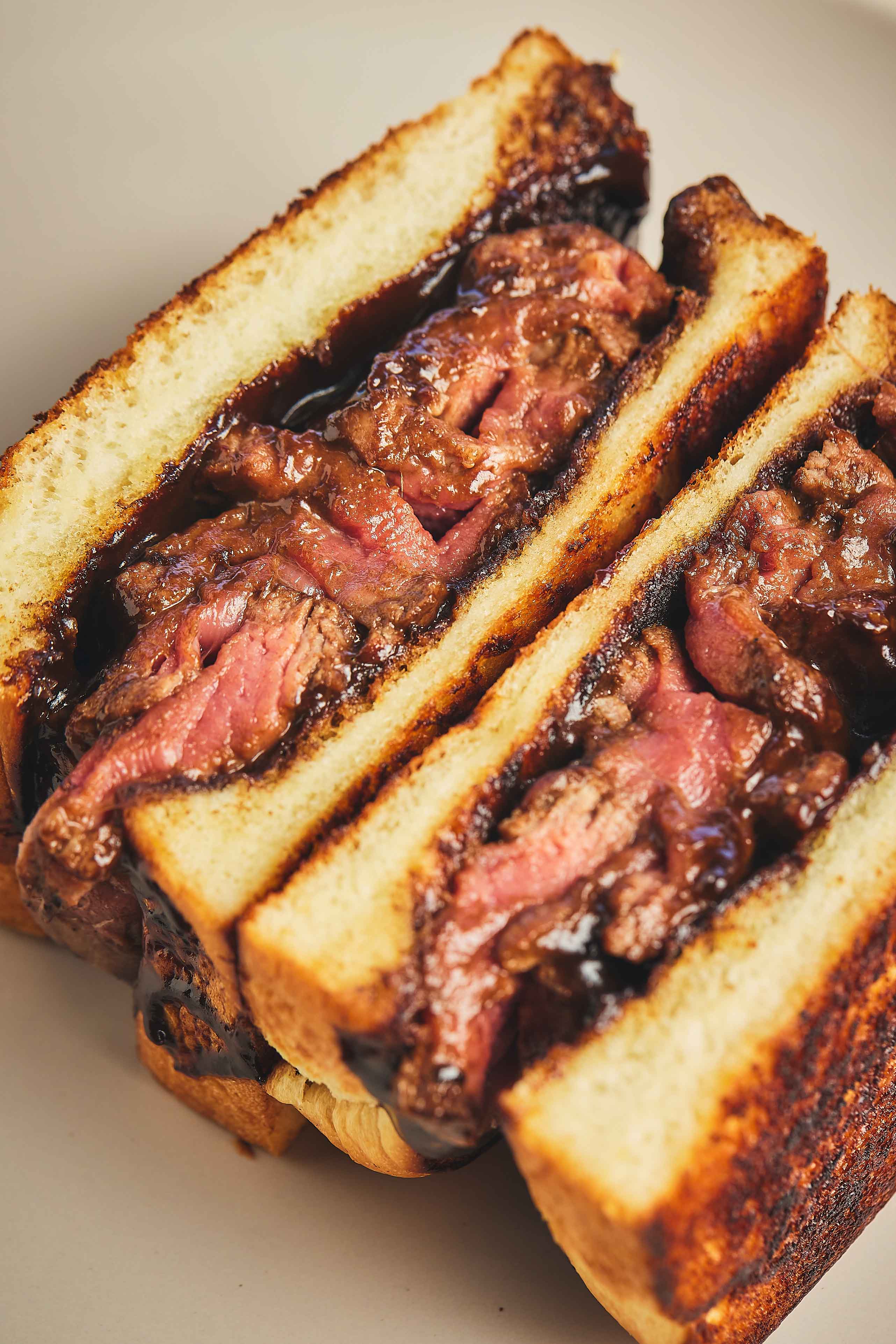 Worked at Michelin-starred Burnt Ends and Zen restaurants 
Blackgoat's varied menu started to make more sense as 8days.sg chatted with Fikri. Most of the items are based on what he has previously dabbled in. The hawker developed an interest in cooking at a young age ("I volunteered at a mosque kitchen when I was about nine") and started working part-time as an apprentice at one-Michelin-starred modern wood-fired restaurant Burnt Ends – which inspired his current grilled menu – while studying at Meridian JC.
Postponed university to gain more culinary experience
After completing his A-levels, Fikri opted out of the usual uni route and headed to NS instead. "I like cooking a lot and I knew I wanted to postpone my studies first to gain more experience," he explains.
Later, he landed an internship at three-Michelin-starred Nordic restaurant Zen, where he was eventually promoted to demi chef (an assistant chef who mostly works in food preparation). He left the restaurant after two years in February to further his studies.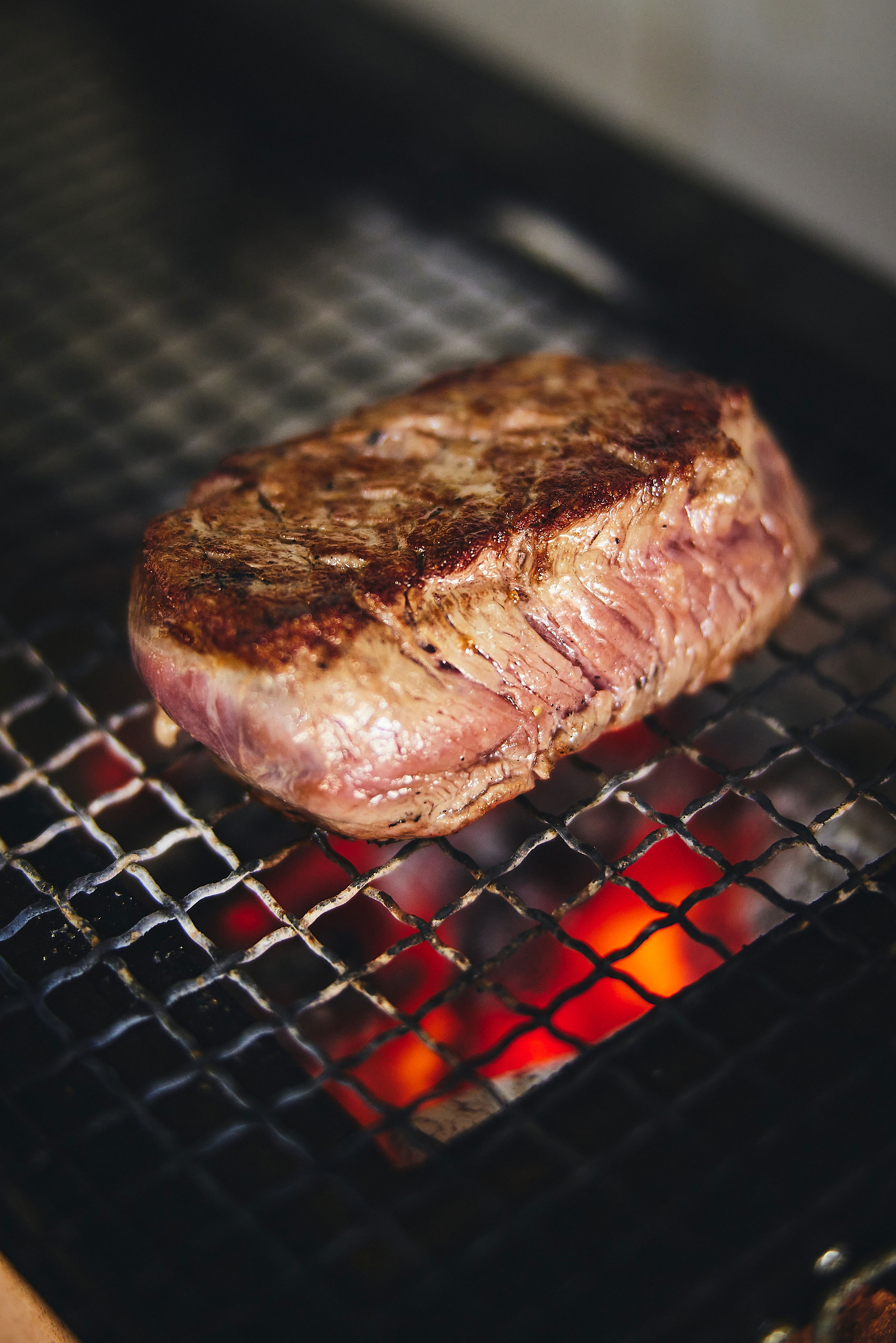 Impromptu stall opening
Initially, Fikri planned to find temporary work while taking night classes for his part-time business degree course at the Singapore University of Social Sciences. "I want to work in F&B, so I plan to learn more about the business side first," he shares. 
Fikri's dad, who is a real estate agent, suggested that he start a hawker stall as a way of gaining more experience. "It was my dad's idea. He bid [for a hawker stall] while I was still working at Zen. When I came back from a holiday [after leaving the restaurant], he told me – oh we got a stall," says Fikri.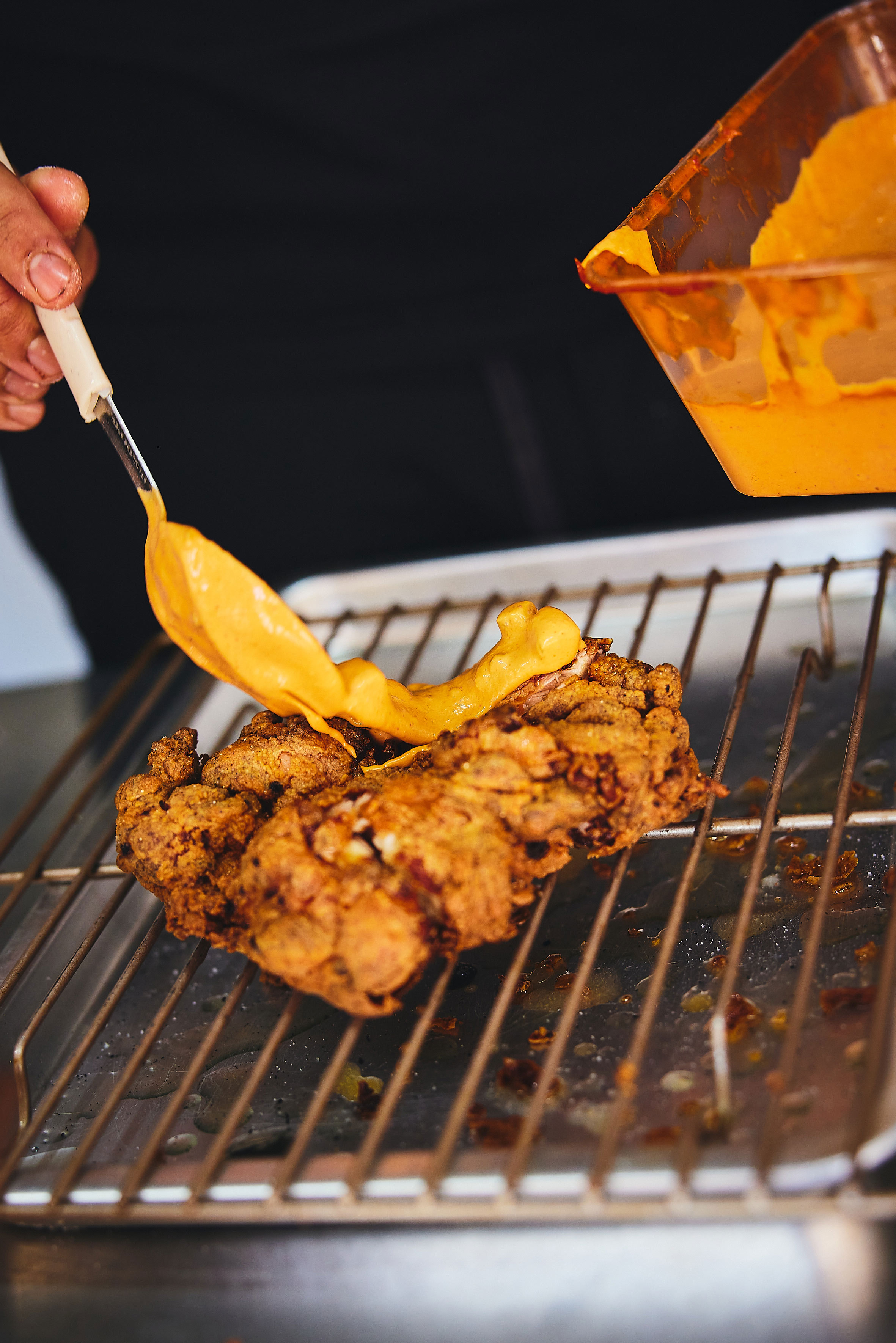 The family decided to go ahead with the plan. "I tend to just do things and figure it out as I go along," he adds. His classes are due to start in August. "Hopefully I can hire somebody and try to juggle both."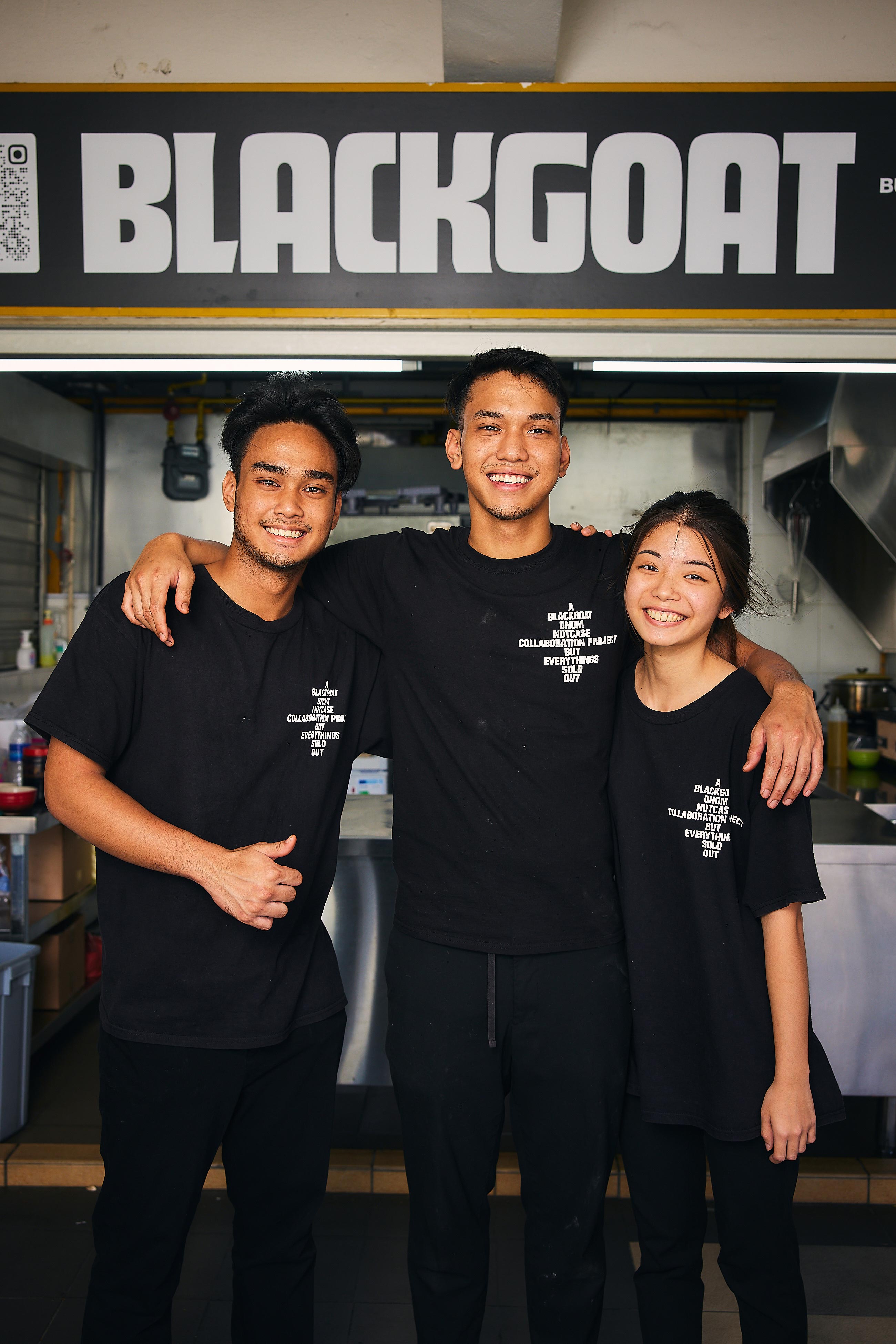 Family helps out at stall too
"Everyone is excited about the stall and wants to help," says Fikri, whose family lives in the area. He has five siblings who chip in whenever they can – his younger brother, Ali (left in pic), 19, prepared the fried chicken burger during our visit. Fikri's dad helps to take orders every Wednesday to Friday and his mum pops by regularly to assist with prep too.
Tiramisu made by pastry-trained girlfriend
The hawker has also roped in his girlfriend Ethel Yam, 23, to create desserts for the stall. Tiramisu was the only item available during our visit, though the At-Sunrice culinary school graduate who is working part-time at the stall plans to introduce more creations soon.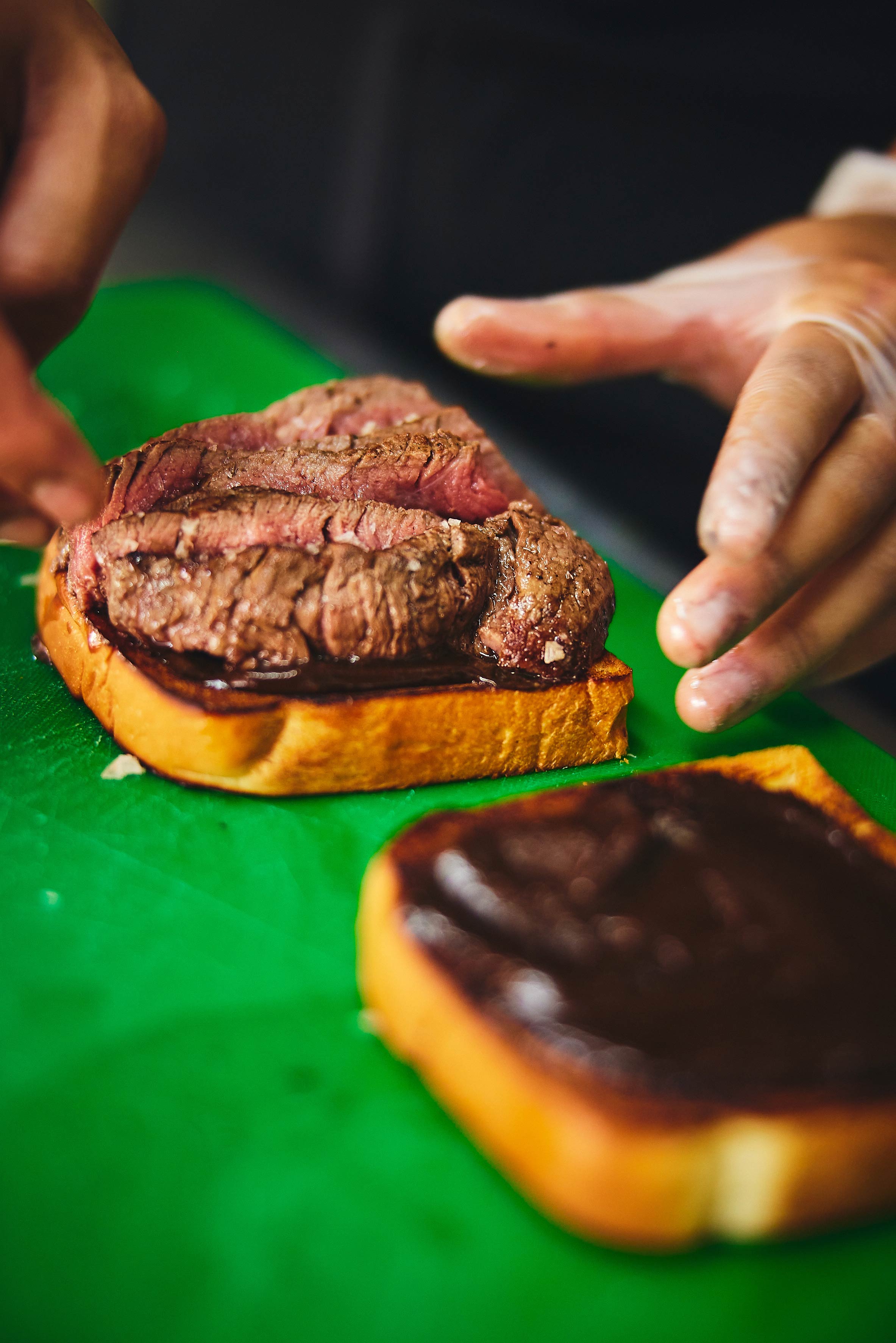 Plan your meal before visiting 
It's best to check Blackgoat's social media accounts to plan your meal before heading down. Pre-orders are required for seasonal specials like beef sandwich and grilled crab, and recommended for burgers (which may otherwise require a wait time of about 25 minutes).
White Pepper Fried Chicken Burger with Chipotle (avail Sat & Sun), $14 (8 DAYS Pick!)
Blackgoat's fried chicken burger is spot-on despite its slightly sloppy appearance. Set on a griddled brioche bun with shredded lettuce, the massive, well-marinated chicken thigh is juicy and boasts a crunchy buttermilk-battered crust. The house-made chipotle sauce provides richness and tang, while a liberal sprinkle of zaatar (a Middle Eastern spice mix – Fikri makes his version with sesame, cumin, thyme and smoked paprika) adds warm, toasty notes to the restaurant-standard burger. It's just as expensive as a restaurant burger too (for comparison, an a la carte fried chicken burger at Meatsmith costs $12), though the hawker isn't concerned that his prices will scare away customers. "We provide a full meal with fries and our chicken burger is much bigger than Meatsmith's," he reasons. 
Black Pepper Beef Burger with Caramelised Onions (avail Sat & Sun), $15
Fikri cleverly elevates humble "wet market beef chuck" with a dressing inspired by steak au poivre (a French dish of fillet mignon served with black pepper sauce). The delicious velvety sauce is a reduction of chicken stock with black pepper, balsamic vinegar and fish sauce. The patty has a good sear and doneness, but could do with more fat. We're told it also contains fermented anchovies, though we could not pick up on its umami boost in any significant way. A comforting, sauce-drenched burger, complete with jammy caramelised onions and sharp cheddar.
Australian Grass-Fed Tenderloin, Black Garlic, Shokupan (avail Wed to Fri via pre-order), $25 (8 DAYS Pick!)
Tender, almost buttery beef with a lovely smoky aroma from the charcoal grill lifted by slightly sweet, tangy and savoury house-made black garlic sauce. Tucked between fluffy, griddled store-bought Japanese milk bread, this is a tasty steak sando that's similar in flavour and price to fancier cafe versions.
Mud Crab with 2-Month-Old Chilli Kicap (avail Wed to Fri via pre-order), $18 or market price
We wanted to try the more affordable clams with belacan and scallions ($9), but the shellfish wasn't available on the day of our visit. Instead, Fikri whipped up this mud crab dish on the spot and will be adding it as a pre-order item on his fast-expanding menu. 
Grilled over charcoal, the crab is petite but sweet. Spicy, savoury and punchy, the house-made fermented chilli and soy sauce dressing is the star here. A creamy garlic aioli (also made in-house) is served at the side if you need something to bring down the heat.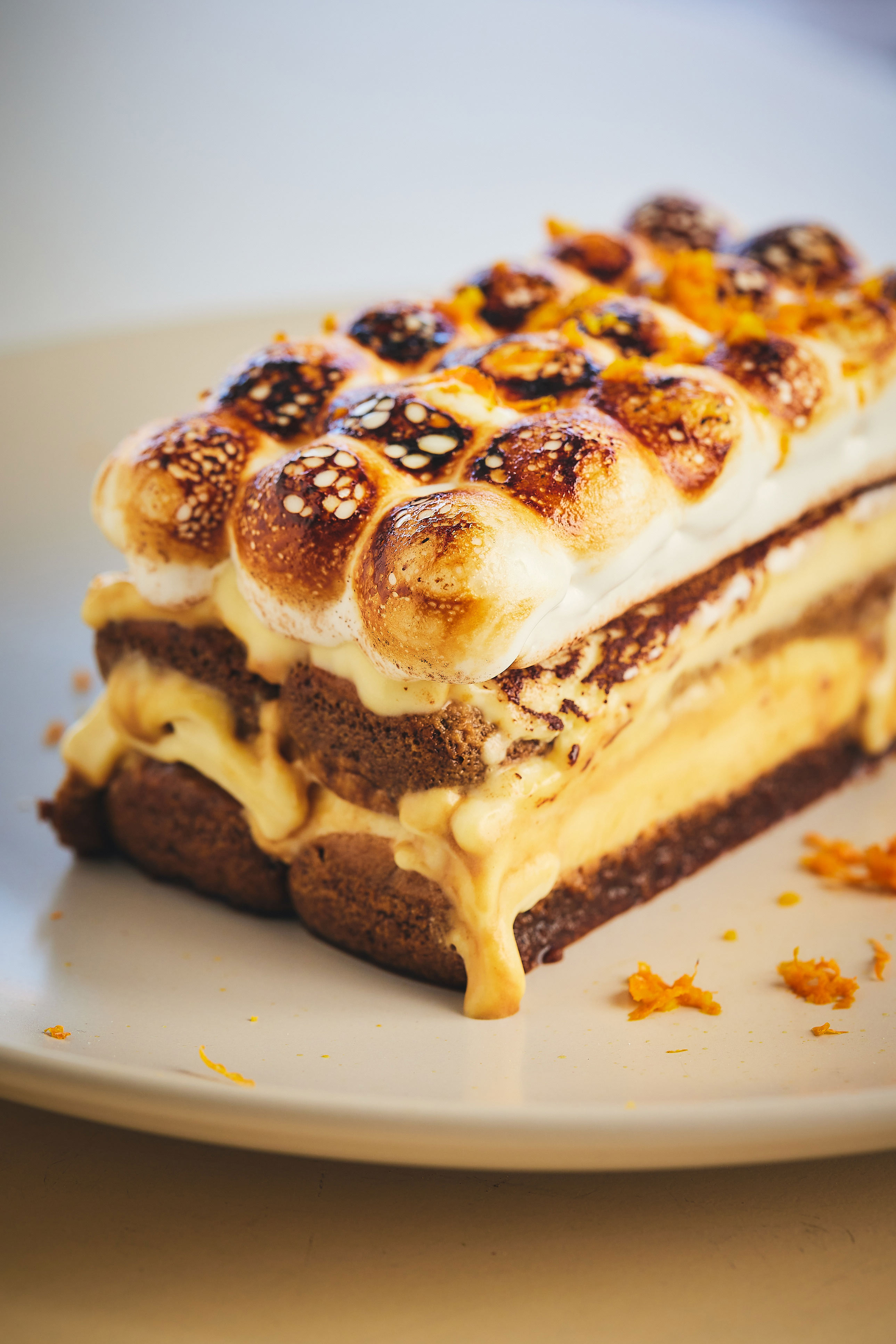 Tiramisu with Burnt Marshmallow & Orange (avail Wed to Fri), $8
Not too sweet or cloying, the tiramisu is adequately creamy, with espresso-soaked ladyfingers and a shower of orange zest pulling the dessert together. The torched house-made marshmallow adds a pretty touch, too.
Bottom line
With its free-spirited approach, Blackgoat feels more like a pop-up experiment by a young chef than a typical hawker stall – be prepared to fork out restaurant prices at a heartland joint when eating here. While its overall concept lacks focus, star dishes like the grilled beef sando and fried chicken burger make the chore of planning your meal in advance (which includes pre-ordering and double checking their schedules on social media) less painful. 
The details
Blackgoat is at #01-05 Jalan Batu Hawker Centre, 4A Jln Batu, S432004. The stall is currently closed for Hari Raya Puasa and will reopen on 3 May. Open Wed & Thu 5pm–8pm; Fri to Sun 5.30pm–8.30pm. Whatsapp 8383 5982 to order. More info via Instagram. 
Photos: Alvin Teo
No part of this story or photos can be reproduced without permission from 8days.sg.
8days.sg is now on #tiktok! Follow us on www.tiktok.com/@8dayseat.