Ex-school 'canteen auntie' sells wonderfully crispy, gooey sweet potato balls at S$3 for 10 pieces
The 65-year-old takes four hours to hand-make these yummy orbs at her hawker stall daily. She also offers muah chee.
Tucked inside a coffee shop along Balestier road is a nondescript stall selling nostalgic Chinese snacks: handmade muah chee and fried sweet potato balls (the latter rarely found in hawker stalls and sometimes sold at pasar malams). "I wanted to keep this hawker heritage of making muah chee and sweet potato balls alive," says Jasmine Poh, 65, the owner of S Fu Ren, simply.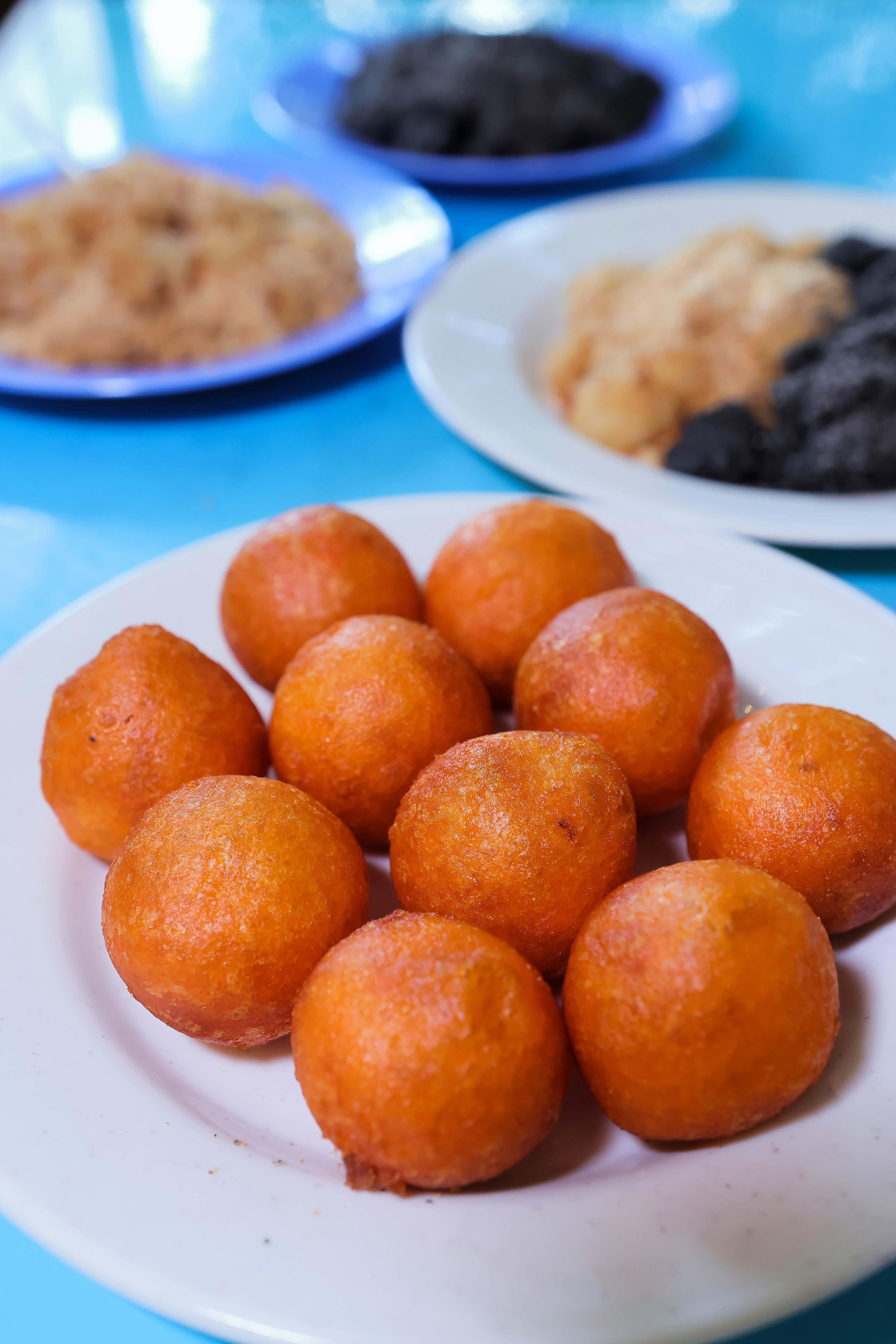 Set up in late 2021, the stall's name is a nod to her friend's late mother who used to hawk sweet potato balls in Malaysia. Jasmine's recipes for both the sweet potato balls and muah chee are from the late hawker. She says she spent half a year fine-tuning the recipes before setting up shop.
No part of this story or photos can be reproduced without permission from 8days.sg.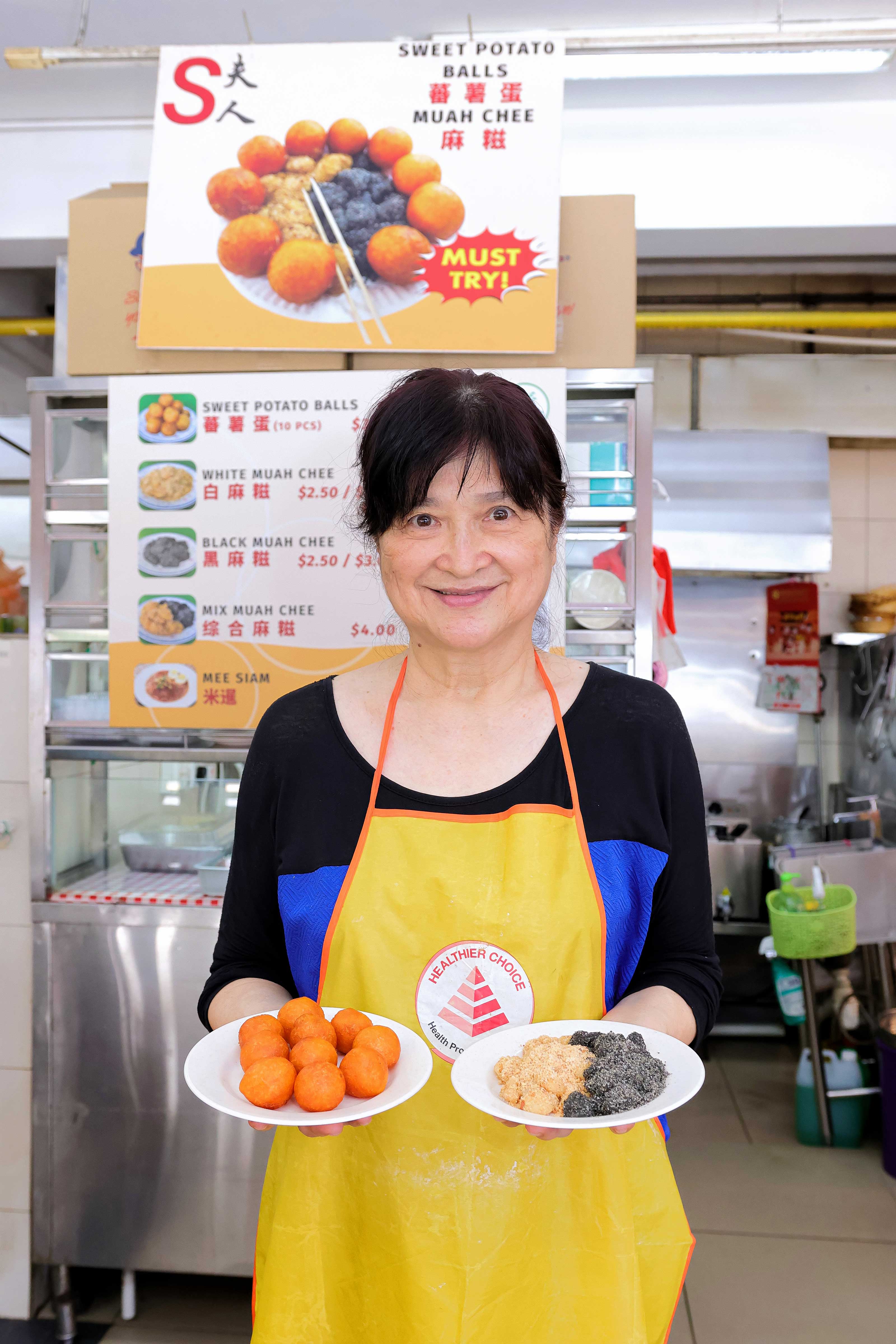 School canteen auntie-turned-hawker
Before Jasmine took the plunge to open a stall, she was a familiar face at Chung Cheng High School, where this writer had previously studied at, and also at Victoria School. Back then, she was a food stall assistant and also helped supervise canteen operations.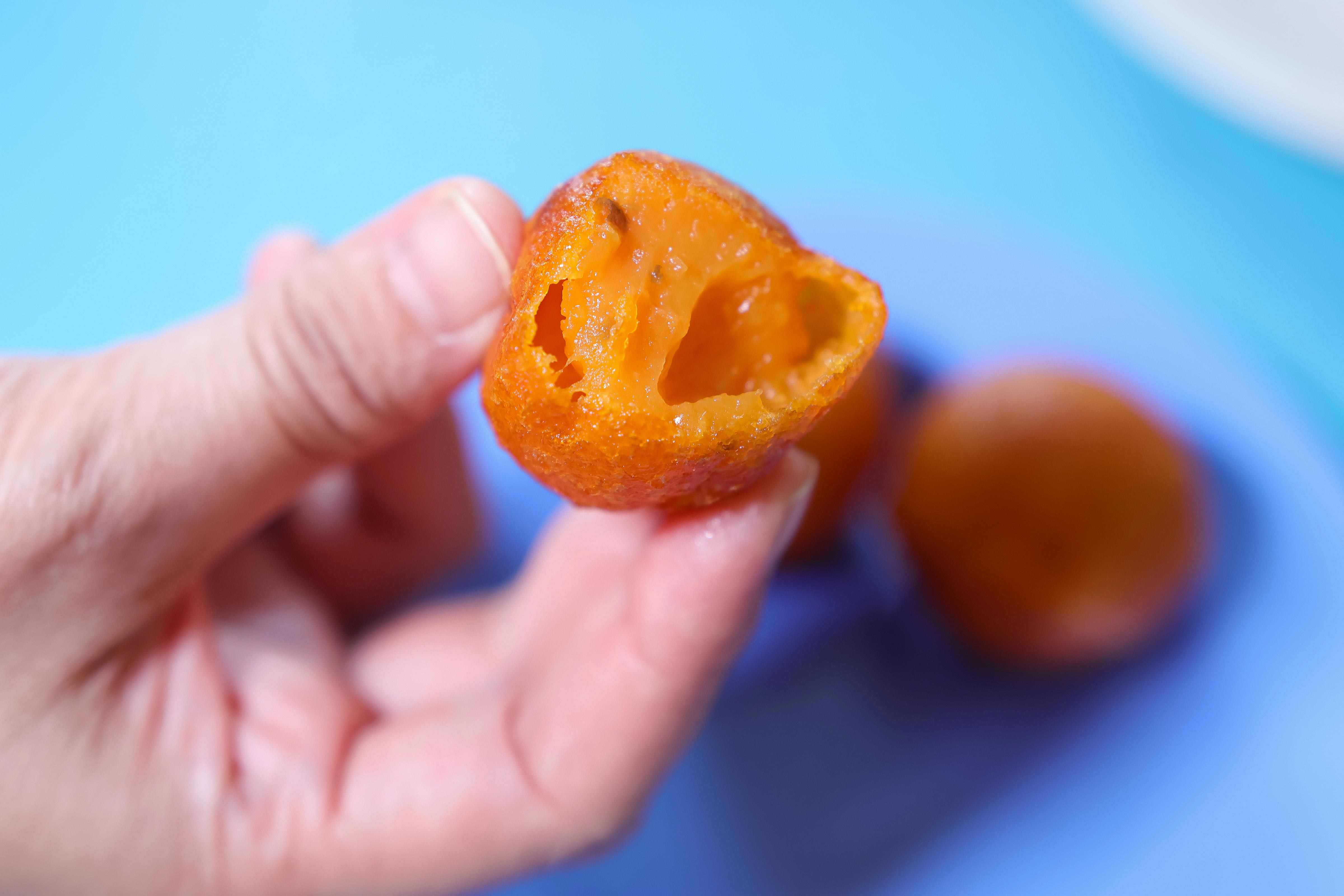 "Some of the ex-students who came by my hawker stall could still recognise me," recalls Jasmine. "The thing about working in a school is that I'm used to seeing so many students daily, I may not always recognise them now that they've grown up. But I'm happy whenever they come up and say hi".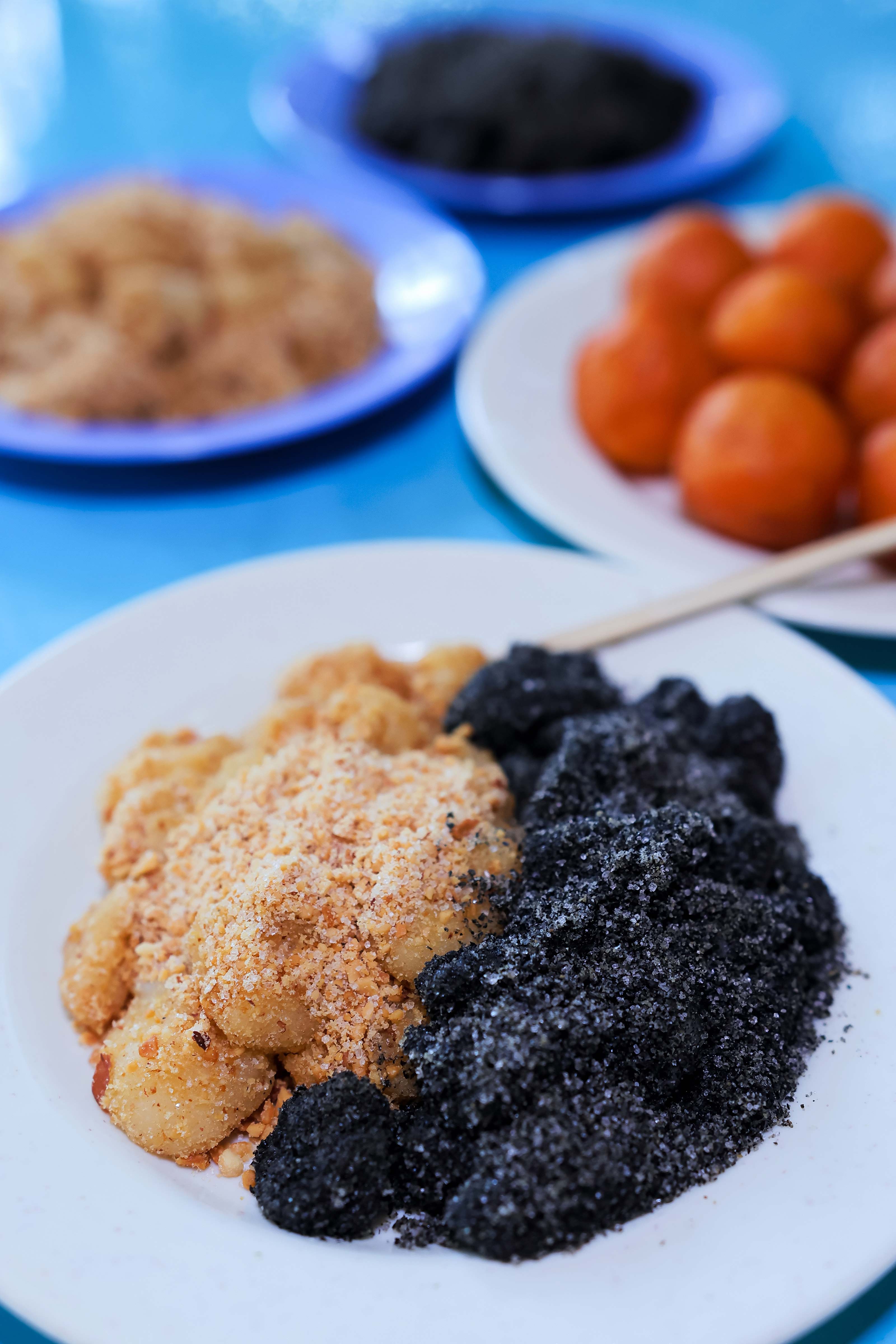 Why did Jasmine become a hawker so late in life? "Other than at some pasar malams and a few other hawker stalls, you don't see many people selling muah chee or sweet potato balls these days," explains Jasmine, who considers herself semi-retired. "My two children [who're working in finance] have grown up and I can pass time this way." Compared to working as a school canteen stall assistant, Jasmine finds life as a hawker a little harder than expected. "But it's a welcome challenge, I'm not that worried," she adds, smiling.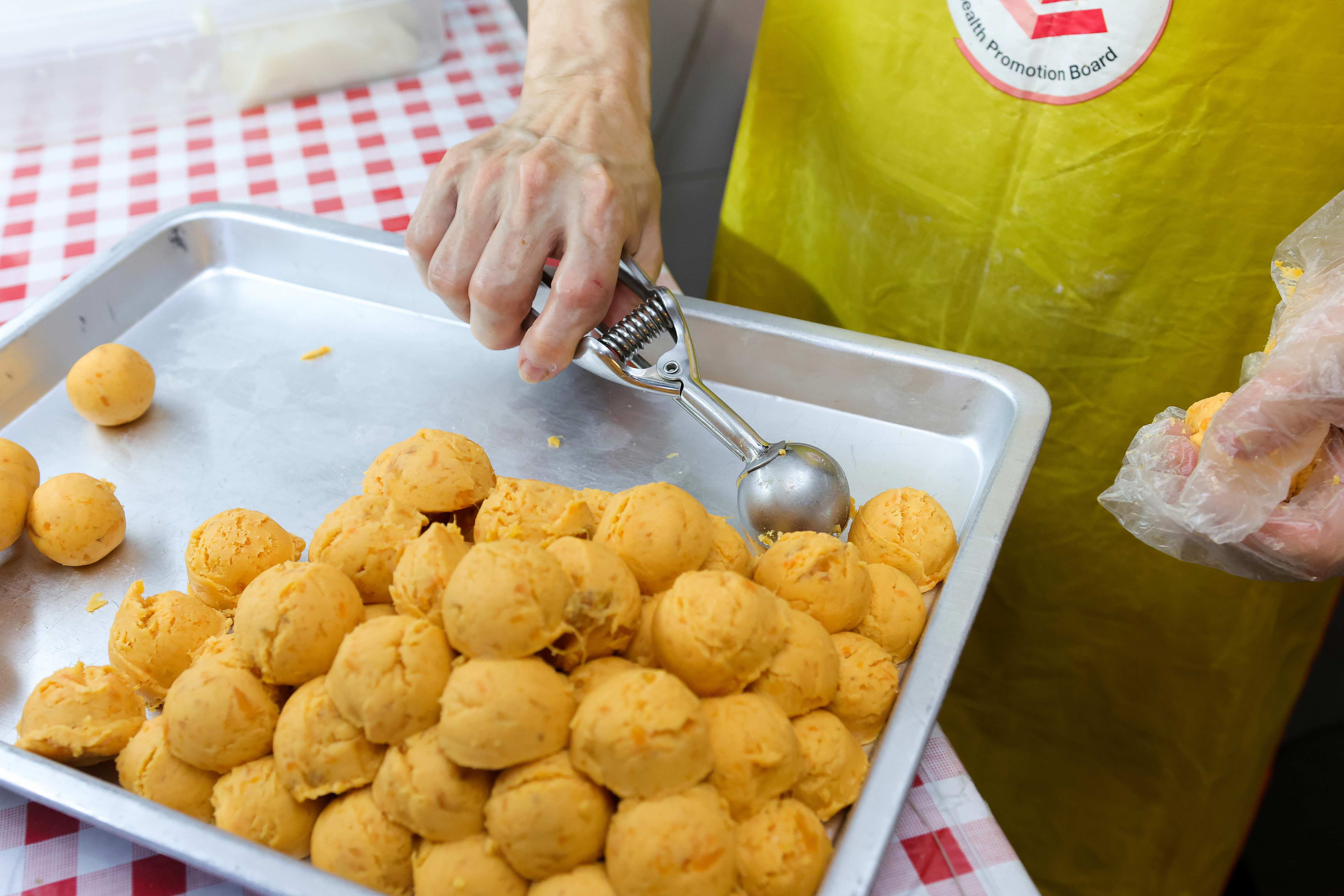 Sweet potato balls take painstaking 4 hours to prep daily
These orbs are each about the size of tang yuan and not to be mistaken with the dim sum versions coated with sesame seeds. Jasmine, who splits the prep work between her husband (who frequently helps out at the stall) and herself, says the snacks take a time-consuming four hours to prepare daily.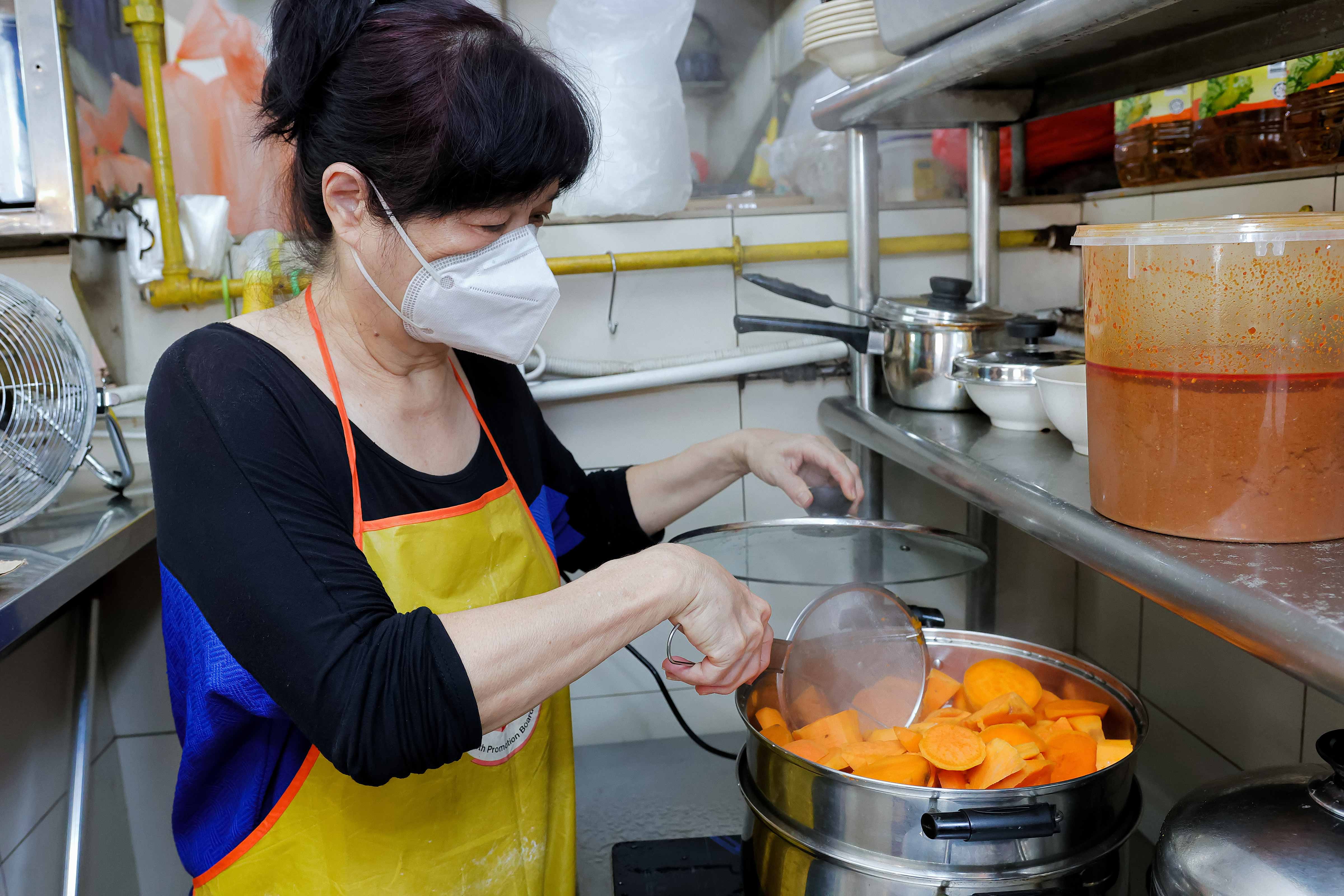 Nine kilos of sweet potatoes from Malaysia or Indonesia are washed, peeled, sliced, steamed then mashed and mixed together with glutinous rice flour to form a dough — no sugar is added. They are then neatly scooped into around 660 petite balls.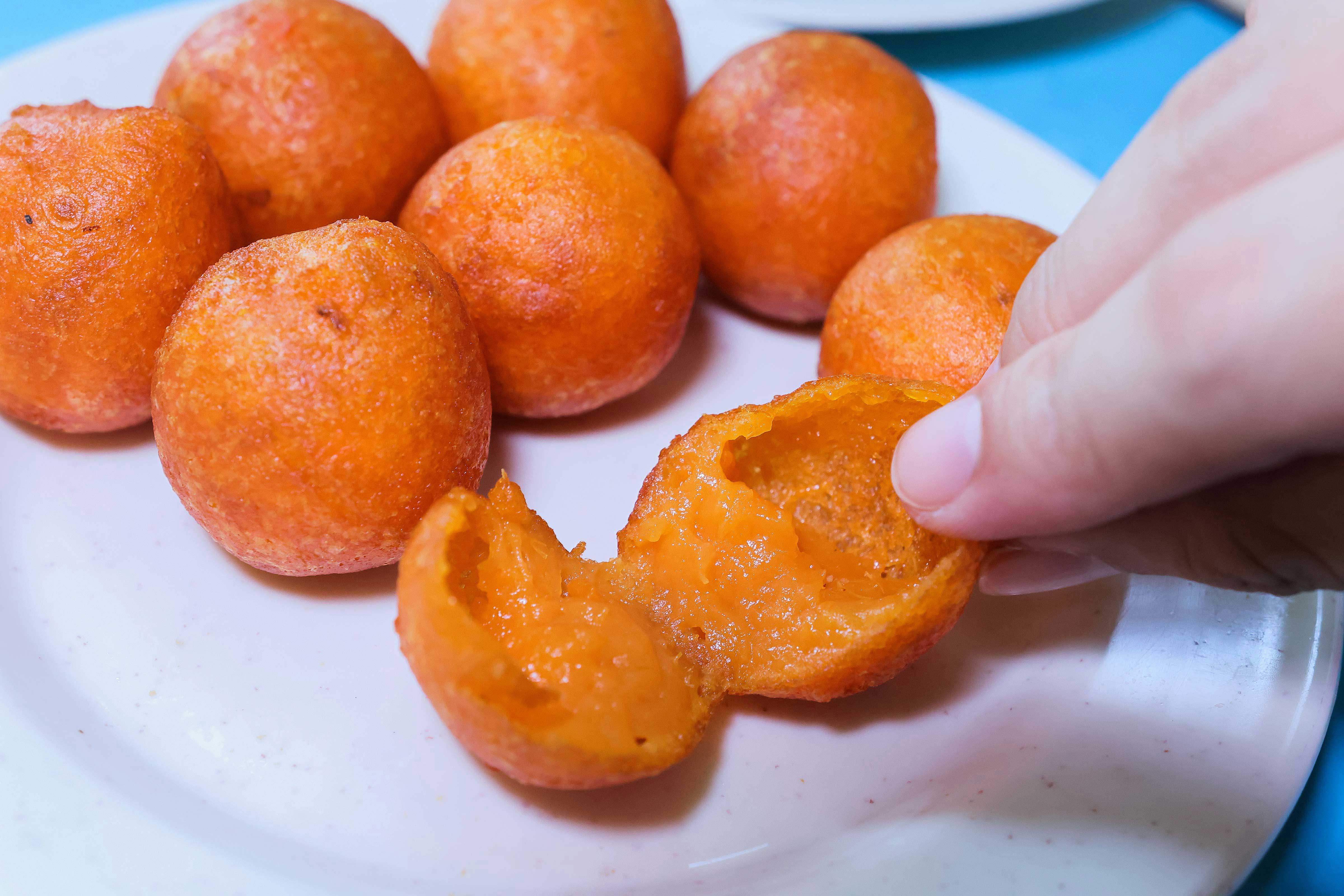 Sweet Potato Balls, $3 for 10 pcs (8 DAYS Pick!)
These munchkins, eaten freshly fried, are crisp-coated and have a very satisfying QQ mouthfeel that complements its crunchy exterior. On why she doesn't add sugar, Jasmine explains that she doesn't want her snacks to be overly candied. We appreciate that.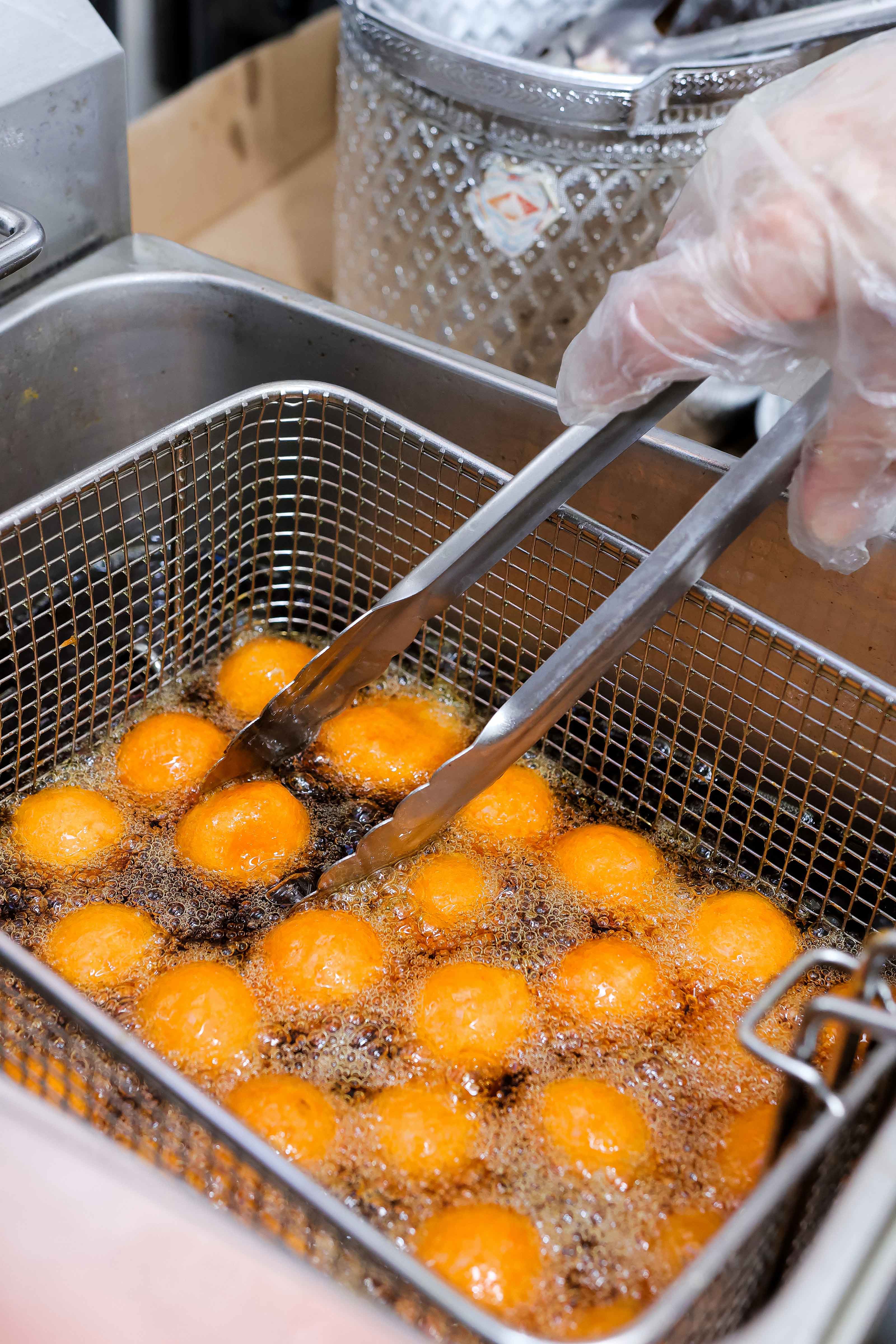 Even without any filling, the balls are fragrant and naturally sweet. They're also not as starchy as we'd anticipated. It goes without saying that we wolfed down all ten spheres in one sitting with no problem at all.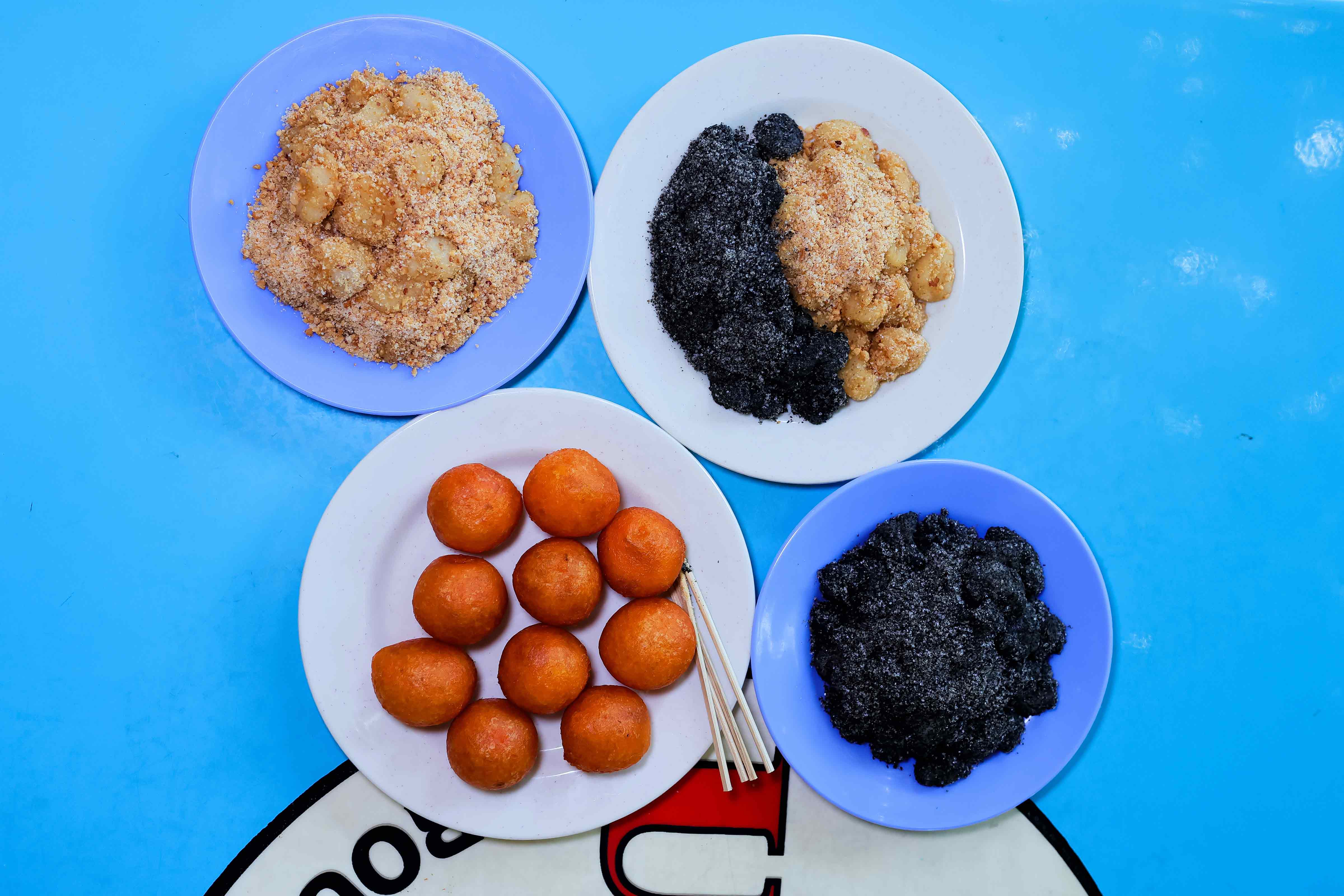 Two flavours of muah chee offered
The muah chee here is also prepared fresh daily in the tight confines of her stall. The gelatinous delight is usually made using glutinous rice flour, water and shallot oil or pork lard, but Jasmine's version is vegetarian. So she uses just vegetable oil, which inevitably makes the dough less aromatic.
An unhurried Jasmine snips warm globules of muah chee dough into bite-sized pieces. She then expertly tosses them into a bed of ground peanuts or black sesame to coat their surfaces thoroughly.
White (Peanut) Muah Chee, $2.50 or $3 (8 DAYS Pick!)
The peanut muah chee is the tastier of the two. When consumed warm, the rice flour cake is soft and gooey. At room temperature, expect a little more bite. What we like most is the textural contrast and crunch of the sugared peanuts; Jasmine uses a mix of finely grounded and chunkier nuts, both sourced from a local supplier. Yummy.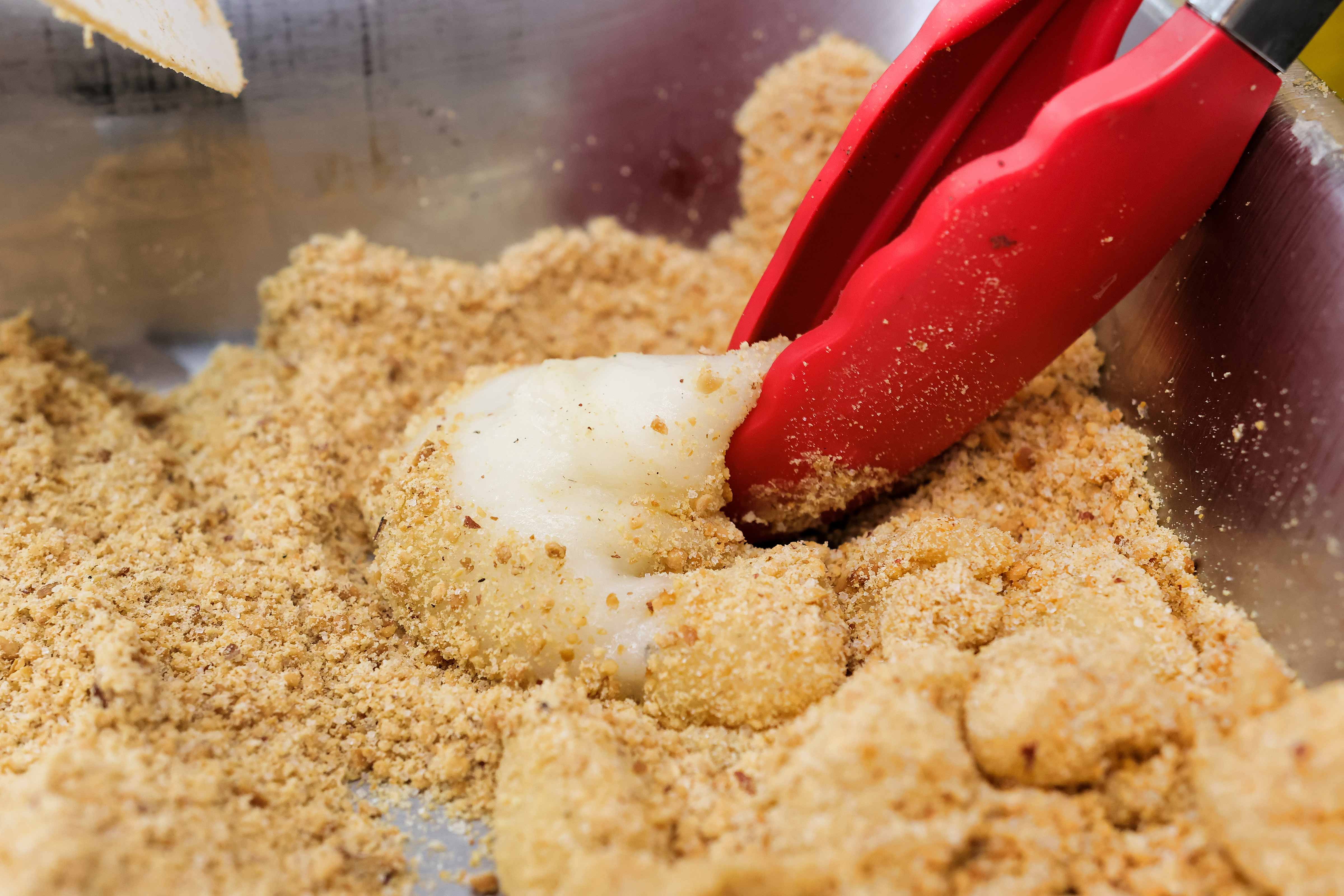 "I know if I roast the peanuts myself, the muah chee would probably be more aromatic," admits the quiet hawker. "But I am getting on with age, so I decided not to do it."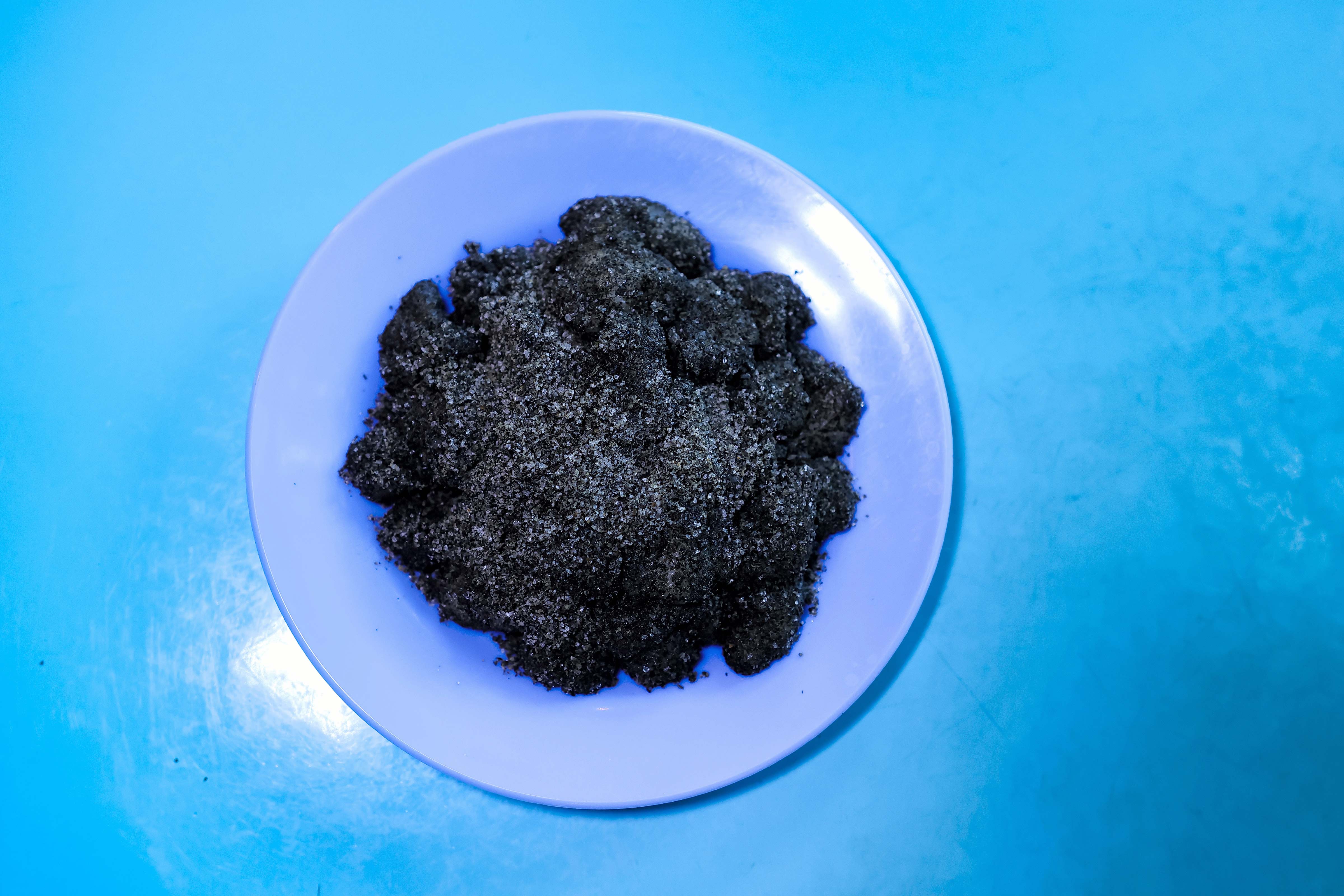 Black (Sesame) Muah Chee, $2.50 or $3
According to Jasmine, her muah chee is supposedly made less sweet to cater to the taste buds of the older folks in the area. However, we find this version more sugary than the peanut one. We would've preferred it if the ground black sesame had a stronger roasted flavour, too.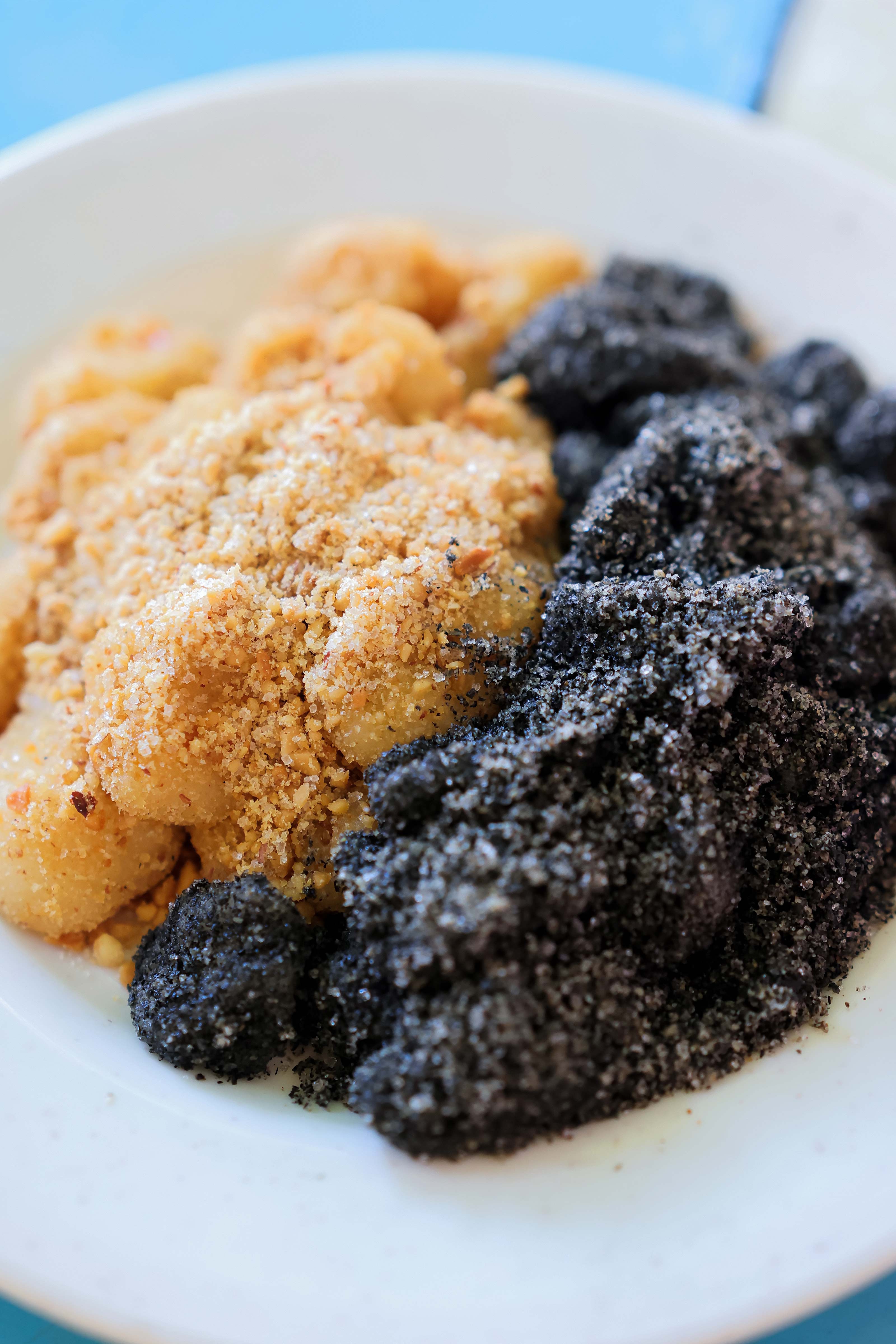 Mixed Muah Chee, $4 
A generous serving of both flavours for the indecisive. S Fu Ren also offers vegetarian mee siam ($3), with a hard-boiled egg and tau pok served in tart gravy. It's nothing to write home about, so focus on the sweet treats instead. 
Bottom line
The standout snack here is the made-from-scratch sweet potato ball, superior to those at pasar malam stalls — and cheaper too, at $3 for ten pieces (it roughly costs around $5 for the same serving at night markets). Its satisfying crunch, springy interior and lovely, not-too-sweet flavour make it super addictive. Meanwhile, the peanut muah chee, while not the best we've had, is still worth a try for its tender mouthfeel contrasted with toasty nuts. 
The details

 
S Fu Ren is at Teck Seng Coffee Shop, 588 Balestier Rd, S329899. Open daily, 8.30am-4pm (or till sold out). 
Photos: Wilson Pang
No part of this story or photos can be reproduced without permission from 8days.sg.
8days.sg is now on #tiktok! Follow us on www.tiktok.com/@8dayseat.