Ex-Thai nightclub mamasan serves addictive Khao Soi curry noodles and crispy omelette in kopitiam
The Chiang Mai native sells authentic dishes from her hometown — including the deeply fragrant curry noodle dish of Khao Soi — at her hawker stall in Ang Mo Kio.
Omjai Chanta aka Om has the pandemic to thank for pushing her into hawkerpreneurship. The youthful 38-year-old Chiang Mai native is the proud owner of eight-month-old kopitiam stall Kin Sen Thai Noodle at Ang Mo Kio Ave 5. It hawks authentic Thai dishes from her hometown in Chiang Mai, like the creamy and tangy curry noodles, Khao Soi. Om previously worked as a mamasan at a Thai nightclub in Singapore for seven years, before the pandemic shut down the industry. The sole breadwinner for her family back home supports her farmer father who had a stroke and school-going brother.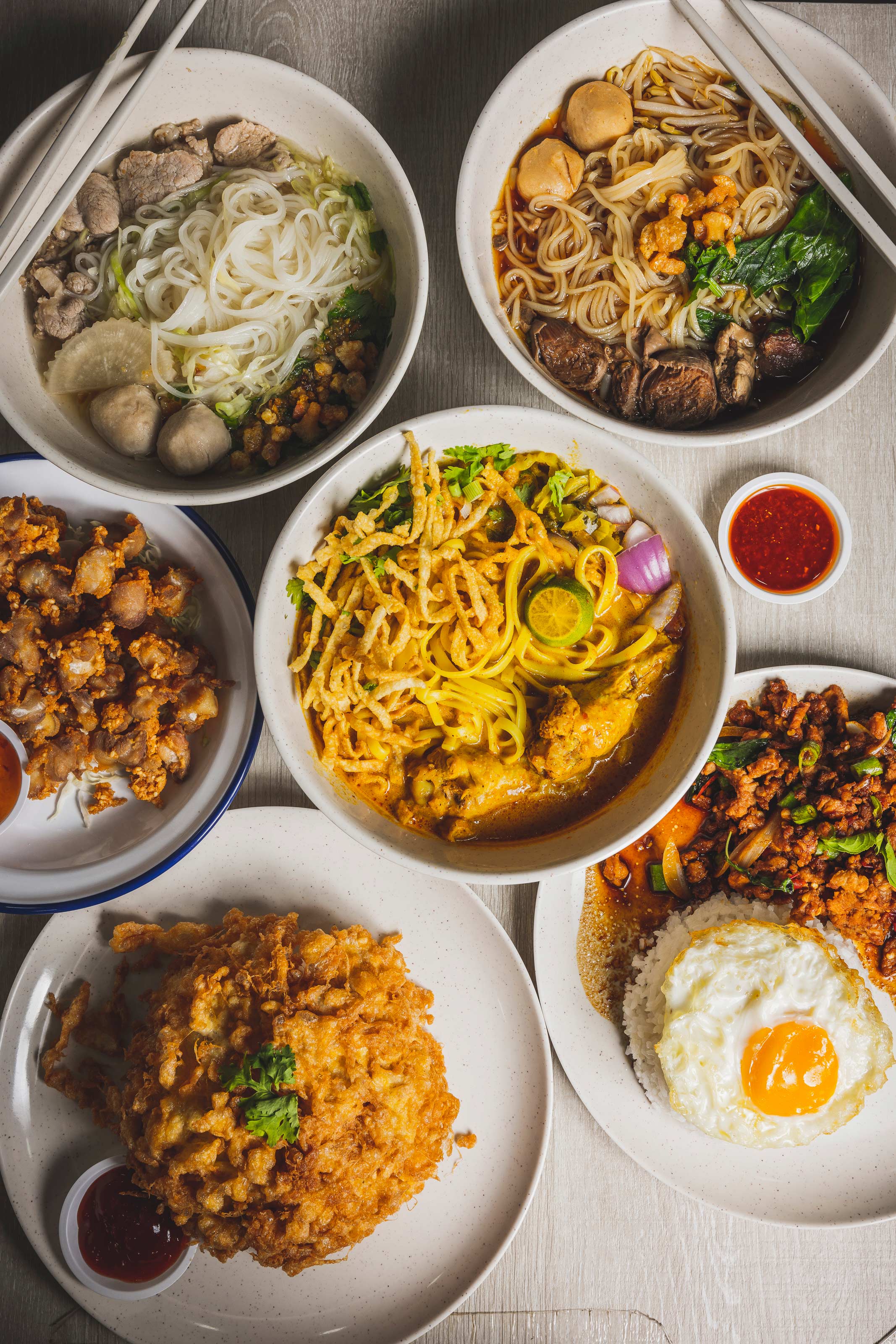 Fortunately for Om, she grew up helping out at her aunt's street food stall in Chiang Mai, so her cooking chops came in handy when she had to make a career change. "I didn't like to cook when I was a kid, because I just wanted to play instead of help!" she giggles, flashing her pretty dimples. But when she moved to Singapore in 2009, she started to enjoy cooking for her Singaporean husband, John. She also often prepared supper for the bevy of girls whom she managed at the nightclub, so transitioning into the F&B industry was a natural choice. 
After a short stint cooking at the Thai Dynasty chain of food court stalls in Singapore, Om took the brave step of setting up her hawker stall, Kin Sen (which means 'eat noodles' in Thai). She decided against going back to the nightlife trade even with the pandemic now tapering off as the late nights and drinking affected her health. She now has a new ambition: "I want to cook authentic Chiang Mai food for Singaporeans, especially Khao Soi, which is a signature dish of my hometown and not easily found here. It's rated the world's No 1 soup dish by TasteAtlas (a travel website that features and ranks international food)," says the Singaporean PR proudly. 
This humble bowl of sweet-sour, coconutty curry noodle is a popular dish in northern Thailand and neighbouring Laos. On our last trip to Chiang Mai, we ate Khao Soi everywhere, from street stalls to specialty restaurants.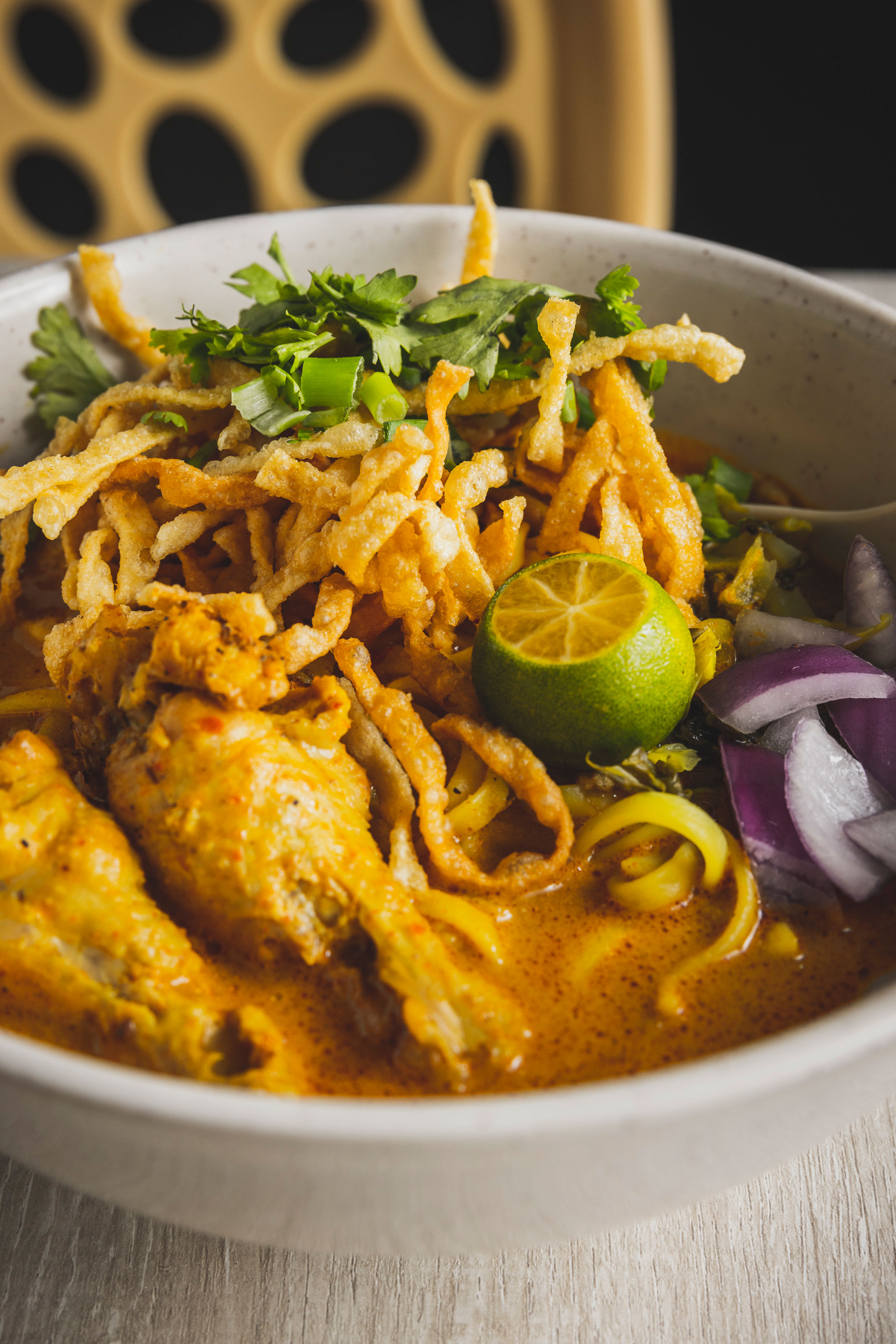 Locals make up 70 percent of her customer base, with the remaining 30% being Thais. These include ladies whom she used to work with at the nightclub. 
No part of this story or photos can be reproduced without permission from 8days.sg.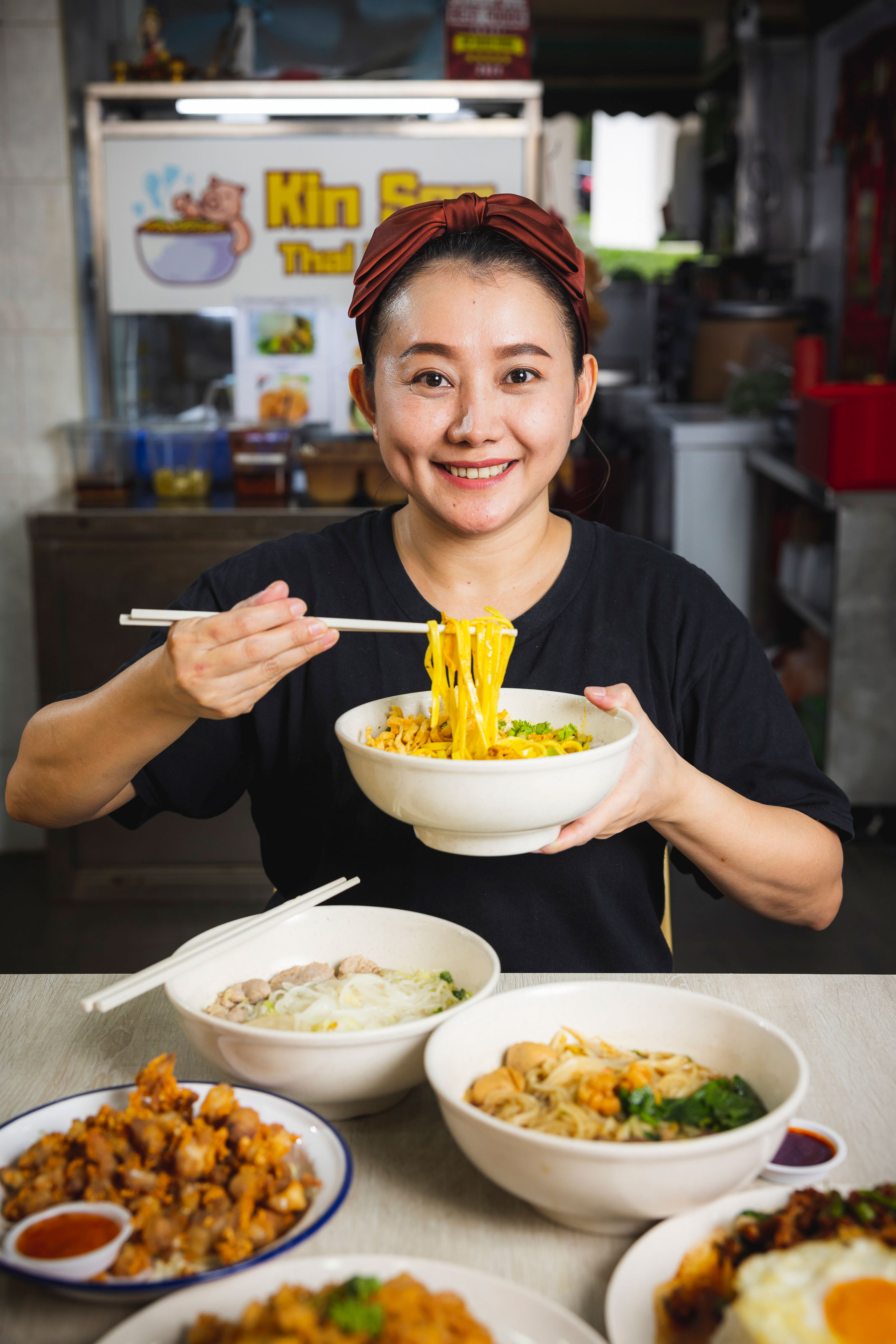 Imports main ingredients from Thailand
Om insists on importing all her main ingredients from Thailand. This includes the flat yellow noodles and red curry sauce for the Khao Soi, and thin Thai kway teow for the other noodle dishes. "Many people say 'follow the local taste' but I wanted to cook the real Chiang Mai taste!"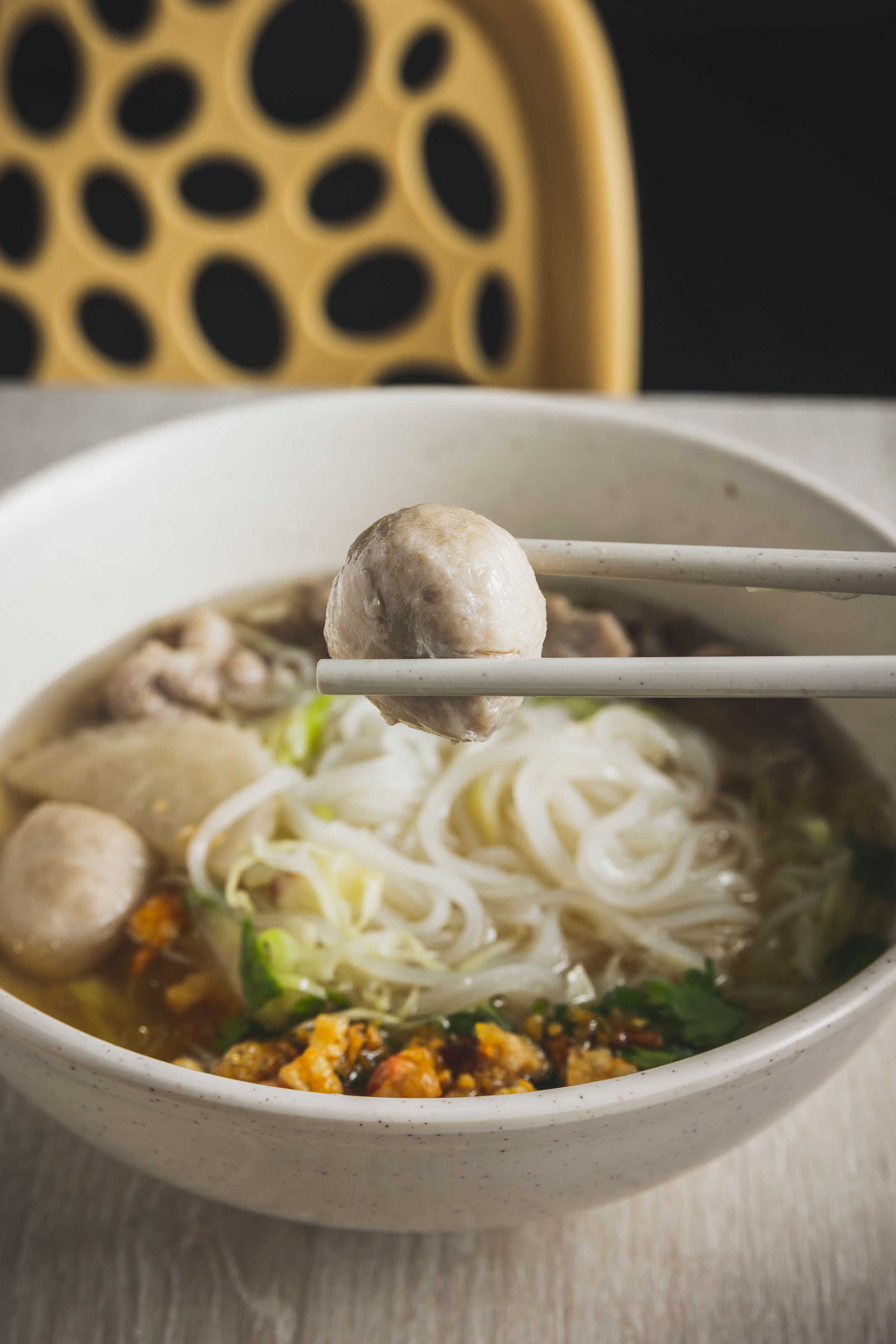 Even the meatballs are purchased from a Thai home business that hand-make it here in Singapore. This means that her food costs are higher, but she's adamant about sticking to the original flavours. True enough, these meatballs are meatier and tastier than our supermarket fare, with a texture just firm enough without being tough. Dip them in Om's home-made chilli, which almost sent smoke pouring out of our ears. Her mum dries Thai chillies under the sun in her hometown, grinds it into powder and sends it over to Singapore, where Om then fries it in oil to make her chilli paste. You can help yourself to it, free-flow, and it adds instant punch to the noodle dishes.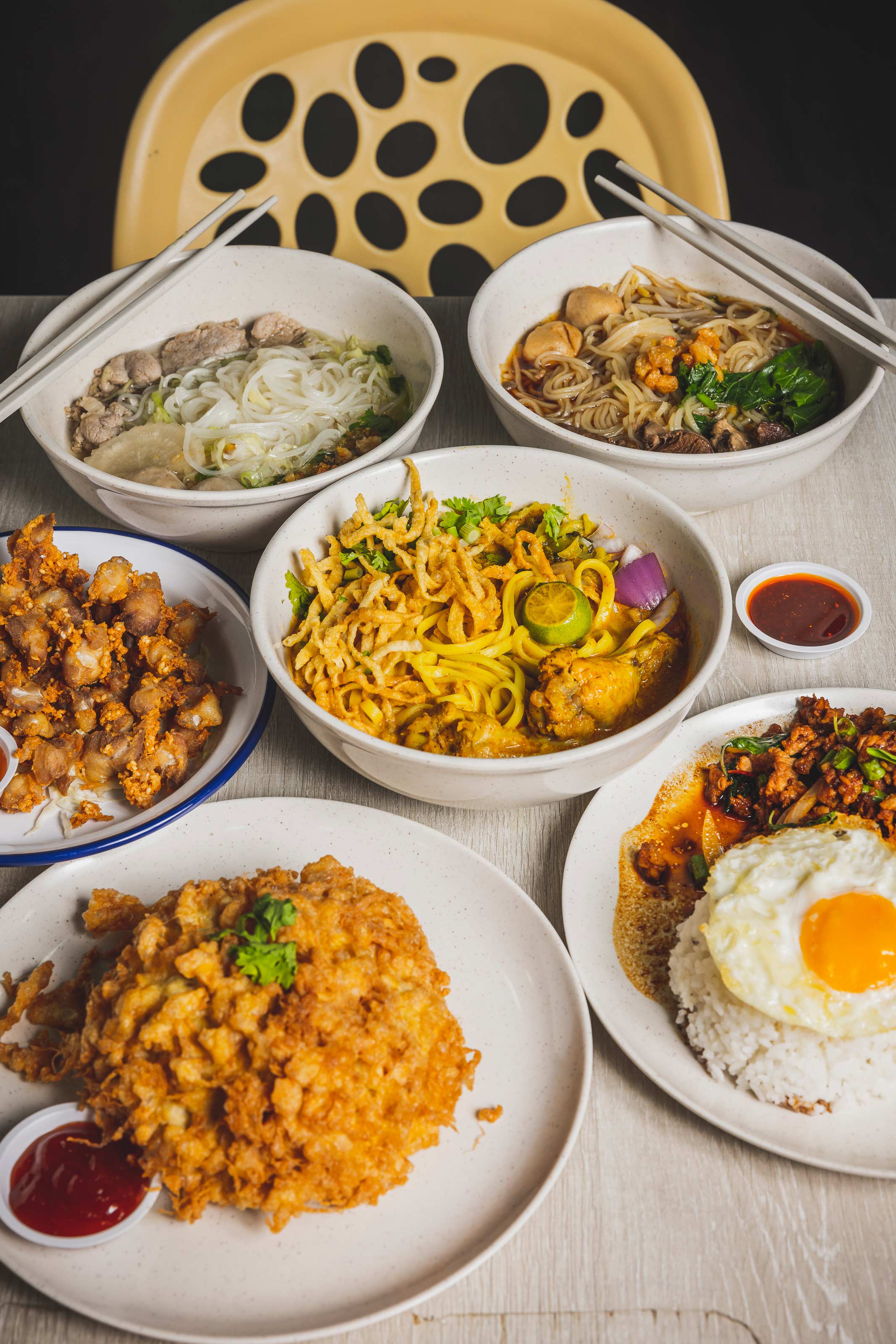 Northern vs Southern Thai food
Most of the Thai food that Singaporeans are familiar with come from southern or central Thailand. The cuisine from northern Thailand, which has a cooler, more hilly terrain, tends to be milder compared to the bold, spicier tastes of the South. "Northern Thai food has a more neutral flavour – not too sweet, sour nor salty, compared to the South. We prefer slow cooking to bring out the flavours of the herbs and ingredients," explains Om.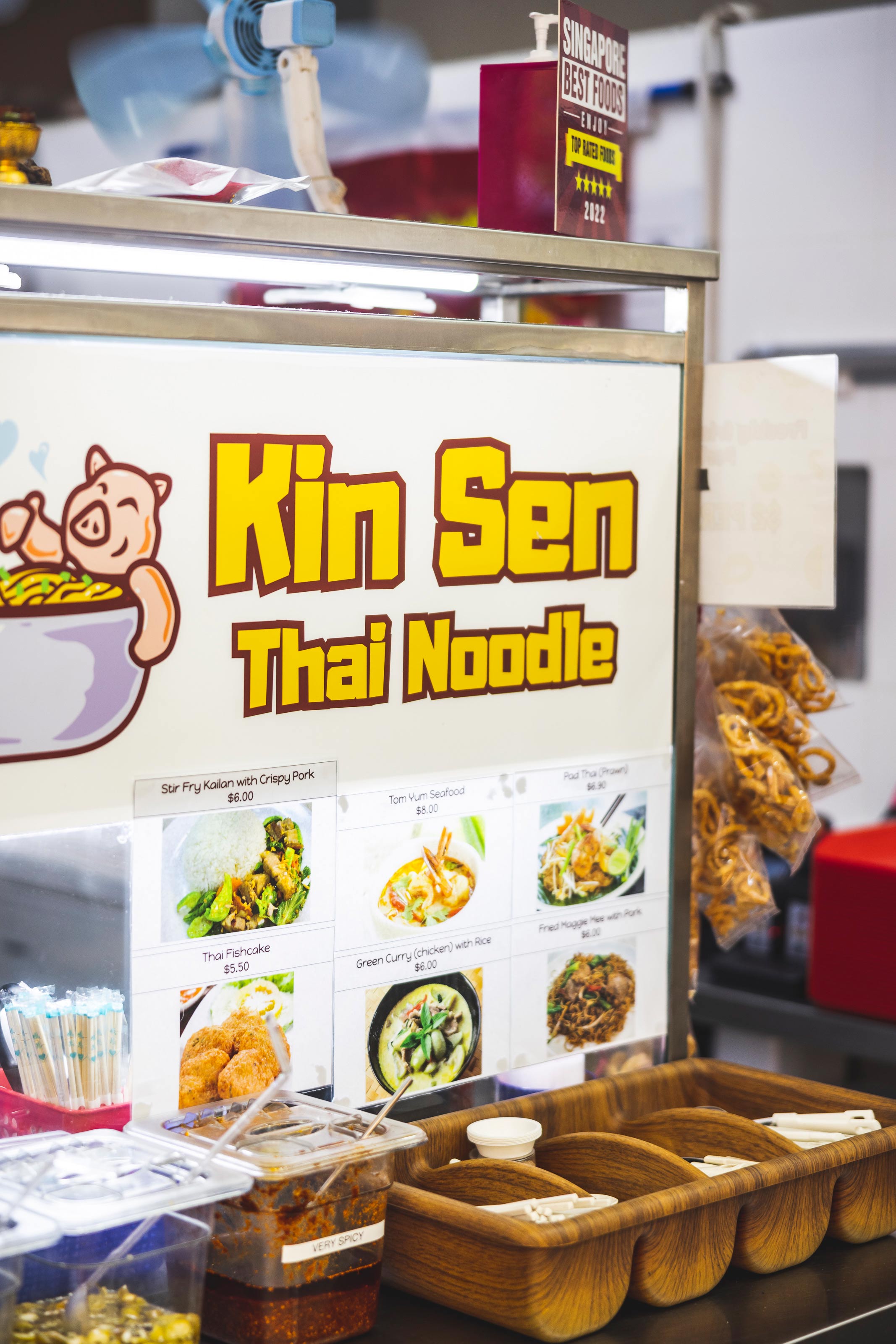 The menu
Om offers 16 items, a mix of Northern cuisine and the more common regional Thai dishes (think Tom Yum Soup, Thai Basil Pork Rice and Pad Thai). Other than Khao Soi, another dish rarely found in Singapore is the Thai noodle clear soup.
Khao Soi, $6 (8 DAYS Pick!)
We can vouch that Om's version, which she learned from her hawker auntie, is as good as those we had in Chiang Mai. The slightly spicy gravy, cooked with coconut cream and imported red curry paste (to which she adds her secret blend of seasoning), is poured over toothsome flat egg noodles. You get two chicken drumlettes cooked in the curry till it is tender and soaks up the flavour. But it's the mix of condiments like lime, pickled cabbage, coriander, raw shallots and a handful of fried noodles for that gorgeous contrast in texture, that really makes the dish sing. Every mouthful is lemak, tangy and very shiok, a totally different experience from our local curry noodles or laksa.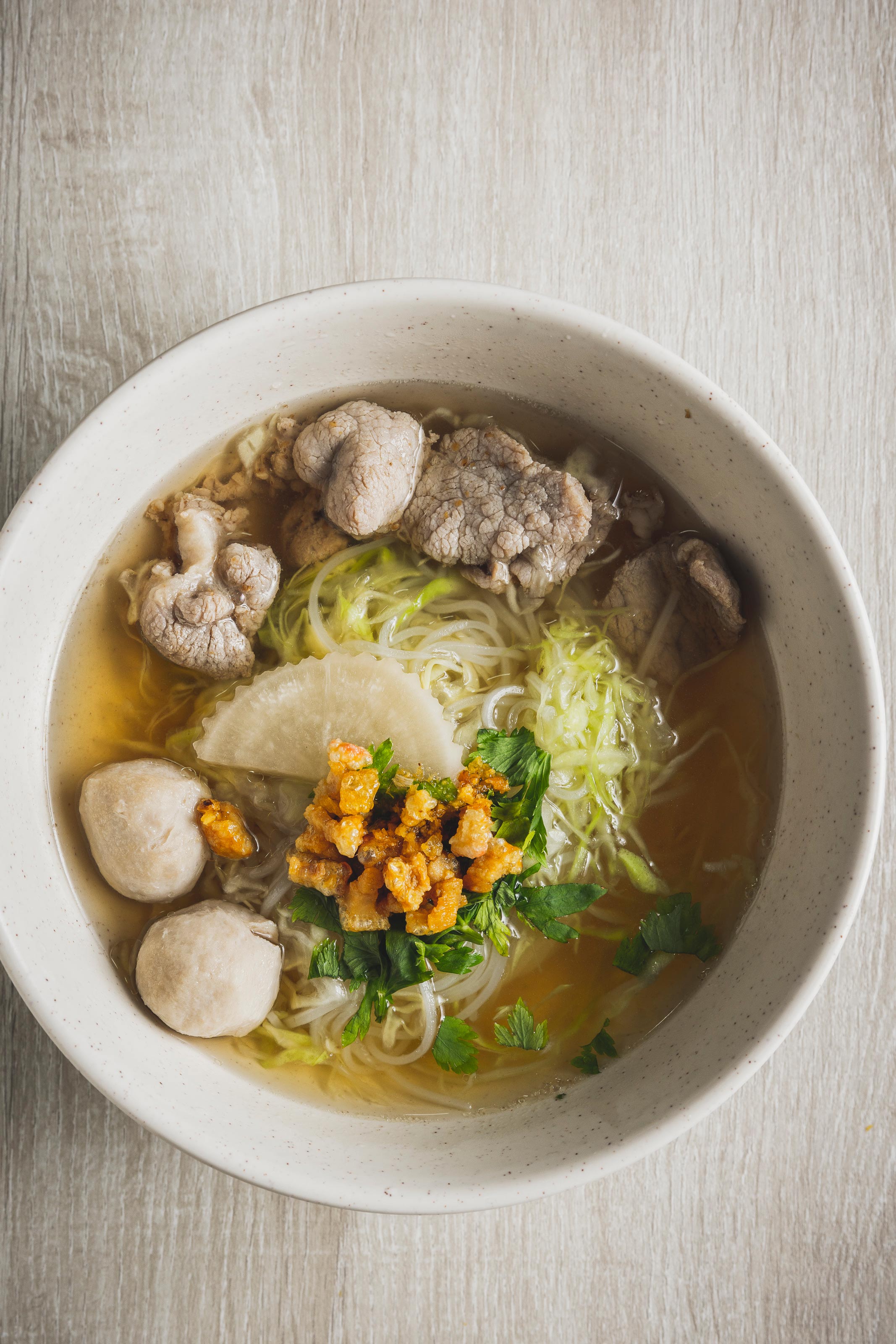 Thai Noodle Clear Soup, $5.50
Inspired by a roadside noodle stall in Chiang Mai Chinatown's Kad Luang market, Om's soup looks plain but she says it requires the most attention out of all her dishes. To keep the broth clear, she keeps a watchful eye as she simmers pork bone over a very low flame for three hours. It comes with thin Thai kway teow, pork collar slices marinated Thai-style with coriander seeds, two pork balls and slices of radish, which lend its sweetness to the soup. Light and comforting on days when you want to eat clean (if you ignore the sprinkle of crunchy fried lard).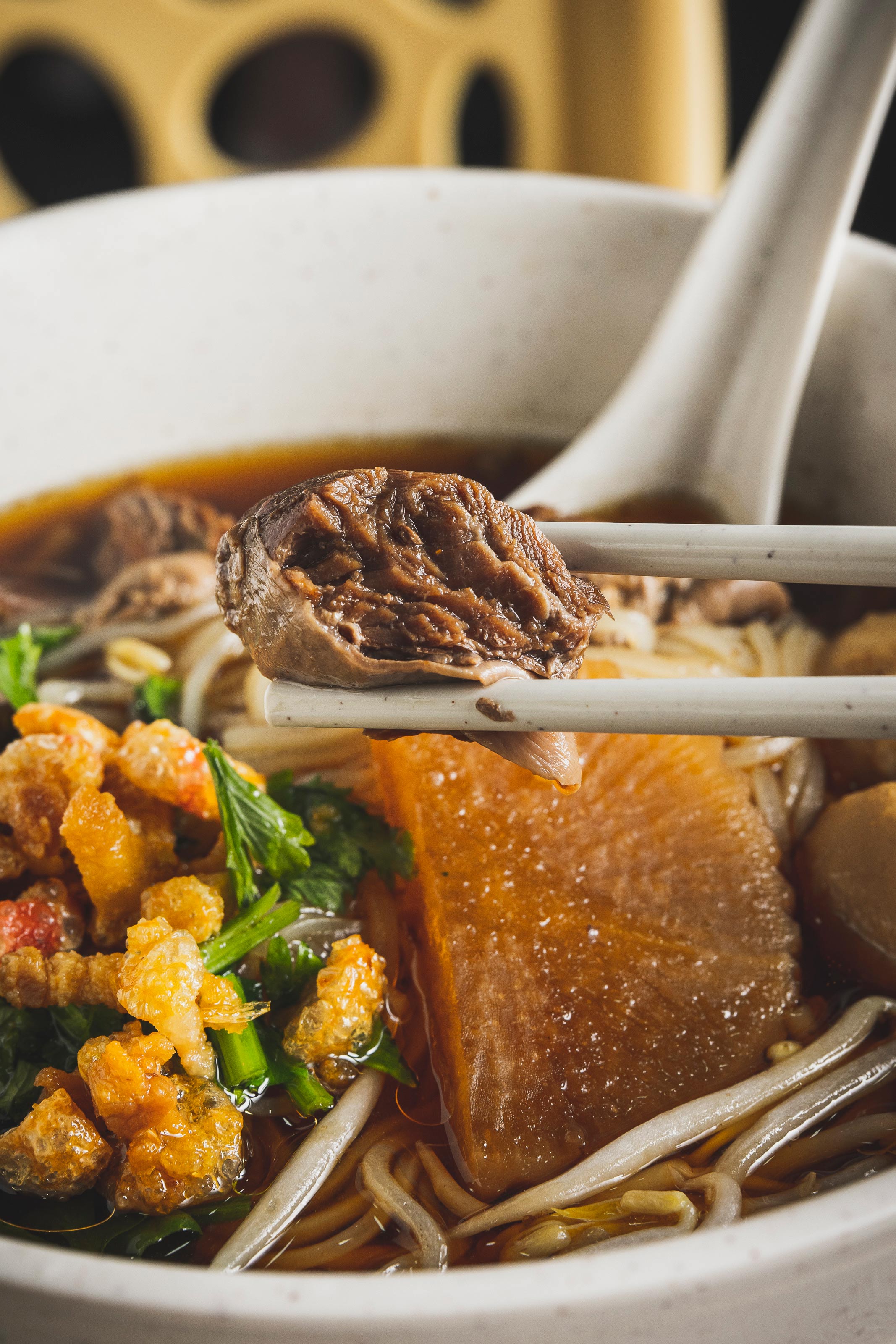 Thai Noodle Thick Soup (Braised Pork), $5.50 (8 DAYS Pick!)
The 'thick' in the name is simply to set it apart from the 'clear' broth in the other noodle dish on offer; this is not a starchy soup. Over ten ingredients, including cardamom, cinnamon stick, star anise and coriander root, are boiled with big pork bones, and yellow onions to form this ominously dark but well-balanced, lightly herbal soup. It's a dish that her hawker aunt used to serve in Chiang Mai. 
Om uses a cut of meat that she calls 'stub pork liver', the dark-hued flesh surrounding the pig's liver. Its colour and texture is almost beefy and this dish is often mistaken for beef noodles. The pork is delightfully tender, flavourful and makes for a gorgeous, hearty bowl of noodles, especially when you perk it up with some homemade chilli. Our favourite dish here.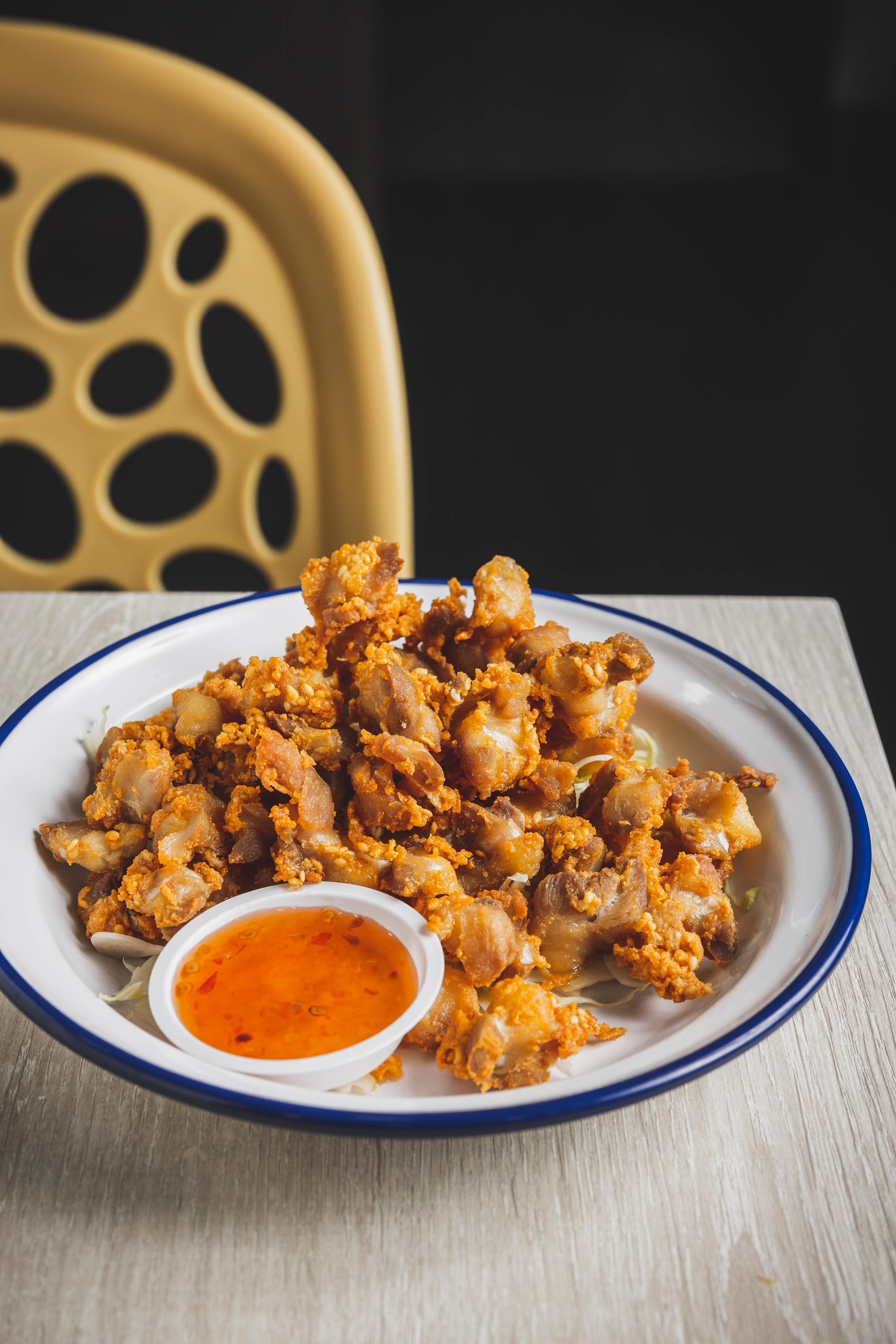 Deep Fried Chicken Tendons, $5.50
Bite-sized chicken tendon is dipped in a fish sauce and sesame seed-spiked batter, then deep fried to a crackling crisp. Satisfyingly salty and addictive, this makes a great snack with beer.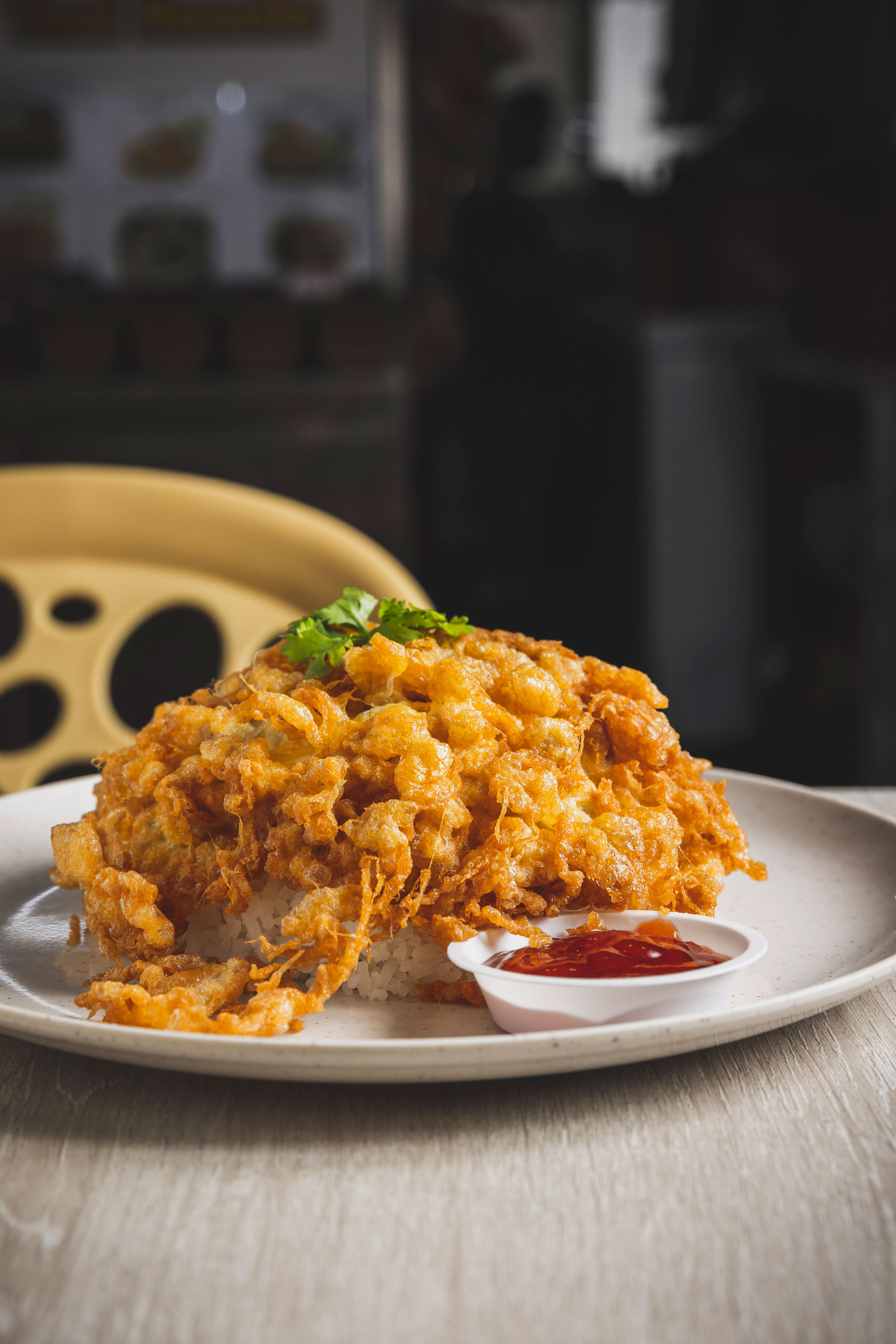 Crispy Omelette with Rice, $5
A simple dish of minced pork vigorously stirred into beaten eggs. Except, instead of pan-frying it the way omelettes are usually done in Singapore, Thai omelettes are unapologetically flash-fried in a truckload of bubbling oil. Yes, it's greasy — but it's also fluffy inside, crispy outside and super yummy with steaming rice. We prefer this over Om's Thai basil minced pork rice.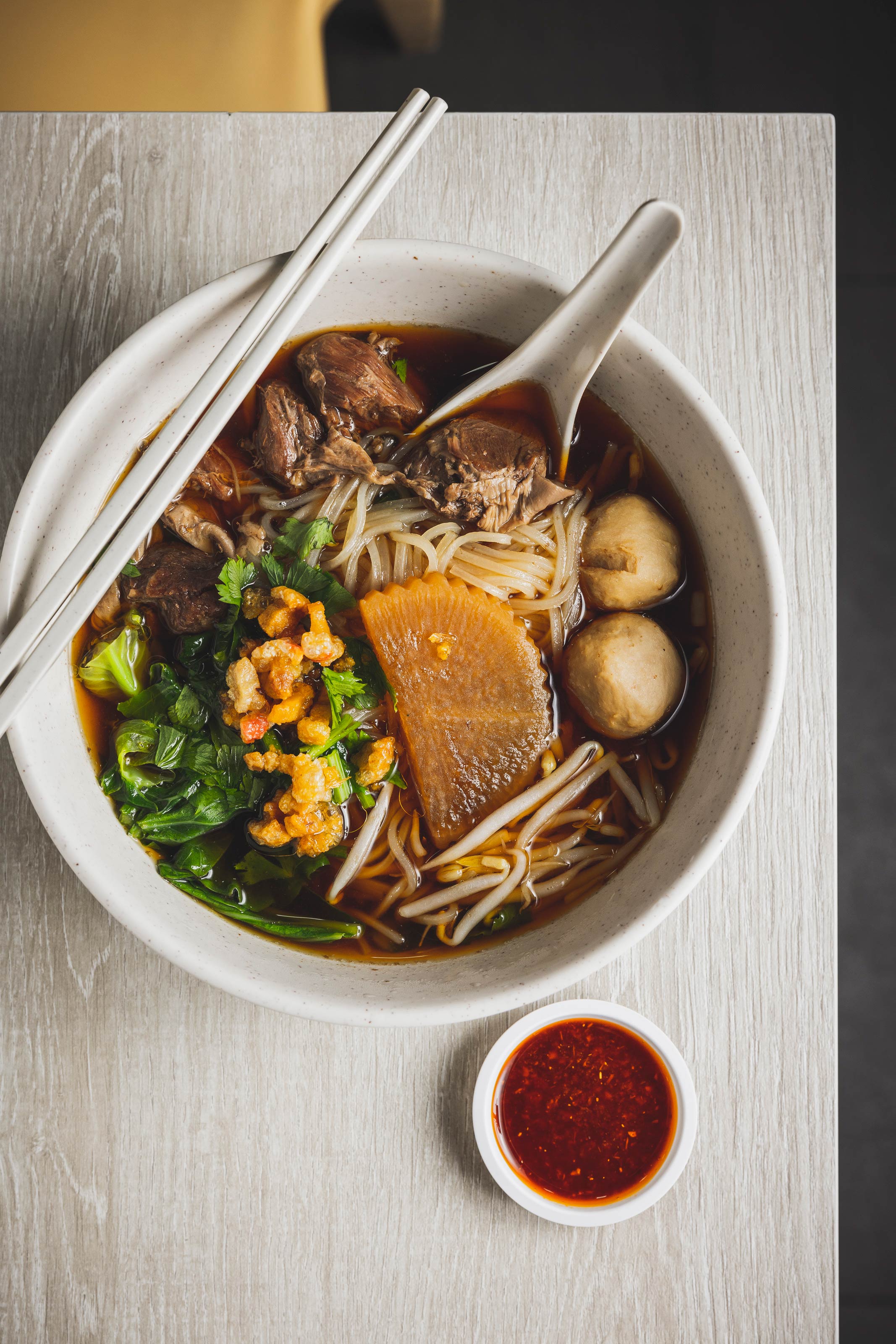 Bottom line
An admirable effort from new hawker Om, who is proving to be quite the hostess with the mostest in the kitchen. The next time we miss Chiang Mai, we'll drop by for her Khao Soi and Thai Noodle Thick Soup. And we'll leave room for some sinfully shiok Fried Chicken Tendons too.
The details
Kin Sen Thai Noodle is at Coffee Sense coffeeshop, Blk 181 Ang Mo Kio Ave 5 #01-2922 S560181. Tel: 8810 4763. Open daily except Mon, 11am to 8.30pm. More info via Facebook & Instagram.
Photos: Alvin Teo
No part of this story or photos can be reproduced without permission from 8days.sg.
8days.sg is now on #tiktok! Follow us on www.tiktok.com/@8dayseat.