Fab Wood-Fired Chicken Chop & $3.50 Joël Robuchon-Inspired Mashed Potato At Hawker Stall In Bukit Merah
Little wonder that the hawkers behind Jofa Grill used to work as chefs at Burnt Ends & Joël Robuchon Restaurant.
Every other month, it seems like a promising young chef leaves the orderly, gleaming world of fine-dining to venture into the uncertain but exciting chaos of hawker entrepreneurship. This time, there are two bright young chefs lured by dreams of towkay-dom. Ong Jian Lin (left in pic), 27, and Neo Jun Hao (right), 28, helm modern Western food stall Jofa Grill, in the corner of a Bukit Merah coffee shop. Lanky Jian Lin spent three years manning the oven and sauce stations at too-cool-for-school one-Michelin-starred restaurant Burnt Ends, known for its modern Aussie wood-fired cooking. 
He left as chef de partie, upgrading to a junior sous chef role at swish wood-fired steakhouse Butcher's Block in Raffles Hotel, where he worked for eight months before becoming a hawker. Meanwhile, Jun Hao also spent several years in the fine-dining circuit, including a stint as commis chef at the now-defunct three-Michelin-starred Joël Robuchon Restaurant in Resorts World Sentosa. But he has left most of the cooking at Jofa Grill to Jian Lin, choosing to focus on operations now, like he had done when he headed international expansion for "a well-known casual local Western food chain" (that he declines to name on record) as a corporate chef for a few years.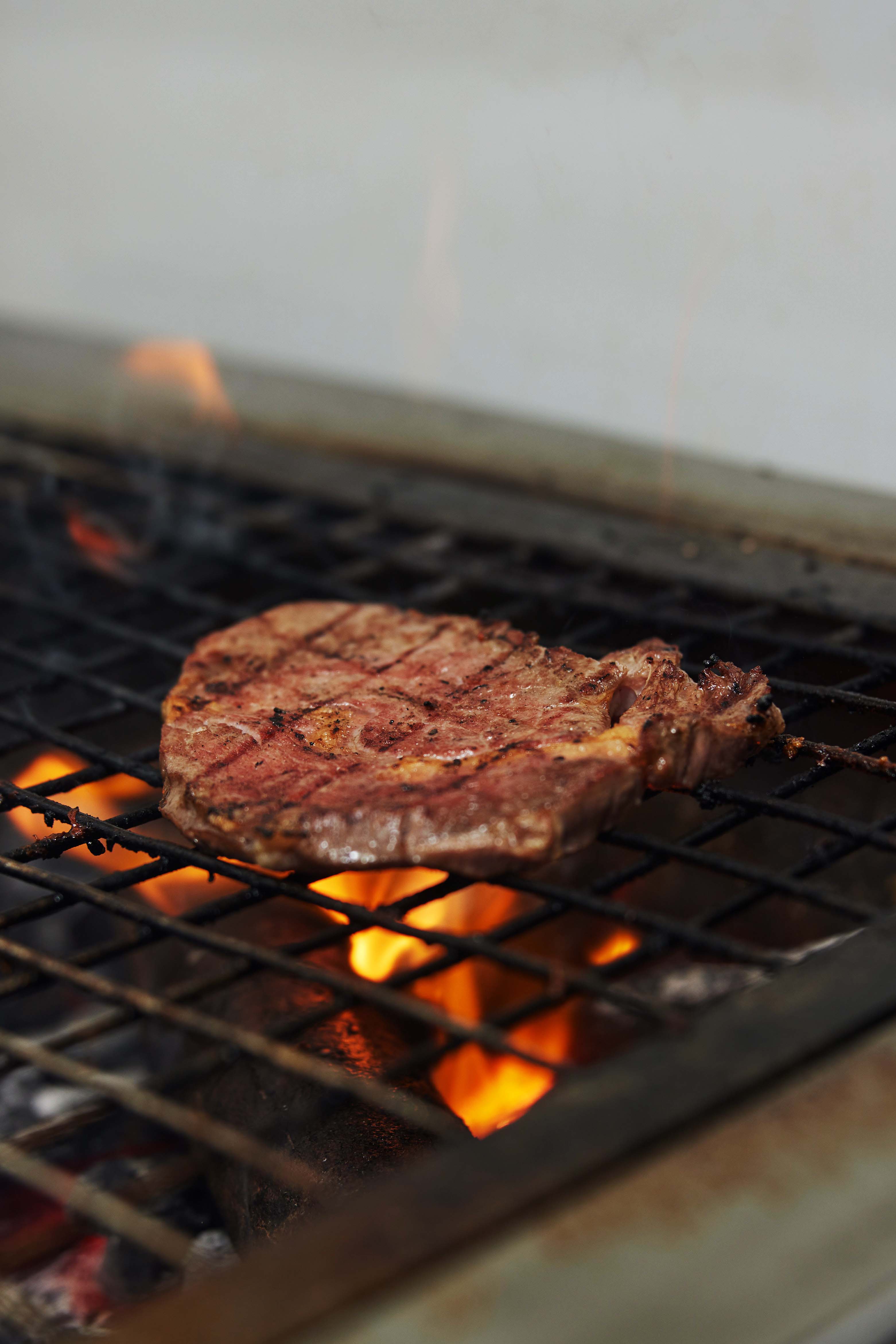 As you approach the stall with its kitschy purple-and-yellow storefront, complete with massive neon mascot of a dude in a catsuit – "like a modern zhao cai mao (fortune cat)", you'll catch a whiff of woodsy smoke which hint at the stall's offerings: chicken, pork chop and steak cooked not on the usual flat-top grill, but over a bed of charcoal and lychee wood. There's also fusion 'pasta' using, er, mee pok. Jofa Grill opens for business today (Sept 20), and 8days.sg got a preview of their nosh ahead of its official opening.
No part of this story or photos can be reproduced without permission from 8days.sg.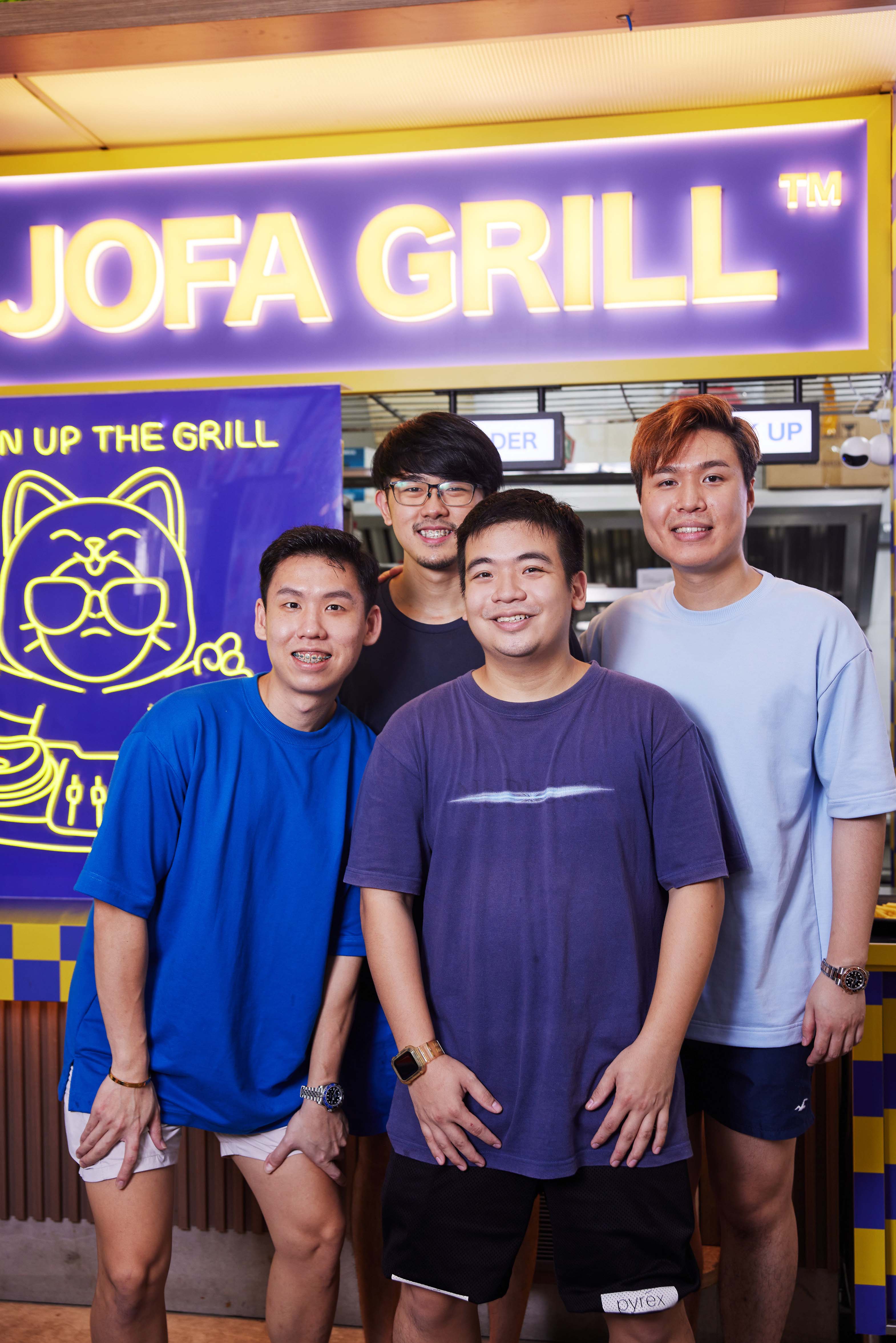 Jofa Mee Pok's towkays also behind the biz
If the stall's name rings a bell, that's 'cos it is co-owned by the same enterprising duo behind noodle brand Jofa Mee Pok – Culinary Institute of America grad and alum of Restaurant Zen, Joel Tan (far right), 26, with fellow mee pok man Fabian Lim (far left), 27.
Didn't mind leaving chef jobs & taking pay cut to become hawkers
Jian Lin, who was Joel's culinary school classmate, is in charge of cooking at this Western hawker stall. 
On why they decided to leave promising careers in the F&B industry to join a hawker start-up, Jun Hao explains that he was burnt out from shuttling across different countries in his last role as corporate chef of a casual restaurant chain. Meanwhile Jian Lin shares: "Actually, I was still learning a lot at Butcher's Block. But after Joel and the others approached me [with this biz idea], I thought about it for a long time. If I didn't give it a shot, I'd always be thinking, 'What if?' about running my own business. So I decided to take a leap of faith." He reveals that he took about a "30 percent" pay cut from his last sous chef job to work at Jofa Grill, but reasons that there's the potential to earn more here if business takes off.
Western concept long in the works
Business has been good for Joel and Fabian since starting their mee pok brand in Tampines last year. They managed to turn in a "healthy profit" overall despite weathering bouts of restricted dining measures, before reinvesting their earnings into a second Jofa Mee Pok outlet in Chinatown three months ago.
But with operations at said noodle outlets "more or less on autopilot after establishing SOPs (standard operating procedures) and training good staff", the entrepreneurial pair turned their attention to Jofa Grill. Says Joel of the new concept: "I promised last year [during our interview with 8days.sg] that our next concept would be a Western stall. This is what we've been working on since then." 
The four pals pooled some $60K into getting Jofa Grill started – according to the hawkers, the money comes solely from all four partners who "hustled a lot during their younger days", saving up cash over "a long working period".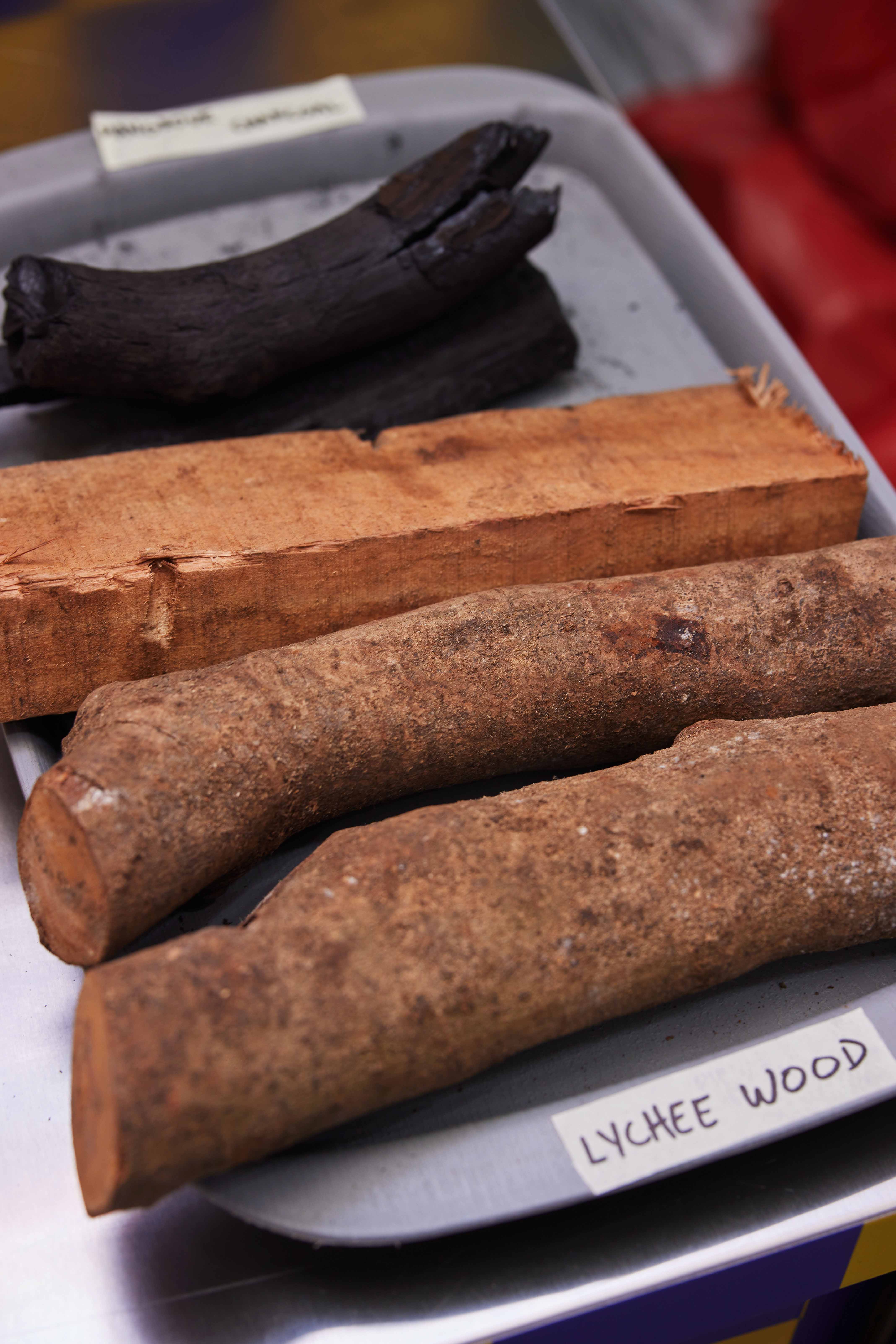 Not your usual kopitiam-style Western grub — lychee wood used here
But the real magic happens behind the counter, in a smoke-filled kitchen – feebly ventilated by a cooking hood and a portable desk fan on a shelf – where Jian Lin cooks up your steak over a bed of coals and lychee wood – the former provides more consistent heat, while the latter adds an assertive smoky edge. 
Using charcoal and wood is "definitely more expensive than using gas alone", the hawkers tell us, though it isn't "too crazy a difference" thanks to rising gas prices. However, cooking this way is a labour of love: it takes about thirty minutes just to get the fire going, with plenty of elbow grease from the young chef as he furiously fans the flames to bring the temperature up. It is also a test of skill, as the meats have to be constantly shuffled between the grill's different hot spots.
No wonder charcoal-grilled (let alone wood-fired) Western grub in a hawker setting isn't all too common – other examples include Mad Charcoal in an Ang Mo Kio industrial coffeeshop, Smokin' Joe at Yishun Park Hawker Centre and The Burning Oak at hipster The Bedok Marketplace.
The menu
As a reflection of their higher costs, prices at Jofa Grill are correspondingly steeper than at your average kopitiam Western stall. Mains like chicken cutlet, pork chop and steak, each paired with fries, coleslaw and homemade black pepper sauce, range from $9.50 to $14.50. Other sides include mushroom soup with a glug of truffle oil ($3.50), mashed potatoes ($3.50) and chicken wings ($2 per piece).
Fusion 'pastas' made with mee pok are also available from $7.50, though there's a simpler aglio olio made with spaghetti for $5.50 if you're on a budget. 
Charcoal-Grilled Chicken Chop, $9.50 (8 DAYS Pick!)
This ain't your everyday chicken chop though it might seem so at first glance. Frozen Brazilian chicken thigh, all crispy, flame-kissed skin over tender and succulent flesh, is made even more delicious by a drizzle of full-bodied, perfectly spiced black pepper sauce comprising a "secret blend of peppercorns and lots of vegetables" (but no premade stock powder). You get what you pay for: a deep smoky fragrance pervading the bird that can't be found at the usual hawker joints. Dee-lish. 
It's paired with crisp but under seasoned shoestring fries and a far yummier house-made coleslaw of cabbage and carrot. Perhaps slightly more imaginative sides that better demonstrate the chef-owners' pedigree could've made the rather steep price tag easier to swallow. Still, this is one of the best chicken chops you can find in a hawker setting.
Charcoal-Grilled Pork Chop, $9.50 (8 DAYS Pick!)
The grilled bone-in Brazilian pork chops are equally delish – lean, but still yielding; a far cry from some leathery specimens we've had at other hawker stalls. Our favourite bit is the charred, crunchy edges lining the chop's fat cap – shiok.
Charcoal-Grilled Rib-Eye Steak, $14.50
A marbled 200g rib-eye (also from Brazil) cooked to a nice medium pink – reasonably juicy but a little chewy, with a good smoky aroma. Not bad if you're a fan of beef, but personally, we'd order the pork or chicken.
Pollock Fish and Chips, $10.50
We like the deep-fried pollock's (a North Atlantic breed that's a member of the cod family) flaky, mildly sweet flesh, but find the panko breading too fragile – the bread crumbs could barely adhere to the fish – and too salty, thanks to an overeager dusting of Cajun spice mix (an honest mistake due to pre-opening jitters, we're told).
Joël

Robuchon-style mashed potatoes for $3.50, anyone?
Also on offer is a robust, cream-spiked Truffle Mushroom Soup ($3.50) studded with diced shiitake mushrooms (and some mushroom powder for extra umami). Adding another layer of earthy complexity is a splash of truffle-infused olive oil to finish – comforting and moreish. Worth the higher-than-usual price tag for soup in a kopitiam.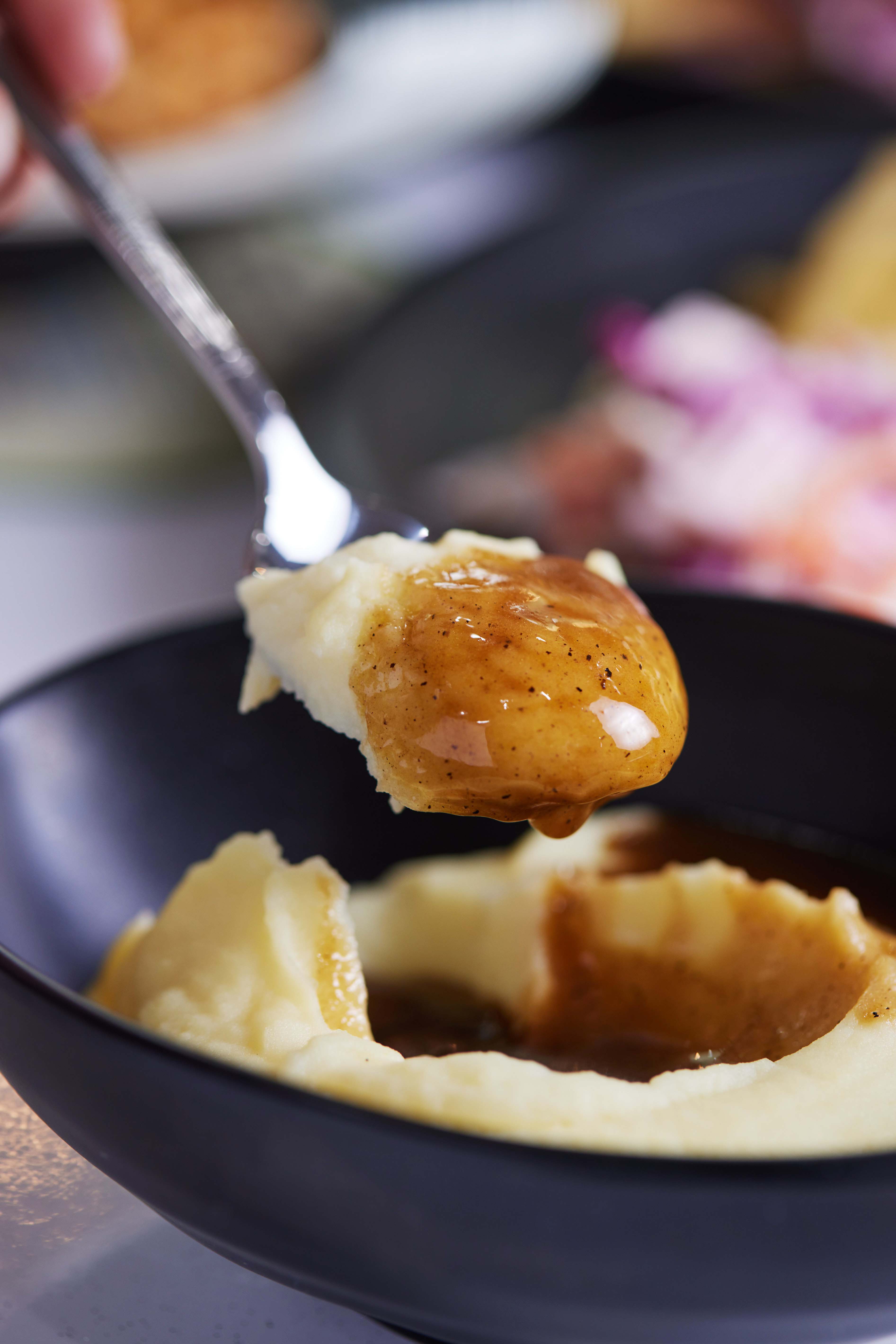 There's also the Jofa Mashed Potato ($3.50), with gravy. It's a humbler adaptation of a recipe Jun Hao learnt at Joël Robuchon Restaurant, whose late namesake was famed for his silky and immensely buttery pomme puree. The hawkers mix spuds – which come pre-cooked, mashed and frozen from a "high-end supplier" that Jun Hao worked with in his restaurant days – with milk and butter. The butter here obviously isn't the fancy French kind and comes in a far smaller ratio versus the restaurant's more luxurious version. But the hawker mash is nonetheless luscious, velvety stuff that's plenty flavourful on its own, and even better with some of that yummy black pepper gravy. 
Jofa Carbonara, $7.50
Cream, bacon, garlic and parmesan star in this hawker-style carbonara alongside mee pok. How did the hawkers get the idea for this zany fusion dish? "Some customers [at Jofa Mee Pok] gave us feedback that our mee pok tastes just like pasta – because it is very QQ, with almost no kee (Hokkien for alkaline) taste," declares Joel. "So we thought: 'Since we already have this great product, why not use it here as well?'"
Unfortunately, the ambitious Singaporean-Italian dish is fun on paper, but needs more work in reality. The good: the well-seasoned cream sauce clings nicely to the noodles, the gooey-yolked soft-boiled egg is on point, and we only detect the barest hint of alkalinity. The not-so-good: the mee pok is slightly overcooked on our visit and lacked al dente bite. It also clumped quickly into a stodgy mass. The hawkers are aware of this issue and are working to solve it ASAP.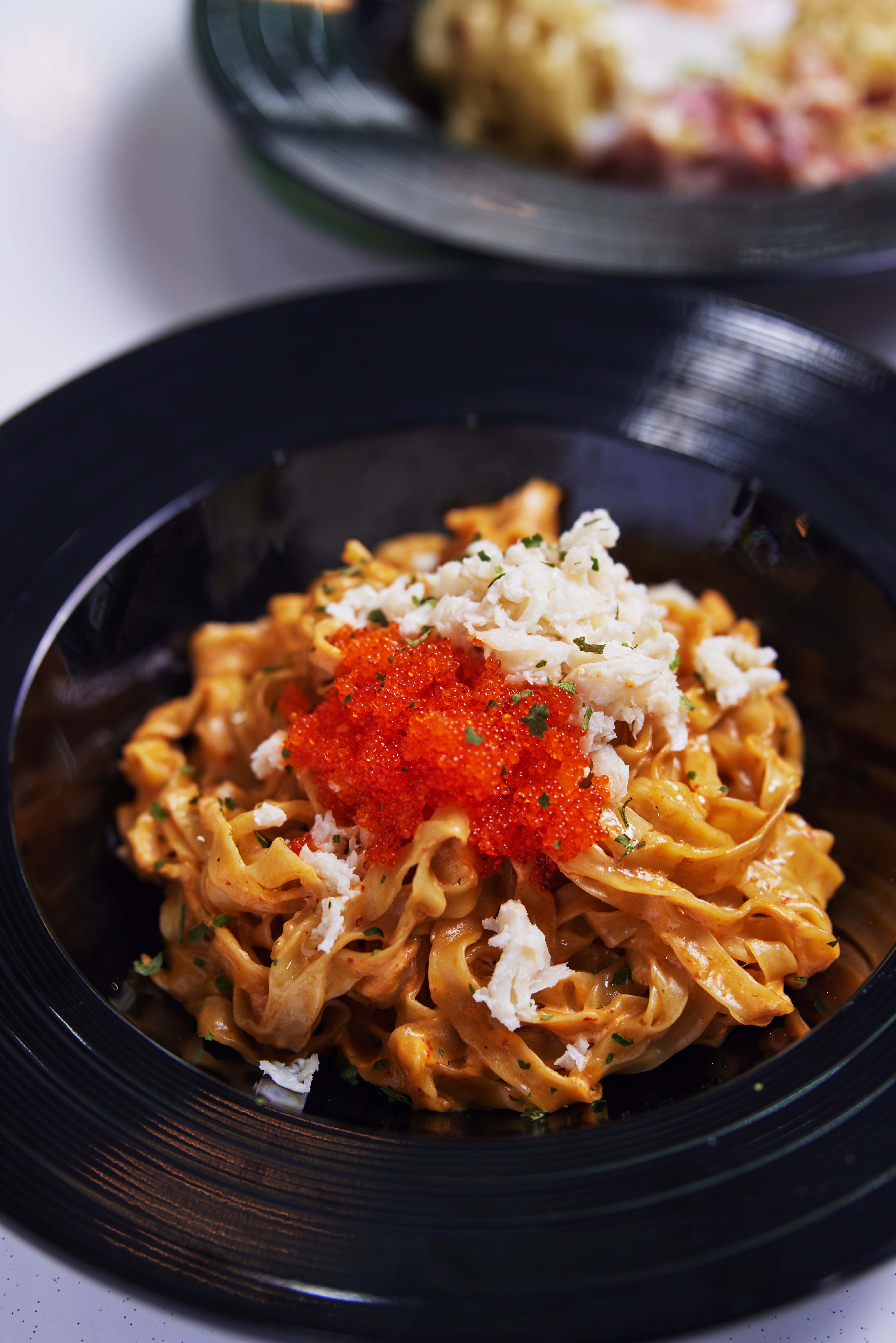 Thai Red Curry Mud Crab & Tobiko Pasta, $12.50
The Thai-accented version doesn't fare much better either: red curry paste is fried until aromatic before a liberal amount of coconut cream is added – the plate ends up overly lemak and one-note. The canned mud crab and tobiko (flying fish roe) heaped on top adds a touch of briny flavour, but aren't enough to prevent the dish from getting jelak after a couple of mouthfuls.
Bottom line
While the meat used at Jofa Grill is standard stuff found at most hawker stalls, it is the ex-chefs-turned-hawkers' fancy cooking chops — coupled with the irresistible smoky kiss from a wood and charcoal fire — that make a simple chicken or pork chop here sing. Side dishes like the mushroom soup and mashed potatoes (pay extra for the creamy spuds and skip the free frozen fries) are also elevated with restaurant-style techniques. But forego the fusion mee pok pasta, which for now seems more like a fun gimmick than anything else. Definitely worth a visit, if the young hawkers can keep their cooking consistent over that finicky wood fire.
The details
Jofa Grill is at #01-3683, 165 Bukit Merah Central, S150165. Open daily except Sun, 11.30am – 10.30pm. More info via Instagram.
Photos: Kelvin Chia
No part of this story or photos can be reproduced without permission from 8days.sg.