Famous Fu Hai Curry Chicken Noodles Has New Tanjong Pagar Stall Helmed By Young Hawker
The month-old stall and its young boss already have a celeb fan in Love 97.2 jock Dennis Chew, who raved about them on Instagram.
Being a hawker is never an easy job, especially given the current climate with global inflation and supply uncertainty for ingredients like chicken. But there are still youngsters game enough to give the hawker trade a go. 

It's extra heartening when second-gen hawkers continue running their parents' famous stalls, thereby ensuring that the prized recipes don't go to waste. This is apparently the case for Fu Hai Curry Chicken Noodles, which is one of the most popular stalls at Albert Centre Market & Food Centre. It's well-known for its rich spicy curry gravy, which is loaded with chicken chunks, tau pok, fish cake, potatoes and a mix of beehoon and noodles.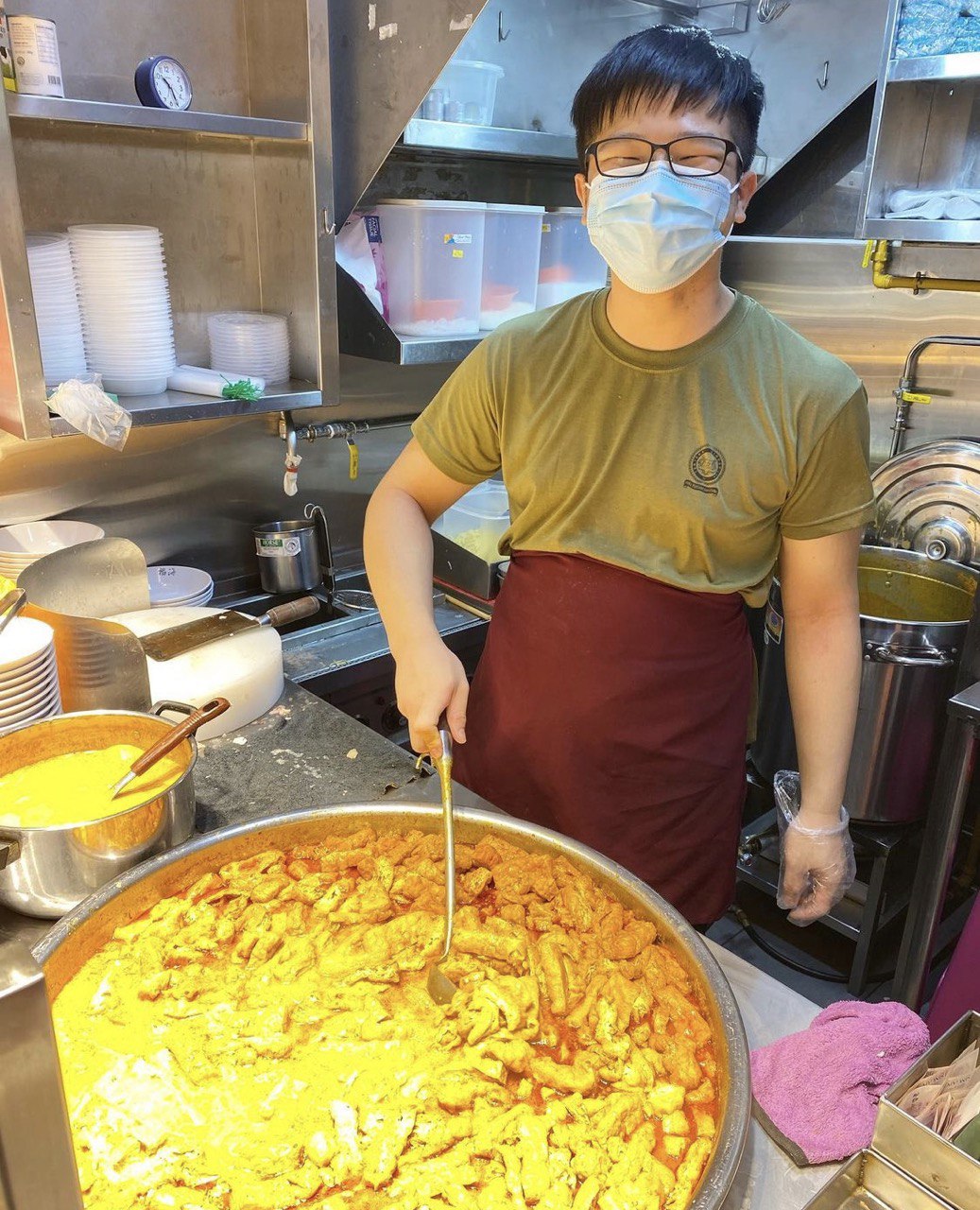 Photo: instagram.com/ @denniszhouchongqing
Month-old stall at Tanjong Pagar
It appears that Fu Hai has opened another stall at Tanjong Pagar Plaza Market & Food Centre. Love 97.2 radio deejay Dennis Chew Instagrammed the young hawker - a cheery-looking lad - manning the stall, who was pictured stirring an enticingly large pot of crimson curry.

In his Instagram caption, Dennis informed his followers that the stall opened just a month ago. "Seeing the young owner cooking seriously and treating each and every one of his customers politely is already half the battle won," he shared.
 
Photo: instagram.com/ @denniszhouchongqing
According to Dennis, he ordered a bowl of chicken drumstick curry noodles and was blown away by how good it was, raving that "the piping hot curry gravy, fresh succulent chicken thigh meat and curry-soaked tau pok is absolutely delicious."
Photo: instagram.com/ @denniszhouchongqing
Young hawker had photo of himself with his father at the stall
Dennis added that he saw a photo of the young hawker with his dad pasted at the stall. "His dad must be very proud that his son is continuing his heritage. This young boss' attitude and cooking chops will surely allow him to shine in this line." Quan Yifeng also commented on Dennis' post, praising the young hawker for being "a good child".
Photo: Tripadvisor
Will the real Fu Hai Curry Chicken Noodles please stand up?
Now, here's the slightly confusing situation about Fu Hai Curry Chicken Noodles. A Chinese sign on its long-established Albert Centre stall (pictured above) firmly states that the shop is "one of its kind, there's no other one like it".

But there's another similarly-named Hock Hai (Hong Lim) Curry Chicken Noodle at Bedok Interchange Hawker Centre serving the same dish, plus satay beehoon. It is apparently unaffiliated to Fu Hai, despite its menu and name.
Photo: Yip Jieying
The Tanjong Pagar Plaza stall, however, appears to be related to the Albert Centre Fu Hai Curry Chicken Noodles — both sport the same black-and-gold signboard along with newspaper features and photos of the stallowner with celebs like Bryan Wong and Cavin Soh. What's missing, though, is that amusingly terse "one of a kind" notice.

8days.sg visited Fu Hai today to find out more, but we were unfortunately thwarted by the hawker centre's spring-cleaning day and all the stalls were closed. Guess we will have to solve this mystery - and eat curry chicken noodles - another day.

This article will be updated at a later date.

Fu Hai Curry Chicken Noodles (Tanjong Pagar), #02-37 Tanjong Pagar Plaza Market & Food Centre, S081006.